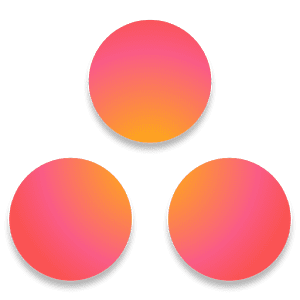 Asana is a free (up to 15 users) system of tools for project management and interaction between company employees and customers. The task manager gives the opportunity to track progress, deadlines, and project results. The manager can vary the access rights by adding individual employees to all categories or to individual tasks of the company. For the invitation, just type in the email.
You may also like: 7 Best wifi walkie talkie apps for Android
Asana can be used to work on projects, and as a personal task manager so it will be interesting for freelancers and the management of large corporations. The developers paid special attention to the visualization of the process, so the system will become an assistant to those who are used to working in multitasking mode and prefer that the whole front of the work be before our eyes.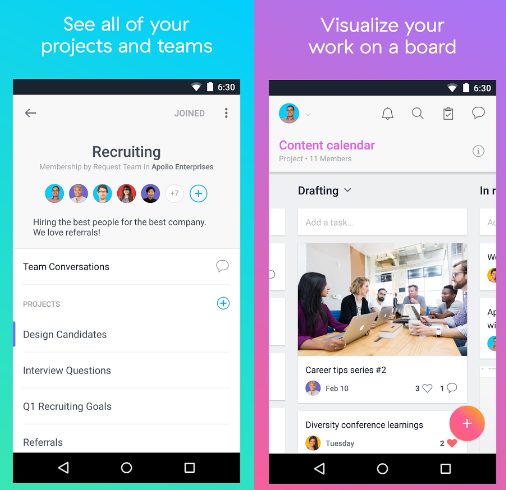 The structure of the system consists of organizations, departments, projects, and tasks. Each subsequent category is created as part of the previous superior. You need to start from the desktops in which you can differentiate access by group. Also, tags for combining tasks and sections for their separation are available. Asana provides a search that allows you to find the desired subtasks among a large amount of information and a filter by which participants can save the necessary search options in the selected.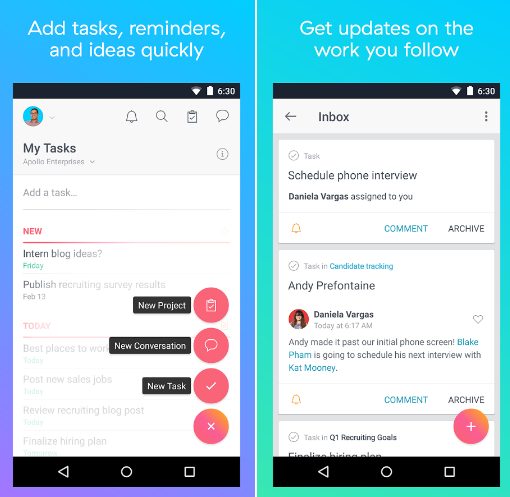 Key Features
Free online service for up to 15 users.
Ability to detail tasks (project/task/subtask/tags).
Multiple desktops for different task groups.
Real-time synchronization for various devices.
Likes to tasks.
Checking the mailbox from the service.
Differences of Asana:
excellent functionality, several "levels" of setting the problem. As a consequence, good detailing;
user-friendly interface makes the product similar to a full desktop application;
there is no need for communication outside the service;
the system is suitable both for planning serious tasks in a large development team and for making a list of purchases by a single father.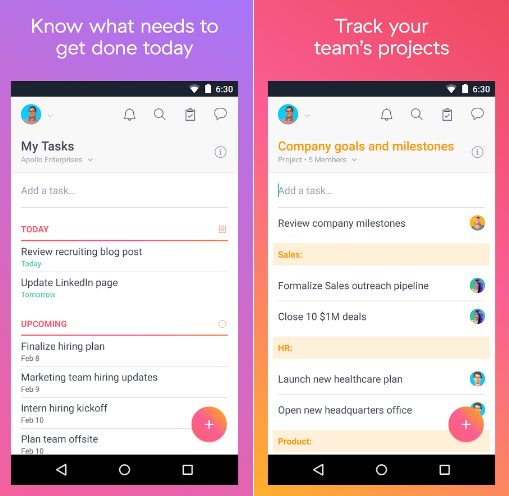 Downloads: +5000000
Customers rating: (4.2 / 5)

You may also like: 21 Best notepad apps