In fact, we are drowning in the daily grind and sometimes forget about meaningful events. The apps on our list will help you count the number of days until vacation and remind you of the date.
That said, if you like to plan it all out clearly, you can take advantage of our list of day planner apps.
Big Days – Events Countdown
Big Days is a great alternative to the usual calendars and programs that don't let you miss important dates.
This project demonstrates the countdown for such events. It helps to understand more accurately how much time is left. In this case, there are different categories, settings, options for the appearance of the program, widgets, and everything else. This allows you to configure strictly according to all the preferred requirements.
Well, the direct work with data from social networks as well leaves only the most positive impressions.
All in all, nice application, and the idea of a countdown and the subsequent countdown is very cool, especially for those who love to travel.
The free version of the app contains a lot of ads.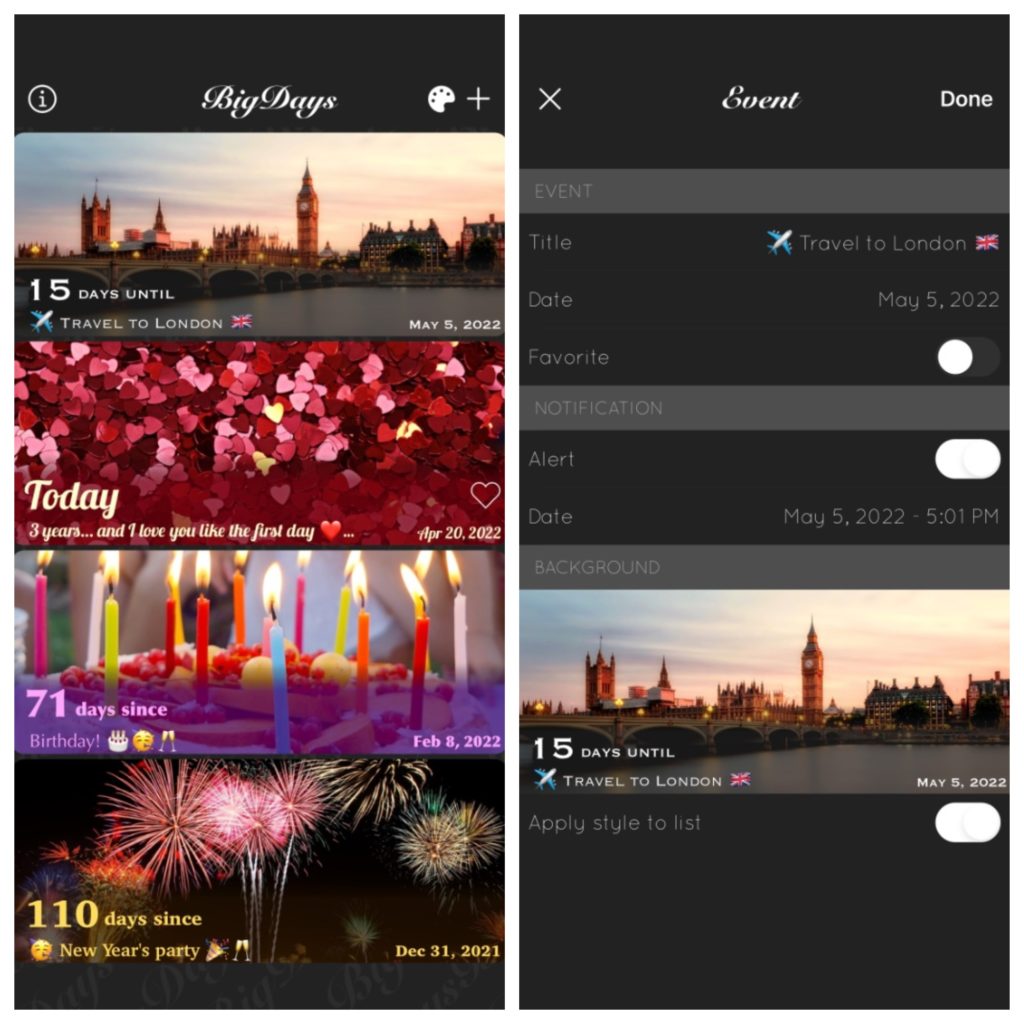 Downloads: 1000000 +
Customers rating:

(4.3 / 5)

You may also like: 11 Best Vanlife and RV Apps
Countdown to Anything
The Countdown to Anything app really helps you wait for anything. To create a countdown, click on the button in the lower right corner. Next, you'll have to type in the name of what you want to wait for.
Choose the date, time, and frequency (it will only happen once or every week/month/year). Finish it all off with the cherry on the top – the visual design. Click on the icon, choose a background color and change to whatever you like or fit better. Some icons and colors are only available for Premium members. But the choice is huge even without them!
The countdown we created is now on the Home screen. You can click on it to edit, share or delete it.
In the settings you can:
enable/disable alerts;
buy Premium;
read the answers to the most common questions (FAQ);
rate the app;
make a file out of your counts (to download it and then load it on a new device, for example);
read about how to share your counts with others.
What does Premium get besides additional icons and colors? You can put widgets on your smartphone's home screen!
Downloads: 100000 +
Customers rating:

(4.9 / 5)

Hurry – Countdown to Birthday/Vacation (& Widgets)
Hurry – Countdown is a timer that helps you not to forget important events, birthdays, upcoming trips, and so on. Anyone who regularly misses the moments that are really important to them will be glad to get a way to solve problems.
They need to set the required data once, and the project will relentlessly count down the remaining minutes to the important date and timely warning of the approaching event.
Stylish design, the ability to customize, easy to create and edit new points, and other elements provide a great user experience of the functionality offered to them.
Sometimes the anticipation is much more pleasant than the event itself. Hurry – Countdown is an Android app that will help you savor the days, hours, and minutes until the happy moment.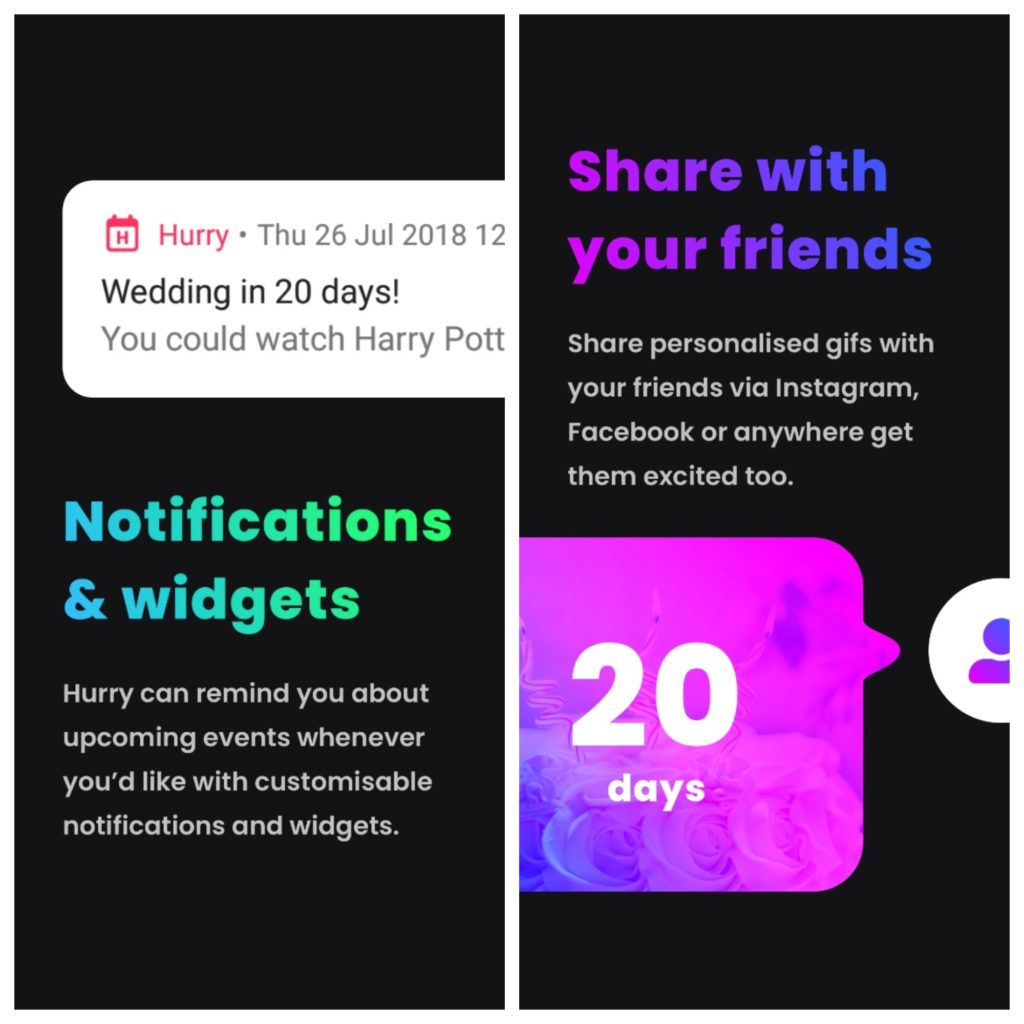 Downloads: 100000 +
Customers rating:

(4.6 / 5)

You may also like: 9 Best Overlay Map Apps for Android
TheDayBefore (days countdown)
This is a great app for those who are used to keeping everything under control. Always forget important dates? Want to keep track of your long-awaited trip? Download TheDayBefore (days countdown) and you will not miss a single important day.
Everything in the app is intuitive. It's enough to enter the date, as well as a description, and the application itself will set the marks in the future.
I was pleased with the great handy functionality. You can make your own nice widgets that match the wallpaper. Convenient that you can change the photo, font, even color, and transparency of the font on the widget.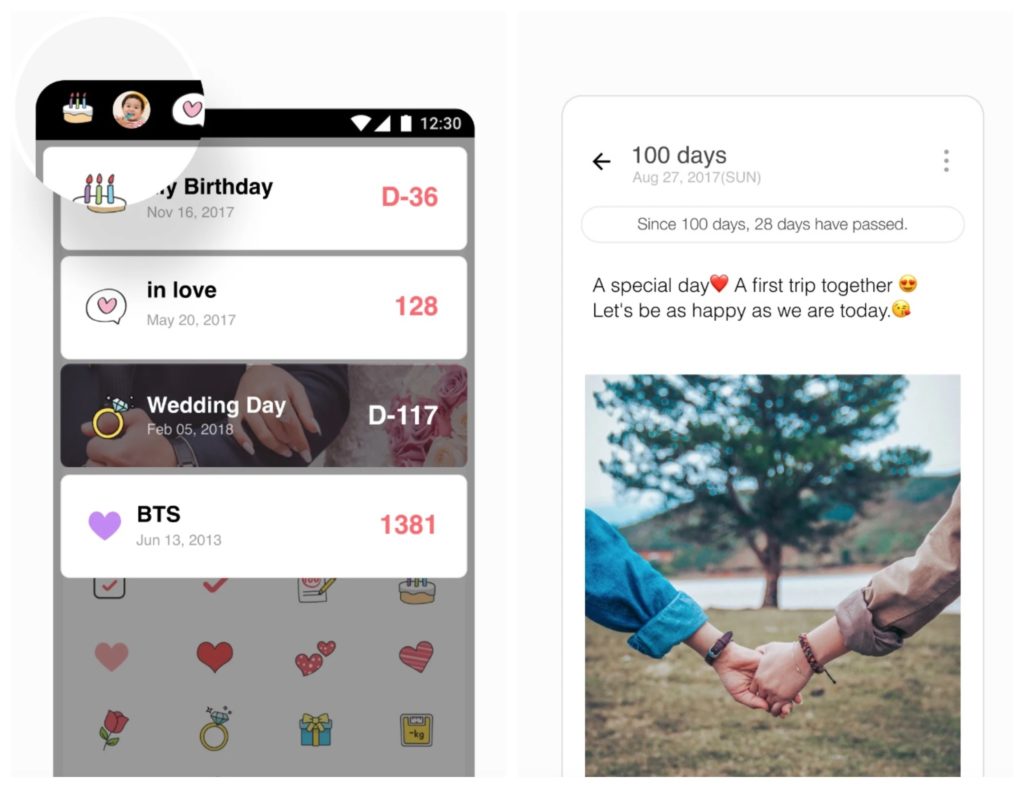 Downloads: 10000000 +
Customers rating:

(4.8 / 5)

Time Until | Countdowns
Time Until | Countdowns is a nicely-styled project that will please anyone who doesn't want to miss anything. In this case, they don't get the standard calendar and to-do list, but a structure that offers to create timers with a report back to the desired date.
The application supports multiple segments at once, which will appear on the main screen as the set point in time approaches. Convenient operation, a variety of features and parameters, a change of background for each position, and much more will appeal to all fans of more original solutions than usual.
Convenient app with great fonts, and beautiful backgrounds, but there are some shortcomings:
The widget is too big;
when using this app as a widget, the seconds are not shown.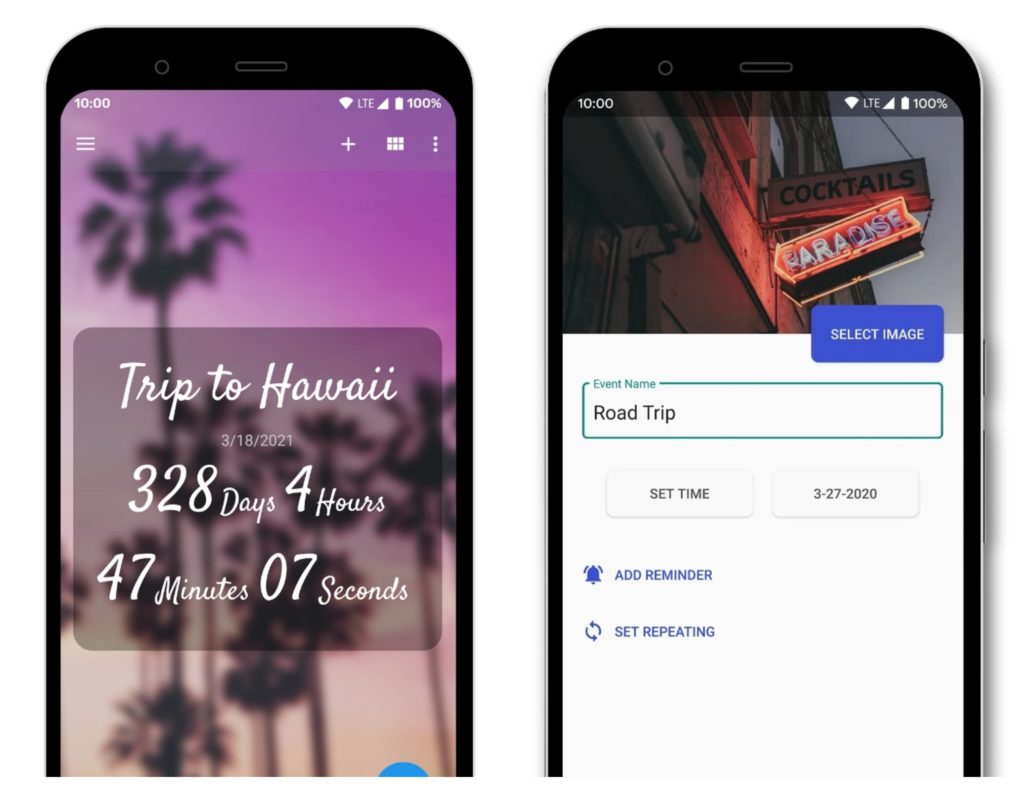 Downloads: 1000000 +
Customers rating:

(4.5 / 5)

Vacation Countdown App
Vacation Countdown App allows you to keep track of your approaching long-awaited date.
The app is easy to use. You just need to enter your vacation start date and the app will take care of everything. You can also specify where you are going and choose a background. The app offers many scenic options, but you can also use your own picturesque picture.
What's convenient is that you can set multiple countdowns. And then there's the delightful and inspiring feature of Quote of the Day. Read the quotes and get ready for your unimaginable vacation. You can even share holiday quotes with your friends.
A few more useful features of the app:
Make a list of things to take on your next trip right in the app;
There are fun games about travel.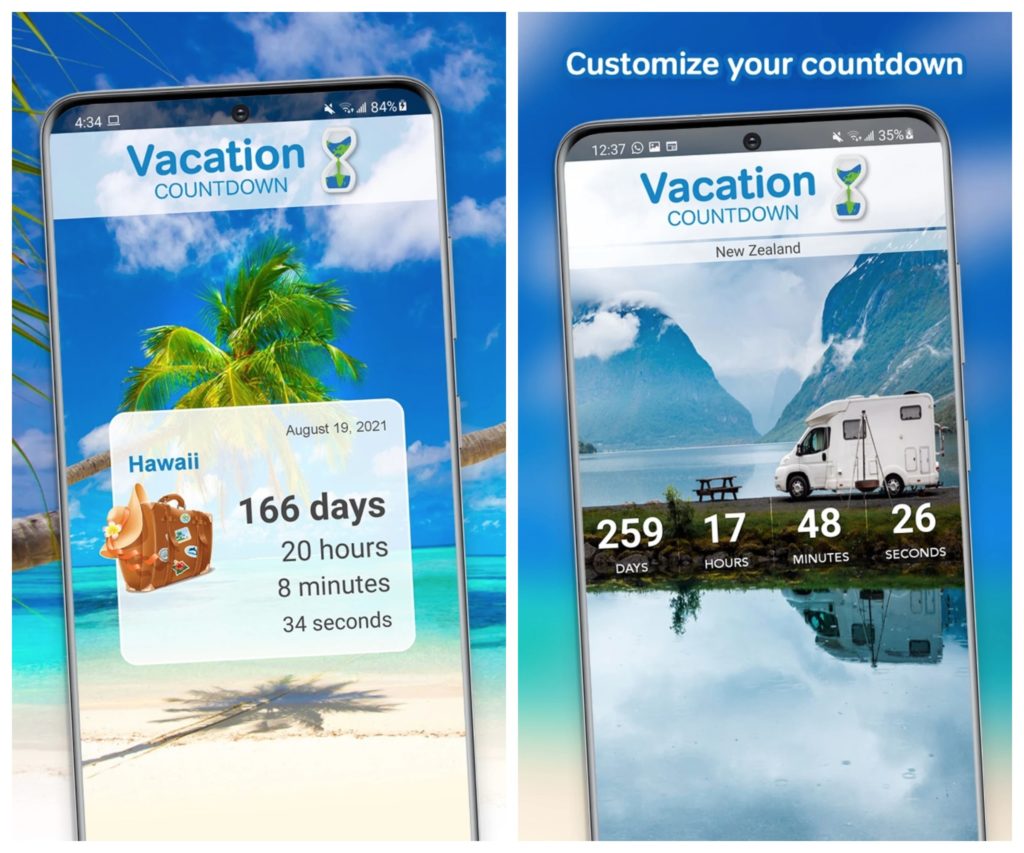 Downloads: 1000000 +
Customers rating:

(4.6 / 5)

You may also like: 11 Best traffic apps for Android (Maps & Navigation)
Countdown Time – Event Widget
Countdown Time – Event Widget is a cute, beautiful, and stylish app for anyone who doesn't like to forget something really special.
Not a trip to the store for bread, but, for example, a birthday or wedding date. It happens and this in a busy life. This program offers a system of timers that will count down the remaining time to significant events. Not only in the form of a list but a widget on the main screen for those occasions when the X-hour is very little time left.
Put an icon on the main screen, and choose a nice pic (there are many of them, for any event). You can also decide what to show – days, hours, etc., and done! The waiting time for your next vacation is always before your eyes.
Elegant design, impressive high-quality backgrounds, as well as the easiest operation will please these people.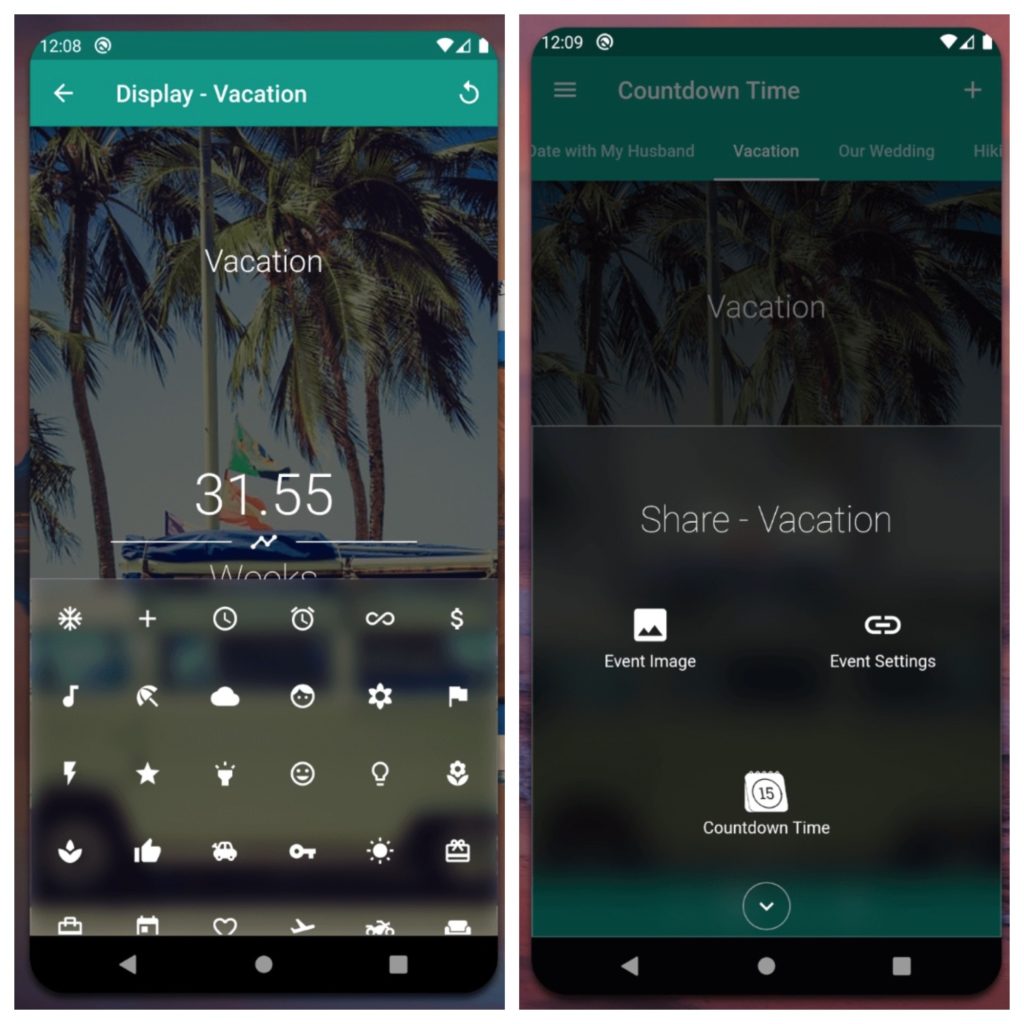 Downloads: 1000000 +
Customers rating:

(4.6 / 5)