Do you need to urgently provide your documents to your boss, but you don't have an office scanner at hand? Do you want to make a copy of documents or securities, but you only have paper originals on hand?
In this situation, your Android device and one of the fake document scanner apps described below will help you. Each of them is a real document scanner!
1. Genius Scan
The application called Genius Scan is not "wildly" popular. However, there are many users who use the utility to scan documents.
Genius Scan has a simple interface and does not have an impressive set of additional functions. But the application copes with its task well.
Separately, we note that the scanner from the developers of the company The Grizzly Labs uses a camera, the main difference of which is the silent mode. By the way, the finished scans are saved in PDF and JPEG formats.
If we talk about the functionality of Genius Scan, the application is able to automatically determine the boundaries of documents (this function has shown itself best on a flat and monochrome surface), perform color adjustments (several modes are available – black and white, color and unchanged), as well as send ready-made scans to other programs or cloud services.
The latter option is only available in the full version of Genius Scan.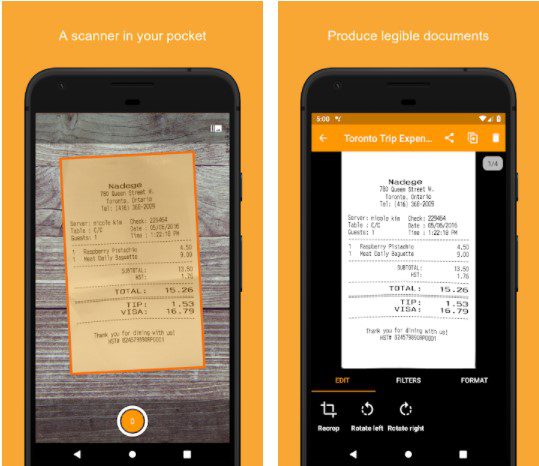 Downloads: 5000000+
Customers rating:

(4.8 / 5)

You may also like: 7 Best Android Apps to Remove Snapchat Filters
2. Сam Scanner
CamScanner is a smart scanner program for Android that will allow you to create virtual copies of all paper documents, structure them, and much more.
In CamScanner, a document can consist of several pages, each of the pages can be added through the camera lens or selected from the gallery. After the image is loaded, the program will automatically determine the page boundaries and offer you to crop the excess (with the ability to make adjustments).
The next thing that should happen is the automatic optimization of the page by contrast. As a result, you get a black and white image. Which makes it convenient when reading documents from the screen. This will be the end of all manipulations! And you can proceed to the next scan.
You can add tags to the created document to structure the data and specify the name. It is also possible to send the generated PDF file.
CamScanner Features:
this program is also free for commercial use;
Create PDF Creator files with any program that supports printing;
encrypting PDF documents and protecting it from printing and viewing;
installation on the server is possible. This makes it possible to use one program for a large number of local network users;
this program is also free for commercial use.
merge files into one PDF file;
simple installation procedure. You just need to specify what you need to install and everything will be installed;
sending PDF files by e-mail;
saving documents in automatic mode to folders with file names that are based on tags
Downloads: 100000000+
Customers rating:

(4.4 / 5)

3. Adobe Scan
Adobe Scan is a scanner for text recognition using the phone's camera. Allows you to convert documents, notes, receipts, and even lecture boards into PDF documents or JPG images. Artificial intelligence supports work in English but does not provide an automatic translation.
There is also a built-in editor that allows you to eliminate errors before saving the file.
Main features of the program:
Image capture. There are options for scanning full-size A4 documents, business cards, certificates, wallboards. Depending on the selected source type, the information reading algorithm is adjusted.
After capturing the image, you need to manually adjust the area so as not to recognize unnecessary text or pictures.
Changing scans. The editor has a tool for adding pages to a future PDF, cropping, rotating, mirroring, cleaning, and adding blocks.
File management. The Adobe Scan application for Android offers a built-in file explorer for deleting, renaming, and moving saved materials.
Advantages and disadvantages
Positive aspects:
Data storage in a free cloud.
Quick authorization via Google or Facebook.
Automatic shooting when capturing a document.
Tips for improving the quality (align or not shake the phone, turn on the flash, highlight the capture area, and so on).
Negative sides:
The obligation to upload scans to the Adobe server for recognition
Scan and save documents individually only
First, Adobe Scan saves the scanned material to Android after editing, and only then allows you to return to the camera. Therefore, it is impossible to remove several blanks, and then proceed with the adjustment.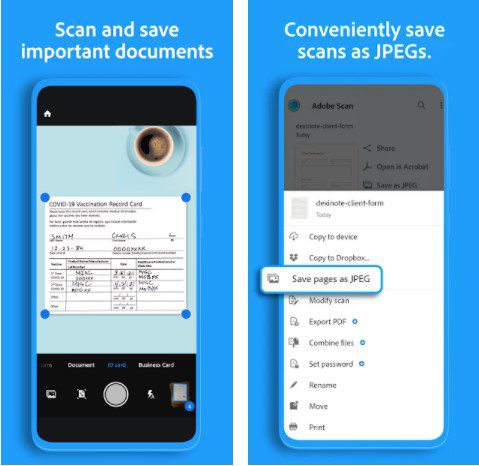 Downloads: 50000000+
Customers rating:

(4.9 / 5)

4. Tiny scanner
Tiny Scanner will turn your smartphone into a real scanner. With this application, you can use your smartphone to scan photos, documents, receipts, etc.
Tiny Scanner is a small application, the main advantage of which is simple and at the same time interesting graphics, a well-done task management process. Convenient scanning of receipts, documents, photos, and anything.
The app works lightning fast and turns your Android device into a portable scanner. Scans are saved as images or PDF files.
Functions of the Tiny Scanner Scan on Android:
scan in Color, Black and White or Grayscale mode;
automatic recognition of page edges;
distribution of scans by folders;
share scans via Dropbox, Google Drive, Evernote, E-mail;
5 contrast levels for clear monochrome texts;
choosing page sizes for PDF (Letter, Legal, A4, etc.);
viewing scans as thumbnails or a list, sorting scans by date or name
quick and convenient search by document name;
document protection with a secret code;
the app works on both a smartphone and a tablet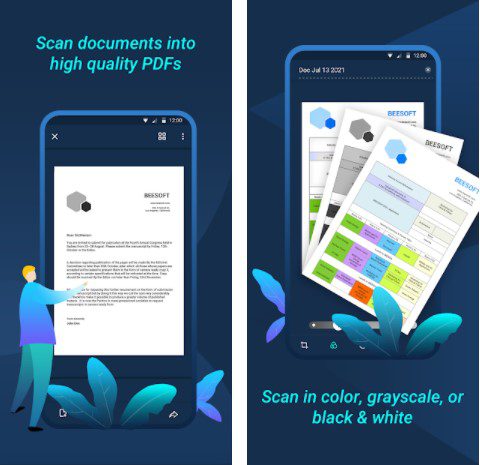 Downloads: 10000000+
Customers rating:

(4.6 / 5)

5. Fine Reader Pro
FineReader PDF Pro is an application that converts PDF files or scanned images into office format files. The document after conversion has absolute accuracy compared to the original.
FineReader Pro has a total of 5 main functions. And any function, in my opinion, will be useful for office workers.
FineReader Pro is an application with built-in optical text recognition technology that helps to convert PDF files, image files, scanned files into editable files such as Word, Excel, etc. After that, you can easily link, edit, copy and share information.
OCR – Optical Character Recognition is a specialized technological application for reading text in image files.
It works according to the principle: scanning through an image and using optical reflection effects to darken the symbols and image points in the source file and output as symbols or images, respectively. As a result, we get editable files. This is also the first and most important feature of FineReader Pro.
The built-in OCR technology is the latest update, so the converted documents are usually almost absolutely accurate compared to the originals (except when the originals are too bad).
In addition, the application is also integrated with ADRT technology, which helps to maintain the structure, layout, format, and retouch all files after the conversion process.
Important elements such as size, font style, tables, diagrams, image details, headers and footers, page margins, footnotes, table of contents, numbering, etc. All remain unchanged and are displayed almost completely accurately.
After the conversion is complete, you can export the file to various formats such as DOCX, ODT, RTF, XSLX, PPTX, HTML, EPUB, and FB2. This is easy to do with the "Export" tool in FineReader Pro.
Then, after converting the PDF file to a suitable format, you can easily share the finished file with colleagues and friends using the "Share" button, which is directly linked to the original registered Gmail account. Or it can be stored in Google Drive, Box, Evernote, Dropbox, Yandex Disk.
The same method is used when working with scanned files and photos. Everything is very convenient.
You can use your camera or phone to take a picture of any document of interest, then use FineReader Pro to process the captured image once to ensure the best file transfer efficiency, and then select the main function to convert this image file into an editable document. Everything is so fast and simple.
A set of special functions for PDF files
In addition to the main function of converting PDF files, images into text documents, FineReader Pro also helps users to perform various operations with PDF file formats, for example:
Create a new PDF file.
Edit an existing PDF file.
Organize PDF files neatly.
Set a password to protect PDF files.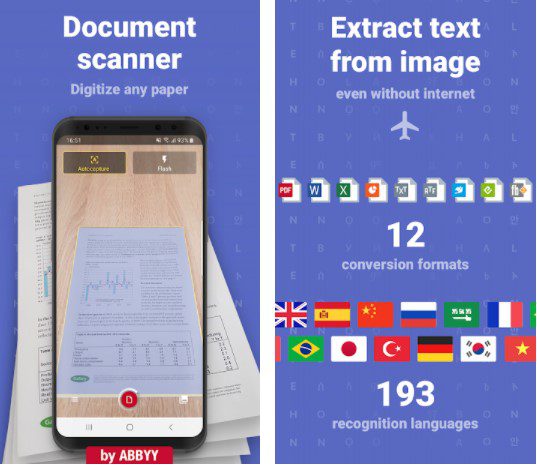 Downloads: 500000+
Customers rating:

(3.8 / 5)

6. PDF scanner
A very simple application for scanning documents. At startup, it offers to select the image source: camera or phone memory. Only one setting is available during shooting: turning the flash on/off.
The application automatically determines the borders of the document, although not always correctly — but in this case, you can quickly edit the borders manually. You can also choose the page size to save to PDF – for example, Letter or A4.
When processing text, color and black-and-white filters with five contrast levels are available. No sliders for fine-tuning, only preset modes. In fairness, the result is not bad. Images can be left as is or made in black and white. Another possibility in the editor is to rotate the document by 90 degrees.
The resulting file can be exported to PDF or JPG with three compression levels: Small, Medium, and Large. Cloud storage is available for saving, sending a document by e-mail, printing, and sharing via messengers and social networks are also supported.
The processed images are stored on the device, divided into folders. There is no synchronization in the app. In the settings, you can enable a virtual disk, and then access files at the server address through any browser.
In addition, the application has a password protection interface to prevent unauthorized access to your documents.
The free version of the application contains advertising, but it was possible to detect it only on the screen with saved files — the banner is presented as another image. It does not interfere with using the program in any way.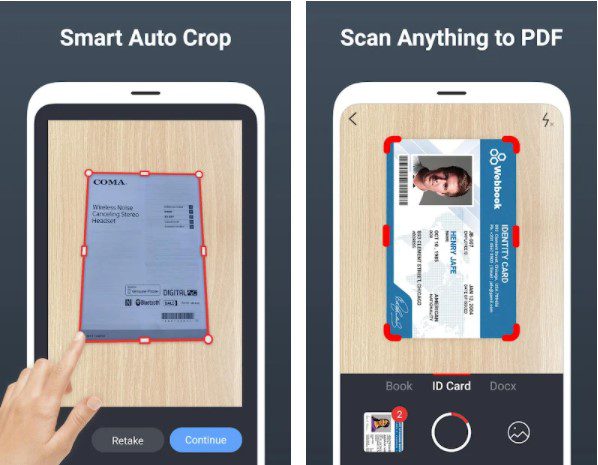 Downloads: 10000000+
Customers rating:

(4.6 / 5)

You may also like: 9 Best Music Notation Apps For Android
7. Scan Hero
Ticket, invoice, contract, photo… How many times have you wanted to scan an important document and couldn't? Download the APK file of this app and the problems are solved as it turns the smartphone into a portable digital scanner.
How to use a mobile phone as a scanner.
Scan Hero is a practical tool that allows you to scan and edit any documents. It performs several functions:
Document scanner via the device camera.
Image correction.
An editor with filters, basic settings and other tricks.
A tool for highlighting text in three different colors.
Digital or handwritten signatures.
OCR for automatic conversion of images to text.
The ability to create documents with multiple pages.
In addition, this application allows you to use the editor even with images stored in the device's memory, without necessarily scanning them through the camera. When the document is ready, it can be saved in PDF format.
Downloads: 1000000+
Customers rating:

(3.9 / 5)