If you want to find games like Diner Dash, we're here to help. We have collected the most similar games in one place. If you're looking for something similar, you'll probably like these games too.
Diner DASH Adventures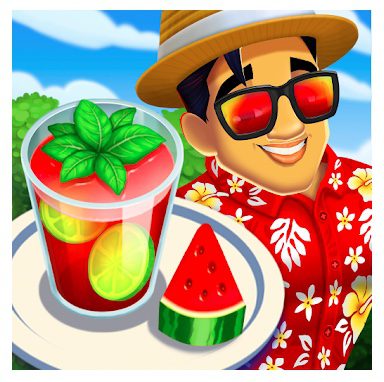 Diner DASH Adventures is a casual game in which you help Flo and Cookie create a restaurant from scratch, making it one of the best in town. But the way is not an easy one, as you will be crossed by quite a few enemies.
Your main task is to build your cafe step by step. To do this, you'll need stars, which you get by completing missions in each level of Diner DASH Adventures.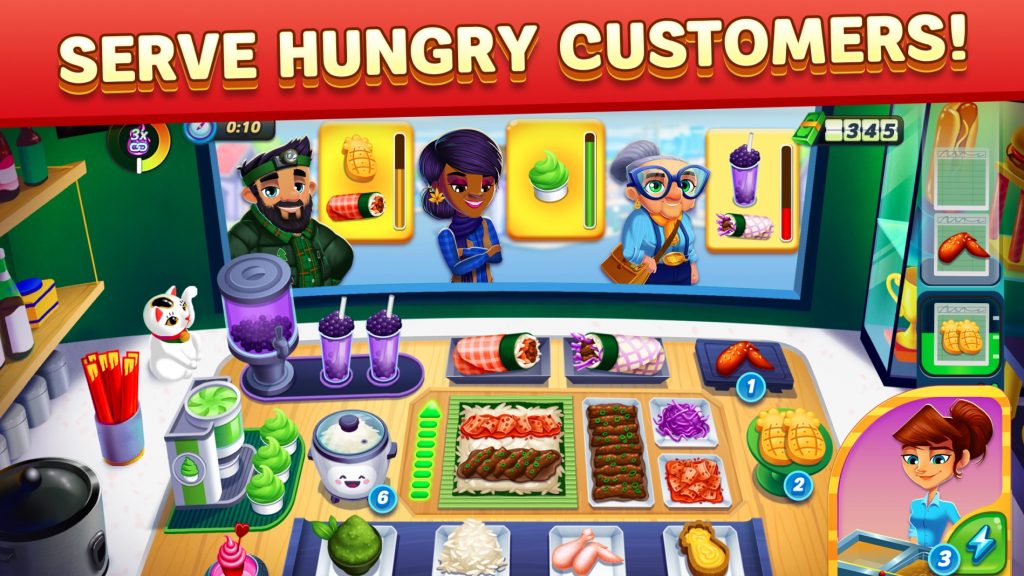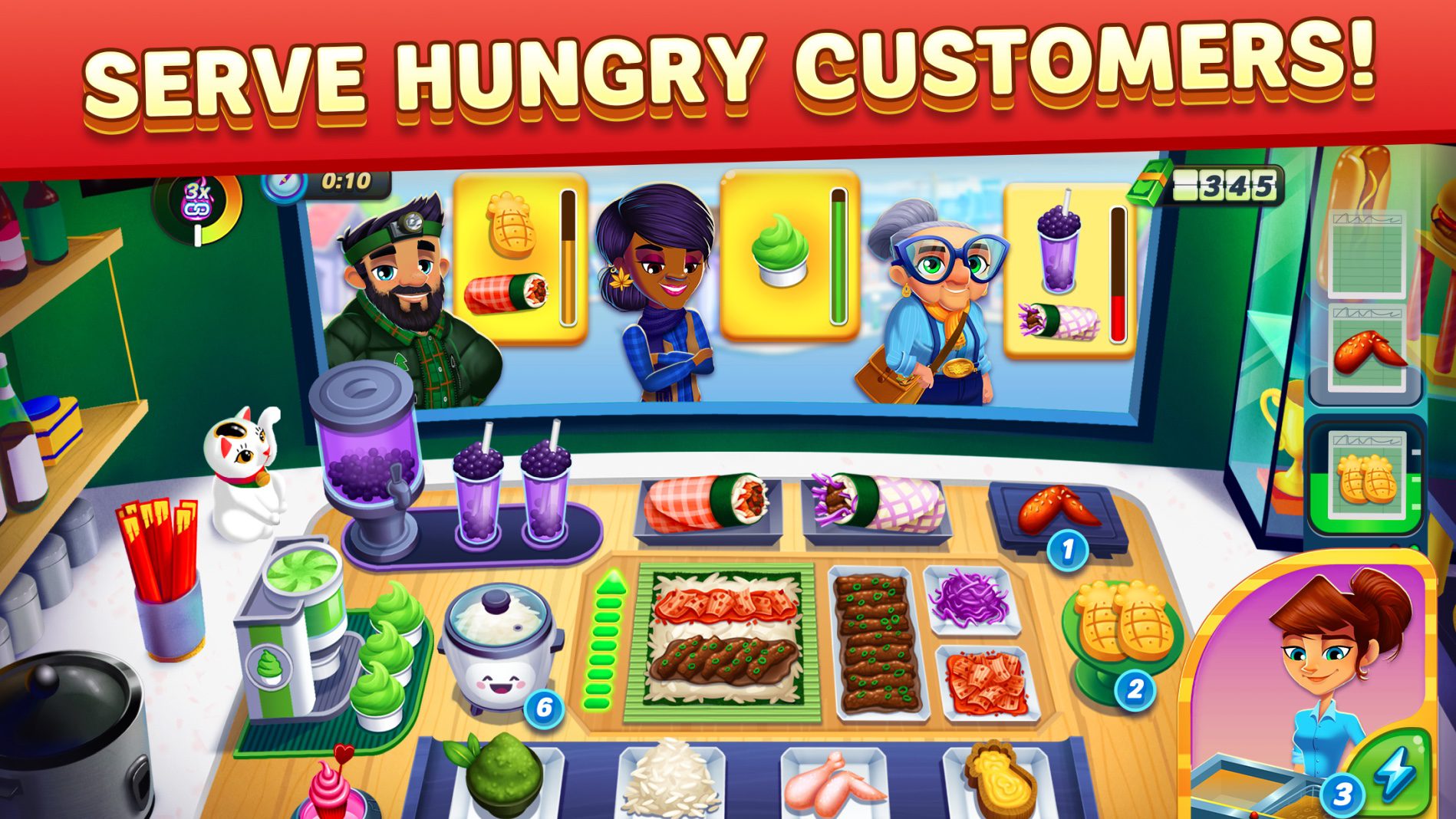 Cooking in Diner DASH Adventures comes down to taking an order simply by tapping on the customer when they arrive, selecting the foods to cook, and tapping one more time on the finished dish. The faster you can do this, the more tips you get. You can also get special rewards if you guide a customer to a table of the corresponding color.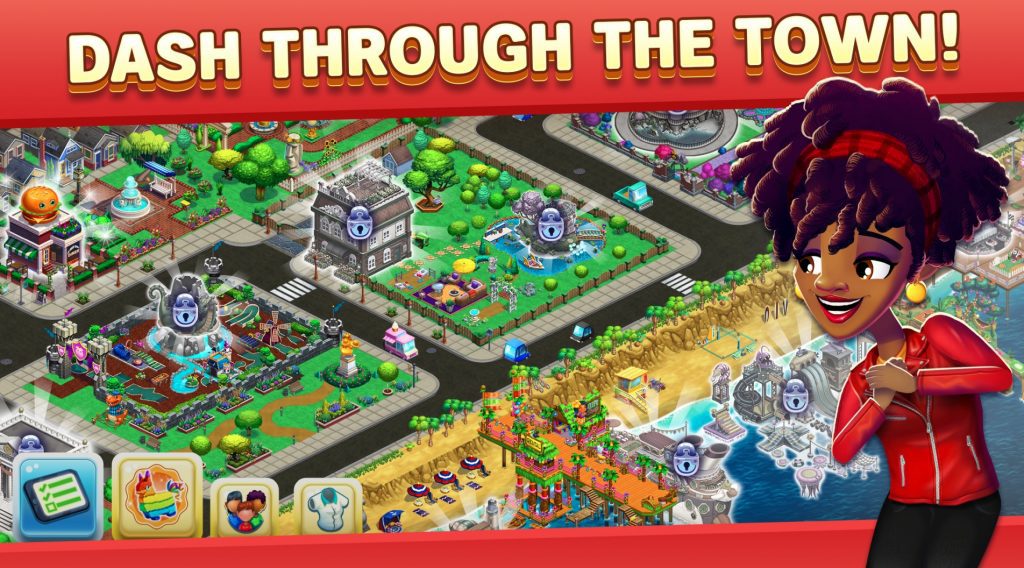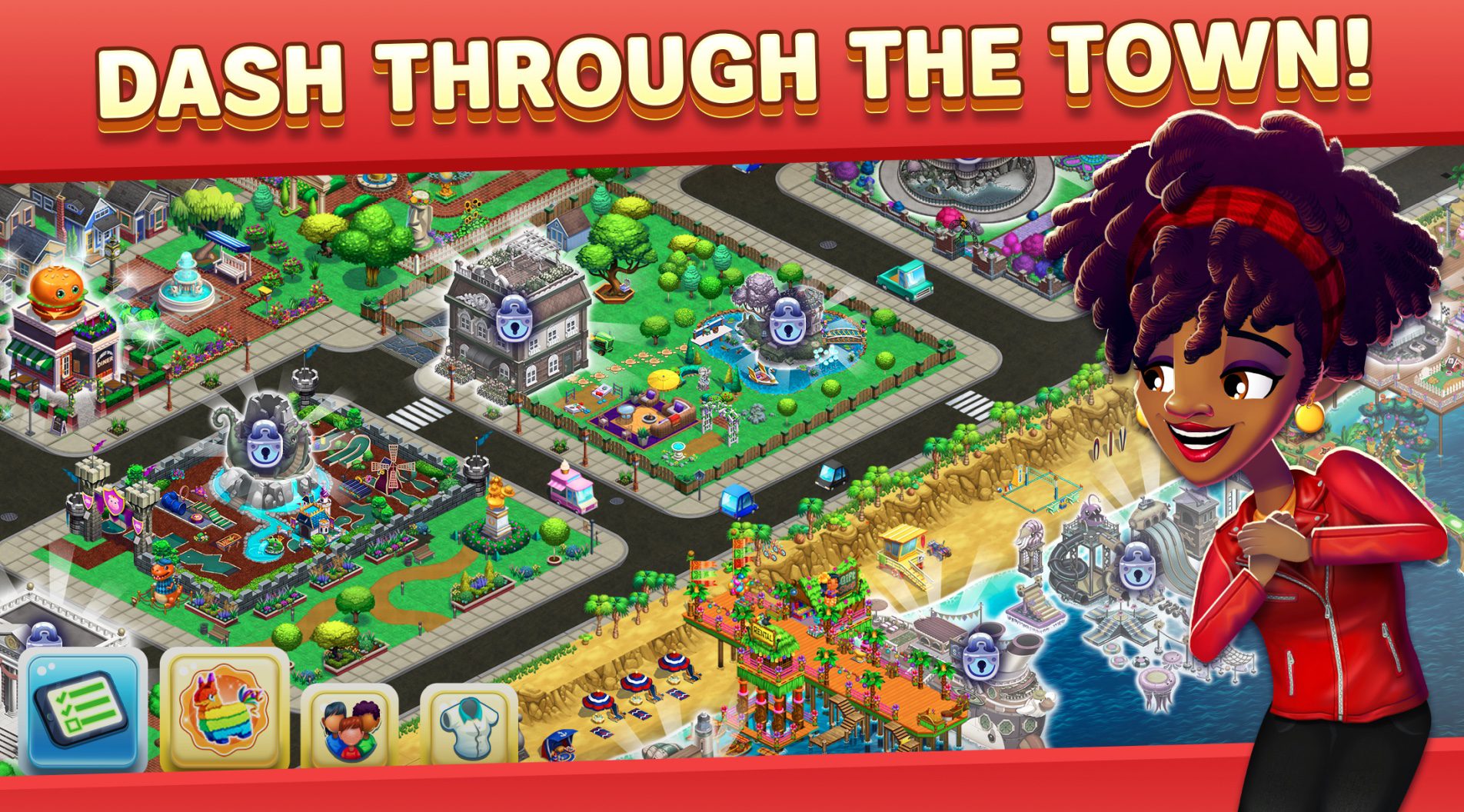 Diner DASH Adventures is a very addictive casual game in which you can design your own cafe with dozens of different decorations. Naturally, you can offer delicious dishes to all the visitors of your restaurant. And they will be of different variety! Waffles, fried eggs, bagels… all of these are available in your cafe.
Downloads: 1000000 +
Customers rating:

(4 / 5)

You may also like: 11 Best Nursing Simulation Game Apps for Android
Cooking Dash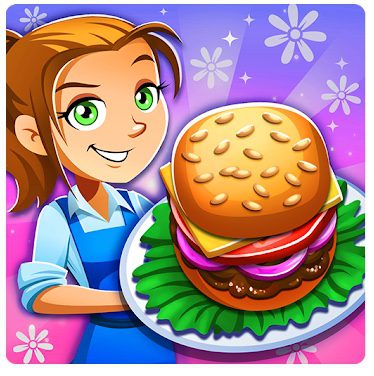 Cooking Dash is another cool game from the famous author Glu about a chef named Flo. Flo somehow accidentally found herself on TV, so now fans do not give her a living.
You will be invited to various restaurants and pubs, where you have a difficult task – to follow the customers, to fulfill all their whims and it all has to be done on time! Can you do it? Then play this wonderful game
In this game, you have to work in the kitchen. The game is quite interesting, with good graphics, easy controls, and an uncomplicated plot.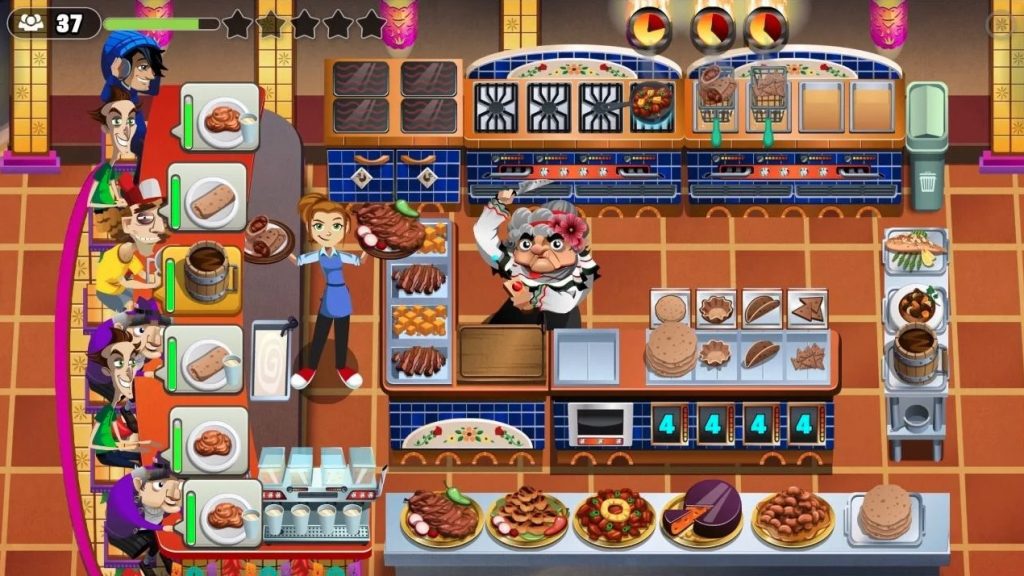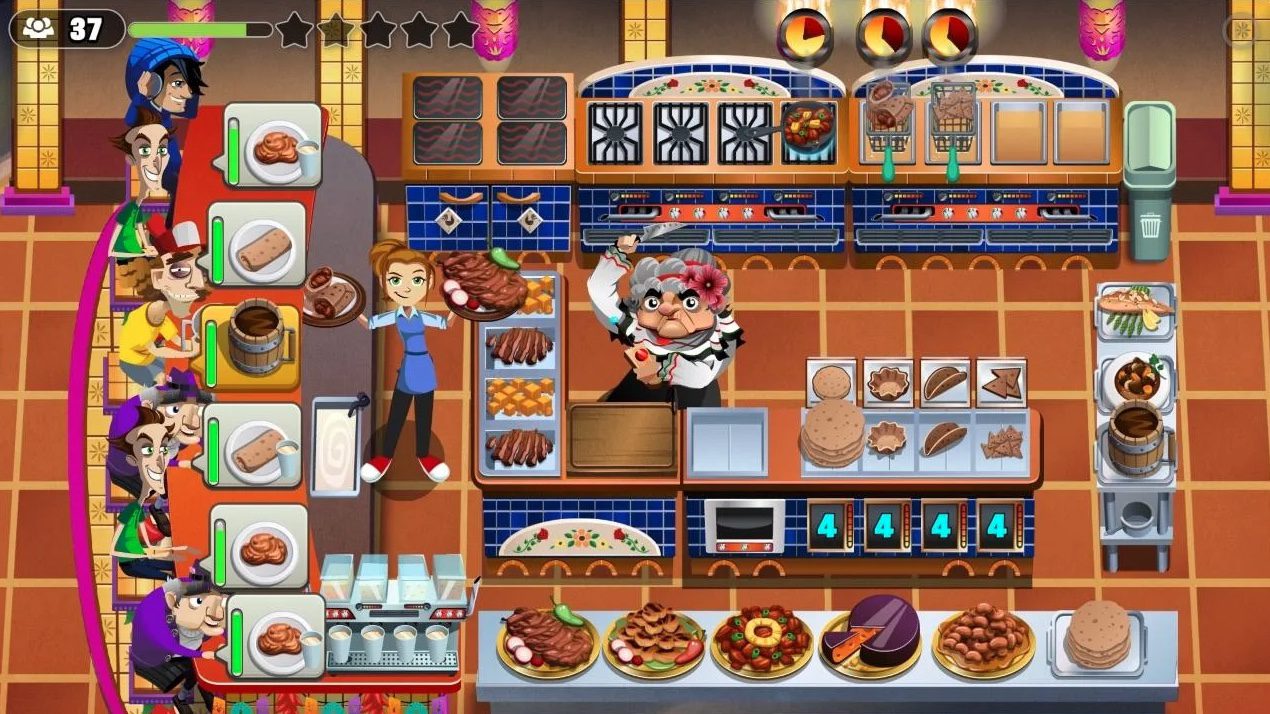 There are quite a few levels in the game. Each of the 6 rooms has from 225 to 300 levels. It's not easy enough to collect all the stars on a level. Because as you advance in the game, the range and cooking time increases.
When there is a new dish, at the beginning of the level is a mini training. Also in the kitchen, there is an assistant who helps cut and place products in the batter.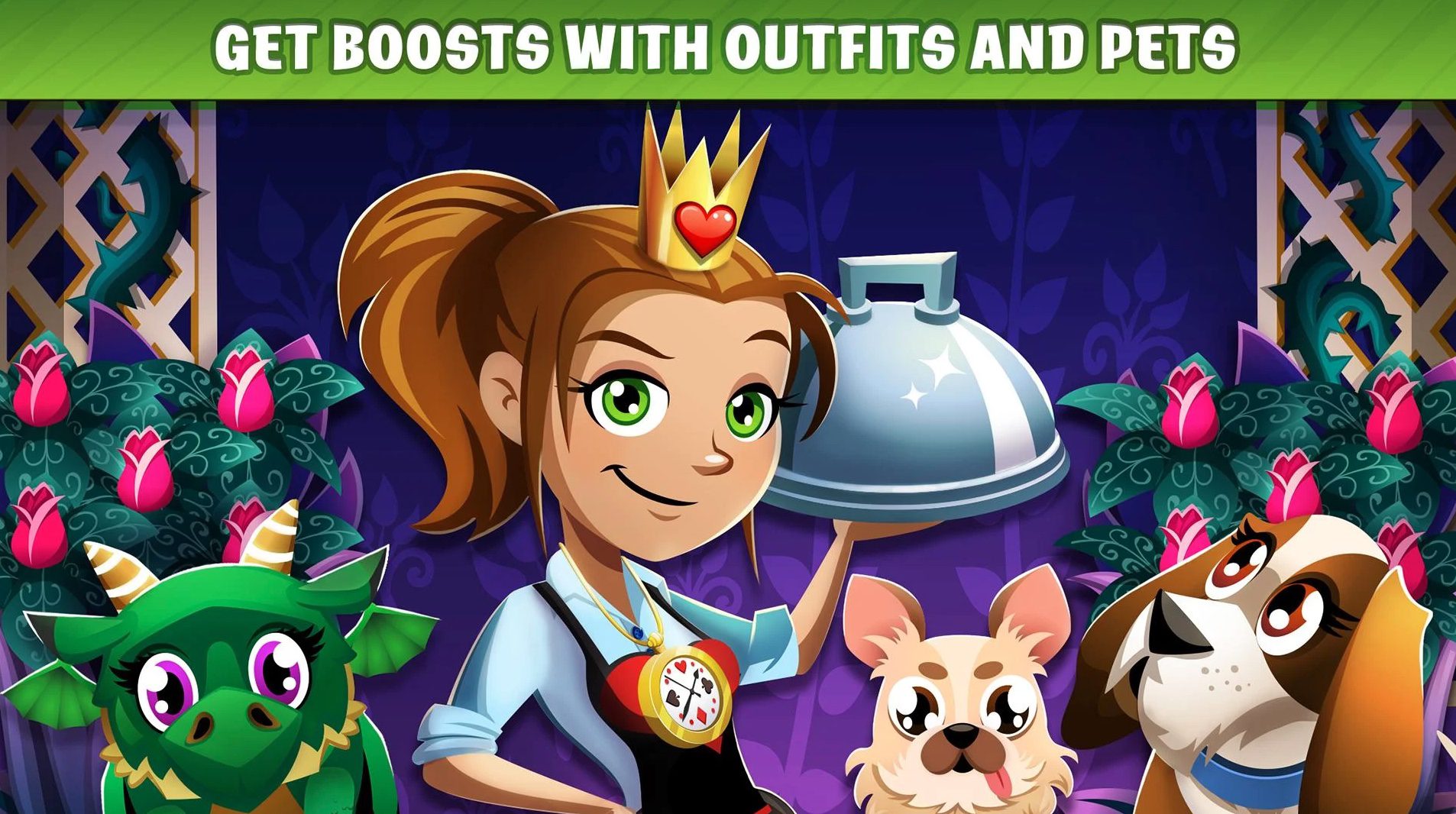 During the passage of the game, improvements are available. With them, you can accelerate the process of preparation, improve the interior so which increases the patience and production costs.
Downloads: 10000000 +
Customers rating:

(4.1 / 5)

Cooking Madness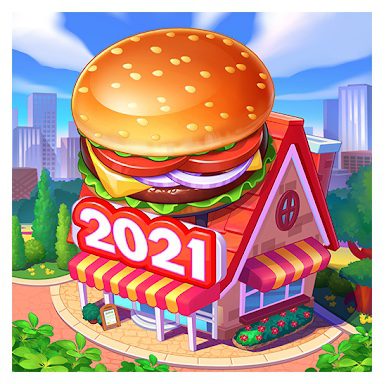 Cooking Madness is a colorful fascinating arcade game. Users will be engaged in the preparation of delicious snacks. Also, gamers will prepare delicious desserts and many other dishes. All in order to please every visitor to the restaurant.
Remember that customers don't like to wait. They are hungry and the faster the user brings the dish, the better! Gradually you will learn everything, you can win the title of best chef.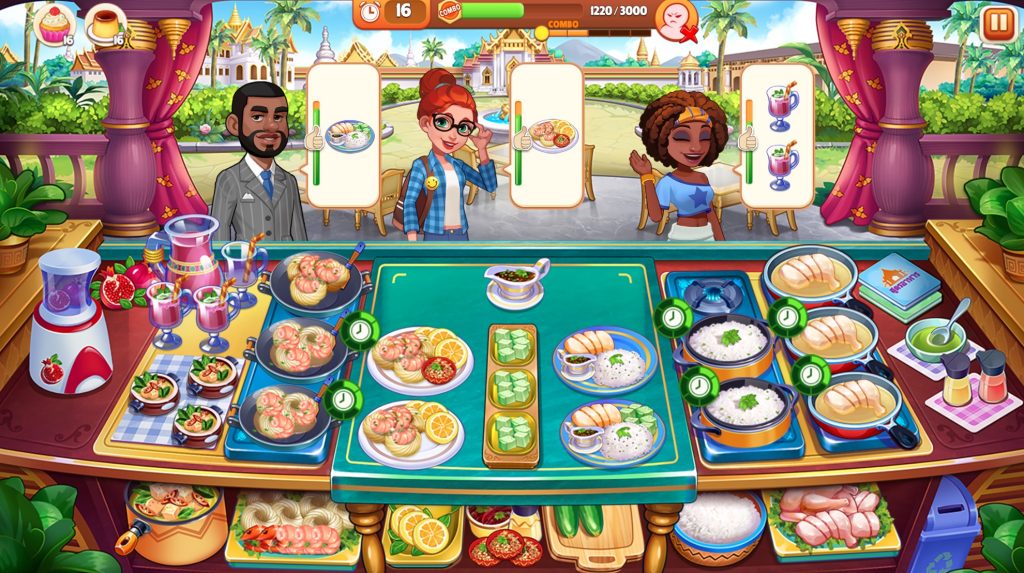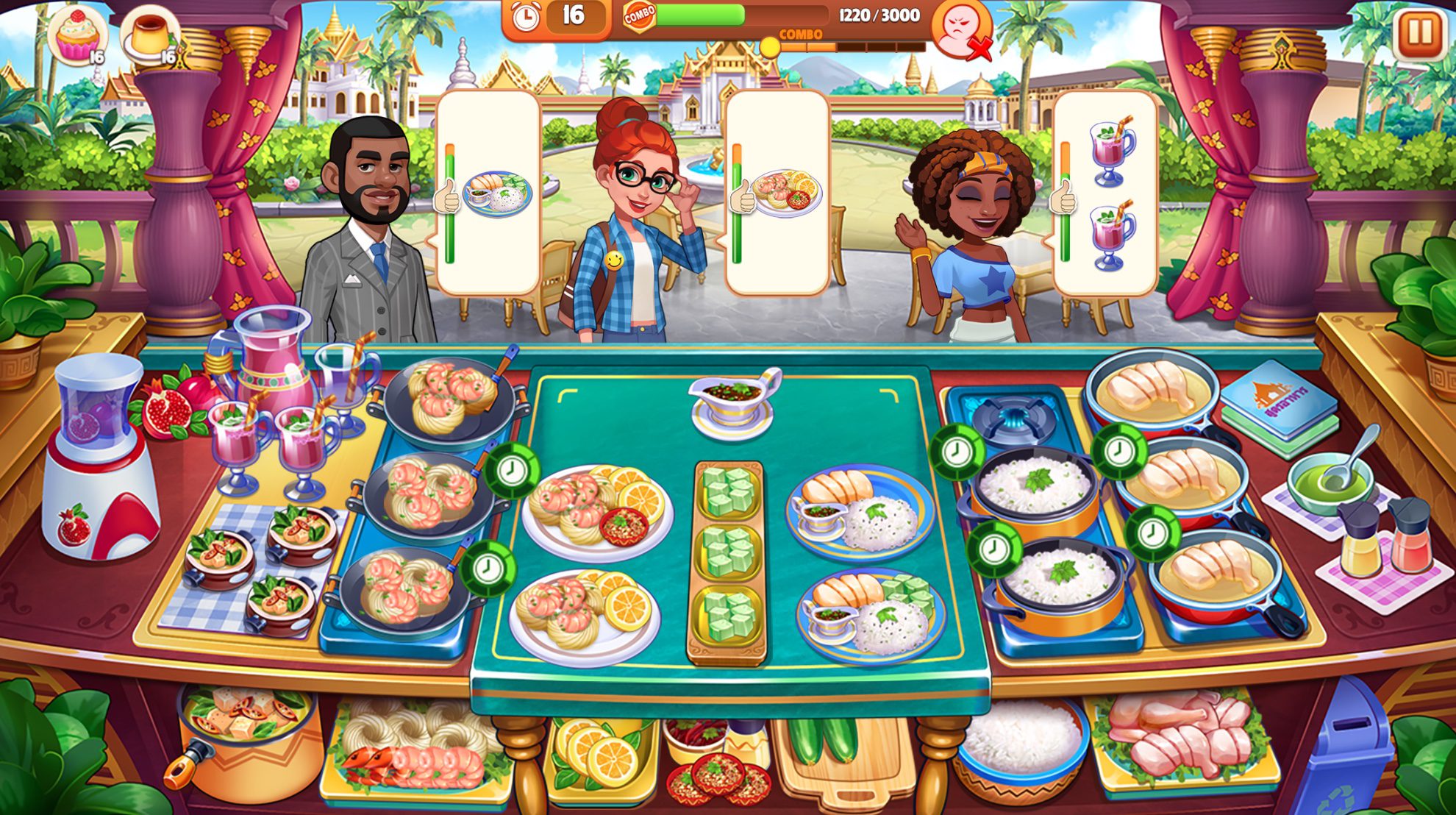 Don't forget about the constant improvement of the kitchen. Also, gamers can collect cards with keys. This allows you to open new restaurants! The gameplay is quite varied. If you like games on a culinary theme, you will not be disappointed!
It's necessary to use the correct ingredients. Remember to follow the recipe, because it is a prerequisite. Be as attentive as possible and use your culinary skills.
The food has to be served exclusively on time, otherwise, the customer will simply leave. Prepare burgers, sandwiches, various soups, desserts, seafood. The selection of dishes is quite wide. Appreciate the available interesting recipes, get acquainted with all the various ingredients available.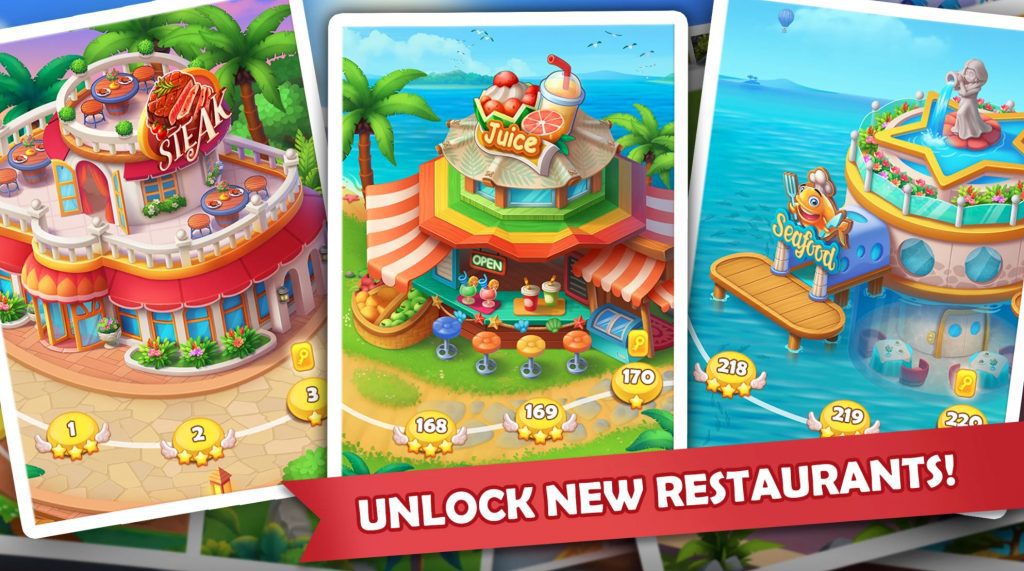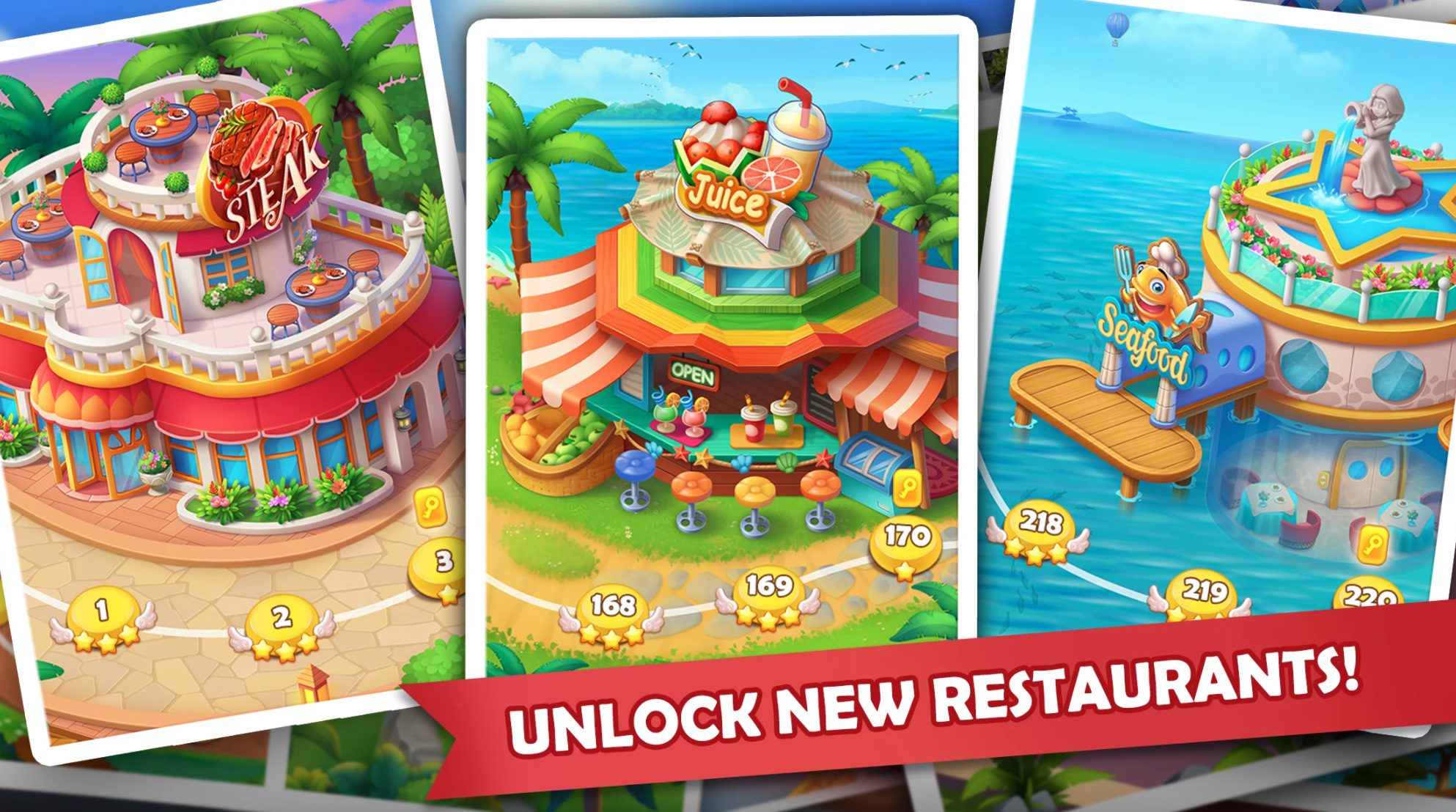 If you're ready to try yourself as a chef of an elite restaurant, then immediately begin the gameplay. Control is clear on an intuitive level. Users will be able to travel to different parts of the world, cook in famous restaurants. Get worthy rewards for your own efforts.
Downloads: 100000000 +
Customers rating:

(4.6 / 5)

Restaurant DASH: Gordon Ramsay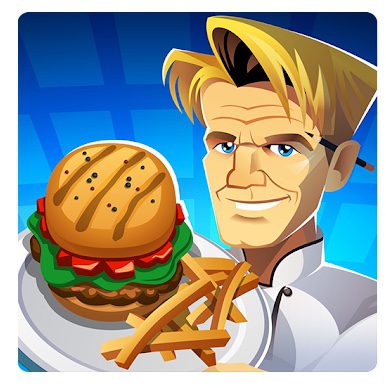 The main character of this game is a popular chef and TV show host, Gordan Ramsay. Your task is to overpower the best chefs from around the world and create a global culinary empire.
The game consists of, as you guessed, cooking. You have to learn how to cook (and most importantly to remember!) certain dishes, serve customers. And you have to do it all quickly!
You have to memorize the sequence and composition of ingredients for dishes. In principle, it's not difficult. Dishes usually consist of 2-4 ingredients and 2-4 cooking steps. The higher the level, the more complex dishes you have to make and more customers to serve.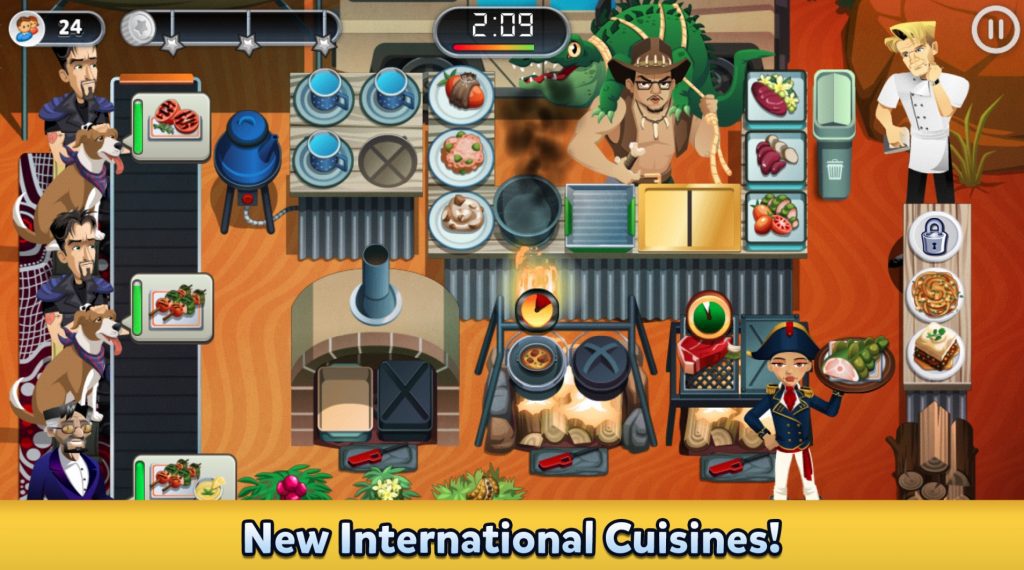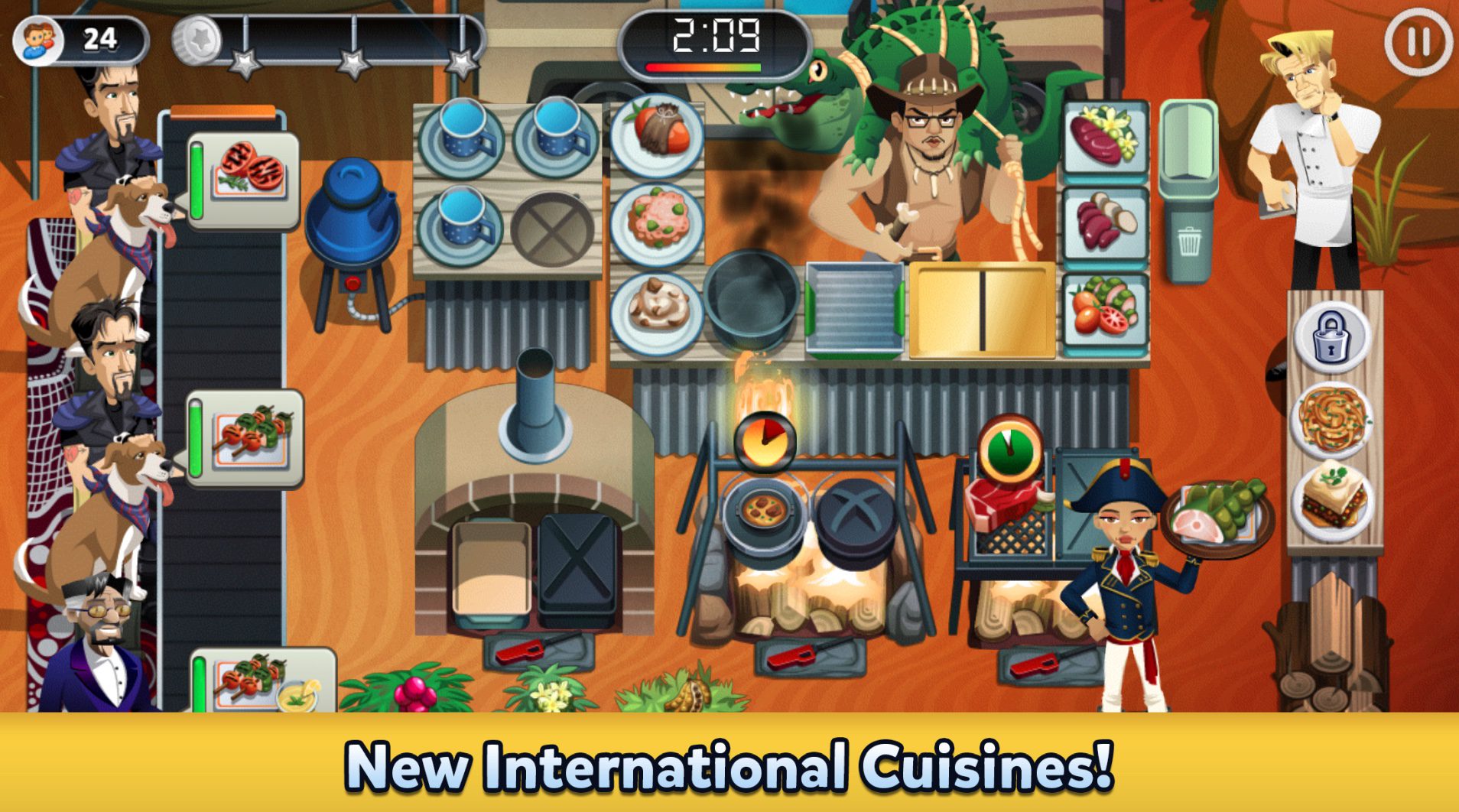 In the game there are several restaurants, each new one opens (purchased) by passing the previous restaurant. Each restaurant can return to, for example, to even better pass the level. To get more stars, you have to pass the levels of the game quickly and skillfully.
At each level, you can serve VIP clients, prepare special dishes for them. For this, they give extra money. You are the chef and waiter in one person. You will be rushing around the restaurant like mad.
The impression is that Gordon Ramsay is yelling at you in the game, as he does on his TV shows. So, customers come, quickly understand what to cook by signs over their heads, and then you can treat guests. It requires speed in thinking and pressing the right buttons.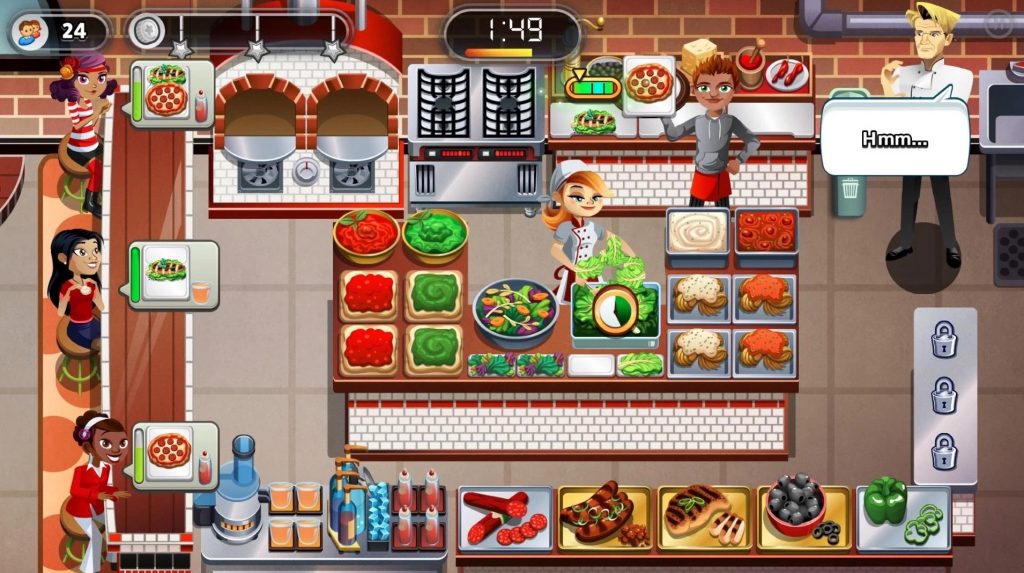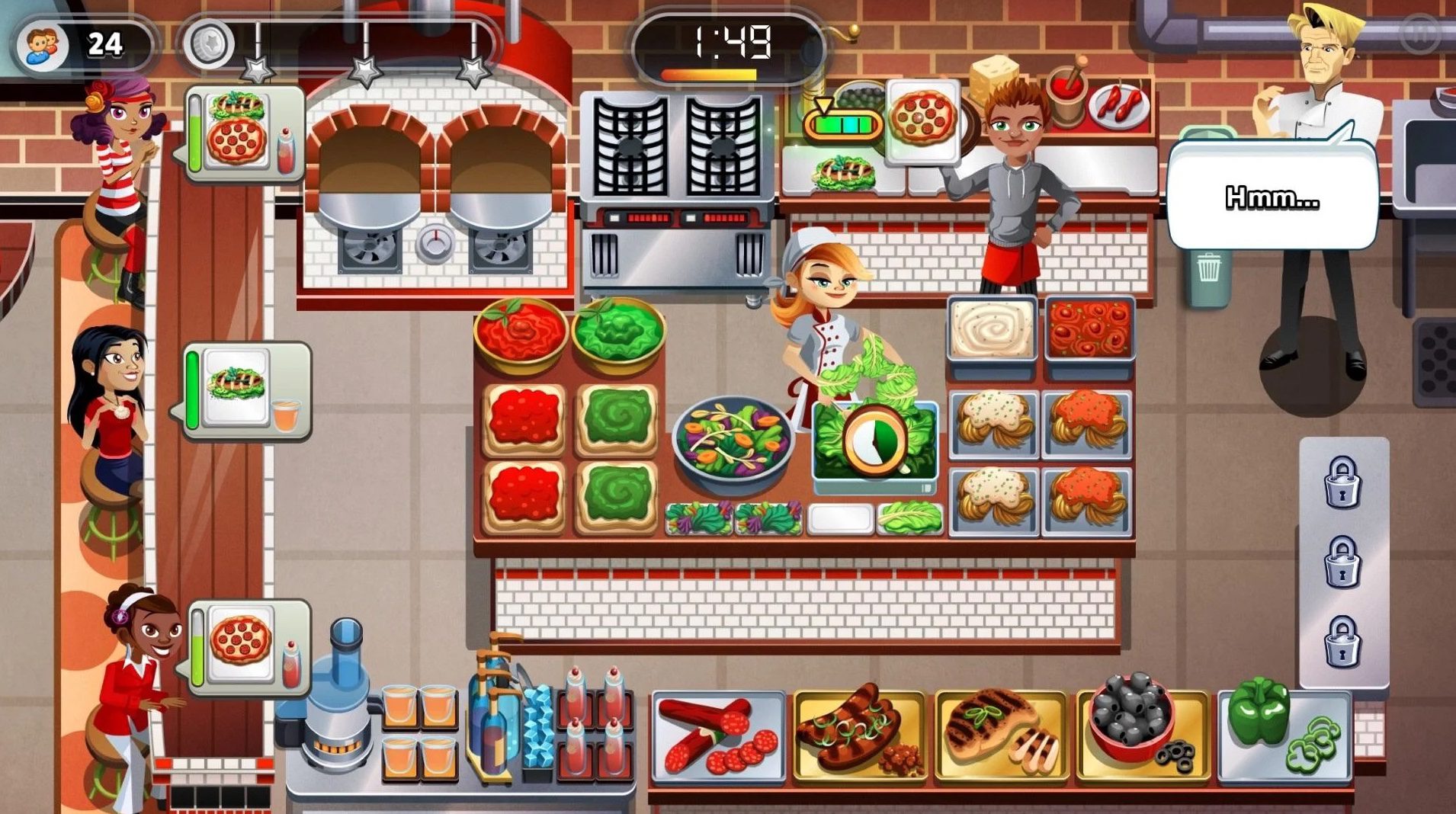 If the dish is cooked, for example, on the fire, it will not wait for the client. It will go bad, it will have to be thrown out and cooked again. And that's time… So you have to keep an eye on the game. You can change your appearance and clothing. You can make friends. Give each other gifts and hearts.
Downloads: 5000000 +
Customers rating:

(4.2 / 5)

Food Street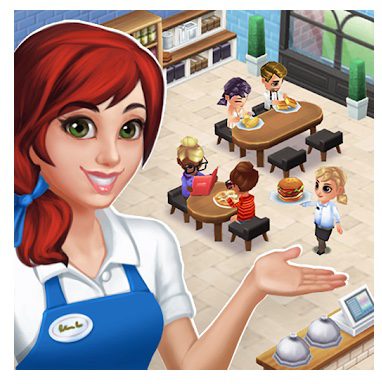 Food Street is a game of strategic management where you are charged with running a restaurant. Your task is to develop this business as best as possible.
In this restaurant, you will have to manage everything: growing ingredients, preparing them, and serving them to the table. To do this, you'll have to create growing areas, as well as different places where the food will be prepared. And, you'll have to wait a little while for these foods to be ready.
You will make your way through the levels, serving more and more dishes, which will allow you to unlock more and more items for your restaurant. Food Street is remarkable for the wealth of possibilities for your restaurant's furnishings, from tables to decorations. However, coins are required to purchase all the changes.
Food Street is a fascinating strategic management game that, in reality, is more reminiscent of classic farm-building games. This game takes the gameplay of farm games and brings it into the world of restaurants.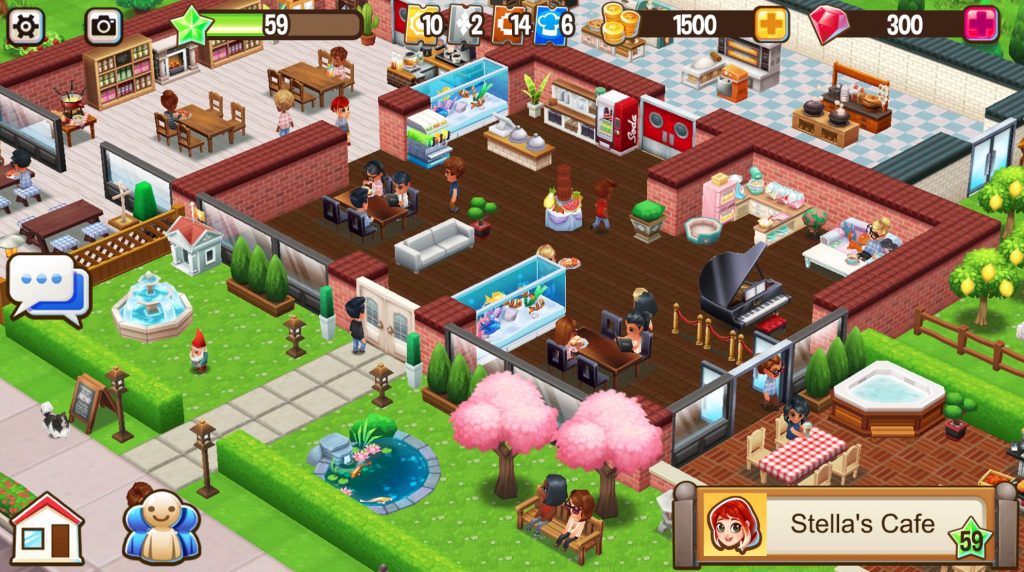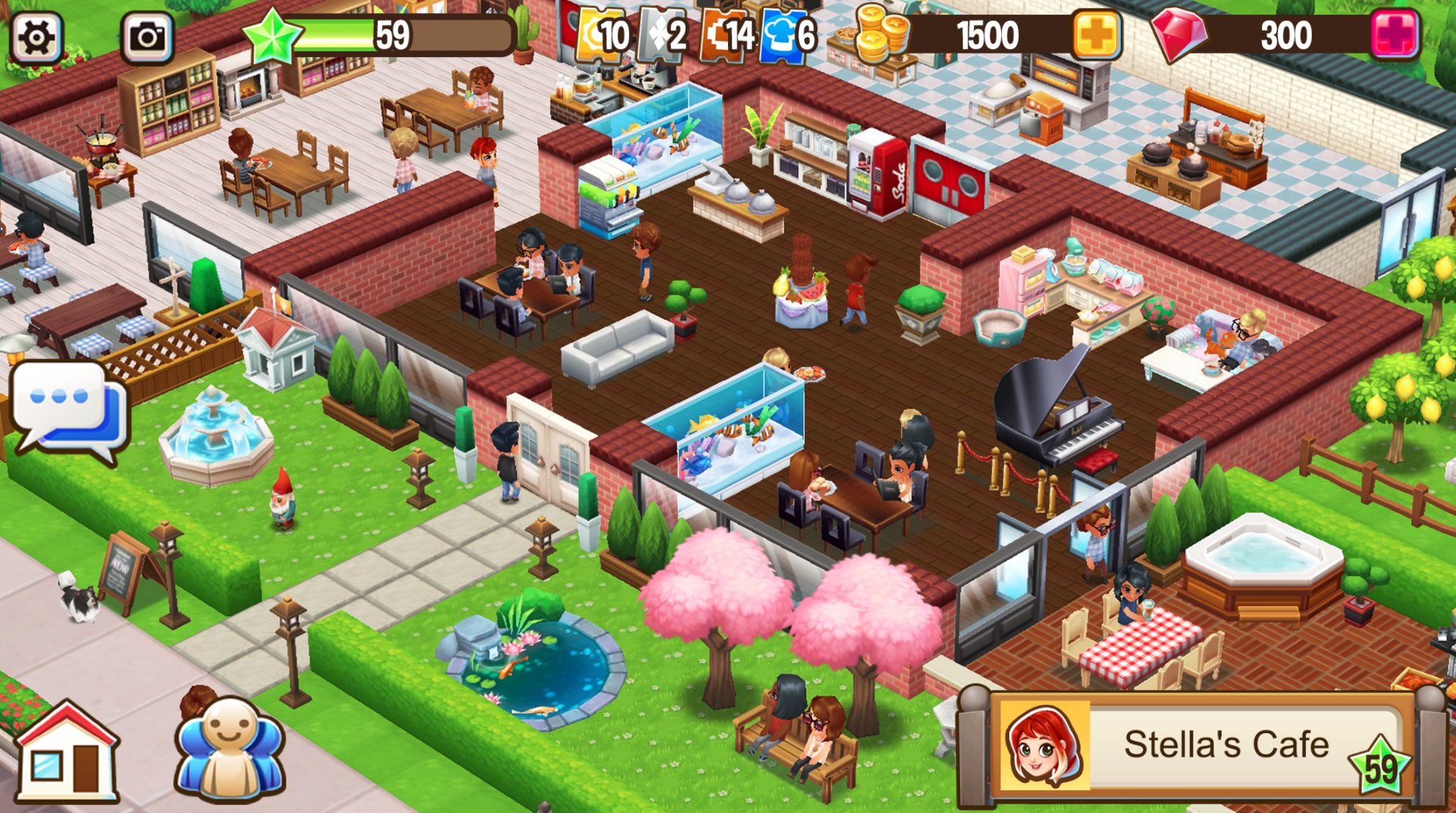 Downloads: 5000000 +
Customers rating:

(4.4 / 5)

Cafeland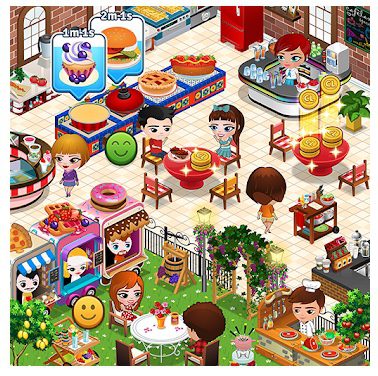 If you want to make your dream of creating your own cafe come true, then you should download the free Android game Cafeland – World Kitchen. Here you will find a lot of fascinating tasks.
It's one of the best simulators of the last time with a wide range of possibilities for users. Suitable for both adults and children.
You will have to do a lot of work, acting as the owner of the diner. Perform daily quests that increase popularity and attract more regular customers. Everything is only in your hands.
Constantly monitor the feedback from visitors. Further action depends on this. Focus on the needs of people. For example, if you don't keep track of the variety of menus, you risk losing your audience. Complaints will begin to arrive, and your institution will eventually go bankrupt.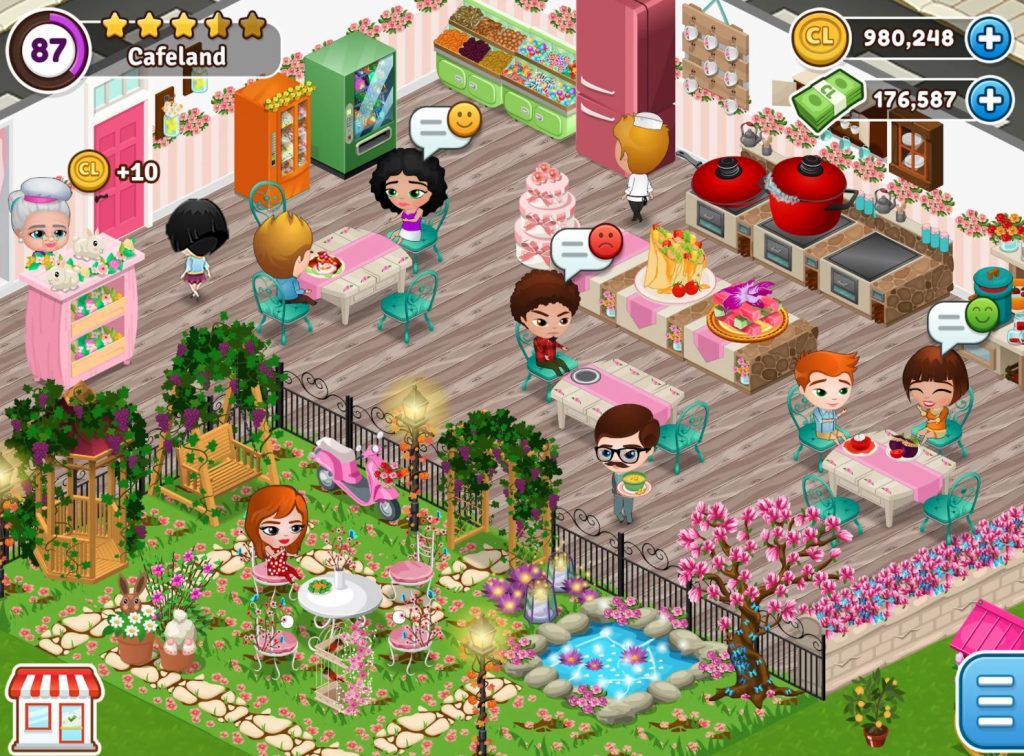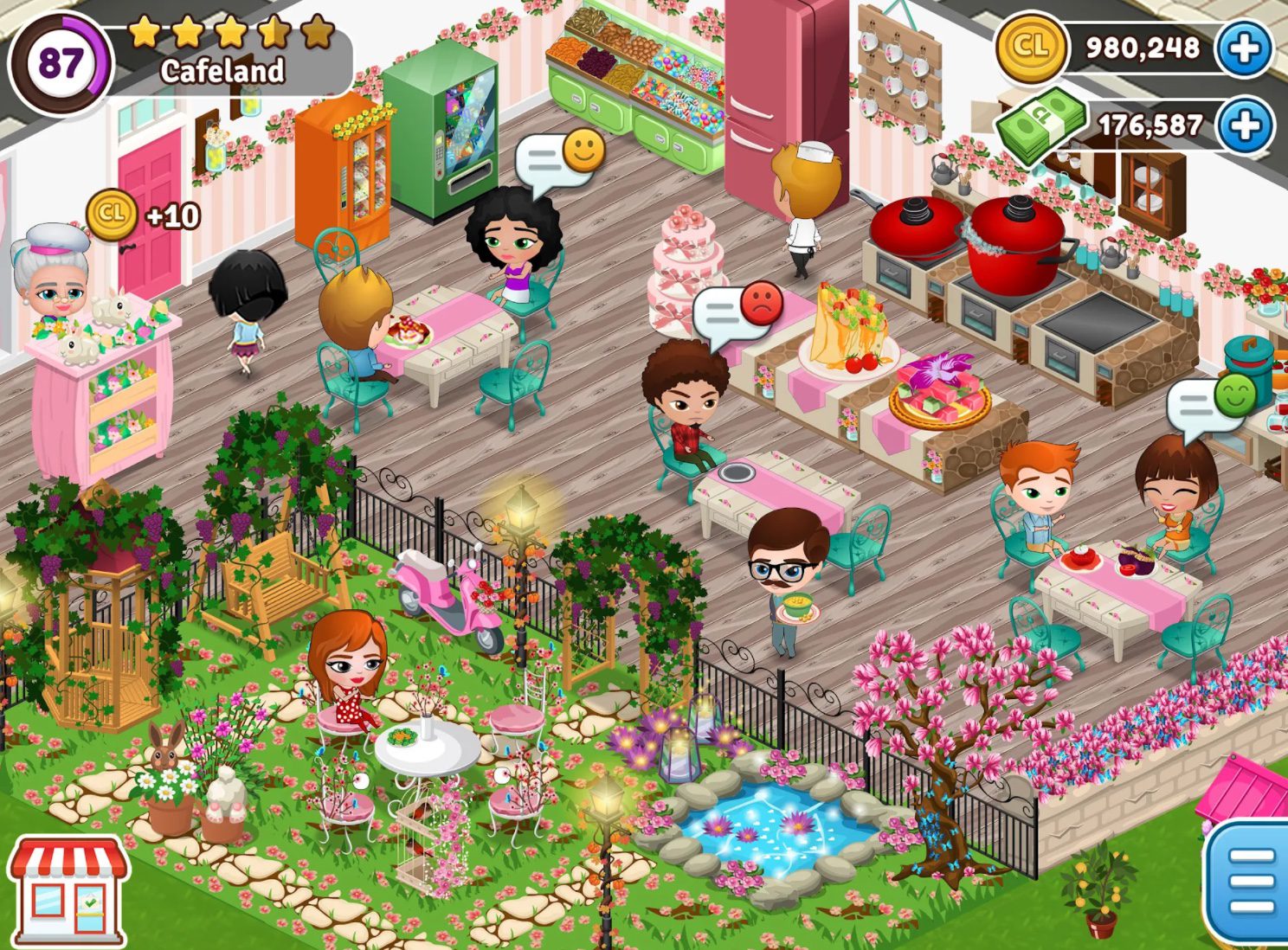 Introduce something new, change the environment, so that people do not get bored. Periodically expand the area, add new places, come up with some zest that only you have.
You are rewarded for completing daily tasks in the form of experience and money. This allows you to unlock new features, as well as purchase useful items for the cafe. If you invite celebrities, you can increase the rating. To do this, try to serve them as best as possible. The reputation depends on this.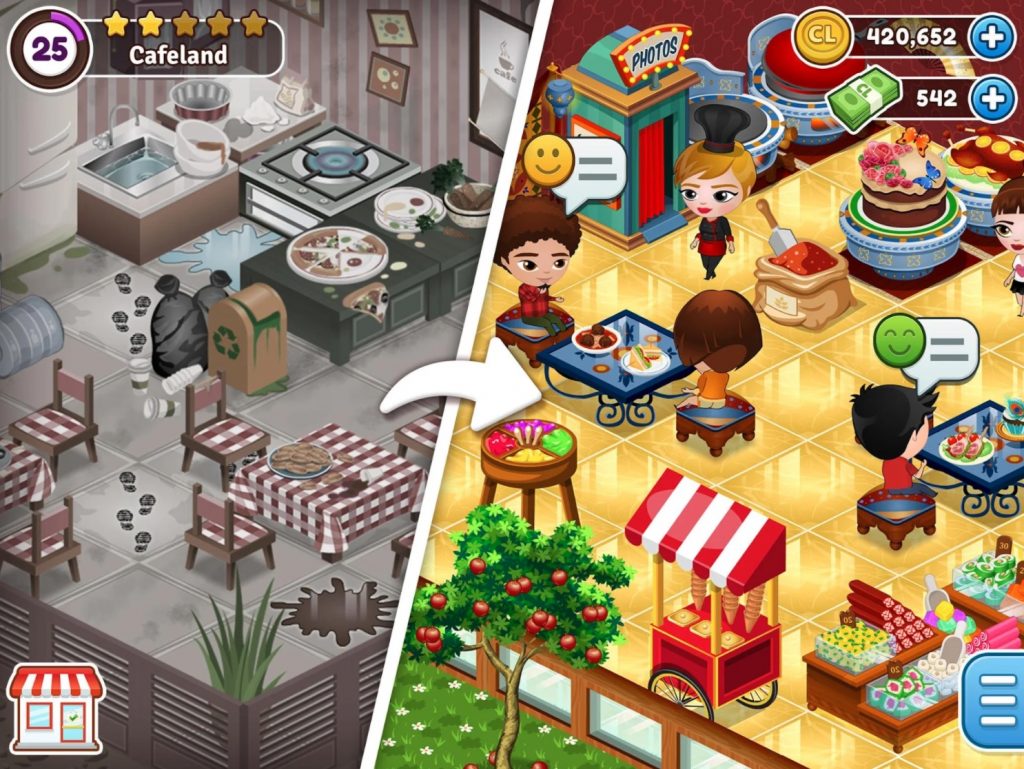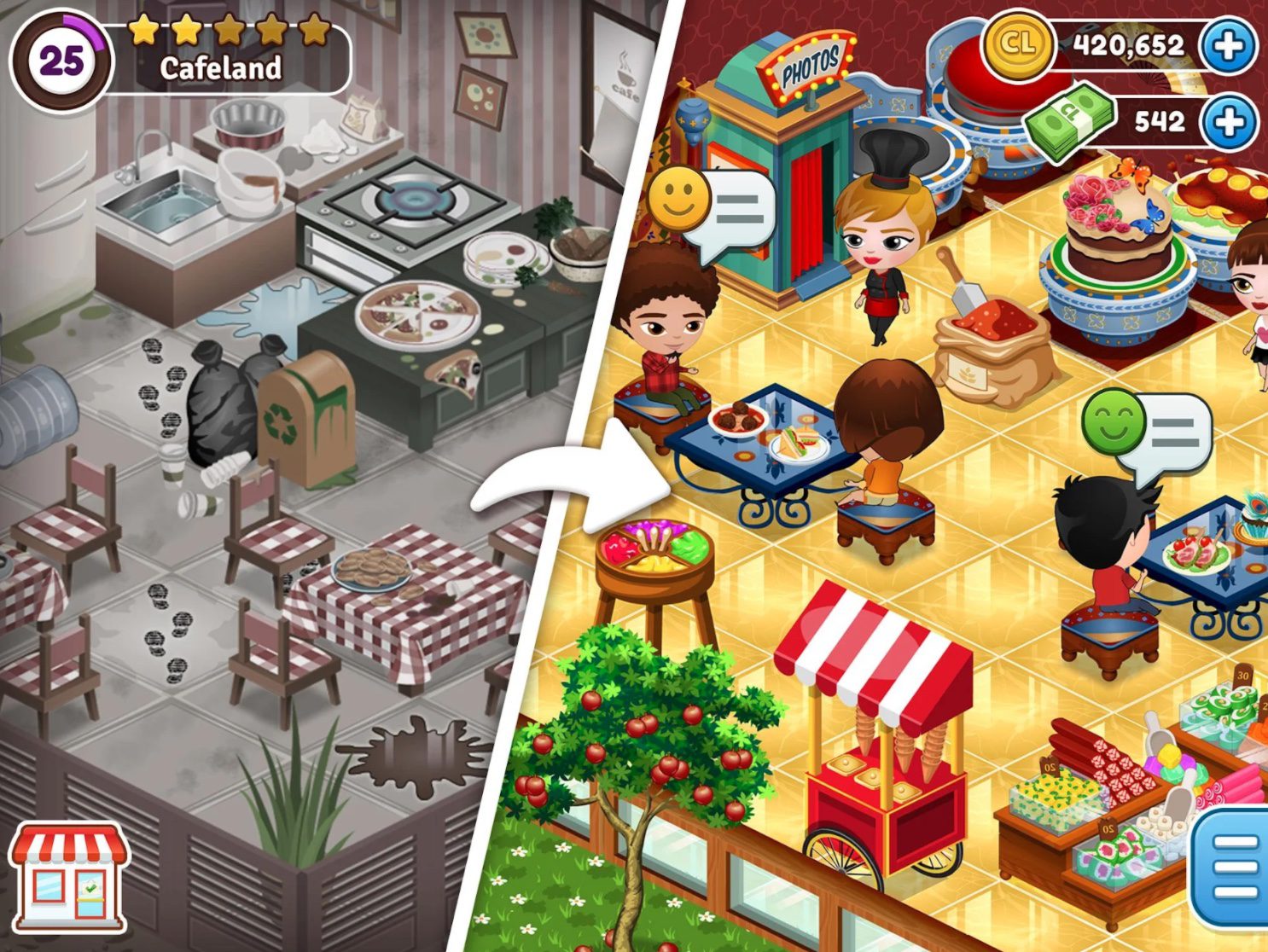 In addition to cooking, you'll have to keep an eye on what's going on in the hall. Come up with an interesting design. Arrange the tables optimally. Your guests should enjoy everything. They may visit you again or even invite friends. That is why you should download the free game Cafeland – World Kitchen. Start an interesting adventure.
Downloads: 10000000 +
Customers rating:

(4.5 / 5)

Diner Mania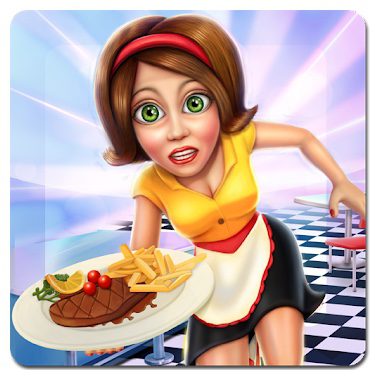 The player becomes a participant in an exciting adventure. The player will become a participant in the real restaurant business. Use all your dexterity and reaction speed.
The main character will need to perform a sequence of actions that will lead him to the development of business and profit:
Place visitors in the hall of the restaurant;
Take an order;
Prepare a dish in accordance with the recipe and the customer's order;
Take it to the table;
Wait for customers to finish their meal;
take a payment and remove dirty dishes to make room for new customers.
Visitors can be very diverse, and for each location – a different contingent.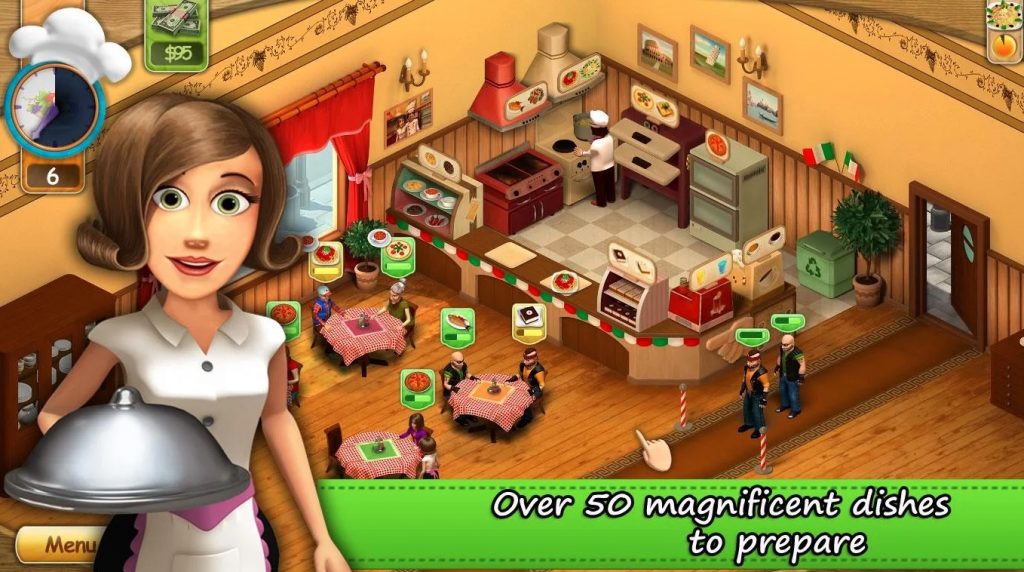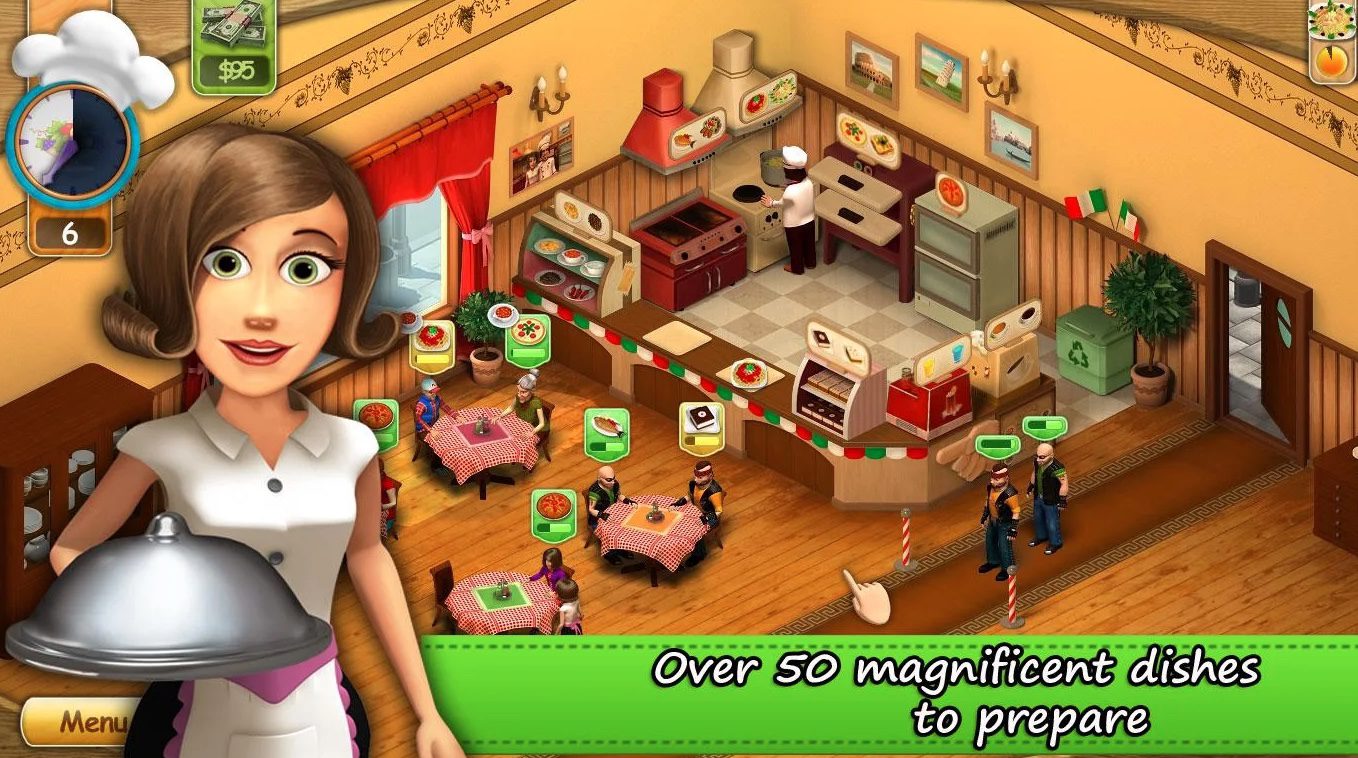 Among the attractive features of the fascinating culinary story:
Four locations;
A huge number of levels that are constantly being added with new updates;
Each level has its own mini-games that allow you to earn extra points;
A virtual store where you can spend your earned money to improve your furnishings and equipment;
More than five dozen different dishes to prepare.
Overall, Diner Mania is a fun cooking arcade game for Android, which becomes a favorite pastime in your spare time.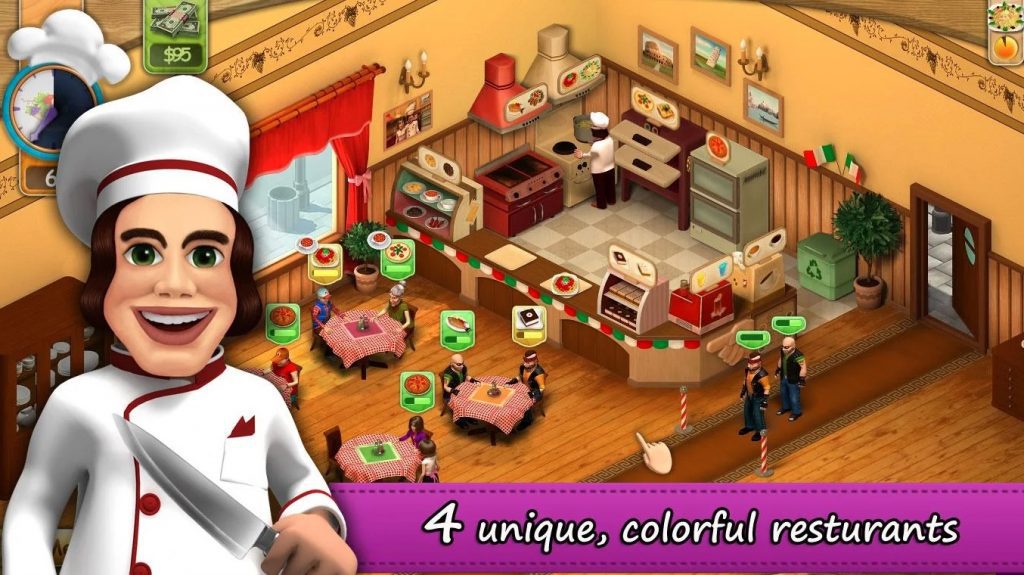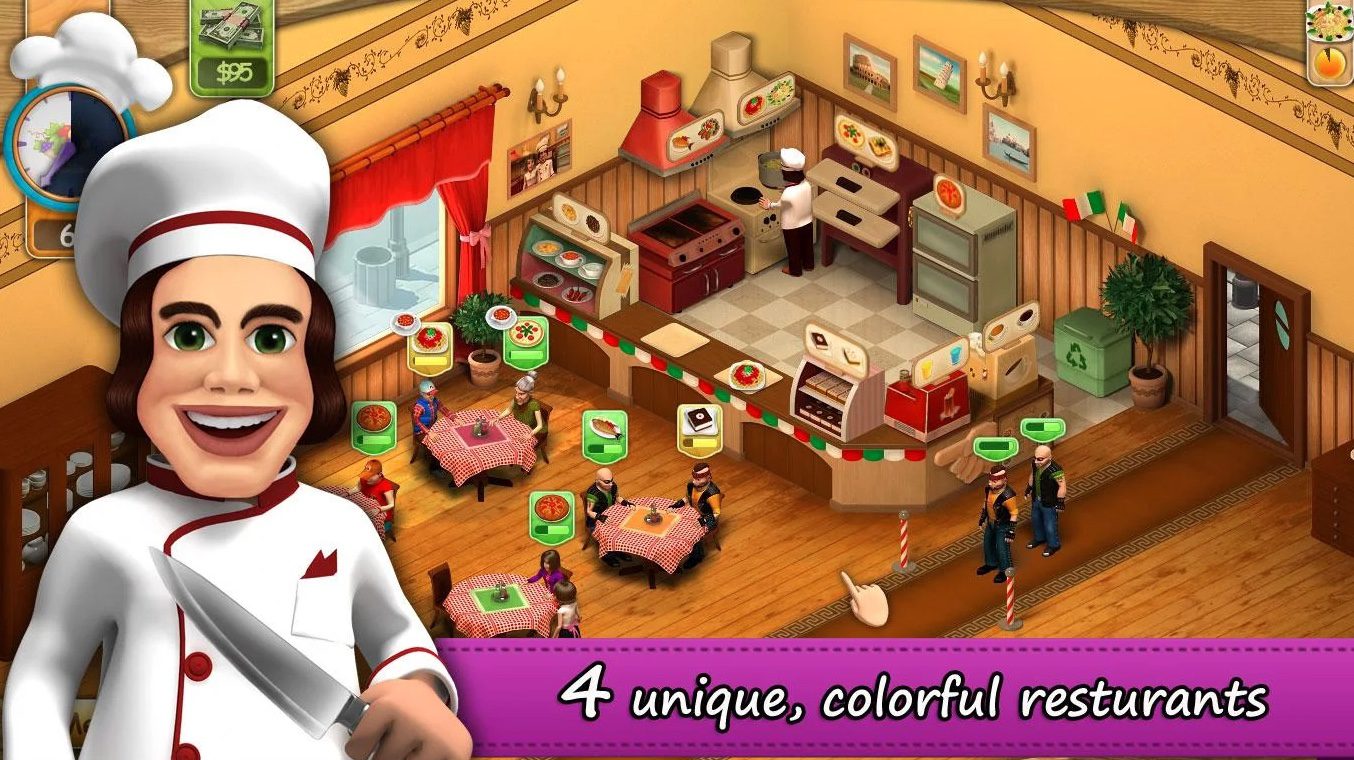 Downloads: 1000000 +
Customers rating:

(4 / 5)

Cooking Craze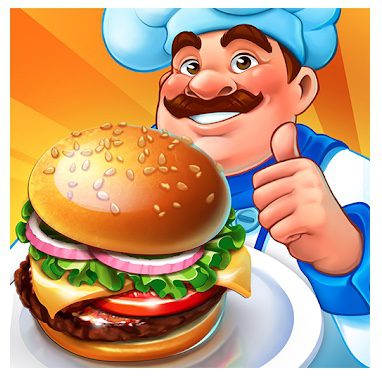 Cooking Craze is a unique opportunity to plunge into the real culinary world and become the real chef.
You will have your own restaurant with its own kitchen, where your main task will be to feed all visitors of the restaurant. You will cook a variety of dishes, and must please each customer as everyone has his own unique culinary requirements.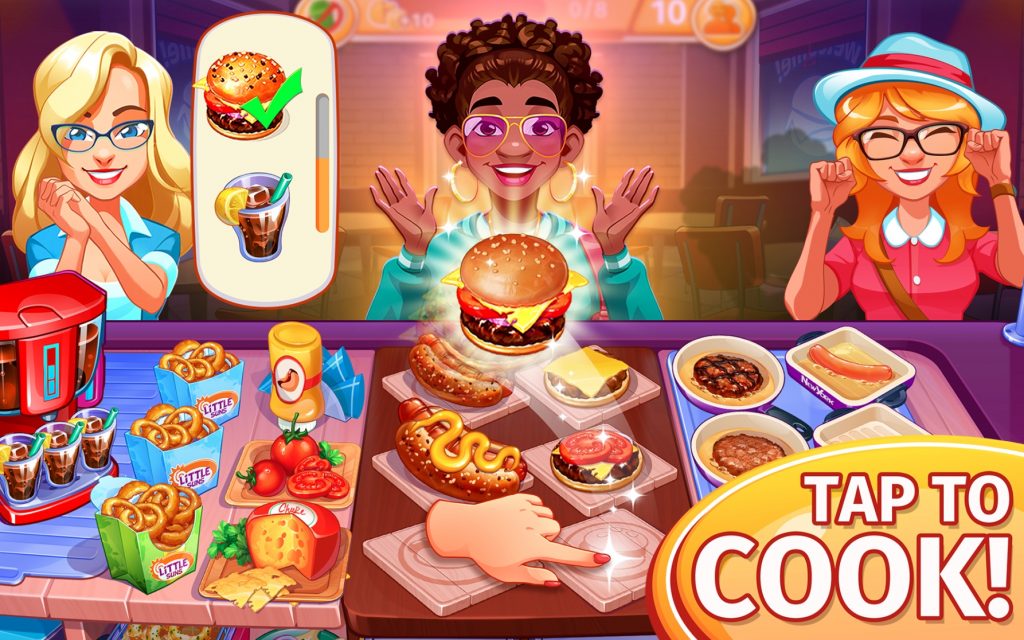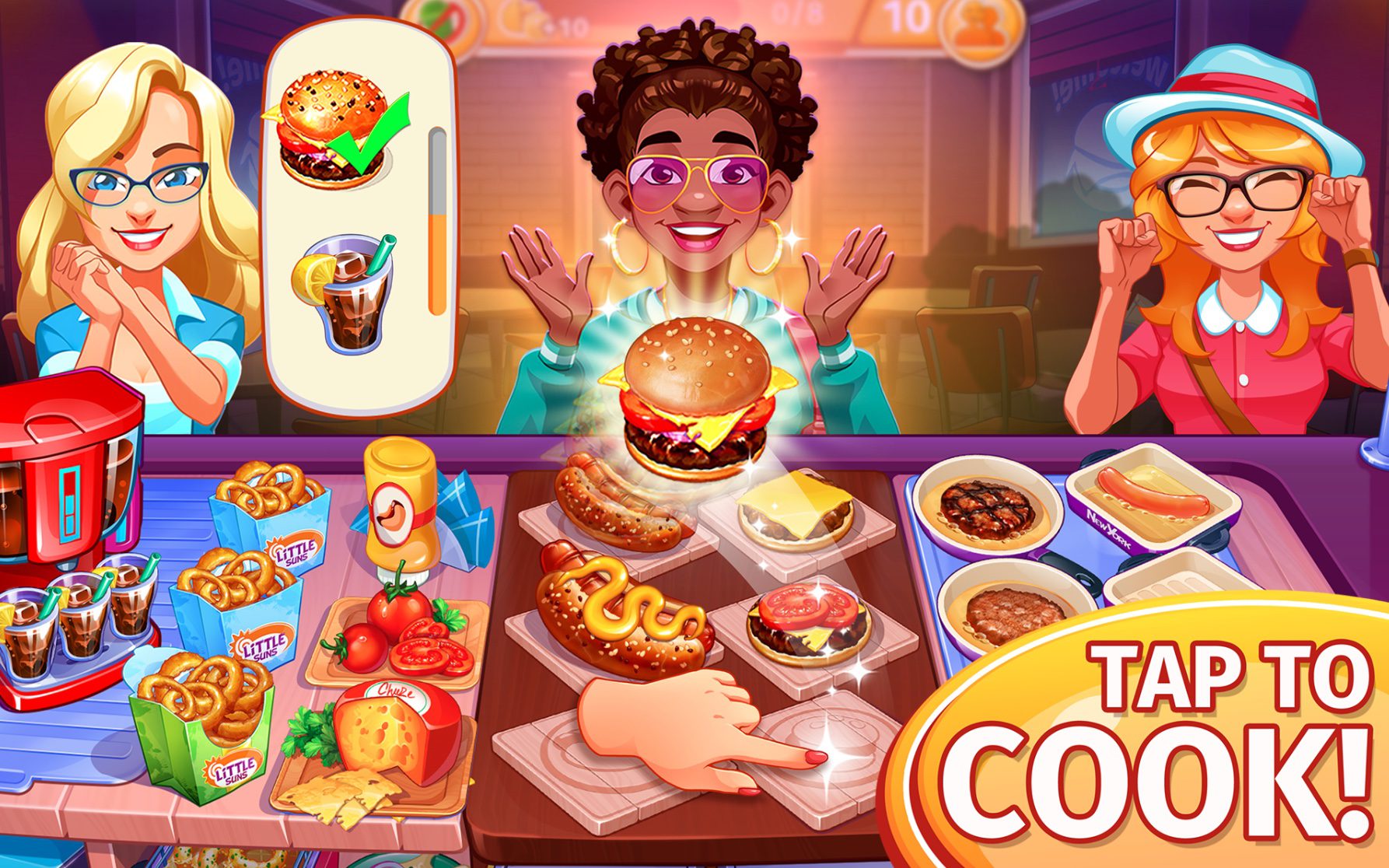 Serve as quickly as possible, and thus earn even more points! Fit a non-stick pan and your food will never burn. Prepare food from organic products and earn even more points for it. Cook breakfasts, lunches, and dinners for your visitors, and if you do it very fast, you can earn even more tips.
The main features of the game Cooking Craze:
Learn more than 100 recipes from all countries;
Cooking a variety of dishes;
Strengthen your skills;
About 400 levels to complete;
Pass levels, earn points.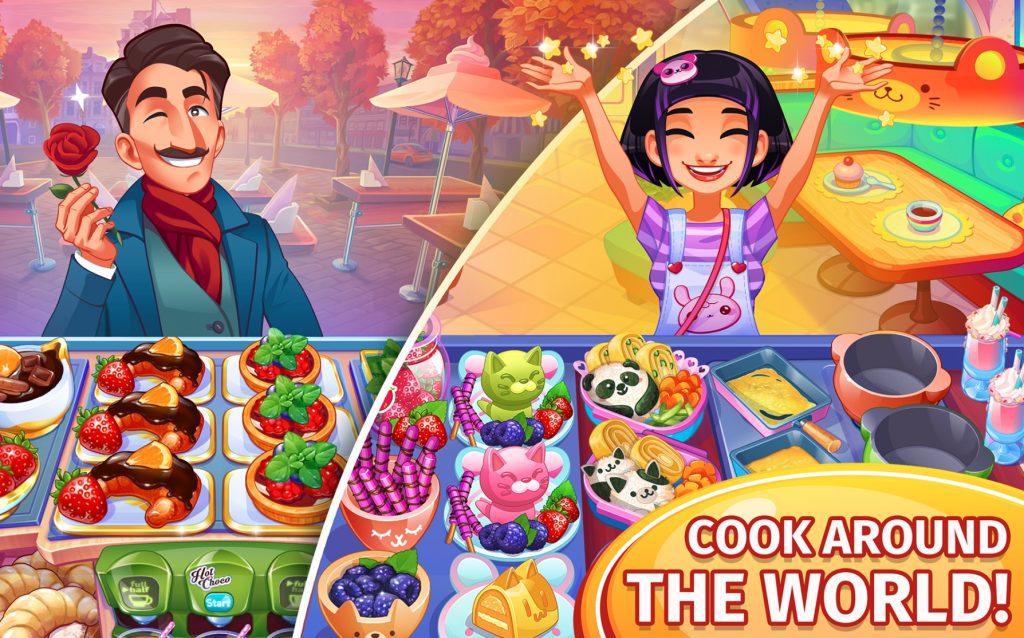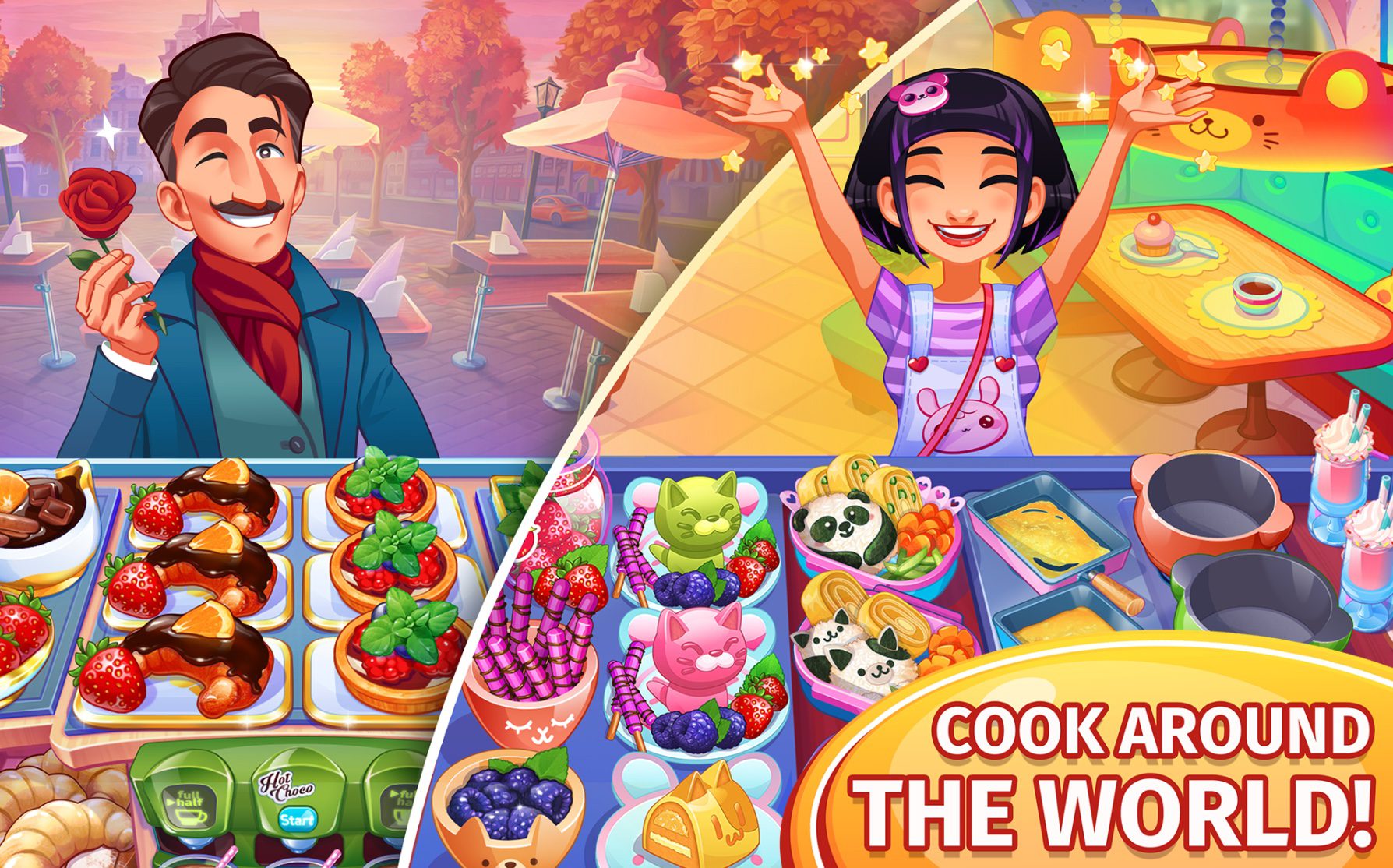 Downloads: 10000000 +
Customers rating:

(4.2 / 5)

Rising Super Chef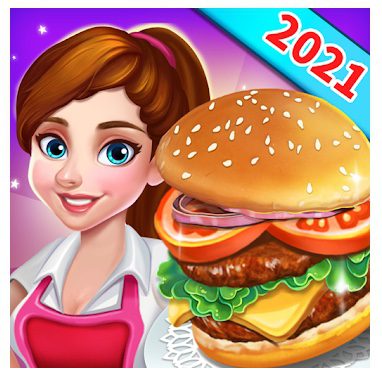 The essence of the game is to prepare food according to a recipe and sell it to visitors. Recipes are quickly memorized – and this trains memory and attentiveness. And also manual dexterity is quickly built up with such a game.
Each level has different tasks and conditions – for example, until the last customer, or for time, or just a specific number of people. T
here are also characters that get in the way of the game: they freeze you out, are too slow, take a person with them if they get upset, or worsen the mood of others when they leave.
Some even throw eggs at the screen – and for a few seconds, you see nothing. And then there's the thief – he steals food and cooked meals, and you have to be quick to feed him.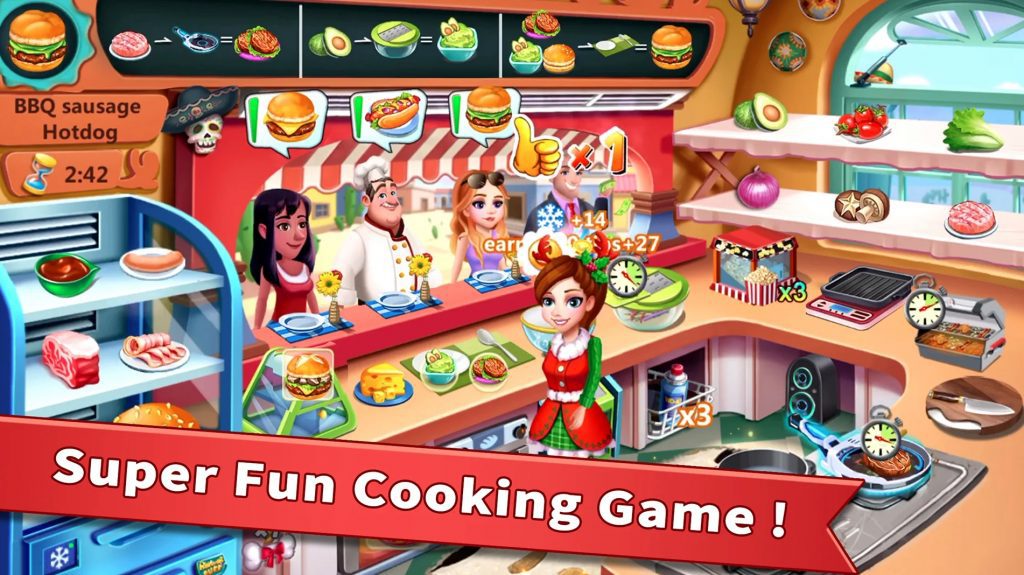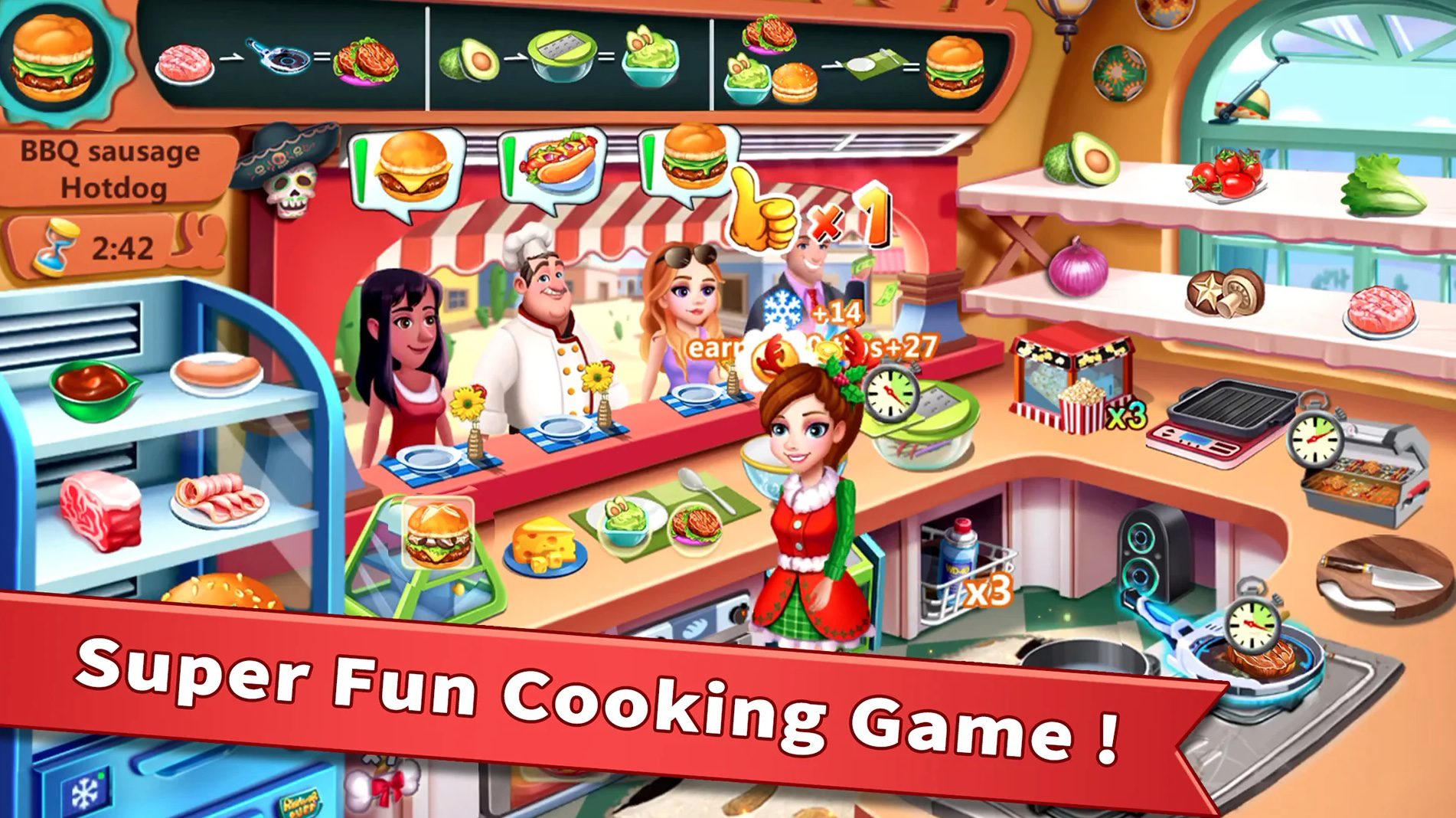 There are also good characters, who help you: the Millionaire – he leaves a gift with a big-money supply, the cooks – they cheer up all the visitors for a few seconds, and new characters – they leave a gift that increases the time to play or the number of customers.
There is also a wizard who leaves a gift – so faster to fix the devices, which are also broken for the complexity of the passage.
At the bottom of the panel are the saviors: instant cooking, a wand – which serves any customer in a jiffy, fire extinguisher – which allows food not to burn throughout the level.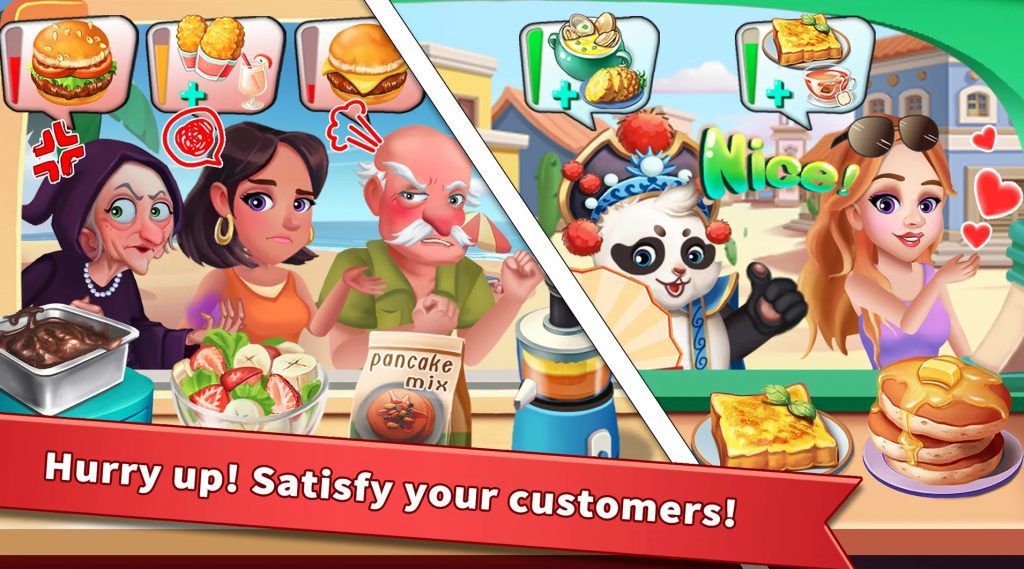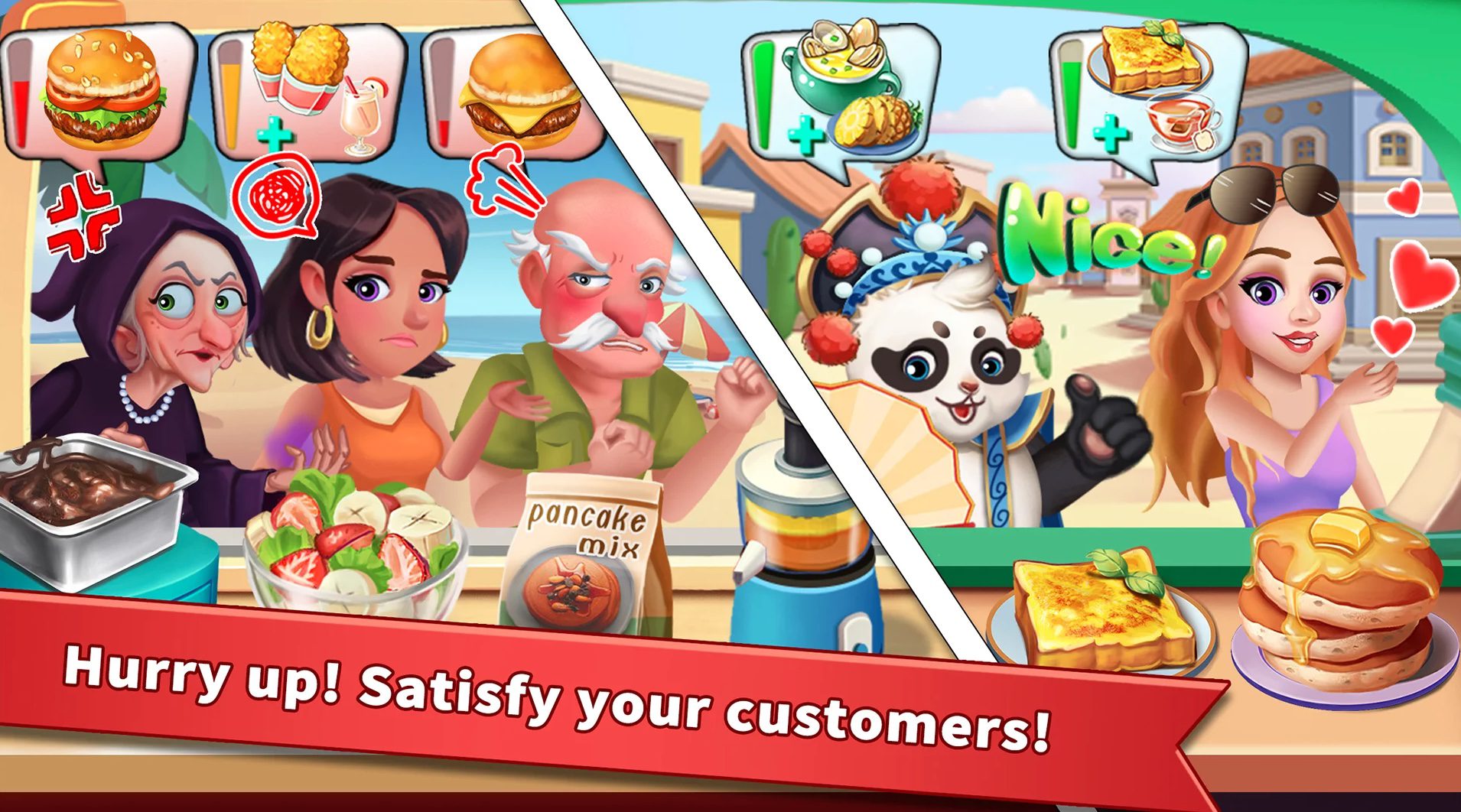 There is also cotton candy or popcorn in the game – give it to the client and he is satisfied! And a music player – which increases customer patience.
As in every game, there is a market. You can dress up the character, as well as buy equipment for the kitchen.
Downloads: 5000000 +
Customers rating:

(4.6 / 5)

Delicious World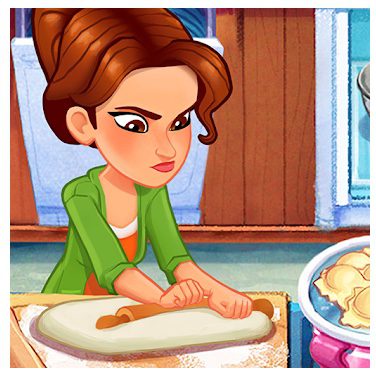 Delicious World focuses on running your own cafe and serving customers.
Delicious World is a wonderful kind of pastime, relax, as the gameplay is smooth and player-friendly. Cooking and fast serving customers with a wide variety of requests is the main theme of the application.
The game tells the story of a young lady Emily who runs, at the beginning of the game, a minor coffee shop. As the game progresses, the range of tools and products used in preparing orders increases, the complexity of the game increases, and the overall condition of the cafe improve.
Dozens of gadgets (like a coffee machine, pancake cookers, and more) to fulfill customer orders make the gameplay fascinating and not boring.
The mobile game has dozens of levels that will drag on for more than one hour. What's more, you can not only pass the levels but also watch a kind of cartoon. Emily's story is unusual and interesting. Acquaintance with different characters, their relationships, and intrigues will not let you get bored. Also in the game, you can learn a lot about cultures and national cuisines.
The gameplay itself is accompanied by clear tutorials that allow you to easily understand the entertaining process of running your own business. The application is made in bright but soft colors, defining the exceptionally friendly mood of Delicious World.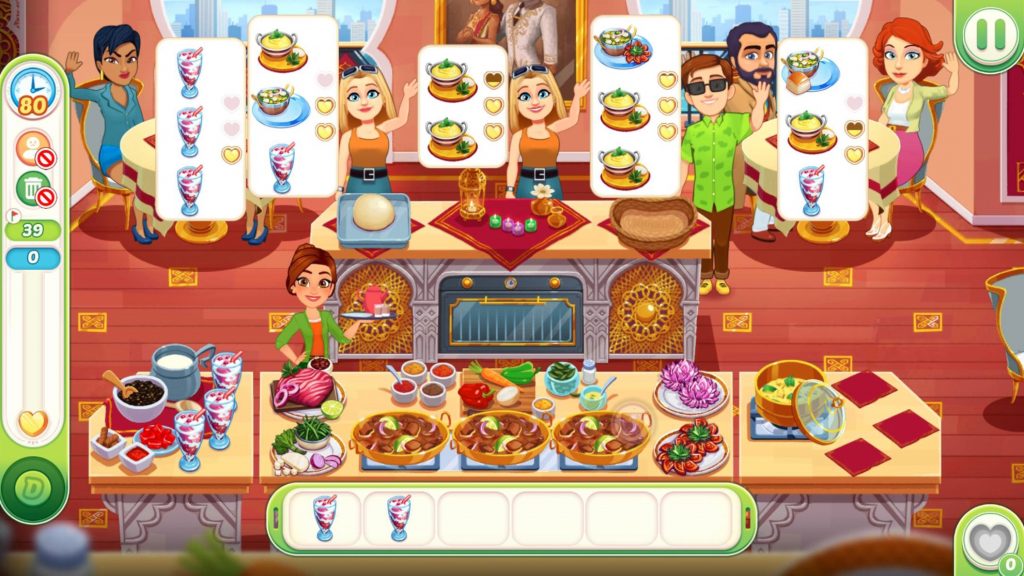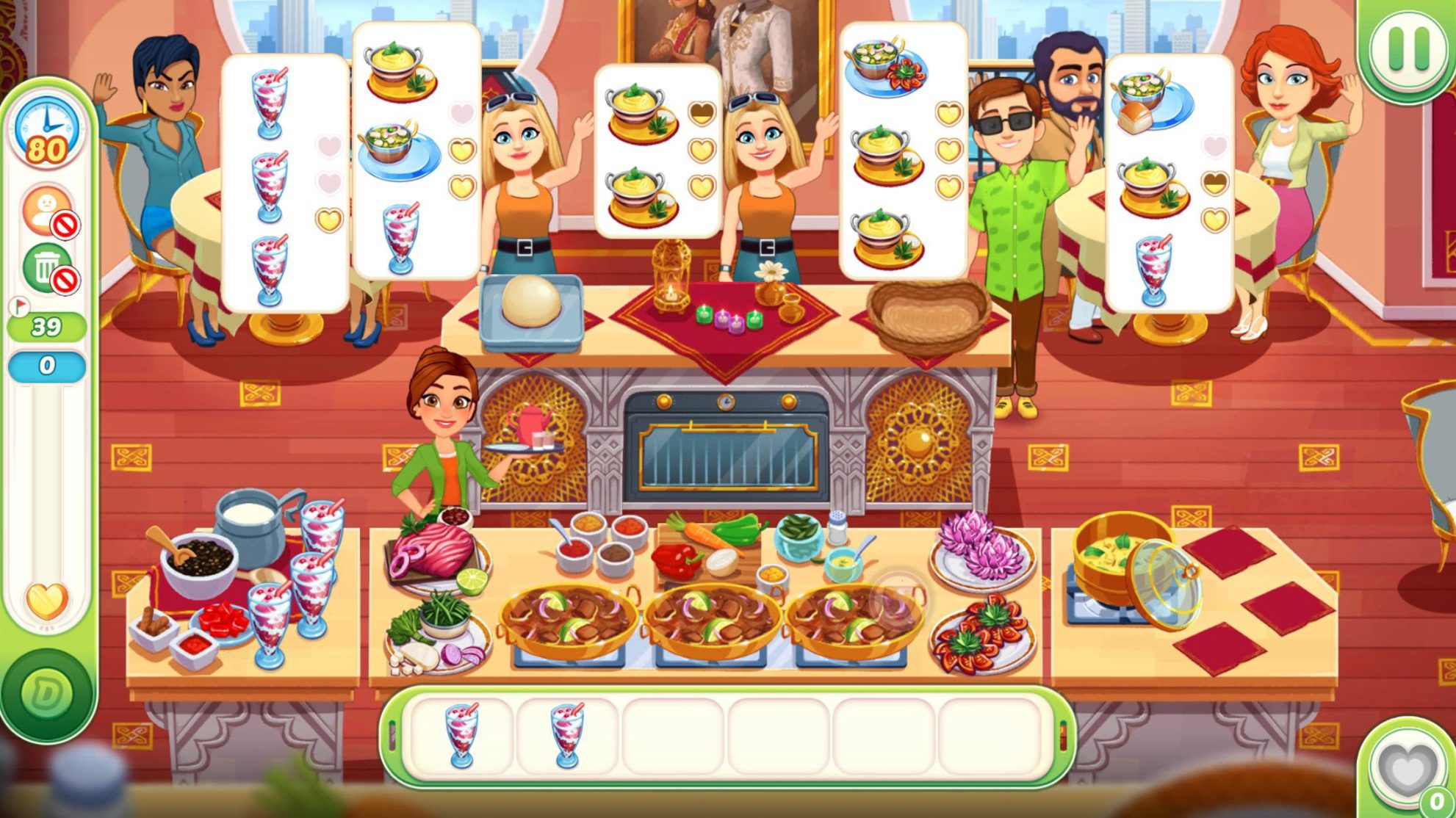 Downloads: 5000000 +
Customers rating:

(4.4 / 5)

You may also like: 9 Best Hotel games for Android
SpongeBob: Krusty Cook-Off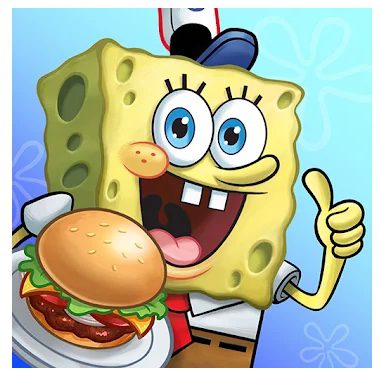 SpongeBob: Krusty Cook-Off is the same kind of time manager in which you will serve the inhabitants of an underwater town. At first, the tasks will be purely mechanical, but over time you will have to be as focused as possible to successfully pass the levels.
The first thing that pleases is a bright and high-quality picture, all the characters are drawn as in the cartoon, their actions are accompanied by bright facial expressions and animation.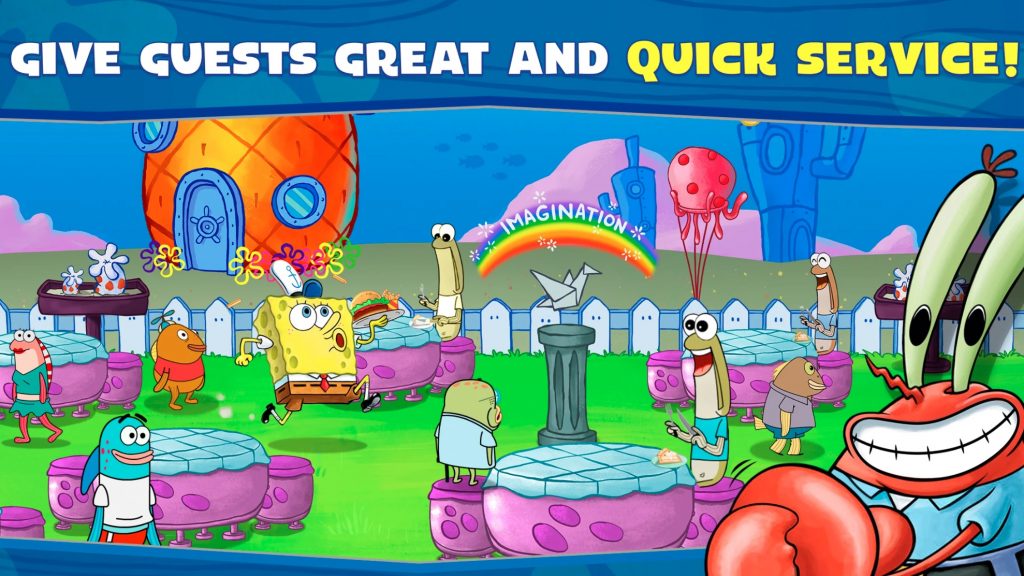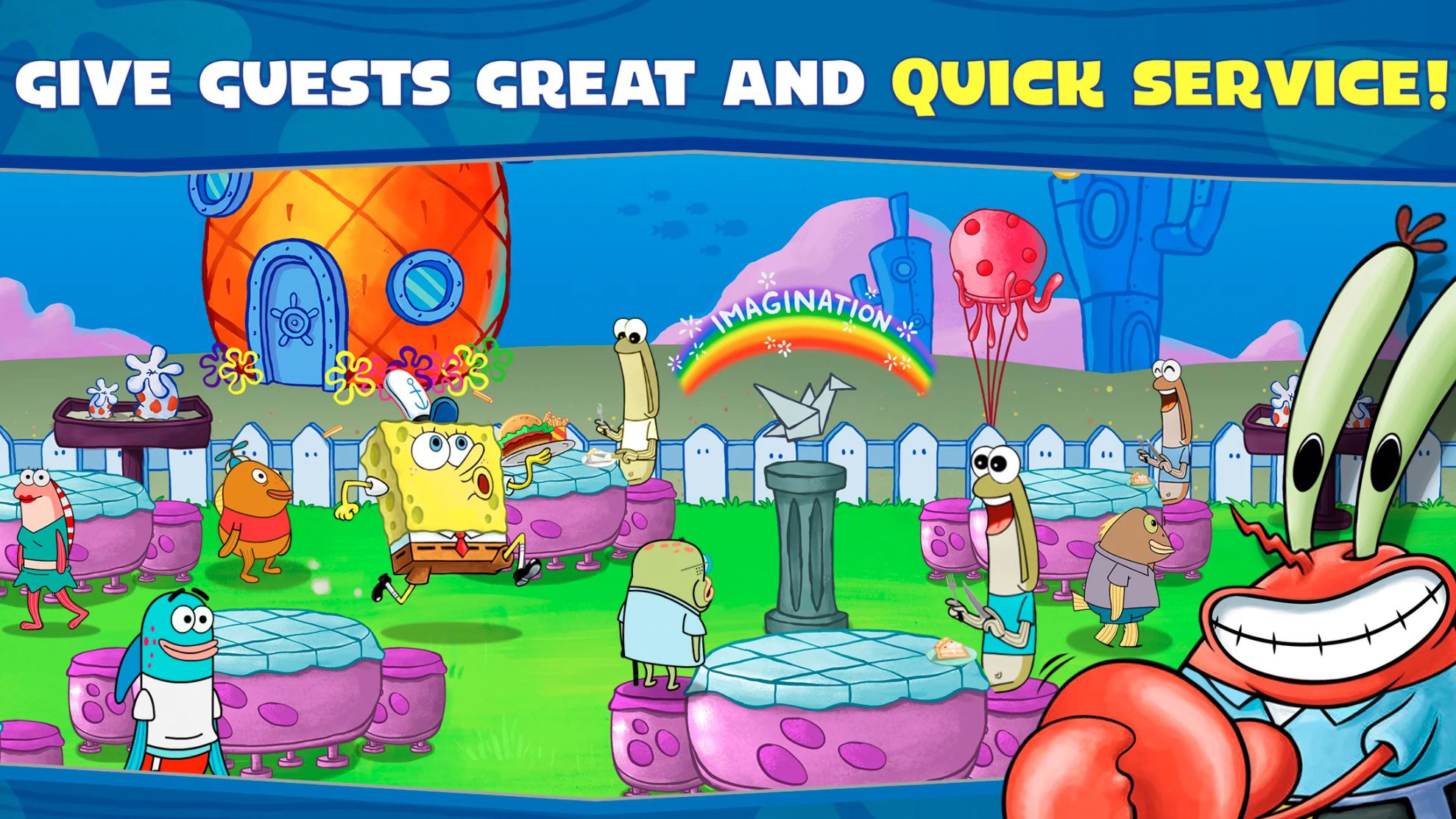 Gameplay is not very complicated, where the emphasis is on attention and reaction. At the start, we play for SpongeBob and our main task is to serve customers of the cafe, taking their orders, for example, to make coffee and fry a couple of pancakes.
It's clear that customers will be added and the main thing is not to fuss and keep an eye on the process of cooking, managing to give the order at the time and put the next portion. After all, the customer is not very patient.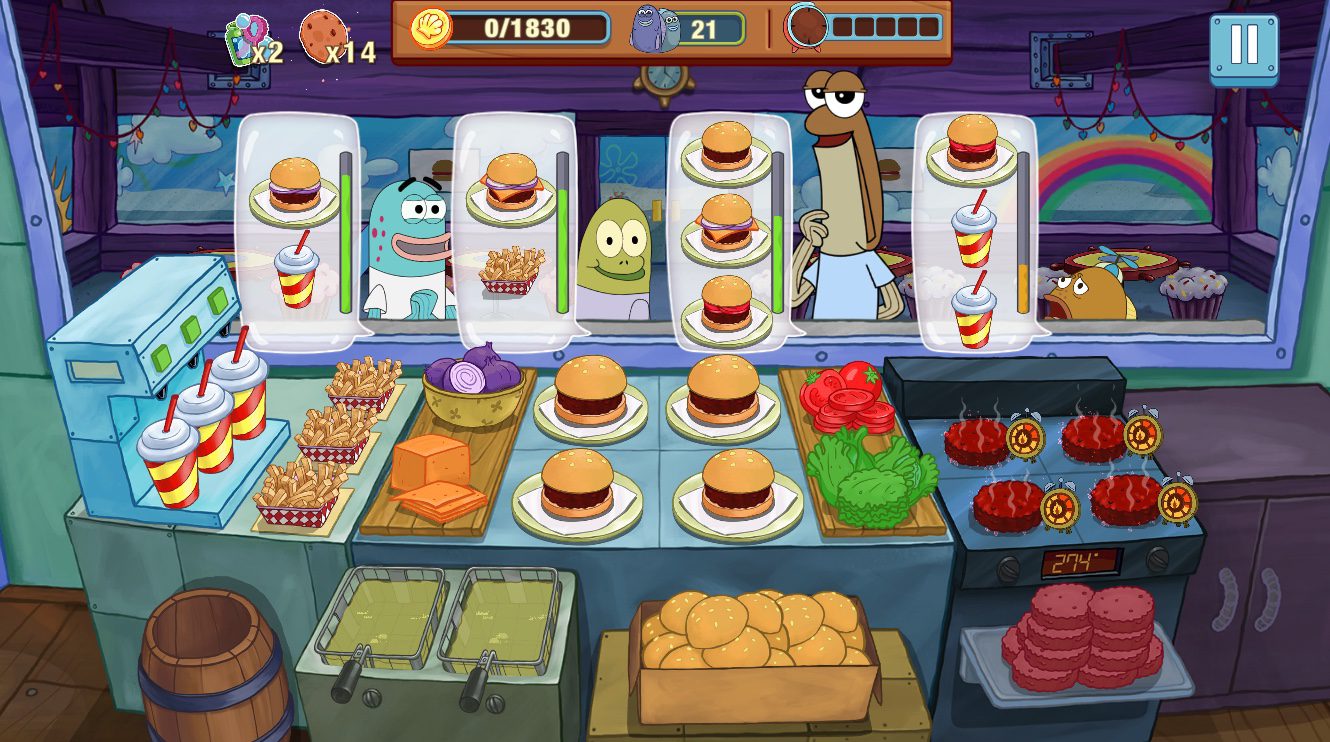 As you advance, you can unlock new kitchen gadgets, as well as other characters, such as his best friend Patrick, or for example, Sandy.
In addition to the characters, you can raise the level of the institution, turning it from a simple beach wagon into a full-fledged restaurant. After all, the dishes that we have to cook will increase in their complexity and variability.
The game is designed for all ages, but probably children will like it the most.
Downloads: 10000000 +
Customers rating:

(4.1 / 5)