Sometimes, in the daily bustle, the right direction is lost. The task of astrology is to give you an opportunity to look at what is happening from a different, more universal point of view. A horoscope is a kind of outside view that helps you understand and accept such a unique being as you.
Almost always, if you can tell a person the opportunity to look at the situation differently, he begins to think in a new way, and if the way of thinking has changed – life also changes. This is the secret of the fate change. A true view of the problem is already half the solution. A person who understands the patterns of his destiny is much easier to find solutions to the problems facing him.
You may also like: Best Wishlist apps for Android
The astrologer views the interaction of the planets as a reflection of your inner processes. A horoscope can become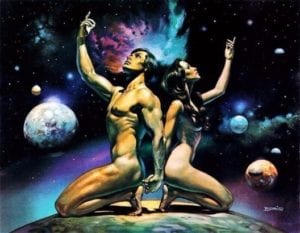 a good companion on the path of self-development. Work on yourself, in fact, is a solution to the conflict between parts of your being. Learning your own horoscope should lead you to inner peace and integrity. So, a horoscope is a hint. Remember this while interacting with astrology.
Do you believe in astrology? It is not at all as cunning as it seems. In the end, all of us sometimes need a few words of approval and motivation. If you really believe in heavenly bodies above us or just want to have fun, choose the right application to avoid looking horoscopes on the Internet. If you want to read horoscopes daily or know what the future is preparing for you depending on your zodiac sign, the applications described below will help.
iHoroscope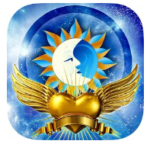 If you read the horoscope every day and then decide how you will spend today, so perhaps you should install a convenient application iHoroscope to always receive the current forecast, without opening many sites on the computer.
Functional:
The first thing that your eye catches is the interface of the application, which differs significantly from most similar applications. The background is animated, and you can see the bottomless, starry sky on it. Zodiac signs are displayed as a semi-circle, so you see only 5 signs. To see the next, just use gestures up or down. In the upper right corner, there is the icon of the calendar, clicking on which you will learn the predictions of today: the phase of the moon and what you should do today.
The plus button in the lower right corner is the menu where you can open the settings or update the data (if you are suddenly shown the previous forecast after opening the application). Having opened one of the signs of the zodiac, you will see the date of birth for this sign, as well as 4 types of the horoscope – day, love, auto, and culinary. The last horoscope is really very surprising, and maybe it's worth trying to prepare a dish with a prescription.
In the settings, you can change the theme, i.e. type of icons to be displayed in circles. Everything works just fine, doesn't crash, and doesn't break. To work, of course, you need the Internet. Let's sum up: iHoroscope is a fast and comfortable way to learn your horoscope for today, as well as learn new recipes for yourself. Enjoy using it!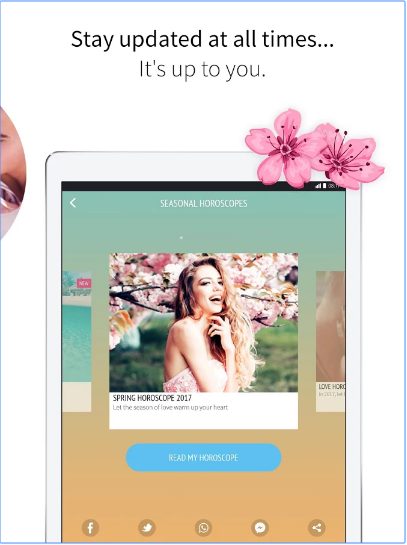 Downloads: 10 000 000 +
Customers rating: 

(4.5 / 5)
Daily Horoscope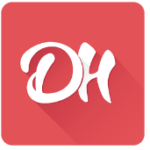 Daily Horoscope is a simple application that will deliver you a horoscope every day and even remind you to read it. It contains information not only for signs of the traditional horoscope, but also for the Chinese horoscope, and also allows you to determine the compatibility of different signs.
The application's interface is simple but at the same time convenient, and stylish. Right on the home screen, you can go to the horoscope for the desired sign. Swiping left you can see horoscopes for the previous days to check their reliability.
Navigation through the application is carried out from the sidebar. Thanks to this panel you can quickly switch between types of horoscopes, go to the section with notification settings, and the Daily Horoscope itself. By the way, if you want, you can set an unlimited number of reminders for a new horoscope and assign them at a convenient time for you. Among other interesting functions of the application, it is worth noting the ability to choose the type of application font and the background color. You can download and use Daily Horoscope for free.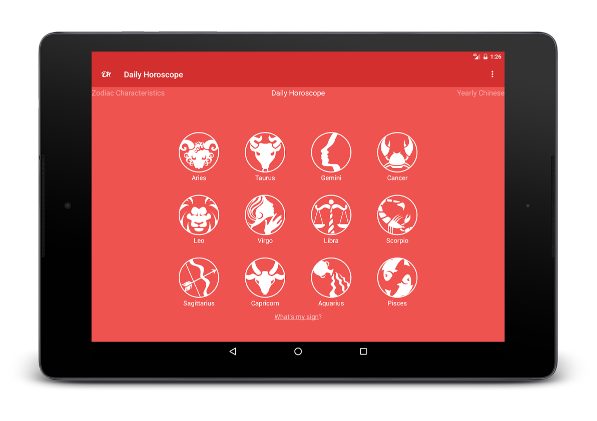 Downloads: 10 000 000 +
Customers rating: 

(4.6 / 5)
My Horoscope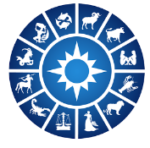 Someone absolutely does not believe in horoscopes, but someone trusts them all his life. In any case, the app called "My Horoscope" will provide you with a current horoscope for today, tomorrow, or a whole week ahead if you need it.
The main feature is that you are offered not just a horoscope for each zodiac sign, but their separation for 3 decades (each decade is a certain period between the dates in which you were born), which, of course, affects the prediction.
Functional:
At the first start, you need to specify your date of birth and name, and also optionally include an automatic reminder of the horoscope. The main screen shows a list of all the signs of the zodiac with a division into decades. To navigate between them, use the classic gestures left or right.
If you want to see the forecast for the day before yesterday, yesterday, or a few days in advance, just press the button with the number seven. Another plus of the application is the lack of the need to constantly use the Internet. The application preloads all the necessary information before uploading it, if necessary. In addition, do not forget to open the sidebar, where there is the possibility to add not only yourself but also your friends.
The settings are immediately on the sidebar, it will not be difficult to understand. Let's sum up: My Horoscope is always topical horoscopes, at the same time with a division for decades and the ability to monitor horoscopes not only for yourself but also for friends.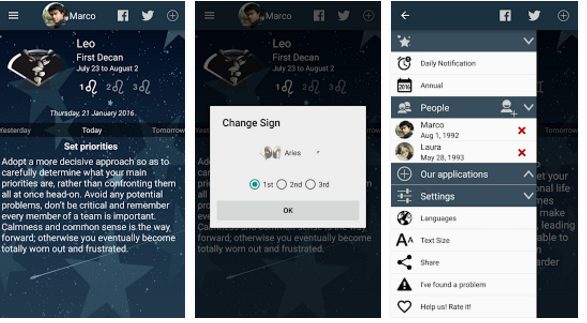 Downloads: 10 000 000 +
Customers rating: 

(4.5 / 5)
Horoscopes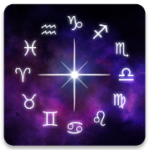 Everyone wants to be confident in the future and many people resort to the help of horoscopes. Of course, they truly can not believe them, but after reading the next forecast, you can adjust yourself well the next day, especially if this prediction is good. The application Horoscopes will help you in a convenient and informative form to know your current horoscope.
The interface of the application is intuitive. The design is minimalistic, does not detract from the main essence. Horoscopes is an informative and comfortable application, which is always happy to tell you the forecast of the stars for the current day.
Each new day, every moment of your life prepare surprises for you. They can be bad and good. We hope that this application will help you avoid possible mistakes. Find out for yourself the prediction of the stars.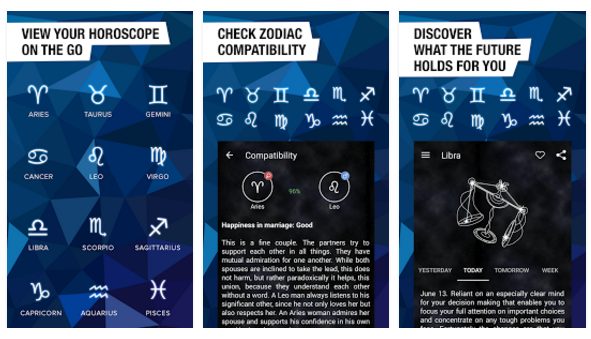 Downloads: 10 000 000 +
Customers rating: 

(4.6 / 5)
Zodiac Horoscope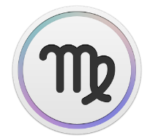 Zodiac Horoscope is an application, that as seen by its name, will tell you what the stars have prepared for you today. It offers a full zodiac horoscope for today, for tomorrow, and even for the entire month.
The app will show you a personal horoscope every day depending on your zodiac sign. It will tell you what to do in love affairs, whether there will be luck in money and what is the forecast of your health. In addition, the application will indicate special days for you when you need to be alert. In the app, you can also find out lucky numbers for you and colors suitable for wearing this or that day to be in harmony with space and stars.
Fortunately, the application interface is very simple and allows you to check the desired horoscope with one touch. You can even check your friends' horoscopes – this will take a couple of seconds!
Zodiac Horoscope is an application for those who believe in the influence of stars on our lives. For such people, it can become an indispensable tool for every day.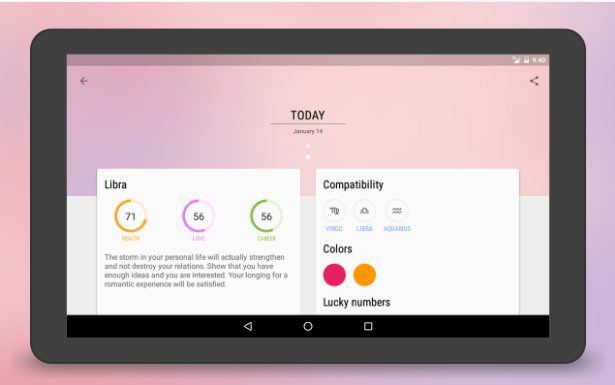 Downloads: 5 000 000 +
Customers rating: 

(4.3 / 5)
Yodha My Astrology & Horoscope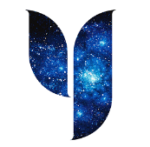 Do you want to get your daily horoscope from real professionals? So, using Yodha My Astrology & Horoscope, you can directly contact professional astrologers from Nepal! Do you like the idea? Then, we offer you to download this app and ask the real Vedic astrologers for everything that interests you!
How does it work? At first, you should enter your birthday, then just ask any question. The genuine astrologer will fastly make up your natal chart and prepares the prediction for you.  You will receive a ready personal prediction, based on the sacred knowledge of Vedic astrology immediately. You can ask about everything that interests you, stars have an influence on all aspects of our life.
Be confident! Only professional Vedic astrologers from Nepal gives answers to your questions. All in all, the app is quite easy in use. The interface of the app is pleasant and user-friendly.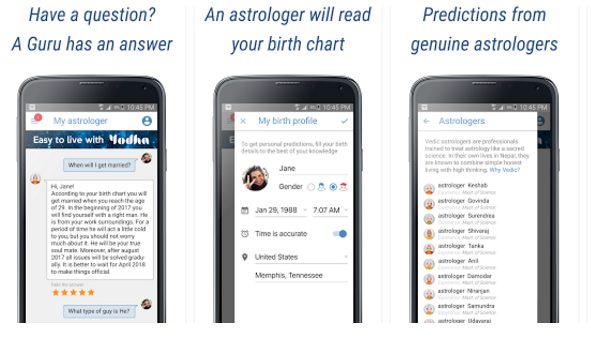 Downloads: 1 000 000 +
Customers rating: 

(4.7 / 5)
AstroSage Kundli: Astrology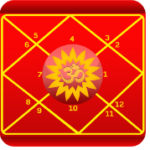 This application is the heavy artillery of an astrologer. If you are seriously engaged in astrology and predictions, maybe you will like this app.
Here everything is too serious for the usual horoscope: dozens of techniques, mysterious Vedic practices, lunar cycles, planetary diagrams, and many other incomprehensible things. It is clear only that you can make forecasts by day and even by georeference, they say, what will happen to you in this particular place.
All results are stored in the phone's memory, then you can print them. For professional astrologers, the application can produce the result in Sanskrit. There is one downside: AstroSage should always be connected to the astral, that is, to the Internet.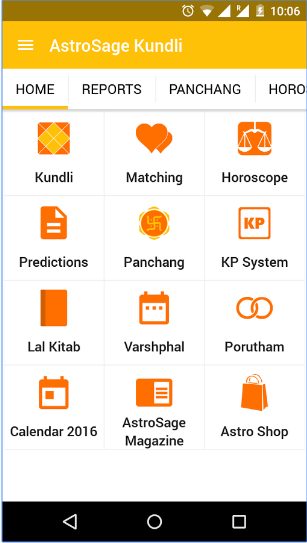 Downloads: 10 000 000 +
Customers rating: 

(4.5 / 5)
Love Horoscopes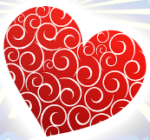 Everyone in the soul wants to believe in the best. Do you want to find out if you fit each other by horoscope? Download the Love Horoscope app and find out what awaits you from living together with your loved one. Very often compatibility depends on the signs of the zodiac.
The interface in this love horoscope looks bright and attractive. Compatibility testing takes only a couple of seconds. And also in the application, you can find the lucky numbers, daily predictions for wellness, intellect, love, emotions, intuition, creativity, work, and money.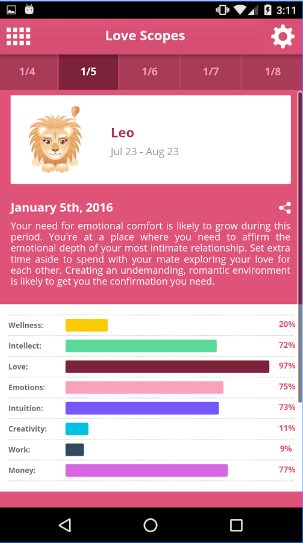 Downloads: 1 000 000 +
Customers rating: 

(4.3 / 5)
Horoscope Love, Chinese, Moon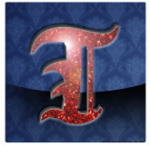 Is the Sagittarius able to live peacefully together with the Scorpion, whether the character of the chosen person will change, whether November is perfect for the wedding, and whether the time for the birth of a newborn is so important – Horoscope Love, Chinese, Moon for the Android is answering to all arising questions, shows interesting facts and explanations.
Interface. In principle, everything is useful and convenient – quality optimization, network connection when searching for compatibility is not needed. In pluses, it is necessary to write down two things – a minimum of advertising and an opportunity to share forecasts and predictions with friends in social networks for a split second!
This horoscope app can be characterized variously – someone will trust, and prove the truth to everyone around, someone will be amused by the excessive seriousness of the developers, although, in fact, all the retold facts can be far from the truth: in any case, to read and learn about the character, fate and interesting features of one's own life is always interesting and it does not matter in what way …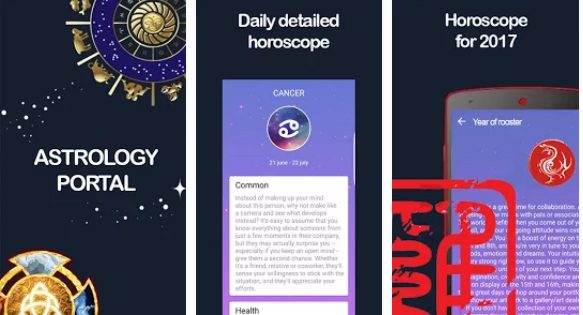 Downloads: 1 000 000 +
Customers rating: 

(4.5 / 5)

Horoscopes & Tarot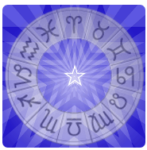 Horoscope & Tarot is the best tool among free applications which helps you to know daily predictions and tarot card readings. Reading your daily horoscope is a good way to start the day. The app offers 9 different types of horoscopes for you. They will help you to know everything from love to career and money.
Tarot card reading can help you to explain the current events and predict your future. You can open 3 cards daily for past, present, and future. You can also know the compatibility with other zodiac signs using this app.
It is possible to read predictions as for your sign as for the other 11 zodiac signs. You can share predictions with your friends via Email.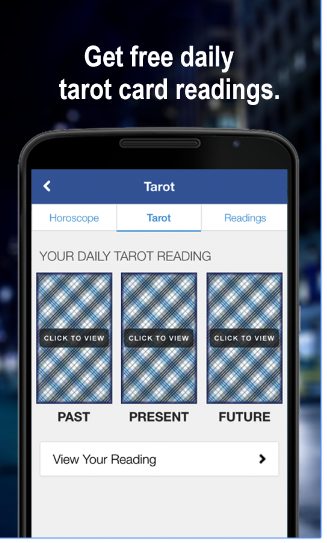 Downloads: 1 000 000 +
Customers rating: 

(4.4 / 5)
Horoscope of Birth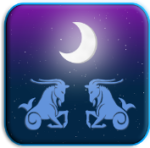 Immediately after installing the app, the Horoscope of Birth will require the writing date of your birth. If this program is used by only one person, you can click "Save" and you will no longer have to enter the date of birth.
The first tab is called "Life". It shows how many days, hours, minutes, and seconds are left before your birthday, and above there is a special status bar that visually shows the amount of time before your favorite holiday, Birthday. And below it shows information about how much you have already lived. The Numerology tab displays your number and a brief description. The program Horoscope of Birth shows three types of
The program Horoscope of Birth shows three types of the horoscope (Horoscope for today, Love and Career horoscope for today), which you can find on the tab with the same name. Also, you can view the horoscope for today, tomorrow or this week.  If you are interested in compatibility with other signs, it is possible too. You can see the compatibility in love and in marriage. Pleasant use!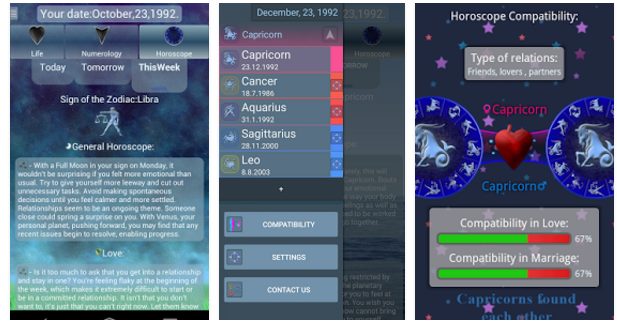 Downloads: 1 000 000 +
Customers rating: 

(4.4 / 5)
The True Horoscope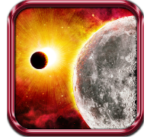 Do you want to know everything about your zodiac sign? So, you should try The True Horoscope. You will find there all the information about love, work, friendship, compatibility with other signs, and much more. With this app, you will get a full natal card right on your phone every day.
Key features:
You will have access to a daily horoscope.
You can read weekly and annual predictions.
There is support for widgets.
You will get the full description of your zodiacal sign.
You can easily share your prediction in social networks, by email or SMS.
Install The True Horoscope on your smartphone, and you can know in advance what's in store for you, and it's all presented on a beautiful interface, which makes reading horoscope more enjoyable.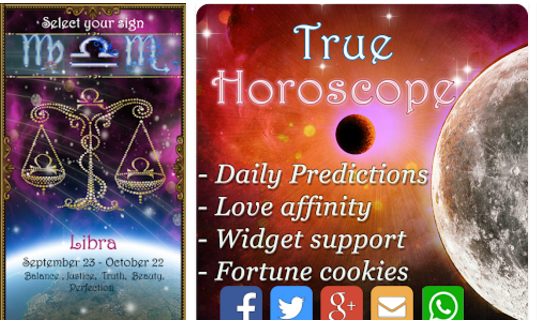 Downloads: 1 000 000 +
Customers rating: 

(4.4 / 5)
Free Horoscope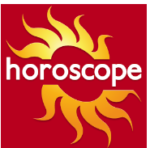 Free Horoscope for every day is a convenient application for Android devices, containing detailed information for each zodiac sign for every day, month, year. We recommend installing this product for anyone who is interested in forecasts. With it there is no need to view different sources, all the necessary astrological information is collected in one place.
The developers of this application, of course, cannot prove the correctness of horoscopes for each person – sometimes prophecies do not converge in one place, but become truthful on the other side of the planet, so it's worthwhile to read everything first, and then to draw conclusions.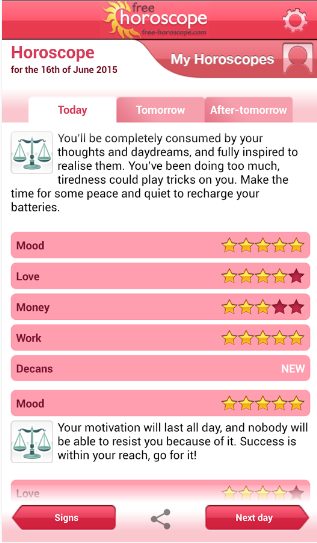 Downloads: 1 000 000 +
Customers rating: 

(4.3 / 5)
Free Daily Horoscopes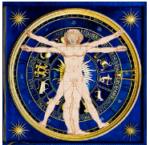 Free Daily Horoscopes is a very delightful horoscope application that allows you to watch all the information regarding your zodiac sign every day right on the screen of your Android device.
The application will show you a visual representation of all the zodiac signs: Fish, Gemini, Taurus, Aries, Libra, Virgo … you just need to click on one of them to go to all the information about it. Information about each of the signs of the zodiac includes information about love, work, friendship, compatibility with other signs, and much more. You can also look at some celebrities who have the same sign.
And the best thing about Free Daily Horoscopes is that the program offers all this information with an intuitive interface with a charming visual style, something that other similar applications usually do not provide. Free Daily Horoscopes is a good horoscope application, which is likely to be loved by people who believe in things of this kind.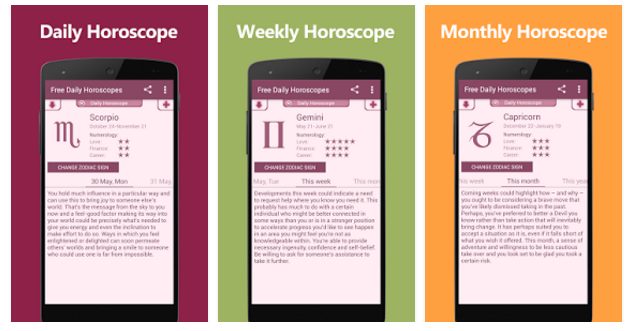 Downloads: 100 000 +
Customers rating: 

(4.5 / 5)
Daily Horoscope | Fatum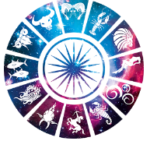 The program is multifunctional. There is a calendar of moons, fortune telling, a compatibility check for signs, and other information related to predictions in all areas of life. The horoscope for every day has seven undeniable advantages regarding other programs:
1. The accuracy of the forecast. All data are constructed according to the precise laws of astrology. The best interpreters of stellar maps make their predictions.
2. Informativeness. There is an opportunity to view, learn information every day, you will always be aware of the changes in your destiny.
3. You can get acquainted with the information on the signs of the zodiac in order to be aware of the forecasts of the relatives, friends. All you need is to add a date of birth to your contacts.
4. Compatibility check. Have you met a new person? Find out the details of your possible relationship.
5. Review the recommendations of experts. In addition to the forecast, the utility provides advice based on the opinions of astrologer specialists.
6. Indicate the exact date of your birth. The program will display a detailed horoscope based on this date.
7. The phases of the moon. You can focus on the phases of the moon and get the most accurate predictions of the upcoming events.
The app is regularly updating and has a convenient control panel which is customizable individually. You can even share predictions through social networks. There is one more interesting feature: cookies with predictions. Try it! It is so fun!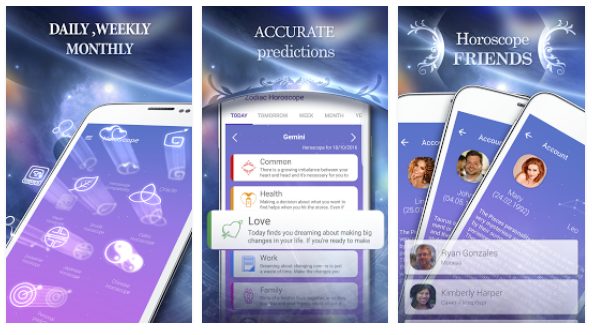 Downloads: 1 000 000 +
Customers rating: 

(4.5 / 5)
Horoscope HD Free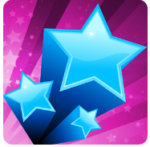 Although many people deny, almost all of them constantly look through their horoscopes for the current day, week, month, year. Horoscope HD Free is an application allowing you to view your horoscope for every day with original interfaces and beautiful design.
You will be pleasantly surprised, the Swiss center of astrology recognizes this horoscope. In addition, the application has amazing graphics, and it is incredibly easy to use. You will have the ability to share your horoscope through electronic communication with your friends. To download a fresh horoscope, you need to connect to the Internet at least once a day. Horoscope HD includes astrological predictions for all the signs of the zodiac. Each forecast contains three decades.
Whether you are one of the signs of the Zodiac (Taurus, Gemini, Aries, Cancer, Libra, Virgo, Sagittarius, Scorpio, Aquarius, Capricorn, Pisces) it will be boring without an astrological forecast. As fun, this application can be used. But to trust the predictions or not, everyone will decide for himself.
The application Horoscope HD Free contains advertising and to disconnect you have to buy a PRO version. But the free version can be also used without difficulty, advertising is not very annoying.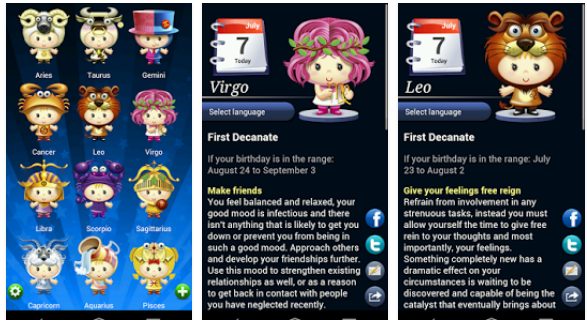 Downloads: 1 000 000 +
Customers rating: 

(4.3 / 5)
You may also like: 5 Best Hebrew calendar apps for Android
Astro Guru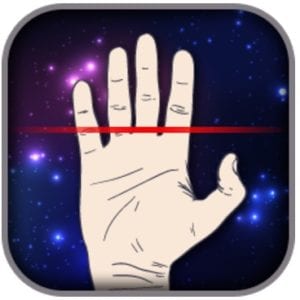 Astro Guru is a great Android application that gives you a free 7-day horoscope and palm predictions by actually scanning and reading your palm. Predictions belong to a wide range of topics: friendship, love, money, success, work, marriage, novels, etc.
Basic characteristics:
Detailed horoscope for the next 7 days.
Chiromancy: Predictions based on a real reading of the heart line (love, romance, friendship, marriage), the head line (work, success, money, prosperity), and the life line (health, energy). The only application that reads palm lines and uses old Indian methods.
Learn more about your strengths and weaknesses based on the stars.
Reading Tarot Card: Get a reading of your Tarot Card about love, relationships, finances, health, etc. Read your daily Tarot, Tarot Yes/No, Love Tarot, Health Tarot, Tarot Money, and One Card Reading.
Compatibility: Find out how well you can get along with your (potential) partner.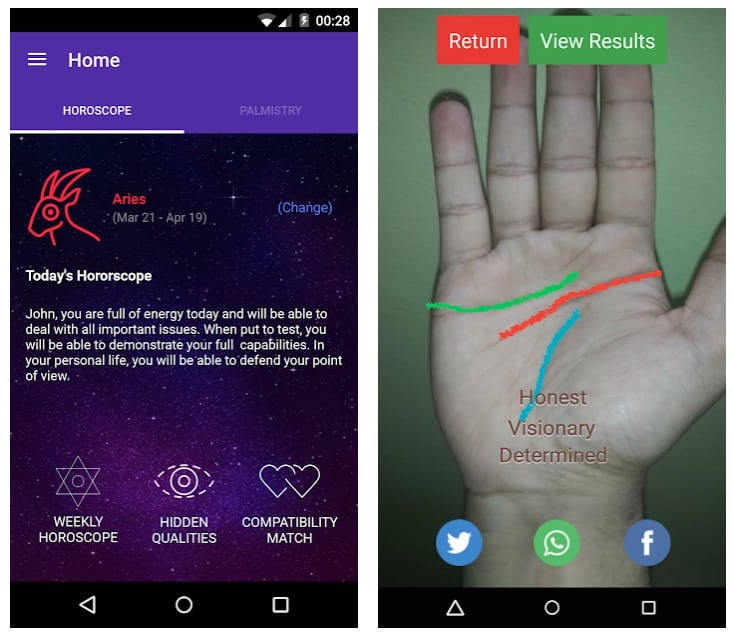 Downloads: 10 000 000 +
Customers rating:

(3.8 / 5)
Alas, there are often people who, having received an astrological description, a forecast of probable events, and even recommendations, do not take any actions. Every time they ask: "Well, why does not the horoscope come true?" And when the circumstances of their lives become clear, it turns out that they do not come out of the house either. And to get a job, for example, you need to go to an interview at least.
A new acquaintance is unlikely to take place if you are locked in your apartment on the 5th floor! No one will give you money until you do something useful. The disease will only be cured if you go to a doctor and go through all the necessary procedures. Whatever it was, if there is an indication of any possibility, you need to go to meet and create circumstances, otherwise, this opportunity can simply be missed. Act! We hope that the selected application from our list will help you on this way!