Quitting your unloved job, selling out all your possessions, and going on a long trip around the world in an old van seems like just a romantic idea, which is appropriate except for the TV series. But the idea behind the hashtag #vanlife opens up a new world in which, instead of a full-time job, a cozy house, and rare weekend trips out of town, people prefer new emotions and experiences, a trip to the unknown, heartfelt gatherings around a campfire and rides in a brightly painted minivan.
The Van life movement is gaining more and more popularity every day. For some traveling in a minivan is becoming a way to spend an unforgettable vacation, and for some, it has become a full-fledged lifestyle.
The apps below are just for van life enthusiasts. We've gathered the best van life and RV apps for Android in 2023:
RV Parks & Campgrounds
This vanlife and RV service will help you find RV parks and campgrounds throughout the United States, Mexico, and Canada. Private and public parks, campgrounds, fuel stops, visitor centers, casinos, and more.
The app works pretty quickly and importantly is ad-free. Since the service uses a local database you can browse parks and campgrounds without the Internet. But to see a map, photos, and reviews you still need an Internet connection.
You can view ratings of the parks and see more information about them: availability of rest areas, stores, and gas stations right in the app.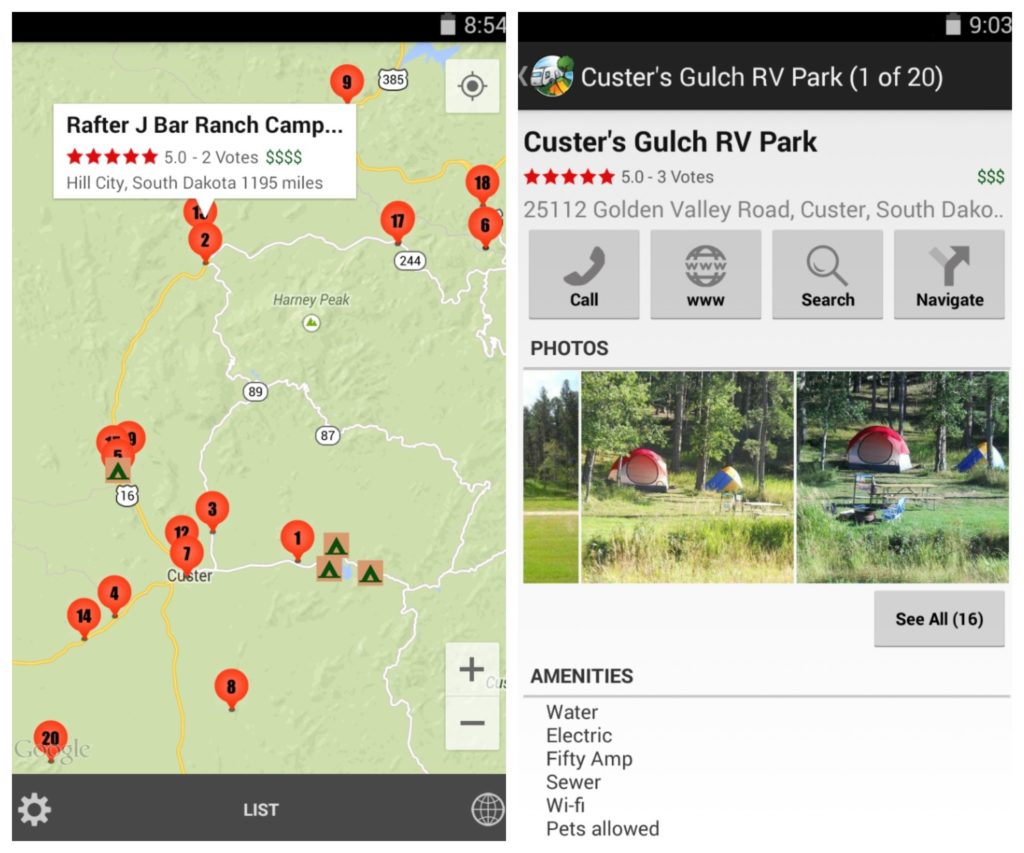 Downloads: 500000 +
Customers rating:

(4.5 / 5)

You may also like: 4 Best Train Booking Apps in USA
Hipcamp
With the Hipcamp app on your smartphone, you have access to find and book campsites, RV parking, glamping, cabin rentals, and other outdoor locations.
Maps of the US, Canada, and Australia are available to you. In the app, you will find free camping sites, real photos, and reviews of those sites.
You can use handy filters by cost, a number of people, location, and specific amenities to find your perfect spot. Book in a few clicks and invite your friends to join. You can add your favorites to your favorite places.
On the map, you can find the nearest campsites and parking spots which is handy. Booking a campsite away from the crowds is real with the Hipcamp app.
All recent reservation data will be available offline (itinerary, check-in, and check-out dates, number of guests).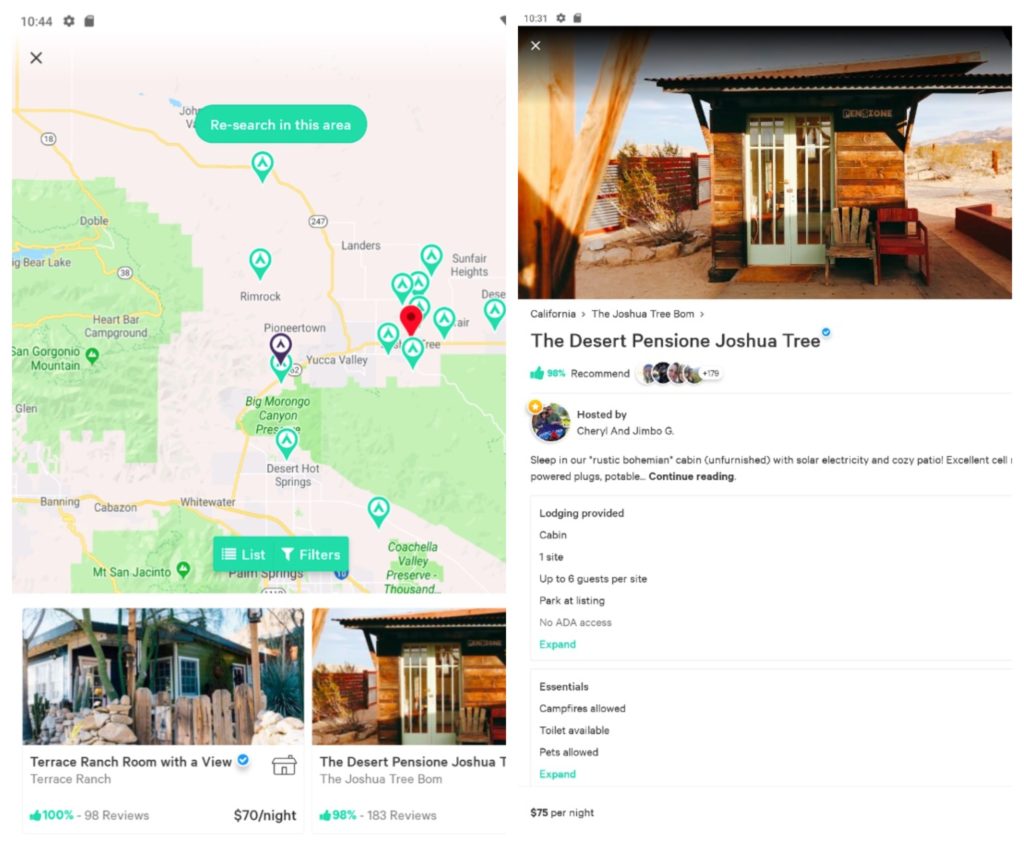 Downloads: 100000 +
Customers rating:

(4.6 / 5)

KOA
KOA is a handy app for finding campsites and planning your trip in advance. The app has a good rating in the store as it has a good feature set and a great interface.
What KOA is good for you:
An extensive list of campsites;
Select your campground using filters by location or points of interest, and amenities;
Detailed campsite description;
Get information on hot offers, upcoming events;
Right in the app, you book a chosen campground;
Plan your route to the campsite;
The app can work offline.
The KOA app also has tabs with recently viewed campsites, making it easy to find and go back to the places you've already seen and make bookings quickly. The best campgrounds can be saved to your favorites.
The app can also alert you to inclement weather, and emergencies from campsites where you've made reservations.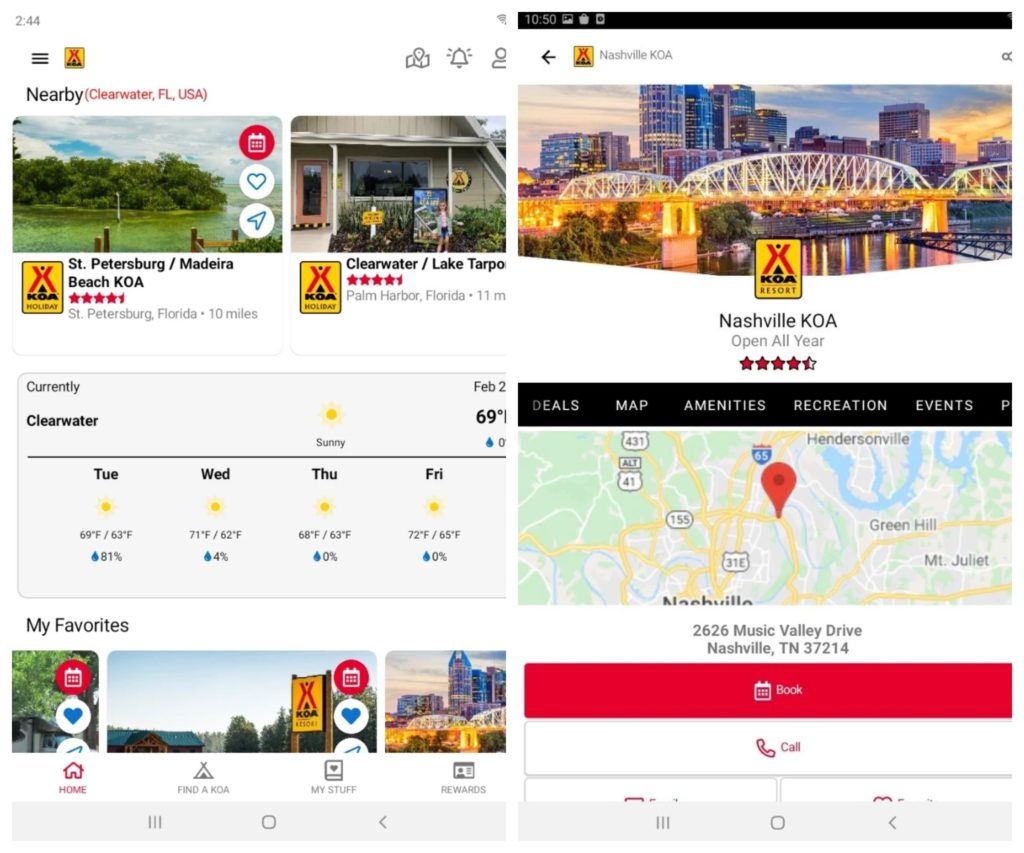 Downloads: 500000 +
Customers rating:

(4.7 / 5)

Sēkr
Sēkr is an excellent digital tool for vanlifers and RV travelers. Here you will find a substantial list of free campgrounds. Do you want to camp at a lama farm or a national park? Or have you got other crazy ideas? With Sēkr, you can camp out outdoors anywhere! Tented campsites and luxury glamping. It's all here!
Find like-minded travelers nearby and socialize! The Sēkr app has a forum for like-minded people. Share your experiences and get useful information about campsites too. You can cooperate with your new friends and plan your next trip together. Find outdoor activities and enjoy spending time together!
If you are a beginner, you can read reviews and tips from experienced travelers directly in the app.
Sēkr offers great opportunities for landowners as well. That is, you can list your own private area as a camp host and earn money on it.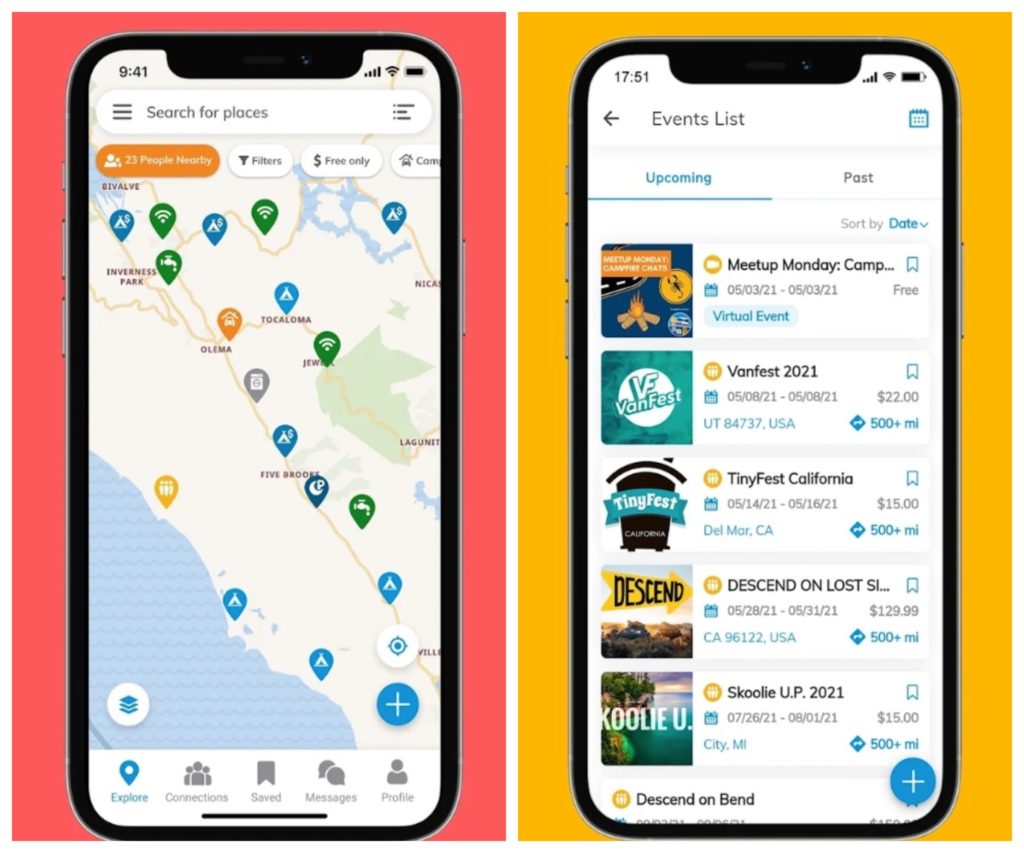 Downloads: 10000 +
Customers rating:

(4.3 / 5)

The Dyrt
Dyrt, like the previous app, provides cool features for travelers and landowners alike. Camping for tents, RVs, trailers, cabins, and glamping. It has it all!
With this tool, you can easily book any campsite in the USA as well as add your own sites and earn as a campsite owner.
When searching for the perfect campsite you can:
use filters by location, type, and rating;
browse real campground reviews and photos;
book a campsite without leaving the app.
PRO version users will get FREE booking.
The following benefits will be available for those who want to list their own campsite:
Free advertising of your campsite;
Activation bonus for enabling instant reservations.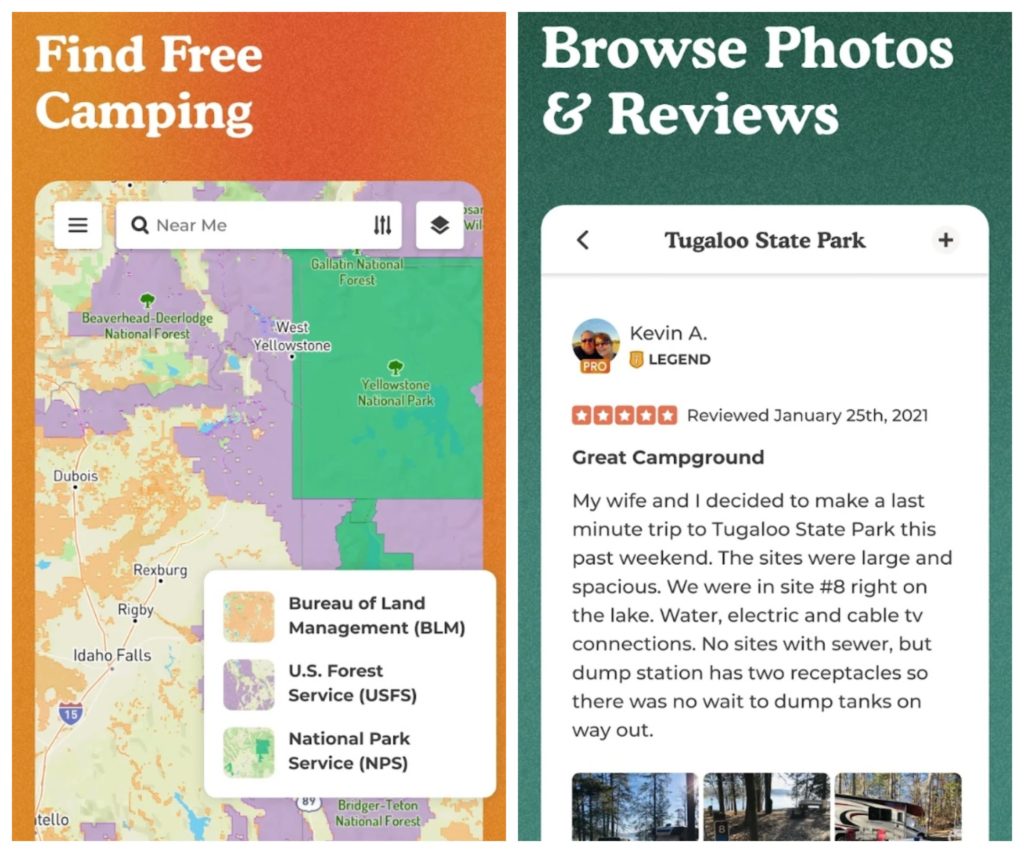 Downloads: 500000 +
Customers rating:

(4.7 / 5)

FreeRoam
FreeRoam is a great solution for RV travelers and vanlifers. The app is popular with users because of its useful tools and community inside.
FreeRoam allows you to:
View available campsites, reviews, photo and video descriptions of places of interest;
Filter by a variety of parameters such as occupancy, safety, cell signal, etc;
Overlay maps;
Find food, water, fuel, dump nearby;
Meet travelers and communicate in the app.
Finding an overnight stay is no problem with FreeRoam. You will also have access to the RV Trip Planner function for planning your itinerary and stops.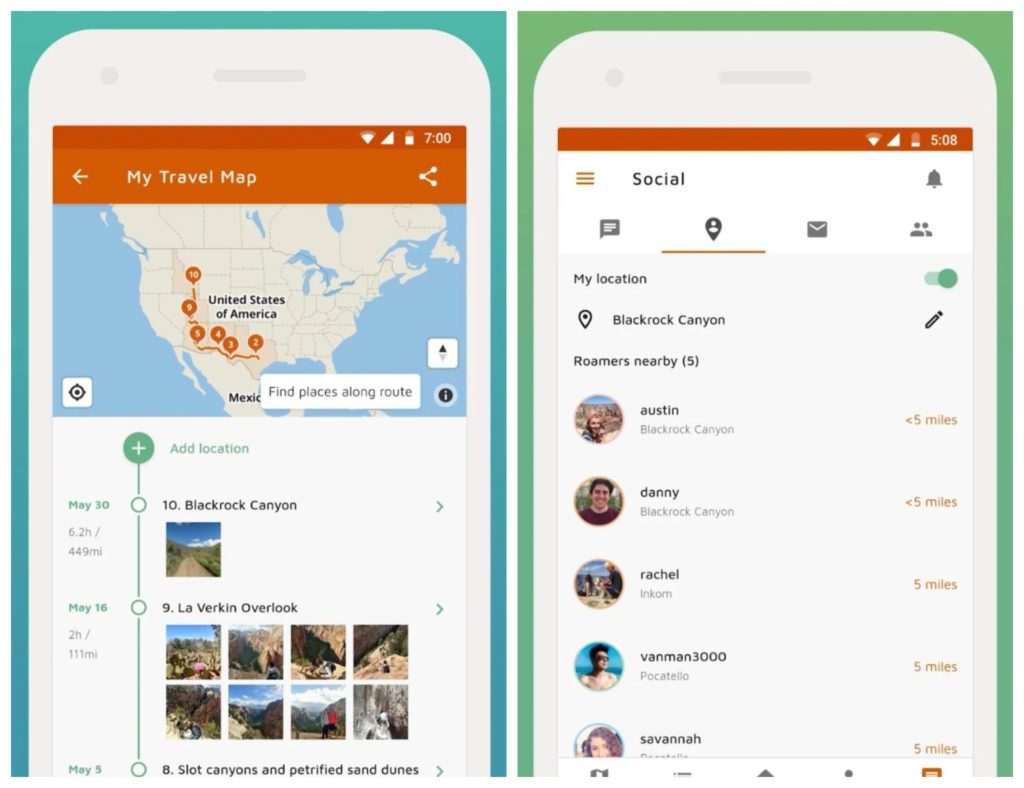 Downloads: 100000 +
Customers rating:

(4.7 / 5)

You may also like: 17 Free apps to read books
Recreation.gov
Recreation.gov also has a lot of positive feedback from already experienced travelers. That's why it's on the list. With this handy tool, you can book incredible campgrounds and find more and more places that suit you.
Once you choose a campsite you can immediately see a detailed description, photos, amenities, location as well as a rating and reviews of other travelers. You can also check out information about activities, attractions, and sightseeing nearby. Then you can proceed to book.
The search is carried out nationwide. There are filters to eliminate options that are not suitable for you. They're filters based on price, amenities, location, etc. Depending on your current location you'll get personalized recommendations which is a cool option too.
Some campsites can be paid for straight away by scanning a QR code. All your reservations will be saved in your profile and can easily be accessed to confirm your registration.
Downloads: 500000 +
Customers rating:

(4.8 / 5)

Outdoorsy
Outdoorsy is a rapidly growing project trusted by RV travelers.
RV is a budget way to see the world and Outdoorsy can help you book a motorhome for the next trip.
You will certainly like the interface. Everything is clear here. In the app, you can browse available options across the US, Canada, UK, and Australia. And filter them by type, amenities, capacity, and cost. Before booking, you can also read previous reviews and choose the right option for you.
The app offers to save your favorite options in your favorites. In addition, you'll always have city guides and travel tips about how to use your motorhome.
To discuss the details, you can contact the owner of the RV before you book.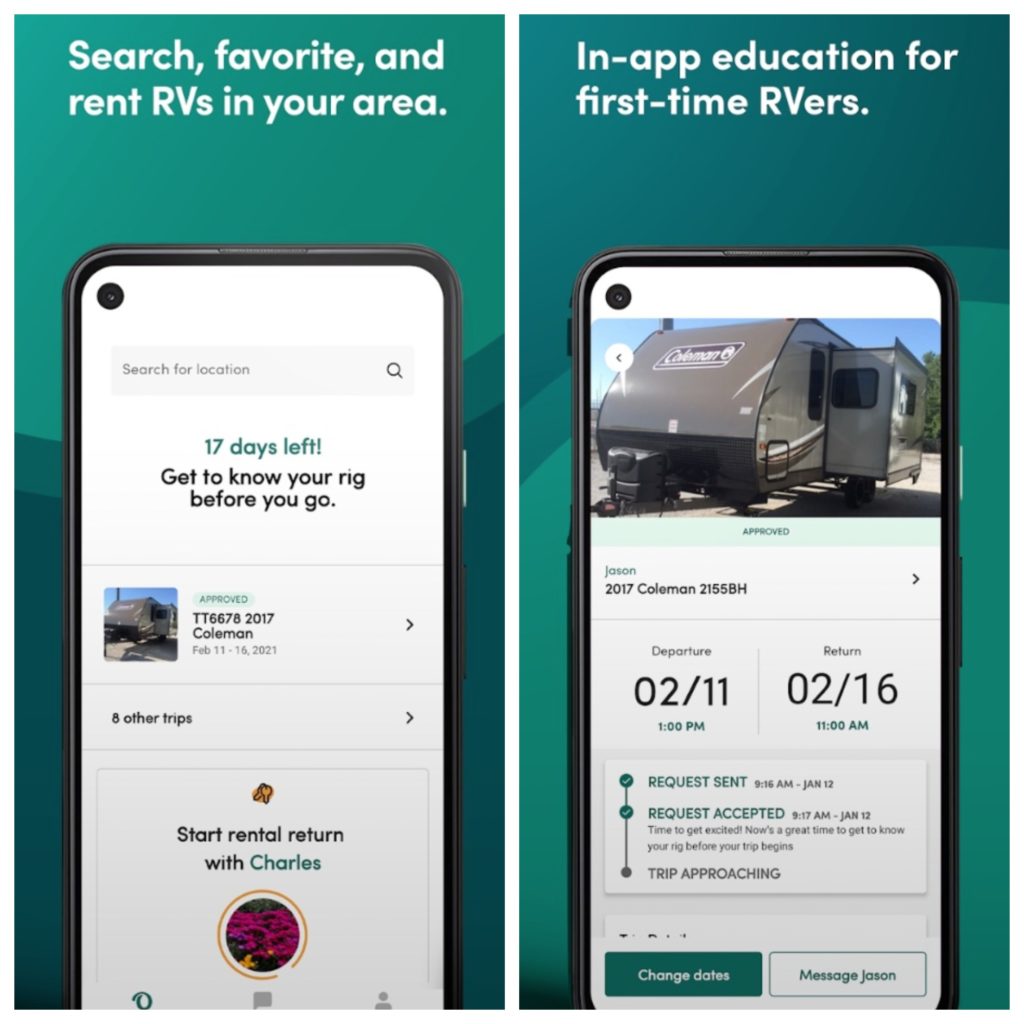 Downloads: 100000 +
Customers rating:

(4.4 / 5)

Roadtrippers
Another super popular app for traveling around the USA. It allows you to choose a place for a casual picnic as well as for a long or exotic trip.
You can create a travel itinerary including fare, attractions, and hotels, see photos of future holiday destinations, get all the necessary phone numbers, and addresses, and read reviews. Itineraries can be shared with other travelers.
Enter your location and destination, travel dates, and things to do on your trip and the app will build an itinerary for you. Roadtrippers will help you find unusual sights, restaurants, museums, theme parks, campgrounds, and much more.
Roadtrippers also takes the user's wishes into account if he or she has specified exactly where he or she wants to go.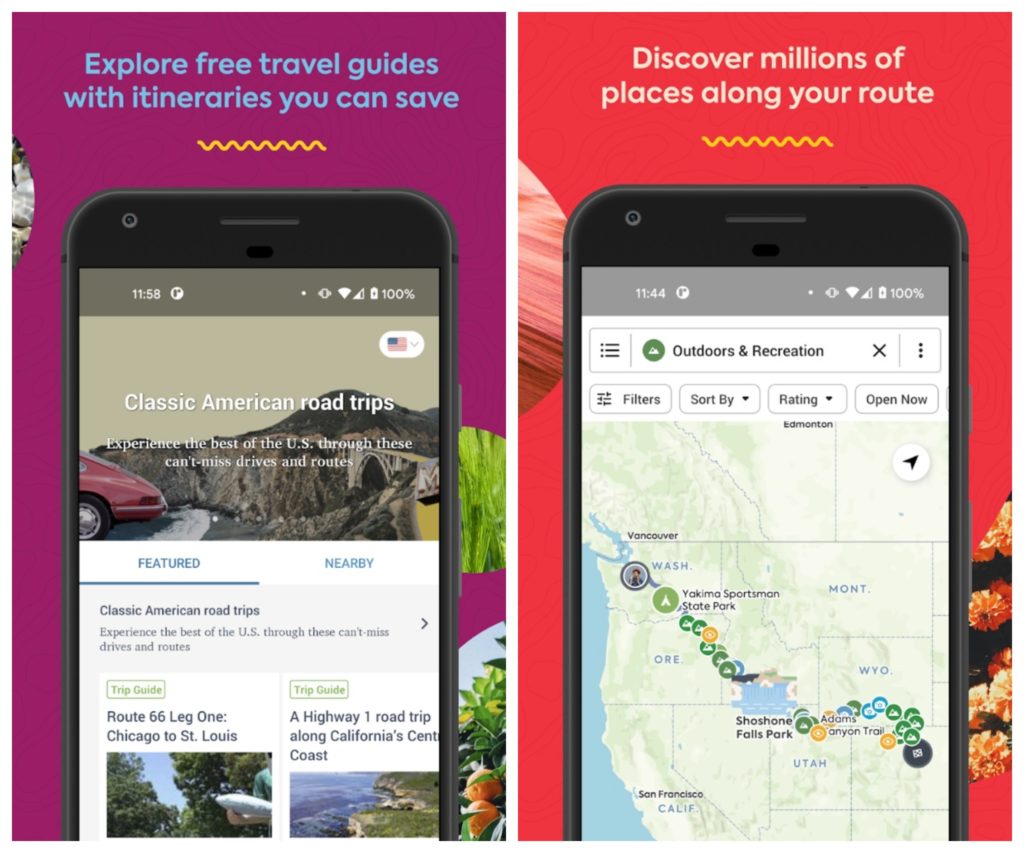 Downloads: 1000000 +
Customers rating:

(4 / 5)

GasBuddy
Paying for petrol can eat up a significant part of your travel budget, but GasBuddy is here to save you a few dollars.
The app helps drivers find the cheapest petrol stations, so you'll never pay more than necessary when filling up your fuel tank.
You can also help other drivers by displaying petrol prices during your journey or use the app to find the nearest petrol station and the nearest car park.
Downloads: 10000000 +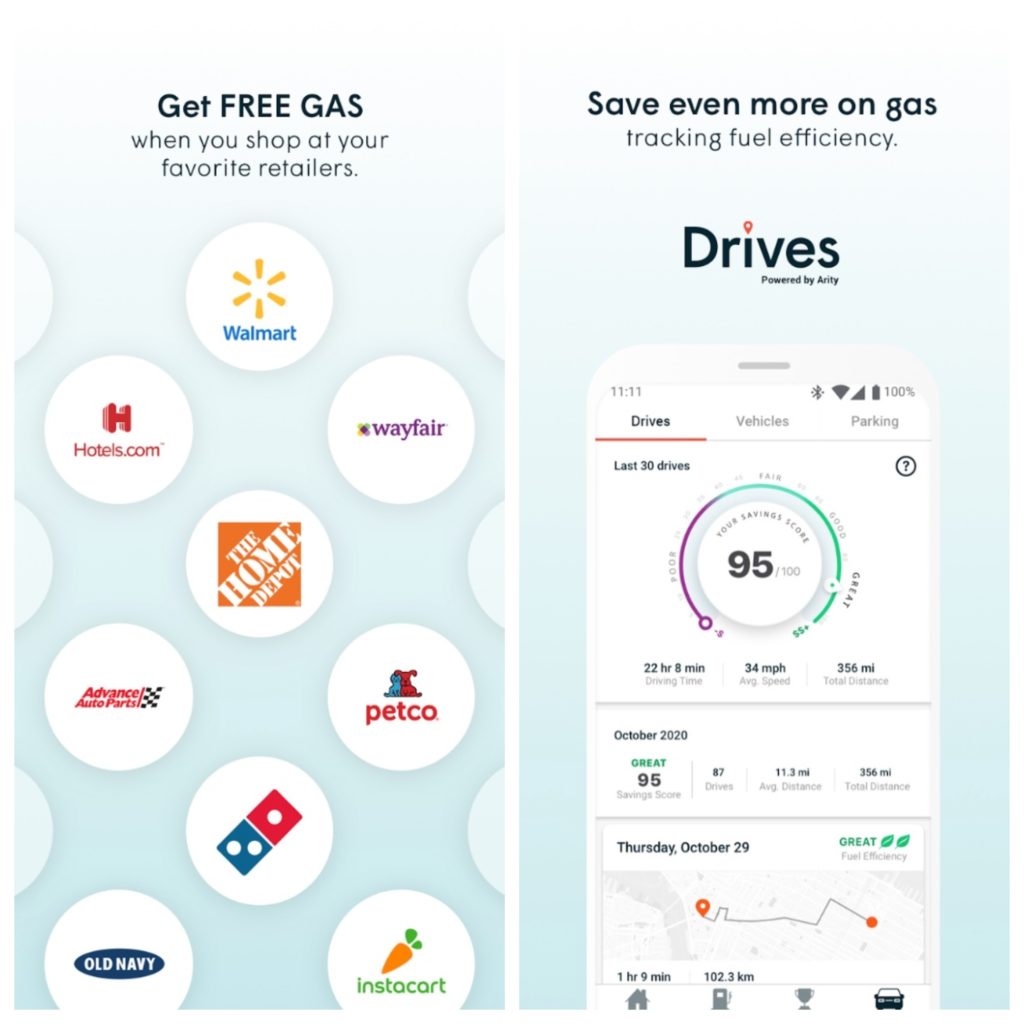 Customers rating:

(4.3 / 5)

You may also like: 7 Best Bus Booking Apps
Campspot
This app contains a collection of campgrounds that you can book immediately.
CampSpot offers more than 100,000 campsites across North America. Sort them according to what's most important to you when you travel. View them on a map and plot the perfect route for your next trip.
Reservations are easy to make. You just need to specify the number of people, the date, and whether you have pets with you. The app will suggest all the available options right away.
View descriptions and photos of locations, costs, and distances. Choose the one you like most and book right away.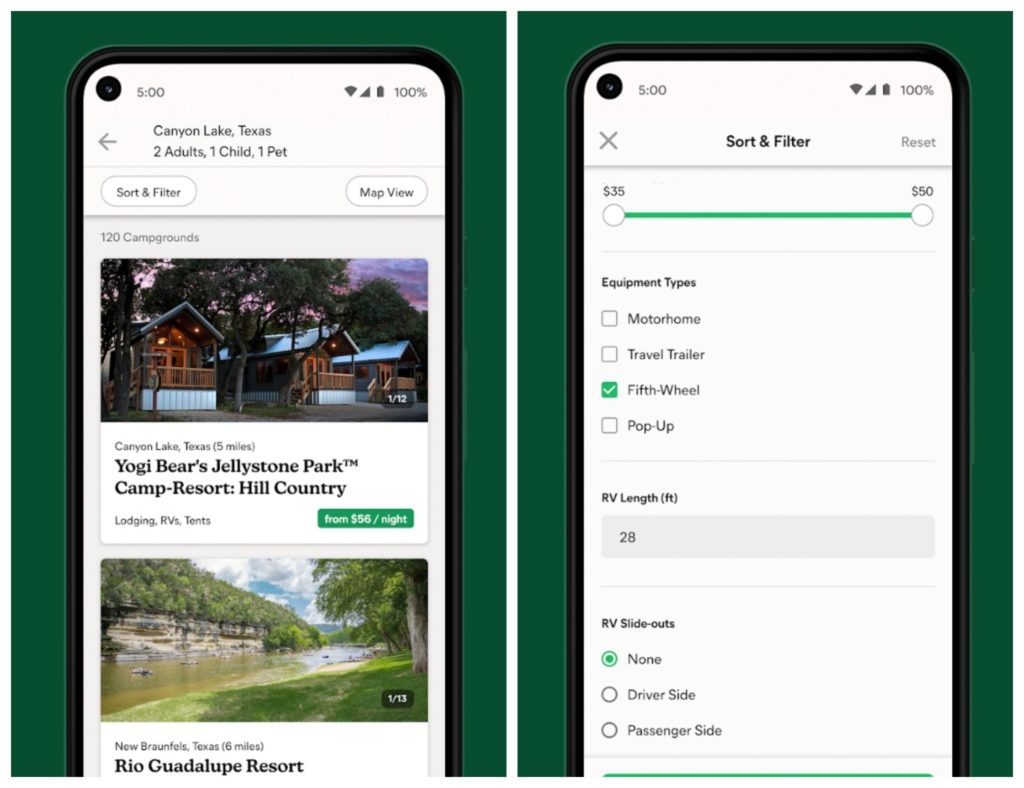 Downloads: 50000 +
Customers rating:

(4.4 / 5)

As such, the Van Life movement literally means living in a van. Huge numbers of people worldwide leave their comfortable apartments, stable but boring jobs, and go on the road, always moving from one picturesque place to another.
Naturally, even living in a van with minimal expenses requires a source of finance. Spending for each traveler is individual and depends on everyone's current needs. One will always have to work, and the van life supporters naturally prefer freelancing as a source of income.