Emerged twenty years ago in Japan, fashionable entertainment called "karaoke" has long ago won a lot of supporters around the world. Fans of singing actively demonstrate their talents in karaoke bars, karaoke restaurants, in special karaoke clubs, and karaoke rooms where their vocal talent can be demonstrated to a wide audience and that differ from usual ones only with the availability of professional equipment and the corresponding atmosphere to sing.
You may also like: Best FM transmitter apps for Android
If you want to perform in front of a sufficiently large audience, then you will go straight to the karaoke room, where you will find both professional equipment and an interested audience. In addition, it is great for a party with friends.
And if you are quite satisfied with your home audience or do not need listeners at all, then you can easily arrange the same karaoke room in the walls of your own apartment. There are several variants of home karaoke: you can buy a music center with a built-in karaoke player, get a home karaoke player, or download one of the applications offered in today's article. Let's have a look at best & free karaoke apps!
Sing! Karaoke by Smule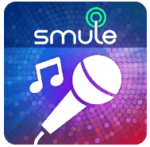 The application "Sing! Karaoke by Smule" is simply amazing. This is a world-scale karaoke party! When registering in the application you are offered to choose up to four taste preferences, based on which in the future a list of popular records will be formed personally for you. The application, first of all, is focused on the female audience, what is seen in all the details: the interface, a lot of colorful tips, appeals to the user. Such games for girls are extremely popular, especially at parties.
The app includes several sections:
Tape – shows the activity of your friends in the application and recommended records for you. This is a constantly updated digest of karaoke records of beginning stars from all over the world! You can also subscribe to the singers you like and invite friends from social networks to the application.
Popular records – the section, in turn, includes several subsections, namely: recommendations for you, tracks of beginning stars, novelties, and much more.
The library is the main section of this application. There is also a thematic selection for your taste preferences. You just choose a track – and sing! It is noteworthy that you can choose several options – solo, duet or group. The list of songs is updated every day. During singing, you can select a background (either turn on the camera and shoot yourself on video), as well as one of the nine options for enhancing the voice (feel like a superstar!). You can share your video with your friends on Twitter and on Facebook. However, it is worth noting that the application is free only for the first seven days. Next, you need to make a paid subscription that gives you access to more than 500,000 tracks.
Messages – this section is like a chat: incoming messages are displayed here, and messages received from friends are highlighted in a separate group for convenience.
Profile – it displays information about your profile: the number of subscribers, incoming invitations for singing together. It also displays downloaded and simply liked tracks.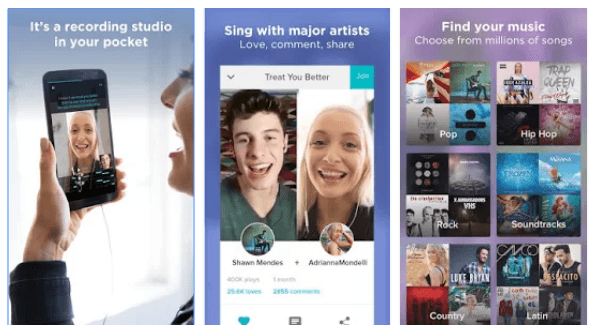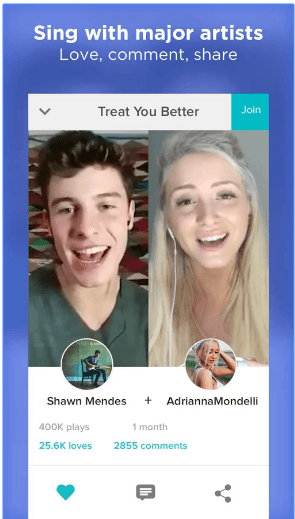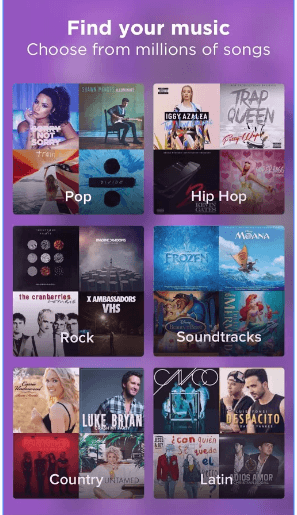 Downloads: 100 000 000 +
Customers rating: 

(4.2 / 5)

Karaoke Sing & Record

Karaoke Sing & Record is a karaoke app for your Android phone which is extremely popular. Millions of people who love to sing relax with the help of  Yokee Karaoke. You can record a song and share it with your friends via Facebook, Twitter, SMS, Whatsapp, and others social networks. On your choice, there is a huge catalog of songs of all genres! You will find texts in many languages.
The application itself does not have a base of its own songs, and it's great to integrate with YouTube. Simply put, this application finds and plays the desired videos directly from YouTube. The app uses a huge archive of songs and videos on YouTube. Every day new songs and videos are added. You will always find here famous hits from famous artists.
Using the app you can record a music track with your performance and add special effects and you will get the desired result. Then post it on Facebook, to get the rating of your creativity.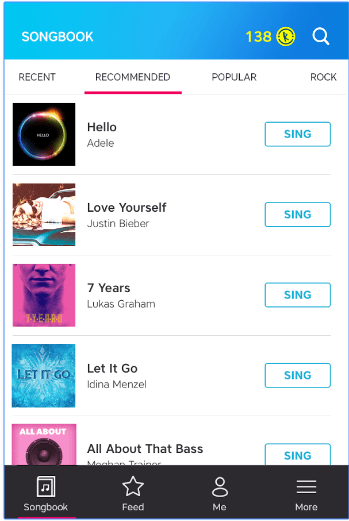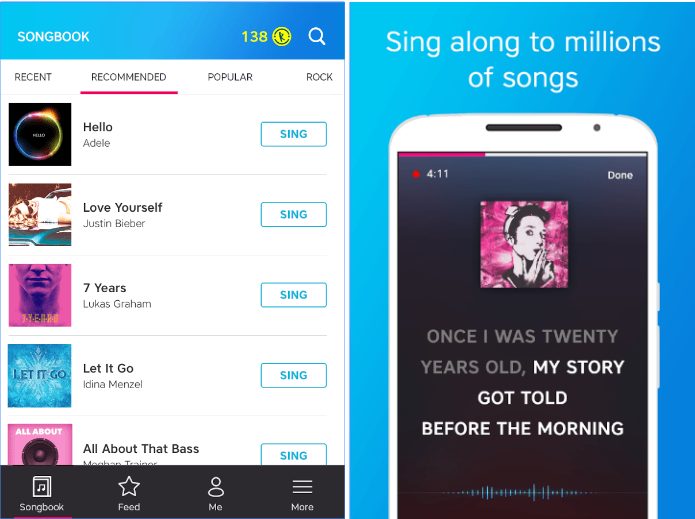 Downloads: 50 000 000 +
Customers rating: 

(4.2 / 5)

 SingPlay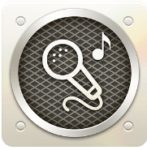 SingPlay: MP3 Karaoke Recorder is an application for Android, which will please almost all fans of karaoke.
If this is one of your favorite entertainments, now karaoke will be with you always and everywhere! At any party, on nature with friends or just in your apartment, you can entertain yourself singing with this karaoke app. And you do not have to search and download special tracks – the application processes and uses songs that are on your phone.
The song you perform can be recorded and shared on social networks. Download the application SingPlay: MP3 Karaoke Recorder and your favorite entertainment will always be at your fingertips!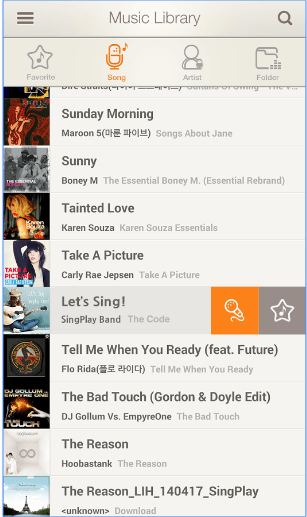 Downloads: 10 000 000 +
Customers rating: 

(4.1 / 5)

The Voice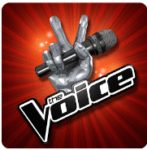 The Voice: On Stage application is quite well known in the Audio category. The range of people who downloaded this app from Google Play is around 1 000 000-5 000 000 people. The application allows you to feel like a star! The Voice is nothing but a karaoke app. And, for each song you sing, you get a rating score. Also, the application has built-in Auto-Tune, which makes the performance more enjoyable.
In the application, you must register to use it at full power. You can also use an existing Facebook account to sign in. After registration, the fun begins… The application has about 200 hits for every taste in its arsenal. And this is only in the free version, which can be expanded by paying. There is also an option to subscribe so that the playlist is updated as often as possible.
The Voice gives you the opportunity not only to sing your favorite song, but also record your performance, and then brag to your friends on Twitter or Facebook, and you can also send a record of your performance by email. Here's a chance to become famous! In addition to the "karaoke" mode, the application provides a "Battle" mode in which you can compete with other users in performance. You can sing together with other players or compete with them.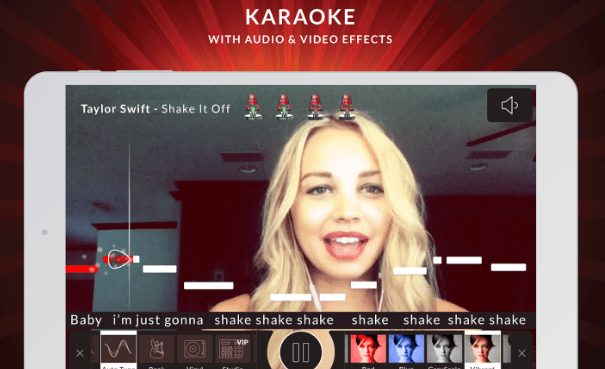 Downloads: 10 000 000 +
Customers rating: 

(4.1 / 5)

StarMaker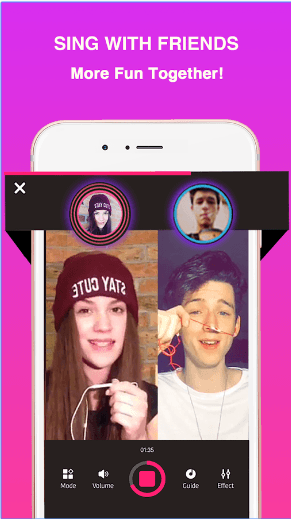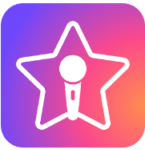 This program is designed for karaoke enthusiasts. With the help of the application, you can sing and record many compositions of popular singers. Several karaoke tracks are available in the free version of the program, and unlimited access to the music collection, which includes over 500 songs, can be available by purchasing a subscription for a week, a month, or six months.
Also, the application allows you to create your profile on the StarMakerStudios.com portal, share your performances with friends, receive ratings and awards, and evaluate the performance of other participants. The application interface is intuitive and very stylish. Depending on the version of the mobile device, headphones or a headset may be required.
You can edit your high-quality recordings with a wide range of effects and share your masterpieces with all your friends!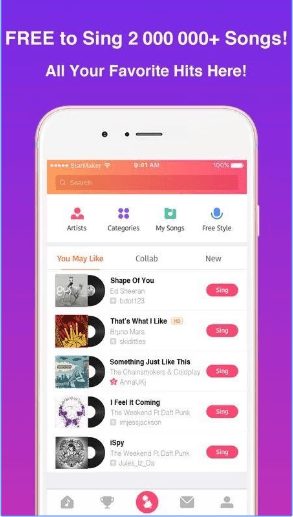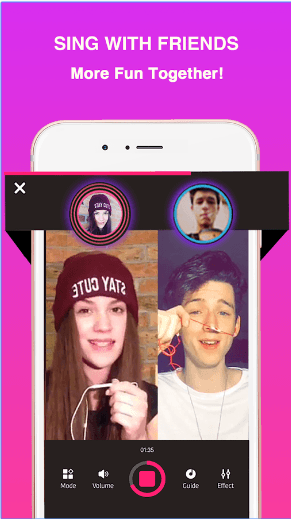 Downloads: 100 000 000 +
Customers rating: 

(4.3 / 5)

Magicsing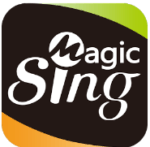 Magicsing is a truly intuitive Android application that gives users a large selection of songs (over 200,000 and the media library continues to grow). This Android app allows you to always have melodies with you. A great way to enjoy your Android smartphone and have access to an impressive collection of songs. This application is very compact and will become an indispensable attribute of your holiday.
The app is easy in use and has an understandable interface. Sing a chosen song with a microphone and check your score. You can even compete with friends who will get more points!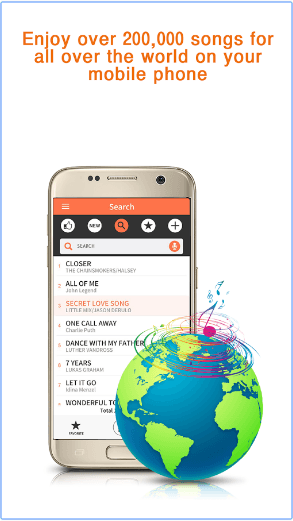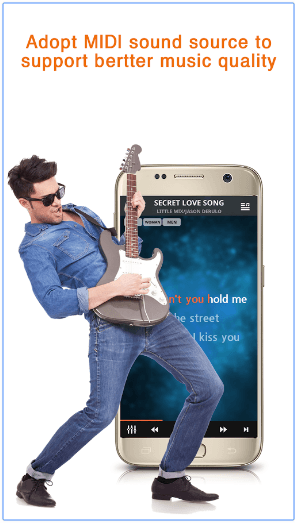 Downloads: 1 000 000 +
Customers rating: 

(4.3 / 5)

Karaoke 2020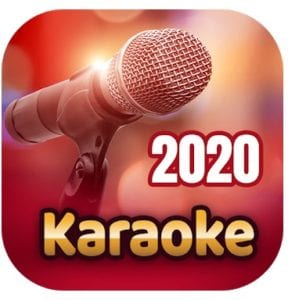 Soulful songs in a good company – what can be more enjoyable on a cold evening at home. To arrange a great weekend, you do not need to go somewhere. You can just download the "Karaoke 2017" app and enjoy karaoke on your sofa.
Karaoke Sing & Record 2017 is a good program that allows you to sing your favorite songs anywhere. In the catalog, you will find 10 000 000 free songs.
The search for songs in the app is intuitive and you will fastly find your favorite track. The app supports many languages.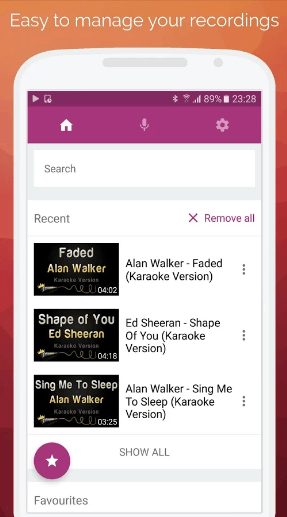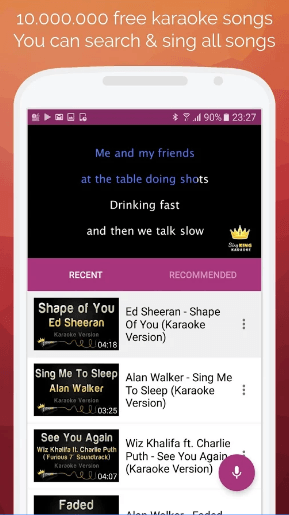 Downloads: 5 000 000 +
Customers rating: 

(4.3 / 5)

Midifun Karaoke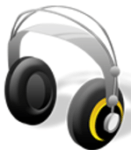 Midifun Karaoke is a simple offline karaoke application for Android smartphones. After installing the app, you will get access to a great variety of songs of different genres.
Unlike other similar apps, Midifun Karaoke includes a guessing game for entertaining. You are to guess the song displayed on the screen of your mobile phone. For every correct answer, you will get points. Try to answer as fast as possible and you will get additional bonus points. So, have fun!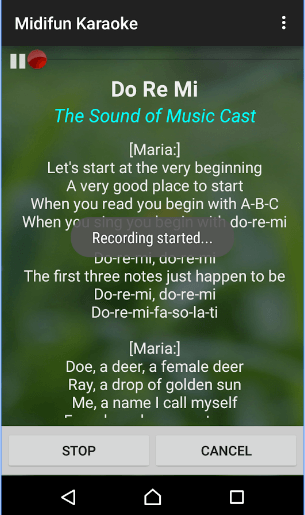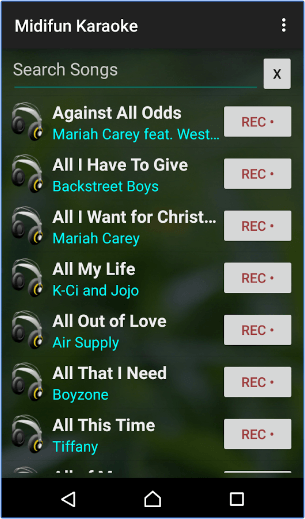 Downloads: 1 000 000 +
Customers rating: 

(4.4 / 5)

KaraFun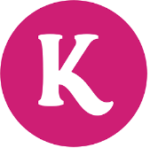 Karaoke is one of the most popular types of relaxation and entertainment these days. At any festive event, regardless of the age of the guests, it will be a good addition to the overall fun. And KaraFun Player can become a helpful tool in this matter. The app has got more than 20 000 songs in its collection. To get access to a full collection you should create a free account.
Even if you haven't got an Internet connection you can use this app as it can work in offline mode too. You can save the songs you like to your Favorites and use them in offline mode then. Make your party an unforgettable event with KaraFun!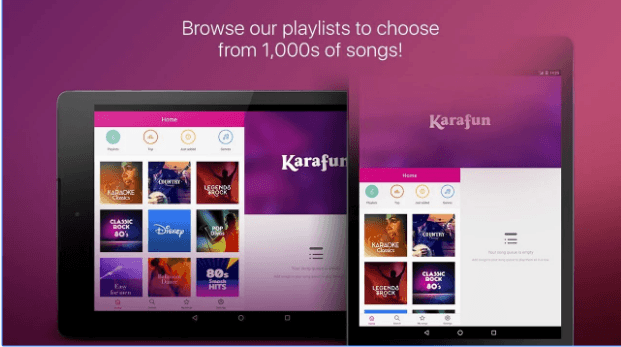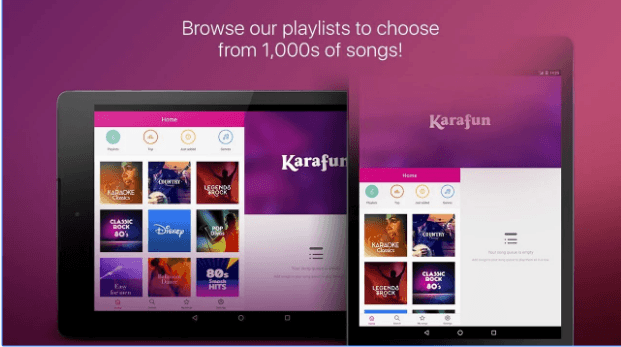 Downloads: 500 000 +
Customers rating: 

(3.5 / 5)

Sing Karaoke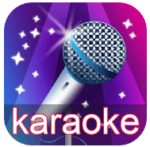 This bright and colorful karaoke app will surely discover your talent in singing! Thousands of people have already downloaded Sing Karaoke and get pleasure! So, join the community too! Sing Karaoke application is popular nowadays due to its numerous benefits. The collection of songs
The collection of songs is huge and it is constantly updated. However, if you want to find a certain track it will be easy as the app has a clear searching system. After singing a song, you can share your performance with friends via social networks.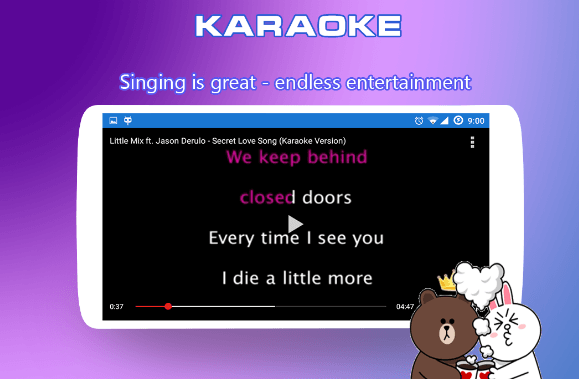 Downloads: 10 000 000 +
Customers rating: 

(4 / 5)

Musixmatch Lyrics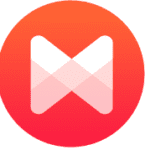 Musixmatch lyrics app is a kind of music player for Android users, with the help of which you will not only able to listen to any songs but also to search for lyrics of your favorite artists.
Although Musixmatch Lyrics is not a karaoke app itself it has got a sort of a karaoke mode. Musixmatch Lyrics has a great collection of songs for those who are fond of singing karaoke. We have included this app on our top list because of its great popularity among people from different countries.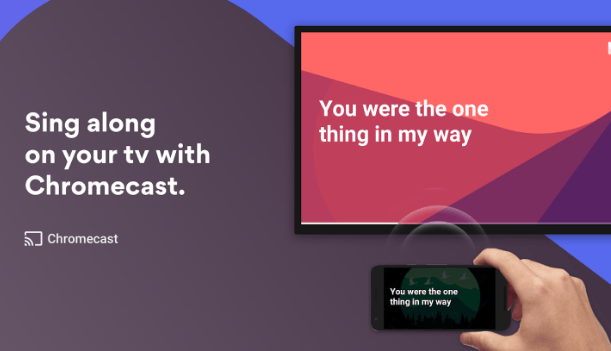 Downloads: 50 000 000 +
Customers rating: 

(4.5 / 5)

Karaoke voice sing & record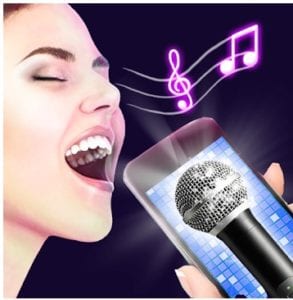 Become a real star by singing your favorite hits! You don't need to go to a karaoke bar anymore, because all you need for this is your mobile phone, which will serve as a professional microphone!
Do you like rap and can't live without bits? Then read your best text under the beat and challenge your long-time rivals in uncompromising freestyle.
Once you download the Karaoke voice sing & record, you will have access to a huge number of first-class soundtracks that will improve your vocals.
The application is by no means able to fully replace karaoke. You will not be able to sing songs based on the text from the screen. If you want to enjoy your own song without memorizing extra lines, you will still need to visit the karaoke club.
Download the karaoke voice simulator and start to solo in your own gadget, as in a professional microphone.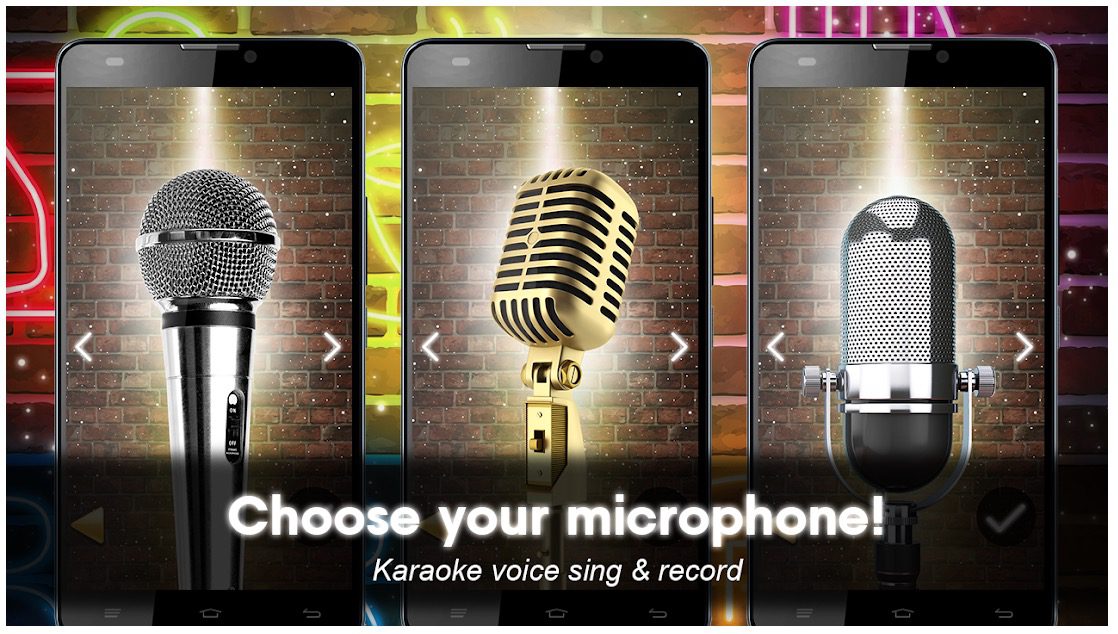 Downloads: 10 000 000 +
Customers rating:

(3.4 / 5)

Kakoke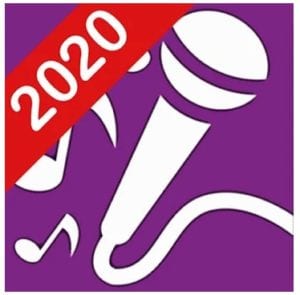 All the karaoke songs in the world are in one application. Kakoke – sing karaoke, voice recorder, singing app is quick, convenient, easy to use.
This is the easiest way to sing if you think you have a bad voice.
Functions:
Recording voice with high quality;
Sound effects such as karaoke room;
Edit vocals before and after recording as in the studio;
Turn on the microphone, and you'll hear your voice;
Audio effects in real time: echo, reverberation, bass, and midrange, treble;
Improve your vocal tone.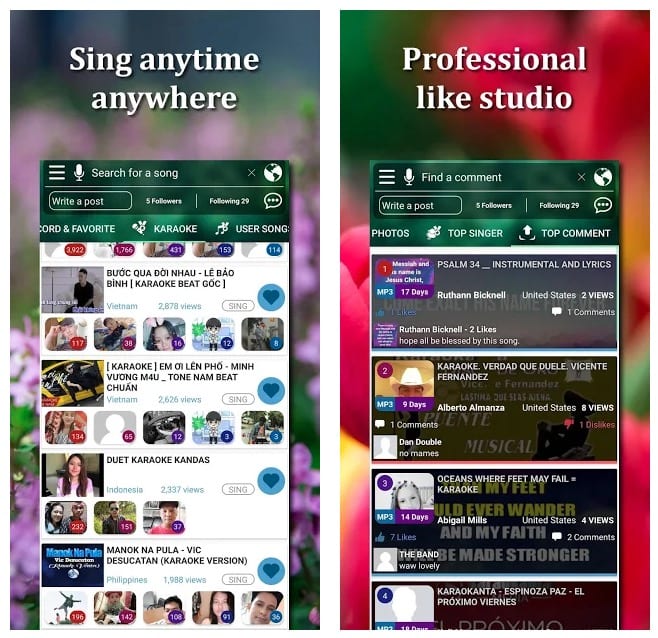 Downloads: 10 000 000 +
Customers rating:

(4.2 / 5)

Karaoke Lite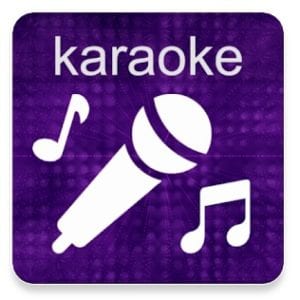 Karaoke Lite is an application that can interest singers and those who are fond of different hangouts. Thanks to a program you can arrange a karaoke bar in any place, you only need a bar. And karaoke will be provided by your gadget with Android.
The menu of the app is quite convenient. Here you will find new songs to test your singing skills. You can record your performances and save them. It's also possible to save your favorite tracks for easy access.
With Karaoke Lite, you can even sing karaoke online with video. Use Talk To search function to search for karaoke songs with ease. Add effects to your recordings, like echoes, reverberation.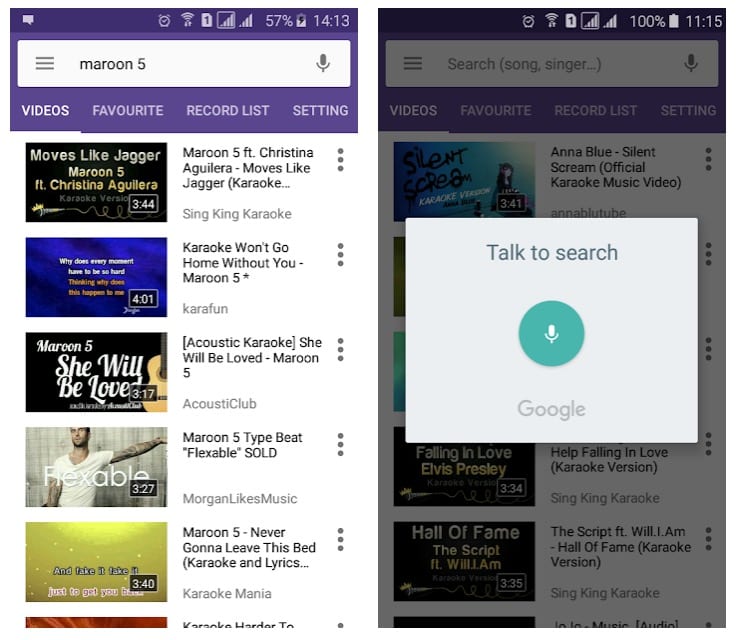 Downloads: 5 000 000 +
Customers rating: 

(4.2 / 5)

ALL Free Karaoke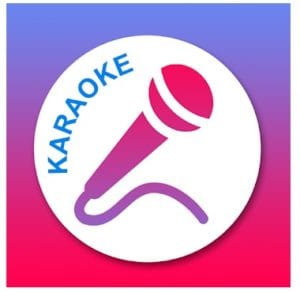 ALL Free Karaoke is a karaoke application that worth to be on the list. It has a rich catalog of songs for karaoke singing. The songs are of different genres: pop, rock, lyrical and so on. Every person will find a dozen of tracks to his taste in the app. The collection of songs is constantly updated. So, you will always find fresh compositions here.
You can get a powerful Search Engine which makes a better experience for you. Add your favorite songs in a favorite list, record your performance, and share it with friends.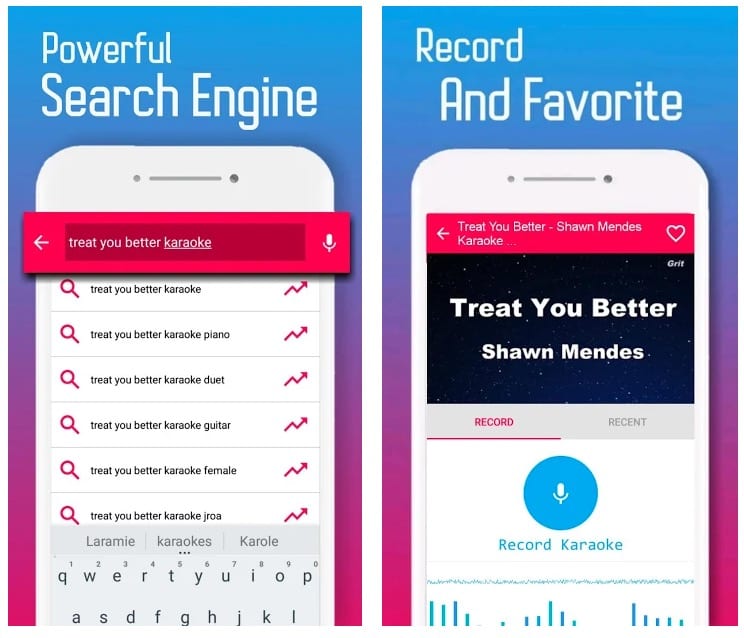 Downloads: 100 000 +
Customers rating:

(4.6 / 5)

So, judging by the huge number of karaoke applications only in Google Play, karaoke is alive, and will surely live for a long time. Applications of this class are in demand, they are downloaded with pleasure, and most users are attracted to those applications that have more settings, and allow you to work professionally with voice and music.
Whether you work, relax in the park or prepare for a good dinner – music always makes your business easier and more fun. There are many ways how you can listen to music on Android, but if you want to listen to music and you do not currently have Wi-Fi, we have something for you: 17 Best apps to listen to music without Wi-Fi for Android