Regularly deleting unused apps is a good practice. This saves free space on your mobile device, gets rid of junk data, speeds up performance, and increases the device's battery life.
In this article, we've selected the best apps that will help you to delete Chinese apps on Android.
Revo Uninstaller Mobile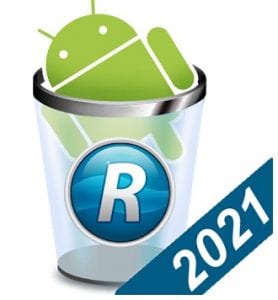 Revo Uninstaller Mobile is a good tool for uninstalling applications and cleaning the system. The user can select one or more applications to remove and click the "Uninstall" button. At the bottom of the screen, you can see the number of selected applications and the storage size occupied by them.
The app will help you find and uninstall Chinese apps on your phone.
The uninstaller also supports application search and sorting. Enter a keyword in the text box at the top of the screen to start the search. Click "Menu > Sort" to sort apps by different types.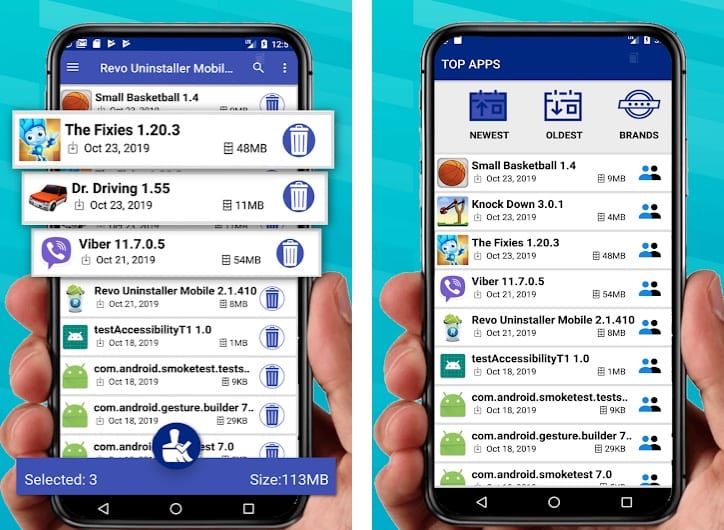 Revo Uninstaller Mobile doesn't support uninstalling pre-installed or pre-loaded applications, because this functionality is limited by the system.
The tool allows you to optimize free space, improve the performance of your device and reduce the battery drain.
Key features of Revo Uninstaller Mobile:
List of all installed applications;
Search for applications by name;
Display of application name, version, update time, and size;
Ability to remove multiple applications at once;
Search sorting: by name, size, etc.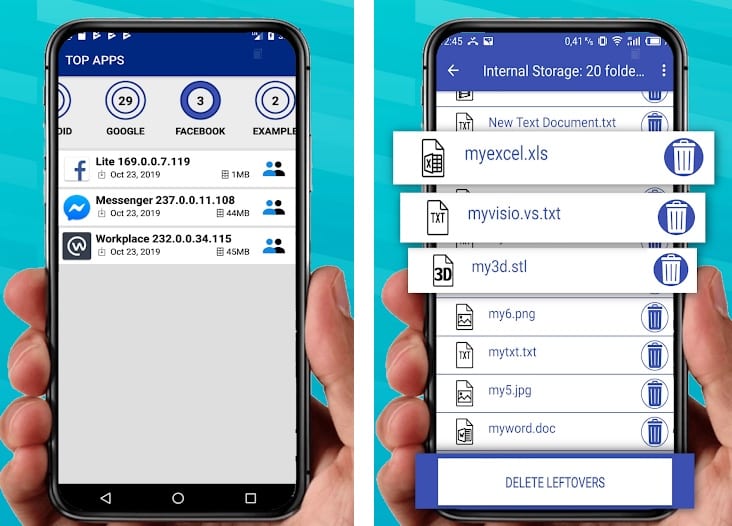 Downloads: 500000 +
Customers rating:

(4 / 5)
Uninstall any Apps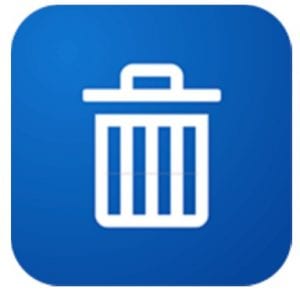 Uninstall any Apps is a tool that allows you to uninstall apps from your Android device, easily, quickly, and conveniently. The app can uninstall Chinese apps that the user has installed on their own.
If you tend to accumulate games and apps that you don't use and want to get rid of them once and for all, this app will help you remove them all with ease.
This tool has a simple window where you can do everything you need to do, making it easy to remove apps and making it useful for everyone, regardless of your level of experience. Once you run Uninstall any Apps, you will see all the apps installed on your device.
You can arrange them by size or in alphabetical order. With these filters, you can immediately see which apps are taking up the most space on your device and delete them to free up memory space for other things.
To remove any of the apps, you have two options at your disposal. The first is to select the app you want, and a dialog will open asking if you really want to uninstall it.
The second option is to select all of the applications you want to uninstall. When all the candidates for removal are selected, you just need to click on the uninstall button and all the applications will disappear at once.
App Remover will save you a lot of time when uninstalling applications from your device because it avoids the dialog boxes that pop up when uninstalling in the standard way.
Downloads: 100000 +
Customers rating:

(4 / 5)
You may also like: 9 Free WiFi Blocker Apps for Android
System app remover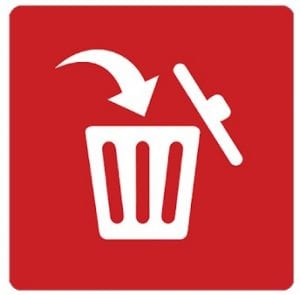 System App Remover is an application for performing manipulations with programs on Android devices: uninstall, search, download or install.
Download the software and easily uninstall the system, custom utilities, or transfer applications to your phone's memory card. Learn what superuser rights are and get detailed instructions on how to get them.
Secure software is waiting for you, as the system automatically filters important programs that should not be uninstalled or changed for the stable operation of the device.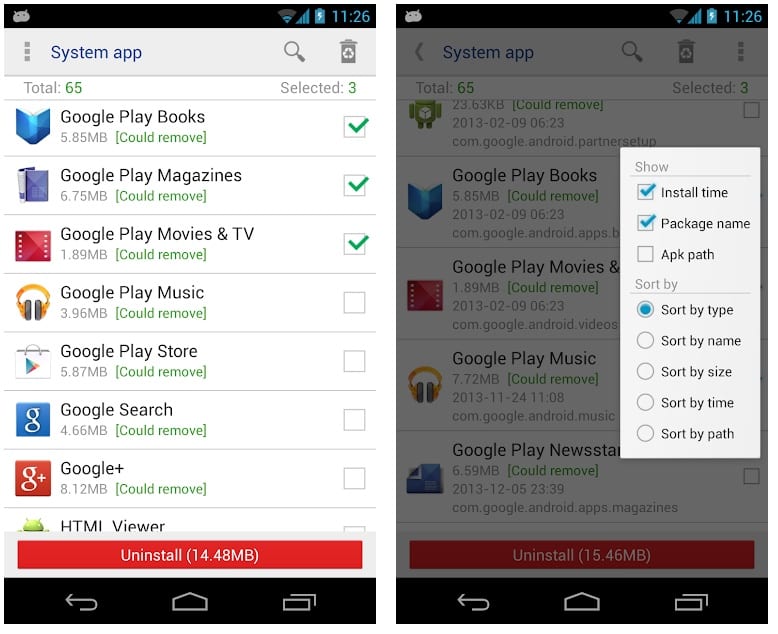 All the contents of your smartphone will be divided into groups. The first group includes files that you can delete, the second group includes those that are better left. The third category includes apps that aren't safe to delete. You will be informed of the potential risk after cleaning any program.
The uniquely accessible interface allows you to delete several files at once – significantly reducing your work time. By freeing up the memory occupied by the manager, your device will function quickly and efficiently, leaving you free to install new programs.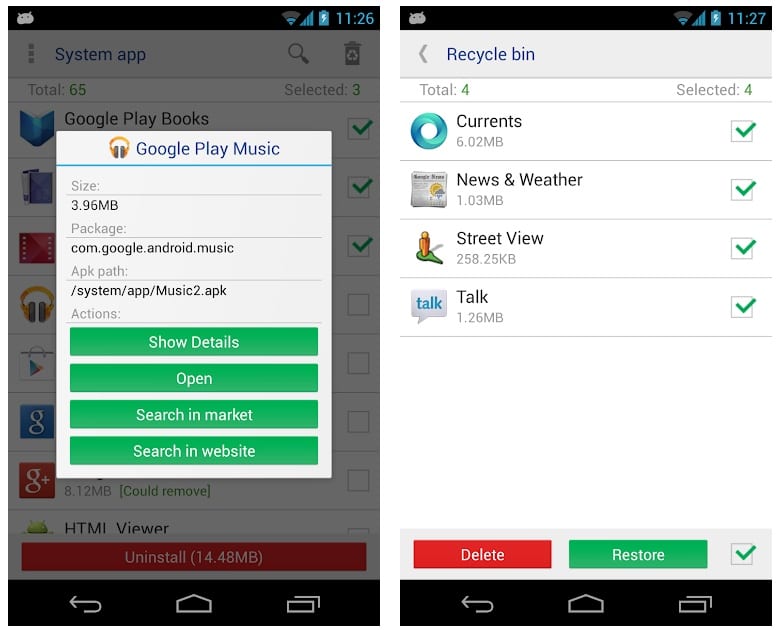 Downloads: 10000000 +
Customers rating:

(4.1 / 5)
Apps Remover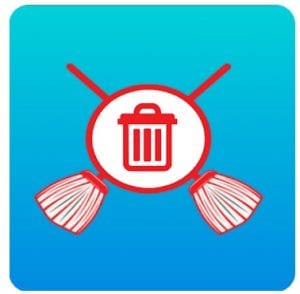 App Remover – unused apps will be deleted from mobile phones in one click.
Apps Remover will find and uninstall Chinese apps on your Android. On the screen, you'll see a whole list of apps installed. And Chinese apps will be marked with a star. Then, you can delete unnecessary apps by pressing the delete button.
Apps Remover manages to identify applications that are pre-installed on smartphones but can not remove system apps.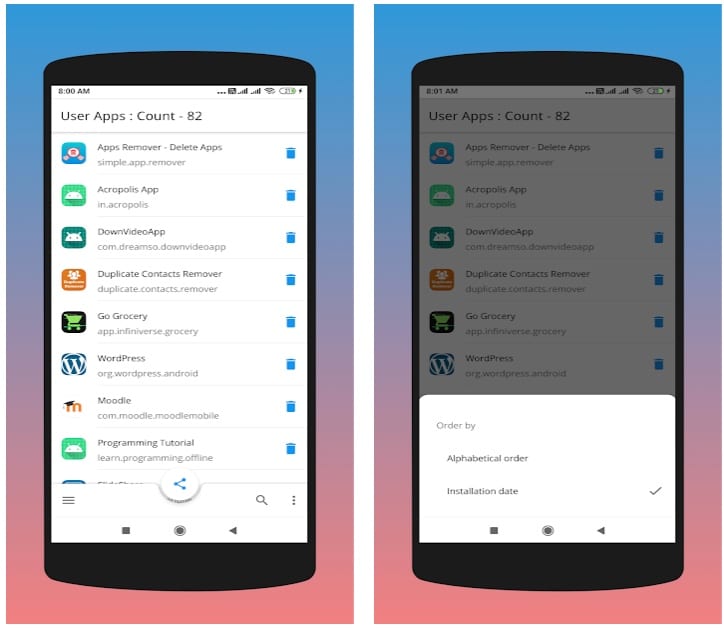 Downloads: 100000 +
Customers rating:

(3.4 / 5)
Easy Uninstaller App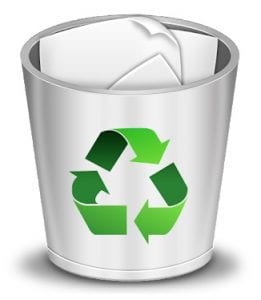 Easy Uninstaller makes it much easier to uninstall apps from Android, offering a lot of useful information about all installed programs and giving you maximum convenience to make uninstalling apps easy and straightforward. The professional app manager will also help you determine which ones you haven't used for a long time and can be painlessly removed from Android.
Key features of the Easy Uninstaller app:
Uninstall multiple apps from Android at once;
Sort apps by internal memory size;
Track app usage to identify your most and least used apps on Android;
Ability to identify battery eaters;
Setting up regular notifications about memory cleanup and soon-to-be-filled memory.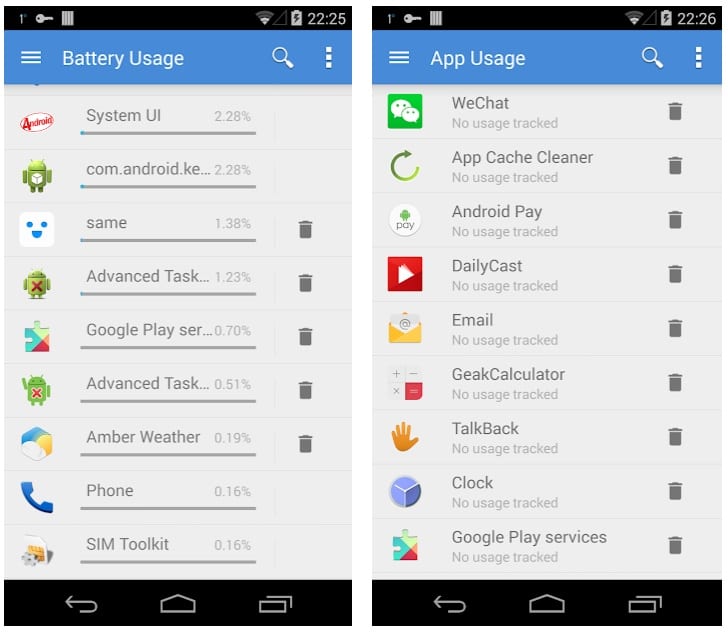 Even without many additional features, Easy Uninstaller does an excellent job of its main task – it helps you remove Android apps with minimal effort. After launching the program displays a list of applications installed on your smartphone and their size, i.e. the amount of internal memory occupied.
Easy Uninstaller will keep a list of all uninstalled apps in case you ever decide to return one of them to your Android. The app allows you to set reminders to regularly check for unused programs – for example, every month or week.
Alternatively, Easy Uninstaller offers to set a notification when free memory space drops below a certain percentage. The program will also help you identify the least frequently used apps to uninstall them, as well as find programs that actively consume battery power.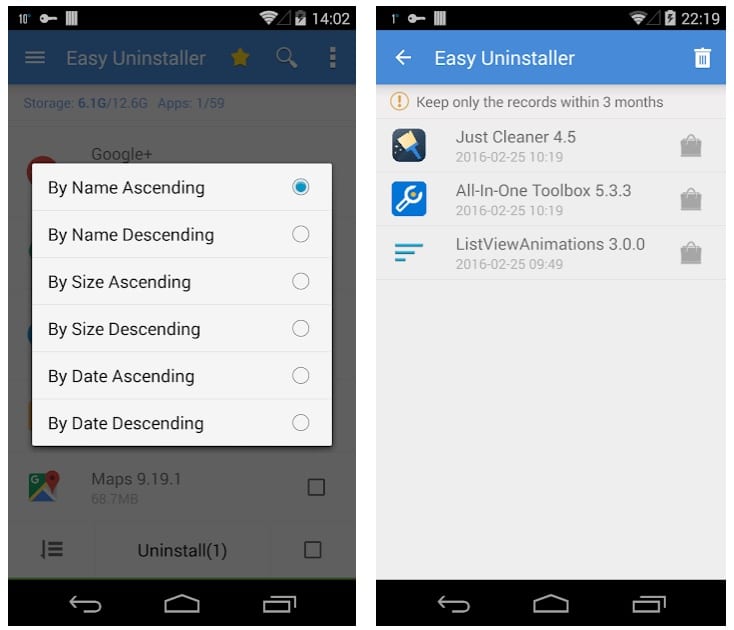 Downloads: 10000000 +
Customers rating:

(4.2 / 5)
Uninstaller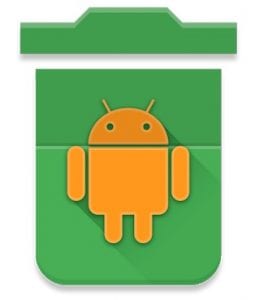 Uninstaller by Splend Apps is a very simple and therefore very attractive project for anyone who prefers results over visual qualities and other unnecessary things.
The program provides users with a tool for uninstalling applications. Without problems, obstacles, and other difficulties. It's enough to specify what should be no longer on the gadget and Uninstaller by Splend Apps will ensure the exact and complete execution of its task.
With its help, you can also view information about this or that object, get statistical data, and everything else that will help to achieve an understanding of the situation on the inner space of the smartphone.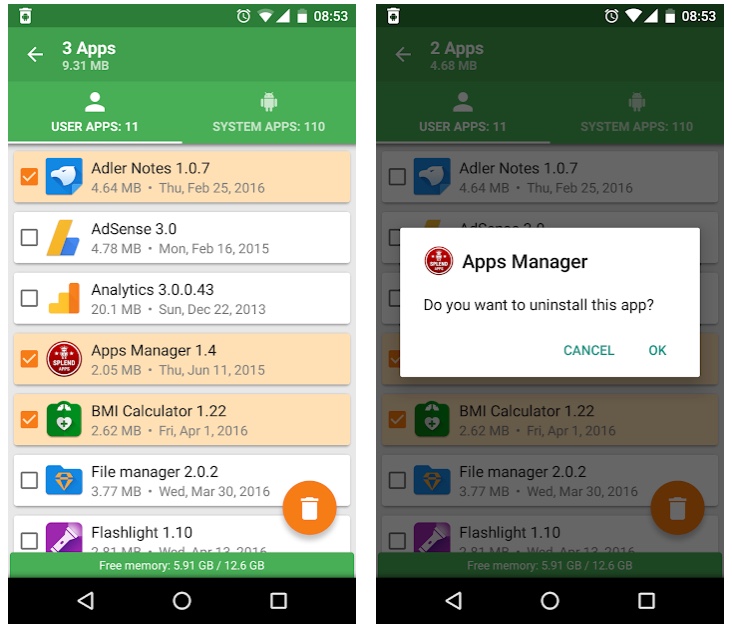 Downloads: 1000000 +
Customers rating:

(4.5 / 5)
You may also like: 9 Best Ad blocker apps for Android
Unused App Remover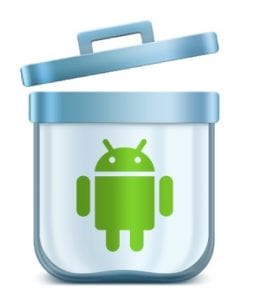 This is an easy-to-use utility to find and remove unused programs, helps keep your phone tidy. Reminds you about unused programs that take up space in the memory of your Android device.
In fact, it's so simple that the entire functionality was able to display in screenshots.
Memory is jammed on your phone? Which programs should you uninstall first? The utility will prompt which programs are rarely used and yet occupy a lot of space.
Experimenting with applications and then forgetting to delete the ones you don't like? This utility will remind you.
The program is as simple and clear as possible.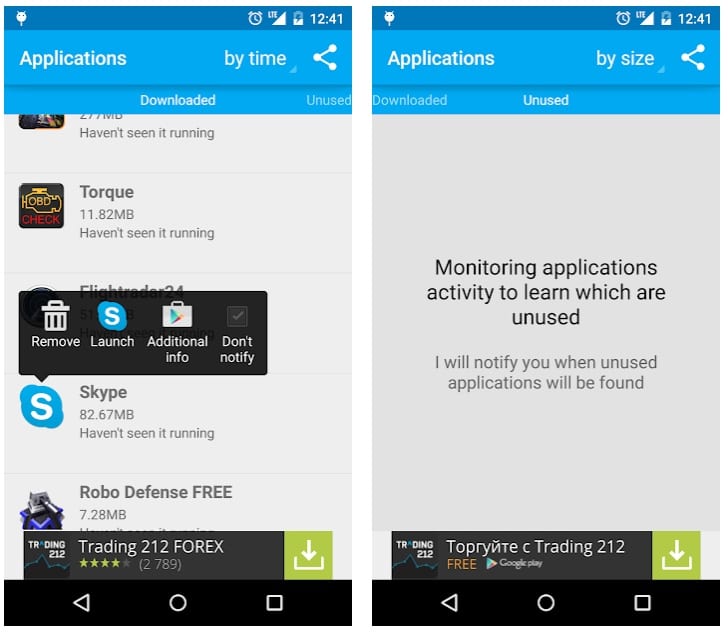 Downloads: 100000 +
Customers rating:

(3.9 / 5)