Hey, all the puzzle fans out there! We have found an excellent tool for you – LogiBrain Collection. The app is compatible with both tablets and smartphones. So, let's get a glimpse!
Despite a great number of features, LogiBrain Collection app is pretty lightweight. So, you will not have to waste too much time on the installation process!
We also recommend you to play Sudoku game apps if you like this game.
In this app, you will find 6 puzzle games:
Binary
Hitori
Kakurasu
Network
3 In A Row
Tents and Trees
Plus, more than 6000 puzzles with different grids sizes and difficulty levels are waiting for you!
One of the best parts of this tool – there is no need to have a regular internet connection. Thus, you can play puzzles anywhere and any time you want!
Besides, the app comes with an automatic saving. So, you don't have to worry if you have closed the game, as you can continue playing it where you stopped.
In case you don't know how to pass a level, the app allows you to use a hint or even receive the complete solution. Furthermore, if you have done the wrong action, you can easily go steps back or forth.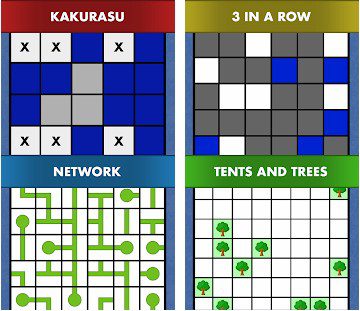 By the way, LogiBrain Collection offers a free version and responsive customer support. So, in case you have faced any problems while using this app, you can ask any question you want.
As for the app's interface, it is very easy to use. Plus, all the games come with magnificent graphics. Therefore, everyone will quickly understand how everything works there.
As a whole, LogiBrain Collection has a very good rating in the market and all the users truly like this app. Moreover, we have not found any significant disadvantages of this app.
By the way, you may also want to discover the crossword game apps if you like LogiBrain.
All in all, LogiBrain Collection is truly worth downloading. We can surely say that this app will be suitable for both children and their parents, as it guarantees excellent training for the brains.