Nowadays, buying lingerie doesn't have to be an awkward or embarrassing experience with pushy salespeople. You can now shop in the comfort of your own home with just a few taps on your phone.
And to make your experience even easier, we've rounded up the top lingerie shopping apps for Android. These apps cover a vast scope of styles, sizes, and prices, so you can find the ideal set that makes you feel confident and sexy.
Most of the apps let you get a loyalty card to unlock hot deals and discounts, too. Whether you're looking for everyday basics or special occasion pieces, these apps have got you covered. Let's get into it!
Victoria's Secret MENA
Well, this app doesn't even need an introduction. It's one of the most well-known lingerie brands around the globe, a dream of millions of girls worldwide. And this app is here to help you treat yourself to some seriously stylish lingerie.
The app gives you a fast and secure online shopping experience that will leave you feeling confident and satisfied. Plus, you can pick between home delivery or pick up in-store with the super convenient "Click & Collect" service. And don't forget to save all the items you're lusting after in one convenient place.

But what if you're not sure what size you need? No problem! The app includes an easy quick-step guide to help you find the ideal fit from the comfort of your own home. And once you find your size, you can save it on the app for future shopping trips.

But the app isn't just about bras and underwear (although it does have an amazing selection of those). You can also browse swimwear, sportswear, sleepwear, beauty products, and accessories. And with payment options like credit cards, and buy now pay later, it's never been easier to indulge in a little retail therapy.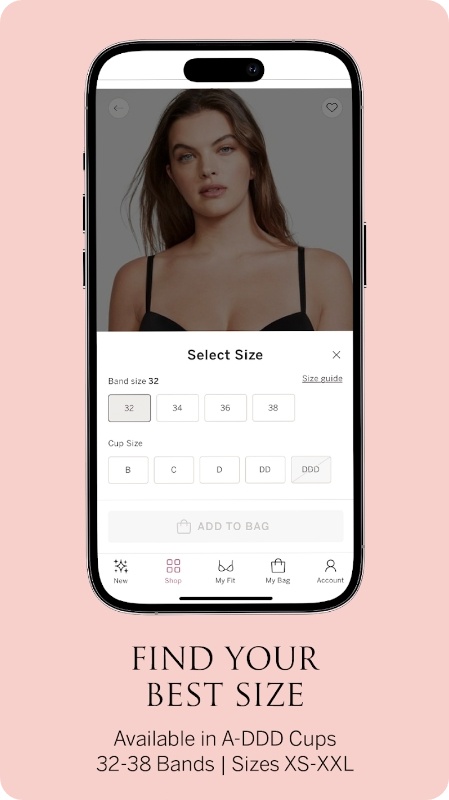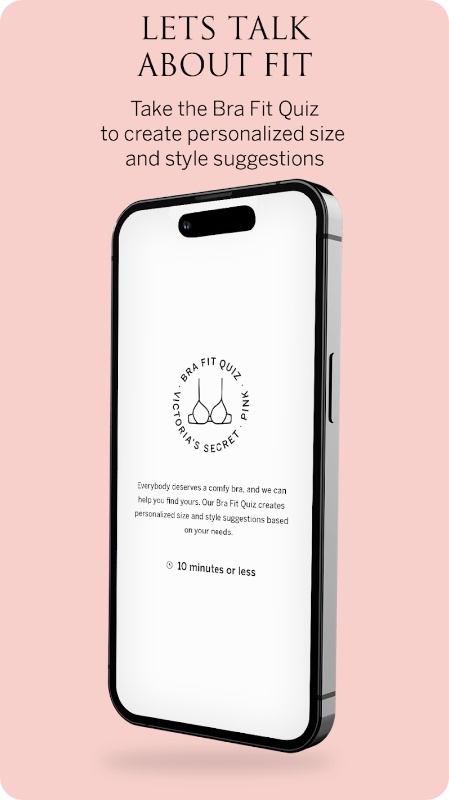 Downloads: 100K+
Customers rating:

(3.2 / 5)

You may also like: 9 Best Fashion Stylist Apps
Zivame
Fed up with the bra-shopping hassle and the endless quest for a flawless fit? Well, say hello to this app – your savior from uncomfortable, unsupportive lingerie nightmares. Bid farewell to ill-fitting bras for good and say hello to a world of choices that'll spoil you rotten!
Whether you fancy something flirty or prefer practicality, the app's exclusive range of bras will cater to your every whim and budget. From summer essentials to strapless wonders, minimizers, and even maternity bras, perfection is just a click away. Oh, and did we mention the hassle-free exchange and return policy? Happy shopping, ladies!
It also covers the most fabulous selection of panties, in diverse fabrics and styles. Tired of unsightly lines? Fear not, the no panty-line briefs and seamless panties are here to save the day. Seeking extra tummy love? The tummy tucker panties are the secret weapon you've been dreaming of.
Boy shorts, bikinis, hipsters, and more – the app has got your back, or rather, your bottom! And it also has a full-on nightwear department. From cozy loungewear to satin and cotton pajamas, nightgowns, and slips – sleep like a queen in the app's luxurious options.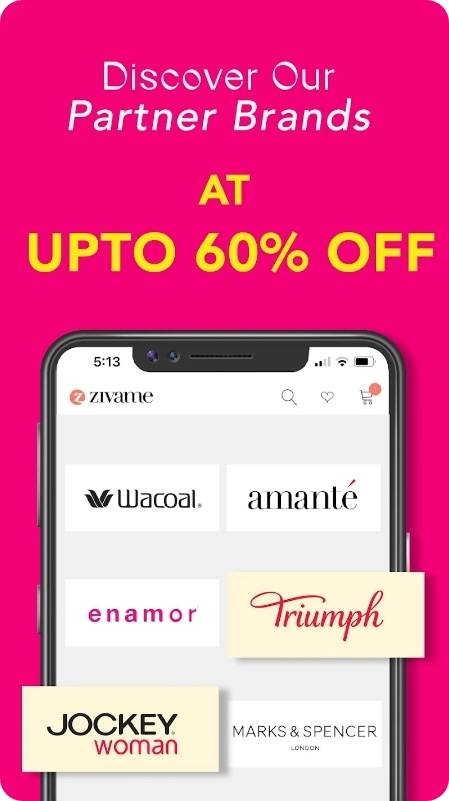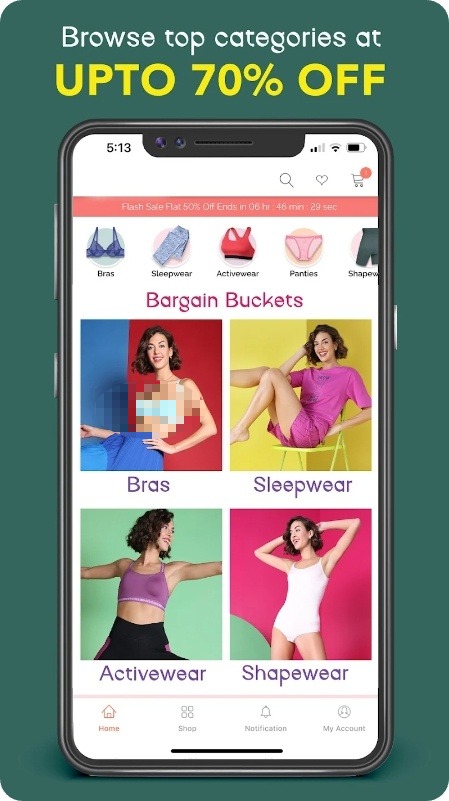 Downloads: 10M+
Customers rating:

(3.3 / 5)

Adore Me
This app is a one-stop shop for all your lingerie needs, you've got to try this app. It's just like having a personalized lingerie store right at your fingertips.

First off, let's talk about the selection. This app has everything. Seriously, whether you're in the mood for a matching bra and panty set, swimwear, activewear, sleepwear, or even maternity and nursing essentials, it has smth for you. And don't worry about finding your size – they have bras in sizes 30A-46G and intimates in XS-4X.

But what sets it apart isn't just their massive selection. It's their commitment to inclusivity. They've got carefully crafted designs that fit women of all shapes and sizes. Whether you're curvy, petite, or somewhere in between, the app celebrates your natural beauty and inner confidence.

And let's talk about the prices. We know lingerie can be expensive, but the app makes it easy to shop without breaking the bank. They're committed to making their designs accessible to everyone. And if you're a VIP member, you can score even bigger discounts on new collections that drop every month.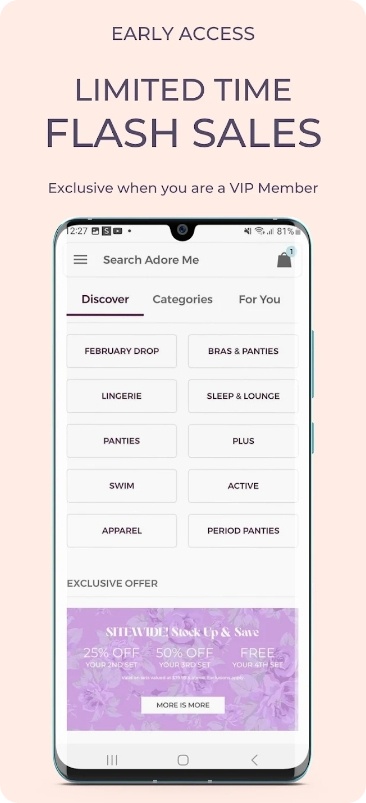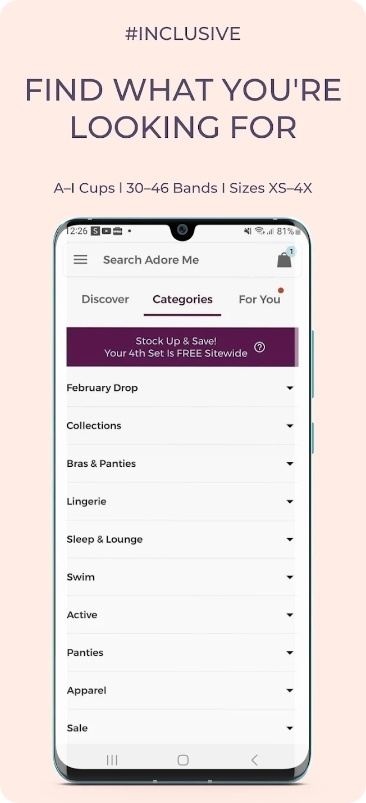 Downloads: 1M+
Customers rating:

(4 / 5)

Clovia
It's the ultimate destination for all your lingerie needs. This app has it all, from bras in every type and style to gorgeous nightwear that you'll never want to take off, and even shapewear that will have you looking like your best self.

The app also covers a ton of tools to make your shopping exp even better. With the free fit test, you can easily find out your true bra size and shop with confidence, while the store locator helps you find your nearest location.

If you want to stay up to date on the latest fashion trends and hacks, simply follow the built-in magazine and discover all the tips and tricks that will save you money while keeping you looking your very best.

But the best part? All of this quality and style comes at unbeatable prices. The app strives to give you the highest quality at the best value, so you can look and feel amazing without breaking the bank. If that wasn't enough, the newly launched Skivia range offers amazing hair care and skin products made with natural ingredients, as well as intimate care products like washes, liners, and pads, all in various sizes.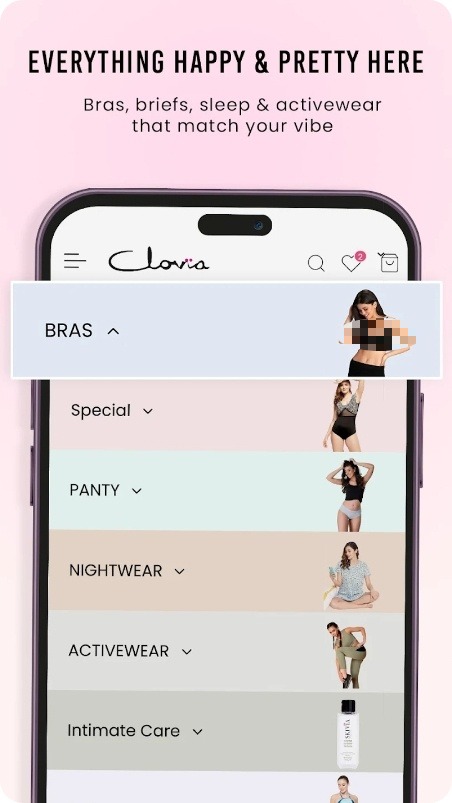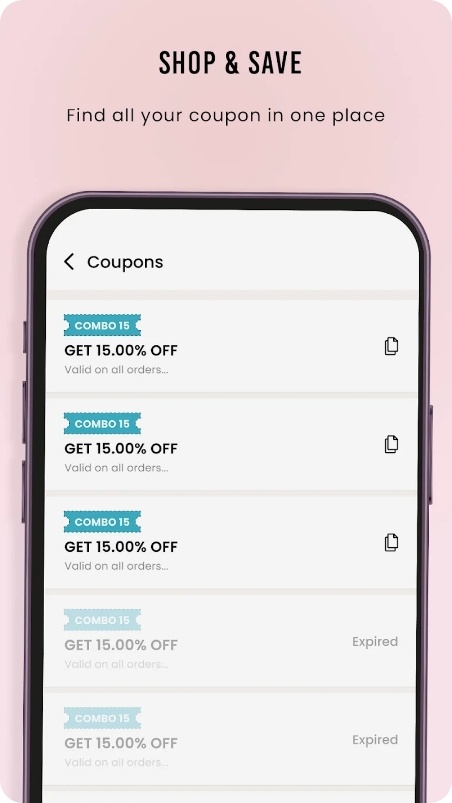 Downloads: 10M+
Customers rating:

(4.2 / 5)

Glamuse
Tired of going to the same old department stores and sifting through limited options for lingerie and swimsuits? This app is here to help. It covers 12 K models with up to 65 sizes available for each one, so there is truly smth for everyone. From underwire and nesting bras to thongs and tanga panties, the selection is vast and can satisfy any taste.

But it doesn't end with just lingerie. The app also covers swimsuits from some of the most sought-after brands. Whether you're on the hunt for a classic one-piece or a trendy bikini, there is smth for every occasion.

What sets it apart is its ultra-convenient shopping exp. You can easily save your fave pieces and customize your shopping experience both on the app and website. Plus, with same-day shipping for orders placed before 4:30 pm and fast delivery in over 40 countries, you won't have to wait long to receive your new purchases.

Not to mention, the app emphasizes customer satisfaction and covers top-notch service quality. With their size selections, you'll feel confident and comfortable in every item you purchase.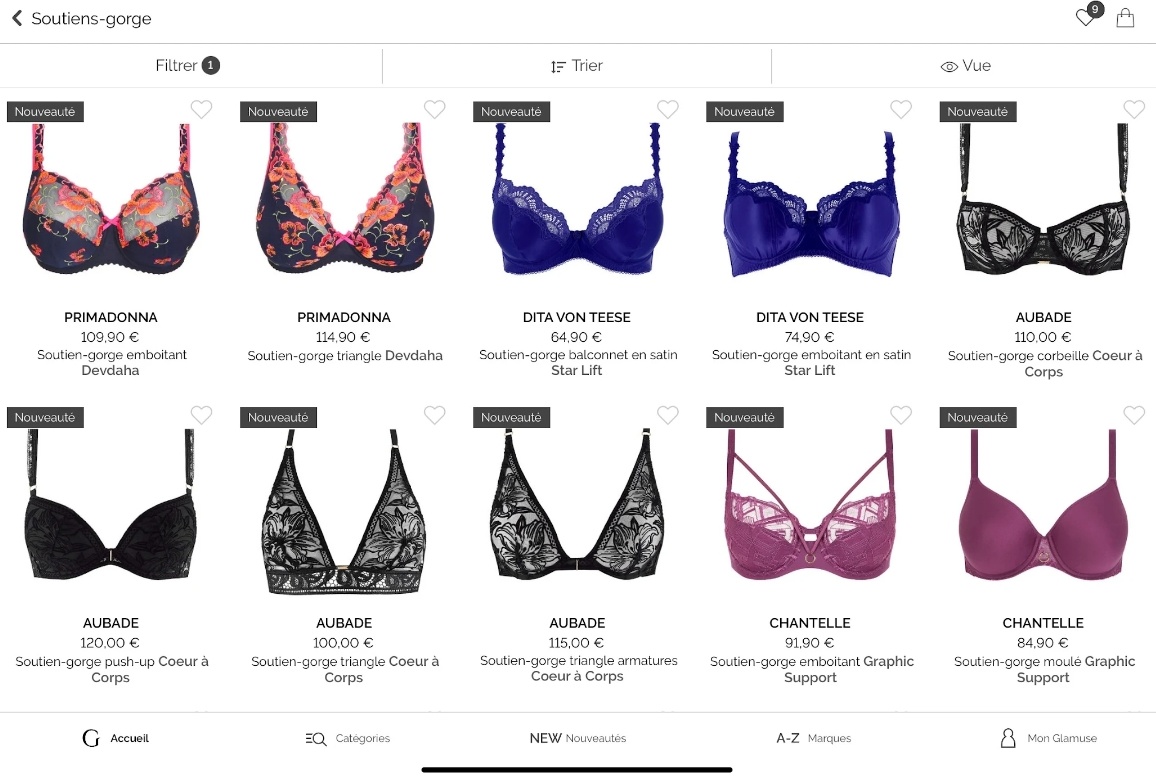 Downloads: 100K+

Check also: Top 9 Android Apps To Find Clothes From Pictures
ASOS
The ASOS app might not be the first thing that springs to mind when you think of lingerie shopping, but let us tell you, this app covers all your bases. With options catering to diverse body types, you can search by type, size, brand, price, and color.
Plus, their trend and occasion edits make it super easy to browse and buy. And the best part? Your saved items and shopping bag sync between your devices, so you can go from browsing on your phone to checking out on your laptop without missing a beat.
The app's checkout process is next-level, thanks to its card scanner. Adding a new card has never been so quick and painless. And who doesn't love a bargain? Their push notifications alert you when sales start and remind you when they're ending, so you never miss out on a sweet deal.

But what really sets the app apart is the ability to share your picks with your pals. Not sure if that lacy number is right for you? Share it with your bestie and get their opinion.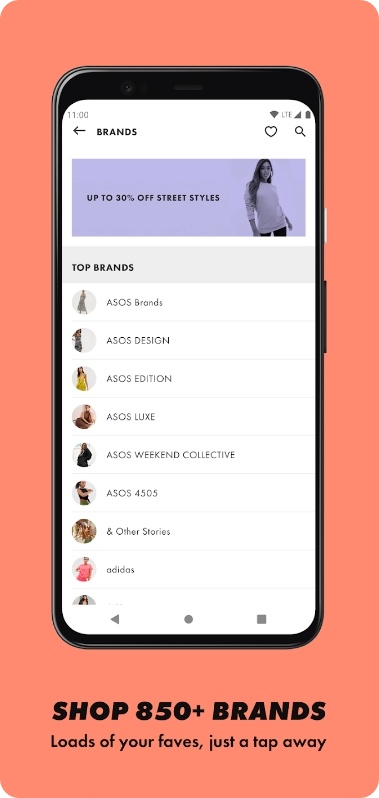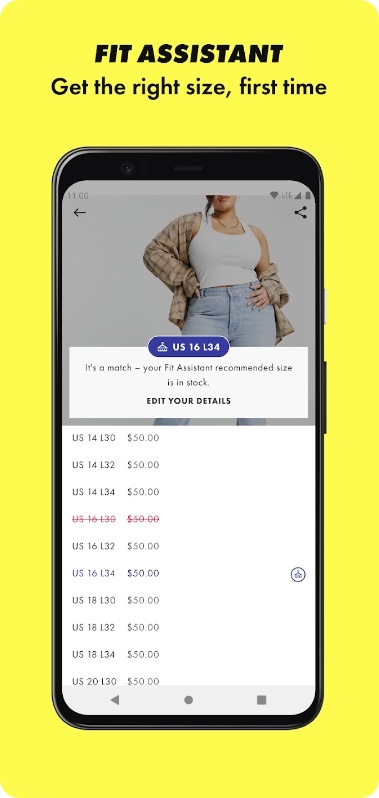 Downloads: 10M+
Customers rating:

(4.6 / 5)

SHAPE Lingerie
If you're on the lookout for comfortable, well-fitted innerwear that caters to your body type, give this app a try. Finding a flawlessly fitting set can be a struggle, but this app is here to save the day.

This app truly understands the struggle that women face when it comes to finding bras that fit comfortably and correctly. Not only do they understand, but they cover a vast scope of options that cater to all shapes and sizes. Finally, a brand that acknowledges that everybody is unique and deserves to be celebrated with comfortable and well-fitted innerwear.

The app has a friendly UI that makes it easy to browse through their extensive lib of bras and other innerwear. Not only that, they also have a unique tool that helps you identify your size to find the ideal fit for your body. No more guesswork or settling for limited options, you can finally find the best fit for you.

But the best part? The hassle-free payment and delivery options. You can place an order with ease and have it delivered straight to your doorstep. Say goodbye to the dreaded trip to the mall and hello to the convenience of online shopping.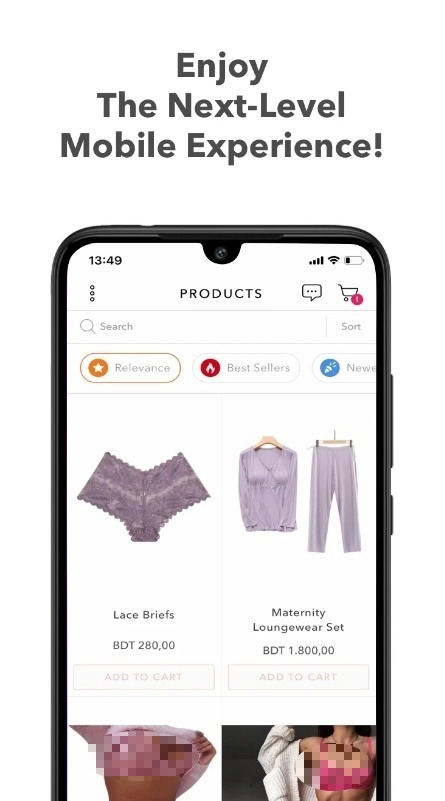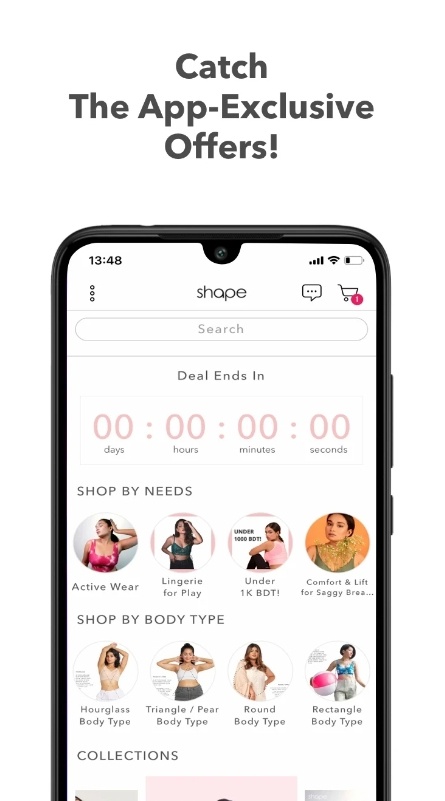 Downloads: 1K+

Lavinia Lingerie
This app is here to end your struggles with all the boring, uncomfortable lingerie. This family-owned business knows how to bring the heat while still prioritizing the comfort and functionality of the underwear.
Whether you're in the mood for smth sweet and romantic or something spicy and daring, the app has got you covered. Their collections are made with today's dynamic woman in mind, because let's face it, we all deserve to feel like a queen in our intimates.

And let's not forget about the foundation. The app understands that the right undergarments can truly empower a woman. Say goodbye to ill-fitting bras and hello to support and confidence.

Plus, with the app, shopping for lingerie has never been easier. You can browse and purchase from the comfort of your own home or on-the-go. The app even has some exclusive deals and promotions. The UI of this one is pretty simple, so you'll get to easily find pieces and place an order. The shipping coverage is limited, though, so keep that in mind.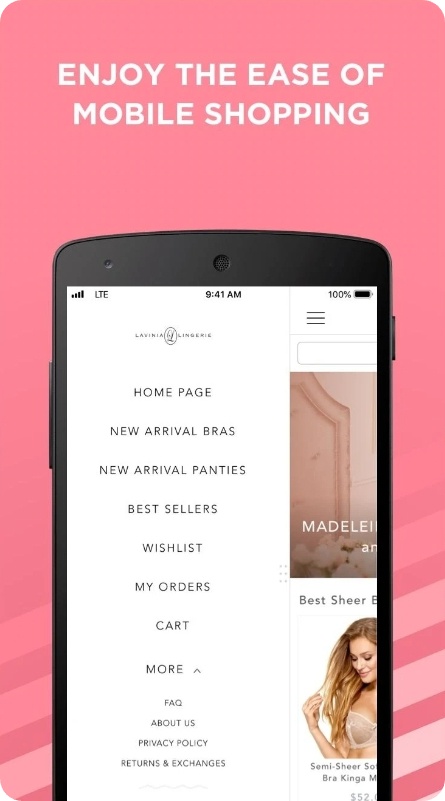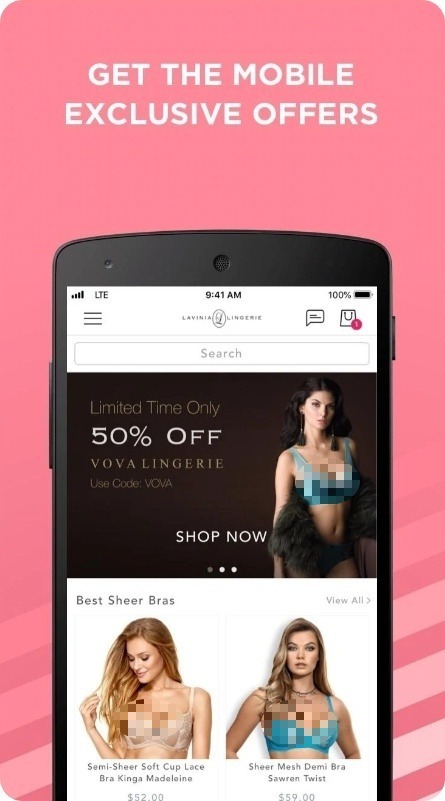 Downloads: 10K+

Lush Lavié
If you're on the hunt for some sexy, luxurious lingerie and loungewear that will have you feeling like a goddess, don't get past this app. It's a one-stop shop for lux underwear that is the best possible quality.

As a Midwest-based online boutique founded by a woman who turned her fantasies into a reality, the app is all about helping you live out your own sultry dreams. And let us tell you, they've nailed it. Whatever your vibe or fave color is, you'll get to find smth you'll like.

Above that, the app is super user-friendly and easy to navigate. You can browse by category, collection, or even by what's trending. Plus, there are handy filters that let you narrow down by size, color, and style. The actual lingerie and loungewear? They have everything from lacy bralettes and G-strings to silky robes and comfy loungewear sets.
They're all made with high-quality materials that feel amazing against your skin. But the best part? It's not just about looking sexy for someone else. It's about feeling sexy and confident for yourself. The app is all about empowering women to live out their fantasies and feel amazing doing it.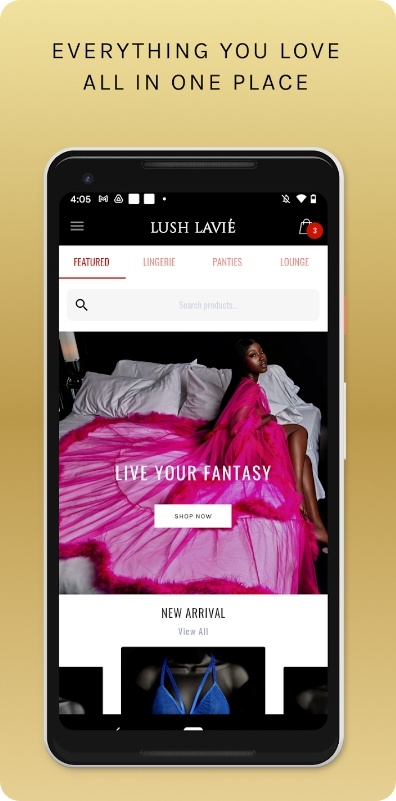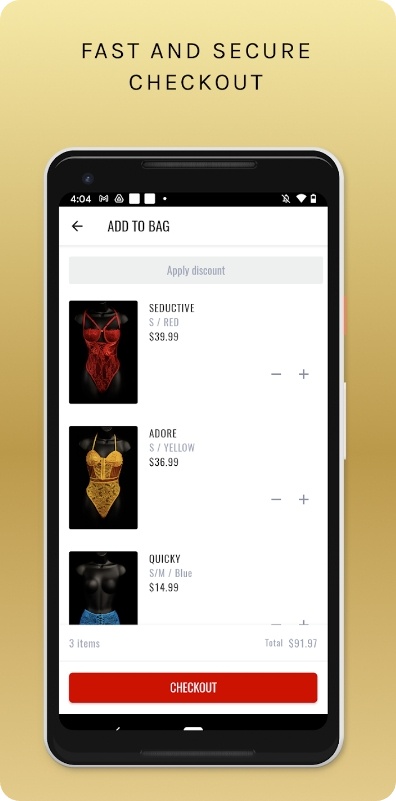 Downloads: 5K+

You may also check: 16 Best Buying Shoes Apps
Hunkemöller
To wrap up, here's an app to spice up your lingerie shopping. It lets you discover gorgeous and high-quality lingerie that will make you feel like a million bucks.
Now, let's talk perks. From lingerie to sportswear, swimwear to nightwear, and even sassy accessories, they've got it all. But wait, it gets better. Every purchase earns you points, meaning you'll be indulging your shopping obsession while getting rewarded.
But here's the real tea. When you make an ACC and spill some tea about your prefs, sizes, and fave fits, you'll level up your membership and unlock a world of even juicier rewards. Get ready for personalized vouchers, shop credit, exclusive limited edition products, pre-sale deals, and invites to fancy member-only events.
Need a quick update on your passion points, shop credit, or vouchers? The app has got your back with regular notifications and newsletters that will keep you in the loop. Plus, there are competitions to win big and even a Wheel of Passion to spin for extra rewards.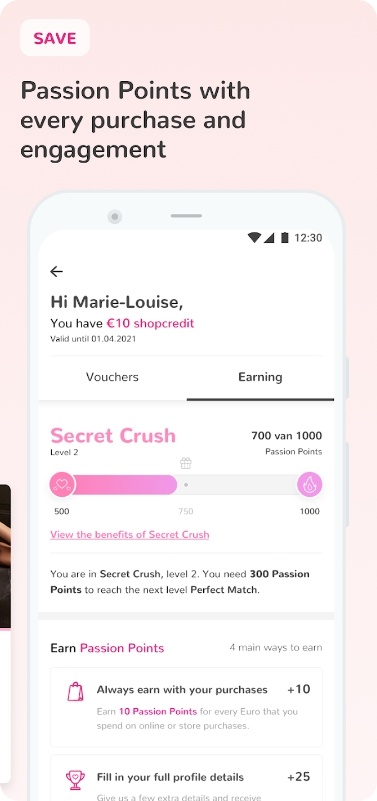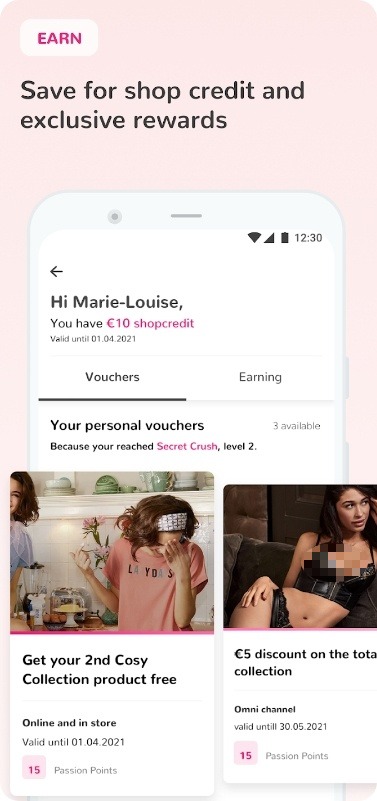 Downloads: 1M+
Customers rating:

(3.4 / 5)