Are you a chemistry buff searching for an exciting way to put your knowledge to the test? Well, you've come to the right place!
In this article, we'll be exploring some of the best mixing chemicals games for Android. These simulation games not only allow you to explore the science of chemical reactions but offer plenty of fun challenges to keep you entertained. From crafting potions to conducting experiments, these games will put your creative and analytical skills to the test. Pick the game you like and get ready to mix up!
Unreal Chemist
This game lets you dive into the world of chemistry experiments. It's perfect for those seeking a realistic experience but wants to avoid the hassle and danger of an actual lab. The main goal of this one is to get you into the world of science experiments. You can simulate chemical mixes with lifelike visuals and authentic details.
It's like having your very own lab at your fingertips, truly! You'll get to regulate the concentration and dose of the reactants in reactions. Thus, it's possible to create fully unique experiments and see how the different elements react with one another. You'll be able to regulate the temp of the mix, which is crucial for accurate experiments.
But that's not all! You'll get to slow down or fast-forward the reaction, and it's really fascinating to watch. The game lets you check the PH and change it using the indicators. And if you're feeling a bit adventurous, you can even ignite flammable gases created during reactions. You'll even get to play with dangerous elements like the piranha solution.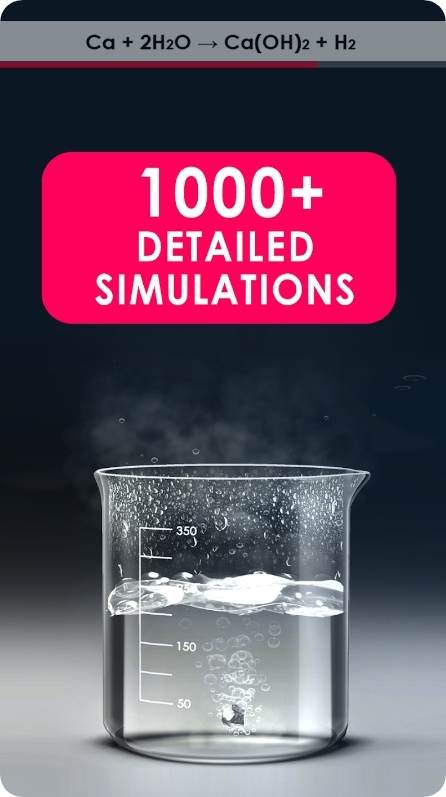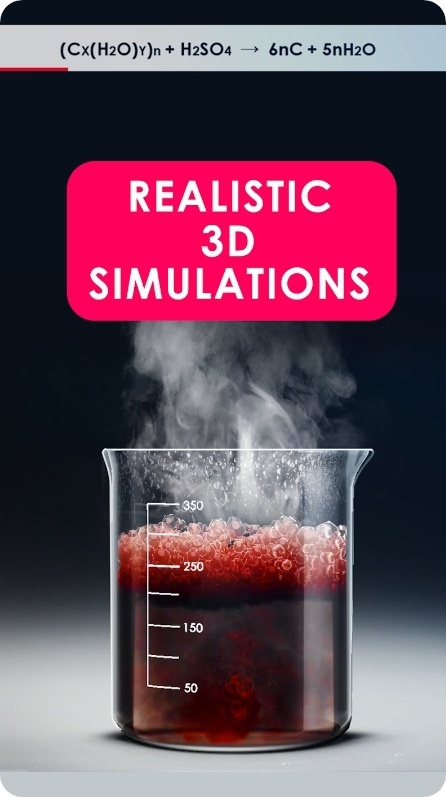 Downloads: 100K+
Customers rating:

(4.1 / 5)

You may also like: 11 Best Physics-Based Games
Science Lab!
If you've ever wondered what it's like to be a scientist mixing, experimenting, and discovering elements, this game is right up your alley. Its main goal is to satisfy your love for chemistry and try out multiple reactions without the risk of making a real mess. The game is incredibly addictive, and you won't want to put it down.
From mixing colors in the test tubes to heating solids, it's endlessly satisfying to see what happens when you combine different elements. And beware, some elements don't mix well together, and explosions are always a possibility! But don't worry, you'll feel like a real scientist, especially when using a burner to melt solids and analyzing mixtures under the microscope.
And if things get too heated, you can always use the extinguisher to put out any fires that might arise. There are tons of things to do in this game. There's always a new experiment to try, a new element to discover, and a new challenge to overcome. And with the incredibly realistic graphics and sound effects, it feels like you're really in a science lab conducting experiments.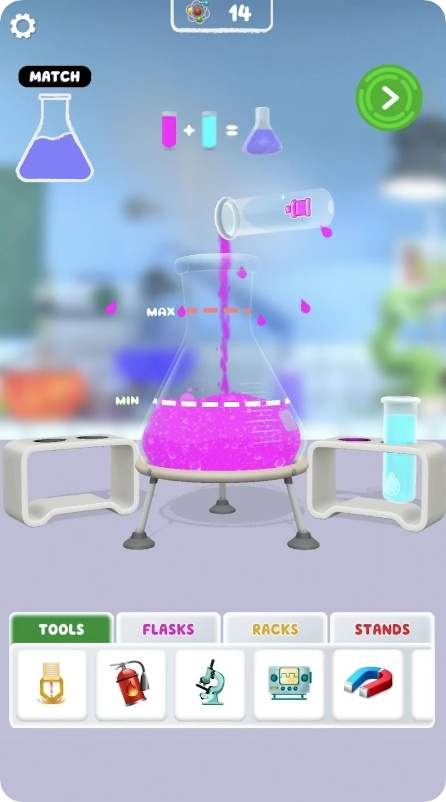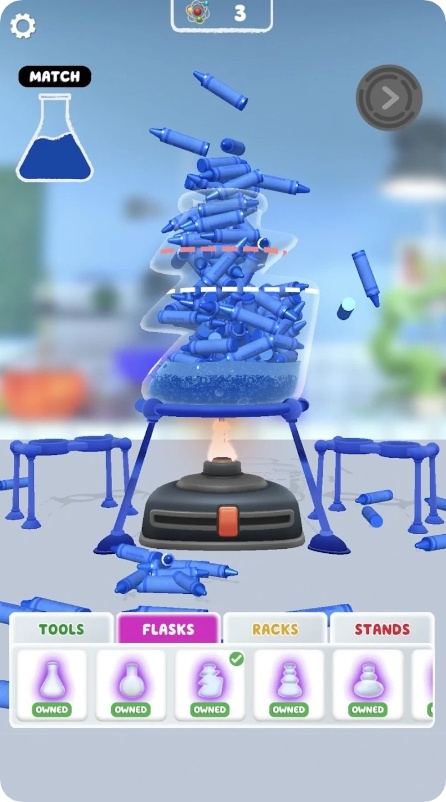 Downloads: 1M+
Customers rating:

(3.7 / 5)

Chemist Alchemy
This game is an absolute treat for anyone who loves science, chemistry or just enjoys a good puzzle. Yeah, it's more on the fun side, and you should not expect realistic relations here, but it doesn't make the game less entertaining. In fact, it's a great way to introduce your kid to science and form an interest in it.
The premise is quite simple: you start out with the four basic elements and mix them together to create new fusion alchemy elements. The aim is to be as creative as possible and to try out unexpected combinations in order to discover new elements. Herewith, every combination of elements is like a little puzzle to solve.
It really gets your brain working to figure out which elements to mix together to achieve the desired result. The voice-overs for every element are a nice touch, too, as they help you to learn through the game. And each time you make a new combo, you learn the name of your discovery. It's a fantastic way to learn new things about science and chemistry in a fun and engaging way.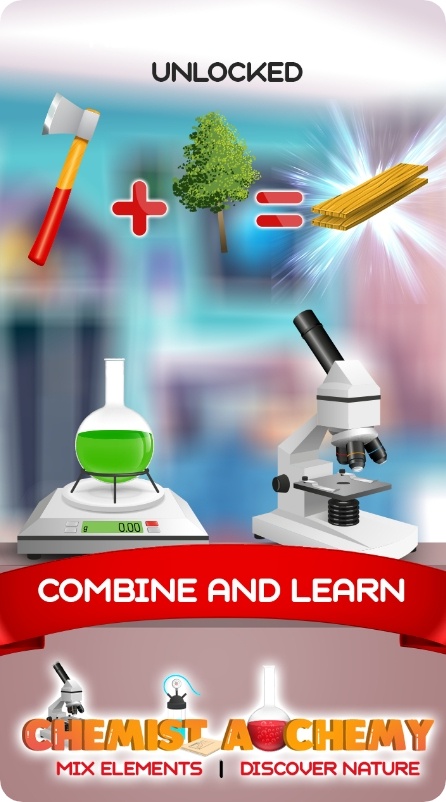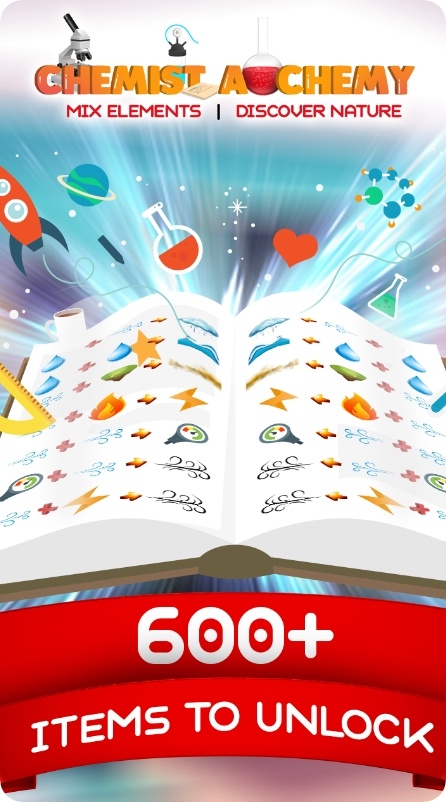 Downloads: 50K+

Check also: 7 Best Time Travel Apps
Chemistry Lab
That's a fantastic virtual lab for anyone who wants to experiment with chemicals and reactions. It lets you grab a lab coat and goggles, and experiment with over 300 chemicals and nearly 1000 reactions! The interface is minimalistic, making it feel like a realistic simulator instead of a typical game app.
The graphics are top-notch, and the virtual lab equipment has a level of detail that is truly impressive. You get full freedom to play with different chemicals and mixes. You can mix and match to your heart's content and create your own virtual lab. The game provides real educational value and is perfect for students who are studying chemistry and want a way to apply their knowledge.
In terms of accuracy, the app does its best to provide a realistic experience. The properties of the chemicals are true to real life, and the reactions are accurate as well. You'll even get to view detailed information about each chemical, including its molecular structure and properties.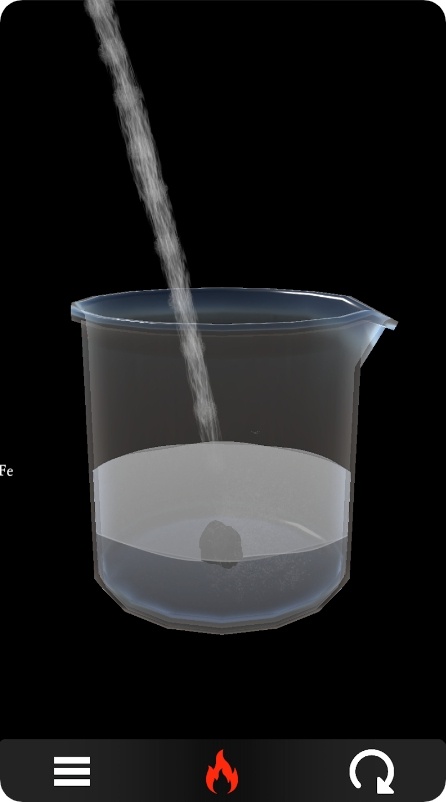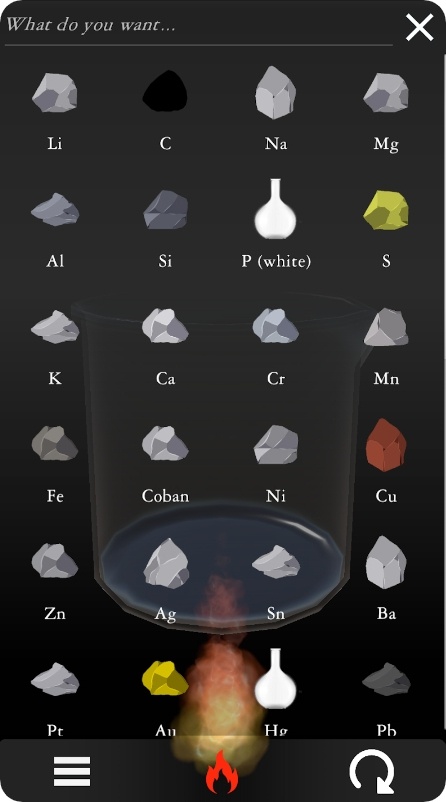 Downloads: 50K+
Customers rating:

(3.8 / 5)

Little Alchemy 2
Here is an addictive game that will keep you entertained for hours on end. It's a crafting game where you combine items to create new ones. But don't let the simplicity fool you: this game is full of surprises. You might start out with just a few basic elements and chemicals, but before you know it, you'll be creating entire ecosystems and even whole planets.
Yeah, this game is not about being realistic at all. It offers a sense of discovery as every mix you create feels like a little victory, and the descriptions are always hilarious and pun-filled. The art style is also worth mentioning: it's vibrant, colorful, and just plain fun to look at. And let's not forget the original soundtrack, which is equally whimsical and catchy.
Plus, with the completely new library in this version of the game, there are so many more items to create than in the original one. In fact, the library might be the best part of the game. Not only does it give you a laugh, but it also serves as a helpful reference for those times when you need a little guidance (as some of the combinations can be tricky).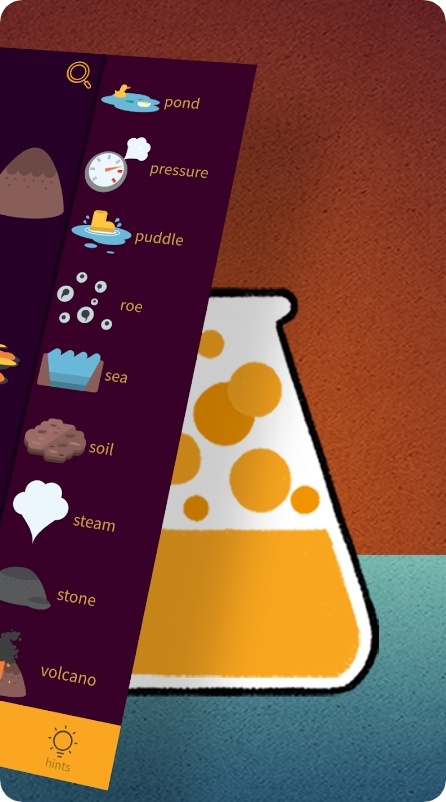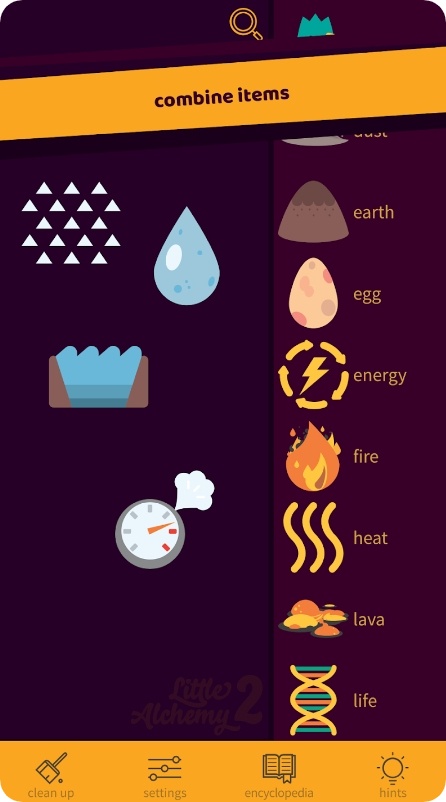 Downloads: 10M+
Customers rating:

(3.7 / 5)

Chemical Reaction
If you want to feel the thrill of experimenting with different chemicals, this game app is the perfect addition to your collection. It lets you mix some of the most dangerous chemicals in the world and see how they interact with each other. It's an exciting and addictive game that you won't be able to put down!
The game encourages experimentation and lets you create your own reactions. The graphics are stunning, and the app is incredibly easy to use, even for beginners. You'll truly feel like a mad scientist in your own laboratory! The game covers a wide range of chemicals. You can mix everything from acids and bases to explosives and flammable liquids.
There are even a few secret chemicals that you'll have to unlock as you progress through the game. But be warned, some chemicals are extremely dangerous, and you should use caution when mixing them. Well, it's one of the main points, actually: to let you play with destructive elements without any real danger.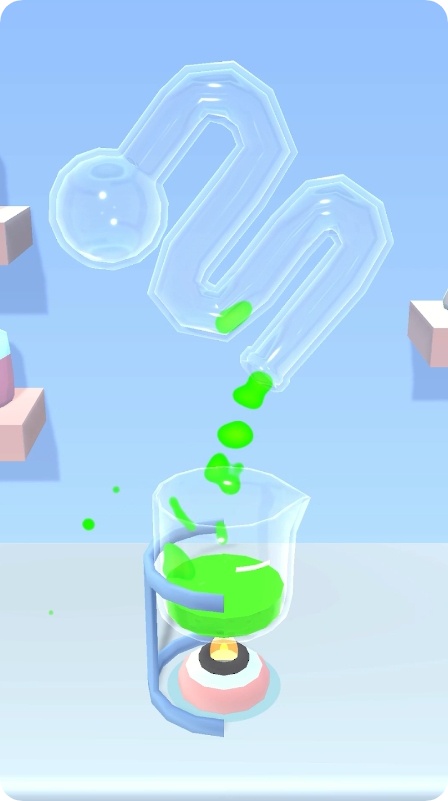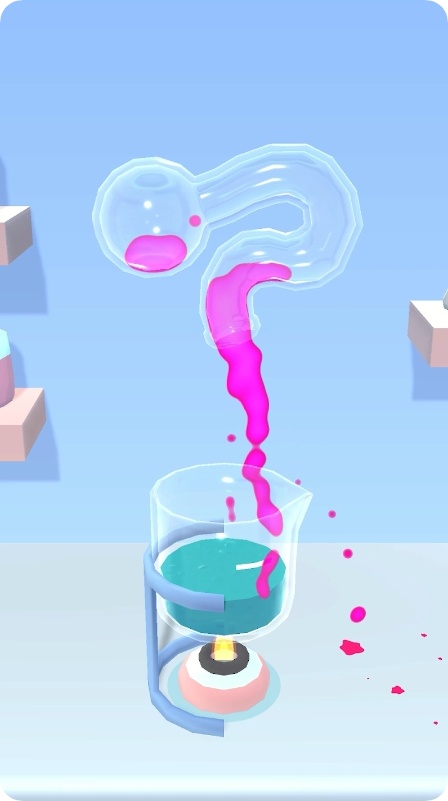 Downloads: 5K+

You may also check: 10 Best Jigsaw Puzzle Apps
BEAKER
This game is a full-on chemistry lab experience in your pocket. If you weren't happy with inaccuracies in the previous game, this one will be a pleasant surprise. This app lets you experiment with over 150 chemicals right on your device. It's perfect for both budding scientists and seasoned chemists who want to explore chemistry and conduct experiments anytime, anywhere.
The app gives you complete freedom of action. Feel free to hold, shake, heat, cap, add in multiple chemicals, and more. With just a tap or hold of your finger, you can add substances to your and build your own compounds. Whether you want to ignite a reaction, heat things up, or witness an acceleration in the reaction time, you can do it here.
The Apps library boasts over 300 reactions, so you'll never run out of experiments to try. And with each one, you'll gain valuable insights into the properties and behavior of different chemicals.
One of the coolest things about the game app is its AirMix capability. Simply bring two phones with the game close to each other, and they'll pair automatically. You'll get to transfer chemicals between the devices and create even more complex reactions.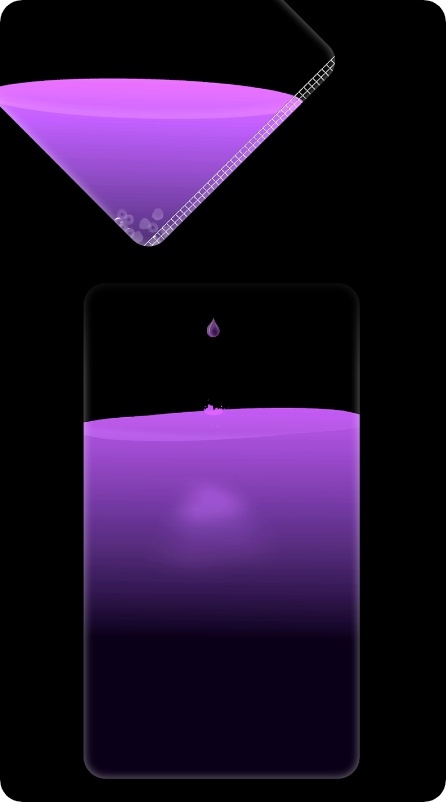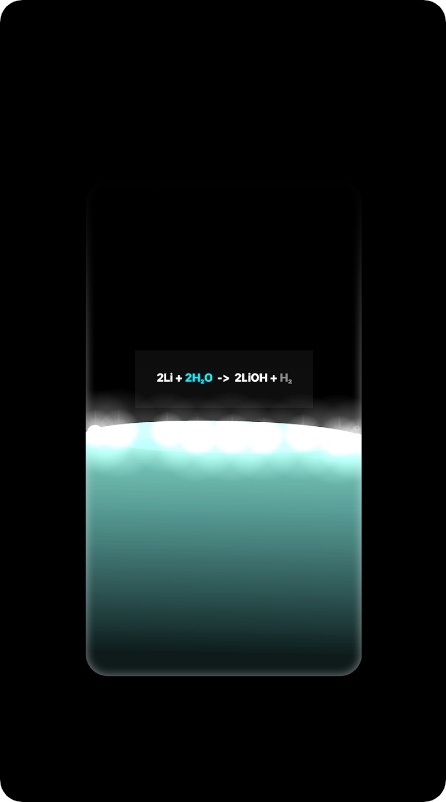 Downloads: 1M+
Customers rating:

(3.4 / 5)