Do you like to build things up from the ground and games about them? Would you like to play a game where you have to develop your personal empire right from the scratch? Then we present to you a cool collection of the best base-building games which are the coolest this year.
And for the full collection, we also recommend you check our article about the best city building games.
Boom Beach
Boom Beach is one of the most popular games in the world and we decided to give it first place. This game perfectly combines all elements of the worst strategy game. And just had that fact, the game is not way too serious and it's pleasure to play it.
You will have to tag the enemy's Harbor, said the citizens free and discover the tropical secrets. This is an online game so you can team up with players from all around the world can fight your Mutual enemies together.
The game is totally free but remember that some objects here you can only buy for real money. You will be playing with millions of other players and attacking enemies' basements.
You will also be fighting for control over resources and those resources will give you powers to enforce your basement and win the war. Another task in this game is to explore the tropical Islands and discover the magical power of the life crystals.
There are also bosses in this game and they are called Shadow keepers. You will have to be their evil plan. You can play alone or just join other players in the game.
Overall, the game is designed really nicely, cool graphics, cool animations, and no lags or hangs make Boom Beach the leader of our list of Base building games.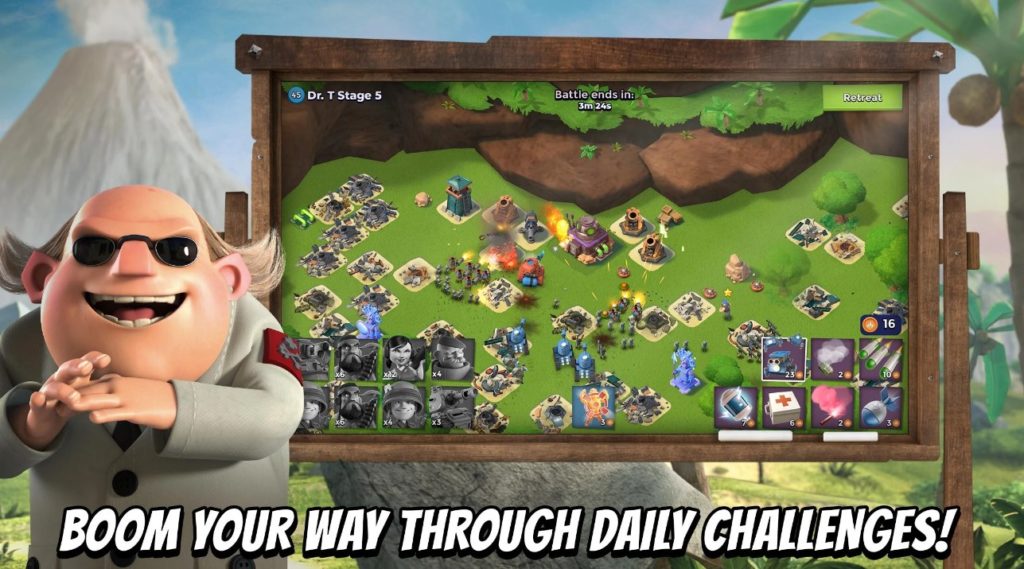 Downloads: 100 000 000+
Customers rating:

(4.5 / 5)

You may also like: 12 Best Multiplayer Racing Games for Android
Rusted Warfare
Rusted Warfare is a real-time strategy game in a fictional land wherein players can battle for victory on land, air, and sea against enemy militaries. Probably, fans of all the retro-style games will appreciate Rusted Warfare.
This is a pure RTS and it doesn't have any microtransactions and it has no DRM. And this is also an online and offline multiplayer game which is another great advantage of it. You can use your Wi-Fi or regular internet data to play it.
The game includes lots of fun activities such as creating campaigns, skirmishes, survival missions and challenge missions, playing against artificial intelligence, and so on. In total Rusted Warfare contains more than 40 unique lands, air, and sea units.
It means you won't get bored. And if you wish to play Big end game battles you can use the experimental units and nuclear missiles.
Here you will have an opportunity to test your tactical and strategic skills with such unique opportunities as flying fortresses, combat engineers, amphibious jets, shielded tanks, and other cool things.
Just because the game includes so many fun things and so many players along with the ability of lands it makes it one of the best choices if you decide to play a base-building game.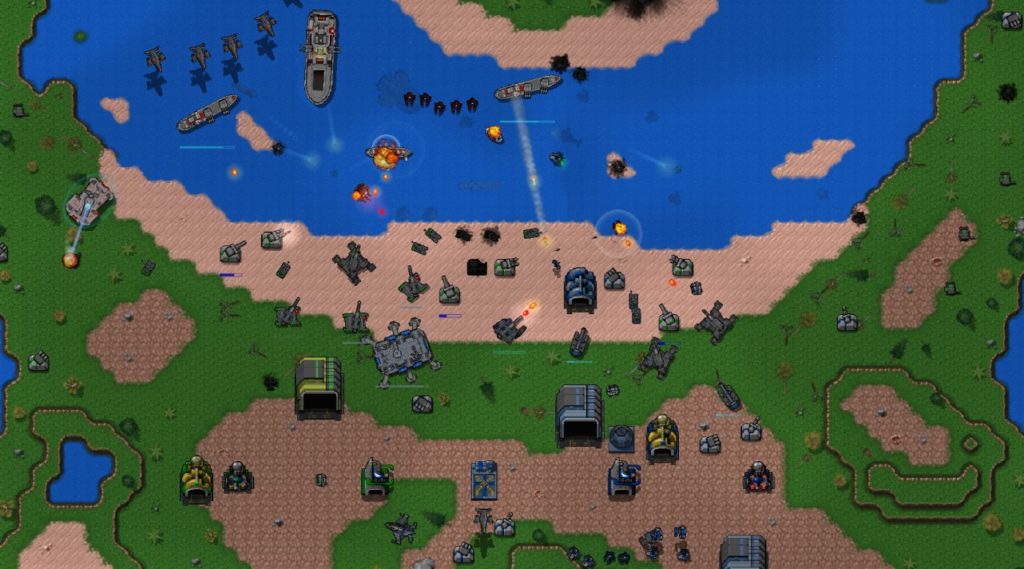 Downloads: 100 000 000+
Customers rating:

(4.4 / 5)

Clash of Clans
Clash of Clans is a Legendary game and it's still one of the best base-building games even after so many years.
This is also an online multiplayer game and millions of players all around the world enjoy playing it every day. Here you will meet is mustachioed barbarians, fire-building wizards, and other unique troops that can be found the in this game.
What is more, the developers recently updated the game and added a new location which is called Skeleton Park, and there you will find new types of challenges. Here you will have to create chaos and distract enemies and their districts.
You can also terrify your opponents with two unique new defenses. I'm on classic features you will still find a possibility to join a clan of players or you can even find your own Clan and invite your friends.
Therefore the clan is able to fight against the clan therefore you have to team against millions of players across the globe. You can also test your skills in the competitive clan war leagues but this option is only for those who've been playing this game for a while already.
And of course, it's never extra to create an alliance and work together so you gain more and you get more victories. Don't forget to collect resources to enforce your basement and still loot from other players in order to upgrade your village and then turn it into a stronghold.
You will be able to fight against the enemy and defend with a multitude of towers, canons, bombs, traps, and other fun and exciting objects. The feature of unlocking characters is also available here and you can discover such interesting Heroes like the Barbarian k
King, Archer Queen, Grand Warden, Royal Champion, and Battle Machine. The graphics here are also decent and they are more like a boom beach game.
But this game brings more of a medieval. And traditional Village building game so it's up to decide which game you want to play.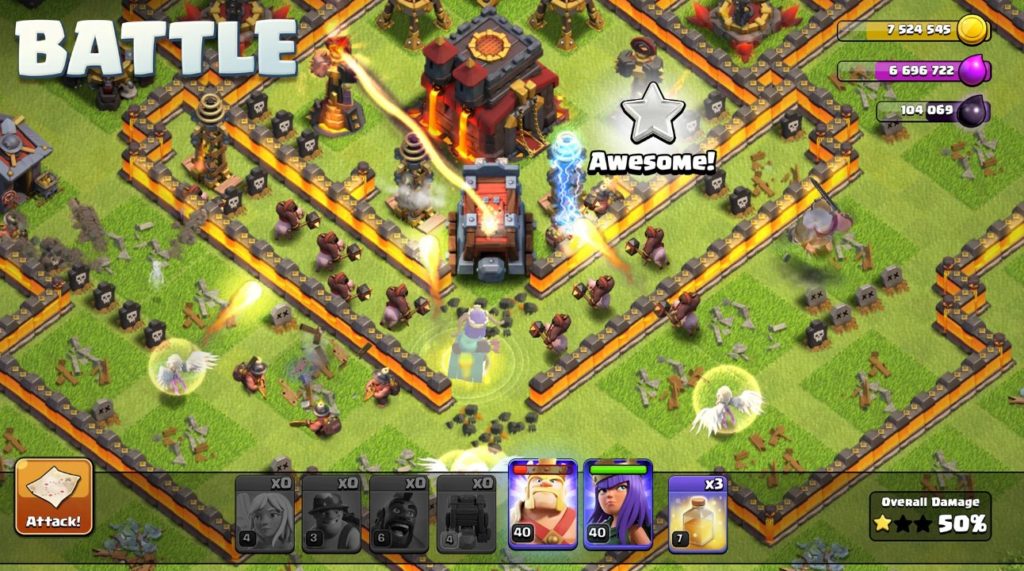 Downloads: 500 000 000+
Customers rating:

(4.6 / 5)

Total Conquest
This is another real-time strategy war game in which you will have to lead armies full of Heroes and classically future enemies in numerous battle modes. This game has the style of the Roman Empire and you will basically be fighting for control of it.
It is a strategic social game and you will be playing as a Roman governor and your task will be to develop your own city-state and develop your own army.
And according to the plot, Caesar is dead and you will need to join a powerful Legion or maybe you will want to create your own one and defeat all your enemies, predict all of your lands, and so on.
This is a true base-building game because here you will have to build and manage your own town State. Just like in a previous game here you will get Towers, Traps, Gates, horizons units for the defense.
Your other task will be to hire, train and upgrade 10 different unit types and each of those will be having a specific role.
This is a cool game for those who are into warcraft games. The game has more two-dimensional cartoon-like graphics with bright colors and cool animations. However, you should choose this game if you prefer a base-building game that is concentrated on warcraft.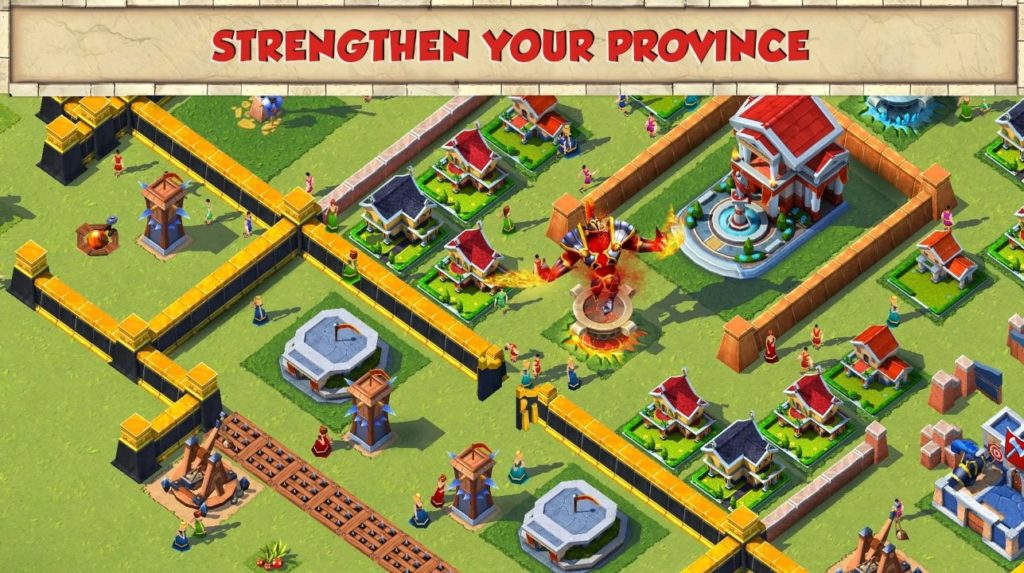 Downloads: 10 000 000+
Customers rating:

(4.2 / 5)

Rebuild 3: Gangs of Deadsville
As you've already guessed from the name, this is the game for all zombie fans. According to the game story, the main action is happening a few years since the zombocalypse turned the world into ashes and there are only a few survivors hiding in the shadows.
At the moment of the game, your task will be to restore civilization and build the cities right from the ground. This is a strategy game and there is another interesting feature of narration.
So if you like games with narrative elements and dark humor this is definitely your choice. Your main task here is to wisely manage resources for the greater good.
You'll also have to decide between farms or certifications, housing or hospitals, and make difficult decisions sometimes. You will have to overcome such difficulties as illnesses and madness.
And you will also have to fight against the zombies. One fun element of this game is that it has endless playability with randomized cities and events. All survivors that you will find in this game have their own individual skills, perks, stories, and relationships.
For those who like to develop skills and test their skills during the progress of the game, there is a campaign mode where you will make a journey through cities with increasing size and difficulty.
There are two modes available for playing you can play in either real-time or turn-based mode. In total, there are 30 missions, for example, scavenge for food, kill zombies, fish, trade, and so on.
And since we are talking about the base building games here you will find the 50 building types with unique features and scavengeable resources.
These are not even all the features that this game includes. It is executed in two-dimensional animated styles and has beautiful sceneries and beautiful Town representations so the game is rather funny and exciting than actually scary.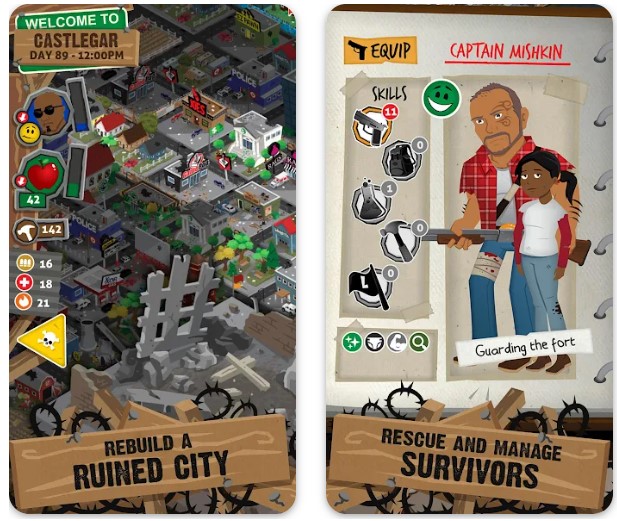 Downloads: 100 000+
Customers rating:

(4.4 / 5)

You may also like: 11 Best Android Multiplayer Horror Games
War and Order
This is an impressive war strategy game. If you are a fan of epic battles with thousands of participants, then War and Order is your type of base-building game.
One of the main aspects of this game is that it includes the presence of magic creatures in the game so all the fans of this genre will appreciate it. Here you will find such magical creatures as orcs, elves, and mages.
The whole game is made in 3D Graphics so you will need quite a powerful Android device to run this game. But overall, all the characters and locations look truly impressive. Your main task will be to raise a massive fantasy army to win all the possible battles.
As usual, you will have to fight against enemies from all around the world in the Real-Time games strategy.
You will also have to make the economical decision to develop your fortress, therefore, you will have to choose your alliances and build castles, acquire new territories, and conquer enemies.
While you're playing in your Homeland location you can recruit and train around 50 fantasy soldiers. Your test will be to unite orcs, elves, humans, mages, beasts, and other magic creatures.
Another essential task is to construct and upgrade the buildings for your army and upgrade your resources. What is more, don't forget to develop the magic powers of your soldiers and explore new possibilities with cutting-edge tactics and weapons.
In the alliance category, you can team up with other players and Conquer your stronger enemies or you can choose to play alone. An interesting feature of war and other games is that here you can actually share and expand your territories in exchange for exclusive bonuses.
Your main goal is to conquer other players and obtain higher power rankings. Therefore, you will be building your own empire in the game and lots of interesting rewards and resources are waiting for you.
One of the disadvantages of War and Order is that the game includes a number of inbuilt purchases though the game itself is free. So don't be fooled by that and even if it's free from the beginning, in order to succeed, you will have to buy a lot of elements inside the game.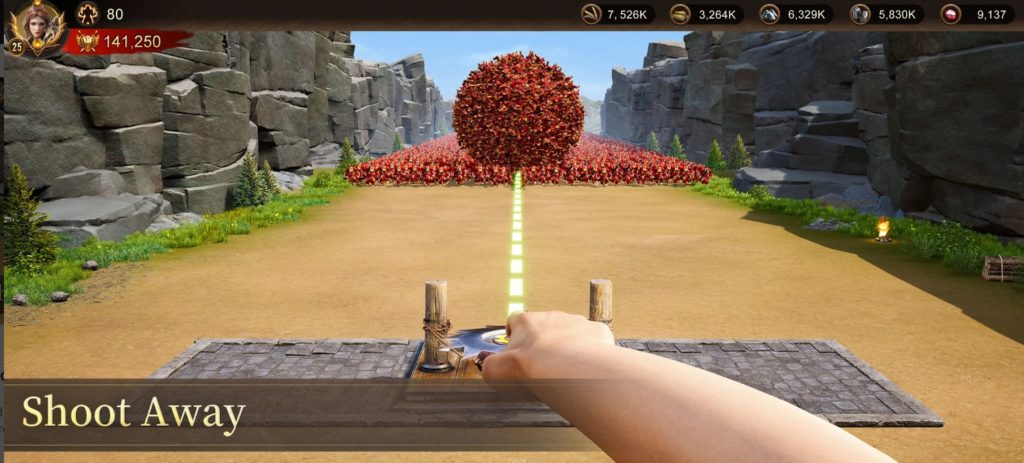 Downloads: 10 000 000+
Customers rating:

(4.1 / 5)

Viking Village
It couldn't be more obvious if we would say that this is the game for all the Vikings theme fans. However, first of all, this game will be appreciated by fans of minimalist strategy in general.
We really have to admit that this game is really stylish though it seems simple from the first side.
Unique characters with interesting abilities and the ability to interact with pets, building and defending your villages without time limitations, and going through interesting missions are even not all factors that you will discover in the exciting game Viking Village.
Your main task here is to defend your Village from Evil Knights. As in any decent Base building game, you will have to collect resources, build archer towers certifications, and control Vikings various to survive.
The more enemy Villages you will destroy, the better. An interesting feature here is that you can catch powerful barbarians to add them to your defense. The game includes various modes, for example in one mode you will have to defend your village for 20 days.
In the quick survival mode, you don't have any buildings or villagers and you're just playing by yourself. In the sandbox mode, you have no resource limits so you can have any type of phone you want.
And unlike the previous apps on the list, this one isn't only concentrated on battles and defendant enemies. Here lots of attention is paid to developing your village and managing your resources which is crucial for any base-building game.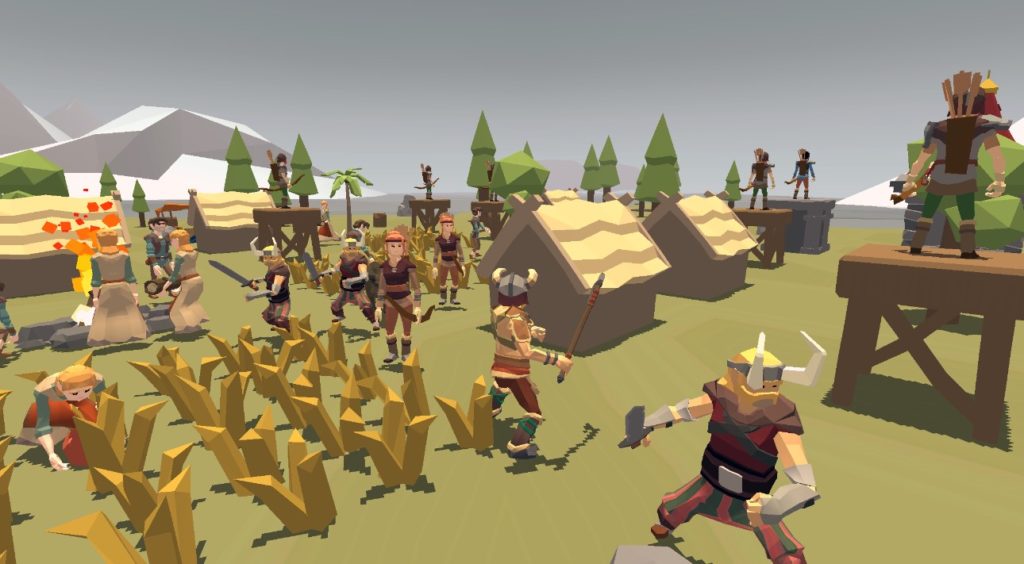 Downloads: 1 000 000+
Customers rating:

(4 / 5)

DomiNations
Another game that has been tremendously popular for several years already. We decided not to add it to our top choice because everyone already knows about DomiNations and it's a little bit cheesy but at the same time, it's a high-quality base-building game that we can't miss out on.
Do we even need to say that all fans of history-based games?
The main goal of this game is you creating your empire and take command of the whole nation. You will be able to turn a small village into a prosperous city. In the beginning, you will have to choose one of the 8th nations and take off on the journey to history campaigns.
Remember that each nation has its own features and unique abilities. You will need to create your army and then apply your powers against other players. And just like in other games here you can create alliances with other players to team up together and conquer the world.
Your nation will be evolving throughout the centuries. You will learn its history and will find out a lot of interesting facts. You will be learning from the best historians in the world at universities for example Leonardo da Vinci will be your teacher.
By acquiring new skills you will be able to create unique technologies and new architectural buildings. So as you understood from the description one of your main tasks here will be building the world's most famous architectural objects such as the Egyptian Pyramids or Rome's Colosseum.
Here the battles are perfectly combined with the management of resources and development of your Villages and cities. You'll have to study each civilization and what works for it, acquire new weapons, and teach your warriors to evolve the academy and conquer the neighbors.
The following nations are available for choosing Roman, British, Chinese, French, German, Japanese, Korean, and Greek.
The only thing that we don't really like in this game is its graphics, it looks a little bit ordinary so there is nothing bad in it. However, in comparison to other Base building games, it doesn't contain anything ordinary and it's quite cheesy.
What is more, a lot of players complain about the game issues, such as hangs, legs, and other problems.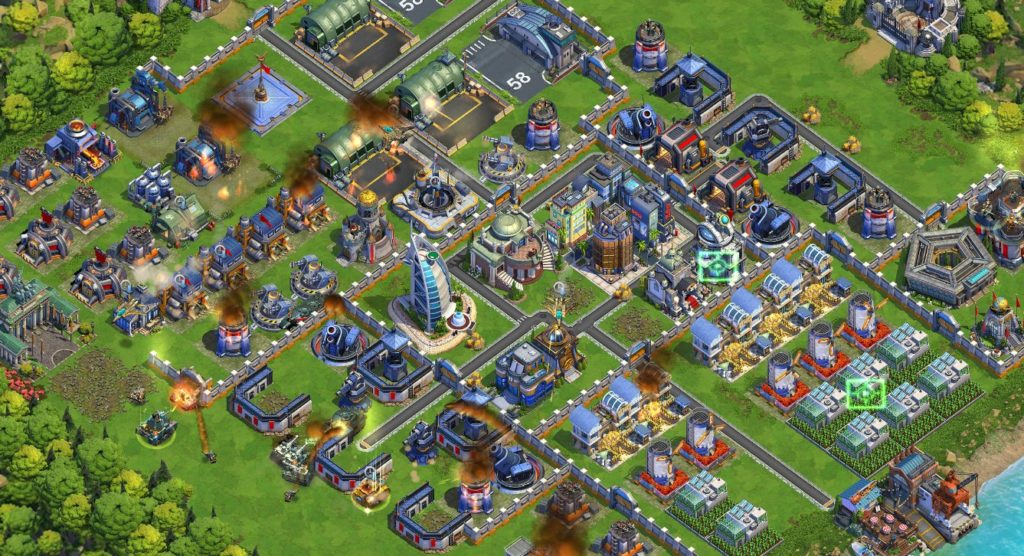 Downloads: 10 000 000+
Customers rating:

(3.9 / 5)

Survival City Build and Defend
This is a cool and fun Base building game where everything doesn't have to be that serious. The main idea of survival city build and defend is that everything here changes depending on the day of life.
In the daytime, you have to enforce your village and fortress, collects weapons, and manage resources and at night time you will have to find against zombies that will be attacking your town.
This is an online multiplayer game so in order to win the zombies you will have to cooperate with other players and depending on the success of your cooperation you will be able to beat the zombies.
The construction process of the basement itself is extremely interesting here and you receive lots of tools and resources to build the invisible fortress.
You'll find more than 60 survivors that can join you in your game. An interesting thing is that each of those has a different temper, story, and behavior.
Another cool bonus of the game is it has different weather modes and the weather in the game changes just like in the real world. The game has more cartoon-like three-dimensional graphics so it will be interesting even for children.
However, it is quite a difficult game, especially at the beginning. Apart from that come up we didn't find any significant disadvantages.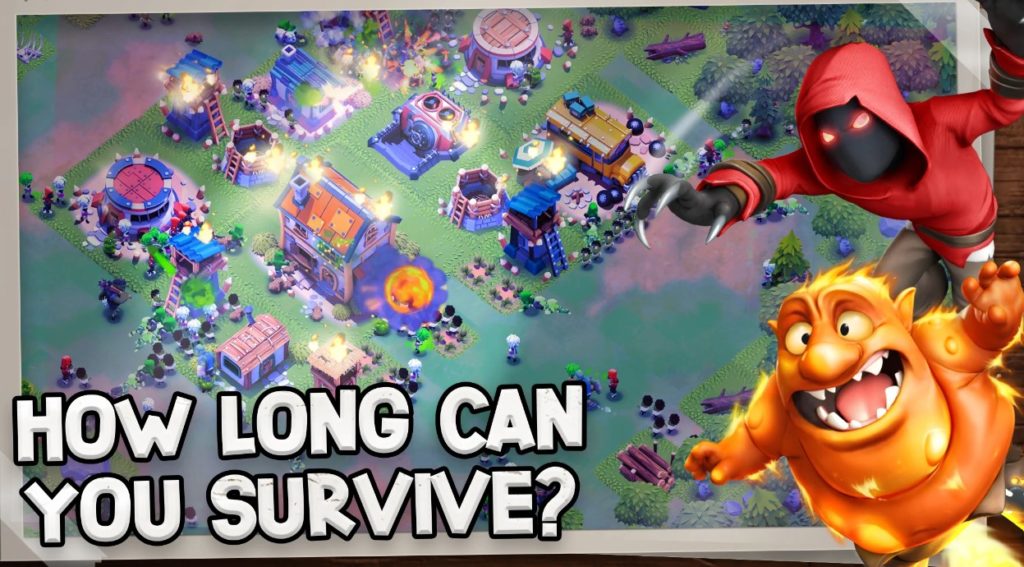 Downloads: 1 000 000+
Customers rating:

(4.3 / 5)

You may also like: 10 Best Badminton Games for Android
Final Outpost
If you want to play a more simple base-building game and just relax then Final Outpost is a nice choice for that. Here you can join more than 500,000 players that are already managing their basements.
Once again, the main idea of this game is that the zombie apocalypse is going on around and your main task is to survive. You will have to take care of your civilians, manage the resources, expending your territories and defend your citizens from some base and the mine.
There are hundreds of options for various buildings that you can build and there are always hundreds of weapons that you can choose from. Everything depends on your powers and resources.
However, if you like dynamic and constantly evolving games then Final Outpost might seem a little bit boring for you over time because it just stays the same and you don't really see significant changes.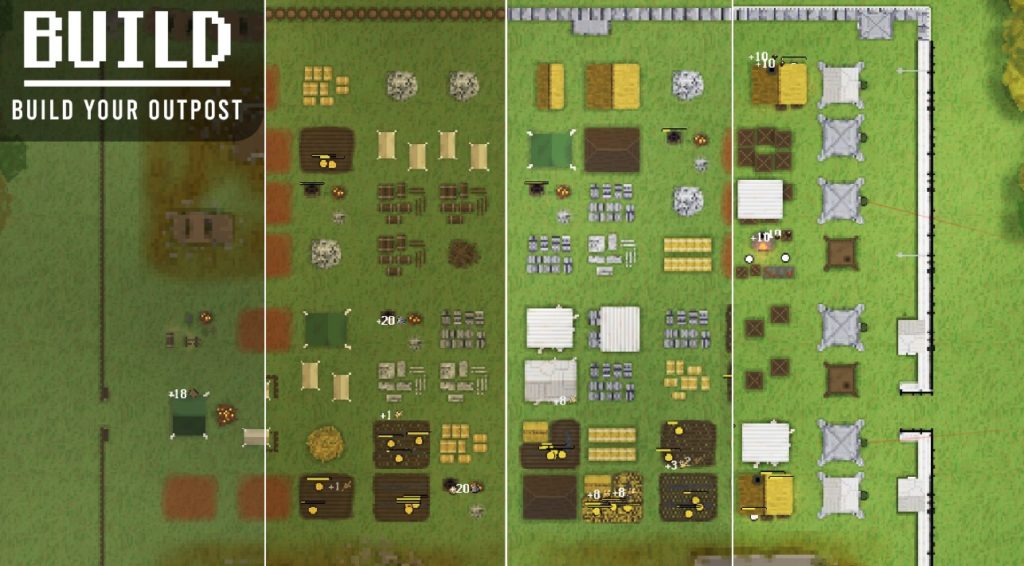 Downloads: 50 000+
Customers rating:

(4 / 5)

Pocket Build
The main distinctive feature of the pocket belt is that it is an open-world game. However, the basic idea of it stays the same and here you will have to raise your kingdom up from the ground.
You have a choice whether you want to build a farm, a castle, or just a legendary fantasy town. Your possibilities are limitless here. Here you have hundreds of objects for building and the construction process itself is quite easy and fast.
We also must mention the graphics in the game and this is one of the best graphics in the whole list. The objects are made in the 3D style and old animations, Shadows common movements are made correctly.
Another Pleasant bonus here is that the game gets constantly updated and new objects are added literally every month. Here you have not only humans but also animals, trees, bridges, towers, houses, mountains, and lots of other interesting things.
Of course, in terms of action, not a lot is going on in this game. Here you will find no more campaigns or the necessity to defend your enemies.
So all the fans of the war genre – sorry! But this is a cool base-building game who don't want to fight someone or something and just want to enjoy the building and evolving process.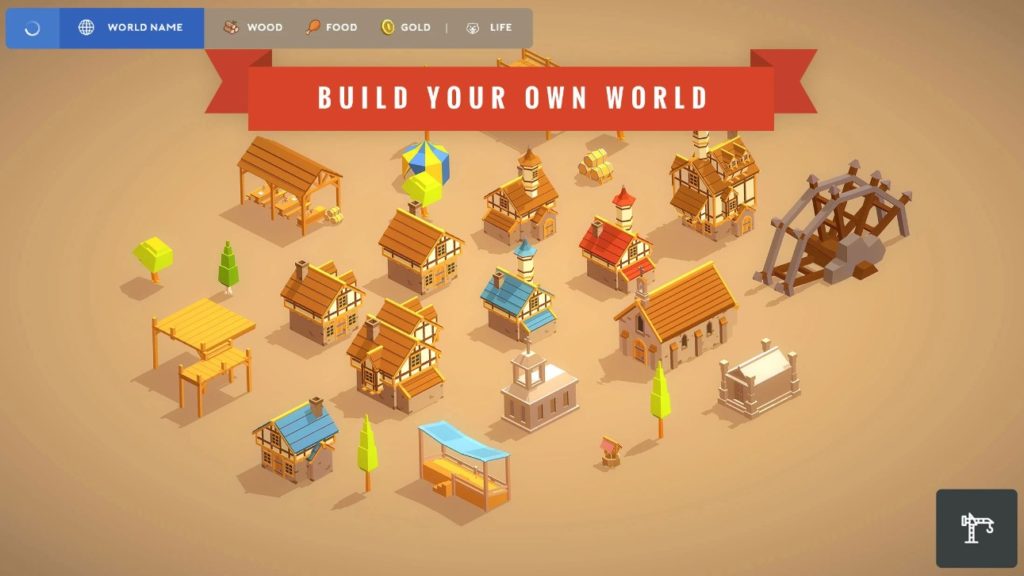 Downloads: 5000 000+
Customers rating:

(4.5 / 5)

Townsmen
Townsmen is another extra popular and super famous game and it's actually really similar to Boom Beach game or to Clash of Clans. The main difference is it has another animation style and the action here takes place in the Middle Ages.
So if you're a fan of this Middle Ages style and you want to build your medieval town then this game is your choice.
All the other factors here are quite the same as in other games which means you have to raise your village or town from the ground, develop it, and manage the resources so the city is evolving economically, financially, and so on.
The war aspect is also here and you will have to take part in battles and defend your enemies in order to acquire more territories and gain more resources.
One of the significant features of townsmen is here you have to play in different weather conditions and the seasons are changing one another which adds diversity to the process.
The best part of the Townsmen game is that the game is totally free. However, it has some built-in purchases. But taking into consideration the fact that it's free, be ready for the excessive amount of ads that will be popping up quite often.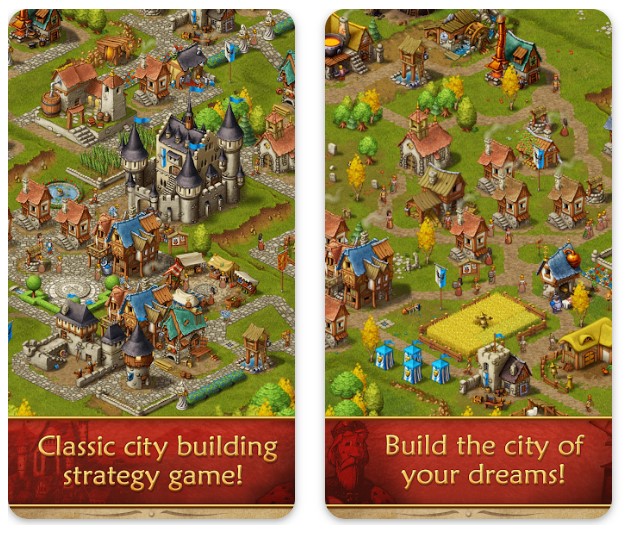 Downloads: 10 000 000+
Customers rating:

(4 / 5)

Last Fortress: Underground
This game has more of a dark atmosphere in it. The main theme of it is that everything is happening in a post-apocalyptic future where all the people are hiding in the bunker.
Your task will be to build and develop this bunker so the zombies that live in the outside world cannot reach you.
You will get a range of tools and instruments to expand your dwelling and stay underground. You will be interacting with other characters and each of the survivors possesses the special skills and special abilities that will help you get through the Apocalypse.
You will have chefs, doctors, engineers, nurses, and so on and you will have to use their skills wisely to stay safe. This is also an online multiplayer game so you can team up with players from all around the world.
Your main task here is to speed up the expansion of the bunker and keep the defense line so the zombies cannot get through the line. The battle modes are particularly available but they are not as abundant as in the case with some previous games.
Considering the graphics and the gameplay in general it's much more simple here because sometimes it feels more like a quest game when you just see one location and you just have to control the characters over it.
Sometimes you switch between the scenes but the animations are not so realistic and it's obvious that last Fortress has lots of issues in this field.
Apart from that, it's a decent game, but it still has lots of imperfections because it's relatively new in the market it's and it's still a raw version.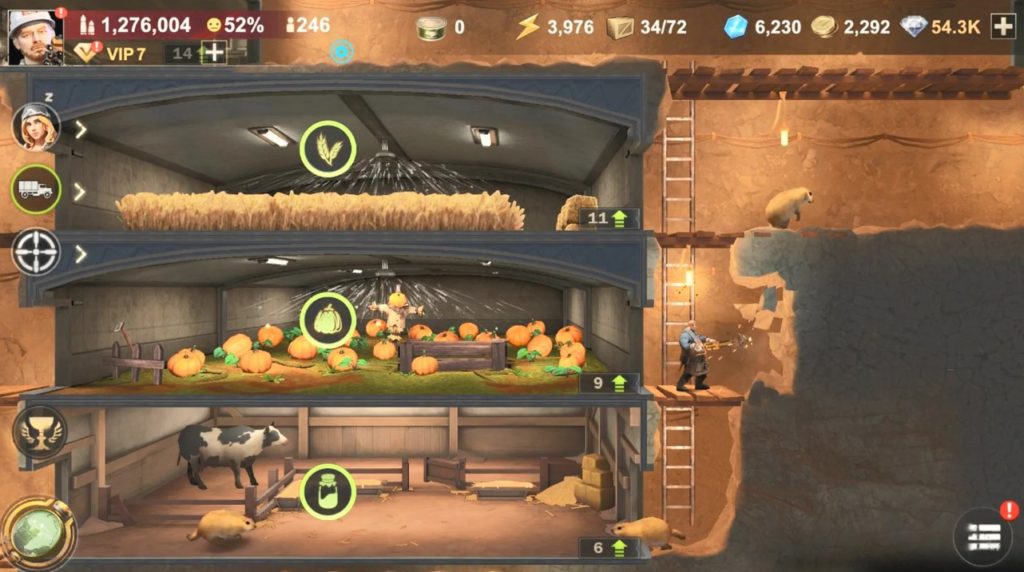 Downloads: 10 000 000+
Customers rating:

(4.7 / 5)

Forge of Empires
Okay, okay, we understand that we've already had such games as Townsmen, Survival City, Dominations, Viking Village, and many others on this list but we would like to present another game that is based on the idea of the historical events.
The reason we included this game in the list of the best building games is because it's truly one of the best games in this category. The idea here actually is really similar to DomiNations.
Your task here is to start a develop a small village inside a small country and just watch how it grows into a large civilization and tremendous power.
The main difference between DomiNations and Forge of Empires is that here you cannot only play in the historical past, but action also takes place in the future. Therefore you got no limits.
In other aspects, the algorithm of the game stays the same you need to win the battles, conquer the enemies and obtain new territories, manage the resources, create economic growth, and so on.
Make your city successful. Here you can also trade with your neighbors and exchange goods. And even though some bottles are available here, this is more of a resource management base-building game where you have to be economically and strategically wise and just have a good business sense.
Considering graphics, here it's made in 2D but all the locations are pictured in the smallest details.
These old textures make this game exciting to play. So, if you want to play a strategic Base building game that allows you to see your cities in the future times then this is your option.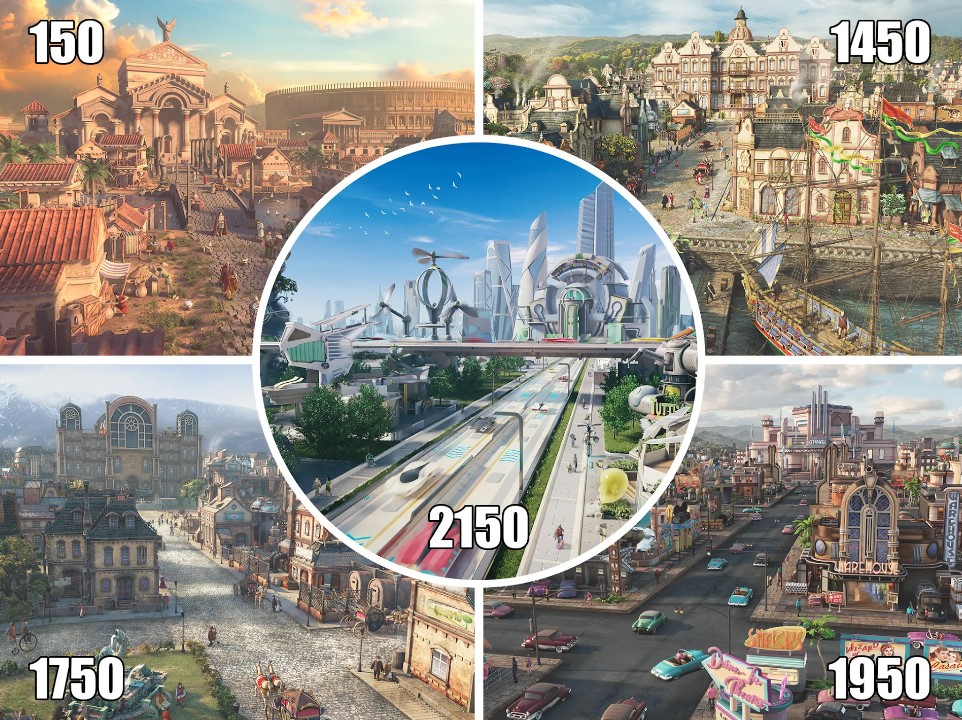 Downloads: 10 000 000+
Customers rating:

(4.2 / 5)

Command & Conquer: Rivals™ PVP
So here we are going back to the Base building games that include a prominent War plot lying feature. Here your task will be to conquer all of your rivals, obviously. You will have to pick the troops for your army and then just win.
As always, you can form alliances to share resources with your friends. Your task will be to select the perfect combination of troops, tanks, planes, and other military weapons so you could be the strongest.
But remember that the outcome of the fight depends not on your army's power but also on your strategic powers. For that, you will need to choose a commander that will be managing your army.
So, all in all, everything here revolves around Army and how to defeat as many rivals as possible. The game has high-quality graphics with three-dimensional elements. Generally, everything looks decently.
The whole picture looks nice. The game includes some minor disadvantages such as inequality of power depending on the acquisitions of players but it's not crucial.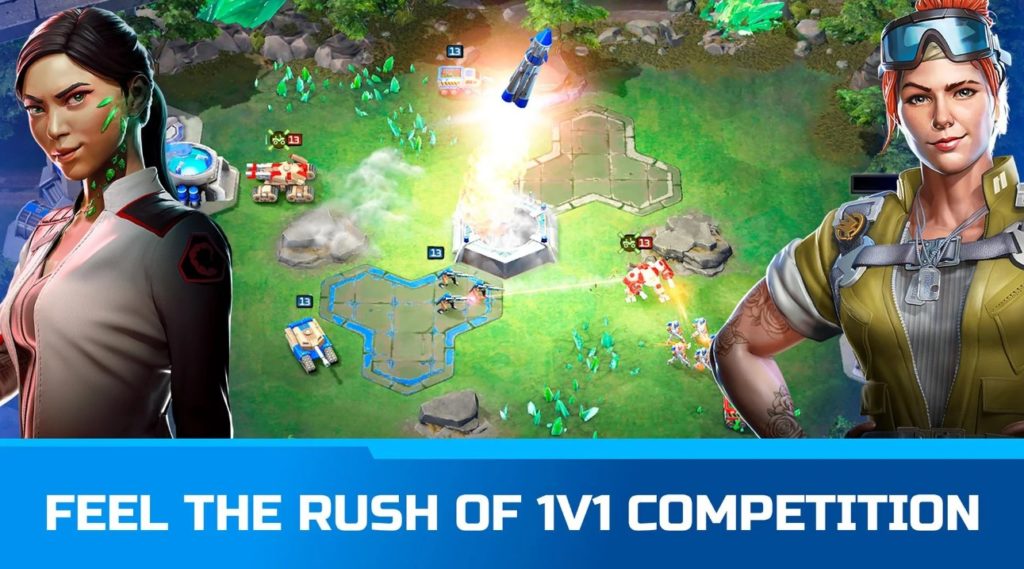 Downloads: 1 000 000+
Customers rating:

(3.6 / 5)

Rise of Kingdoms: Lost Crusade
This is another historical Base building game. If for some reason, all the previous games of this time didn't work for you, you can try this one. Your goal here is basically the same as in the case of other games, you just have to lead your civilization to prosperity.
The main future of this game that makes it stand out is that here you have to choose between 12 civilizations. Of course, you will be participating in battles, managing resources, developing cities, and so on. The game gives its players almost Limitless strategic possibilities.
For example, you can make it look like you're on your way to attack a town and then suddenly make an alliance with another army and just conquer the gate.
Rise of Kingdoms has decent graphics and lots of details and it's really Pleasant to play in general. By the way, it's one of the most popular games in this category.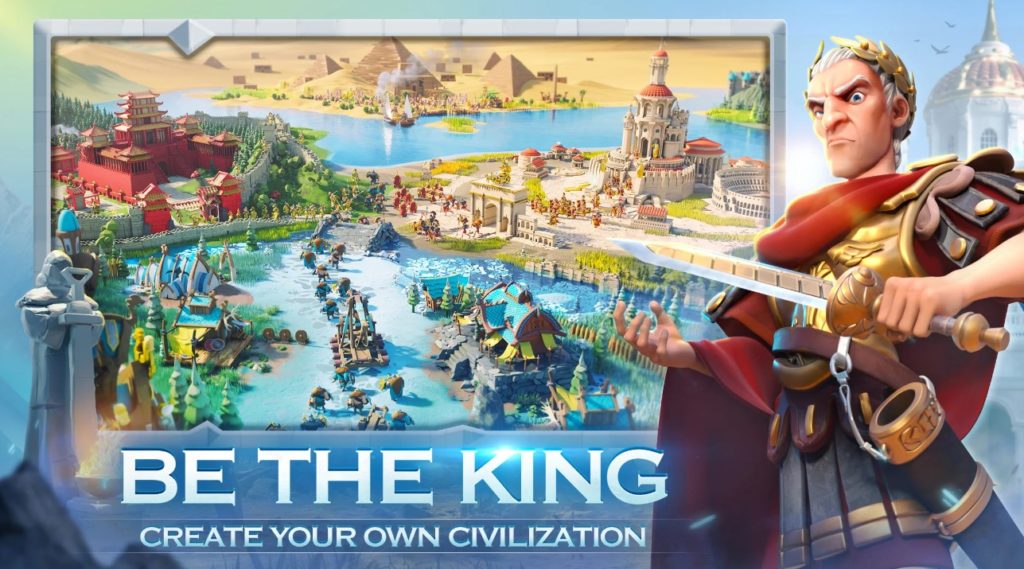 Downloads: 50 000 000+
Customers rating:

(4.5 / 5)

You may also like: 11 Best Word Games Without Ads for Android
Last Empire – War Z
One more zombocalypse base-building game. As usual, you have a small group of survivors who are struggling to make it through another day in the world of zombies. Last Empire is a strategic game, and you will need to take wise steps before starting any battle in order to win.
In comparison to the others, Last Empire looks more simple. The graphics are 2 dimensional and the animations could be better. The special effects are also not that impressive. In general, it is a classic representative of a strategy genre and it will run on even older Android devices.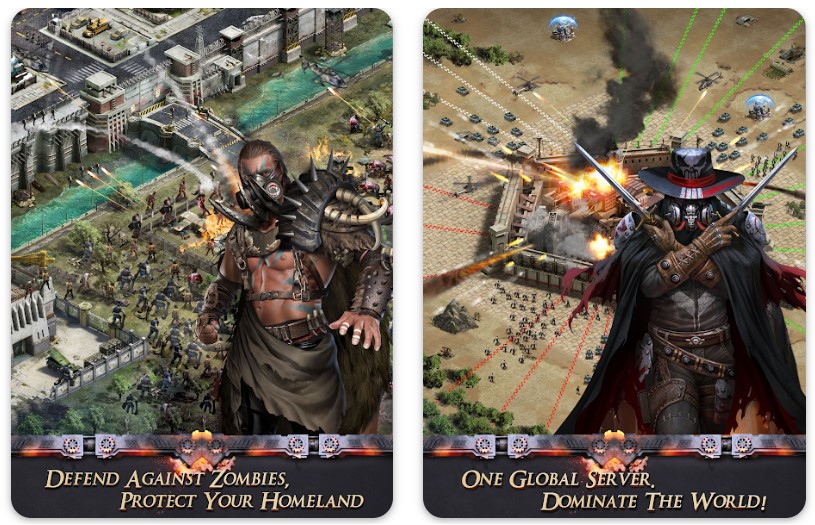 Downloads: 50 000 000+
Customers rating:

(3.9 / 5)