Are you a die-hard NBA fan who loves to make some extra cash by betting on your favorite teams? Well, you're in luck!
Nowadays, there are countless apps available that can help you make more informed decisions when placing your bets. We've scoured the web in search of the best NBA prediction apps for betting (Android), all you need to do is to pick one.
These are bet calculator apps that provide real-time updates, statistical analysis, expert opinions, and much more to help you with your betting decisions. So, sit back, relax, and let's dive into the world of NBA prediction apps!
Basketball Betting Tips
This app is a one-stop shop for all your basketball betting needs. It's one of the best when it comes to NBA prediction, and there are no charges or hidden fees, just pure betting tips gold. Plus, the app has a high success rate of predictions. It's not uncommon to see a reliable 80-90% winning percentage on its recommended bets.
Sooth to say, the app makes watching those nail-biting games way more enjoyable, as you'll already have some skin in the game. One of the best features of this one is the daily notifications you receive for recommended bets. You'll never miss out on a betting opportunity again!
And if you prefer to browse their predictions on your own time, the app offers a clean and simple user interface that's mobile data friendly. Not to mention, the UI is clean and simple, so you can use the app with ease. If you're serious about basketball betting, you can upgrade to their premium service. It's a small fee to pay to access even more accurate and reliable predictions.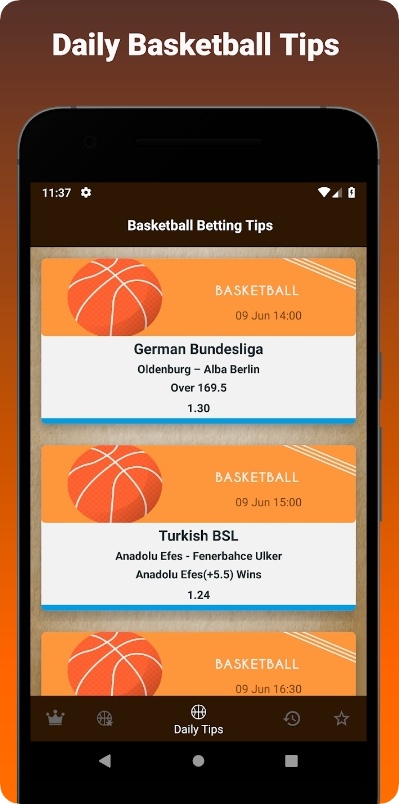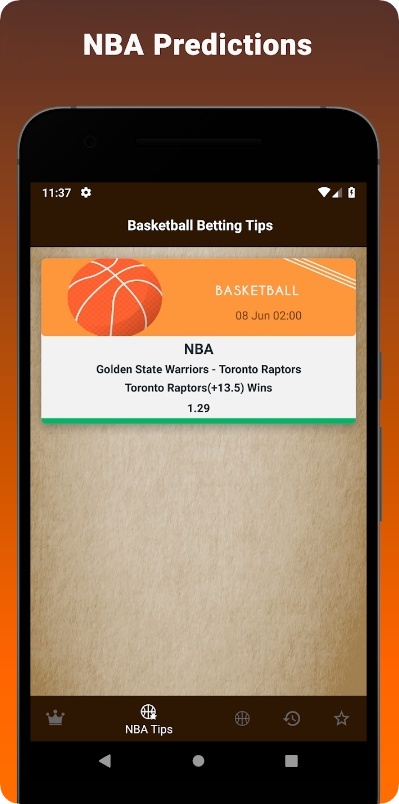 Downloads: 100K+
Customers rating:

(4 / 5)

You may also check: 12 Best Football Prediction Apps for Betting
Scores App
If you're looking for the ultimate app to keep you up-to-date on all things NBA, this might be the one. This app has everything a true basketball aficionado could ask for. Live scores and real-time plays keep you in the know, while immediate game notifications ensure you never miss a moment of the action.
It's a great tool to use for bets, as you'll get updates on the smallest details about the games. Want to know who's on the court for your fave teams? There are up-to-the-minute player and team stats to use for it. But that's not all! It also lets you customize the schedule, so you can filter by teams, divisions, or conferences.
And if you're not sure what channel to tune into for the big game, fear not: NBA TV and radio listings are included. It also gives you access to important game preview matchup stats, so you can strategize and plan ahead.
Plus, with the latest team standings, you'll always know who's on top of the league and who's fighting for that playoff spot. The app runs offline as well, so you can check the stats on the go if needed.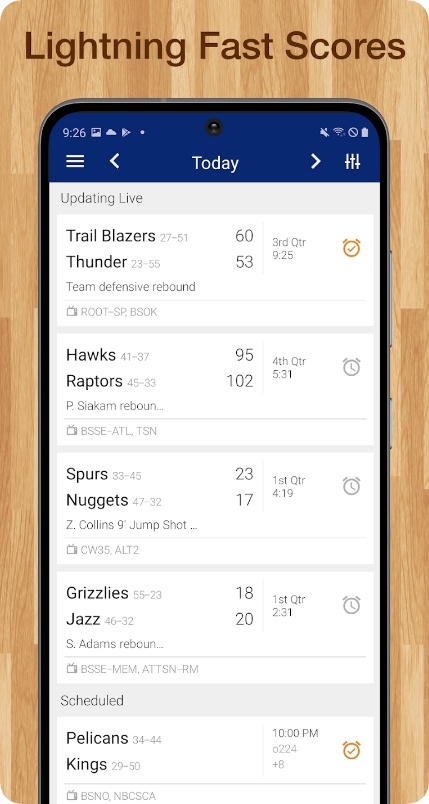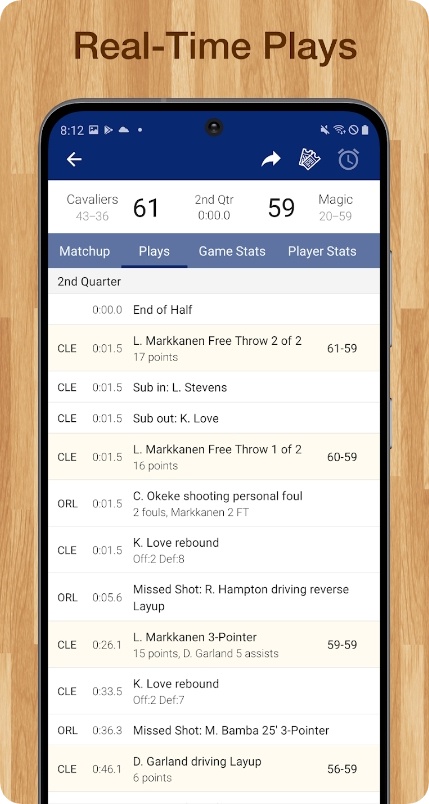 Downloads: 500K+
Customers rating:

(4.6 / 5)

Basketball Betting Tips
Tired of losing money on basketball bets? This app is here to save the day! It has you all the way covered with high odds, professional analysis, and a helpful support team. The daily tips are meticulously prepared by a seasoned analyst who takes various criteria into consideration. And trust us, the results speak for themselves.
The app's squad of analysts meticulously analyzes diverse factors, including team history, player stats, and other essential insights, to provide you with the greatest odds of winning. The app is easy to use, which is a relief for those of us who aren't tech-savvy.
And the daily notifications will remind you to check in and see what tips are available for the day. You can always count on the support team to assist with any concerns or issues relating to the app.
The app has made sure to have a superfast communication system with users. Rest assured, the support team is committed to ensuring all your questions get answered. It's fully free to use, too, and there are no hidden fees whatsoever.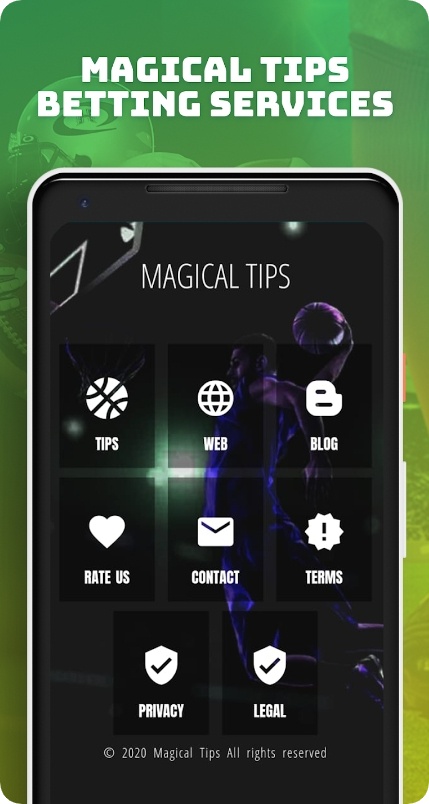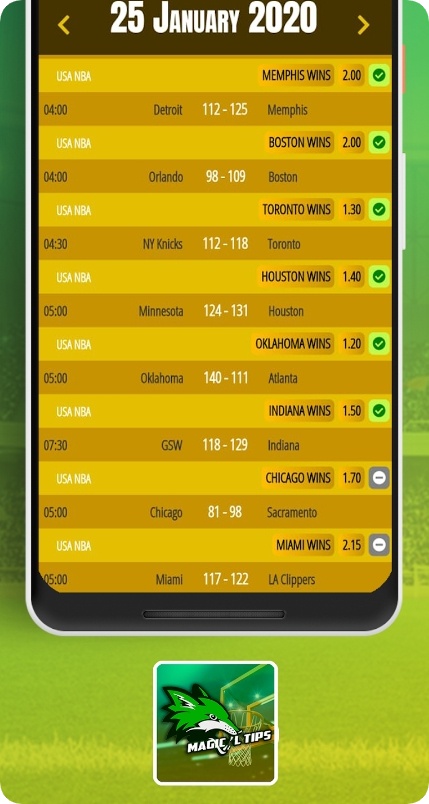 Downloads: 100K+
Customers rating:

(3.7 / 5)

Check also: 15 Best Side Hustle Apps
Basketball Forecast
This app is an all-star when it comes to providing users with top-quality prediction tips that can help you take your game to the next level. It's a gem for all the NBA fans looking to maximize their bet-winning with expert tips and forecasts.
The app offers a wide range of features, including free basketball and NBA forecasts, and a push notification system that keeps you ahead of the game. The predictions are not randomly generated, and you'll be pleasantly surprised by the accuracy.
Its success rate is consistently high, which is impressive given the many variables that can affect basketball outcomes. There's a team of pro analysts and complex analysis tools to generate precise tips that help to get your betting game to the next level.
What is more, it features a state-of-the-art notification system that delivers instant updates straight to your phone. And let's not forget about the app's mobile user-friendly design and its intuitive interface. Whether you're using the app on your phone or tablet, you'll have access to all the features you need to make the best predictions possible.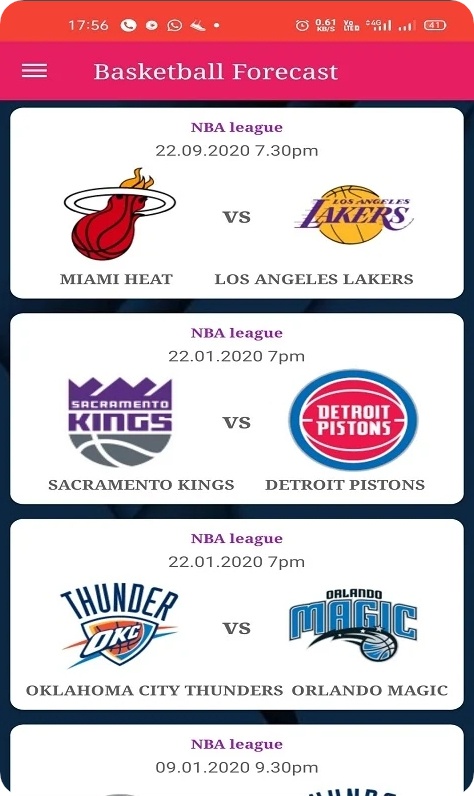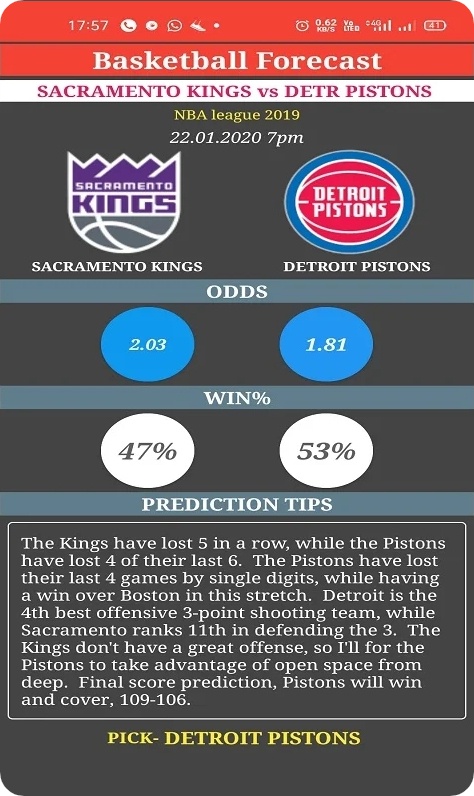 Downloads: 10K+

Bet On Air
This app is a game-changer for anyone who wants to make wiser betting choices. What sets it apart from other similar apps is its dedication to providing tips for a wide range of sports. Whether you're a die-hard NBA fan or a soccer enthusiast, the app has you covered.
With dozens of matches analyzed every day, you're sure to find the perfect bet to suit your preferences. The most useful tool is a daily dose of up-to-date tips. With these tips, you can easily boost your betting game, even if you're not an expert in basketball at all. Each sport has its own section for easy navigation, so no worries.
Plus, the over/under tips provide betting predictions for both goals and basketball points, so you can bet on your favorite teams with confidence. And if you're concerned about the safety of your bets, the app also offers 'Safe Picks' with sure odds and double chance predictions.
And it's not just limited to the big leagues, too. The app provides tips for up-and-coming leagues all around the world, from the Euroleague to Australian and New Zealand basketball leagues.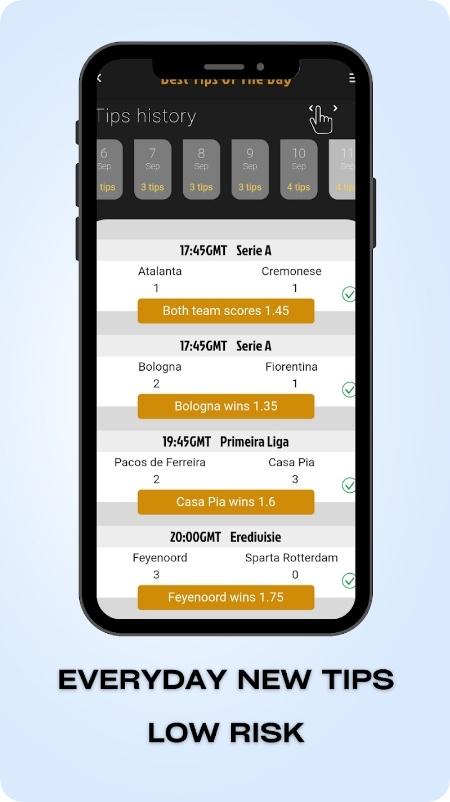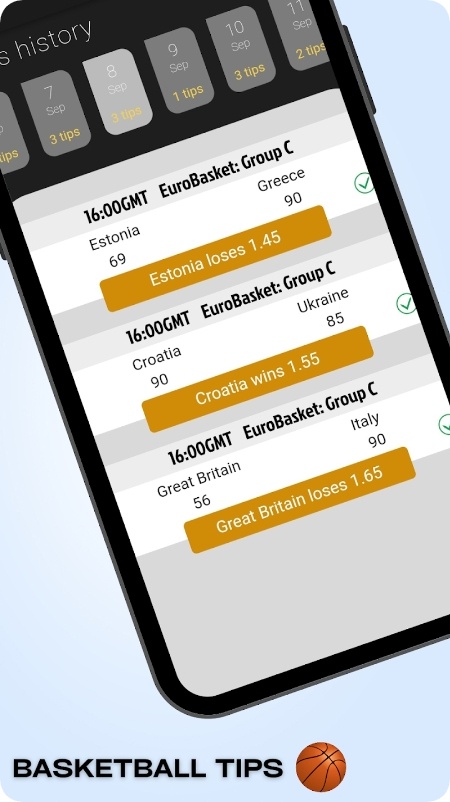 Downloads: 100K+
Customers rating:

(4.8 / 5)

VIP Basketball Betting Tipster
It's a cutting-edge betting tool that takes the guesswork out of choosing the right teams and scores. Filled to the brim with AI-powered algorithms, this wickedly smart app delivers incredibly accurate predictions for NBA and other basketball tournaments. You can rest assured that there's no human error involved, which ensures consistent results that you can trust.
The app not only saves you time and effort by providing you with all the necessary data and team stats. It also allows you to enjoy the games fully, thus providing you with a more fulfilling and satisfying betting experience.
Now you can effortlessly develop your own strategies while taking pleasure in the competitions, eliminating the need to sift through endless and often unnecessary basketball props or highlights. With the app always on hand, your betting experience is bound to be more effective, enjoyable, and rewarding!
The app doesn't only offer predictions for various basketball tournaments but also delivers total score figures for each game. With its user-friendly interface and easy-to-understand predictions, the app is perfect for both beginners and experts alike. It's also free to use, so no worries.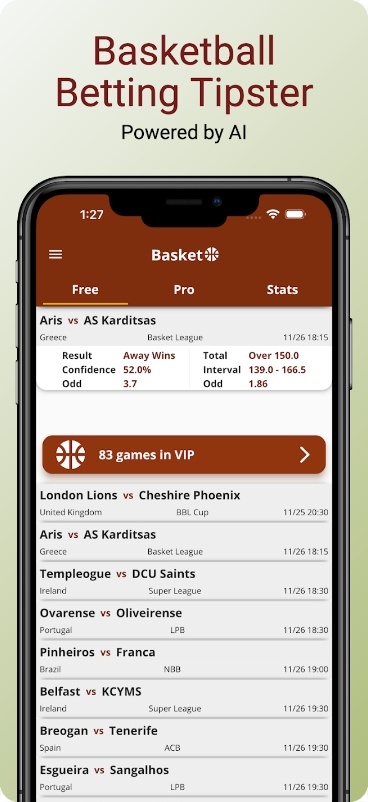 Downloads: 5K+

You may also check: 15 Best Multiplayer Sports Games
BasketBall Betting Daily
And lastly, we have a real treat for NBA lovers. If you're a basketball fan who loves betting, this app is one of the best things that could happen to you! It's the ultimate hub for basketball betting enthusiasts looking for value-based predictions to make wise decisions.
With over 160 leagues and competitions included, you'll never run out of matches to bet on. The app analyzes more than 1K matches every week, providing you with the most accurate tips and predictions possible. And the best part? It's completely free!
The UI is clean, simple, and mobile data-friendly, so you can access it anywhere, anytime. The app is backed by thorough statistical analysis and machine learning, so you always get the most value-based predictions on the market, resulting in bigger profits.
And if you think the app is just a gimmick, then think again. Its past betting tips history and stats, including past performance, are transparently displayed, proving the app's legitimacy and its success in providing accurate predictions.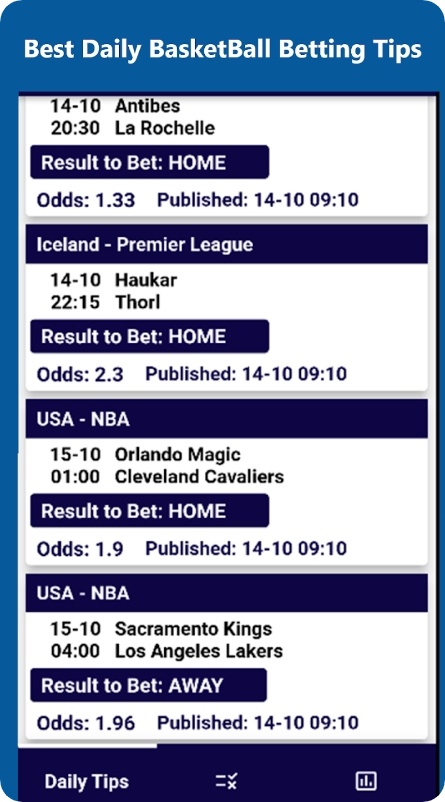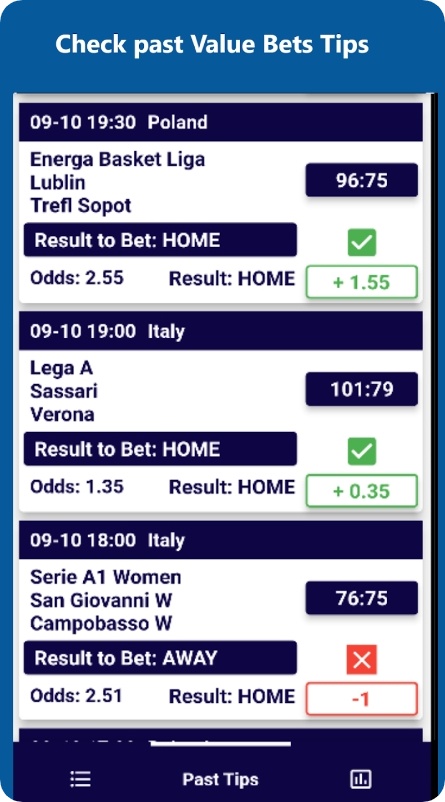 Downloads: 10K+