Simple photos or drawings cannot surprise or impress anyone today. This fact is true about both work and hobbies, connected to visual arts: photographers, videographers, designers, and other creative people need different tools to edit their works.
Apps for mobile devices, which allow users to turn their photos or videos into something more than a simple picture or a clip are really helpful nowadays, as they are not time-consuming and are easy to use. These apps will definitely help you to enhance your creativity and productivity.
1. Flyer Maker, Poster Maker
This app is great for all kinds of users. It will truly make your life easier for your business and personal tasks.
Even if it is your first case of making a poster, a banner, a flyer, or just a creative styled picture, it is quite easy to make this with the help of the app. No graphic design skills are required with the help of the application.
There is everything for your perfect result inside the app. You just need to have a photo, which is going to be changed and apply any of the templates on the app to this picture. The app offers you more than 5000 creative templates for different kinds of posters or flyers.
If you do not have enough time for looking through all the templates offered, you can use the search function. When you have found your perfect variant, just select it and customize it to your picture.
You can improve the final image, using additional options. For example, you can add various backgrounds from the app's library or upload your own variants. You can also add stickers (from the application or your own), text, or other elements.
To get the best result, multiple layers are possible for use as well as different other effects, such as cropping images in various shapes or creating pictures from text or symbols.
Autosave is turned on as long as you are working on the app. All your works will be saved at any moment of the modifying process and you can be sure that your drafts will not disappear.
All templates have such functions as further editing, re-editing, or undoing what has been done. Experiment, push your creativity to the limits and save and share your final pictures. Savings can be done on your CD card.
You can share your works on different social media directly on the app. For this function and some others, a good network is required.
The Flyer Maker, Poster Maker application is free and simple to use. It offers premium subscriptions as well for getting access to more options and opportunities.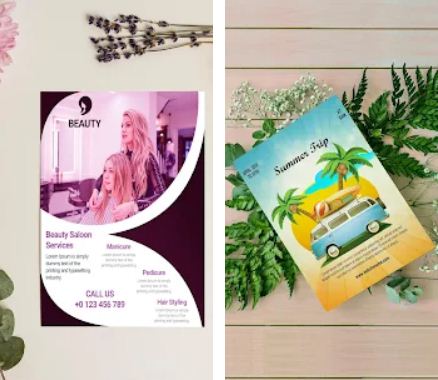 Downloads: 10,000,000 +
Customers rating:

(4.7 / 5)

You may also like: 9 Best Audio Filter Apps for Android
2. Canva: Design, Photo & Video
This application is a professional video maker, a picture editor, and a design creator in one. It has a lot of useful and at the same time simple functions for both specialists and amateurs in visual arts spheres.
All users will find amazing effects for making short clips, cards, flyers, banners, posters, and just photo collages. One of the main features of the application is that it will work well for different purposes, for example, marketing materials, Instagram stories, a CV, a school project, or a wedding invitation.
For reaching the best result you can get access to the application's library. It contains numerous stock images and videos, collages, montages, audios, drawings, frames, and much more. You can find and use these effects for free on the app!
The key point of the Canva application is its library of templates. All the templates look highly professional and change any of your pictures or clip into a masterpiece.
Each of the photos or videos, modified with the help of this application, will instantly draw the attention of your target audience, followers, subscribers, friends, or family members. They are perfect for social media format, as well as for business materials or special occasions in your personal life.
The Canva application won the award "Best for tablets" in the Google Play Best in 2021. Thus, it will work perfectly for your mobile device. It will save your time, as you can make any changes on the go and will give you the expected result as well.
This application will boost everyone's fantasy and productivity in the field of graphic design and visual arts.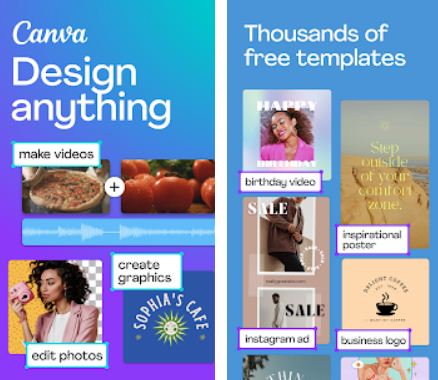 Downloads: 100,000,000 +
Customers rating:

(4.7 / 5)
3. Poster Maker, Flyer Designer, Ads Page Designer
This application is focused mostly on business purposes. It was created to make stunning and promotional banners, posters, flyers, and other advertising materials. If you want your picture to look professional, you need to modify it with the help of the Poster Maker application.
The key feature of this application is a promoting one, so it aims at making such things, which immediately grab attention and stand out from many others. This is possible due to a great number of templates, filters, and effects, which can be applied by users.
You can find here such options as to change the backgrounds, attach texts and choose fonts, add stickers or special images or use the mentioned above effects and templates. All these options are available on the app and you can choose to apply one of them or all together.
To use these functions you need to select an image from your library and work with it on the app. You are able to create different versions of the image as many times as you wish.
When you have got a poster or a flyer, which satisfies you, it is easy for saving on your mobile device or on your CD card. You can print the result later or share it on social media or post it on your account.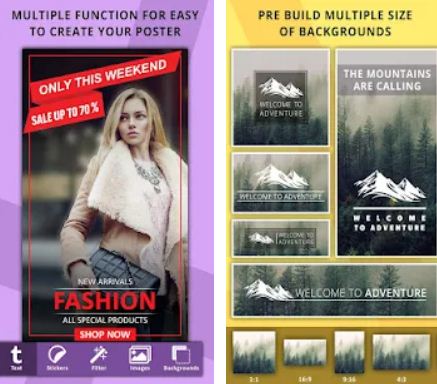 Downloads: 5,000,000+
Customers rating:

(4.8 / 5)

4. VistaCreate: Insta Posts Maker
This application is a good option for beginners and skilled specialists in graphic design. It can be used for both work and personal interests, and every user will find that feature on the app, which will amaze them.
One of the key advantages of the app among other positives is its regular updating. Each updating brings new functions, upgrades quality, offers new templates, effects and etc. You will always find something new and inspiring for your creativity on the app!
There is a myriad of other advantages of the VistaCreate app: two versions, free and premium, and you can choose which suits you best; numerous templates; photo and video masks; background features; a lot of fonts; perfect quality of the result and much more.
You will always have creative types for your inspiration if you need new ideas or just wish to look through stunning photos or videos. This will boost your artistic skills and take you to the next level of proficiency.
These effects will help you to make viral content, promote your business or make your works eye-catchy. You can trust this application regarding graphics and art improvements.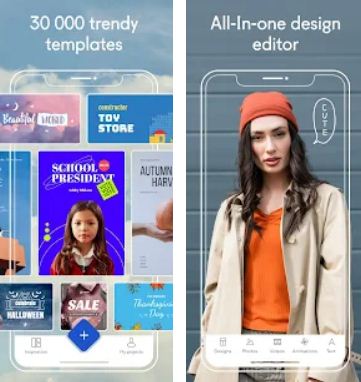 Downloads: 1,000,000+
Customers rating:

(4.6 / 5)

5. Poster Maker, Flyers, Banner, Logo Ads Page Design
This application is really versatile and offers a lot of templates for every purpose or occasion. Designers and photographers, seasoned or total newbies, can be satisfied with all functions, simple usage, and good quality of it.
There are such templates available as business or marketing posters, sale banners, advertising flyers, book covers, wedding or birthday cards, invitations, Christmas and new ear posters, party posters, and other events and occasions posters makers.
All these posters, banners, flyers, and covers can be made with one click on the application. You just need to select a picture from your gallery, choose the proper size of your future poster and then apply different templates and effects to the picture.
The application offers the following effects for adding or changing: the background, color, texture, over 2000 fonts, and stickers, images, and other improvements. This will help you to make your creations more unique and creative.
The final poster can be downloaded on your mobile device. You can print it, share it or keep it for further use.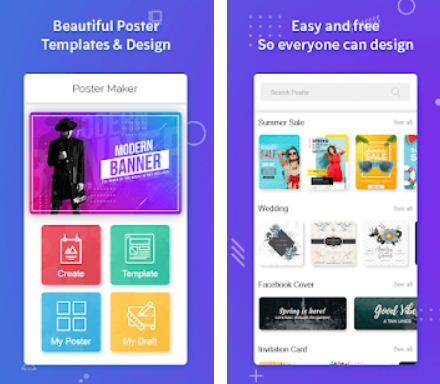 Downloads: 1,000,000+
Customers rating:

(4.5 / 5)

6. Posters: graphic design, video story template
This application contains numerous helpful tools for creating, editing, and combining ideas. Using this app you will definitely get a unique and highly personalized poster or flyer, which will help to grab attention to your social media.
The application offers a lot for your media content. With the help of its templates, effects, and several other tools you are able to make something, which will amaze everybody.
Users of the app will find here two main options: an image and video editor. For making your poster you can apply different effects and tools:
dozens of templates, including static and animation ones,
social media templates for photos and videos, such as Instagram, Facebook, Twitter, and others,
animated objects,
background music, which can be your own or from the app's library,
over 4000 stickers and 1000 gifs from the app's collection,
text and a broad fonts collection.
In case you have not found what you had been looking for, you have an opportunity to create your own template. Then you can use it for future posters and make your poster really unique.
The best feature of the Posters application is that it is free of charge and you can use all mentioned effects and tools without any purchases.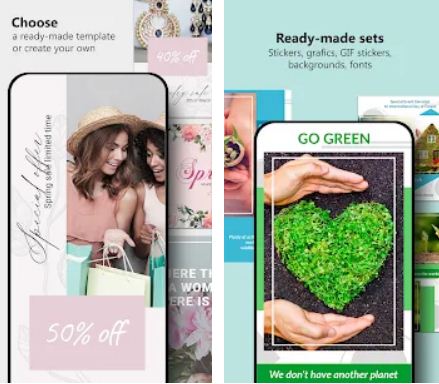 Downloads: 1,000,000+
Customers rating:

(4.6 / 5)

7. Desygner: Graphic Design Maker & Editor
This application has a wide range of functions and can be used for almost everything, which is connected to design graphics and art. It is a good choice for social media content, business needs, and personal usage.
The app offers more than 1000 creative templates for making, editing, and customizing images. The whole process will take around a couple of minutes, so this is one of the best applications for such purposes.
Editions like "Forbes', "Product Hunt", "Social Media Examiner" and "Terra" consider the Desygner application as one of the best and easiest graphic design apps.
There are a lot of effects, which can help to create an original poster or flyer: images, fonts, icons, graphics can be added to your photo. You can also create your own template, which can be used later.
When you have finished, the final image can be downloaded from the app or printed directly on the app. It is possible to share your creations via social media.
If you are worried about your intellectual property or permissions of the app, you can customize the settings within the application.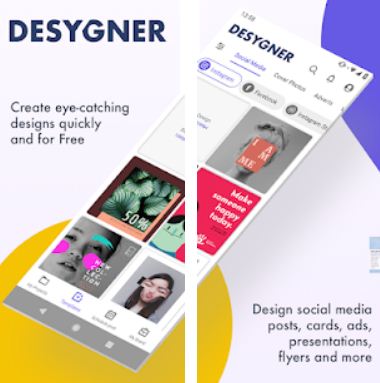 Downloads: 5,000,000+
Customers rating:

(4.6 / 5)

8. Poster Maker : Flyer Maker, Card, Art Designer
This application provides you with lots of templates for creating a poster, a flyer, a banner, a card, an invitation, and others. Every user, whatever skills and knowledge they have can manage work on the app.
Those, who will install this application will find here different templates, as well as various shapes, layouts, images, stickers, fonts for texts. You can create your template and save it for other users as one of the basic templates.
The variety of options allow you to make a special picture for literally every event, situation, or project. You can create an extraordinary poster in a few minutes with ease.
If you are not satisfied with the result you have got, you can easily undo re redo some effects and filters for reaching the best you can imagine.
The Poster Maker application offers some special templates among others: there are poster templates for social media, such as Instagram Stories, Facebook, Youtube, and others.
You can use these options for free, providing you have a good Internet connection.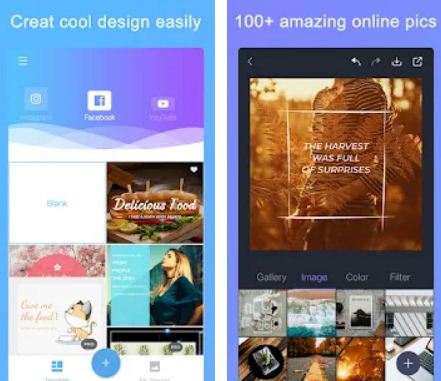 Downloads: 500,000+
Customers rating:

(4.5 / 5)

You may also like: 11 Best Green Screen Apps for Android
9. Spark Post: Graphic Design
This app is widely used by many people for creating posts and stories for social media (such as Instagram, Snapchat, Facebook, Twitter, Pinterest, and some others). Memes, quotes, collages, banners, blog headers, presentations, slides, and much more.
Various results can be achieved with the help of great tolls on the application. It offers not only basic templates for all kinds of posters but also allows you to use numerous effects.
your post can be animated,
choose the size of your post for each platform,
choose the color palletee,
resize the added text
combine different effects and filters or sue them separately
use the layouts for your text
cahnge backgrouns
and much more
New updates will give you fresh designs, which will be your limitless source of inspiration. There will be always something new for your creations. You can add new items to the application yourself and even brand them. Other users will be able to work with your unique designs!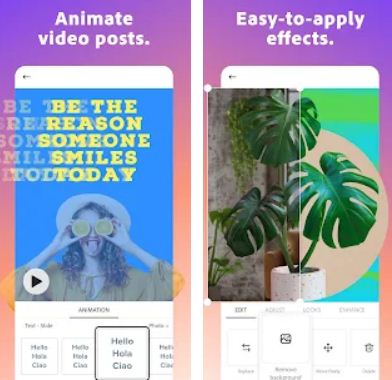 Downloads: 10,000,000+
Customers rating:

(4.3 / 5)