Cards for a long time are considered one of the most popular and sought-after types of fun. And to have such a small virtual archive of solitaire games on your mobile device is a great way to take a break from the routine affairs in your free time.
After all, often there are situations when it's necessary to wait, and there is nothing except a phone at hand. In this article, we present the best solitaire apps for Android:
Solitaire (Solitaire Card Games)
This is a classic solitaire game that used to be exclusively on Microsoft's computers. Solitaire on Android is a clone of the famous game with the same name. And the gaming component itself remains the same. But the developers have added better graphics to the game since in the version from a well-known company at that time there was very poor graphics, which were also very pixel.
The developers have added a lot of interesting things to their clone. For example, in the game, you can change the backgrounds. The game shows the time during which you must complete the game, as well as the total number of points and moves. All this information will be recorded throughout the game in the overall player statistics.
The game has settings in which the player can change the background and much more. There are clues if you are confused in the moves. It is also possible to indefinitely undo your moves, which is a good advantage of the game. The game is perfect for both girls and boys, as well as adults. The game has good graphics without special effects, but they are not needed here. And the most important thing is that the game is free.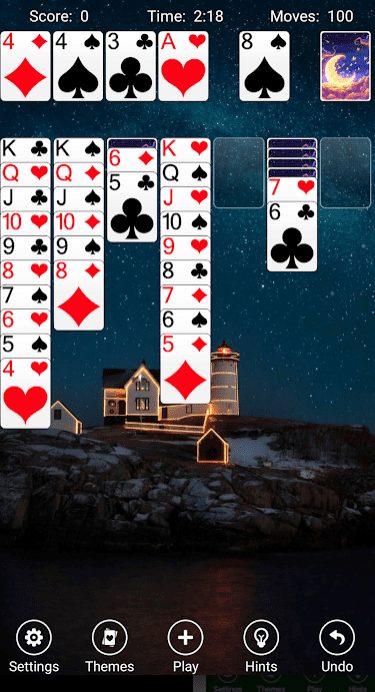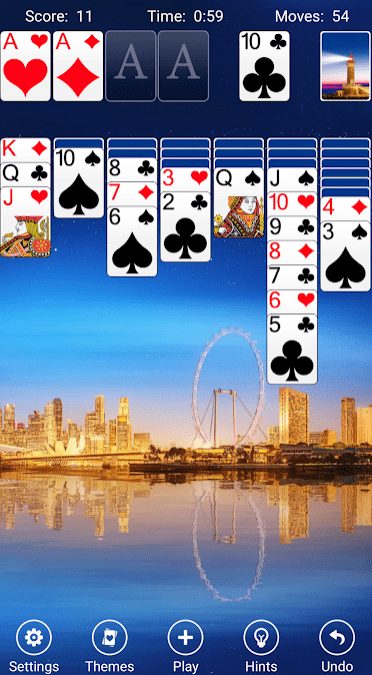 Downloads: 10000000 +
Customers rating: (4.7 / 5)
You can also check: 17 Best Sudoku apps for Android
Solitaire Dungeon Escape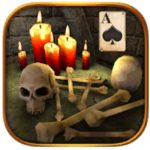 Solitaire Dungeon Escape is a great card game, designed for devices running on the Android platform. The developers based the project on the popular Solitaire. You can enjoy not just a board game, but a real adventure project.
Playing a card game, you will be engaged in the rescue of the kidnapped princess. She was imprisoned in a dragon dungeon, so you will have to put a lot of effort into getting her out. You will see a maze of rooms. Be engaged in the solution of card problems, because only this will open the doors.
The team of creators did a great job on the gameplay, so it turned out to be extremely interesting. First of all, the storyline attracts. The visual component is also made at a decent level. Users of different age categories will be satisfied with the overall gaming atmosphere.
The wonderful game Solitaire Dungeon Escape can please you on mobile devices and tablets. Management is intuitive, comfortable. The interface is intuitive. If you are a fan of Solitaire, then, by all means, get the game presented. The visual design here is attractive. The team of creators managed to make the appropriate atmosphere. Love atmospheric games? Fine! Solitaire Dungeon Escape is for you!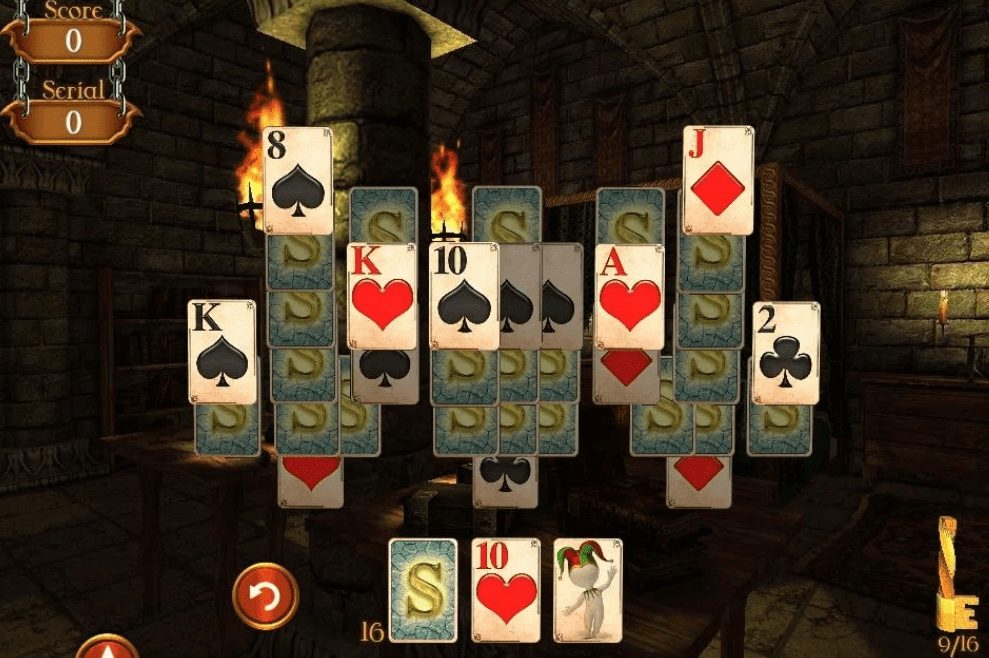 Downloads: 1000 +
Customers rating: (4.7 / 5)

250+ Solitaire Collection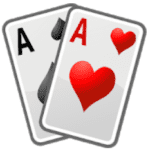 250+ Solitaire Collection – an excellent electronic mobile solitaire collection from all over the world, in which more than two hundred solitaires are combined.
To make it easy for the user to understand the information provided, all games are arranged in alphabetical order (if necessary, you can choose another sorting method in the settings).
For each case, there is a detailed description of the rules with illustrations. Due to this moment, you can independently master any of the proposed options. Large assortment allows you to play not only your favorite games but also to learn more and more new ways of hanging out. Among the most common and well-known layouts: Scorpion, Joker Type, Pyramid patience, Blockade, Carpet Type and many others.
Features of the application:
Customize and design the playing field (the choice of image or texture, deck);
Ability to create layouts of new types;
Interesting special effects when winning;
Bright high-quality graphics;
Big choice of games.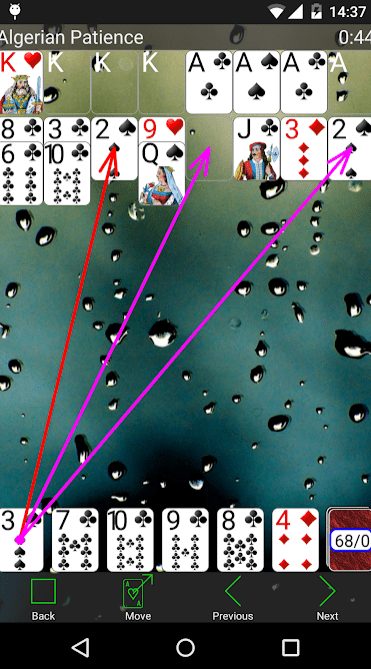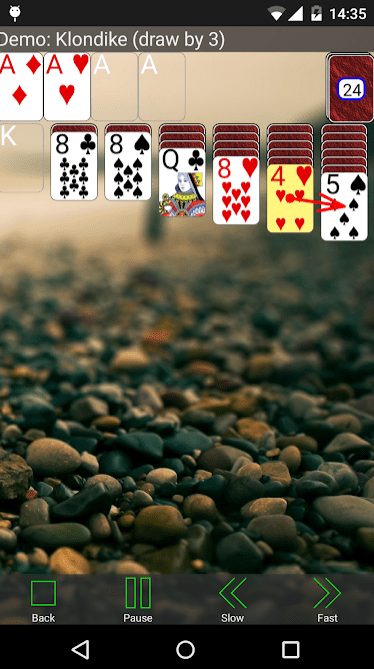 Downloads: 10000000 +
Customers rating: (4.4 / 5)
Age of solitaire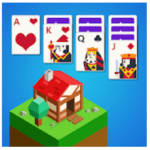 Age of Solitaire is an interesting card game for Android. It has an excellent design, pleasant gameplay, and also, which isn't unimportant – everything is free. Traveling to different locations you can take part in the most unusual tournaments.
It has an intuitive interface and understandable rules. This Android game will allow you to pass the time pleasantly, building a real recreation area for the money received. If luck is on the side of the gamer, then he will be able to build one resort, and then go to another, thereby changing the design, as well as the gameplay.
Age of Solitaire – an interesting card game where you need to think, calculate situations and act based on intuition. Each location is unique, as it creates a specific atmosphere, allowing the user to visit snow-covered places, resorts and much more. The ability to play with other users makes the gameplay much more dynamic, not predictable. Play with other real users, which will allow the whole company to gather in one virtual place.
A large number of locations, several modes, and high-quality special effects saturate the gameplay with dynamics. The musical accompaniment will create a favorable atmosphere for a comfortable game. Create real works of art, with the money, and write your nickname on the list of leaders.
Age of Solitaire is a great card application for Android, which allows all fans of this genre not only to lay out cards but also to develop the infrastructure of some territories.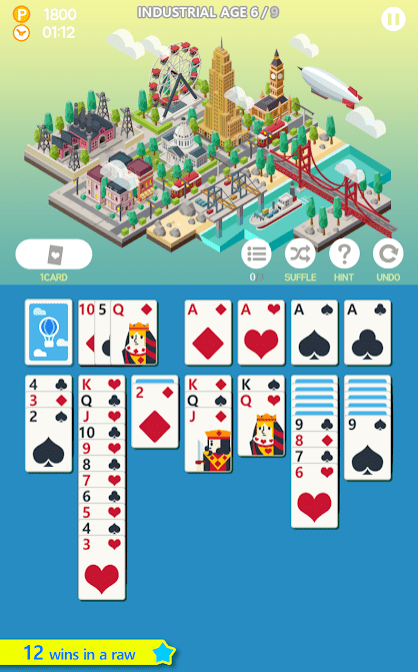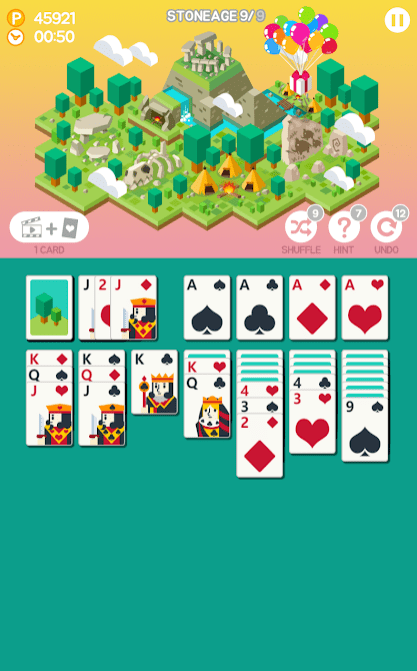 Downloads: 100000 +
Customers rating: (4.5 / 5)
Spider Solitaire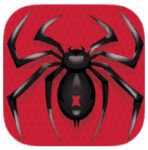 Spider Solitaire application is one of the best mobile realizations of the popular Spider Solitaire. Enjoy high-quality graphics, proven layouts, and daily events.
Set the horizontal or vertical display of the game, as well as the mode for right-handed or left-handed. Choose a background for a gaming table or card shirts, and if you don't like any of the available ones, set your picture. Use an unlimited number of tips and endless undo of the moves.
To diversify the gameplay, the developers have entered daily quests. For the performance of tasks, that is, the solution of a particular scenario, you will receive crowns, for a certain number of which cool trophies will be given.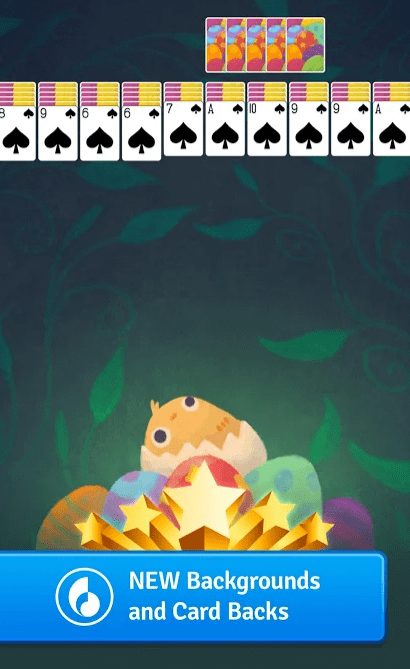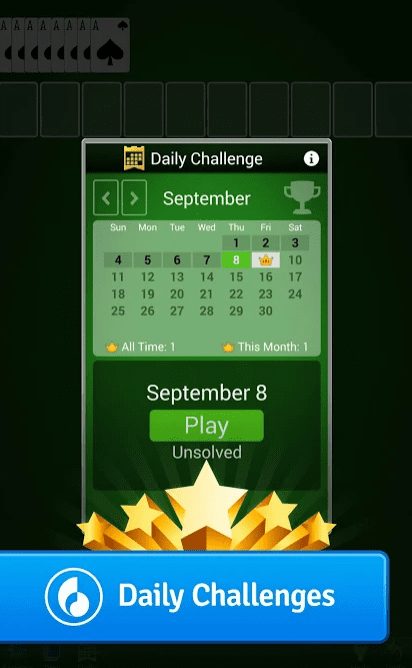 Downloads: 10000000 +
Customers rating: (4.4 / 5)
FreeCell Solitaire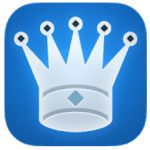 Freecell Solitaire is a free mobile version of the popular Solitaire. The game will delight you with beautiful graphics and easy controls.
It is one of the best implementations of the famous solitaire game, which has everything you need for an interesting and comfortable game. Learning mode, equipped with animated prompts will help the beginner to understand the game, as well as auto-play mode. An amateur will be pleased with the unlimited undo of the moves. A professional will appreciate the user-friendly interface and clear graphics of the application.
The design is customized to the preferences of any player: you will find several options for card shirts, classic backgrounds of the gaming table, as well as the ability to put your picture on the background.
The application supports all types of mobile devices, landscape and portrait screen orientations, as well as maintains detailed statistics. When you exit the application, the layout is automatically saved so that you can continue it from the same place at any time.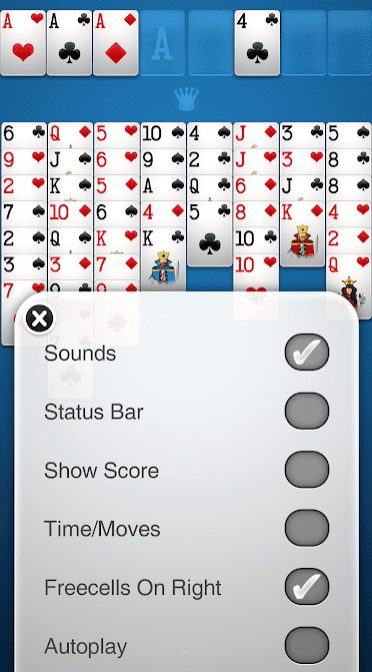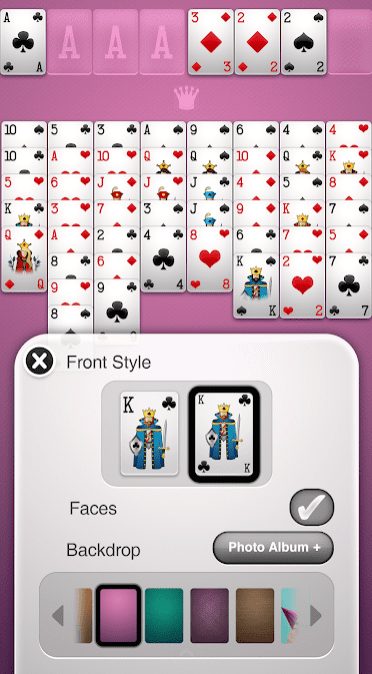 Downloads: 1000000 +
Customers rating: (4.5 / 5)
Solitaire: Frozen Dream Forest
Solitaire: Frozen Dream Forest is a typical board card game designed for the Android operating system. This time, the developers decided to slightly modify the well-known game Solitaire, adding a few changes to it.
Starting the game, the user must enter his nickname. Then the first level is opened, which is considered to be training. It will tell you all the basic rules, will introduce to the management and various nuances. Then a second level opens, which you will have to complete on your own. It is worth noting the presence of a small storyline. At each location, some forest character is hidden and you need to find and open it. Only by collecting all the characters, you can complete the game. The first levels are very easy and designed for beginners, but gradually the difficulty increases.
For each level, the user receives a certain amount of points and money. Gold coins are needed to buy tips. In addition to the mode of passage, with a huge number of levels, it is proposed to arrange games with friends or other users. To do this, you need to log in through one of the proposed social networks and have a stable connection to the Internet.
The game Solitaire: Frozen Dream Forest has a very attractive visual design. The style fits perfectly with the chosen theme.
The gameplay is classic, nothing much has been added. Amusing music is played in the background. Management is simple, you will get acquainted with it at the initial stage (in training mode).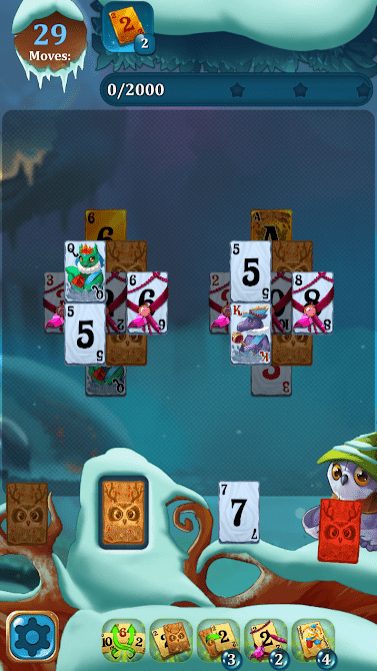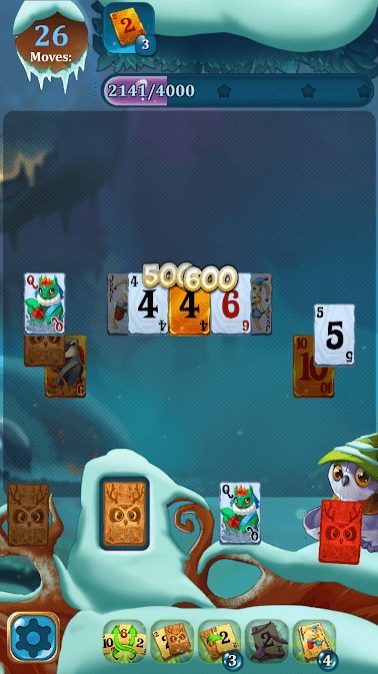 Downloads: 100000 +
Customers rating: (4.6 / 5)
Vampire Solitaire
Vampire Solitaire is a mysterious game, which is a collection of all kinds of solitaire games combined into one mystical adventure.
You have to play for the vampire, who lost his card deck. To find and collect all the cards, you have to go a long and dangerous journey. More than 600 levels are waiting for you, each of which can only be completed by playing solitaire correctly.
Fascinating card puzzles will help defeat all enemies or clear the way forward. But the enemy is cunning: be prepared for the fact that some cards at the level may turn out to be petrified or frozen. In order to release them, you will have to apply bonuses, for example, a hammer. And if it becomes very difficult, remember that you are the master of the night and call for a flock of bats to help!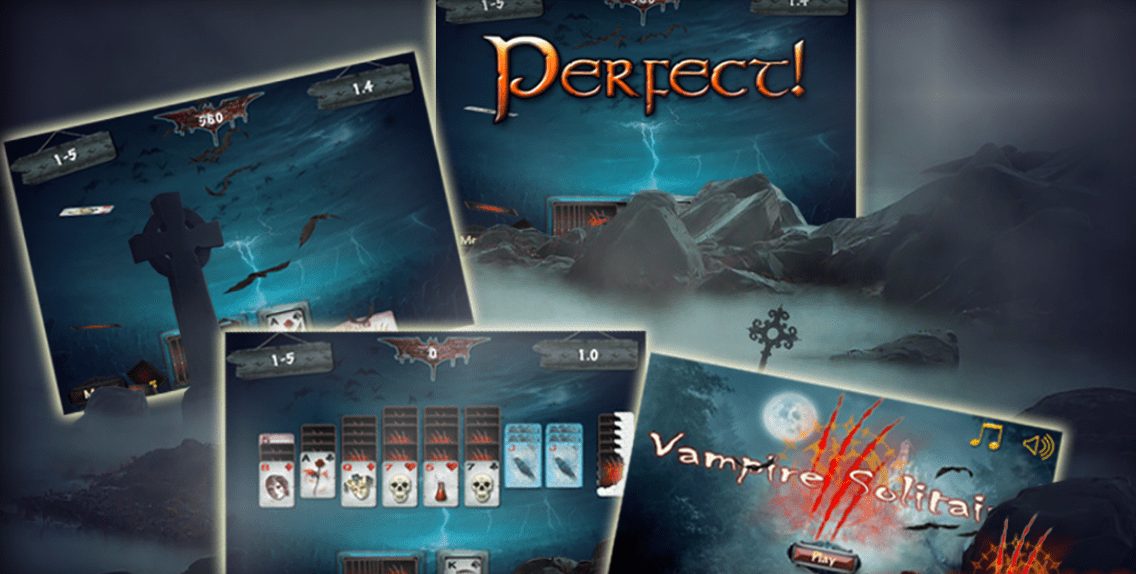 Downloads: 100000 +
Customers rating: (4.4 / 5)

Solitaire Treasure Hunt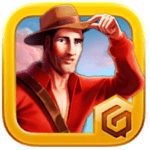 The hunt for antiquities has long been transformed from a free exploration of forgotten islands, exploring caves and untouched treasures left by pirates in the mid-18th century. In modern times, for the opportunity to get precious stones, gold or lost doubloons, we will have to fight – there're many competitors, and even the difficulty of searching has increased dramatically! More information about the process of collecting rarities is told in puzzles – click on download Solitaire Treasure Hunt for Android and go!
Already at the start, the first test begins – in a local competition, you need to fight with a group of hunters, setting either a time record or having won a bonus. By the way, it is necessary to compete according to the rules of Soliter – a card board puzzle that tests ingenuity, logic and cunning. Before the start, each newcomer is offered to have a training – you will know the rules and goals, and understand how it is easy to score points.
In Solitaire Treasure Hunt, both the interface and the card table visualization are perfect. In general, the project makes a great impression – it pleases with regular tournaments, a career with levels and challenges, and weekly competitions held among the best users.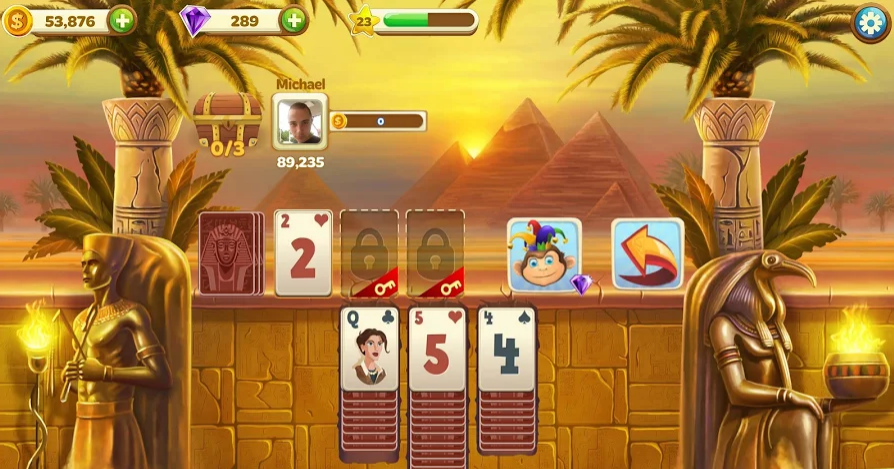 Downloads: 100000 +
Customers rating: (4.7 / 5)
Solitaire Perfect Match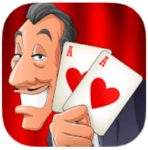 Solitaire Perfect Match is a completely new solitaire. A fascinating pastime in search of the perfect pair for each of the cards is waiting for you.
The "perfect match" is an excellent solitaire game with a huge number of original layouts. It differs from ordinary solitaires in that in the process of passing the levels you can use useful boosters that will change the course of the game. How to win: intelligence or cunning – only you decide. Your goal is to clear the game table from the cards, removing the suitable ones, selecting them by suit or color. Play and earn coins for which you can buy new powerful boosters. Try to complete all tasks quickly and, of course, quality.
There is a leadership table, so you should make every effort to achieve success and the first position. After completing several tasks, any gamer will understand the mechanics. Later you can become a participant in tournaments where are large prize funds. There will also be a tab in which there will be monthly tests (different in complexity).
Take part in tournaments, show what your brain is capable of and win cool prizes. Solitaire Perfect Match is an excellent card game with a bright interface, great effects, and immortal gameplay.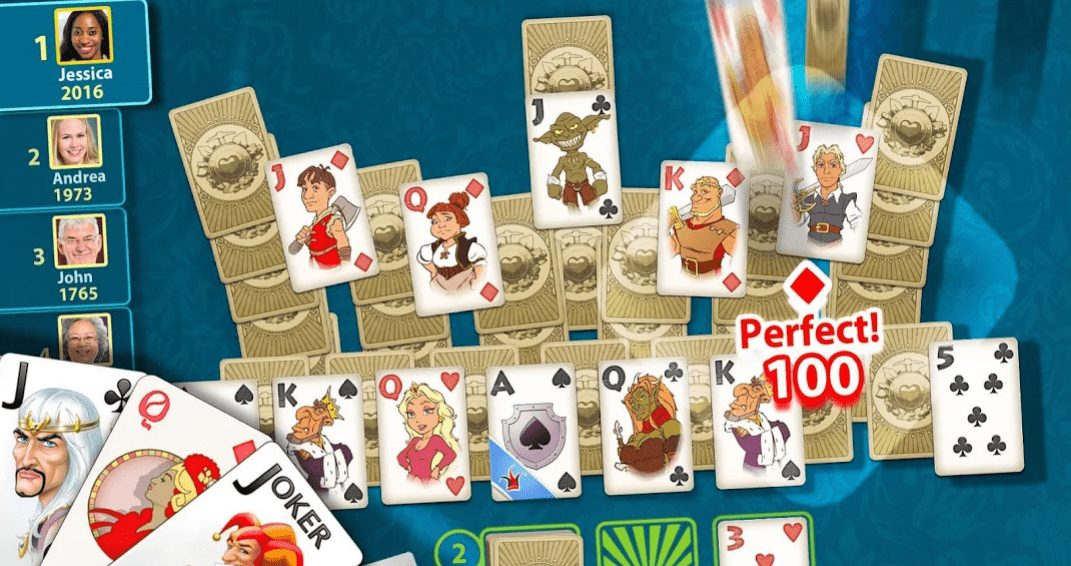 Downloads: 500000 +
Customers rating: (4.5 / 5)
Solitaire Free Pack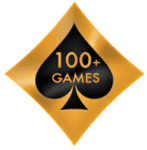 Solitaire Free Pack is a huge collection of all kinds of solitaire games, collected in one mobile application. You are waiting for a single style and a lot of settings.
How many types of solitaire can you remember? No matter how much you remember, know – they are all here. This application includes not only dozens of the most popular ones, such as Solitaire, Spider or Three Peaks but also fairly rare card games. If you love solitaire, then this application will be your favorite for a very long time.
All games in the collection are designed in the same style, the separate parts of which you can customize for yourself. You are waiting for a rather impressive collection of backgrounds for card tables and card shirts. In addition, you can customize the location, size, and transparency of the gaming toolbar. For example, if you don't use either a hint or undo of a move, you can hide this panel completely.
The application is optimized for any Android devices. Gameplay and controls are well matched for finger control. Plus, each player will be able to individually adjust some of the parameters. Adjust the gameplay for yourself! The application will be able to give everything that a lover of card solitaire wants and even more.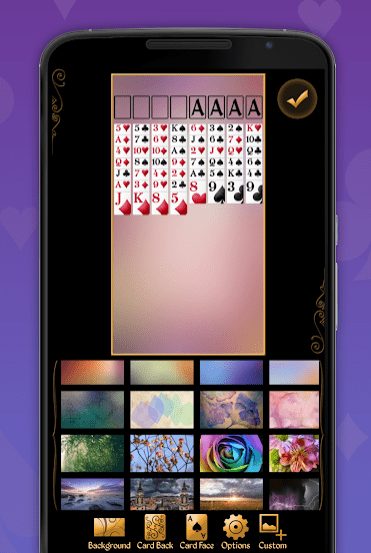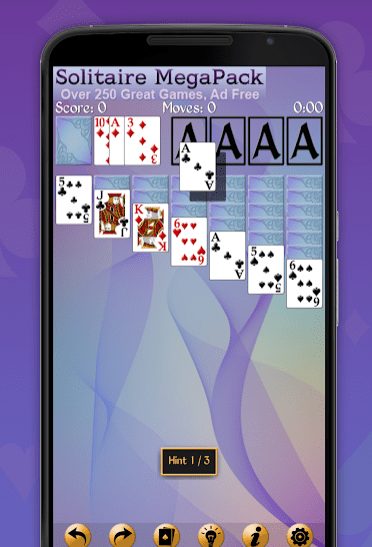 Downloads: 5000000 +
Customers rating: (4.5 / 5)
Pyramid Solitaire Saga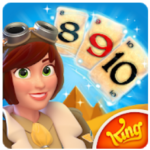 The charming girl Helena has been involved in archeology for decades, but for the first time, she is sent to the solo expedition, according to a plan, traveling to the banks of the Nile, located in East Africa, searching for pyramids and gold burials. At the planned course, Helena moved quietly until the motor in the plane died out – the heroine crashed to the ground and found herself at the foot of the ancient gate, painted with scarab signs. You can only get inside using a special key. Can players be able to download Pyramid Solitaire Saga to Android and find the secret?
The novelty of Pyramid Solitaire Saga is beautifully stylized, decorated and drawn. However, the players face a difficult task and the first thing to do is solve it.
The Pyramid Solitaire Saga puzzle for Android is based on a solitaire card game – the boards located on the playing field should be put in a special area. To do this, you must follow a simple rule – you can match a card that is one higher or lower than the one on your deck. Using a simple rule, players will definitely cope with tasks, hurry!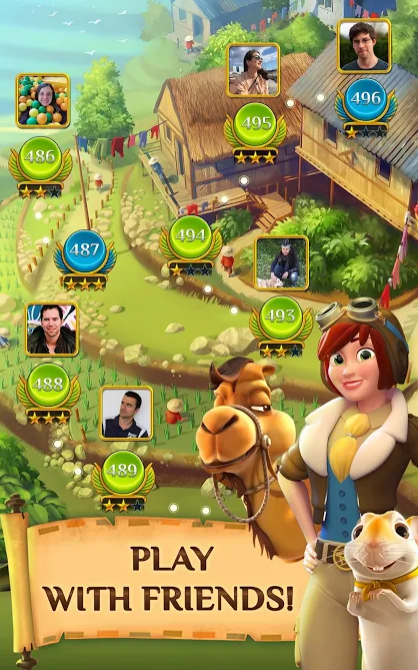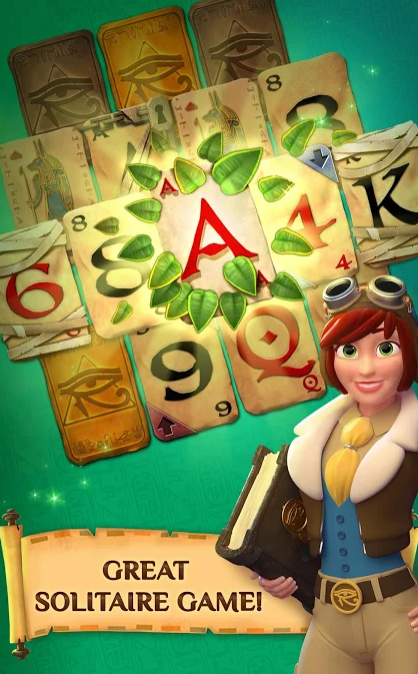 Downloads: 10000000 +
Customers rating: (4.4 / 5)
Twenty48 Solitaire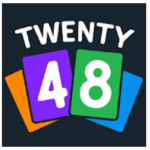 Twenty48 Solitaire is an unusual arcade game for Android, where using cards you need to score exactly 2048 points. The free application includes many achievements which you get for achieving certain control points. Get on the leaderboard, actively training and laying out the cards.
The gamer's task is to lay out cards in different decks, where there are already cards with certain numbers. The Android game will automatically perform calculations and combine identical elements into one, increasing its value twice. Special cards allow you to perform additional actions, interacting with decks.
Twenty48 Solitaire is an interesting and fascinating puzzle game where you need to be able to react quickly, count and correctly distribute the available space so as not to drive yourself into a trap. Each time the task becomes more difficult, due to the appearance of larger numbers and limited space for maneuver. Special cards allow you to quickly clear the field, providing more space.
Minimalism in the design makes the gameplay more interesting, as secondary objects and bright special effects don't distract from the game. The color scheme changes depending on the values on the card, which makes it possible to find identical elements much faster, saving time. Special sounds will alert you about the activity and any actions of the gamer.
Twenty48 Solitaire – an excellent arcade game for Android gadgets, where you need to be smart and watchful.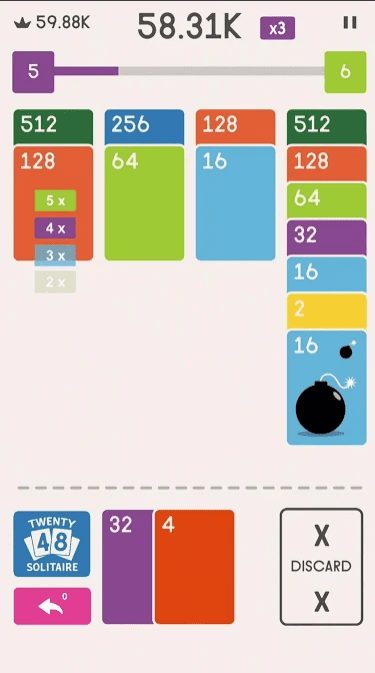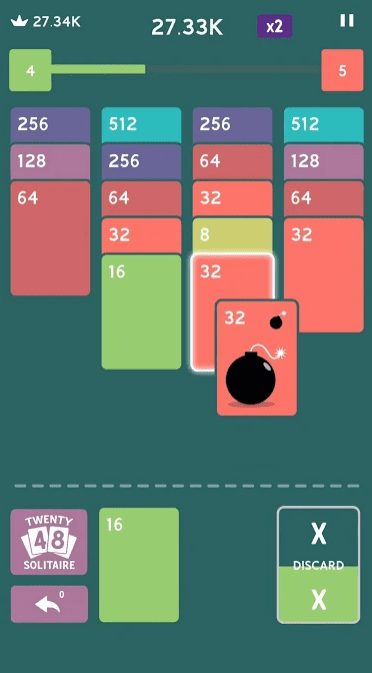 Downloads: 1000000 +
Customers rating: (4.4 / 5)

Solitaire TriPeaks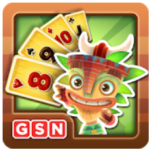 Solitaire TriPeaks is a free solitaire, containing more than 800 levels, the number of which is constantly growing. Join the club and cooperate with friends or play alone.
The gameplay is addictive and fun. You will travel around the island together with the faithful guide Tiki and his dog Poi. Use amplifiers and beware of traps to get points, adjusting to changing environments. Explore different routes, getting new adventures. Compare records with friends in a convenient table.
Register now and get 12,500 coins as a gift, in addition to this, during the daily visit you will receive additional prizes. No time to explain, download the game immediately and immerse yourself in it!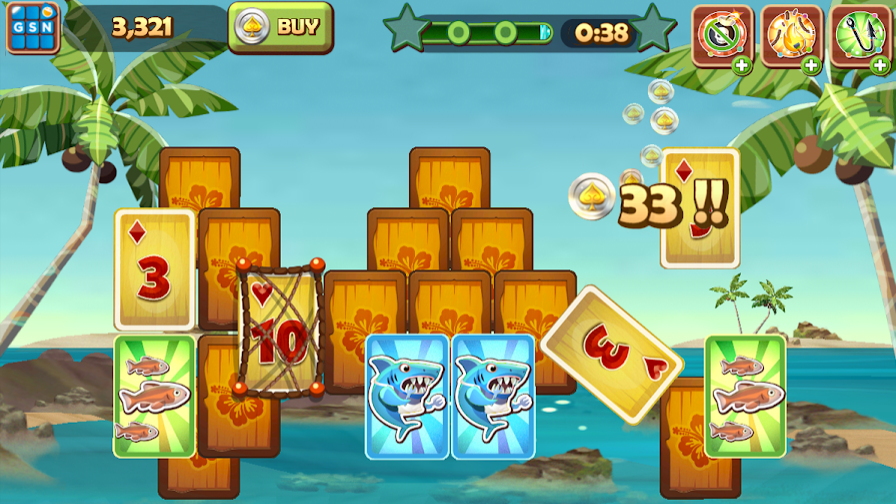 Downloads: 10000000 +
Customers rating: (4.5 / 5)
Fairway Solitaire Blast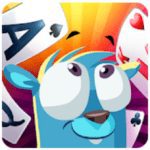 Fairway Solitaire Blast is an incredibly exciting and very unusual game that combines solitaire, puzzle, and travel in itself. A bright explosive adventure awaits you.
No more boring, single-type games! Adventure Fairway Solitaire Blast will forever change your idea of card games. You have a long journey over 700 colorful levels. Interesting and understandable combinations of various forms on the unforgettable landscapes. Get your head in the game and achieve a result worthy of a line in the table of records! Special bonus cards that will arrange a real explosion on the playing field will help you.
Your progress is saved in the cloud, so you can continue the adventure on any device, just by logging into your account. You can integrate your Facebook account into the game and invite your friends, the privacy policy is high, you can not worry about it!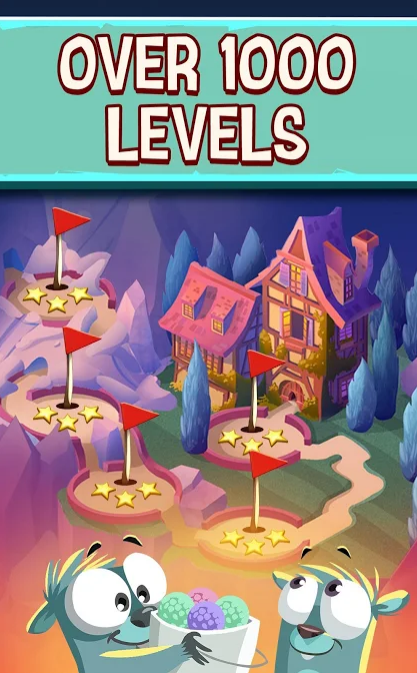 Downloads: 5000000 +
Customers rating: (4.7 / 5)