Nowadays there are some apps that can help you find your earrings, keys, rings and the like. With the Stud finder app, you can find any metal, wire or anything like that. You can find lost metal items even in a wall.
Although you can also do this with a metal detector, it can be very expensive to buy one. Therefore, for those who are faced with a dilemma and are looking for these small important things, it's highly recommended that you use metal finder applications.
Stud Finder Scanner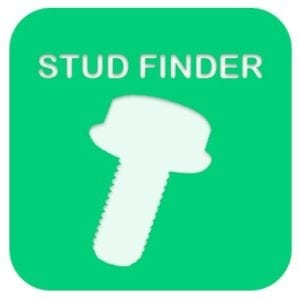 Stud Finder Scanner is a helpful tool on your smartphone when finding and detecting stud, metal, and nuts in walls.
With this program, you will be able to use your mobile device to search for metals in the range of the magnetic sensor of your smartphone or tablet.
Using the program is very simple: to do this, install and run it and move your mobile device in space. As you will be enough close to the metals, the reading on your smartphone or tablet will change. You'll be notified with beeping when it finds a stud in the wall.
It is possible to scan the object from left to right or up and down. Stud Finder Scanner is easy to use and give you an accurate value.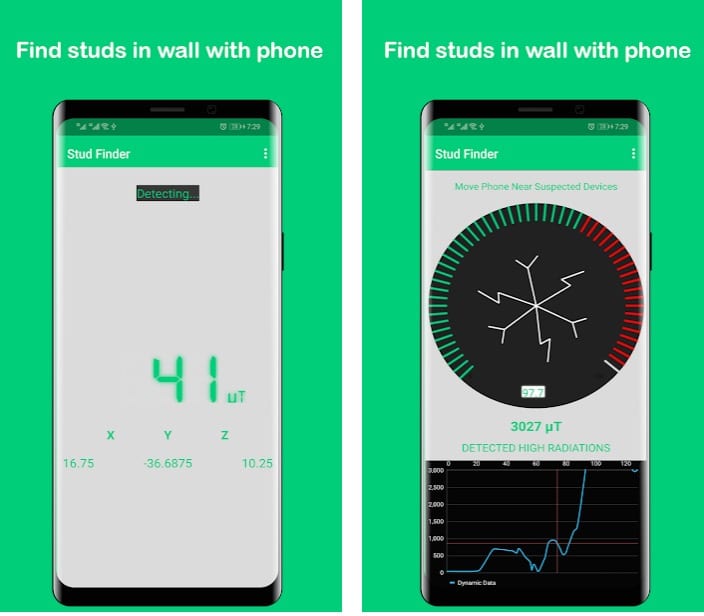 Downloads: 100 000 +
Customers rating:

(5.0 / 5)

You may also like: 9 Best 3D animation apps for Android
Metal Detector by Smart Tools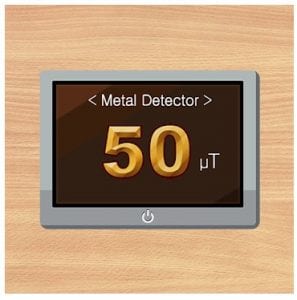 Metal Detector is a tool that turns your phone into a metal detector.
When you open the application, you will see the metal detector indicator. The application works quite obviously: just bring the device closer to the object that has metal in it and you will see how the indicator works. In the application settings, you can activate an audible alert, which will tell you that you are close to a metal object.
In the Metal Detector settings, you can select a sound and set the indicators for its playback. Notification can work at values from 75, 100, 150, 200 or in a manually set interval.
Metal Detector is an application that allows you to use your Android device like a metal detector. However, even if it does work, it is not the best option, especially if you go to the beach in search of treasure.
The Metal Detector is a high-quality application, which perfectly fulfills its purpose. The same can be said about other tools from this developer. However, much depends on the sensors on your smartphone or tablet, so that some devices may not detect metal objects at all.
It's also important to note that if you have a cell phone cover with magnets, the application will work unstable or simply will not work at all.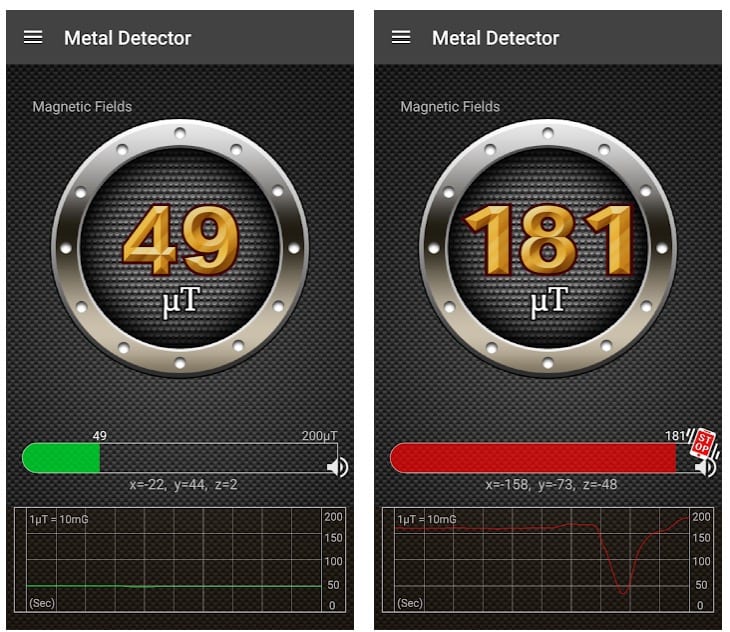 Downloads: 10 000 000 +
Customers rating:

(4.0 / 5)
Metal Detector by Netigen Tools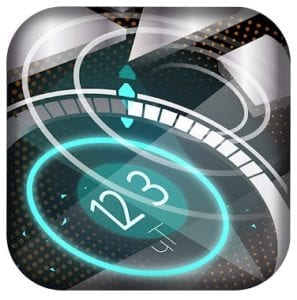 The company, like other similar developers, offers a range of working tools for your smartphone.
When tested, the application showed the same results as other metal detectors: large metal objects close to the sensor were detected, but small objects or wires in the wall weren't.
You can use the app to find electrical wires in walls (like a stud finder) or pretend it's a ghost detector and scare someone!
Users of the program will have to put up with advertising, which is much more than in Metal Detector from Smart Tools co. There is no paid version.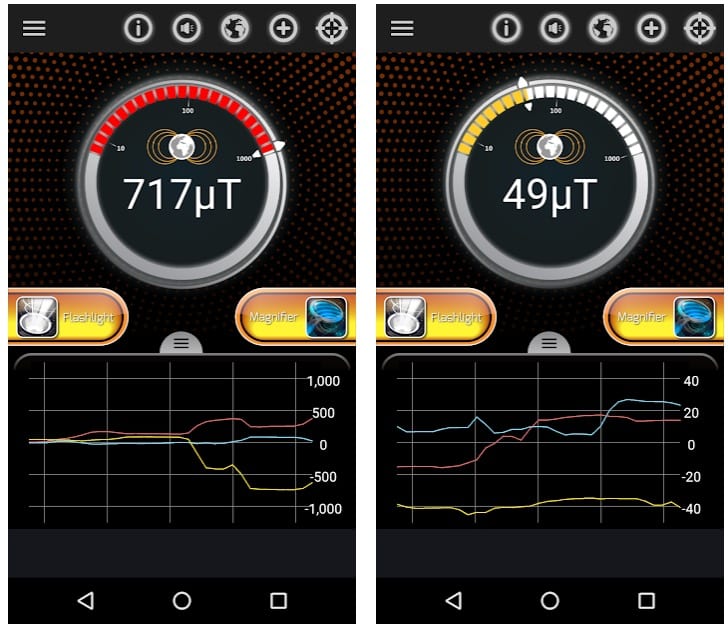 Downloads: 1 000 000 +
Customers rating:

(3.7 / 5)
Metal Sniffer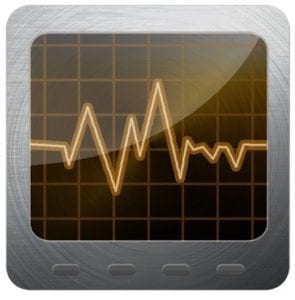 Metal Sniffer – use your smartphone as a metal detector. You will be able to determine the exact location of the metal and catch the lowest electrical radiation.
Features:
No advertisement
Vibration alerts
Comfortable search history
Exact coordinates display
It's time to become a treasure hunter, and start looking for metals in the ground! With this application, you can turn your smartphone into a real metal detector. To do this, you only need a couple of things, this application, and that your smartphone supports the compass function, to display the change of electromagnetic waves.
And when the sensor vibrates, it means there's metal somewhere nearby, and you can bravely grab a shovel and dig! You can test this application by throwing a piece of metal to the ground and scan it with your phone.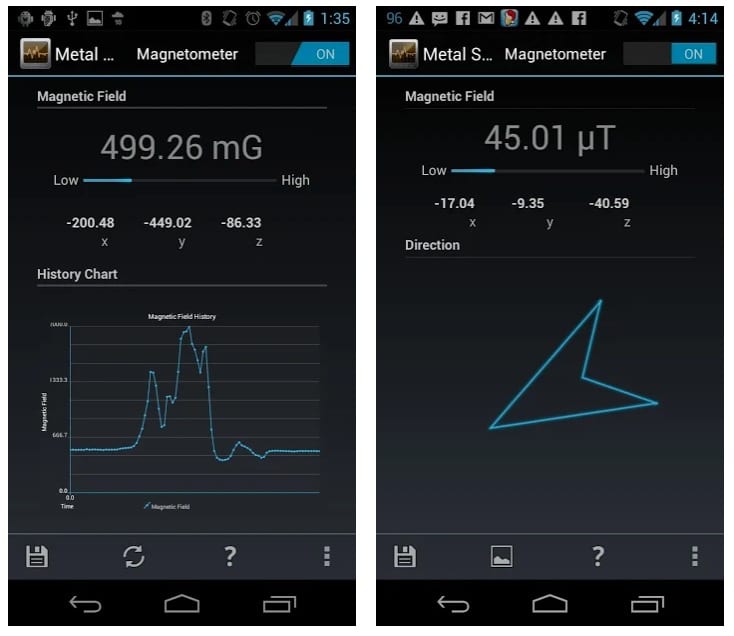 Downloads: 500 000 +
Customers rating:

(4.2 / 5)
Ultimate EMF Detector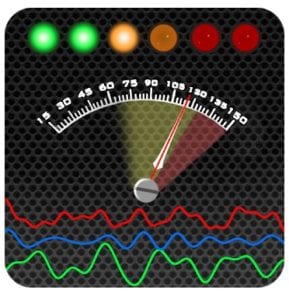 Ultimate EMF Detector is a simple tool for detecting electromagnetic fields, metals, devices, etc. The detector is accurate. But everything depends on the sensor of your device as on different smartphones, sensors have different sensitivity.
The measurement can be displayed in uTesla or Gauss. You can change the range of measurements in the settings.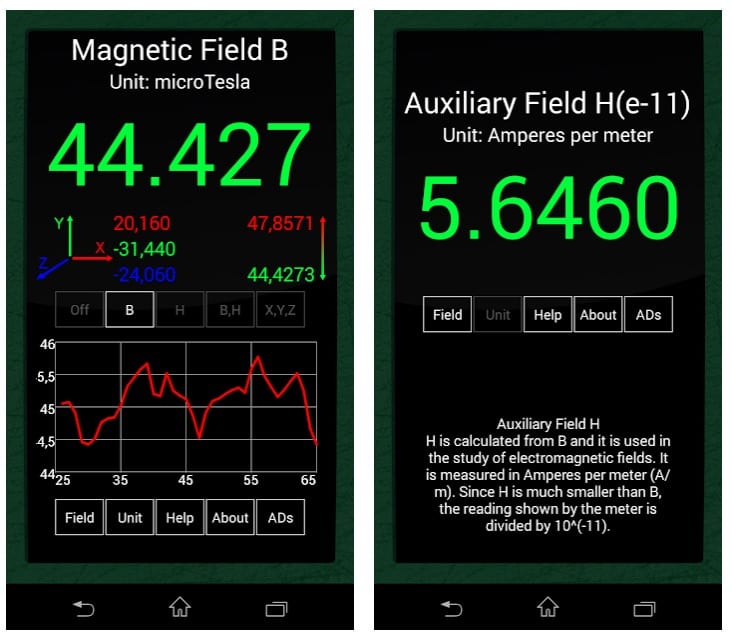 Downloads: 1 000 000 +
Customers rating:

(4.3 / 5)
All tools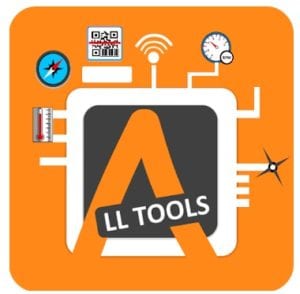 This is a universal application with 50 + multifunctional tools. Easy to use and lightweight. It will replace many apps on your phone and save space.
Among the tools, there is an EMF detector. It works perfectly as well as similar metal finders.
As soon as the reading on the screen starts to change a lot, it means that there is a strong magnetic field source nearby. Under normal circumstances, these sources are metal objects. Note, however, that the magnetic sensor also reacts to radiation from other electronic devices (computers, other phones, players, TVs, etc.).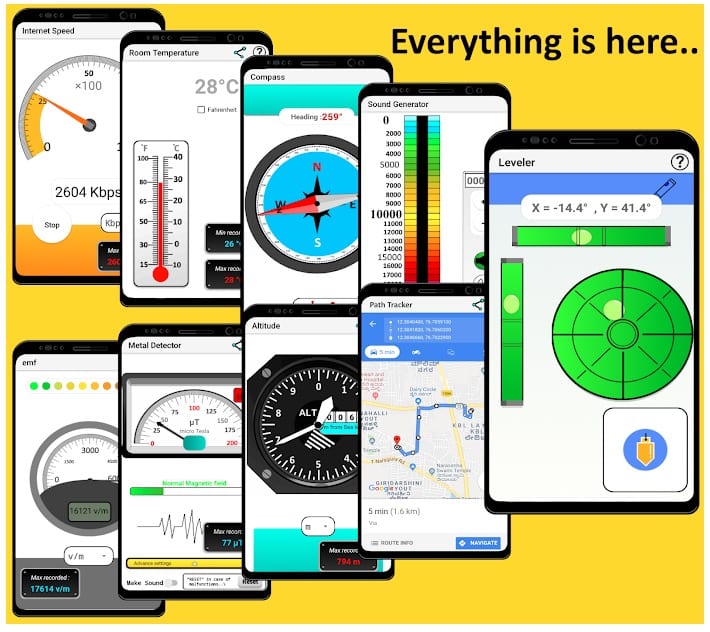 Downloads: 1 000 000 +
Customers rating:

(4.5 / 5)
Tool Box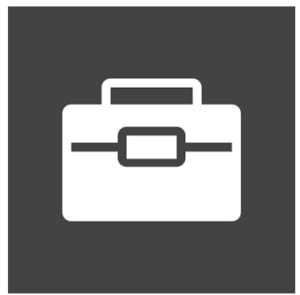 Another all-in-one application, useful and lightweight. It has a leveler, noise meter, magnetic field detector, compass, barcode scanner, flashlight and much more. The full set of tools is available in a paid version.
The metal detector will help you search for metals using the magnetic sensor of your mobile device.
Downloads: 1 000 000 +
Customers rating:

(4.4 / 5)
Metal detector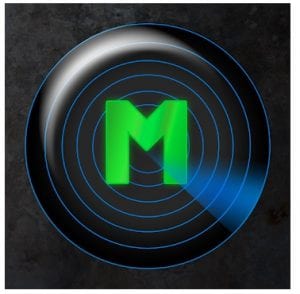 With this application, you can use your phone like a metal detector. Find the metal and measure its magnetic field using the magnetic sensors of your mobile device.
To improve measurement accuracy, it's recommended that you remove the device from the cell phone cover. This is especially the case with the magnetic latch case.
Make it easier to find metal objects using your Android gadget.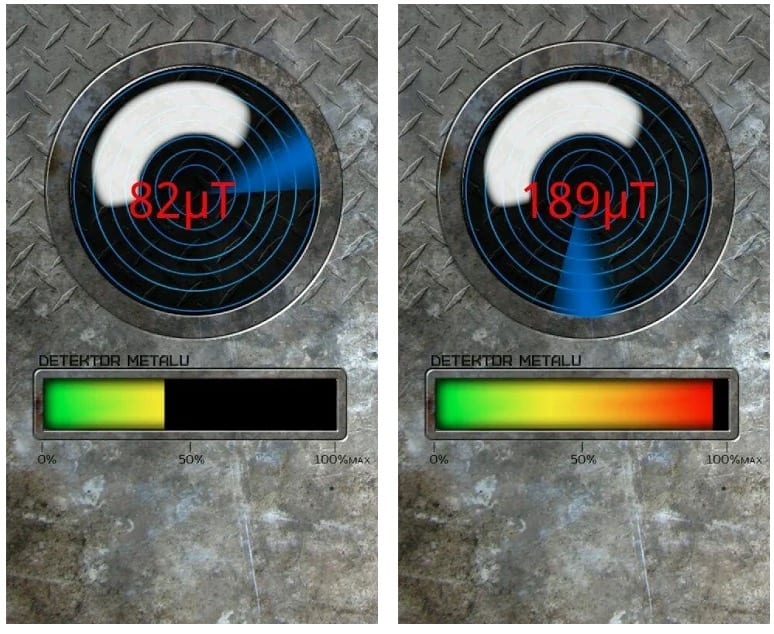 Downloads: 100 000 +
Customers rating:

(2.8 / 5)
Dexati Metal Detector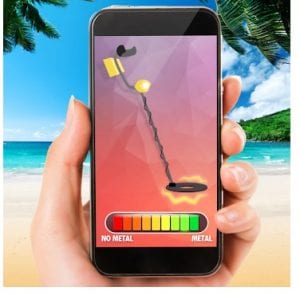 This is a simple metal detector on the screen of your mobile device. The application uses an electromagnetic field scanner to detect radiation from various metals.
In nature, the magnetic field intensity is about 49 μT or 490 mG (1μT = 10 mG). This value changes when different metals are present in the sensor's sensitivity zone. This makes it possible to find them with this program.
Please note that the accuracy of the readings depends on the type of your mobile device and the state of the magnetic sensor. The sensor will also react to any electronic device that emits electromagnetic waves.
Use it anytime and anywhere if you need to find a lost watch or gold mine!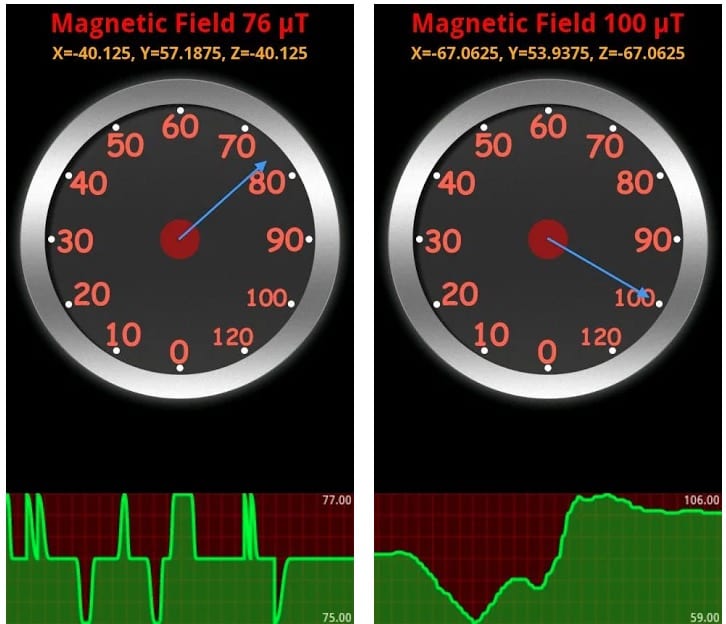 Downloads: 1 000 000 +
Customers rating:

(3.0 / 5)
You may also like: 11 Best fake broken screen apps for Android
Metal detector: scanner for body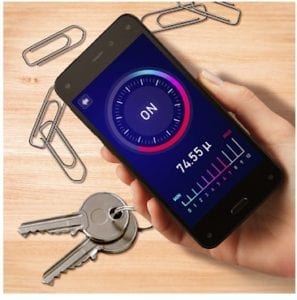 Application from the game developer Appreal. The principle of operation is about the same as in previous programs, only because of its specificity, the developer has built some game features into the application. For example offers to choose the items that the user is going to look for (treasure, large items, etc.). In the program description, the manufacturer recommends using the application to play friends.
As indicated in the app's description it can be used to find iron conductors and wires in the wall.
However, when tested, the application showed worse results than previous programs – for example, it practically didn't react to a metal paper clip.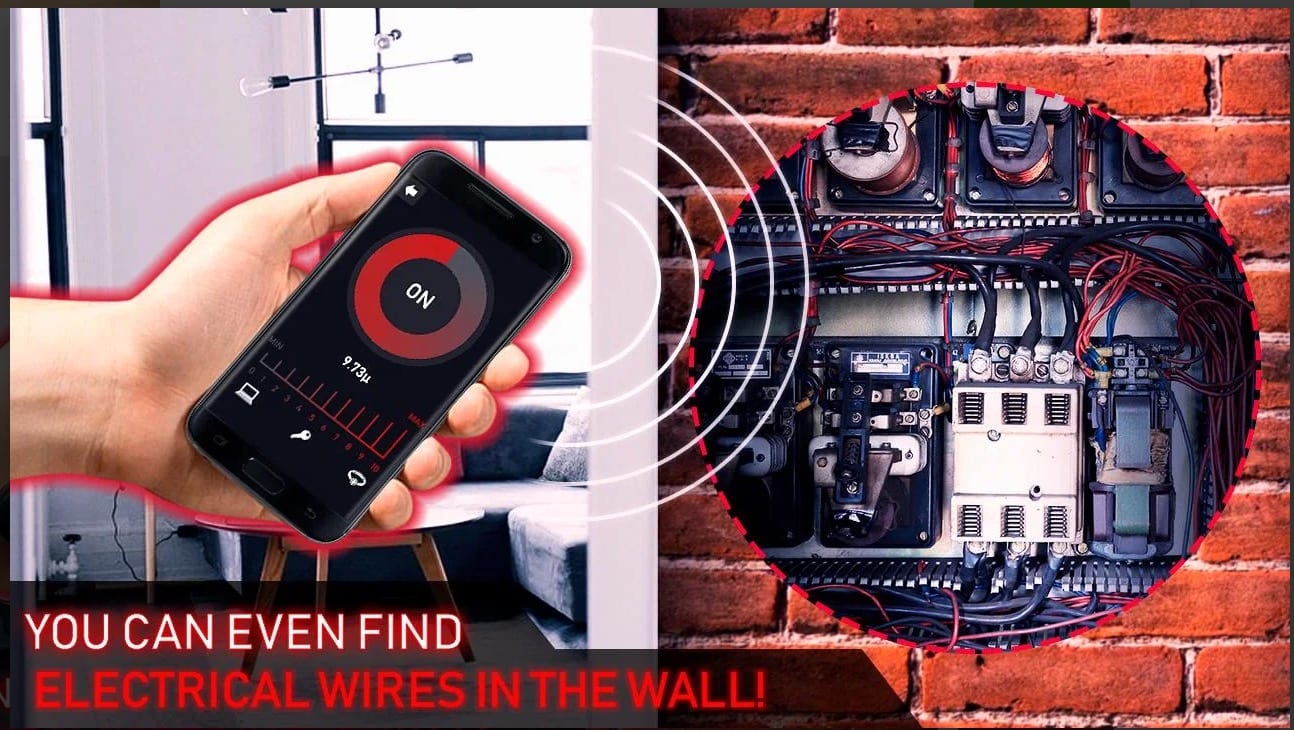 Downloads: 1 000 000 +
Customers rating:

(3.5 / 5)