With mobile devices, it's easy to replace all the remote controls in the house, designed for different devices. But this will require specialized applications, which we have selected for the readers of our website.
If you use these programs, you can quickly and efficiently create a complete and multifunctional remote control to adjust the sound, switch tracks, rewind the video, lower or raise the temperature, as well as do much more.
MyRem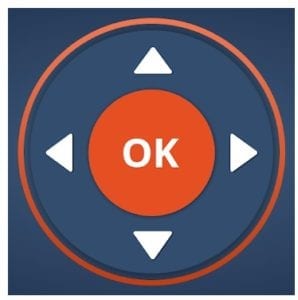 MyRem is one of the best applications that lets you use your phone or tablet as a universal remote control for your TV. This universal remote control will turn your Android phone into a super TV controller.
The interface has the same look and functionality as a standard remote control. This makes the universal remote very intuitive and easy to use for everyone.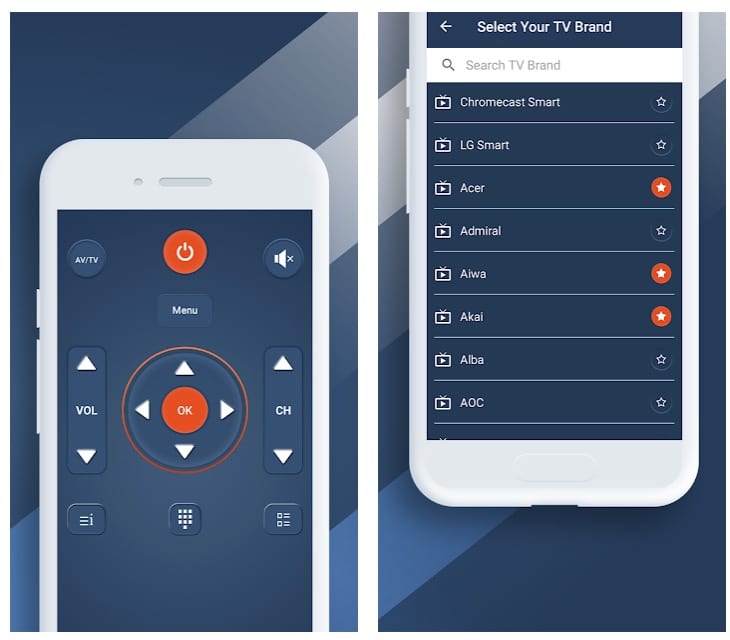 This Universal Remote Control app connects to your TV via IR port or Wi-Fi.
With MyRem Universal TV Remote, you just need one Android device to control all your TVs.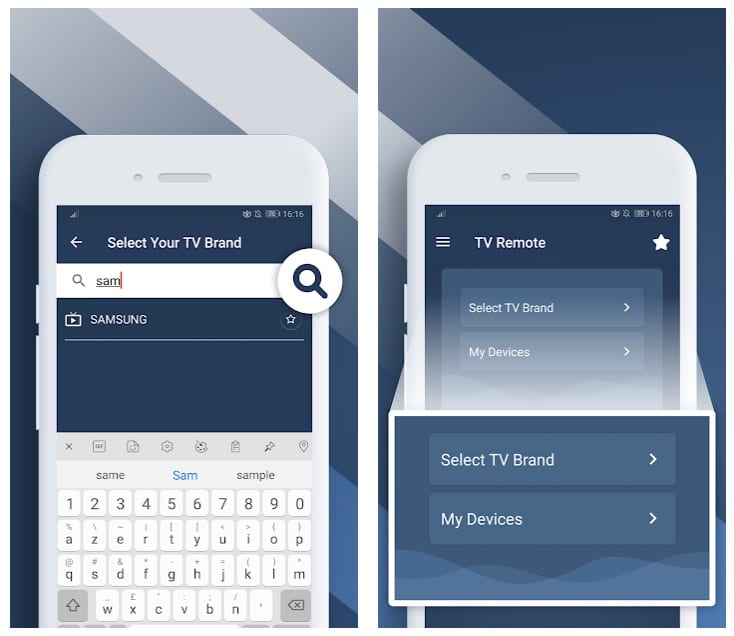 Downloads: 1000000 +
Customers rating: 

(4.0 / 5)

You may also like: 7 Best TV guide apps for Android
AnyMote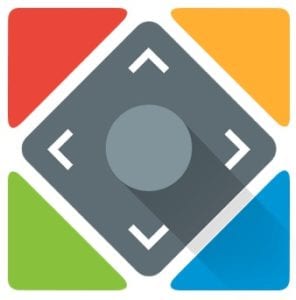 AnyMote Universal Remote is a very good program to replace all remote controls. The work with the controls is particularly impressive. Here you can adjust literally everything by dragging the buttons to any convenient location. At the same time, you can set up macros so that you can perform several actions at the same time with one click.
AnyMote Smart IR Remote is valuable because it supports around 900,000 different devices and constantly adds to this list. This allows you to use your smartphone not only as a remote for almost any of the famous TVs, but also to control other equipment, such as air conditioning or music center.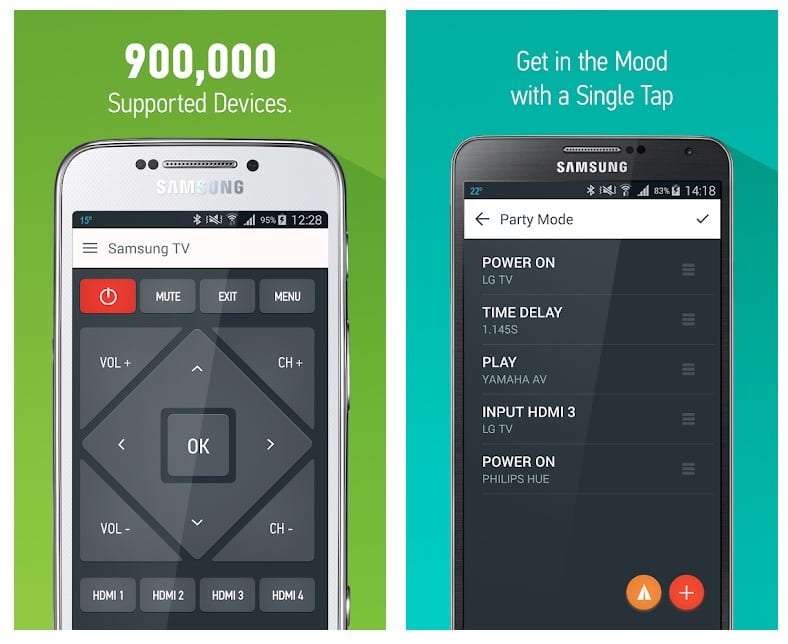 In general, it will be a great choice if you have a lot of devices at home, which remotes you are constantly losing.
The developers honestly declare that their creation doesn't support Sony and Huawei smartphones, as well as some LG models. The most preferred brands with support for all available features are Samsung, Panasonic, Sharp, Xbox, Xfinity. There should not be any problems with the technique of these manufacturers.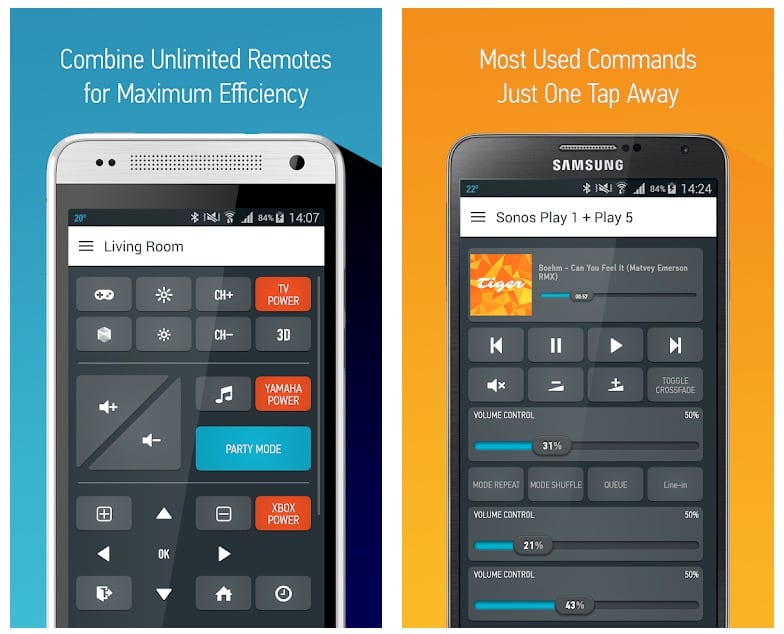 Downloads: 10000000 +
Customers rating: 

(3.9 / 5)

SURE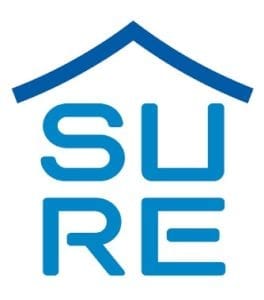 The SURE Universal Remote is another universal remote control for different devices. An interesting feature of the program is to stream photos or video content using your own phone and device with Smart TV function.
The following devices are also supported: Android TV, Apple TV, and Chromecast. SURE Universal Remote can be a great replacement for AV receivers, projectors, LED equipment, TVs, air conditioners, DVD and CD players, robotic vacuum cleaners and so on. It's possible to create a single "smart" control system for home equipment.
You can control them with one click, i.e. you can turn on and off all the media devices that are in your living room with one button.
The process of adding a new remote control can be done in four steps: a selection of device category (connection), selection of device type, selection of device manufacturer and remote control test. The whole setup process is as simple as possible and is almost the same in similar applications.
At least here the developers showed their imagination and made the program interface more interesting, at least in comparison with the competitors. The developers claim that about one million devices are compatible with the application.
The only thing is that in SURE Universal Remote cannot be used to control digital cameras – such devices are not supported, there is no universal remote control that could be adjusted to a certain signal, and there are not many device models.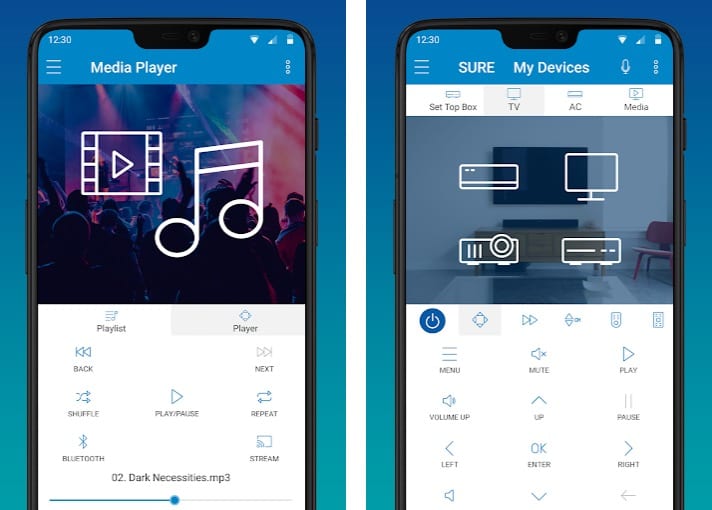 Downloads: 10000000 +
Customers rating: 

(3.6 / 5)

ZaZa Remote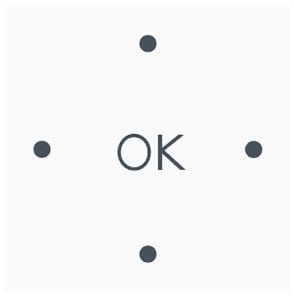 Do you want to control all the devices in your home? Then ZaZa Remote will come in handy. The application will instantly detect the device and then display the corresponding remote control. And each model has its own interface with a specific location of buttons.
At the first launch of ZaZaRemote, we are offered to add the remote to the application. And here everything is as easy as it can be. That is, we have the most popular categories, there is a search by brand and model, as well as very convenient navigation by the manufacturer.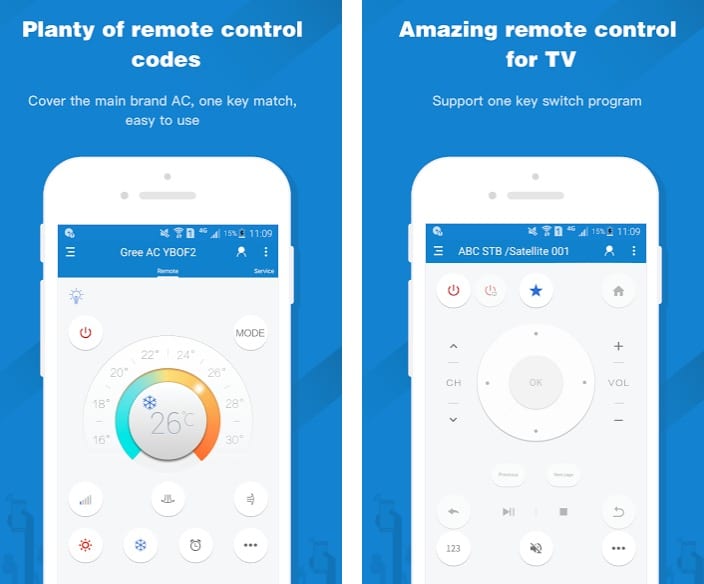 Developers note that there is support for a variety of home appliances: games consoles, satellite systems, TVs, cameras, Blu-ray and DVD-players, projectors, air conditioners, amplifiers, and even lamps.
ZaZaRemote is a balanced mobile program for controlling your home appliances. It's both beautiful and functional.
Quite a simple application with the ability to quickly switch between remotes for any device. And for different devices, ZaZa Remote offers different controls. If for TVs, these are just standard buttons, then for split-systems, for example, it can be a circular temperature controller.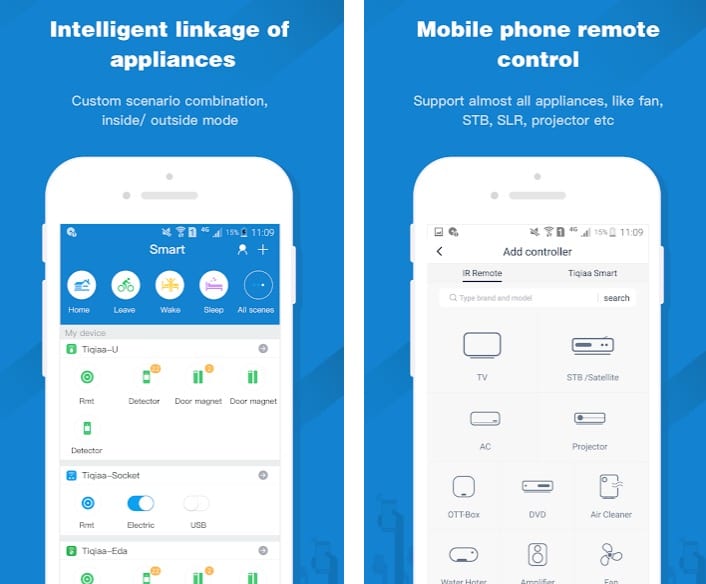 Downloads: 10000000 +
Customers rating: 

(3.9 / 5)

Mi Remote controller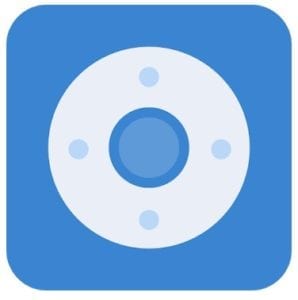 With Mi Remote you can control almost all appliances, and not only at home. Lost the remote at the hotel? Is there an uninteresting movie on TV at the airport? Fix the situation with Mi Remote!
This solution was developed by Xiaomi, but it is not exclusive for branded smartphones. Mi Remote can also be installed on models from other manufacturers to control a wide variety of equipment.
When you enter the application, all your customized remotes will be displayed. The remote looks simple, nothing extra, all the main buttons are there.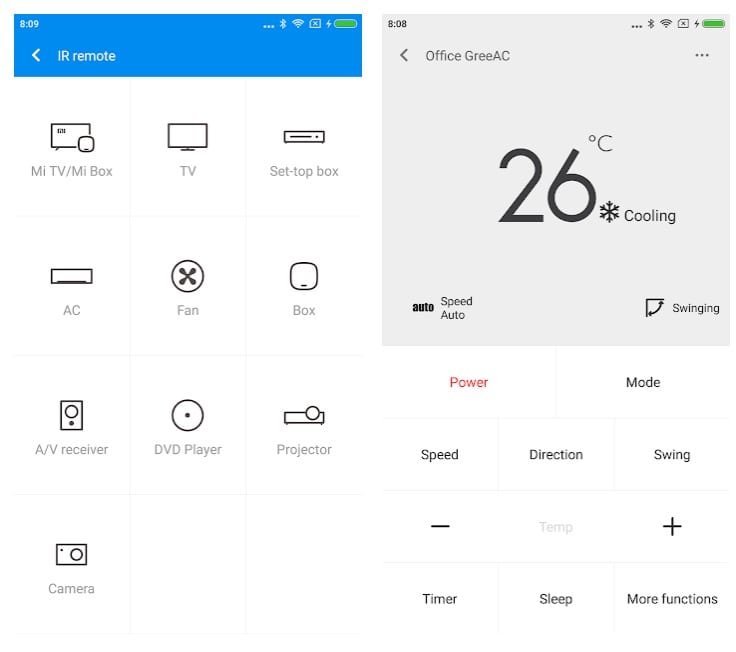 In addition, Mi Remote offers a simple widget, presented as a simple icon and provides quick access to a specific remote.
The application can control several devices simultaneously, without using a heap of remote controls from different equipment (for example, the application can simultaneously turn on and off the TV and set-top box with a single touch).
Mi Remote stands out from the competition with its extremely simple interface. The same applies to the settings. For full operation of the program, the presence of a Wi-Fi or IR blaster is required.
Mi Remote leaves only pleasant impressions, thanks to the huge base of supported devices, nice design, and ease of use. At the same time, the application itself is free and without advertising.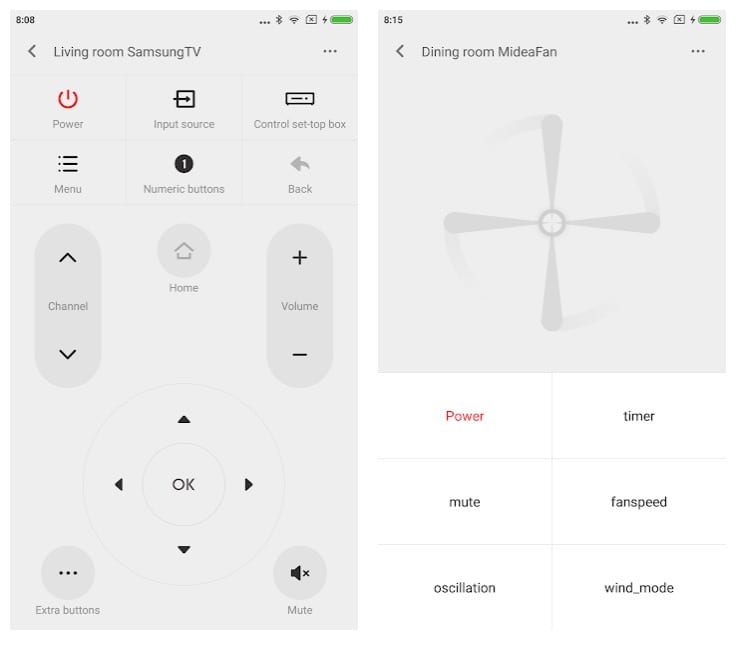 Downloads: 50000000 +
Customers rating: 

(4.0 / 5)

Peel Mi Remote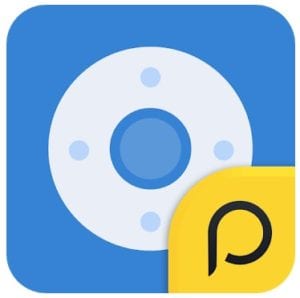 Peel Mi Remote is a program that is designed to convert smartphones with IR port into a remote control. After installing the application, the user can control almost all home appliances via his phone, thus eliminating the need to use a separate control device for each appliance.
The application is an improved version of Mi Remote Control and differs from it by its enhanced functionality.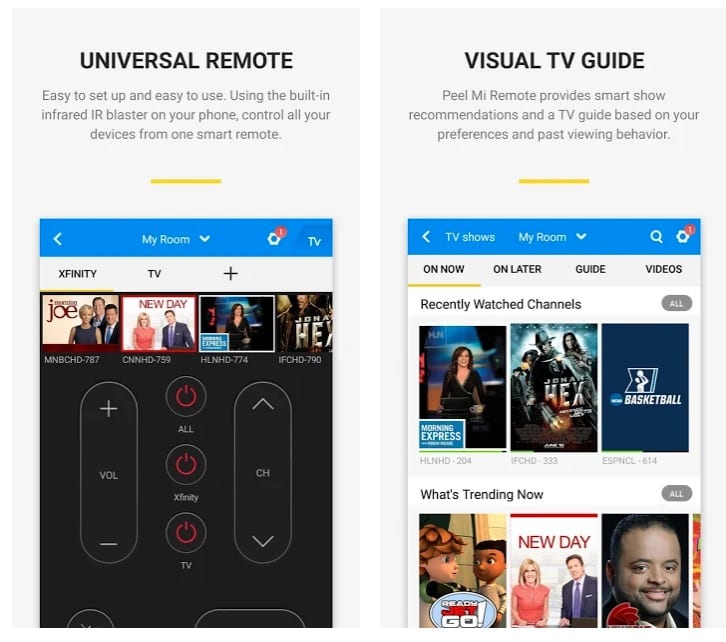 In addition to the main task of remote control of various devices, the use of the utility allows:
Organize the stream of video from the TV directly to the smartphone screen;
Select programs on a specific theme (movies, news, sports, etc.);
Watch video content online;
Control not only the TV but also the air conditioning, smart consoles, air fresheners and any other equipment that can also be included in a smart home system.
Peel Mi Remote has a memory option, so the program remembers user preferences and then offers the most interesting video content.
A great advantage of the program is the ability to create a reminder about the beginning of your favorite program. Now you will not carelessly miss the most expected premieres! And if you don't have a TV near you, you can use the video streaming function and watch the TV program of interest anywhere.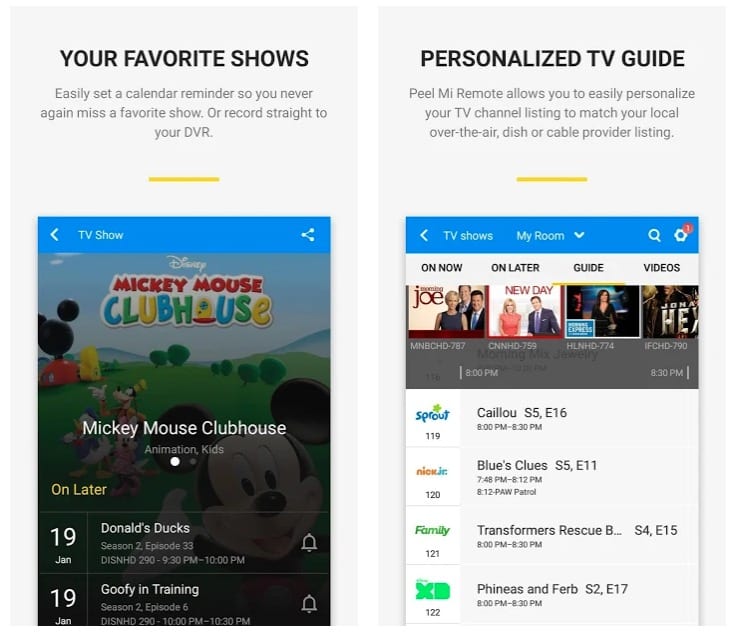 Downloads: 5000000 +
Customers rating: 

(3.9 / 5)

Unified Remote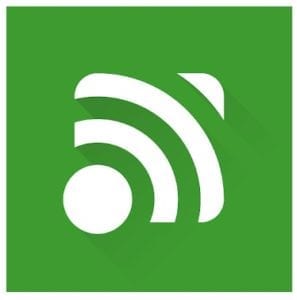 Unified Remote is designed for comfortable computer control. It allows you to remotely switch tracks in your music player, control video playback, flip through presentation slides, use your browser search remotely and even work with files.
Windows, Mac and Linux support is available.
The appearance is simple enough, but you can choose a white or black theme. As for the supported programs, there are over 90 of them. If you purchase the full version of Unified Remote, you can access additional control modes and voice commands.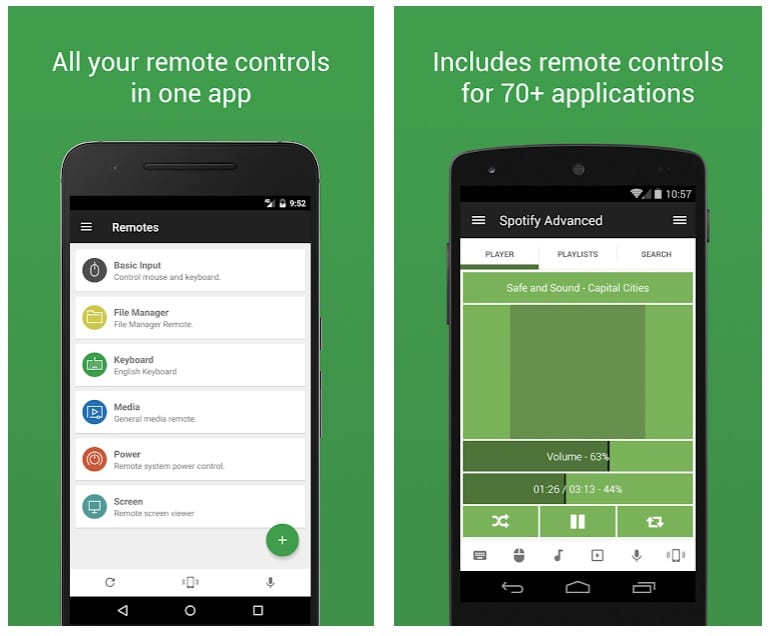 Unified Remote contains a huge number of settings and additional parameters. Again, we didn't find anything unusual there. Yes, there is a full-screen mode, theme support, screen orientation, sensitivity, and cursor speed settings. The most enjoyable and useful thing is the wireless connection settings.
On the whole, the application is convenient, especially if you don't want to go to a computer that is playing something or performing other tasks. It can be recommended for use.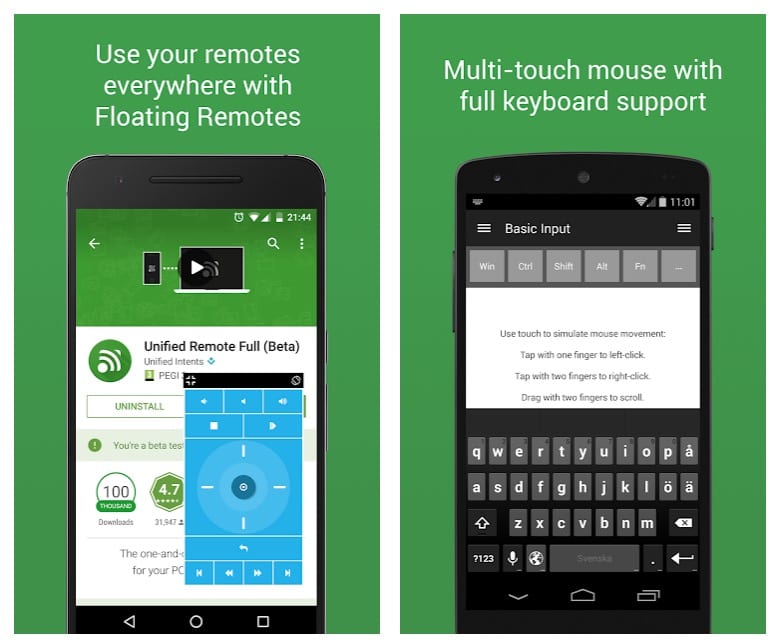 Downloads: 10000000 +
Customers rating: 

(4.6 / 5)

Universal TV Remote Control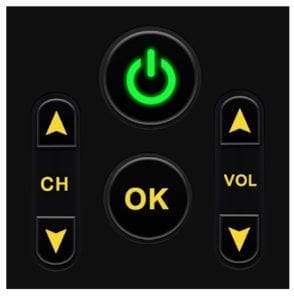 The Universal TV Remote Control application can send commands to more than 300 different TV models. But that's not all. Even if your TV is not on the list of supported devices, Universal TV Remote Control will still not leave you in trouble.
The program has a universal remote control with customizable buttons and a virtual touch panel. All this will give you the opportunity to forget about an ordinary remote control and use a smartphone. All you need to do is connect your smartphone and TV to the same Wi-Fi network.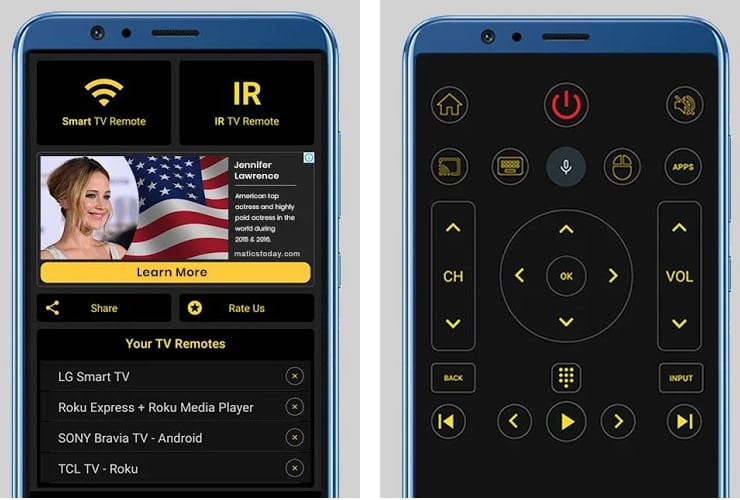 Downloads: 50000000 +
Customers rating: 

(3.0 / 5)

Android TV Remote Control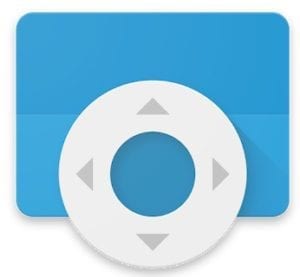 Android TV Remote is a universal program for managing your home TV.
The remote works with almost any TV. The basic layout of the remote is quite simple. Firstly – it's 4 buttons for navigation, secondly – it's a virtual keyboard, and thirdly – the possibility of voice control.
The application connects to your TV via LAN or Bluetooth. Android TV Remote can be used to control other Android devices that are on the same Wi-Fi network.
Android TV Remote Control is a great app for everyone who has an Android TV at home. It is the official application from Google, which guarantees a certain level of quality.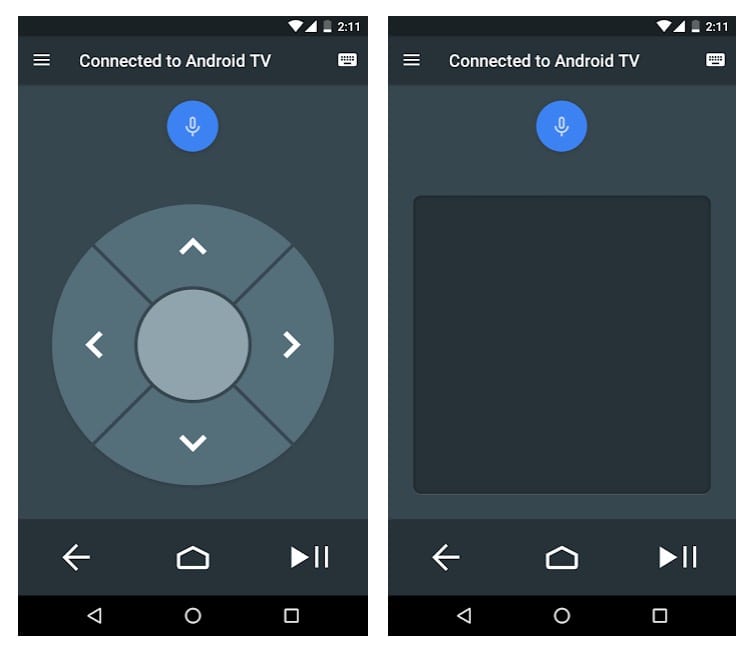 Downloads: 10000000 +
Customers rating: 

(3.1 / 5)

Google Home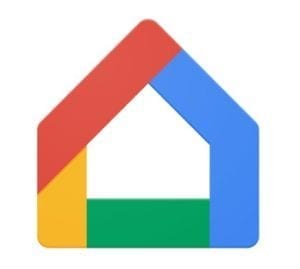 The updated Google Home mobile app lets you manage all Google Assistant smart home devices in one place, even from different manufacturers.
First of all, Google Home app manages its own devices from Google:
Smart Google Home and Google Home Mini speakers;
TV set-top box Chromecast and TVs with built-in Chromecast;
Google Home Hub and other smart displays with Google Assistant.
In addition to managing your own Google Home devices, the Google Home application allows you to add and manage thousands of different devices for a smart home from hundreds of third-party manufacturers: Xiaomi Mi Home, Yeelight, Sonoff eWeLink, Broadlink, and many others.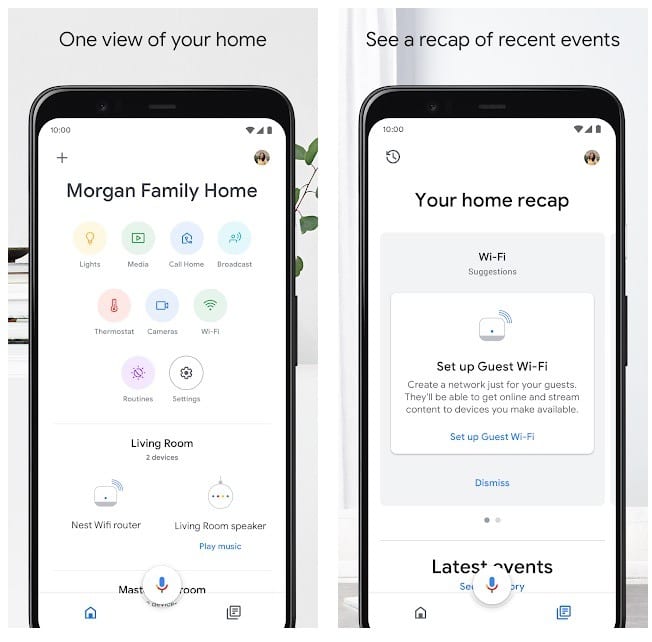 The following features are available in the Google Home app:
Setting up Google Home devices;
Setting up smart home devices (lights, cameras, TVs, etc.) and remote control them;
Manage your Google Assistant settings;
Manage the settings of various devices.
The Google Home app will let you stream music or videos from your smartphone to Chromecast or Chromecast Audio. In this case, your smartphone is not only remote control but also a source of content. Of course, you can stream any video or audio from the Internet using your smartphone. The only drawback of this system is that you will have to buy the Chromecast gadget itself.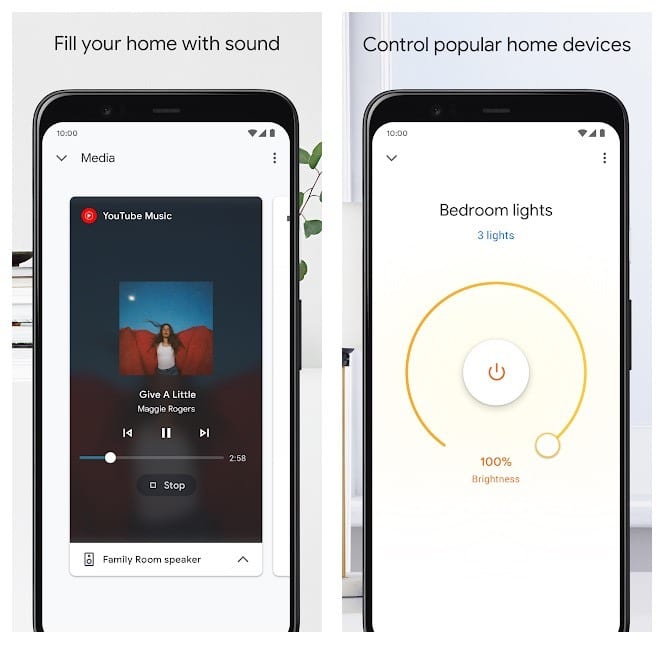 Downloads: 100000000 +
Customers rating: 

(4.3 / 5)

Roku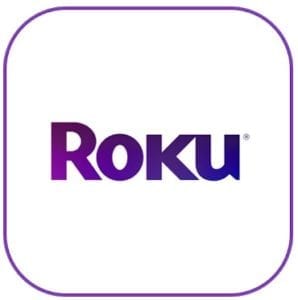 Roku is an American company that produces set-top boxes that turn an ordinary TV into a "smart" one. The devices connect to the Internet and allow you to watch programs, movies and TV series in applications or on online movie sites.
The Roku app does practically the same thing as Google Home, but it works with Roku player or Roku TV gadgets, respectively.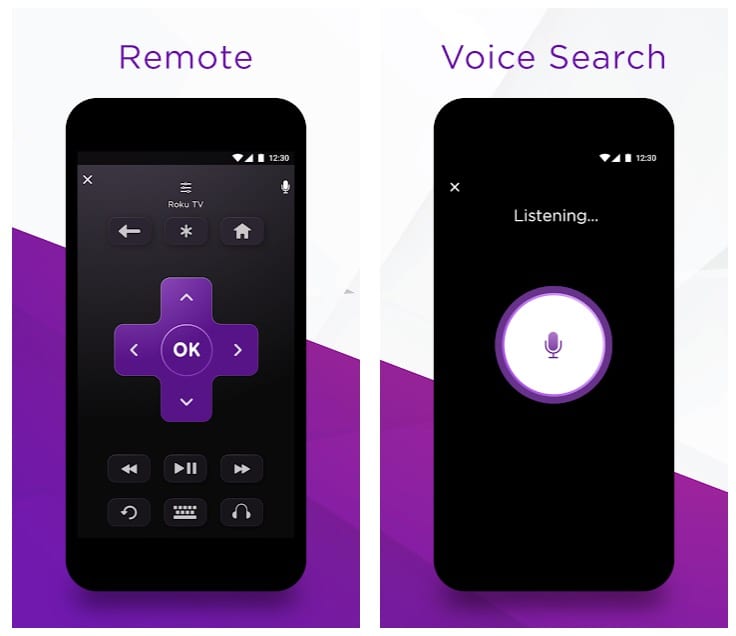 Downloads: 10000000 +
Customers rating: 

(4.5 / 5)

Universal TV Remote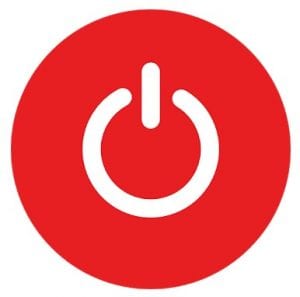 Another application for IR blasters is the universal remote control, which allows you to control everything from TVs to set-top boxes, with multiple settings for popular TV brands and decoders.
Users can customize a layout for each remote and select colors for the buttons. The application is free, with advertising (small banner strip).
The list of IR devices is not as diverse as in other similar applications, but the application supports most TV models. The interface is simple and concise, and the only drawback is advertising.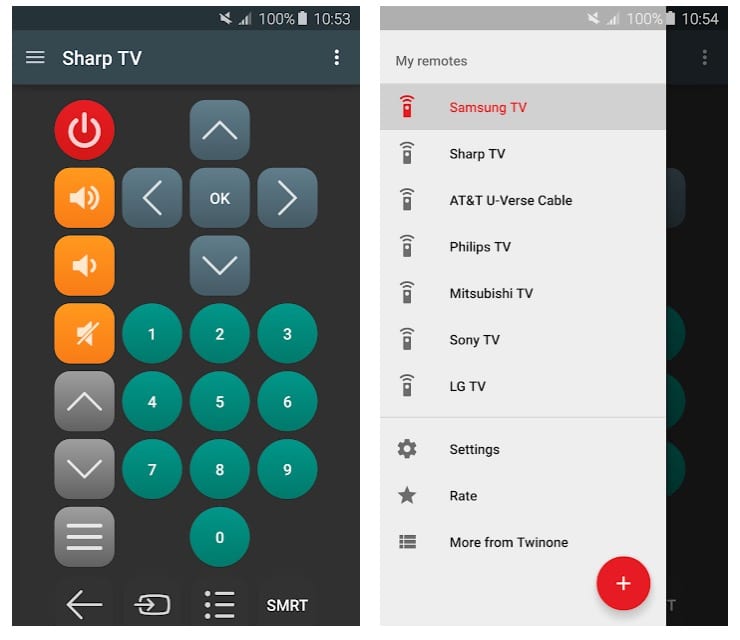 Downloads: 1000000 +
Customers rating: 

(3.9 / 5)

ASmart Remote IR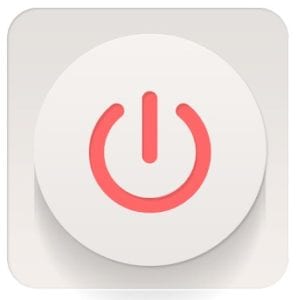 The ASmart Remote IR application is a universal remote control for Android.
ASmart Remote IR is stylized as a real remote, that is, on the screen, there are buttons, all kinds of arrows and controls. However, it can be not very convenient, as the buttons are small and it's difficult to click on them, especially if the device has a small screen diagonal.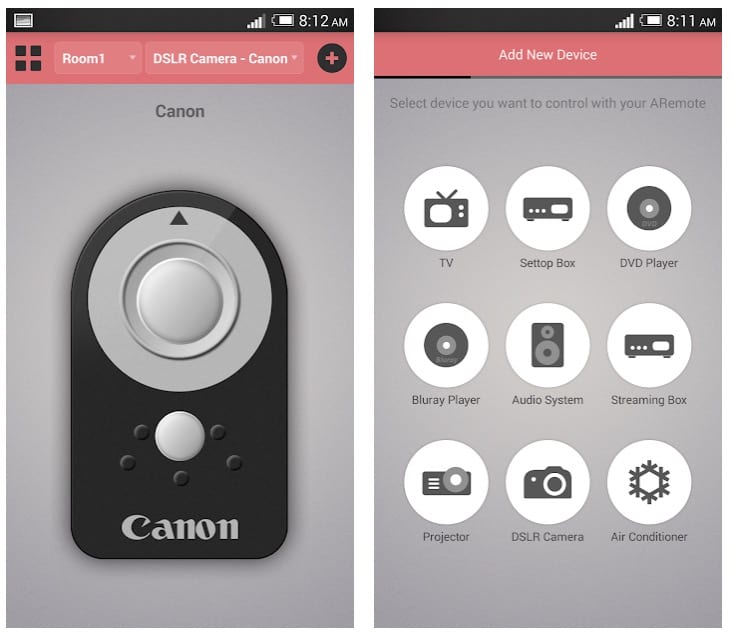 In ASmart Remote IR, you can create an unlimited number of rooms and fill them with appliances. This will allow you to not get confused in devices and quickly switch between them. It's very useful when you have all the appliances from the same manufacturer at home.
ASmart Remote IR is designed for beginners or not very demanding users who are using ready-made and customized solutions. There aren't many settings, only two options in the additional menu: vibrate at a touch and type of control.
In general, the program is very lightweight, quick to start and not overloaded with various functions.
Downloads: 10000000 +
Customers rating: 

(3.3 / 5)

You may also like: 11 Best apps to watch TV shows on Android
Yatse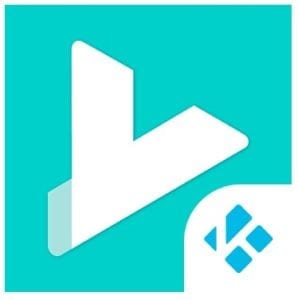 Yatse: Kodi Remote Control and Cast – here you can control all your favorite movies, shows, music and files through a single command center on your smartphone.
The application supports video streaming, allows you to access media offline, and provides convenient remote control of your home TV and other devices.
One of the most interesting features of the app is the ability to stream media content to your home local devices or Chromecast. The app supports voice commands, as well as the Android Wear. All media files on your device are synchronized in real time for playback without an internet connection. A built-in audio player in the app lets you listen to your music anywhere and anytime.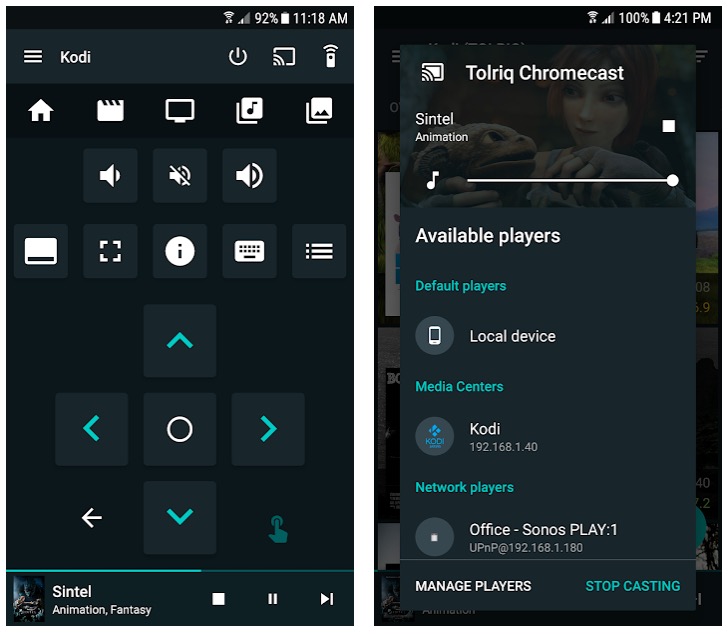 For faster remote playback, you can use one of the many home screen widgets. The app uses the MPC as an external player. Thanks to the ability to save information in the cloud, you can synchronize data on different devices.
Among the secondary functions of the application, it's worth mentioning:
a modern and user-friendly interface that can be completely customized to meet the tastes of a particular user,
the ability to display notifications and manage remote devices through the lock screen,
quickly search for videos, playback details through the ability to select subtitles,
set options for power management,
use the module for call management and SMS.
The free version of the application contains all the features described and doesn't contain any advertising. However, after purchasing the paid version, you will get access to certain additional features.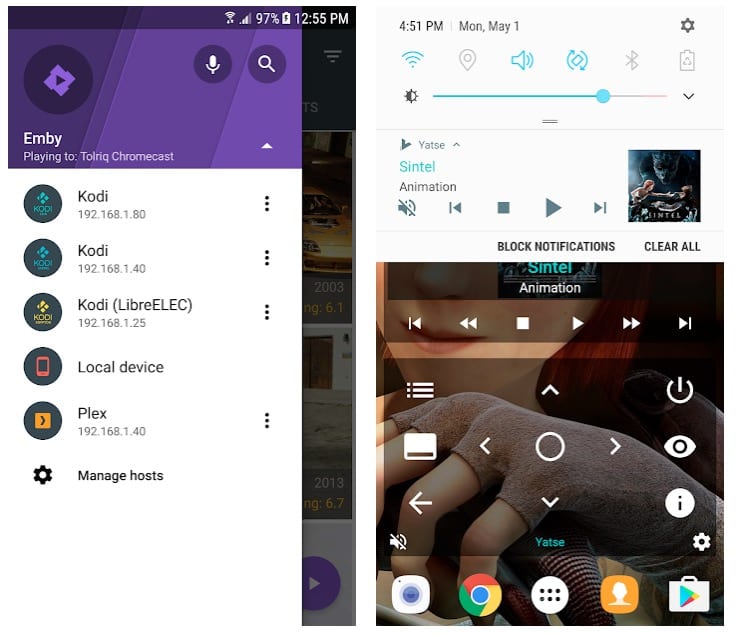 Downloads: 1000000 +
Customers rating: 

(4.7 / 5)