Do you often talk with your partner about everything? Do you feel a soul connection with this person? If the answer is no – no need to worry! Talk2You can be your excellent solution. It is full of various features –so, we have to get a glimpse at them.
And if you want to chat in social networks and messengers but you want to hide your IP adress you should use these apps. 
First of all, when you open the app, it provides you 10 topics – Everyday life, Our child, The two of us, Our future, and others. More than 500 conversation starters are waiting for you – feel freedom and get close to your partner!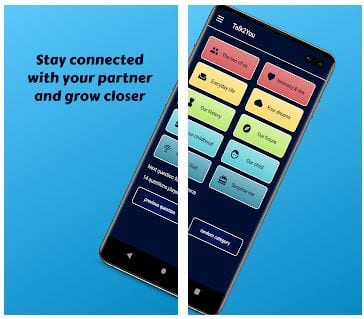 The app shows you a quick guide and mentions that there is no use to take the game too seriously.
One of the biggest advantages of the app – it does not require a monthly fee. Plus, after downloading it, there is no need to create an account and put tons of unnecessary information about yourself – you can start to use it straight away.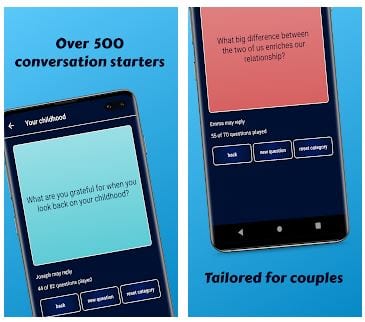 Moving on, Talk2You app enables you to customize settings the way you want – add names or pictures, adjust the font size, and others. In addition to it, the app lets you predict the answers. Challenge yourself!
If you do not want to answer particular questions, you can skip them. Or, you can reset the selected category or click on the button "random category" to receive new questions.
We have to admit that we were impressed by its well-developed intuitive design that makes the app quite easy to manage. The quiz is presented in a game form – so, you will definitely enjoy it!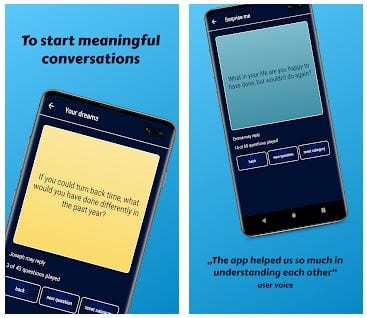 There is also a special section "Submit a question", where you can offer a new conversation starter for the next update. The manufacturer is ready to read all your messages!
And if you want not only to chat with your friends, but also play a game when you are together, you can choose a multiplayer Bluetooth game – lots of fun is guaranteed!
Summarizing all the points mentioned above, Talk2You app is an excellent way to boost the connection between you and your partner. The app adapts to any couple – both young people and adult ones as well. Now you will always keep in touch with your beloved one!