Many people have the same hairstyle and are afraid to change anything, while others try on a new look every season. Do you like short haircuts but doubt whether it suits you? What kind of haircut would be a bombshell?
We decided to test the short hair apps for smartphones and chose the top 10. Try a new style! Upload your photos and change your hair in one click.
Meanwhile, there are some apps to experiment with hair color. Would you like to look at yourself in a completely different way?
Hair try-on
Despite the low rating of the application on the play market, this app is worthy to be on the list of the best. When tested, it did a great job with the functionality offered.
You can try on new looks with a short haircut by taking a photo right in the app. The hairstyle fits the photo as well as possible if you take it from the right distance. You can scale the hairstyle by simply stretching, rotating, etc. But if the quality of the photo is low, maybe the hairstyle won't look natural.
However, it's good that you can use a photo from the gallery on your phone. You can choose any photo in good quality or pre-edited.
You can also use photo models to match hairstyles. There are a lot of options for hairstyles for every taste. The most important thing is that there is no intrusive advertising from all corners. You can also experiment with color. There are men's hairstyles for guys as well.
The only advice is if you have long hair you need to tie them back into a ponytail, as your length can not be hidden in the photo while matching.
Find your style from the available set – curly, straight, etc. to see how this or that haircut will look. It's pretty neat to fit the contour and size of your face, though sometimes you have to do some fancy work.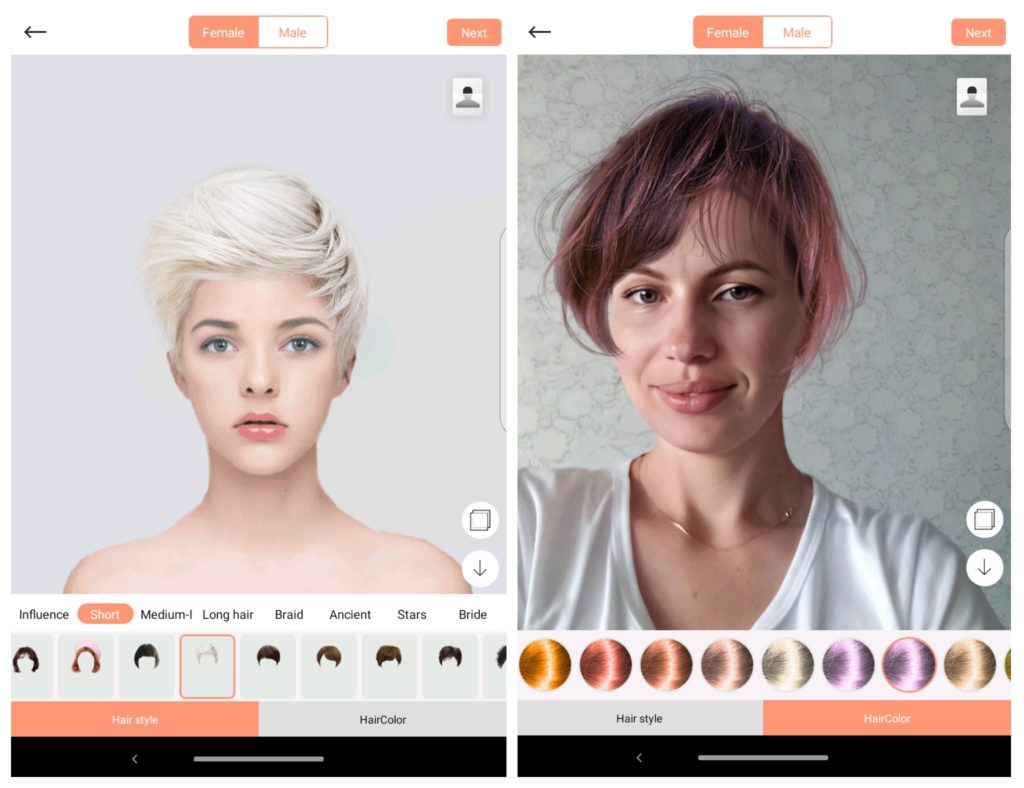 Downloads: 1000000 +
Customers rating:

(2.5 / 5)

You may also like: 7 Best Fake Hair Clipper Apps for Android
Hairstyle Changer
The app is very similar to the previous one in terms of functionality. There are both female and male short hairstyles.
You can experiment with hairstyles as well as with colors. On the photo models (here they are 3), they fit perfectly. But in your picture, some options may look unnatural. So, it's better to use enhanced photos from your phone's gallery.
Of the pluses, the selection of options takes into account the editing of the previous hairstyle – the size, the inclination of the head. A hairstyle can be both increased and decreased in size, you can rotate it in any direction and do the right tilt.
There are few options, but all the basic hairstyles are there. It's convenient to use. You can save your favorites.
Not all hairstyles fit perfectly, but most are more or less possible to imagine how this or that haircut will look.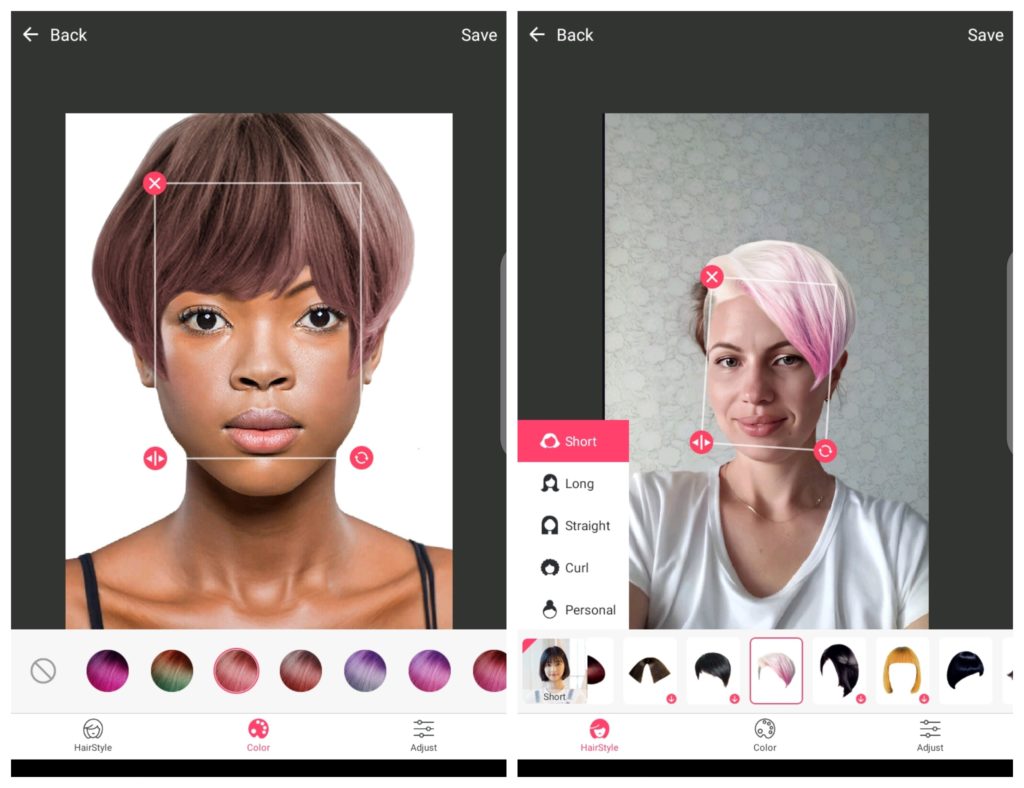 Downloads: 1000000 +
Customers rating:

(3.2 / 5)

FaceApp
The app needs no introduction. Therefore, let's go straight to the function we are interested in.
You'll be pleasantly surprised by the result. The choice of hairstyles is not big but they look just perfect on the model as well as in your photo. Plus you still have the ability to retouch the photo and use a variety of filters and face editor tools for correction.
The photo can be made directly in the application or chosen from the gallery. Then, only 3 types of haircuts and two hair colors will be available. The other options if you want you can buy for a fee.
However, you can choose a demo photo (three female and one male face are available) and experiment on it. Here, you can try all the premium filters and features. But still, the selection of short haircuts is pretty limited, even in premium.
The interesting thing is that there is a tab with photos of celebrities. Pick a photo of your favorite celebrity or someone you think you look like and you can apply filters using their photo.
The results are really amazing. It's a pity that there's such a small selection of hairstyles for short hair.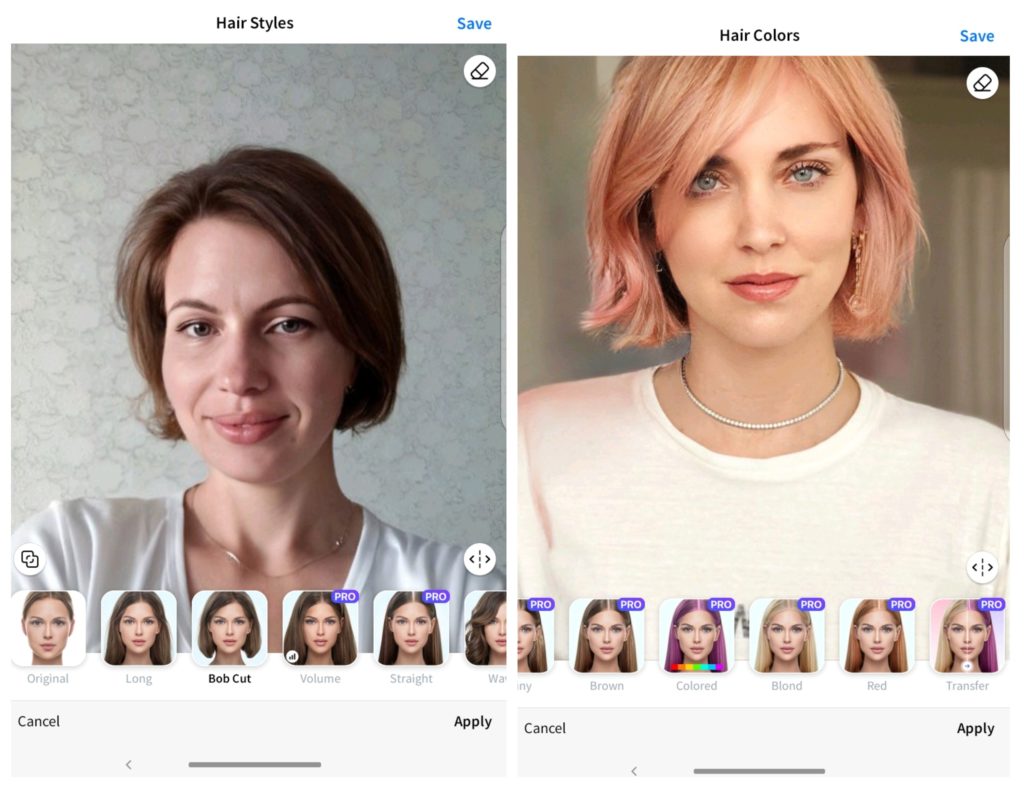 Downloads: 100000000 +
Customers rating:

(4.3 / 5)

YouCam Makeup
A huge selection of hairstyles for any length. There are also several options for men's haircuts. What pleases me the most is that all my hairstyles look quite naturally on the photo. So, you get a quality picture. Freshly added hairstyles are marked as New.
Everything is intuitive here. Uploading a photo from the gallery or take it right in the app. What's great is that it automatically retouches the photo. But you can click on the gray circle with a cross next to the "charm" icon. This brings us back to the original look of the photo. Whatever you like.
That said, the photo can be manually edited to your liking (effects, makeup, flaw correction, etc.).
You can experiment with hair color. If you click on the color, you will see the slider to change the brightness. So, friends, you can pick your hair color and see if it suits you or not. There are all the trendy and unnatural colors like blue, green, pink, etc.
I think the hairstyles are relevant today. Each wig has a funny name, it amuses me every time. The placement of the wig can be adjusted as you want it to fit perfectly in the photo. You can also change the color of the wig and the saturation of the shade with the slider on the side.
The collection is constantly updated and newer and fresher options are added. In contrast to some applications that haven't been updated for a hundred years and offer just a set of unfashionable and even ridiculous hairstyles.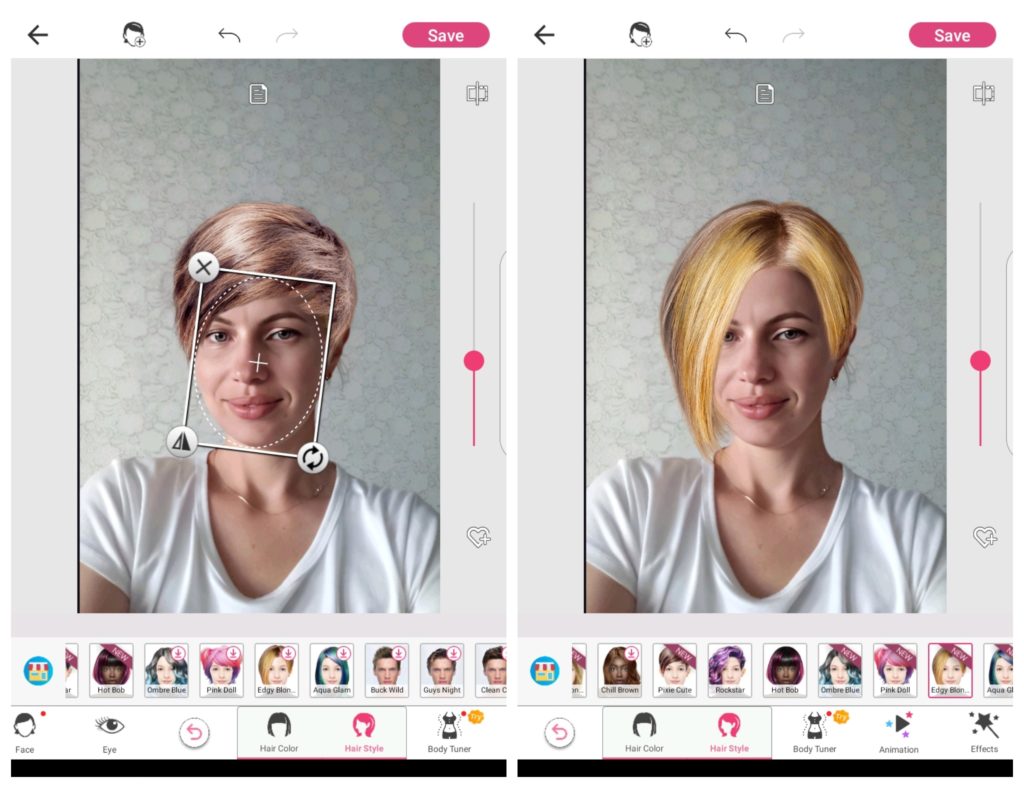 Downloads: 100000000 +
Customers rating:

(4.6 / 5)

You may also like: 9 Best Apps to Change Eye Color for Android
Hairstyle Photo Editor
Hairstyle Photo Editor is a convenient photo editor with which you can try new hairstyles. Everything works well. It's easy to make up a new look and it's very interesting.
It's easy to change hairstyles and hair color. And you can also make some other changes such as changing skin tone, lips, eyebrows, and adding accessories.
The controls are great. In almost all applications you can scale the wig and choose the tilt. But still, the hairstyle may not fit properly. Here you can adjust the hair width and height individually. That is, the hairstyle will fit perfectly on any face shape.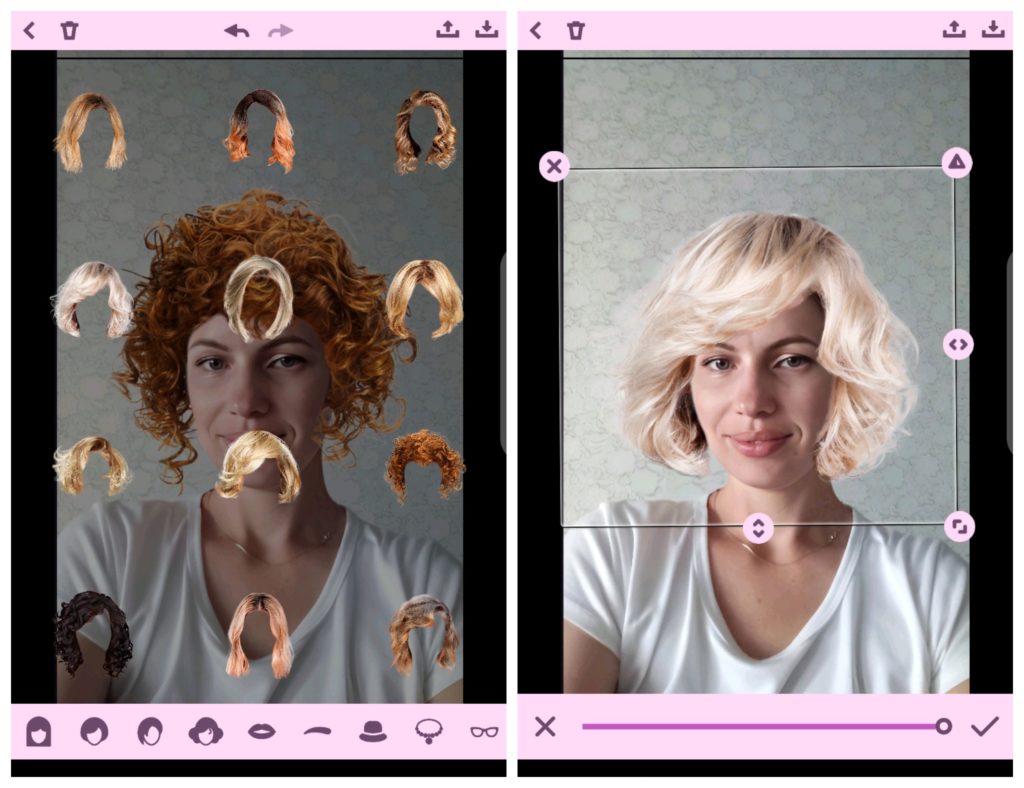 Downloads: 500000 +
Customers rating:

(2.8 / 5)

Hair Try On
The application is quite primitive and doesn't have a lot of what is a decent option. But you can still experiment. You can definitely find a few images to your liking.
You can only take a photo with the camera directly in the app. Therefore the quality will not be the best. There are no models and it isn't possible to choose a photo from the gallery either.
However, you can quickly change the hairstyle and try out all the options. The controls are simple.
In addition to hairstyles, there are other tools such as text overlay, effects, blur, crop, etc.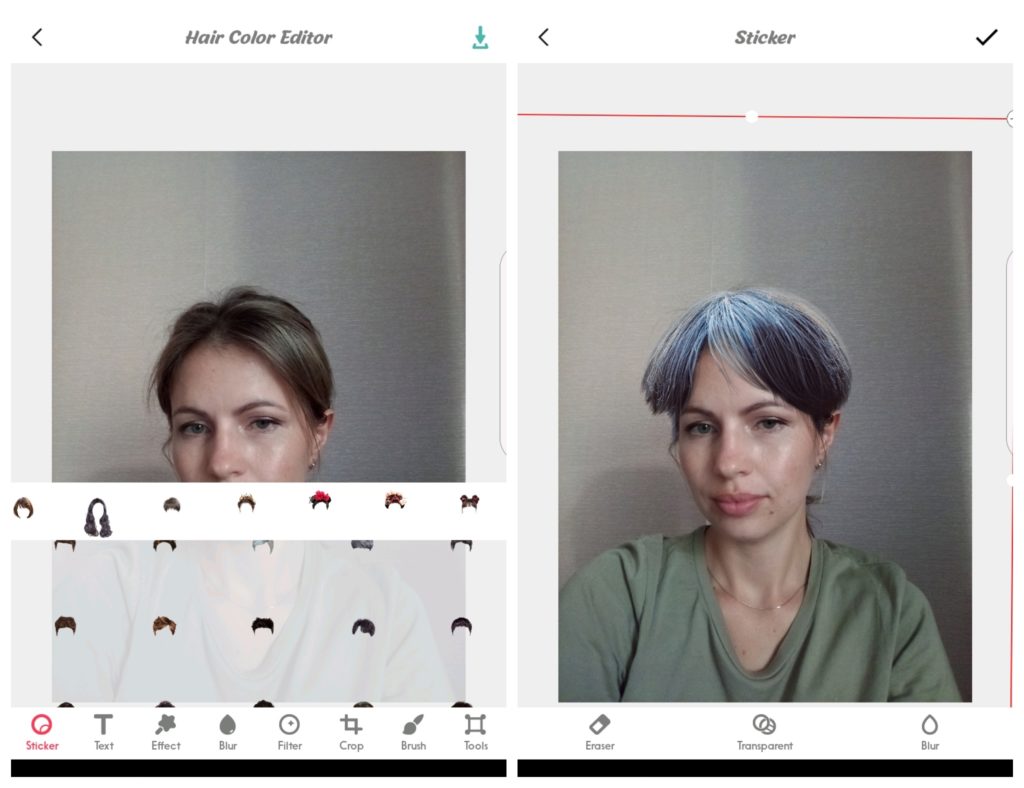 Downloads: 100000 +
Customers rating:

(2.4 / 5)

Hairstyle Try On
Hairstyle Try On app will help you decide on the image and color. A large number of hairstyles, including short hairstyles. They can be scaled by simply stretching, rotating, etc.
A big choice of hairstyles. But you can only try on models. There are options that you have to pay for. I don't think that it's worth paying as you still cannot add your photos and this is important if you choose a hairstyle.
It also includes cosmetic contact lenses, sunglasses, and lip color changes.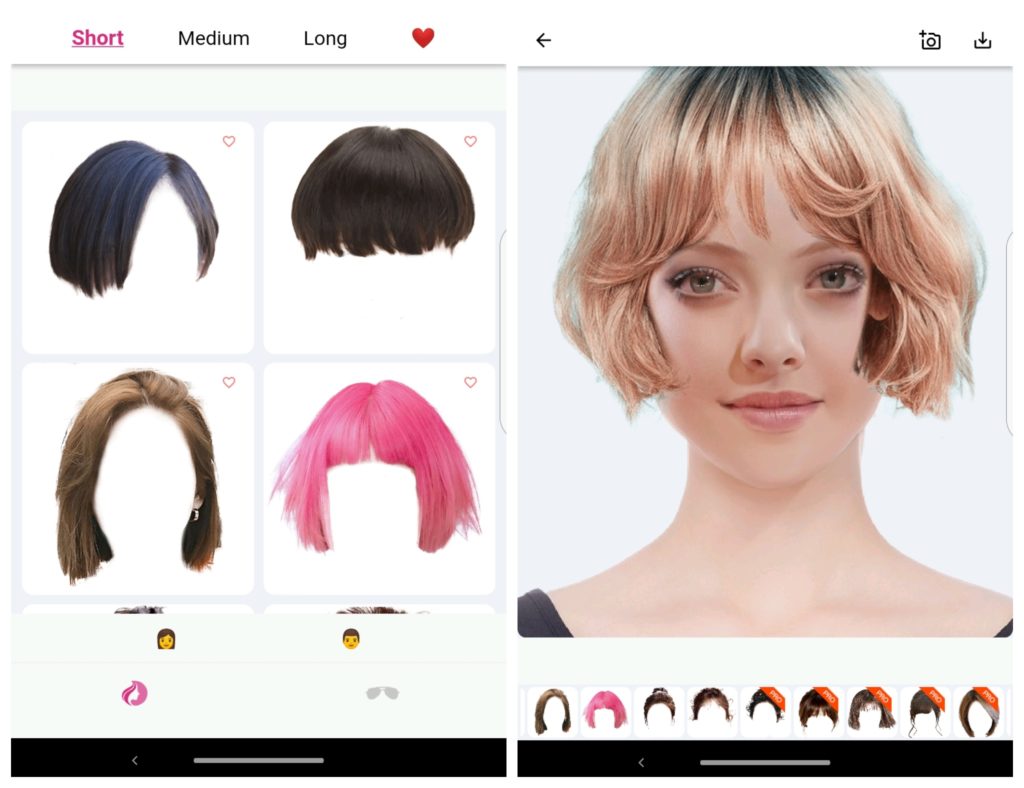 Downloads: 1000 +
Customers rating:

(4 / 5)

Hairfit
This app is awesome! First of all, all the hairstyles are free. Secondly, the eyes move in the photo. Thirdly, if you take selfies properly, you can get your hairstyle right. Fourth, you can adjust your hairstyle to the shape of your face.
The wig can be corrected so that it fits perfectly by pressing Edit. There is a cool feature where you can compare several selected images.
Simple, handy, creatively done. It's cool and unusual that the picture comes to life, the eyes start blinking and the head turns back and forth a little bit.
All in all, it's a fun app. Only the hair looks like it is drawn. Although in fact, they seem to be real.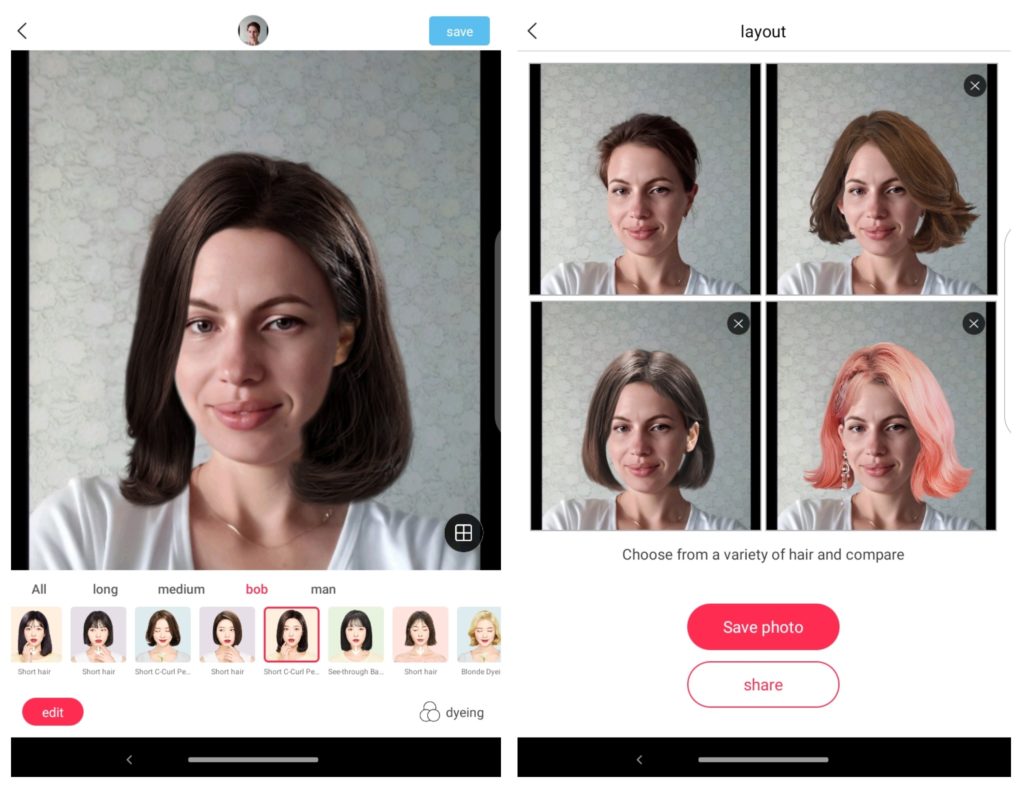 Downloads: 500000 +
Customers rating:

(4.1 / 5)

Hairstyle Mirror
I thought this app was made for fun the first time I opened it. It's so funny trying to adjust your head to your hairstyle as it immediately opens the camera with a wig on your head.
Nevertheless, the selection of wigs is decent. At the same time, you can change the wigs and adjust them to your head size. Still, I find them ridiculous and unnatural. When you take a picture you can also adjust the shape and size of the wig, or change it. But the wig cannot be rotated, which complicates the matching process.
if you have long hair, it's better to tie it back in a ponytail, because it can't be removed in the picture. The functionality is quite primitive here. But you can still estimate whether this or that haircut will suit you or not. A good thing is that you can save, share or print the result.
The quality of photos taken in the application leaves much to be desired, of course. So, the wig looks a bit absurd. I think it's a good app for fun. There is a great selection of crazy hairstyles.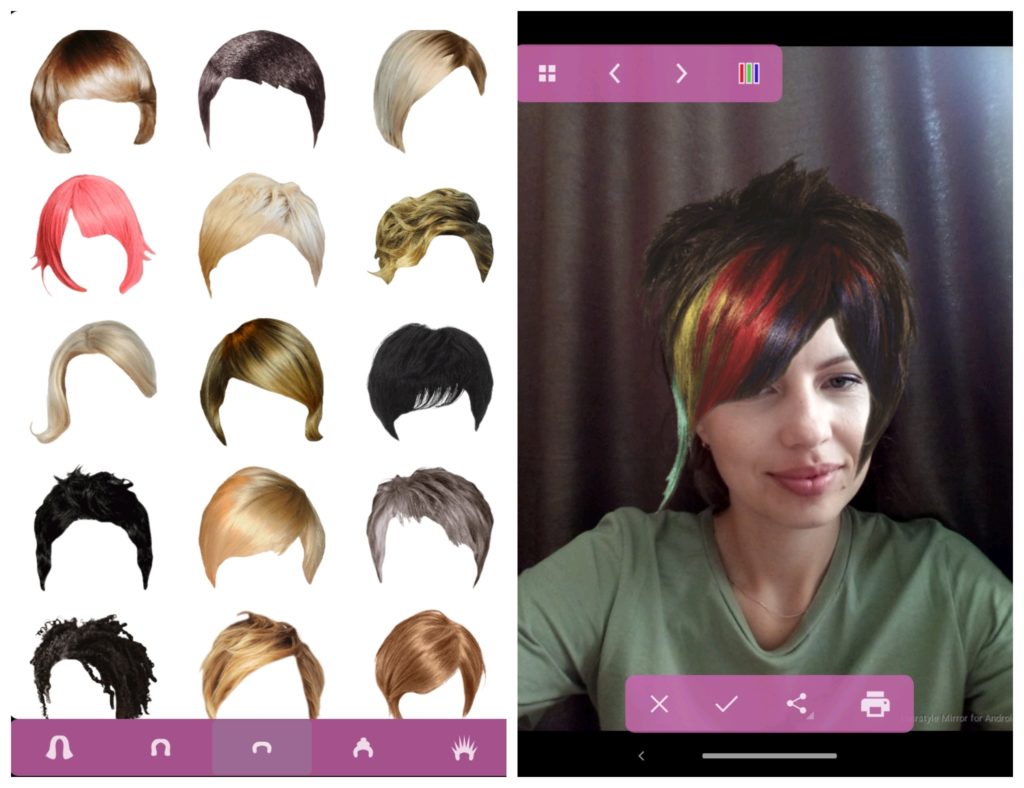 Downloads: 500000 +
Customers rating:

(3 / 5)

You may also like: 13 Best Funny face changer apps for Android
Hair Zapp
It's a good app with a simple set of options. The main thing is to take a picture of yourself accurately. It flexibly adjusts exactly to your face. In the process of selecting hairstyles, you can adjust the photo. Chose a style, color, shape, and length? Then make a screenshot, you can show it to the hairdresser later!
There are both female and male hairstyles. I like that you can adjust the mask so that the hairstyle is displayed correctly.
It's possible to save the result. You can add some images to your favorites and then compare them.
It would be nice to be able to see the same haircut in different hair colors. But, at least, you can get an idea of what haircut would suit you best.
With a large assortment of hairstyles, the overlay on the photo looks realistic. They're not modern, but you can at least get a rough idea of what works for you and what doesn't. There are ads, but they don't really bother you.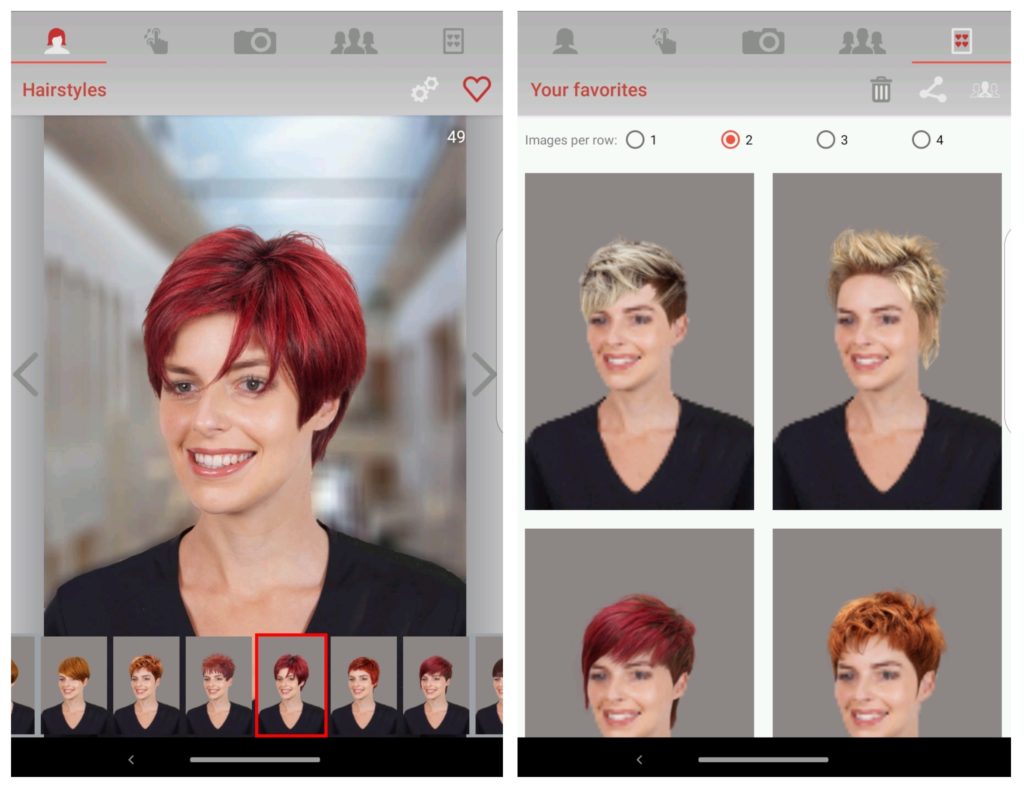 Downloads: 500000 +
Customers rating:

(2.9 / 5)