Programs of this type should immediately be divided into groups, such as:
Programs for drawing maps of areas, cities, towns, etc.
Programs for creating game maps.
Programs to create maps of areas, cities, towns, etc
Sometimes there is a need to create your own map with marks and special designations:
You can create a map for personal use;
For business, uploading to a website with exact geolocation for clients;
Sending maps to friends or relatives when planning a trip together.
Google Maps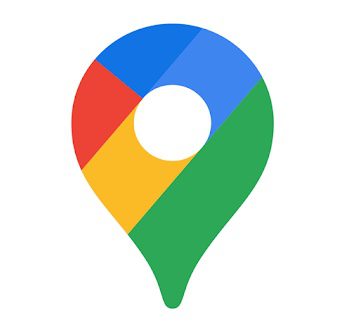 Google Maps is a much-needed app for any Android user who likes to travel… or just get out of the house. Here you can also create your own maps.
Create your own maps and share them in the Google Maps service.
Add only places you're interested in to your own maps.
Add dots and shapes to your maps.
Find places and save them to your map.
Import. Instantly create maps from tables.
Personalize. Use your own icons and colors.
Add photos and videos to places.
You can publish your maps and let your friends make changes to them.
Publish on a website. Embed your maps on your blog or website.
Work better together. Used to working as a team in Google Docs? You can create maps together, too.
Disk integration. Easily organize your maps like your documents in Google Drive.
Your maps are always at your fingertips. So, you can view personalized maps in the Google Maps app on your mobile device. They are easy to find. Open all your maps from the "My Places" menu in Google Maps.
Explore new cities and mark your favorite places on a map. Save the maps you find online and use them in your travels.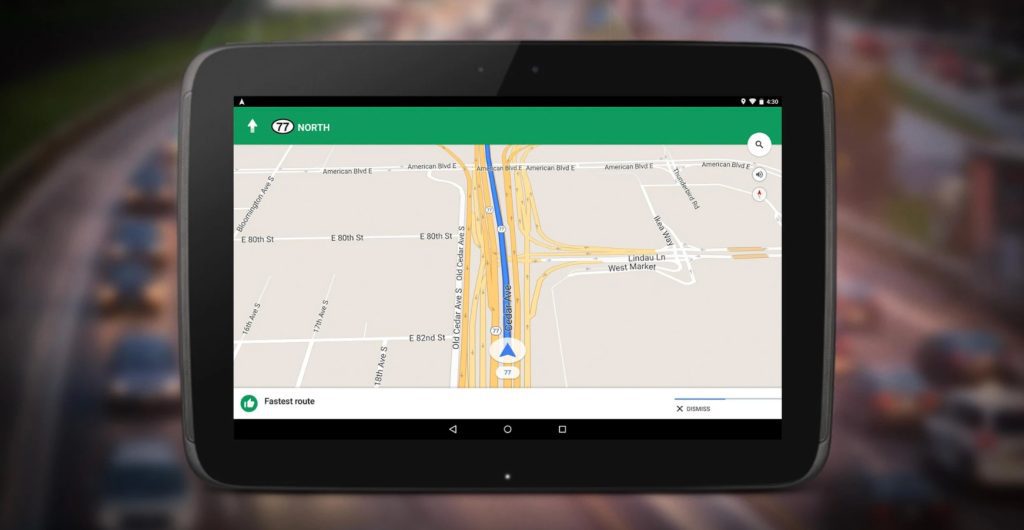 Downloads: 5000000000 +
Customers rating:

(3.7 / 5)

You may also like: 11 Best traffic apps for Android (Maps & Navigation)
MapChart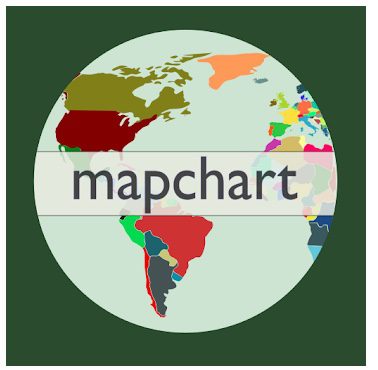 Download MapChart and easily create any maps for free on your Android. You can edit world maps, subdivision maps (counties, provinces, etc.), historical maps, individual country maps, and fantasy maps.
The app is great according to users. You can create and modify the borders of states according to your preference, create alliances and countries (fictional and existing), and much more.
You can color maps in any color you want! Color countries or subdivisions in different colors.
But! In the application is lame optimization (it is noticeable when zooming in and out of the map). It would be nice to add the ability to independently create and edit the borders of states (for the times of different eras).
Once your unique map is ready you can download it. Share the map with your friends, use it in your projects, blogs, and social networks.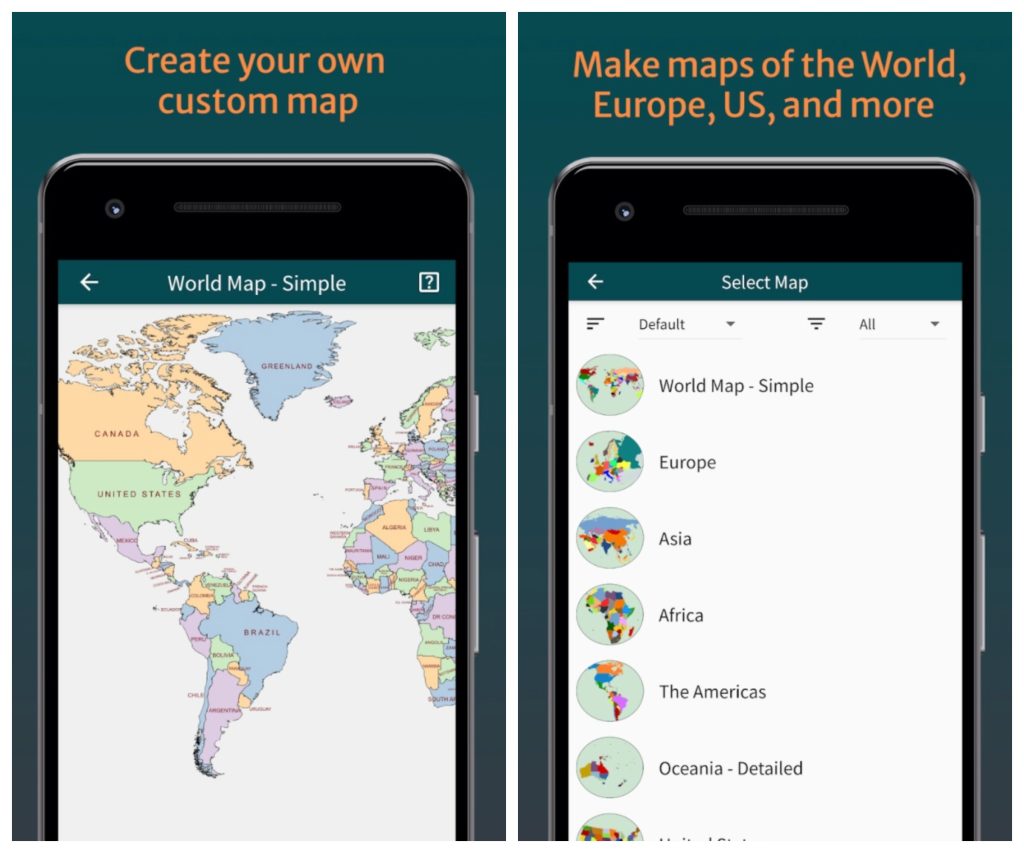 Downloads: 100000 +
Customers rating:

(4.8 / 5)

Map Marker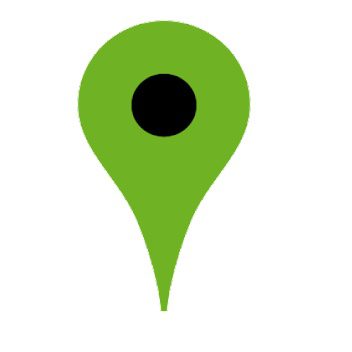 Map Marker is a high-quality application. Functionality is tailored to the needs of the user, namely to create and save points of navigation on the map with their arbitrary description. Allows you to plan routes on the saved markers with the use of navigation programs of other developers.
The minus of the program is that in the search engine it's difficult to separate it from the mass of other applications.
Geotags are placed accurately, just need to zoom in to a certain map size. Photos are also added. First, you make a marker with a name, save it, then take a photo. And you can also add comments with the photo. The route is laid out perfectly.
Cool app if you need to create a route in a city you don't know. Every time you use this app, you will thank the creator for the minimalism and ease of use, with comprehensive functionality!
And also this cool program is suitable for distribution. You can easily mark outlets, give them names, write down their phone numbers, put pictures of the facade of the building, create folders (categories) for them, mark them in different colors.
It's a great app, there aren't any others like it yet.
Downloads: 1000000 +
Customers rating:

(4.5 / 5)

Mapply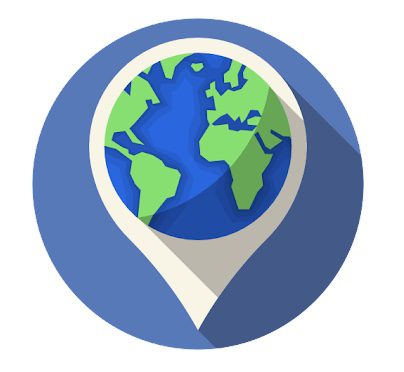 apply helps you build routes. It will be useful for travelers and those who like to prepare routes in advance. Everything is simple. Add routes convenient for you on the map, attach photos and comments.
When you're already walking a route you can see your real location. Just turn on the corresponding function in the application menu.
You can save your map as a snapshot or as a KML – KMZ (you can use it with Google Earth and Google Maps).
The app is interesting and will appeal to travelers. However, there is some inconvenience. The attached image doesn't resize when you zoom in and gets in the way.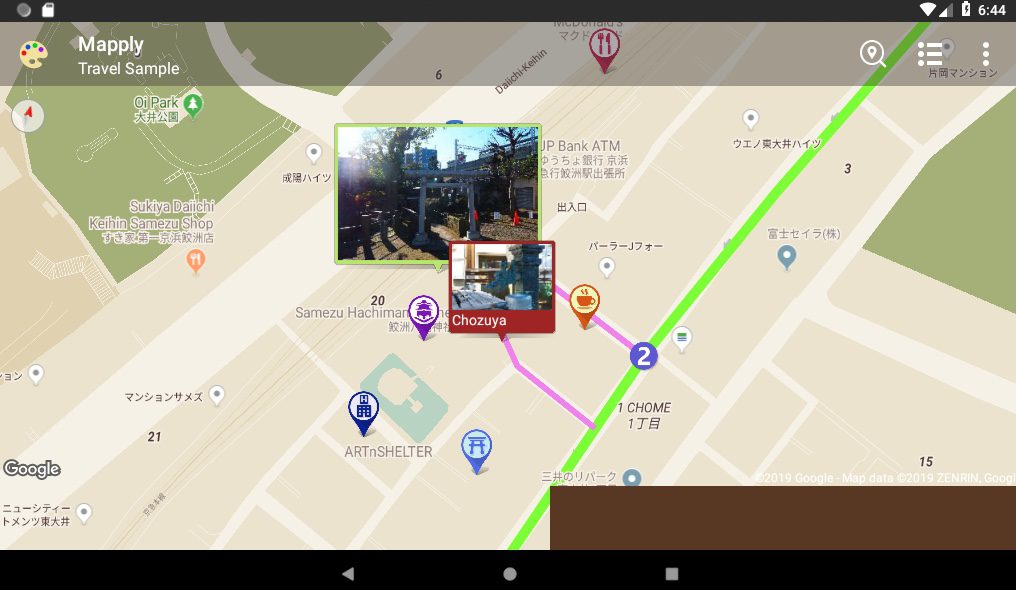 Downloads: 10000 +
Customers rating:

(4.4 / 5)

Travel Map Maker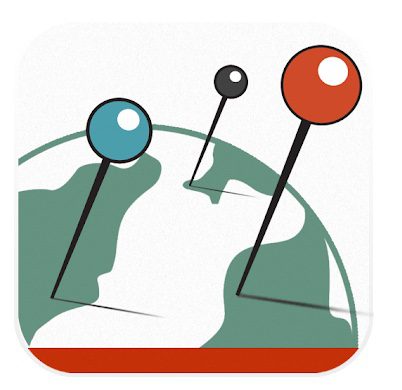 It has become much more convenient to have maps in your smartphone rather than paper versions. And making such a map is simple with the help of Travel Map Maker. It gives you all the options.
Set markers, edit them, add names and descriptions to places. Toggle between map and satellite view. You can create several different maps depending on your goals.
But there are some inconveniences:
You won't be able to add photos to markers;
You can't share your maps on social networks directly from the app.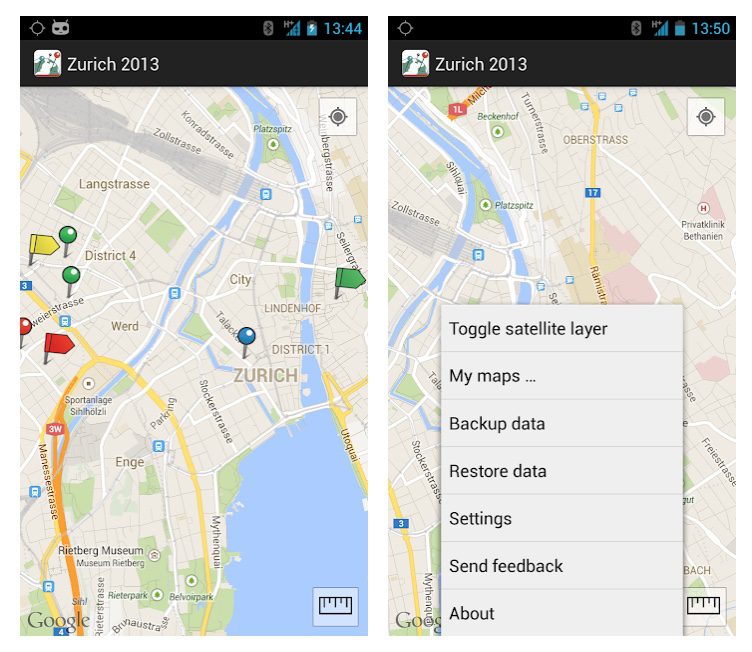 Downloads: 50000 +
Customers rating:

(4.4 / 5)

Map & Draw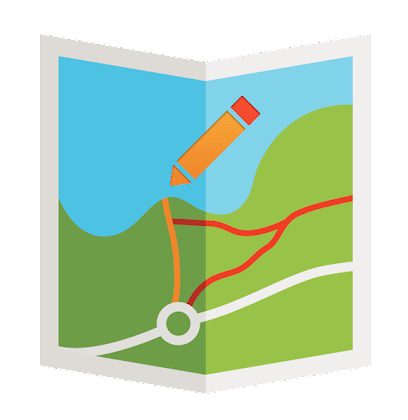 A simple application that is not as popular as the previous ones. But if you want to create your own unique map, you can try it too.
What you can do with Map & Draw:
Address search;
Draw to create your own routes;
Doodles on the map;
Save or share your map.
It's the perfect map maker with custom drawing settings. Draw on the map and share maps and routes with your friends instantly.
Downloads: 50000 +
Customers rating:

(4.4 / 5)

Programs to create maps for games
To draw game maps, some people use game utilities, in which you can create maps. Quite a few of these games. They differ in terms of drawing, objects that can be added to the maps, and so on. So you can draw maps with the help of utilities such games as Warcraft 3, Age of Wonders, Far Cry, and others.
If you want to use separate programs for this, I advise you to pay attention to game map maker applications like these:
A.t.l.a.s. – Fantasy Map Generator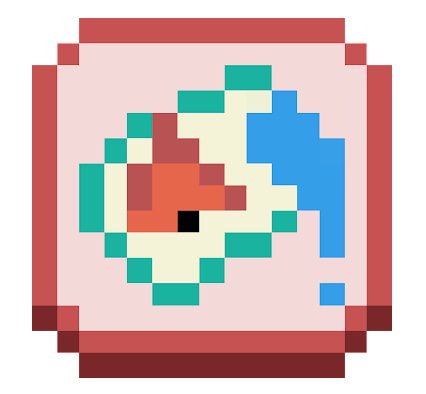 The app is useful for creating the outline of your world. Those who want to create a world by hand can also draw it. Nice app, you can sit for hours looking at maps and making up stories.
However, I would like more opportunities to influence the landscape. Basically not bad, but here you choose the level of mountains, water, and forests. You can't create a map from scratch yourself.
The editor itself is not very flexible. I would also like to have more control in the process of creating the map. But the maps themselves are generated perfectly.
A.t.l.a.s. – Fantasy Map Generator helps you in creating your personal maps for use in RPG games, D&D sessions, and anything else you want.
Overall, very cool. Especially for all sorts of fantasy writers. But there is one feature that is VERY much needed to fully complete this application – to create maps yourself. If such an option appears, it would be very good.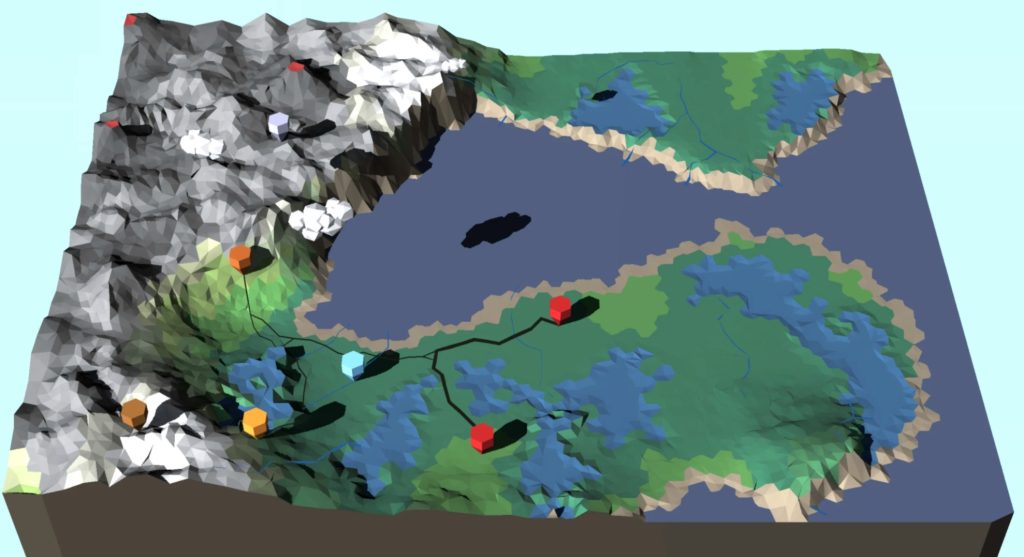 Downloads: 100000 +
Customers rating:

(3.9 / 5)

Tabletop RPG Grid Maps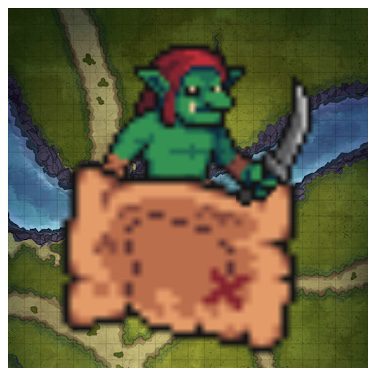 Tabletop RPG Grid Maps is a virtual tabletop RPG tool. This program has a fairly simple interface.
The application helps you create dungeon maps for tabletop RPGs such as Dungeons and Dragons or Pathfinder.
That is, you create your own unique maps by replacing paper grid maps. The app is convenient to use on tablets but can work on any device. You can mirror the phone screen on your TV and play on it.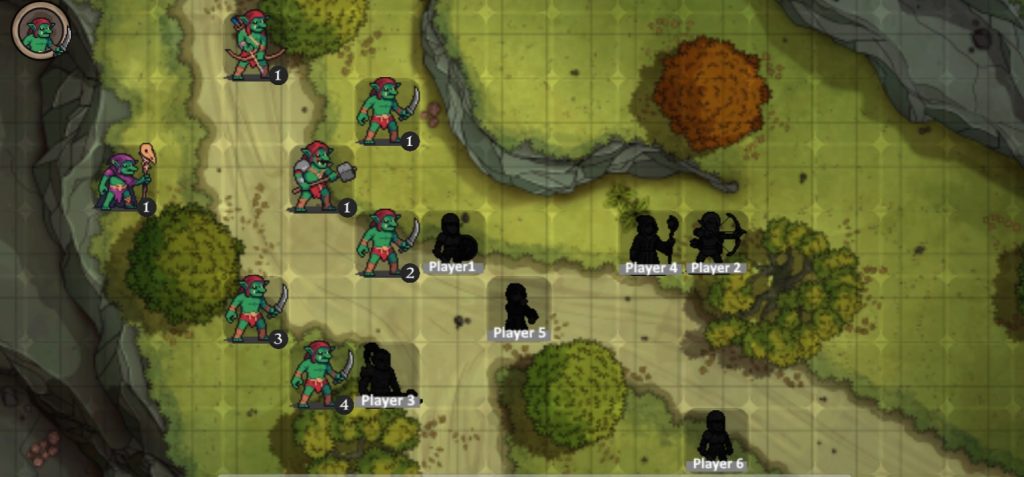 Downloads: 50000 +
Customers rating:

(4.4 / 5)

You may also like: 7 Best GPX Tracker Apps for Android
Fantasy Map Maker – Worlds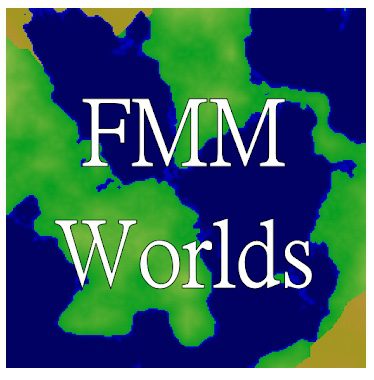 Fantasy Map Maker – Worlds is intended to create fantasy world maps. The interface of the application is clear, image modes of the map itself too.
Positive features of the application:
Without advertising;
Comfortable;
Easy to use;
You can save your map, and that's the main thing.
The application is designed for people who love to dig into the settings, something to edit.
The app is good, but there are some shortcomings:
Small number of countries and cities;
Small maps;
Maps are not saved in the gallery, but in the folder FMM – Worlds on the drive, which is not very convenient.
Also, I would like more detailed maps, but the overall application is very, very good.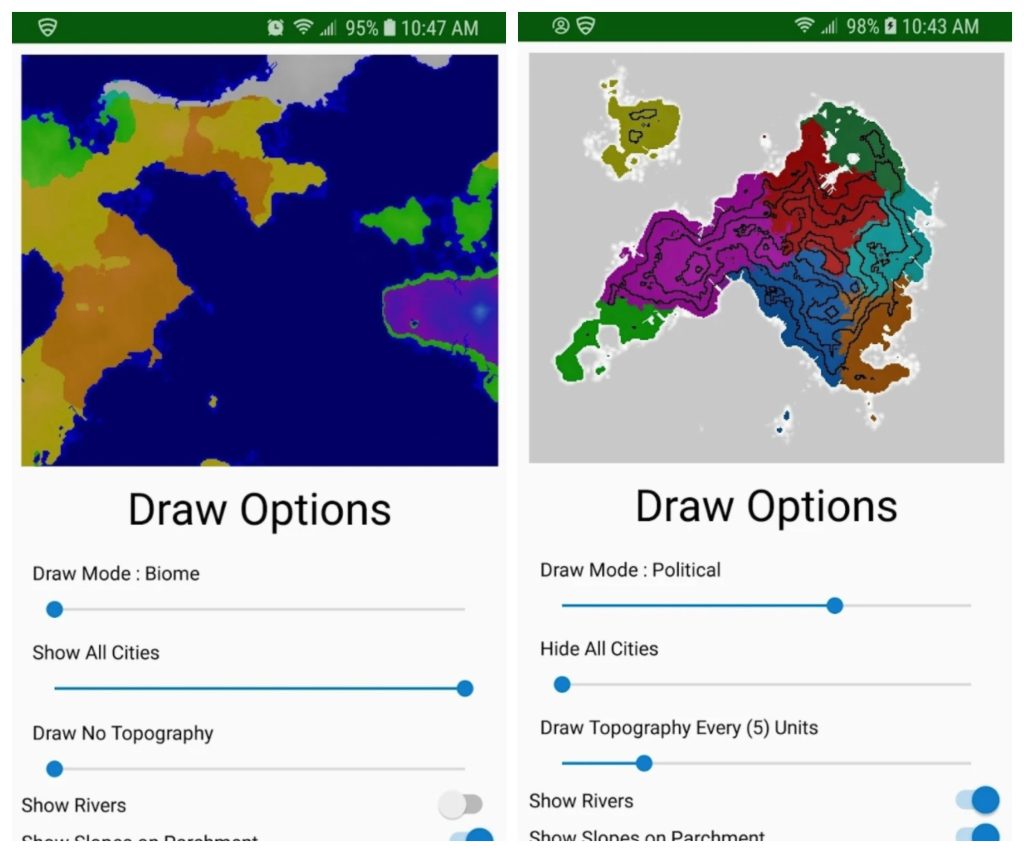 Downloads: 100000 +
Customers rating:

(2.9 / 5)