If you want to publish the same image to different social media platforms, it's entirely possible that you'll need to make changes to adapt it to each platform so that they look perfect on all of them.
Whether that's your goal or not, one of the best options for doing so is the photo resizer app.
The easiest but most common need that arises in photo processing is cropping the frame. Despite the seeming simplicity of the operation, not everyone knows how to do it.
The necessary function is in almost every photo editor, but not all are suitable for beginners. In this article we will consider, applications for cropping photos on the phone, which quickly crop the image and are not too difficult to manage.
Crop My Pic
Crop My Pic is an application that, although it performs only one very important task, it provides a lot of possibilities for the most productive work in a similar vein.
It will be useful for anyone who interacts with images. It helps very quickly and accurately trim photos, pictures, and all other similar files.
In this case, users are prepared with a variety of presets, different properties of tools, as well as easy management. All of this makes the process of achieving the goal quick and without creating any obstacles.
A very easy-to-use application. It's great for cropping photos and screenshots.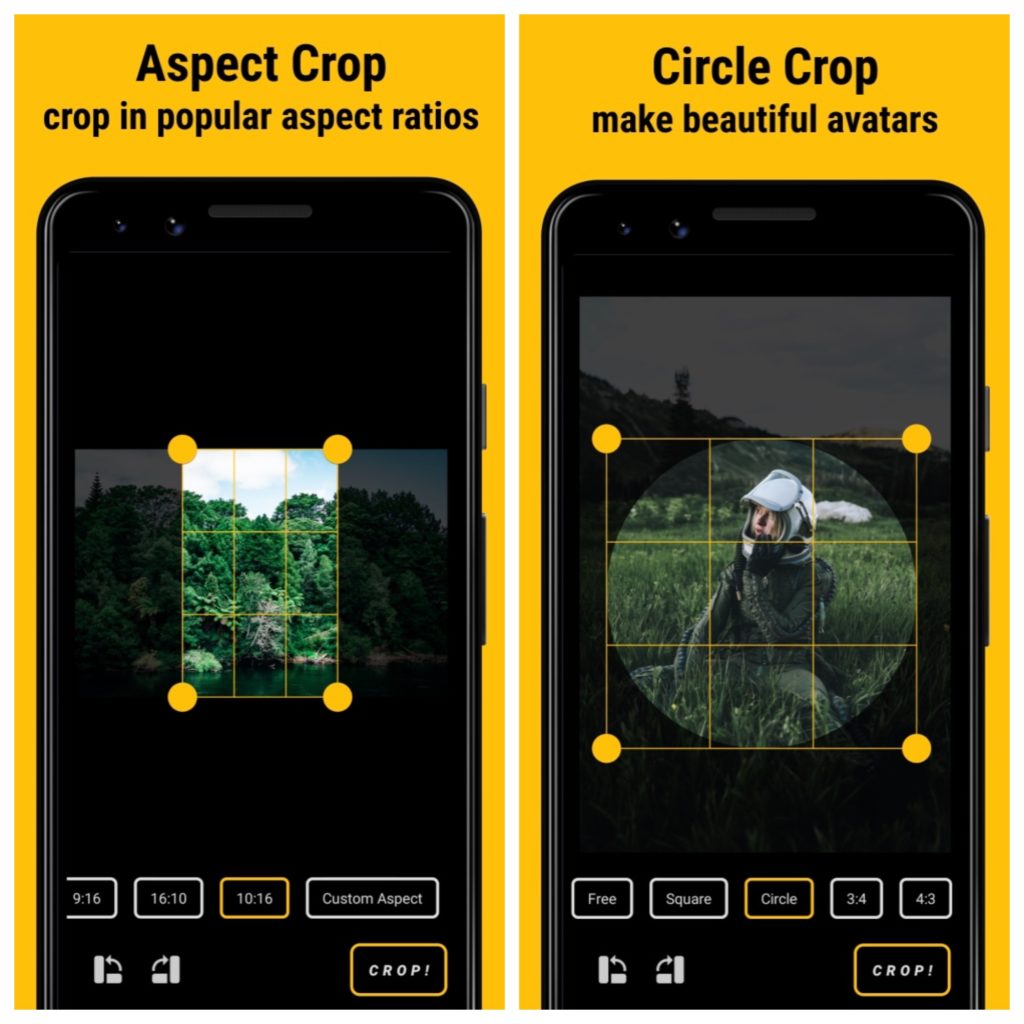 Downloads: 100000 +
Customers rating:

(4.3 / 5)

You may also like: 11 Best Apps to Enhance Photo Quality on Android
Photo Crop
Photo Crop – Video Compress will help you a lot in cropping your photos, which by the way can be done very accurately. You can also trim videos as you see fit. The application itself is simple and easy to understand.
The Photo Crop app will be useful if you need to crop, compress, edit, resize, convert, etc. And then you can share the result on social networks and messengers.
Some users complain about the abundance of ads. But in fact, it's not so annoying and doesn't interfere with the work.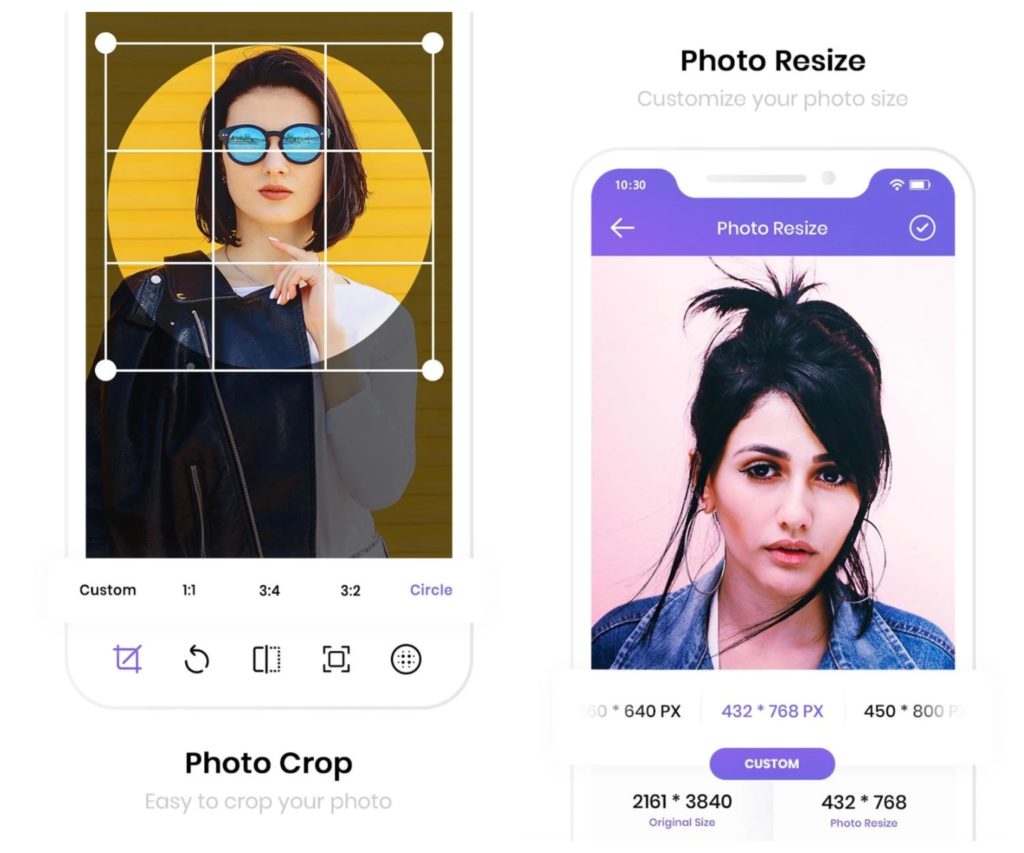 Downloads: 1000000 +
Customers rating:

(4.2 / 5)

Picsart
This app has both paid and free features. Here you can process photos or videos, edit templates, make advertising layouts and video clips. In general, there is a huge functionality for free creativity.
There are several ways to cut an object from a photo or picture. Select "edit" from the toolbar, select the desired file from the gallery, and you'll see a toolbar below the image. Now click on the "tools" icon: you see several different ways to change the image, in order to cut a part of the image or a specific object use: "cut", "free cut" and "cut by shape".
You also see the "cut" icon as scissors in the general toolbar: this is also an interesting way to remove part of an image. You can use it to create fun stickers.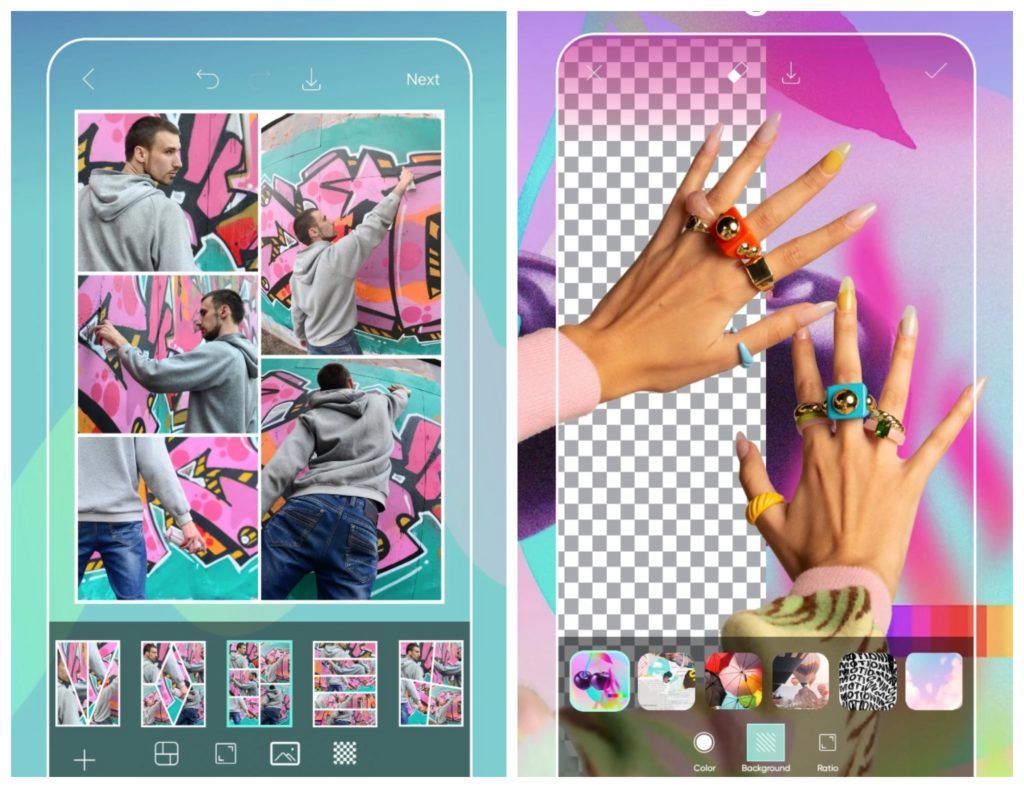 Downloads: 500000000 +
Customers rating:

(3.7 / 5)

Photo Editor
Photo Editor is an image editor for smartphones and tablets. The program offers a basic and advanced set of tools. You can use the application to edit any photo, for example, to publish it on social networks.
The app comes with a very simple interface and features such as rotate, crop, resize, add a frame or even draw on the photo – all with a few taps and swipes on the screen.
Other features let you adjust contrast, brightness, and use all kinds of filters (Instagram-style) and change the look of your photos. In addition, you can work both with photos from the phone memory and those taken directly from the application.
The available functionality of the free version is enough for beginners. While pretentious users will have to buy additional content, or look for another editor.
The free version of Photo Editor suffers from advertising banners. They don't interfere with the work, but especially sensitive users will have to make any internal purchase to disable them.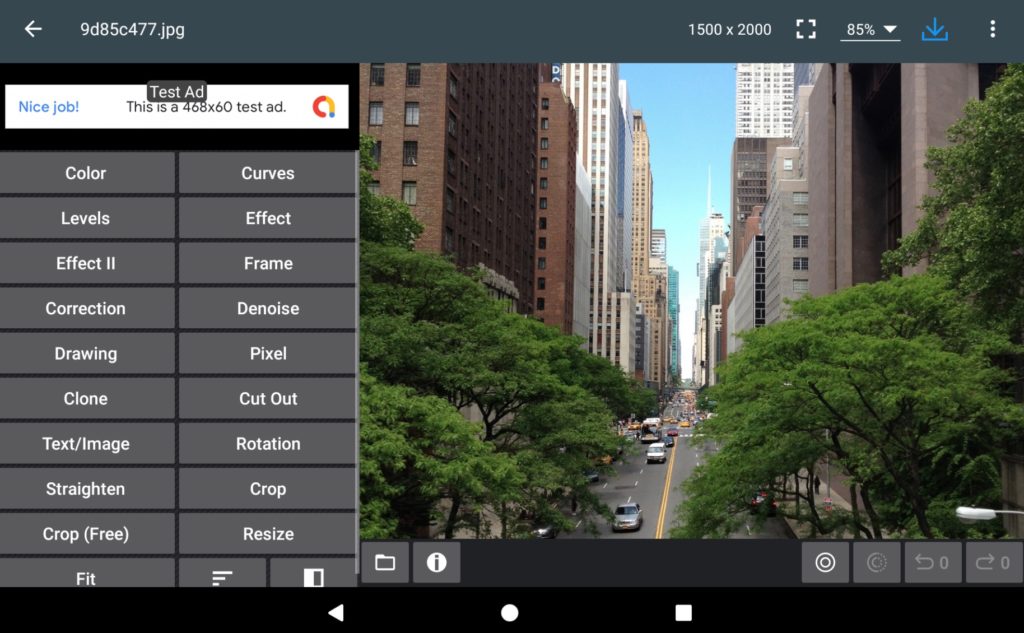 Downloads: 50000000 +
Customers rating:

(4.6 / 5)

Round Photo
The app differs from others in our list in that it allows to crop photos in a non-standard way. Cut out photos in the shape of a circle, heart, rhombus, triangle, cross, etc.
Right from the application you can quickly switch to your picture gallery (you can select a folder) and easily trim what you need.
Everything is easy and fast to understand. Advertising in the application pops up rarely, which of course is a big plus. The app doesn't ruin the quality of photos when processing. It's absolutely free.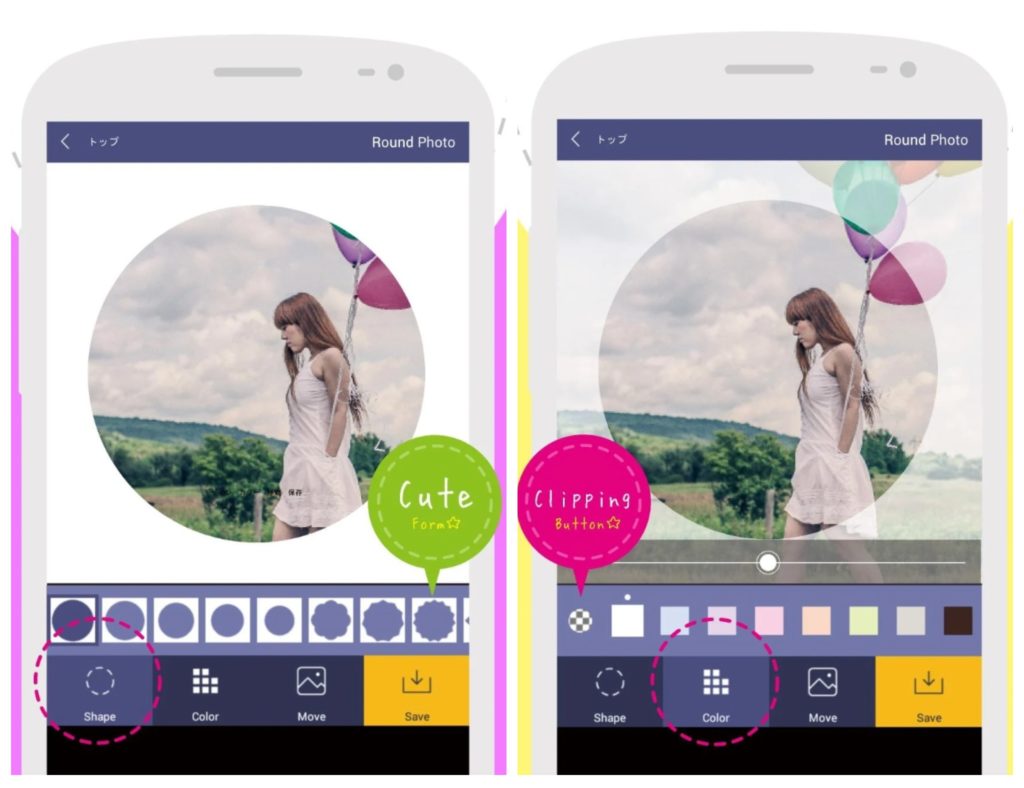 Downloads: 1000000 +
Customers rating:

(4.1 / 5)

You may also like: 11 Best Photo & Video Recovery Apps for Android in 2022
Instasize Pic Editor + Collage
Instasize is a versatile editor that combines a range of features. Here, you can edit photos for any social network, whether it's Instagram, Twitter, Pinterest, Snapchat, or other.
The crop and resize function works well here. It's not hard to trim a photo to the right size. What else can you do with the application?
There are a variety of filters, an overlay preset function, and tools for color correction. You can even combine your photos into collages.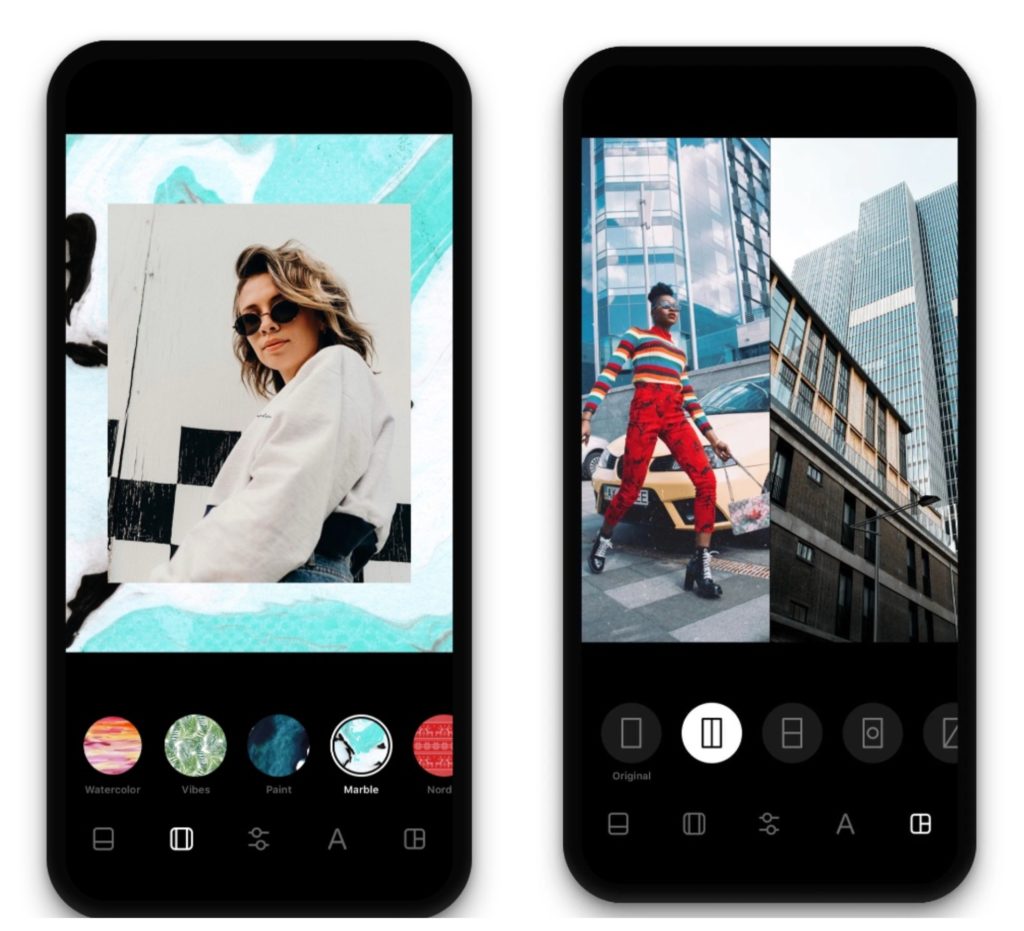 Downloads: 50000000 +
Customers rating:

(4.1 / 5)

Crop Image – Rotate image and Flip image
This simple but functional app will help you crop your photos quickly and without any hassle.
The app doesn't cut quality, it crops! You can crop 4:5 for Instagram or in any other ratio. The picture can still be rotated as you like.
One disadvantage: it saves photos in a different folder where the source and, accordingly, then it's awfully hard to move to the right place.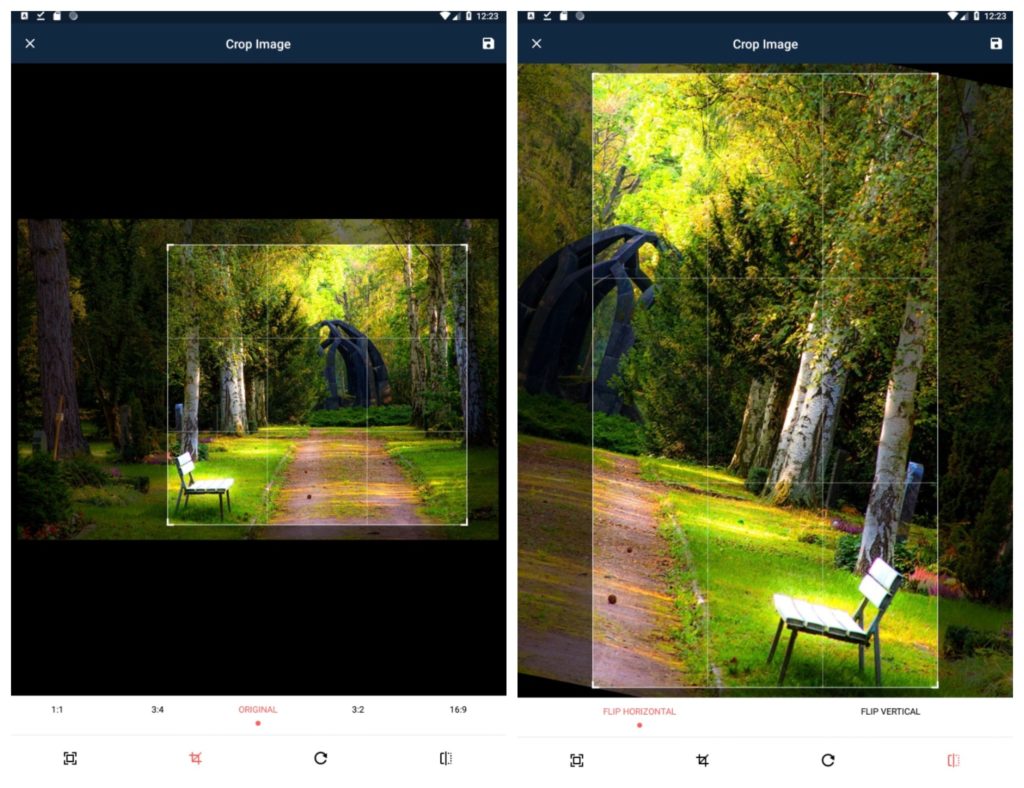 Downloads: 100000 +
Customers rating:

(4 / 5)

Photo Resizer
Photo Resizer is a handy, functional, and very useful project for everyone who loves to take pictures on a mobile gadget, and then use the resulting versions for social networks and other platforms, where you can show your talent.
In this case, there is often something wrong with the source. That's where the capabilities of this program will come in handy. Cropping, various tools for editing, resizing (including batch), a set of presets for different popular sites, and much more will help you get exactly what you need.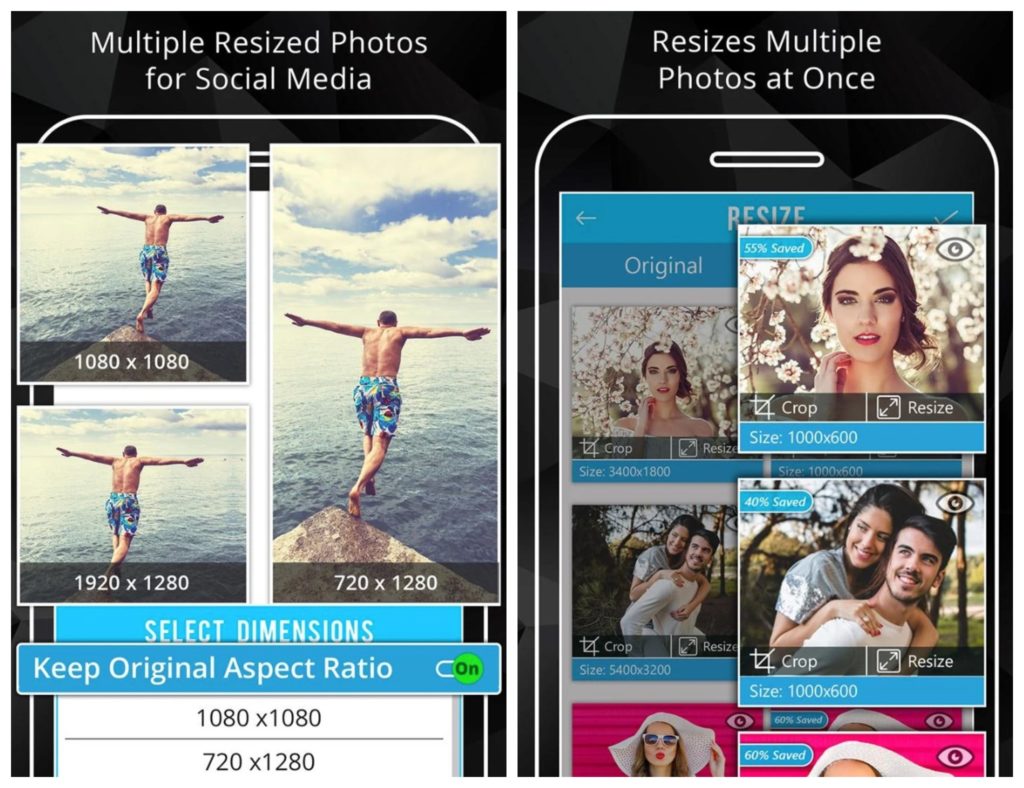 Downloads: 1000000 +
Customers rating:

(4.6 / 5)

Crop Image
Crop Image is an easy-to-use app that performs its main function. It works really fast and there are almost no ads.
This is a great option if you only need a tool for cropping photos. But essentially you can use some more useful stuff. For example, you can apply filters, add text, frames, stickers, etc. This will be a nice bonus for those who like to work their magic on photos.
There is a function to cut several photos at once. I recommend it for anyone who crops a lot of photos.
Downloads: 500000 +
Customers rating:

(4.2 / 5)

You may also like: 9 Best Before & After Compare Photo Apps for Android
Photo & Picture Resizer
Photo & Picture Resizer is a useful application for working with images quickly and most importantly conveniently. Which need to be edited in terms of their size or to perform cropping.
It allows you to get a small volume of images, which should be sent over the Internet when there is no possibility of transferring a full-length high-resolution file. It also helps to focus on the smallest details of what is caught in the frame. And so on.
Intuitive controls provide an impressive speed of interaction with the functions. This means users will be pleased.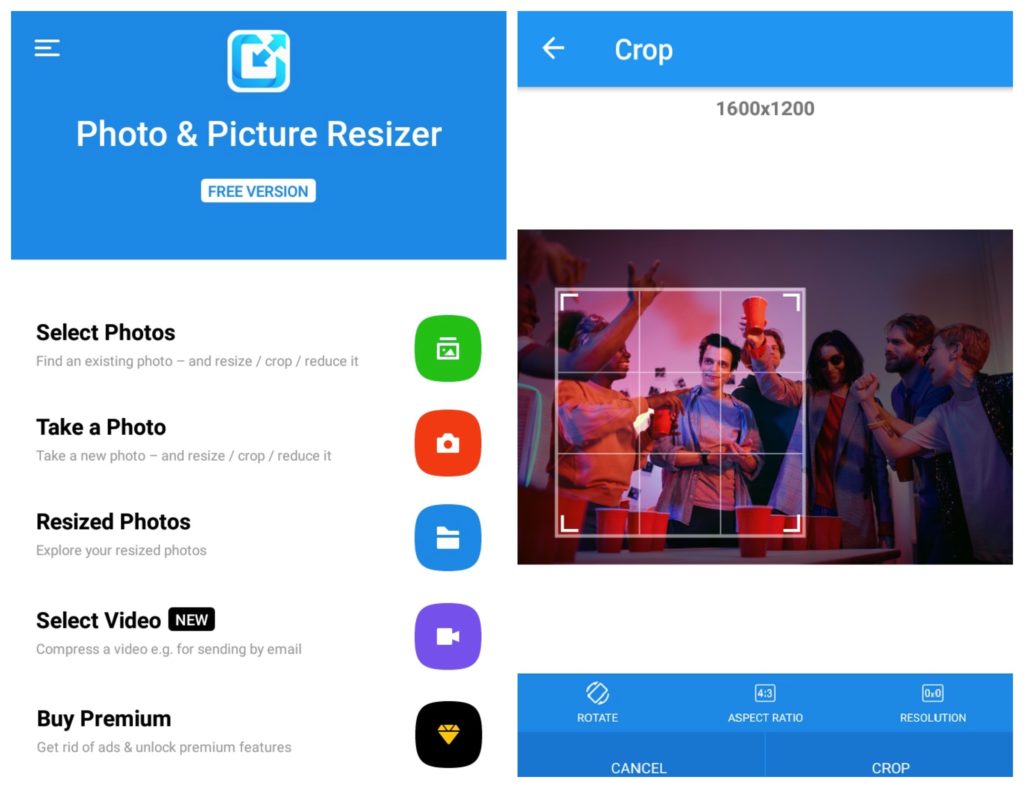 Downloads: 10000000 +
Customers rating:

(4.6 / 5)