Contapp is a full-featured app that allows you to create and scan business cards in a few seconds. This tool is full of stunning functions, so now we are going to tell you about them!
Contapp is a stable and reliable application that does not hang. Plus, it comes with regular updates.
And if you're afraid that you may lose your contacts on your Android device you can study the information on how to backup them.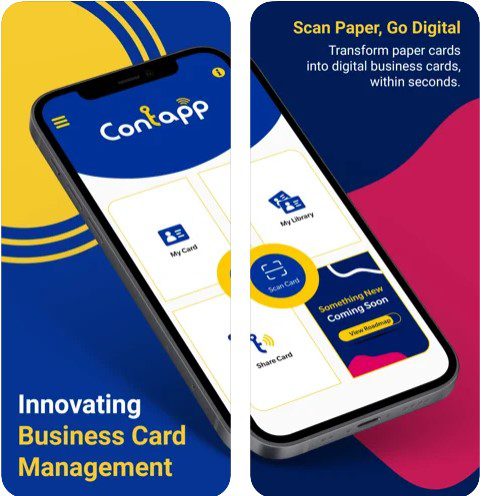 After a quick installation, the app will ask you to pass a registration procedure. When you create a profile, you can also add links to your social nets, pictures, and notes. This step is very simple and it will not take up too much time.
Now there is no need to always take a wide range of paper business cards with you, as Contapp allows you to keep them in one place.
Apart from creating and scanning business cards, this app also enables you to use an intelligent library with a quick search, save location function, contactless share your business cards with Contapp and non-Contapp users, create custom groups for extra organization, and so many other features!
What is more, you can use this app on several devices, as it offers a cloud backup with 24/7 access to your library.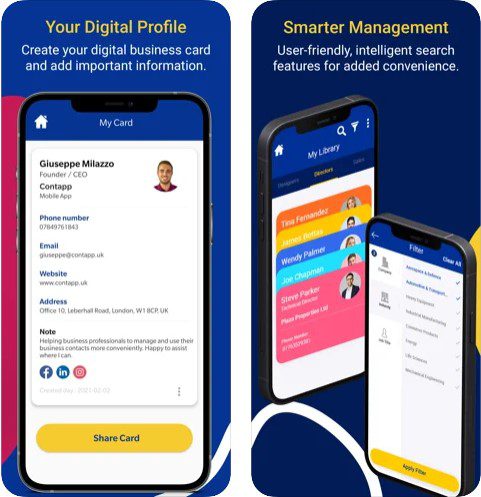 By the way, Contapp boasts an intuitive design developed in yellow and blue colors. The app's interface is very straightforward as well, so you don't need to have any professional skills to understand how this app works.
Otherwise, the developer offers a very responsive support service that works all day long.
As a whole, the majority of users truly like this app, as we have not found any negative comments from them.
All in all, if you work as a manager, business owner, entrepreneur, sales or marketing professional, Contapp is a must-have application for you.
You can also explore the call waiting apps.
Simple navigation, full-featured cards manager, and quick scanner – all these things are waiting for you in this magnificent app. Highly recommended!