Do you want to see what you'd look like with brown, green or blue eyes? Or maybe you're getting ready for Halloween and thinking of a red-eye image? Don't run to buy colored lenses right away, first try changing the color in the program to change the color of your eyes:
FoxEyes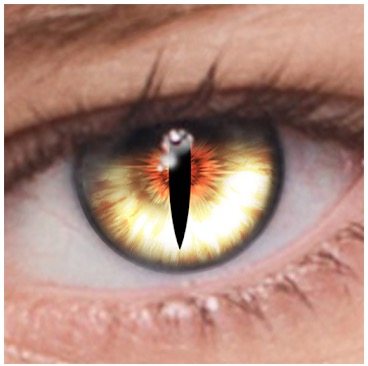 Do you want to surprise your friends and family with unusual pupils on an avatar in a social network? Then it's time to download FoxEyes – Change Eye Color by Real Anime Style for Android. This is a unique application that offers a huge number of eyes and pupils of different shapes and colors. Complement the image or add to the photo pupils of animals, which will create a unique effect.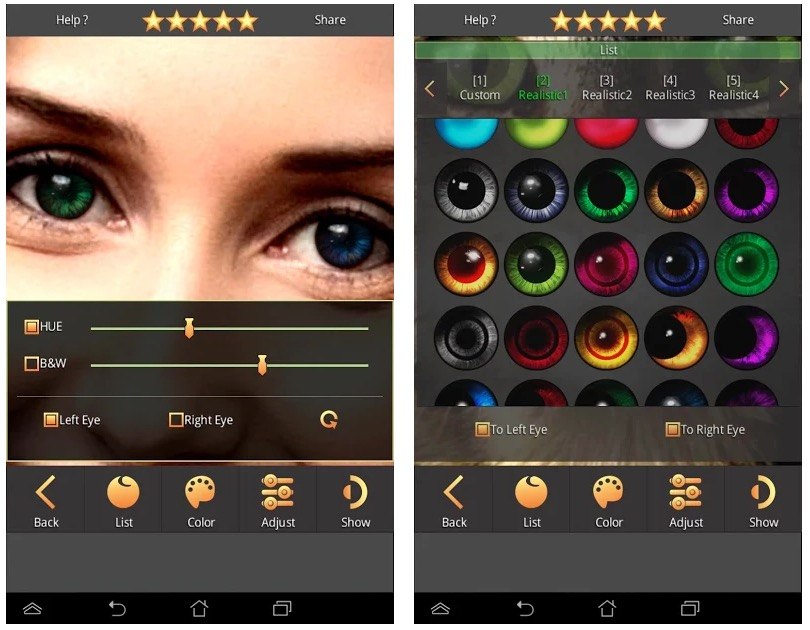 Exotic lovers will find an interesting feature that adds a third, fourth or even sixth eye! You can set the brightness and darkening of each individual eye. So, create an unusual appearance and amaze everyone.
Photos can be uploaded from the gallery or directly from the camera. Once you're done, it's easy to post it to one of your social networks or send it to your friends via email.
If you're ready to try a new style, but don't want to order expensive lenses that are hard to wear on the eye, you'll need to download FoxEyes to create your own unique look.
Features:
The application already has more than 300 eyes and the library is replenished with new versions.
A collection of animal eyes like cats, snakes, wolves, foxes, etc.
Share vivid works with your followers or friends via the most popular social networks.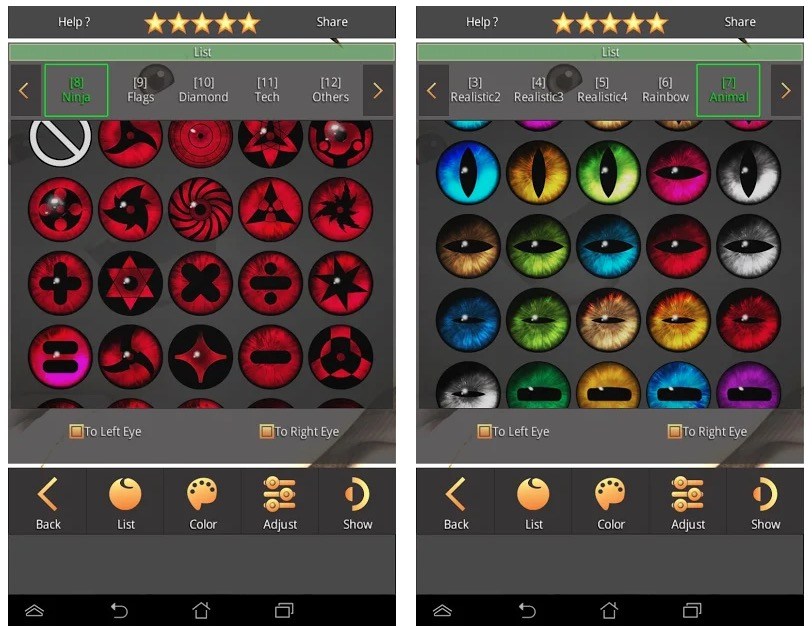 Downloads: 20 800 +
Customers rating: 

(4.0 / 5)

You may also like: 15 Best photo sharing apps for Android
Change Hair And Eye Color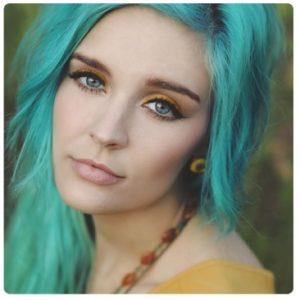 Change Hair and Eye Color is software that lets you instantly change the color of your hair or eyes using your Android devices. You can select any photo from your phone's gallery and edit it to make the hair and eye color of the person on it different.
To change your eyes, you need to adjust the contours of your eyes and then choose from 500 different lenses.
Download the app and change your look as many times as you like – use a variety of makeup tools to make purple or orange hair. Make fantastic lenses, your eyes will amaze your friends in social networks.
Use dozens of filters for hair and eyes, creating unique pictures and images. Try a few filters – make your look memorable. The results will be saved in the device gallery.
Change Hair And Eye Color is a good photo editing application that lets you see what you would look like if you repainted your hair or used an eye-color changing contact lens. It's a pleasure to work with the app.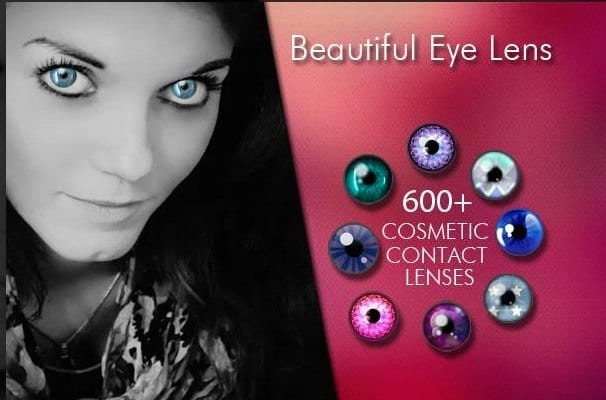 Downloads: 180 300 +
Customers rating: 

(3.9 / 5)

Eye Color Studio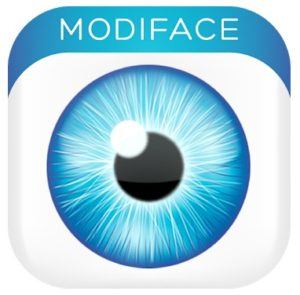 It's no secret that you can easily change the color of your eyes just by buying a set of lenses. But if you don't want to worry about buying lenses, but want to surprise someone with new eye color, you can use a simple and convenient application called Eye Color Studio. With its help, you can change the eye color to any of the set and it will look very natural (the main thing is not to overdo it with brightness).
After starting the application, it automatically opens a pre-prepared model, where you can already "try on" the different colors of the eyes. To insert your own photo, click the New Photo button and select Gallery if you want to select a photo from the gallery, or Camera if you want to take a photo.
After selecting a photo, you will need to select your own eye contour. Here you will need to be very careful and attentive because if you choose the contour of the eye crookedly, the result will be the same. Your task is to select the eye (without eyelids) and then choose the iris shape (don't worry if it's big, as long as it covers the entire iris in the photo, and everything that will come out will be automatically cut off, because you have chosen the shape of the eye).
Once you have completed the contour adjustment, select one of the eye categories and enjoy the result. To make your eyes look natural rather than superimposed, use the slider on the right to reduce/increase the transparency of the superimposed photo. To compare the result with the original, click the Compare button. To finish the magic, click the Finalize button.
Eye Color Studio is an easy way to really surprise someone just by changing the color of their eyes. Have a good time!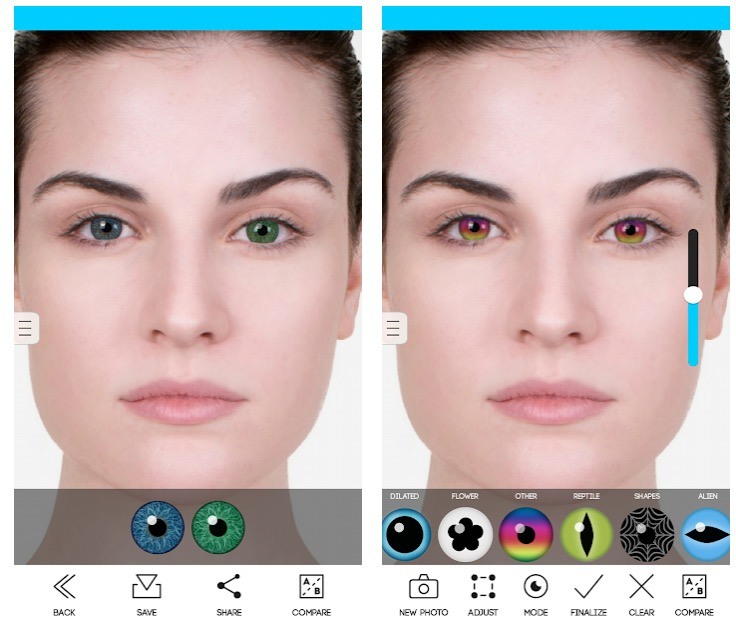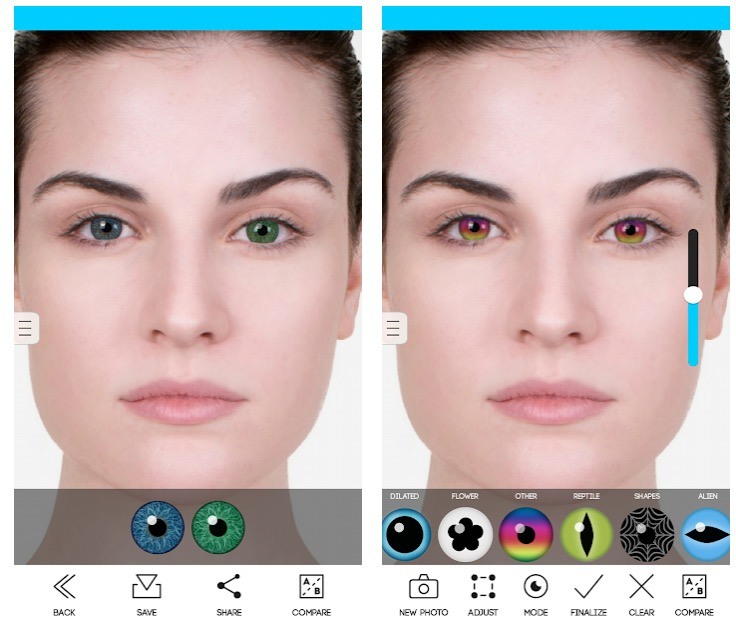 Downloads: 130 600 +
Customers rating: 

(4.0 / 5)

NiceEyes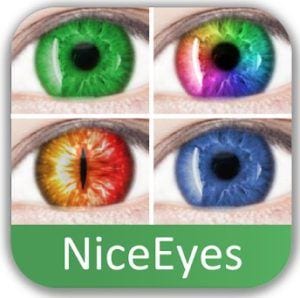 NiceEyes – Eye Color Changer is an excellent Android photo editing tool. Mainly, the editor is designed to adjust the eye color in the photo. There are a lot of color variations, so everyone will find something to embellish his eyes with.
In addition to the color solutions, the application offers to change the shape of the eyes to different options. So, you can insert cat or snake eyes, increase the size of the pupil, insert fire into the eyes or make them rainbow. There are a lot of design options.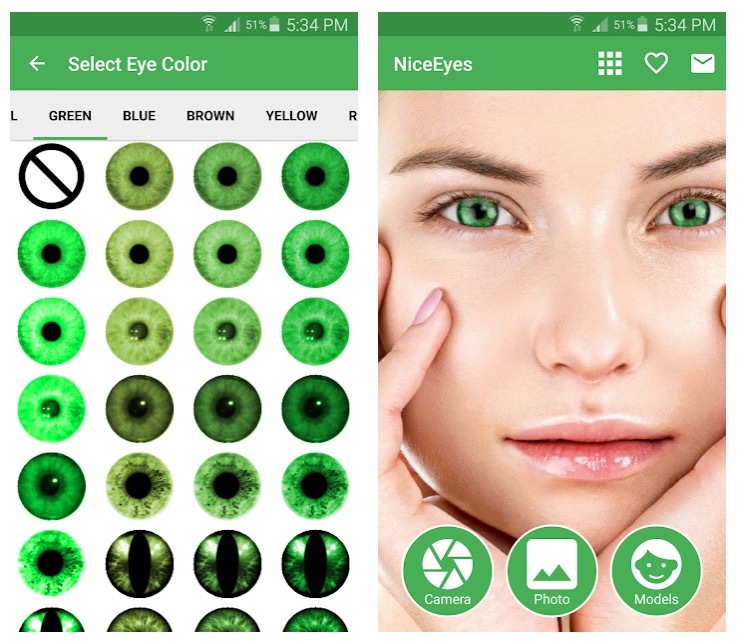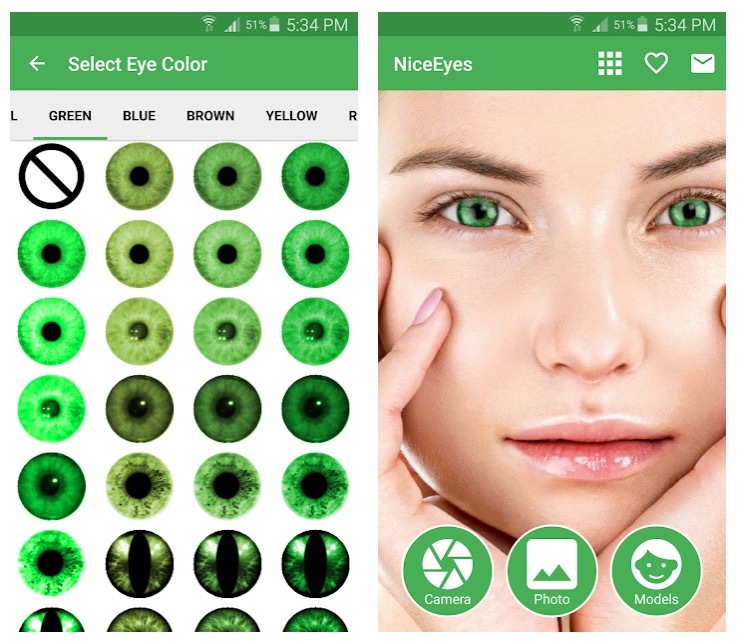 In addition to changing the shape and color of the eyes, NiceEyes – Eye Color Changer has a classic photo editor with a minimal set of tools. Photos can be saved directly to the gallery.
The editor is connected to social networks, so you can instantly share your newly processed photos with friends and get comments and likes.
The interface is very convenient. Mainly represented by samples of eye changes. Each sample is a whole composition of different shapes and colors. There are so many variations that there is no need to combine them manually.
When editing low-quality photos, the changes will look unnatural. Therefore, you need to edit photos only with high resolution.
In addition, the tool is absolutely free with a set of more than a hundred variations of samples.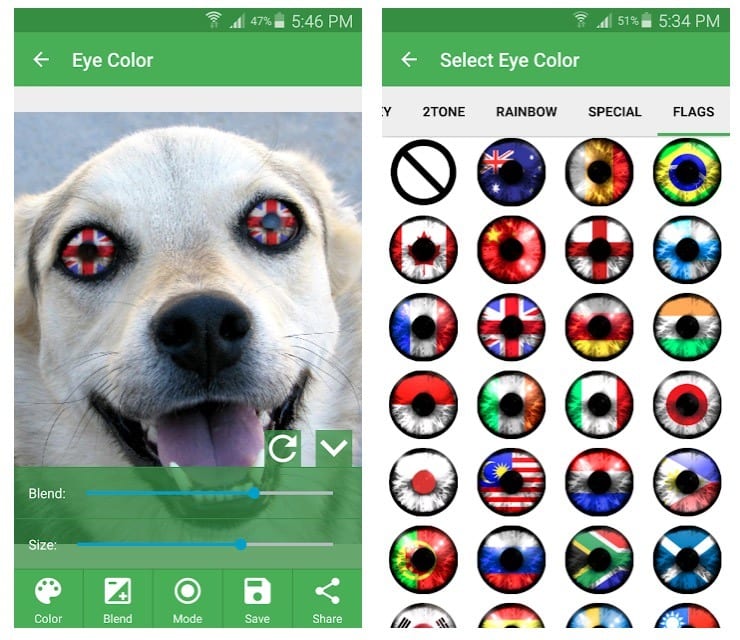 Downloads: 163 700 +
Customers rating: 

(4.3 / 5)

Eye Color Changer – Photo Grid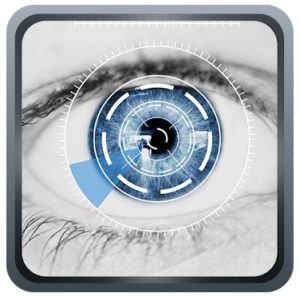 Eye Color Changer – Photo Grid is an application that allows you to easily change the color of your eyes in photos. The program uses a unique method of mixing colors so that your new eye color will look natural.
It works well with dark and light-colored eyes. You can also remove the red-eye effect. You can share the results on social networks.
Eye Color Changer – Photo Grid can be used as a collage maker. With it, you can create beautiful collages and photo grids. You can adjust Contrast, Warmth, Brightness, Tint, Saturation. There are more than 30 unique effects.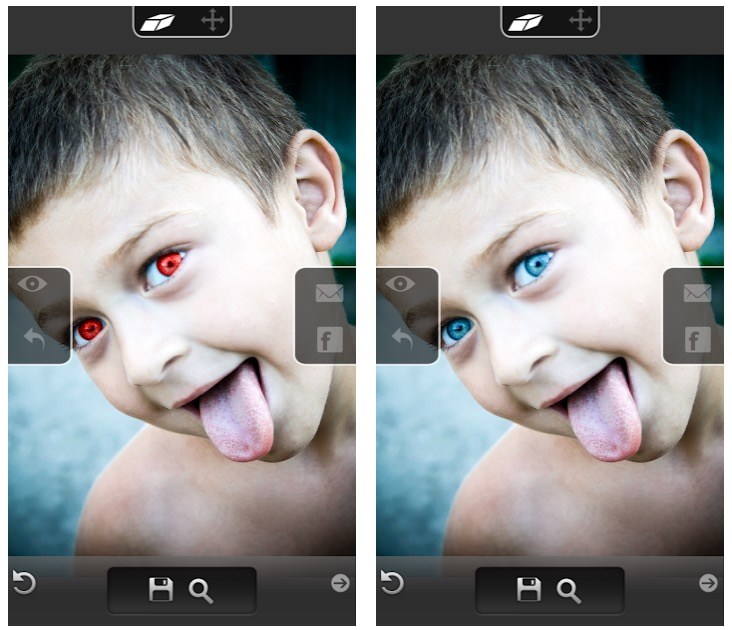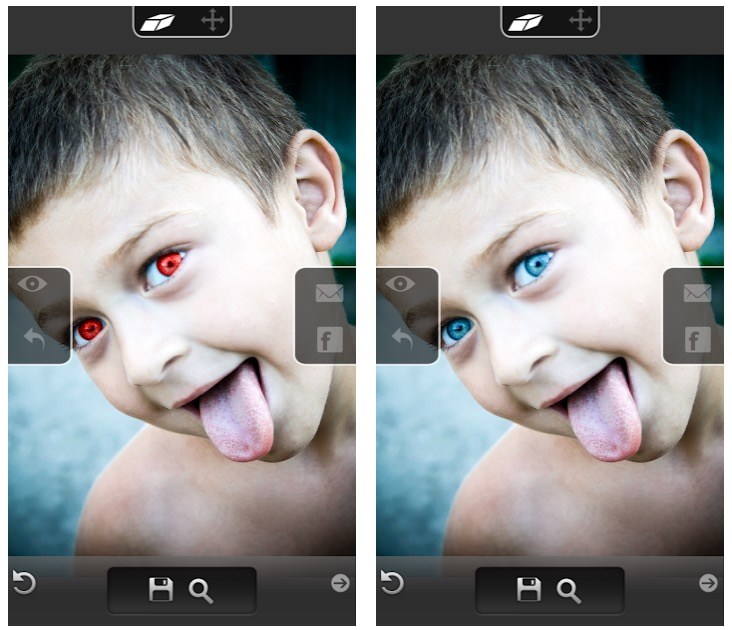 Downloads: 48 600 +
Customers rating: 

(3.9 / 5)

Eye Color Changer Editor
This is a simple tool intended to change eye color on photos instantly. If you've ever dreamed of bright blue or green eyes, you can make that dream come true right now! And don't be upset that this is only possible in the photo. After all, if you will be fascinated by the look from the picture you can go to the store and buy the same eye color lenses and amaze everyone with your eyes!
Eye Lens Photo Editor offers various eye color styles and color lens. The application uses a unique blending technique so that your new eye color will look natural. So, make your eyes most beautiful, stylish and attractive!
You can make your look even more glamorous. You can have bright blue eyes, green eyes, shelly eyes, red eyes, purple eyes, even cat eyes!
Easy Gesture Control. With your fingertips, you can change the size of your eyes, adjust the opacity. Place different lenses on the left and right eyes to create an unusual effect.
Of course, you can share your masterpieces on social networks (Twitter, Facebook, WhatsApp, Instagram, etc.)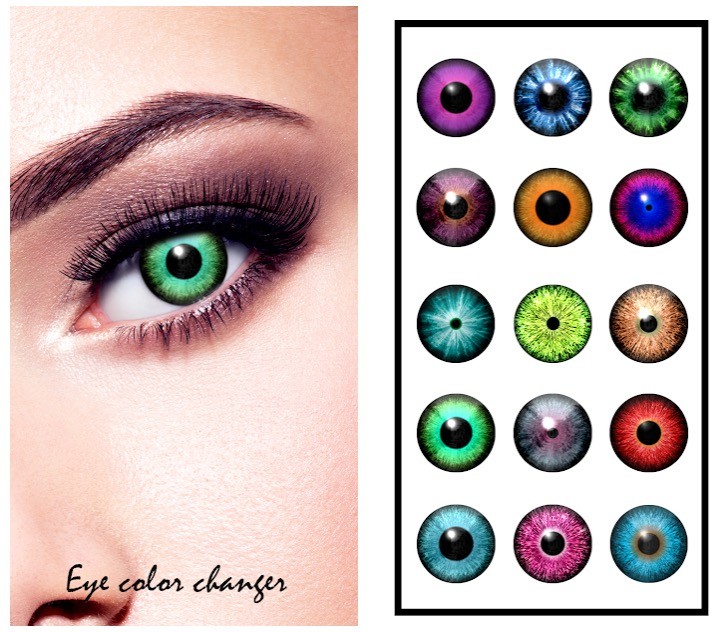 Downloads: 1 600 +
Customers rating: 

(4.1 / 5)

Eye Color Changer Booth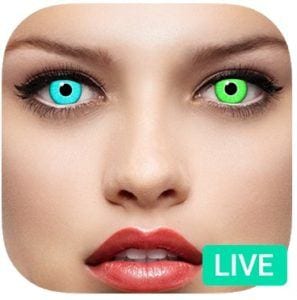 This is an entertainment application for changing eye color on your photos. Test it on your friends and relatives and you'll have a lot of fun together.
The application offers many eye color effects such as standard color lenses, exotic eyes, scary eye effects, alien/animal eyes and more.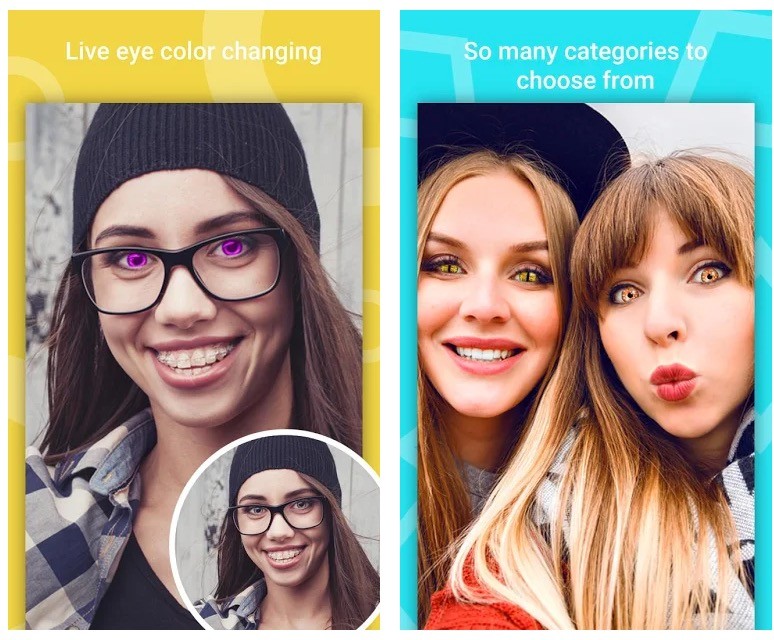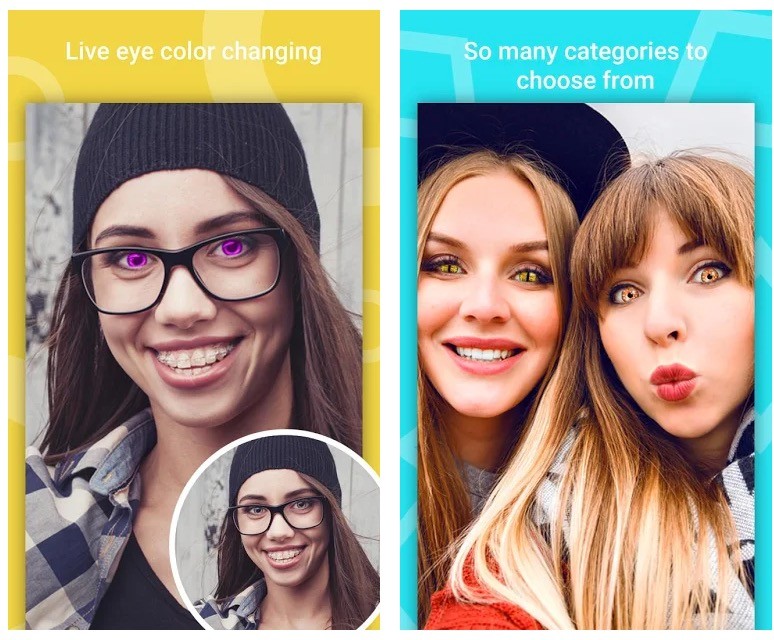 The main features of Eye Color Changer Booth:
More than one hundred eye color effects;
Automatic eye detection;
Adjust brightness, contrast, and opacity to merge with a picture;
Share photos on social networks.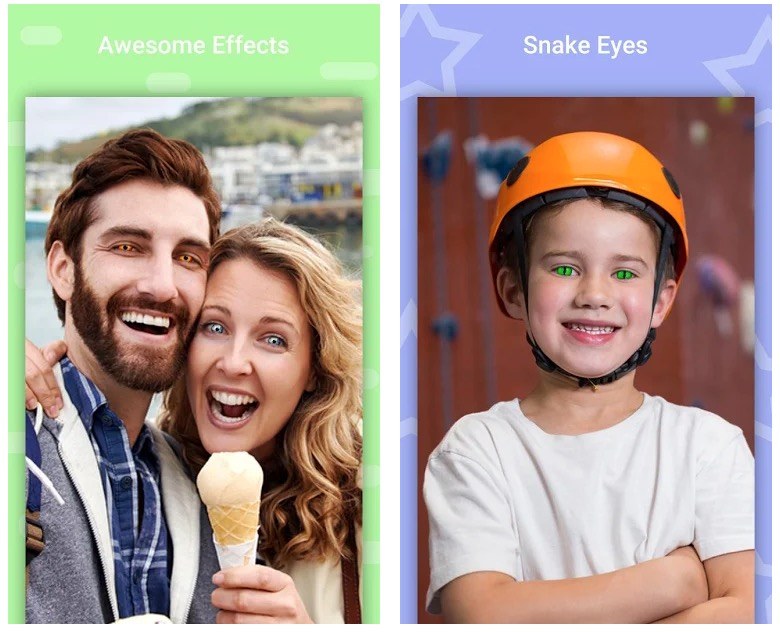 Downloads: 9 500 +
Customers rating: 

(4.2 / 5)

Eye Color Changer Real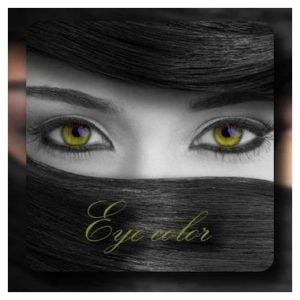 Eye Color Changer Real offers tons of eye colors and lenses which you can apply to your own photos.
The interface is extremely simple. Just choose a photo from your gallery or use a camera. Then the application automatically detects the eyes. Choose eye lenses to your liking (simple, marble, electric, specs, exotic, animal, alien, and more!) and adjust the opacity of the eye color effect.
You can even place two different lenses: one for the left and another for the right eye. The image will be saved in high quality in your gallery. Share the photo on social networks and amaze everyone!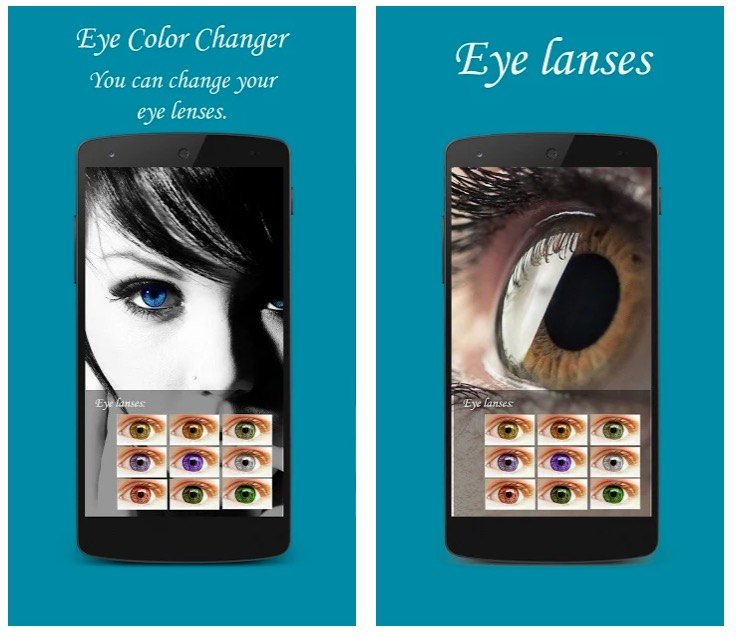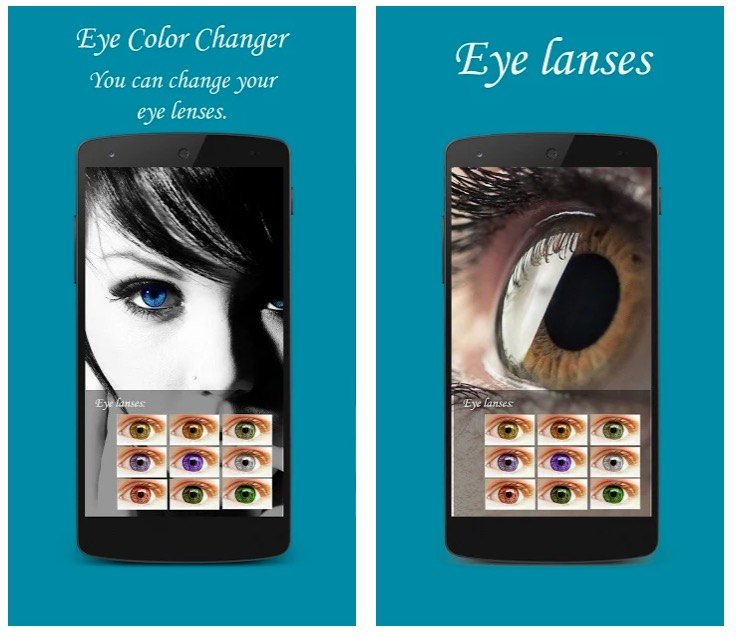 Downloads: 11 500 +
Customers rating: 

(4.2 / 5)

You may also like: 15 Best photo gallery apps for Android
Eye Color Booth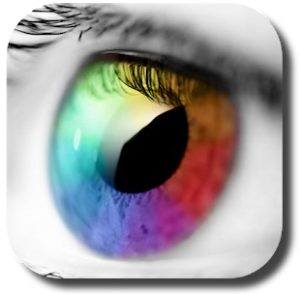 Eye Color Booth is an application that allows you to change the color of your eyes on the photo. Unfortunately, the results are not always realistic, and sometimes even funny.
Luckily, the app is extremely easy to use. All you have to do is point out where the two small circles, the pupils, are located and select any one of the three available options for changing the color: single, dual or spectrum.
Eye Color Booth is a very simple photo-editing application that doesn't really have that good result. But thanks to its simplicity and a small set of functions, you can learn to work with it very quickly.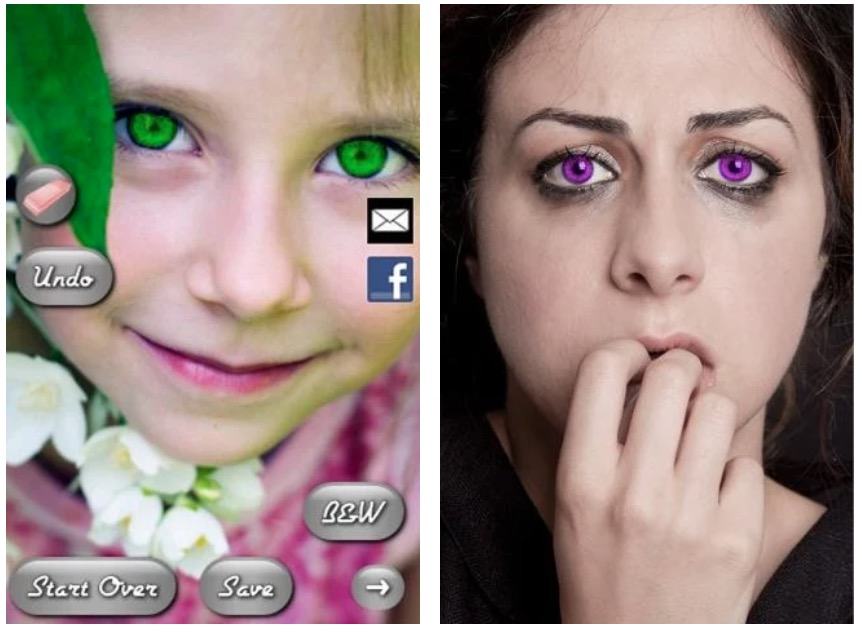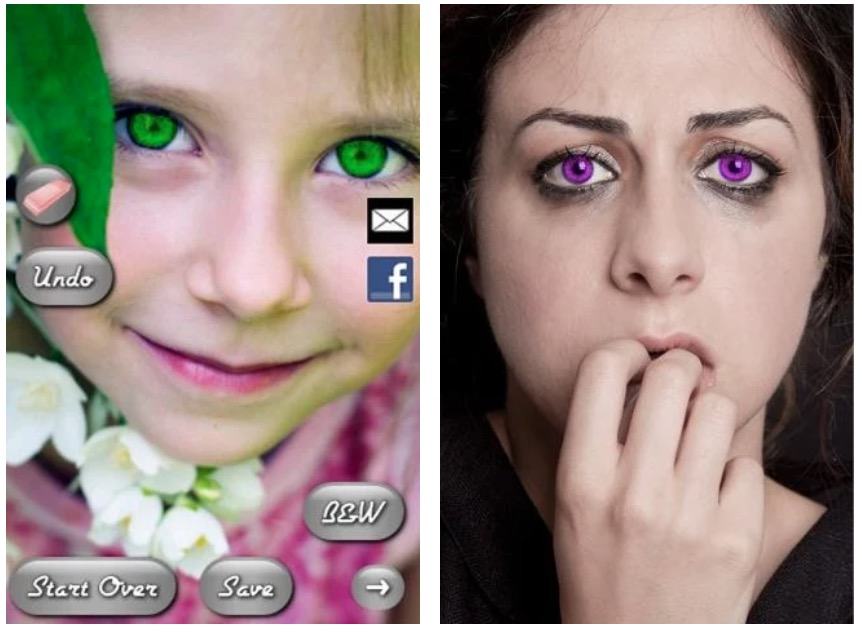 Downloads: 14 900 +
Customers rating: 

(3.6 / 5)