A trip with friends. Paying your rent. Going shopping at a supermarket. Going out to lunch with a colleague. How often do you end up splitting a bill between several people, arguing and adding up lots of numbers?
Download a bill-splitting app and keep things friendly. It will do the complicated maths for you!
Also, if you're always forgetting to pay your bills on time, the following list of Android apps will help you: Best Bill Reminders for Android.
Splid
Making plans with your friends is great, but splitting the common expenses between them is not an easy task. Studio Nico Jersch's app helps you calculate who owes money to whom and minimises transfers for absolute user convenience.
Ideal for sharing common expenses with your partner, friends or roommates.
This great app is perfect for managing shared expenses. It works with or without internet, requires no registration and is completely free. To use it, create or join a group and start adding expenses.
You can add expenses each time, specifying the amount, currency, date, who paid and for whom, as well as add multiple payers or split the invoice amount unequally. That is, you also have the option of indicating whether one member of the group has paid something to another member in advance or whether someone has spent more than the others.
Enter expenses and transactions and let the app work wonders.
One of the coolest things about this app is that its algorithm does the accounts in a way that makes transfers as easy as possible, so that group members have to make minimal transfers of money.
Sharing bills between several people has never been easier. In addition, once the accounts are ready, it's possible to upload reports in PDF format or Excel spreadsheets.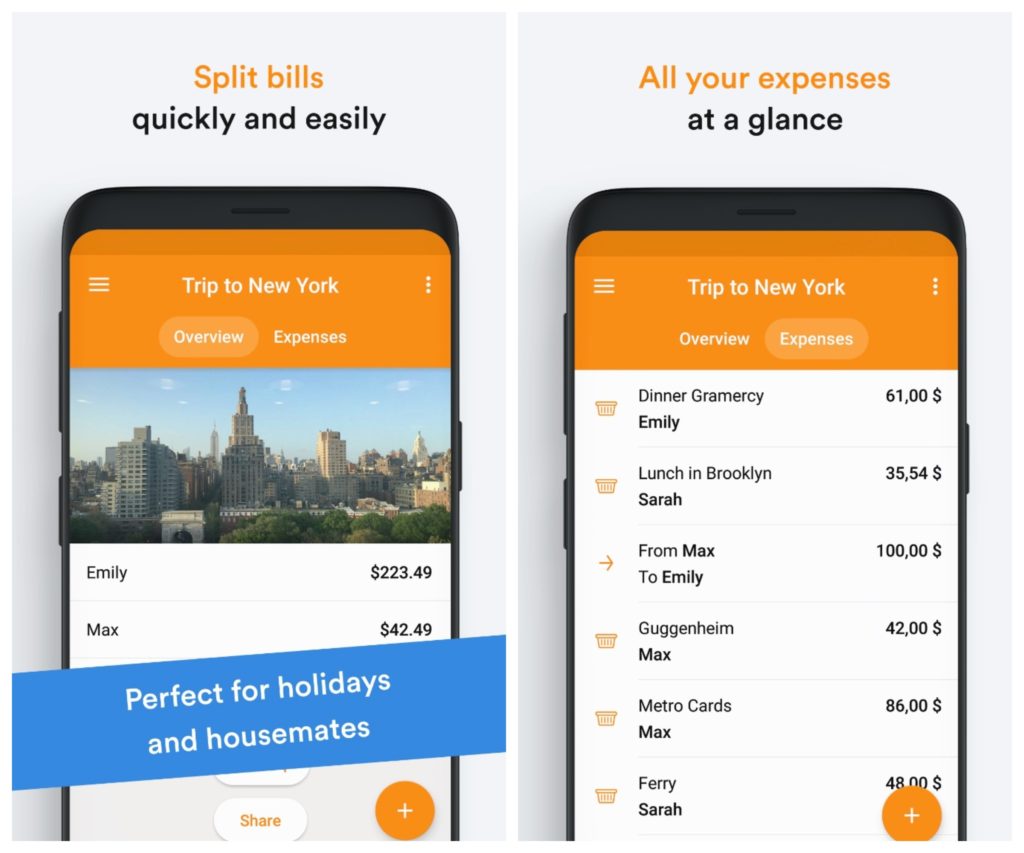 Downloads: 1000000 +
Customers rating:

(5 / 5)

You may also like: 9 Best Restaurant Reservation Apps for Android
Splitwise
A handy tool that allows you to create group payments with friends, so everyone knows who, how much and to whom they each owe.
The app interface is simple and has three separate tabs for friends, groups and events. The friends tab allows you to go to your friends list and see how much money they owe you or you owe them. In the groups tab, you can see everything that has been paid together.
The app deducts money in cases where someone you owed money to now owes you, and also allows you to add a photo to prove each debt has been paid.
Allows you to create bills for dinner, flat rent, travel expenses and more. Simply add your friends so the app automatically splits the bill for everyone.
Positive features of Splitwise:
Easy to organise group payments;
Attractive and easy to use interface;
Doesn;t take much space in your phone's memory.
Splitwise is a good app to keep track of joint payments of cheques or bills between friends. With this app, you will know exactly which friend owes you a cup of coffee, which friend owes you lunch, etc. However, you need to keep in mind that some of the features in the app are paid.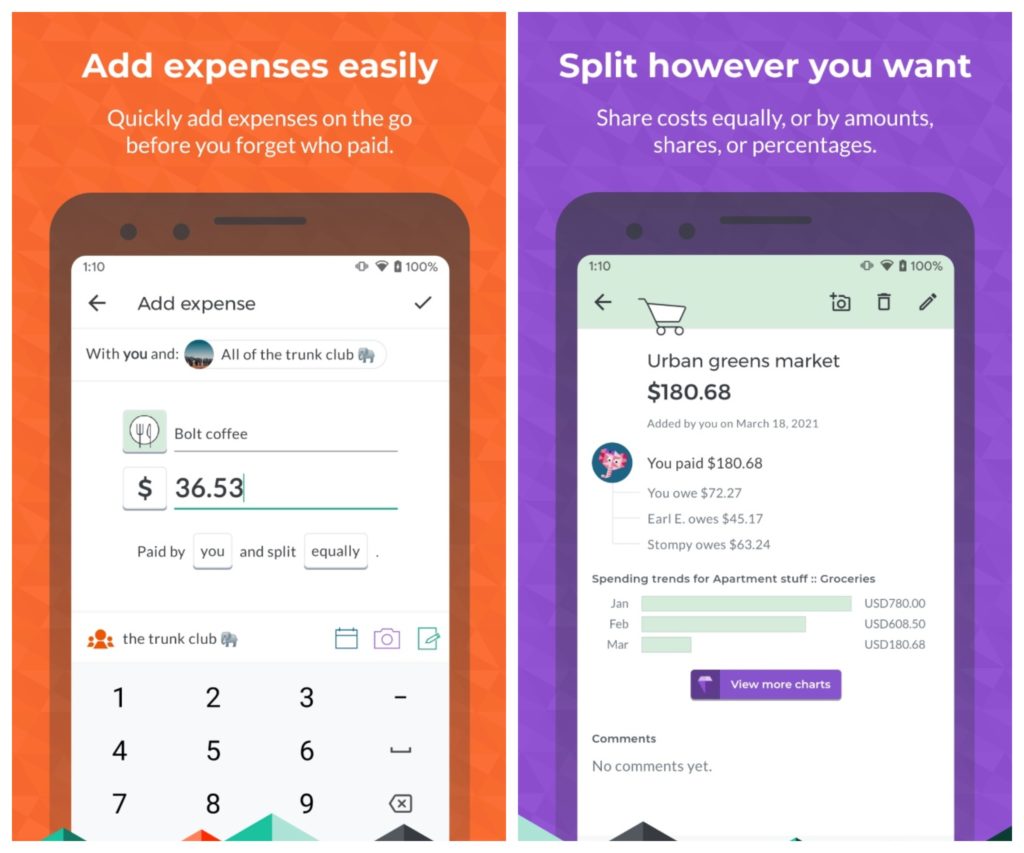 Downloads: 10000000 +
Customers rating:

(4.5 / 5)

Group Expense
It's a great app for spliting expences! For some reason it's not as popular as Splitwise. Although Group Expense might seem even more convenient and clearer. I recommend giving it a try.
The main thing is that it works immediately (no need to make up accounts, passwords, enter email as in Splitwise for example). Install it and immediately count everything, convenient!
Features of the app:
Add expenses and distribute to all participants;
Available on all platforms;
Works even without Internet.
The app will help you keep track of who spent how much money during a meeting or event and will divide the spending among the participants.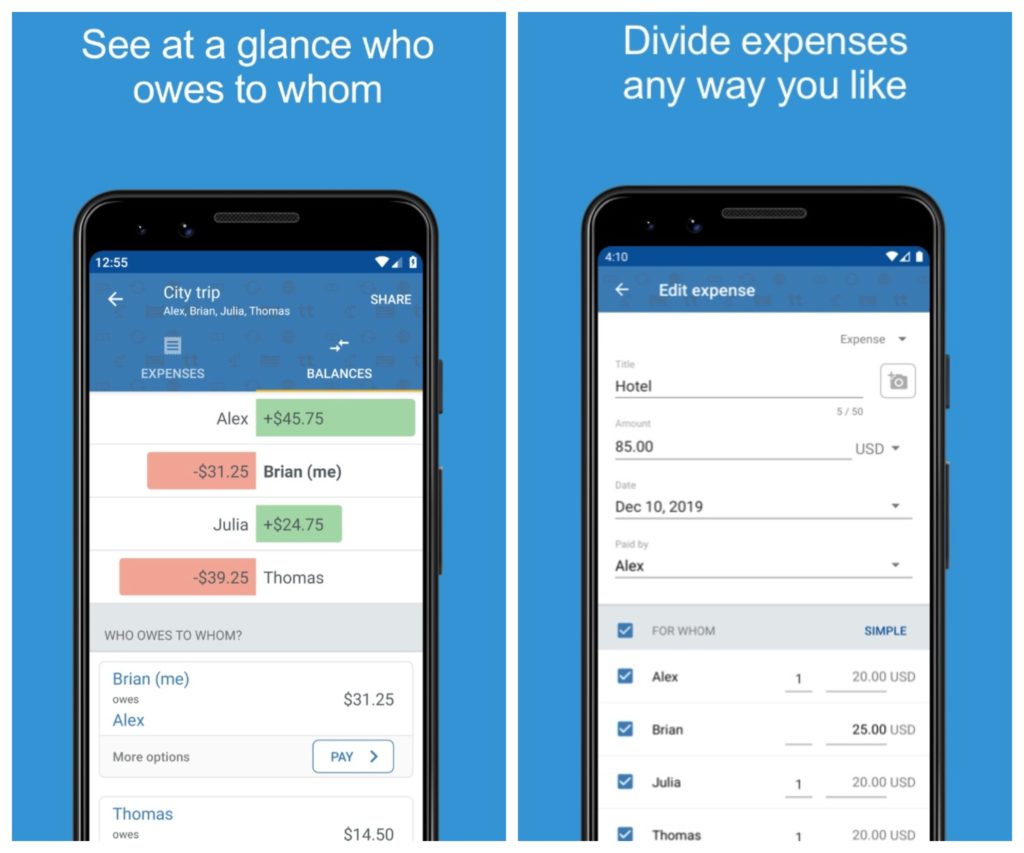 Downloads: 100000 +
Customers rating:

(4.8 / 5)

Tricount
Tricount is a group cost control service. Tricount is used to keep a separate budget for couples or to account for expenses when organizing a friend's party. It makes it easy to keep track of everyone's contribution.
To use the app, you need to create an account with an email address. There is an option to sign in with a Facebook or Google account. Next, the user should create a new group and add multiple members. The utility allows the user to enter a name and select a currency.
Each user can enter information about their own investments or expenditures. All data is displayed in a clear graph. In the future, this will be necessary in order to calculate the amount owed.
It's possible to divide the expenses unequally. Users can also enable notifications when other members contribute new information. Note that the data editing function is available even without connecting the mobile device to the network.
After the event is over, the utility automatically calculates the amount that participants have to pay back to each other. You can select the payment method and transfer the money at once.
Features of the app:
Keep track of group income and expenses;
Create multiple groups;
Notifications are available;
Compatible with current Android versions.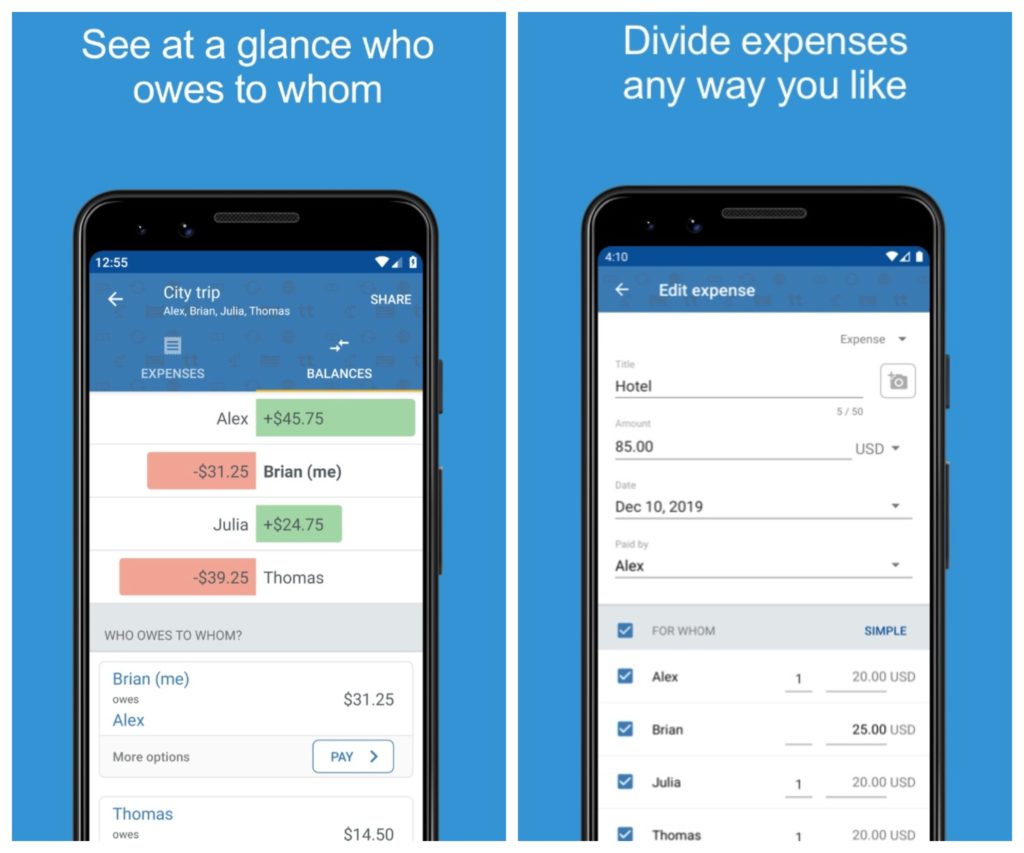 Downloads: 5000000 +
Customers rating:

(4.8 / 5)

Settle Up
Settle Up is a financial app that helps you pay joint bills. It supports not only families, but also other groups of people who may share expenses. Colleagues on business trips, a common group on vacation, and so on. It will be especially useful for housemates, as it allows you to keep track of who has paid bills or any other expenses.
In Settle Up, you will be able to create several different profiles and assign payments to each of them. When a person has paid his part of the bill, the app will show this and other users will know that they need to pay their part too.
In the app settings, you will be able to choose the currency used and even use multiple currencies at the same time. You will also be able to activate and deactivate payment alerts and synchronise them automatically.
The calculation is based on equalities, ratios, income, interest and so on. This gets rid of the necessary and often extremely annoying activities with piles of receipts, various payments and so on.
Currencies, conversions, parallel processes, statistics and much, much more provide results without any problems.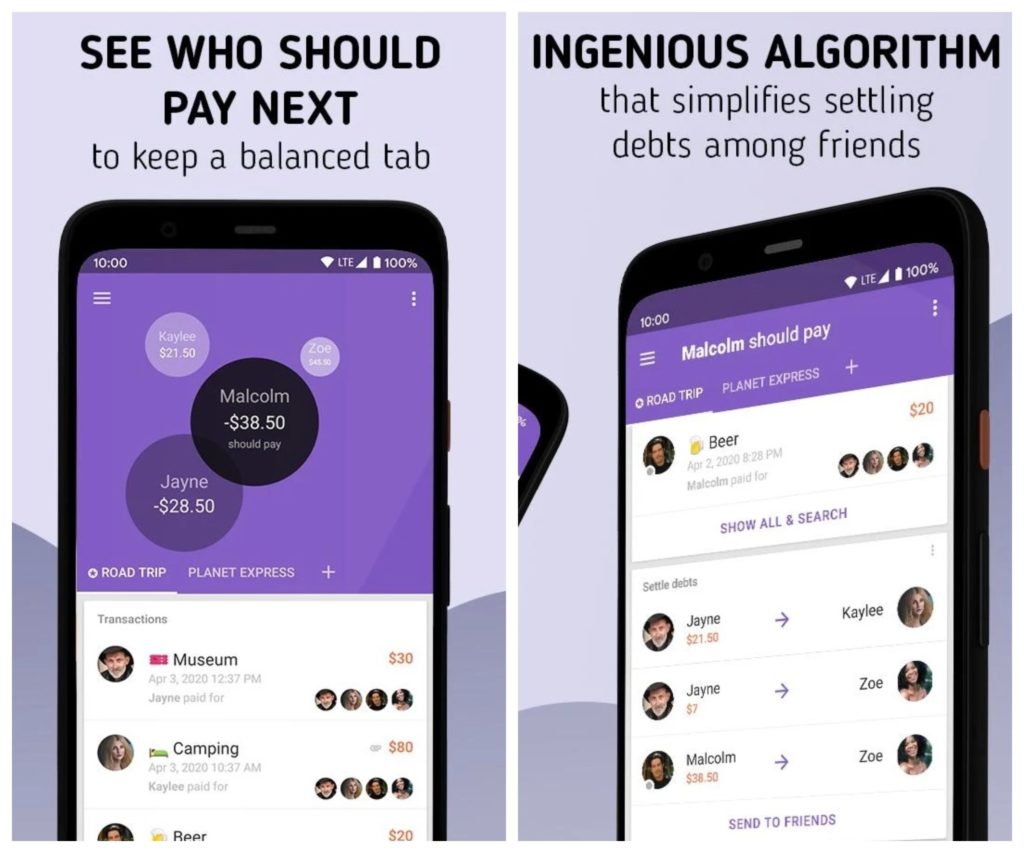 Downloads: 1000000 +
Customers rating:

(4.8 / 5)

You may also like: 11 Cool restaurant finder apps for Android
Split Bills
We have a great time having dinner with friends or organising a crazy weekend, but the fun evaporates when it comes to payment. Who owes money to whom? How do you split the bill? Is maths not your strong suit?
This app will help keep things from getting to a fight by providing an intuitive, comprehensive and very useful financial tool for splitting bills.
This is a free service with simple operation. Whether it's a picnic or going to a restaurant, travelling or house spendings. Split Bills will divide the bill by the participants.
Features of the app:
When you create a group, share the link with your friends;
All members can add expenses to a shared group;
Expenses will be splitted by all participants in the group.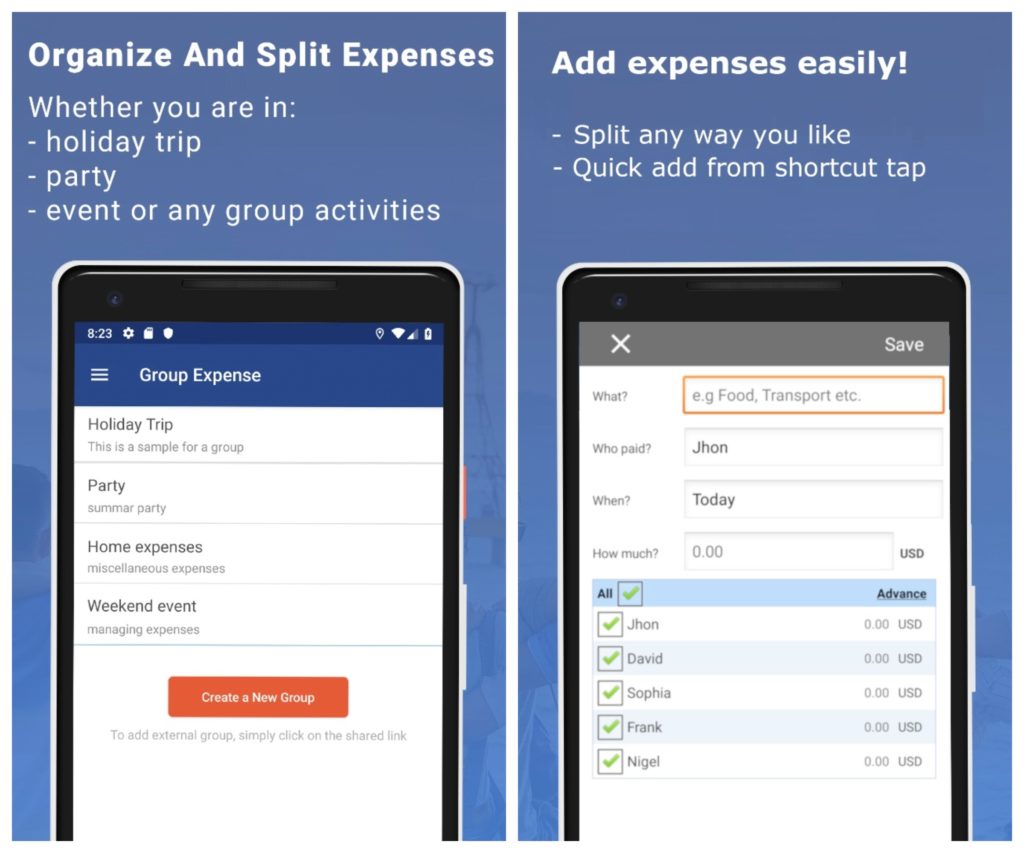 Downloads: 10000 +
Customers rating:

(3.5 / 5)

goDutch
goDutch is a good personal expense tracker. With it, you can keep your budget planning and track your spending. But goDutch will also be useful for managing group expenses and bills.
Thanks to groups in goDutch, it's easy to eat with your friends and split the check payment. Now, your friends will know exactly how much they have to contribute to the group. Also, you'll be able to see who paid for what, who owes you money, and you'll have a little reminder of who you yourself owe.
You will be able to easily split the bills between several people, whether it's a trip, going to a restaurant, going to the movie, renting accommodation, etc.
Features of the app:
You can create multiple groups with friends or family, neighbours or colleagues;
Split bills in different ways;
Add photos of receipts;
There is a chat room for easy communication;
Minimize the number of payments.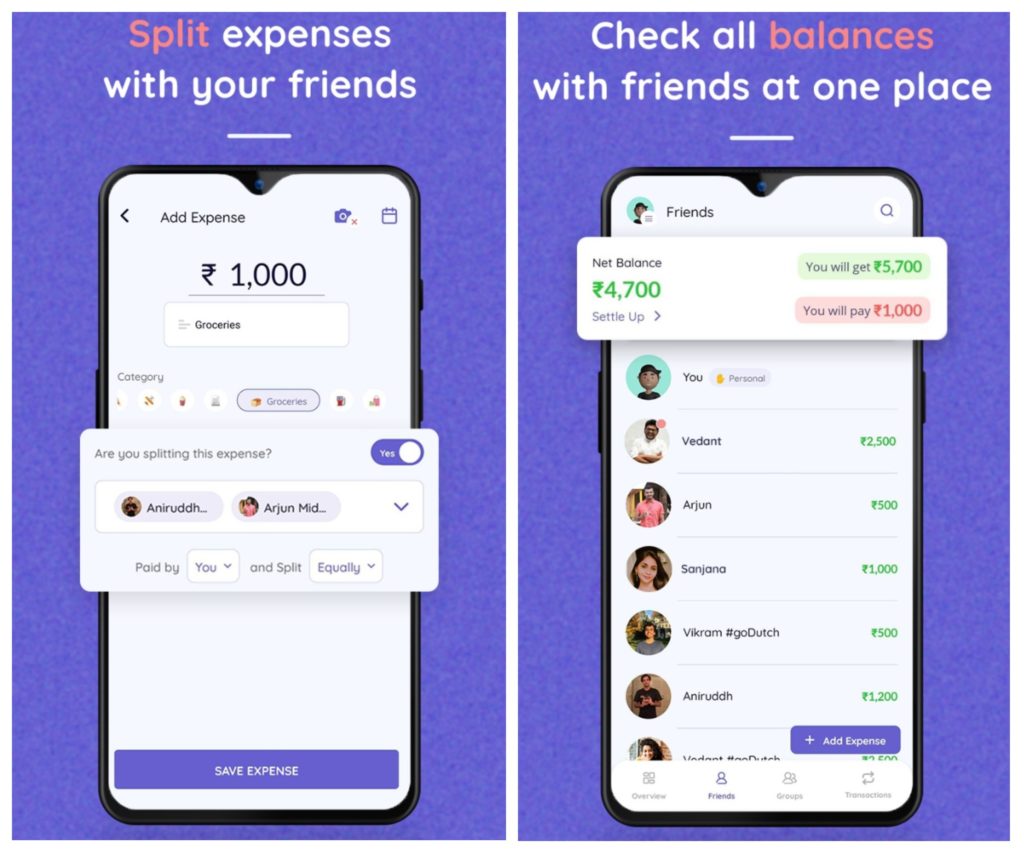 Downloads: 1000000 +
Customers rating:

(3.9 / 5)

Splittr
Splittr is a great tool for mobile devices that can be used to manage shared expenses between multiple people. It's very easy to use:
Create a group.
Add members.
Indicate named expenses with dates and even category, photos and notes.
Share the common expenses.
The system keeps the accounts automatically, so all group members pay their share, and not a penny more. That way, at the end, you'll see a summary of expenses and a fair distribution across members – who owes what to whom and for what.
It will help a group of friends to share common expenses on holidays, trips, etc.
But what if some participants overpaid or one member of the group won more or less of the total costs? This can also be indicated, and the system will make a calculation at that point or another. An internal algorithm minimizes the number of transactions so that bills are as comfortable as possible.
The app works without the need for an Internet connection and requires no registration. It's also easy to synchronize between group members. It supports all types of currencies. Download the Splittr application, indicate who paid how much and the app does the rest.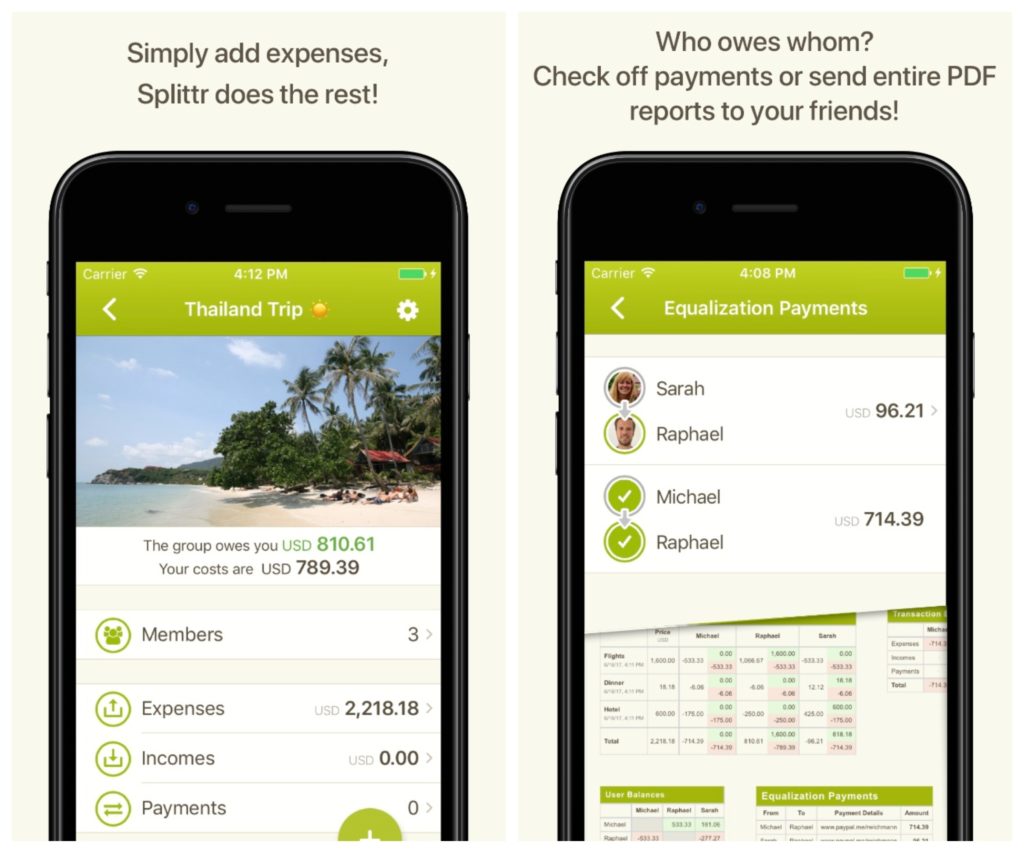 Downloads: 50000 +
Customers rating:

(3.4 / 5)

You may also like: 11 Best Vanlife and RV Apps for Android
Snap & Split Bill
Snap & Split Bill is an app that allows you to keep track of your pocket money when you go out with buddies from work, roommates, friends or a partner in the evening.
Using this app, you'll notice that it makes splitting a check between two or more people the easiest task. And if you don't feel like collecting on the spot, the app allows you to quickly make a note of who owes you money or, alternatively, how much you owe someone.
Automatic cheque recognition;
no need to enter anything by hand;
you can divide all items accurately;
works offline.
It's not even a shame to pay for the pro version to get all your receipts stored, sharing with your friends. The developers are quick to respond to feedback, which is great.
Makes life a lot easier when going out with friends to a cafe for lunch. It recognizes even crumpled receipts very well. I advise everyone to install it if you don't want to count on a calculator in a cafe who owes how much.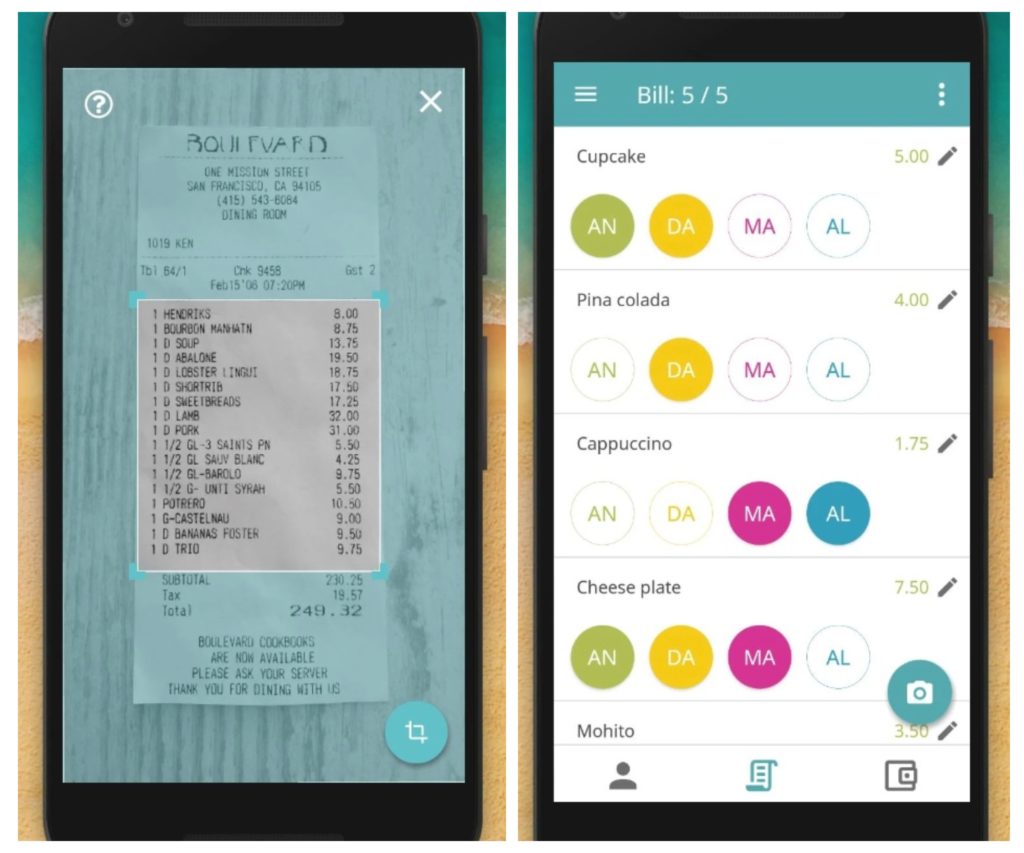 Downloads: 10000 +
Customers rating:

(4.2 / 5)