There is a great variety of multiplayer game apps, but the most exciting are the multiplayer racing games.

Of course, the appetites of gamers are growing, so now countless mobile races with a multiplayer function have been developed – this means that the player can not only race with a computer car but also compete with other users or play at the same time with his friends.
And if you and your friends want to play games even when you don't have an internet signal, then you should check out our article about the best offline action games.
Crazy Racer 3D- Endless Race
This is a highly multifunctional game: this is due to the fact that users can not only compete with each other at insane speeds but also pass obstacles waiting for them on different tracks.
In total, the game features 23 different tracks that pass through deserts, mountain ranges, plains, canyons, and cities at different times of the day, which will not allow this game to bother you because of the variety presented.

Don't forget about the most important goal- to finish first, passing through all obstacles and overtaking other users.
The developers of Crazy racer 3D also provided a choice of cars: there are 6 of them in total, among them sports cars, supercars, and hypercars. You can choose on your own which car to win today.

Moreover, users are given the opportunity to improve their cars, as well as acquire new ones – as you progress through the races and achieve victories, you will be able to create your own fleet with the coolest cars.
Among other things, to win, you need not only to overtake the enemy but also to shoot at him, as well as drop missiles on his car, if necessary, to emerge victorious in the end. This game has really simple controls – you don't need to have a lot of experience to start winning.

Also, Crazy Racer 3D has 3 game modes, each of which presents new obstacles and challenges.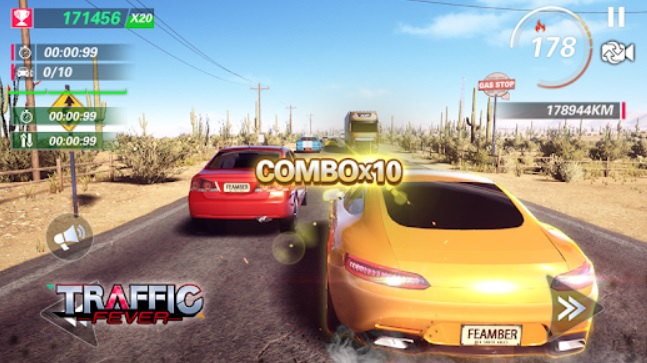 Downloads: 1000000 +

Customers rating:

(4.3 / 5)

You may also like: 33 Best RTS games for Android
Stunt Moto Racing
This motorcycle racing game, in which you also do not get a victory so easily – play alone or with your friends. Simple interface and controls can be comprehended by a user with any experience in mobile racing games or skills.
In these races, there are more than 60 completely different, specialized tracks for full immersion in the insane speed and atmosphere of rivalry.

Moreover, the tracks not only differ in the content of obstacles but also in the surrounding landscape – sea coastal territories, city streets, the sands of impenetrable deserts – go through all this and try to become a winner.
In addition to racing rivalry at breathtaking speeds, you can also start your own motorcycle tour – you will not find such a feature in any other racing game.
The developers of Stunt moto Racing have also provided an endless game mode. This means that you will drive through changing landscapes as much as you want yourself – this will allow you to pump up your skills in this game, as well as work out some tricks or tactics to win races.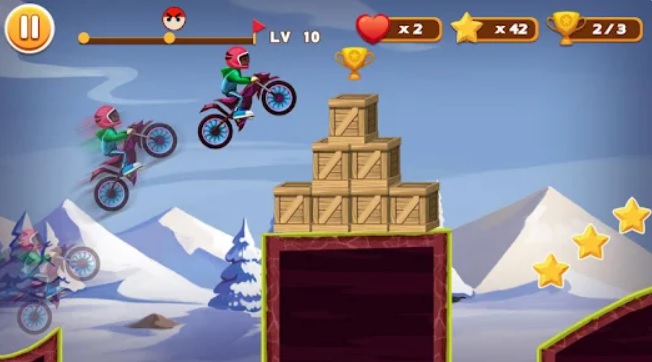 Downloads: 10000000 +

Customers rating:

(4.1 / 5)

Space Racing 3D
This is not just a mobile racing game – this is a real tournament in space at high speeds. If you are already experienced enough in racing on Earth – try to conquer the boundless space.
Don't think that there is only one racing "track" of the same type here – the developers have made a catalog of 40 tracks. Moreover, this game provides 3 game modes: Chase, Survival, or Career.

You can not only try to become the number one in speed, but also escape from the chase in outer space, or try to survive and not fall under enemy fire or run into space obstacles.
Moreover, you can receive in-game cash rewards, which after completing the game round can be used to buy a new spaceship or the most powerful additions to it. After some time, you will have your own personal space fleet of the best spaceships.
3D graphics and crazy special effects will allow you to plunge into the exciting world of racing and rivalry in boundless outer space. Moreover, this game has the most simplified controls so that users of any level can join and become the first in space races.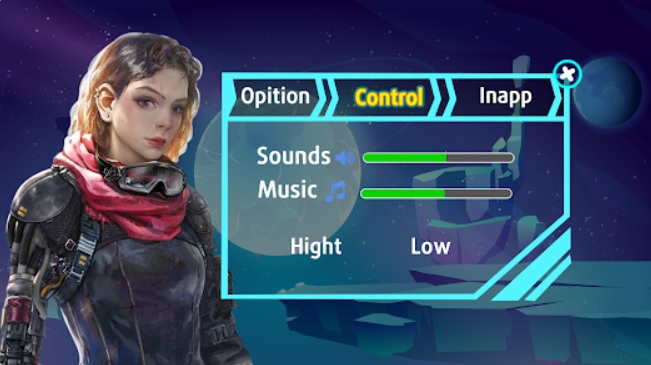 Downloads: 1000 +

Real Bike Racing
This is a bike racing simulator. In this mobile game, you have the opportunity to compete with 10 bikers or more, as well as with a computer program that automatically becomes your opponent. This game shows cycling from a new, exciting side, and also instills a competitive spirit.
The developers of Real Bike Racing have provided an individual game mode, as you progress through which you can train your skills and become number one in real bike racing.
The graphics of this game are made at a first-class level, as well as cycling remains quite real – here you will not just play a mobile game, but also feel like in a real simulator, in which your victory depends only on you.

In addition, the visual bookmarks effects of Real Bike racing will also not leave indifferent those who love the adrenaline of racing and the spirit of rivalry.
Some management elements in this game may seem quite difficult for people with little experience in such games – you will be able to learn this, however, it will take some effort. Be patient, and by adjusting to the controls, defeat your rivals and become number one in exciting bike races.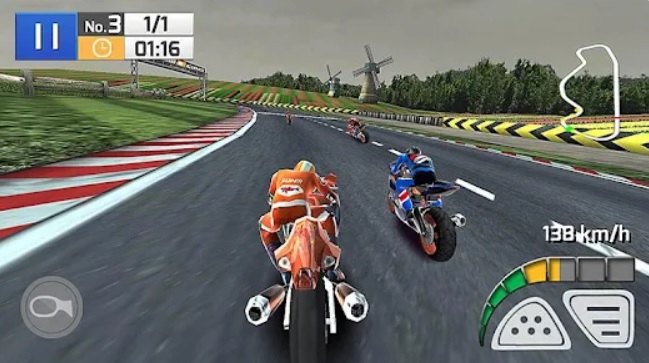 Downloads: 100000000 +

Customers rating:

(4.2 / 5)

Beach Buggy Racing
This is a truly unique game that contains everything that fans of racing games are interested in: off-road, a variety of vehicles, a large number of racing tracks, racing with a computer and real people, as well as a sportive spirit in the fight for the right to be called the best racer.
Beach Buggy Racing has certain cartoon graphics, but this will not prevent you from getting unreal emotions from the gameplay.

15 different specialized racing tracks will be a great challenge for experienced players, as well as an important challenge for users with a small amount of experience.
Moreover, in this game, there is an opportunity to receive certain earnings for victories, and later use it to purchase new vehicles, as well as improve and pump them.

In addition to your personal fleet, you can also assemble your personal team of racers with various abilities, such as teleportation.
In addition to the above, Beach Buggy Racing provides a huge number of various bonuses that can be obtained during the gameplay. In addition, the game provides 6 unique game modes with first-class 3D graphics and complementary visual effects.
Beach Buggy Racing is constantly being filled with various additions and improvements, such as new race tracks, newly available vehicles, an increase in the number of bonuses, and much more.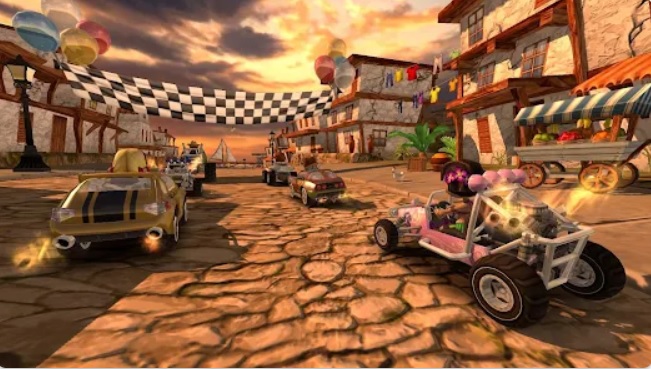 Downloads: 100000000 +

Customers rating:

(4.5 / 5)

Asphalt Moto
This game is an exciting motorcycle race that takes place on a complete variety of specialized tracks: through mountain ranges, night city streets, and long bridges.
One of the main advantages of Asphalt Moto is that there are no complex control systems: all you need is to rotate your mobile device in accordance with the desired direction of the vehicle in the game.
The main goal in each race for you will be to drive along the race track as long as possible without crashing into any obstacle or other vehicle along the way. In total, you are given 3 "attempts" for one race: their number will decrease as you crash into obstacles.

If you use them all, it will mean losing. Along the way, you will also need to collect coins, which then accumulate on your gaming account: they can be used to buy and upgrade your motorcycles.
This game is a free exciting dive into the world of motorcycle racing: good graphics and truly simple controls that do not require specialized skills and a lot of experience will allow you to feel the spirit of competition with both computer rivals and real ones.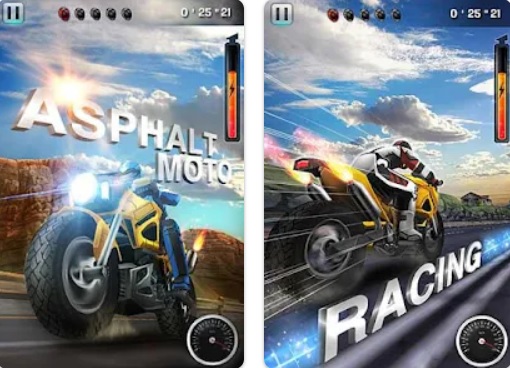 Downloads: 10000000 +

Customers rating:

(3 / 5)

Crazy Racing
This is a free mobile racing game that provides a choice of several locations that differ from each other, as well as a variety of vehicles.

You can play Crazy Racing with friends over Wi-Fi and earn coins together, which can then be spent on expanding your own fleets, as well as tuning and improving them.
This game offers to drive in 6 different locations, among which there are the countryside, city streets, mountain ranges, and much more.

As for vehicles, firstly, these are not only fast and cool supercars, not such other cars with completely different additional devices: for example, a snowplow can help you drive through snow-covered roads of mountain ranges, or even a lunar rover – it will allow you to easily navigate through unknown planets.
To play together with friends, you will need to make your own Wi-Fi access point, which your friends will then be able to connect to. After that, they will find the right server in the game and then you will be able to compete with each other for the number one title in races in different areas.

Moreover, for the coins earned during the game, you can buy new, more complex, and exciting levels, where you can also race and compete with friends.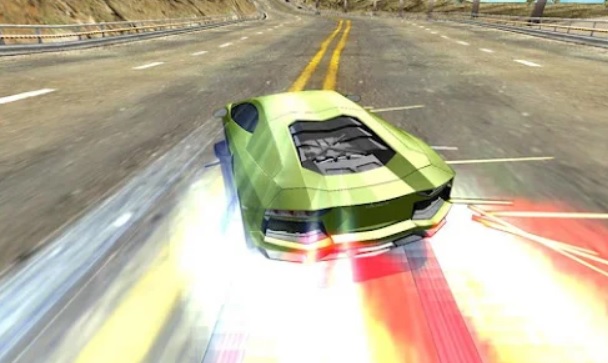 Downloads: 1000000 +

Customers rating:

(3.9 / 5)

Hovercraft: takedown
This is a non-standard racing game in the action format in which you will play as a police car and chase scammers and criminals. Be sure that you will not need to limit yourself to issuing a fine: instead, you will be able to destroy the vehicle of the criminal you catch up with.
One of the main charms of this game is that your vehicle consists of blocks. This means that you can build your car from scratch to the end on your own.

The game has 3D graphics, as well as a lot of special effects, thanks to which you will feel like you are in a real chase, in which your main goal is to catch up with the criminal and destroy him.
Moreover, you don't need a lot of time to learn how to drive your vehicle, because it is the simplest: all you need is to press your finger on the touch screen of your mobile device from the side on which you want to turn your police transport.

If a criminal appears in your field of vision: your car will automatically open fire on him.
In addition to 3D graphics and obscenely simple controls, Hovercraft: Takedown has countless settings for your gameplay. In fact, you choose how to play, which vehicle to drive and how to control it.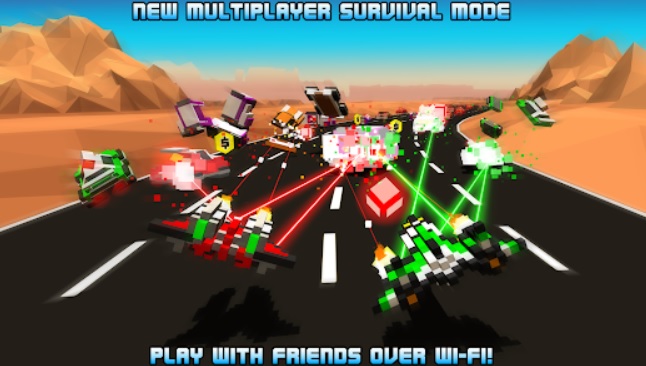 Downloads: 10000000 +

Customers rating:

(4.5 / 5)
You may also like: 11 Best survival games for Android

Asphalt 8: Airborne
This is a very diverse and multifunctional mobile racing game. Here you will find a huge variety of racing tracks, as well as a huge fleet of the fastest cars in the world. In Asphalt 8: Airborne, you will also find first-class graphics and a variety of game modes.
This game has a fleet of more than 40 supercars, sports cars, and hypercars – all of them are representatives of luxury car brands that are well known to you: Aston Martin, Lamborghini, Ferrari, and many others.

If you want to feel like driving such an awesome car – you definitely need to play Asphalt 8: Airborne. A variety of Asphalt 8: Airborne game modes provide an opportunity to compete in speed with both computer rivals and with your friends.
In addition, the developers of this game have provided a huge number of unique race tracks, which are layouts of the most famous places on the planet that you will definitely recognize: try to compete in a race in Tokyo, Iceland, or Venice.

Of course, these are not just copies of the most famous cities and landscapes: each race track is filled with unique chips or obstacles.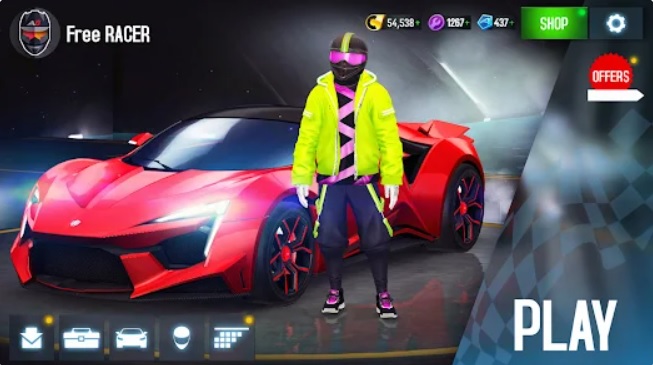 Downloads: 100000000 +

Customers rating:

(4.5 / 5)

Riptide GP: Renegade
This is a mobile racing game on vehicles with hydro-reactive technologies. It is this feature that gives this game uniqueness and elements of innovation.

This is not just a race, but also the atmosphere of a certain plot: you are an exile, forced to participate in illegal races both alone with computer enemies and rivals and online with players from all over the world or even with your friends.
You have to perform incredible and sometimes deadly stunts at insane speed, rushing over waterfalls and dodging police officers whose goal will be to catch you. At the beginning of the game, you will have to pass some tests alone, which is called a "single career".

This is necessary in order to get new, improved vehicles, as well as move to more difficult levels. This game has a lot of different game settings, the ability to unlock new characters, play in different locations, and much more.
Riptide GP: Renegade technologies allow you to race not only alone, racing against computer rivals, but also play online with users from all over the world, as well as create your own team with your friends.

Moreover, this game has a split-screen function, which will allow four players to play on the same gadget at the same time (if there are additional controllers).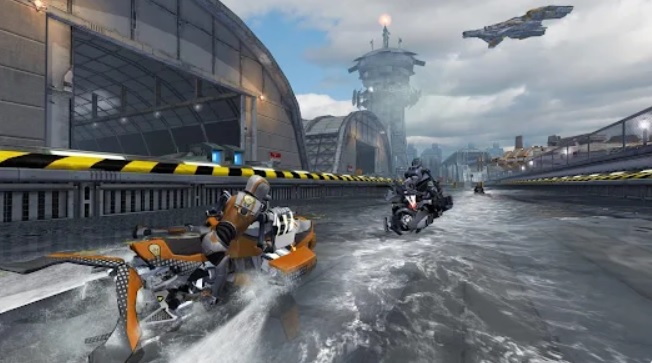 Downloads: 500000 +

Customers rating:

(4.3 / 5)

Real Racing 3
This is a mobile game in the format of real racing with excellent graphics and additional effects. Playing Real Racing 3, you will be able to feel like a Formula 1 participant, as well as a real racer in world motorsport.
Real Racing 3 provides a catalog of more than 300 cars of the most famous luxury brands: Lamborghini, Aston Martin, Audi, as well as many others.

Moreover, this game is filled with nineteen locations that differ from each other and more than forty specialized racing tracks where you can try your luck and try to become number one in Real Racing 3.
The developers of Real Racing 3 offer users to compete in races at insane speeds in several modes: single-player (with computer-generated rivals), online with players from all over the world, as well as with their friends. Try to climb in the ranking table of the best riders to a higher position.
In addition to all of the above, there is one feature of racing tracks in this game – these are generated configurations of various real-life racing tracks, such as Le Mans, Dubai Circuit, and many others. you can take part in more than 40 different real racing competitions virtually.
Real Racing 3 contains in-app purchases that can be disabled in the settings of your mobile device.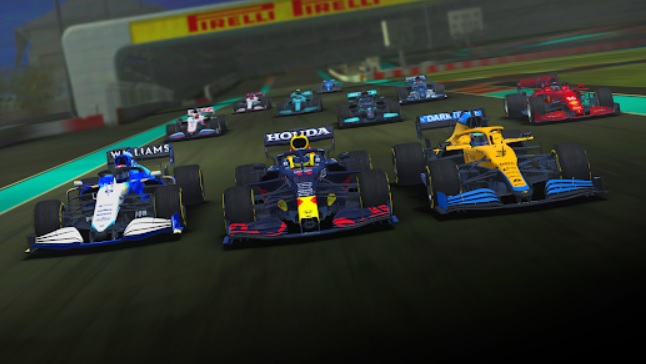 Downloads: 100000000 +

Customers rating:

(4.3 / 5)

You may also like: 17 Best four wheeler games for Android
Angry Birds Go
This game is a kind of continuation of the well-known Angry Birds game, based on the racing format. Here you will compete at crazy speeds as characters familiar to you, but on cool cars with excellent graphics.
Angry Birds Go contains a lot of racing tracks, as well as a completely diverse catalog of all kinds of vehicles in 3D graphics. In this game you have the opportunity not only to overtake rivals, but also to destroy them and sweep them out of your way.
Angry Birds Go also has a system of add-ons, rewards and bonuses that you will receive depending on the success of passing races and your own victories. You can take part in off-road races, air races, stunt stunts, as well as many other locations.
Consider your favorite characters from Angry Birds from a new angle – drive at high speeds and defeat your friends, as well as other rivals from around the world in an online format.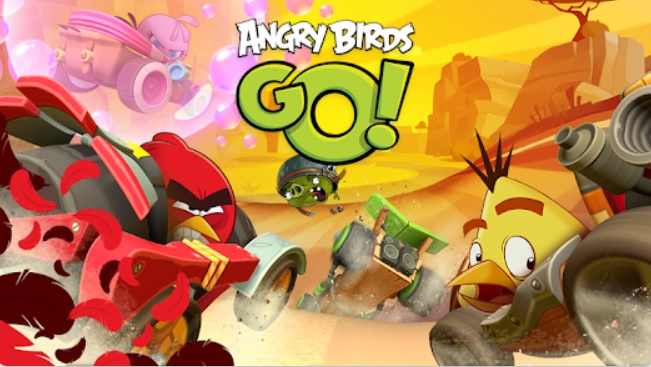 Downloads: 100000000 +

Customers rating:

(4.4 / 5)