Playing together is always more fun! But often you just don't know which games can be used that way and if they are compatible with your device. Don't worry, in the article down below we have collected the best 2-player games that will be suitable for any Android device.
And in case you want to play scary games together with your friends, we also have an article about the best multiplayer horror games.
Two-Player Games to Play on the Same Device
Dots and Boxes
This is your favorite childhood pen and paper game that was transferred to mobile devices. This is an excellent way to kill time with your phone. This is also an excellent game to play with your friends on the same phone. It's available for all types of devices.
What is more, the game is available offline as well and this fact makes the game very useful when you don't have an access to wi-fi. From the first side, the game seems quite simple and easy, but you will be surprised how addictive it is and you will find yourself playing for hours.
And actually, you can play this game not only when you have just two players, but in the settings, but you can also choose the number of players up to five.
Or, you can play artificial intelligence. The app also conducts the statistics of the game and Records the achievements so you and your friend don't miss anything.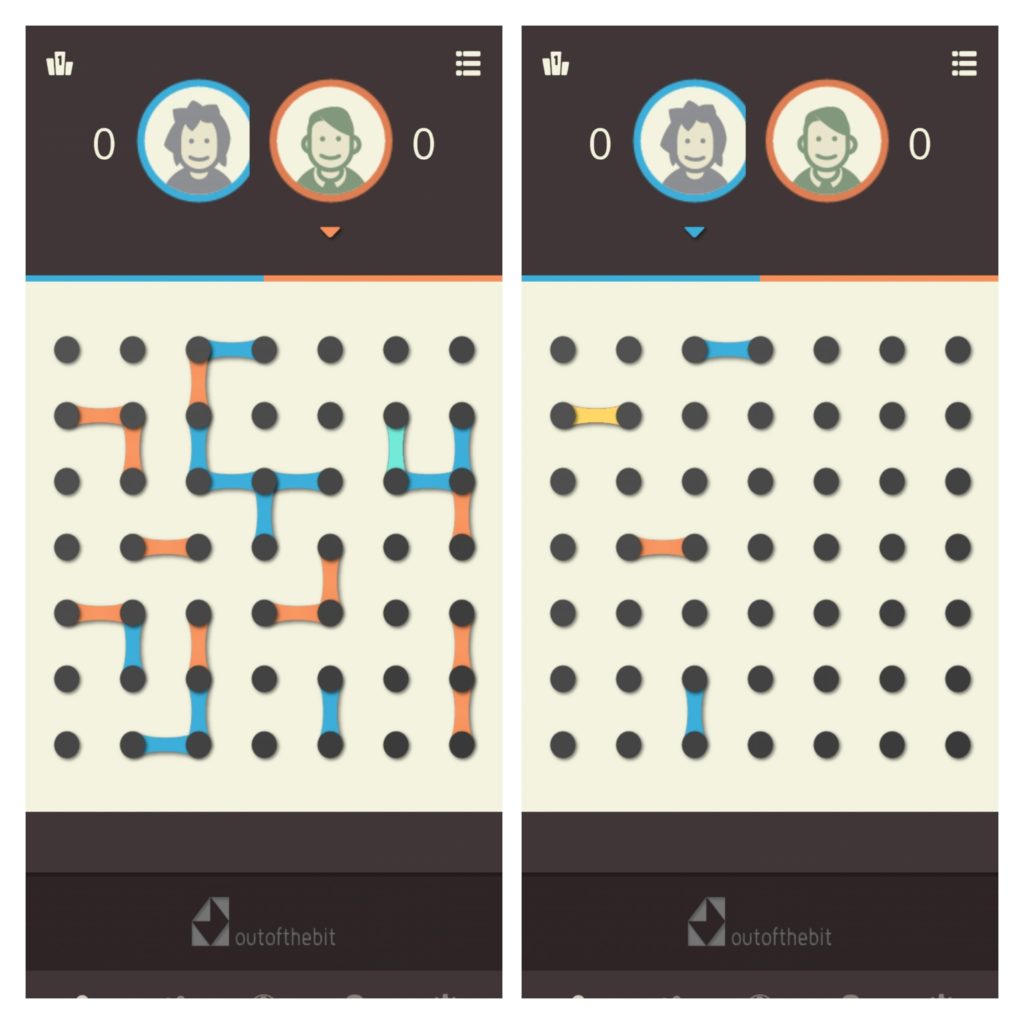 Downloads: 1 000 000+
Customers rating:

(4 / 5)

You may also like: 11 Best Android Racing Games With Controller Support
Crossy Road
You've probably heard of this game before and actually, it's one of the most popular games for Android devices ever.
Crossy Road game takes its inspiration from the classic retro game Frogger, and it delivers the same frustrating and at the same time addictive gameplay without a phone block aesthetic.
We were surprised that this game also contains the two-player mode that allows you to play on the same device in the split screen mode.
We recommend using a device with a larger screen for that. You can simultaneously compete with and sabotage your opponent. What is more, Crossy Road also works with Android TV and you can play it on a large screen.
The main advantage of this game is that it is so simple but it's so addictive. You have to manipulate the chicken and overcome all the barriers on your way.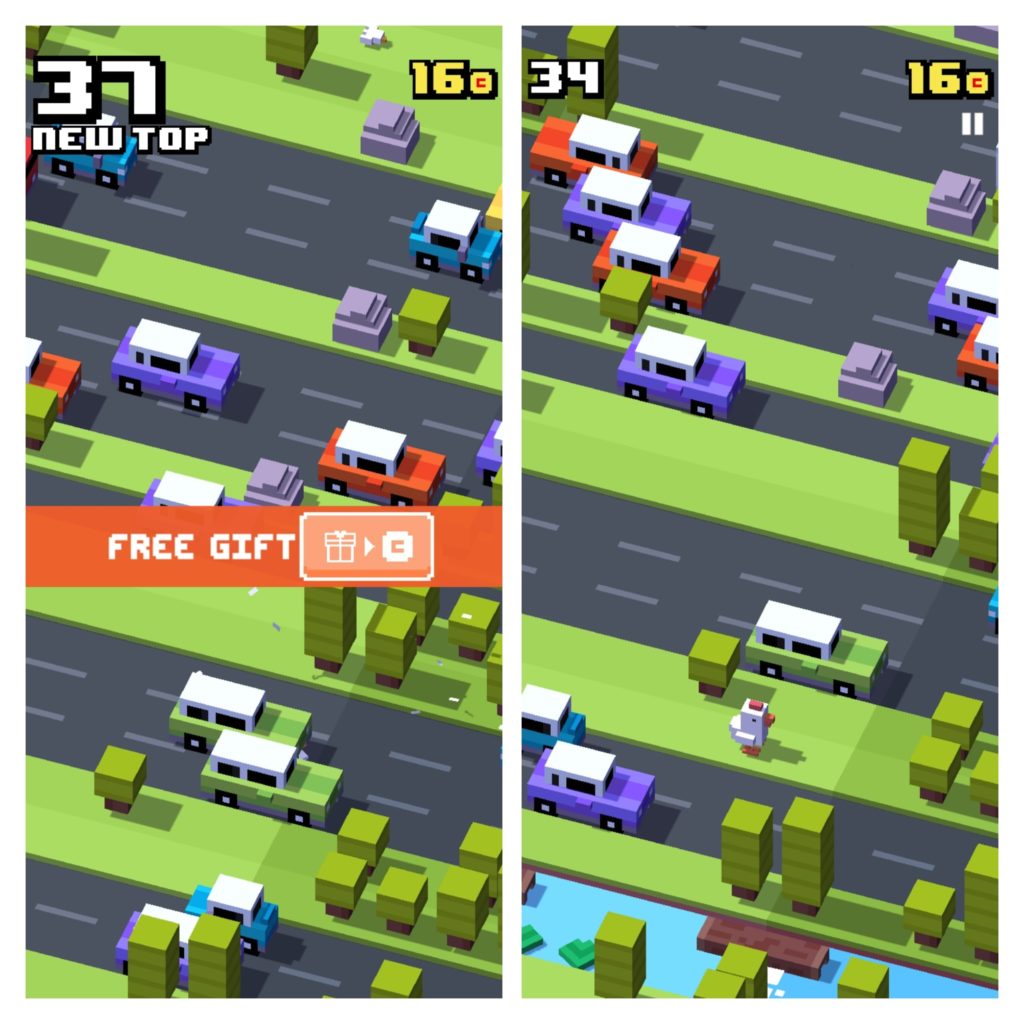 Downloads: 100 000 000+
Customers rating:

(4.6 / 5)

Glow Hockey 2
This is another extremely simple but addictive game that is available for two players at the same time. This is a real-world classic turned into a fun mobile game it's called Glow Hockey 2 and it will bring air hockey to your phone.
And even though a smartphone or a tablet screen will make the physical scale of the game smaller and less convenient, the competitive stakes feel the same and you will find yourself playing for hours.
The gameplay itself is simple, but it's funny and that's all you need. You will have to use your finger to guide your striker. And try to get the puck into your opponent's go while defending your own goal from them.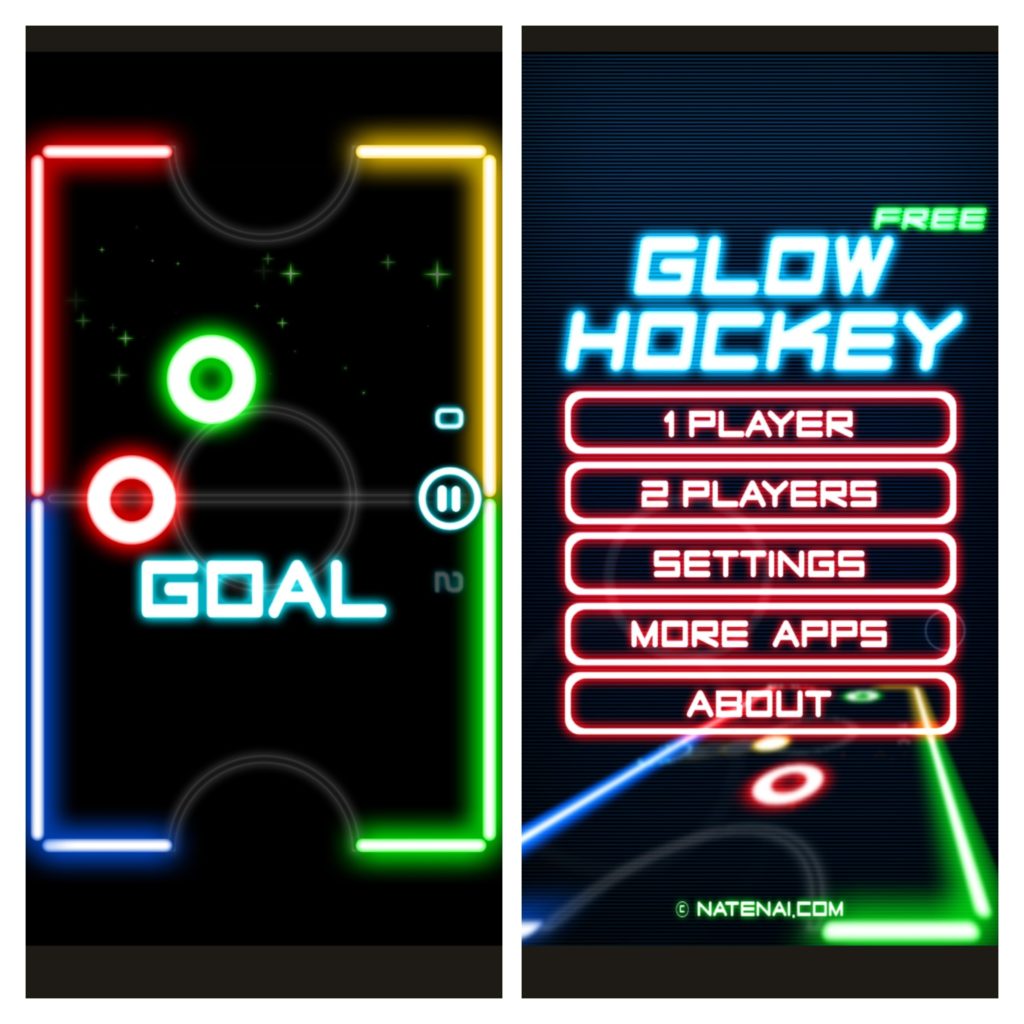 Downloads: 50 000 000+
Customers rating:

(4.3 / 5)

Two Player Games: 2 Player 1v1
In case you're looking for an app that would include a collection of games for two players in the same phone, this is an excellent choice. Here you will find the collection of the best classic games that will help you to kill the time when you were bored.
Here you will find such games as ping pong, tank games, parkour games, race car games, puzzle games, and more. You will be able to play one versus one with a single button.
In total there are more than 1,200 mini-arcade games. You can always play against artificial intelligence if you want. The gameplay is decent in most of the games and it doesn't have any bugs or lags. The best part of this app is that it's absolutely free and contains no ads.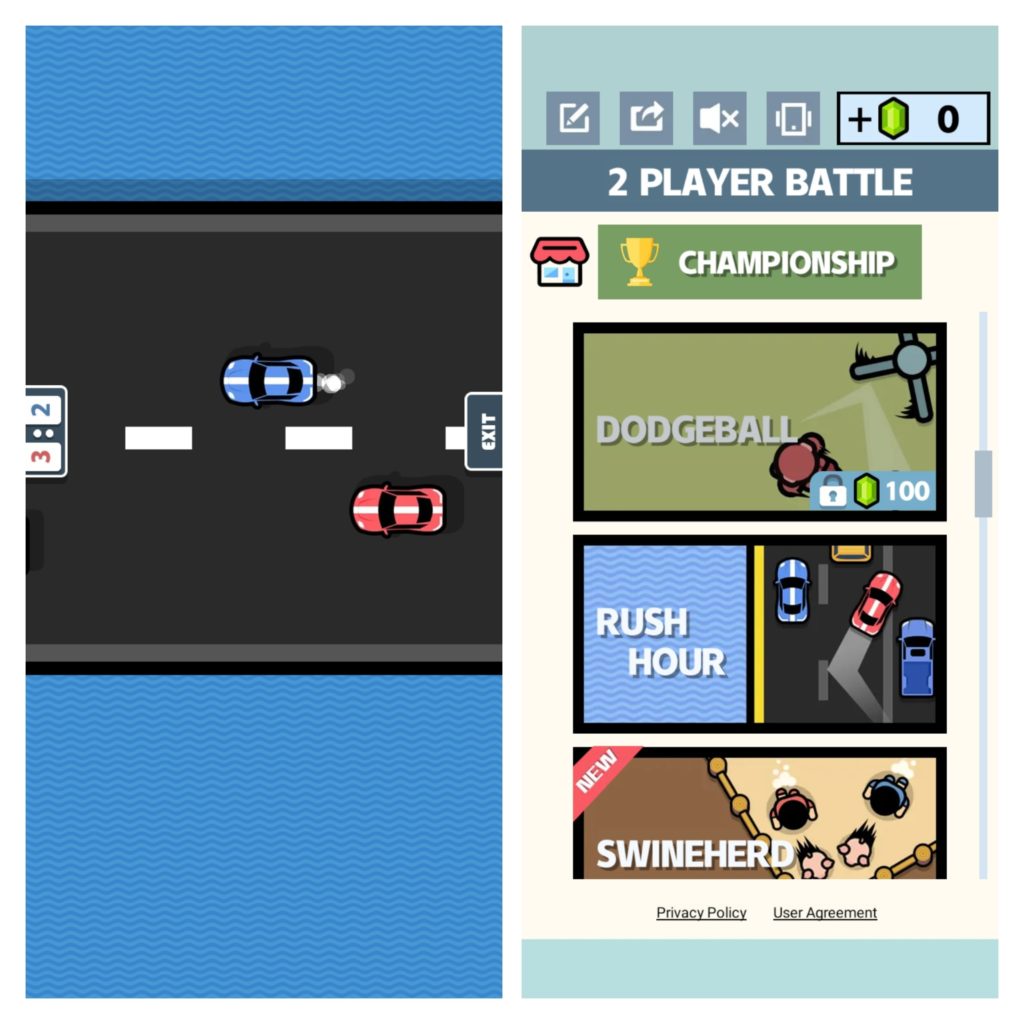 Downloads: 1 000 000+
Customers rating:

(4.3 / 5)

Two-Player Online Mobile Games
Drive Ahead!
Drive ahead is an extremely fun game that you can play with your friends online. It's not a racing game, but here you have to beat your opponents with the car. One of your tasks is to collect more than 300 stylish Racing cards and win as many battles as possible.
Here you will find Jeeps, tanks, and other types of vehicles. Sometimes you even get a really weird vehicle, for example, the pirate ghost ship, electric deer, or a mini dinosaur with a real gun.
So as you can see, the developers advised you not to take this game way too seriously, just install this game and have fun. You can team up with your friends and you can play against other teams or you can play against each other.
You can also share your achievements and records in the games community. The players get new tasks every day. The battles with bosses are updated each week.
Drive Ahead includes exotic stadiums where the battles that take place are full of robots, aliens, penguins, and more. By the way, be careful with the last ones.
The game is made in the Retro style and it has a cool soundtrack to it. So we definitely recommend you to try out drive ahead because of its authentic vibe.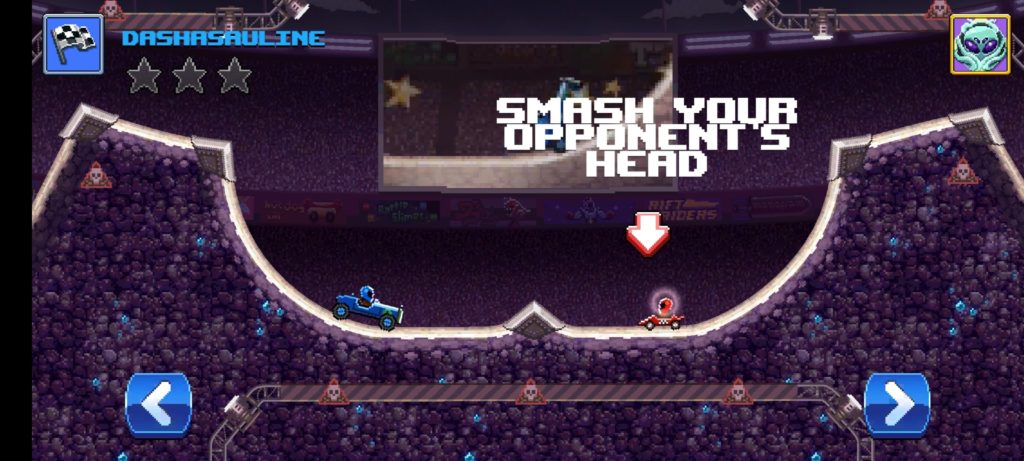 Downloads: 50 000 000+
Customers rating:

(4.1 / 5)

You may also like: 21 Free Offline Action Games for Android
UNO!™
Of course, we couldn't miss one of the most popular party games that also available for Android devices. Now your favorite card game is also available as an app. And the best part is that you can play online together with your friends. The app itself is incredibly easy in use.
If you're new to the game, when you just open the app you will receive a short guide that will quickly teach you how to play the game. And if you want to play with a friend, you should choose the category play with friends, obviously.
There the app will suggest you enter the room ID that you want to join or create a new room. This is how you can play together with a friend.
And the game itself doesn't limit you with the playing just two of you. You can play with an unlimited number of friends or you can play with random strangers from all around the world.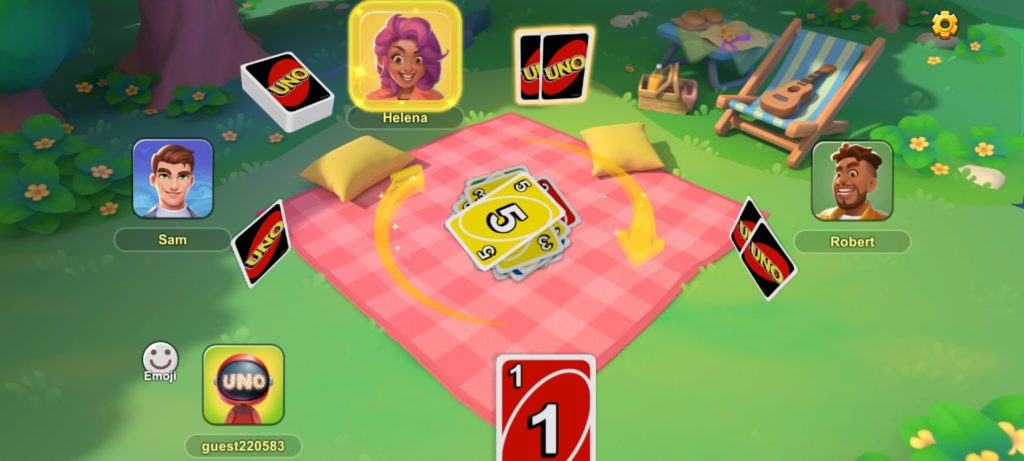 Downloads: 100 000 000+
Customers rating:

(4.5 / 5)

BombSquad
If you just want to play with your friends in the fighting game, then bomb squad is an excellent choice just to have fun. It's really easy to join the game here and just start fighting. The game can team up to eight players at once.
And in other sections, you can even form teams and play the team against the team mode. The graphics are quite decent, the locations where the bottles take place are interesting and authentic, and the overall gameplay is convenient.
Of course, it wasn't exactly comfortable for us to manipulate the character that we had, but after a while, you learn how to navigate it and you can even win the fight.
We didn't find any serious disadvantages here, neither will find lags or box. It's important not to select the hard level because if you're new to the game, you will never win and just lose all the motivation.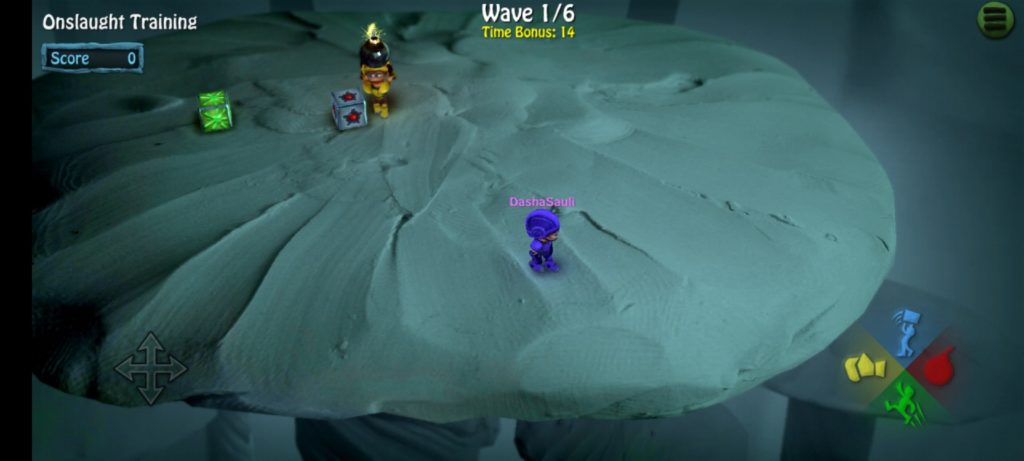 Downloads: 50 000 000+
Customers rating:

(4.5 / 5)

Hide Online
even though this game is based on the hide-and-seek idea, it reminded us of a contra strike but anymore cartoon and light version of it.
Here your task is just true around across the location and tries to catch her friends and kill them as soon as possible, the winner of the game is the one player that stays alive.
The gameplay of the game is bearable, but controlling is quite tricky because there are too many actions that you have to make in order to succeed. You have to look around, you have to move and you have to shoot.
The problem is the button for looking around and for shooting are placed nearby and it can be extremely difficult to switch between them fast in order to kill the goal.
However, the game includes a multiplayer mode, and playing it with your friends or with your one friend can be extremely funny only if you handle the controls.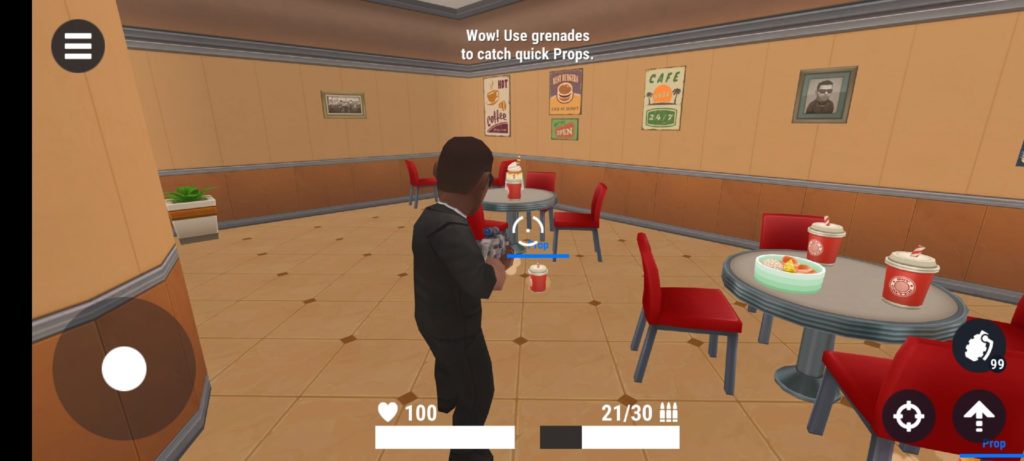 Downloads: 100 000 000+
Customers rating:

(4.4 / 5)

Two Guys & Zombies 3D
If you like games about zombies and your friends like them true, then we suggest you play this fun and exciting game that can be available with up to four players online. You just have to Tuesday multiplayer mode and create a room for you and your friend to play.
The task here is simple you're just running around the location killing zombies. The game here has controls similar to the previous app, however, in comparison to that, here the controls are so much easier to use.
So we can say that the gameplay here is good. Before the game starts, you can select your avatar character. Two Guys & Zombies provides a nice ad fun selection of those, for example, there are medics, cowboys, and so on.
The graphics are quite trivial and there's nothing unusual about it, but in case you're not looking for an interesting story or high-end graphics and just want to play a convenient and easy game with your friend this is a nice choice.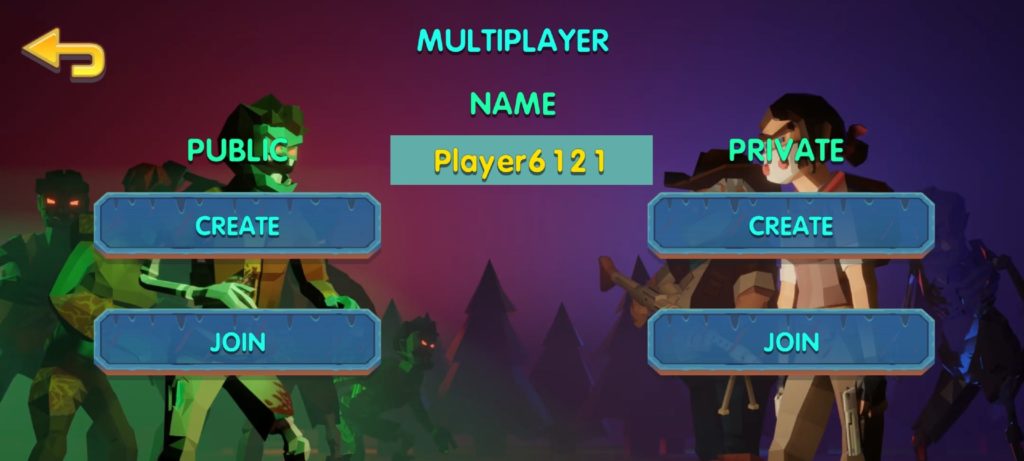 Downloads: 1 000 000+
Customers rating:

(4.6 / 5)

You may also like: 40 Free offline Android games
Fun Run 3
Of course, we could select something more impressive and something more serious for two players playing online, the problem with most of those games is that they occupy so much of the phone's memory space and use so much data.
That's why here was suggest you try this simple but extremely captivating racing game with a number of cute lovely characters. This is a racing game, that allows you to play online with your friends.
Your main task here is to win each race and cross the finish line earlier than your friends. You will be playing for a certain character, it can be a bear or a squirrel and therefore this game is also suitable for kids.
The game controls are very convenient and we could handle this game exactly from the moment we started it so shout out to the developers for that.
What is more, we were quite impressed by the detailed locations where the races take place, which location and each racing track seem long and interesting to be at since you always discover something new while you're running.
There are some inbuilt purchases in the game, but you can skip them if you want.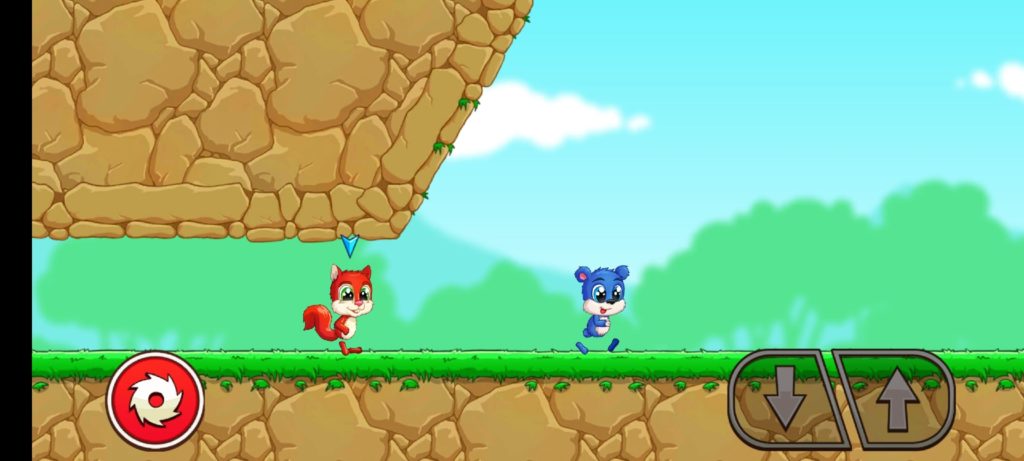 Downloads: 10 000 000+
Customers rating:

(4.3 / 5)

Two-Player Games You Play Over Wi-Fi or Bluetooth
Sea Battle 2
This is another classic app that was inspired by the traditional game in the pen and paper aesthetic. This is a game where you can play with your friend on the same device or you can play together via Bluetooth.
You can find a special section in the game where you can send a game invite or you can just join an online game. We wouldn't recommend playing on the same screen here since it's not really convenient.
In case you're not familiar with the game, your task here is to destroy the battleships of your rival by naming the random squares on their pitch. If you guess the pitch right, you destroy a ship.
And all other aspects of the game are flawless and all you have to do is just open the app and start playing, at the beginning, you will receive a short guide that will quickly teach you how to play and you will see it's easy. It's a really fun game to spend fun time with your friends.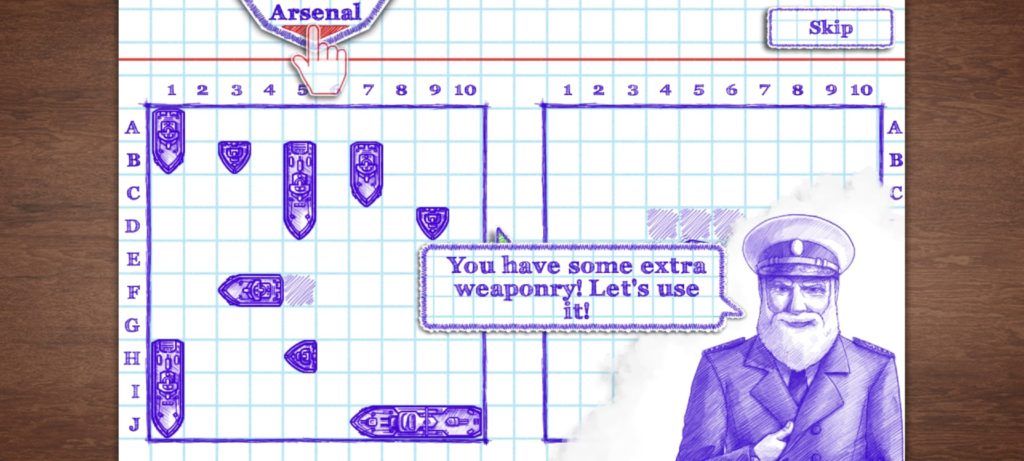 Downloads: 10 000 000+
Customers rating:

(4.7 / 5)

Soul Knight
Soul Knight is a game that is made in the Retro style and it's extremely addictive. It's based on the idea of a scary-funny game. And one of the best advantages of it is that you can play this game together with your friends over the Wi-Fi network.
This is a fun dungeon crawler, reminiscent of games like enter the Gungeon. The controls here are quite wide and here you will find a joystick, however, unlike, in the case of some games that contain a joystick, the controls here are surprisingly easy.
The gameplay overall is also more than decent. All in all, this game is a perfect package for those who prefer the retro adventure genre.
And one extremely cute bonus in Soul Knight is that here your character is accompanied by a loyal pet that will follow you throughout all the levels.
An interesting fact is that the game can automatically detect when someone who is connected to your network is hosting a match. There is a lot of levels in this game so you will never get bored and seriously if you want you can spend all day playing this game.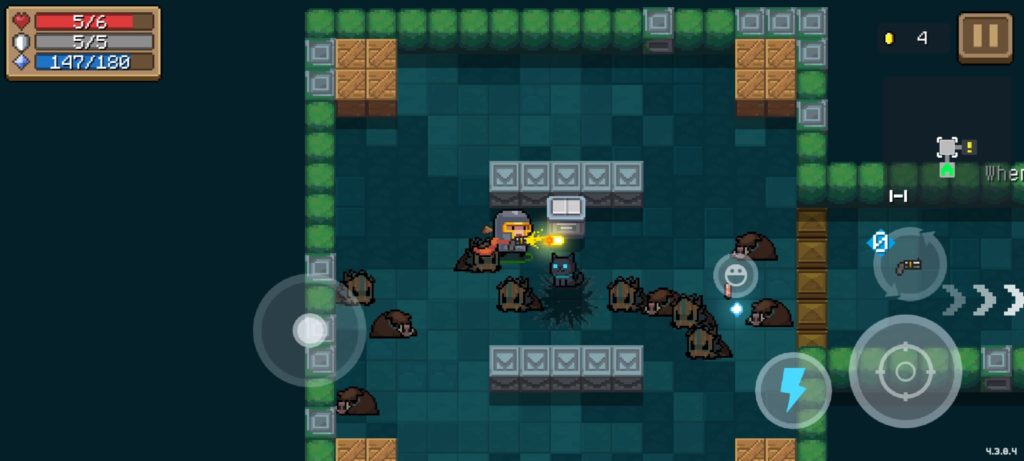 Downloads: 50 000 000+
Customers rating:

(4.5 / 5)

Tank Stars
This is a good old classic tank game that you maybe played on your PC when you were a child but in a more modified and modern up-to-date version. Classically, your main task here is to detect this pot, then take your aim and shoot.
The main difficulty here is to aim correctly so you can kill your goal in just a single shot. This is a perfect game to play one by one and here you can play over the vice high enough to work with your friend.
An interesting feature here is that you can choose the weapons here starting from simple Rockets to Atomic bombs. Find a right angle and destroy your enemies.
We also would like to mention the design of the game's locations here that are executed in the Retro style but has so many interesting details and characters on it that made the overall process fun.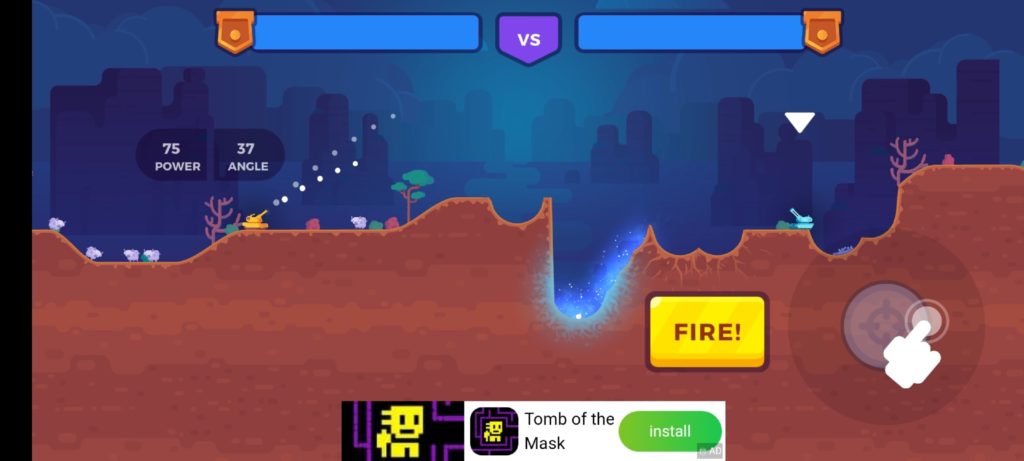 Downloads: 100 000 000+
Customers rating:

(4.6 / 5)

Badminton League
If you like sports game apps we suggest you play this badminton game. It seems simple at first side, but in fact, it's really addictive and challenging. And it's a perfect game to play with your friend over the wi-fi.
The game's physics engine is extremely decent at emulating the rocket, shuttlecock, and respective sounds. The character avatars are customizable and you can create a character that you like.
But of course, the main center of attention is the game itself, you can beat the shuttlecock in several ways, you can train your attacks, and turn this little game into real competition. The gameplay is convenient and you just will need a couple of minutes to get used to the controls.
Badminton League itself is free but inside of it you will find some invoke purchases, for example, you can buy additional rockets, character customization, and so on.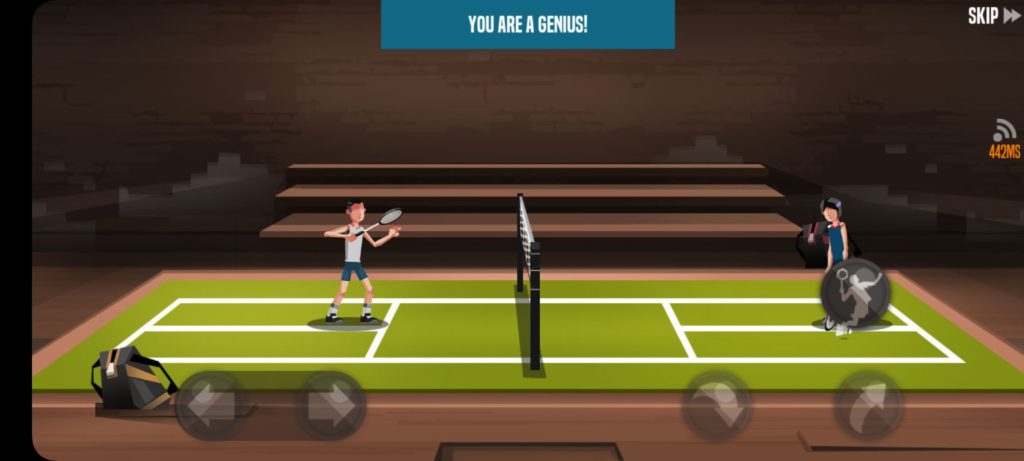 Downloads: 50 000 000+
Customers rating:

(3.4 / 5)

You may also like: 15 Best Local WiFi Multiplayer Games
Crazy Racing
Even though this game is not executed in the Retro style it turned out to be easier and more plain than all the previous ones. We will suggest playing this game with your friend over the Wi-Fi in case your phone of car racing games.
This game is about chasing her friends while performing insane stunts and shooting them with weapons to take them down. The game provides multiple cars, and each car has its own characteristics and weapons.
And the best part is that the game also works in offline mode in a local Wi-Fi multiplayer. It contains six different locations like industrial zone, extraterrestrial roots, countryside, and some others.
While testing the game, we cannot say that it worked flawlessly, it contains some minor bugs, especially where you have to ride the heels and the car just gets stuck in the middle.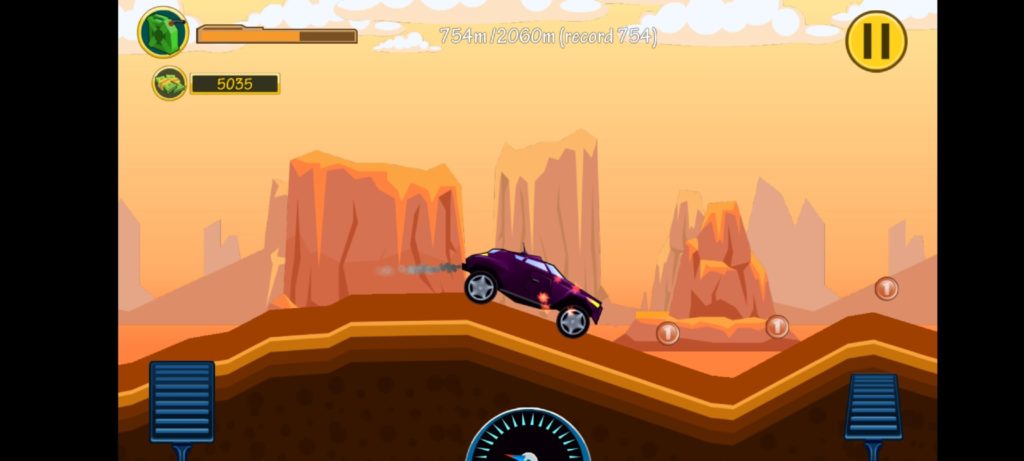 Downloads: 500 000+
Customers rating:

(3.3 / 5)