Tired of lugging your bulky journal around everywhere you go? Do you frequently forget to pack it when you need it the most? Well, you're in for a treat!
We've rounded up the best bullet journal apps for Android you could try. These will not only make your life easier, but also more organized.
Say goodbye to pen and paper, and hello to the digital age. With these apps, you'll have everything you need to keep track of your goals, daily tasks, and ideas, all conveniently located in your pocket. Let's dive in!
Daylio Journal
Need a personal life coach, but your pockets feeling a little empty? Don't worry, this app has got your back (and your mental health too).
Consider it your blank canvas, ready to be transformed into whatever you need. Fitness goals tracking? Check. Mental health monitoring? Yup. Daily gratitude cultivation? Oh, absolutely. And that's just scratching the surface.
But wait, there's more! With this app, you can reflect on your day, uncover the secrets of genuine happiness, and even use a plethora of icons to monitor personalized adventures. Peek into your memories through pics and audio recordings, and geek out over fascinating stats on charts. Who knew data could be so freaking fun?
And let's talk aesthetics! Switch colors, embrace the dark mode, and rejoice in the glory of aesthetics. Oh, and don't forget the reminders to cherish your moments and take care of yourself. You can even export your entries as fancy PDF or CSV documents. Talk about an overachiever.
Oh, did we mention that you can also share your progress and stats with pals? 'Cause accountability is the name of the game.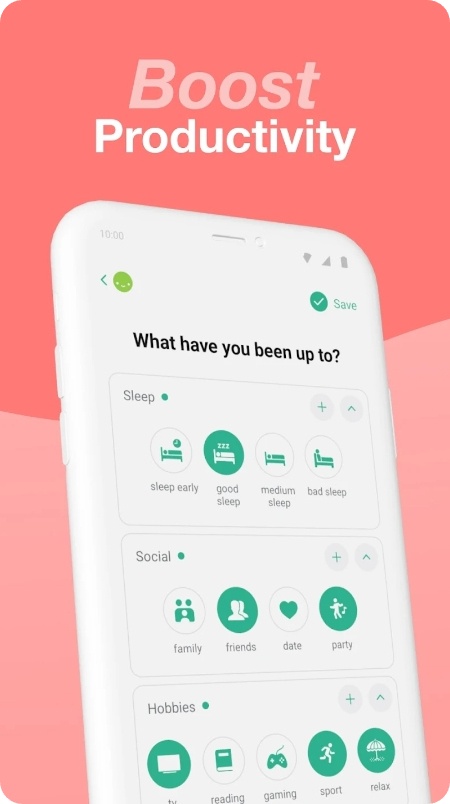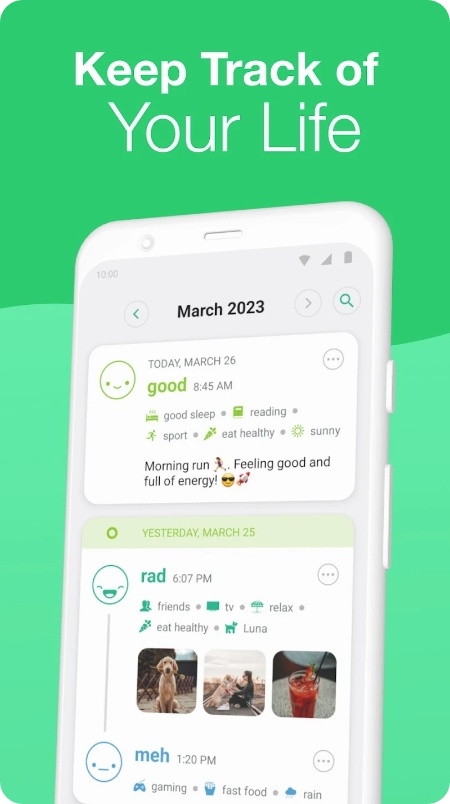 Downloads: 10M+
Customers rating:

(4.7 / 5)
You may also like: 13 Best Day Planner Apps
DailyBean
Tired of the never-ending search for a diary app that effortlessly captures your daily life? This app might be i! With just a few taps, you can enter your mood and activities like a boss.
Prep to be wowed by the standout monthly calendar, giving a glimpse of your mood flow. The five mood beans? They're the innovative gems that unlock your emotional patterns. Click on those beans, and voila! You'll unlock a treasure trove of in-depth records for each day. It's like discovering the secrets of your emotions, with just a simple tap!
Take a moment to admire the colorful icons and the option to add pictures and notes. It's like giving your daily life a vibrant makeover, effortlessly summarized in a snap. The pp makes it a piece of cake, making unique evidence of your life in the blink of an eye.
And hold your horses, because the app has a little smth called category blocks. Add them, delete them, do whatever you please – these are here to stay and cater to your lifestyle needs.
We've saved the best for last: the icing on the cake, aka the mood and activity statistics. Analyzing your mood flow on a weekly and monthly basis is where the magic happens. Now you can uncover how activities affect your mood and get the juiciest insights into your daily life.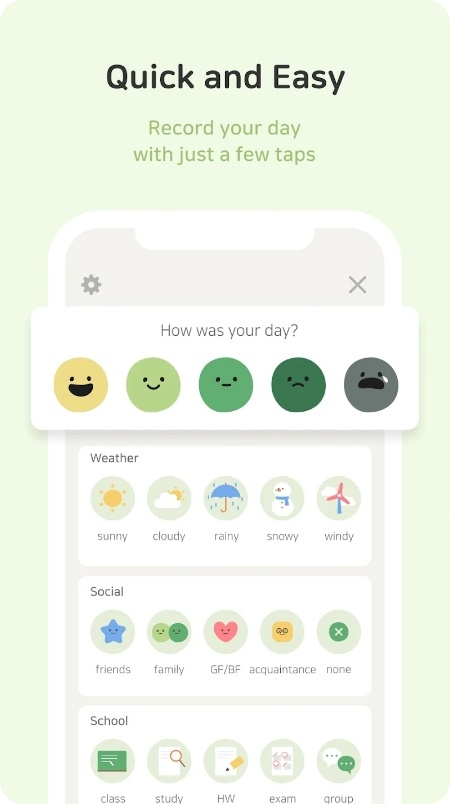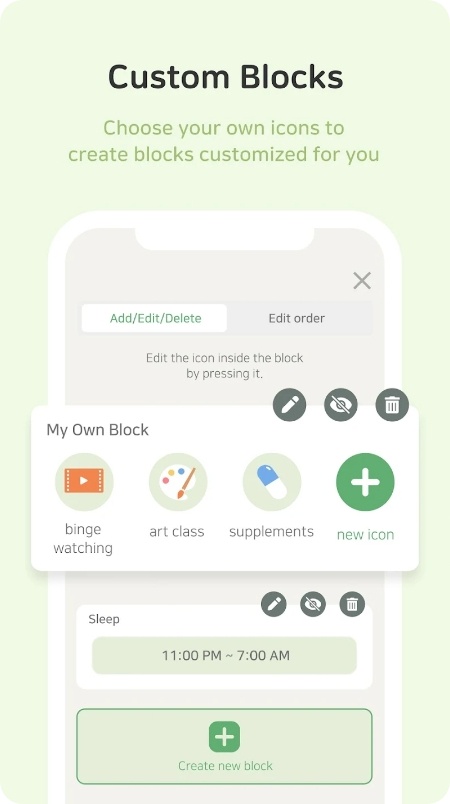 Downloads: 1M+
Customers rating:

(4.7 / 5)
Journal it
This app helps to slay your schedule and conquer productivity like a boss. Prepare to be wowed by its genius time-blocking syst. The secret sauce to allocate dedicated slots for tasks and activities. It's like having a personal productivity wizard, ensuring you never miss a beat or overlook a vital appointment.
But it ain't just about time management. It's the multitasking maven that separates calendar slots from individual tasks. Seamlessly connect sessions and tackle long-term projects like a pro. You'll review progress like a champ once they're completed.
And guess what? Bullet journaling buffs, you're in for a treat! The app magically links your past, present, and future. Create a captivating narrative that ties all aspects of your life, track progress, and plan with effortless grace.
It keeps your life, projects, activities, tags, and even people in perfect harmony. Maintain a crystal-clear overview like a master organizer. It covers note-taking, habit tracking, and more, all effortlessly accessible right away.
Oh, but there's a little secret too. The app brings the magic touch of insights and stats. Custom trackers and comprehensive data let you make flawless decisions for personal growth.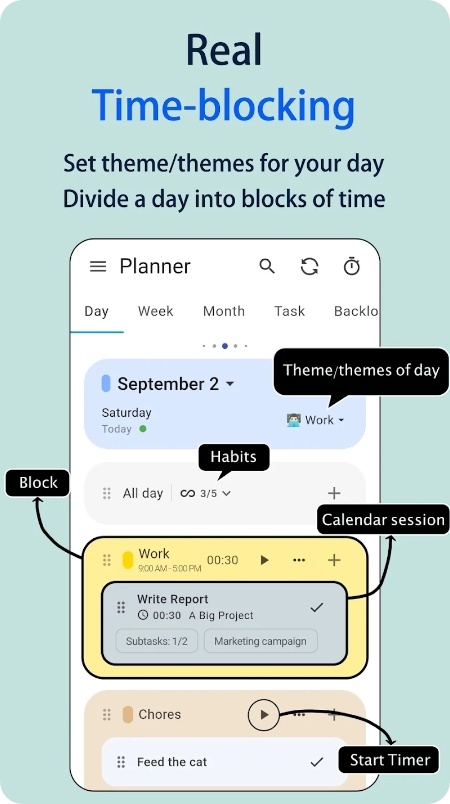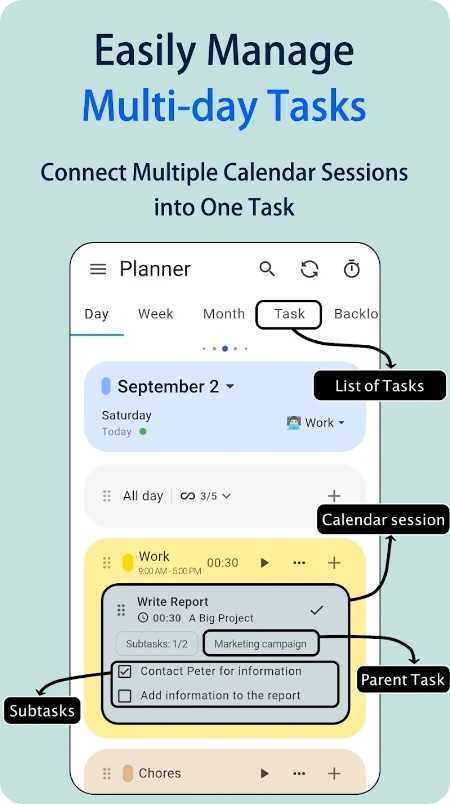 Downloads: 500K+
Customers rating:

(4.2 / 5)
Daybook
Have you ever had a feeling like your memories are just slipping away? Not the best feeling in the world, right? Well, this little gem of an app lets you keep an eye on your daily life in a private journal that feels just like pen and paper.
But it isn't just any old diary app. It covers a variety of guided journals, such as a mental health tracker and a gratitude journal. Plus, with a mood analyzer that uses data from your activity log and mood log, you can gain insights into your own emotional patterns.

Not only is it easy to use, but it's also passcode protected and includes auto data backup. You can even use the voice to record your thoughts instead of typing them out.

But one of the best things about this one is its multipurpose usability. It functions as a to-do list tool, a business diary, a trip journal, or even just a simple notebook. And with tools like syncing across platforms and voice-activated assistance, you can use it anywhere, anytime. It's a fun and efficient way to safeguard your memories and stay organized in all areas of your life.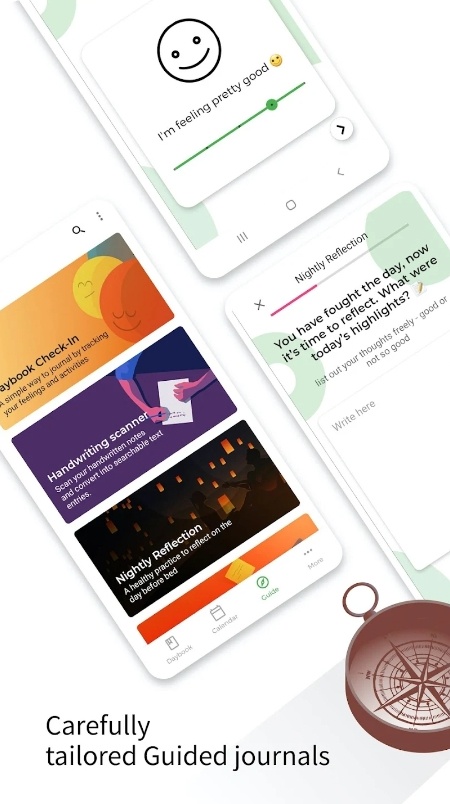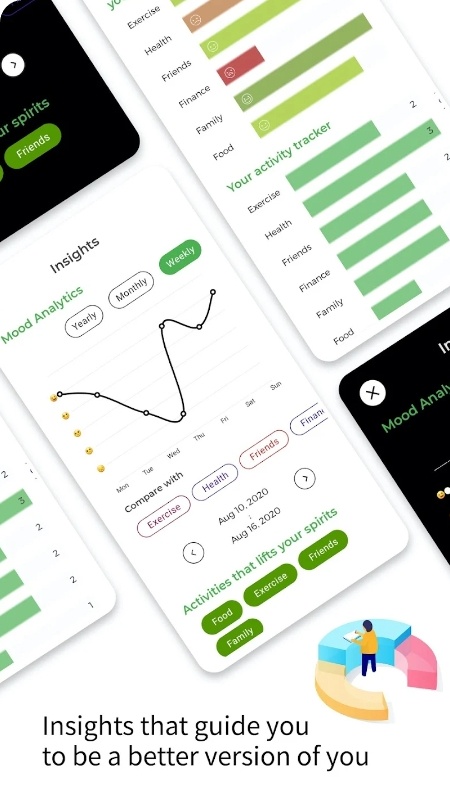 Downloads: 1M+
Customers rating:

(4.2 / 5)
May
That's a bullet journal app that's as beautiful as it is functional. It's got all the tools you need to organize your life like a breeze, with a touch of pizzazz.
Add notes, events, and to-do lists with ease, monitor appointments and daily goals. And hey, if you've got an artistic side, the app's doodle-friendly drawing tools will be your new bffs.
But wait, there's more! The app will make your bullet journal shine brighter than the sun with its fancy handwriting fonts and adorable stickers. Express your unique personality and style like never before. Plus, it has a dark theme and 12 other ones to make your journal truly pop!
Oh, did we mention that it is totally free? No registration is required – just pure organizational bliss. Whether you're new to bullet journaling or a seasoned pro, the app is here to save the day and keep you on track.
It will quickly become your partner in creativity and organization. Trust us, you won't be able to put it down once you've experienced its friendly UI, gorgeous design, and vast array of tools.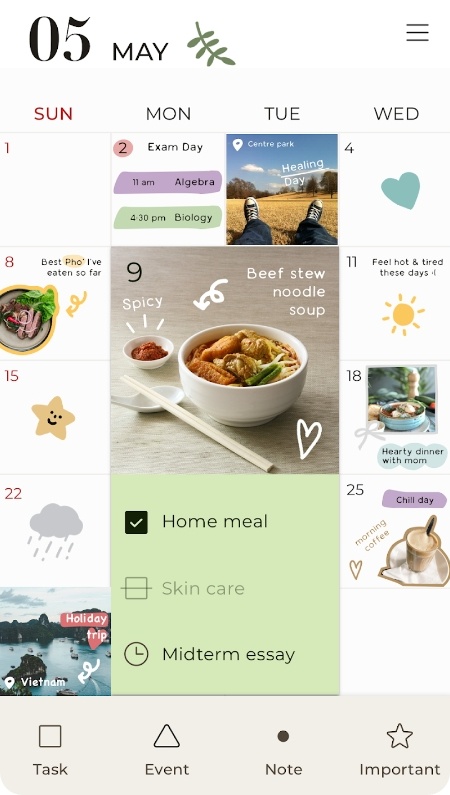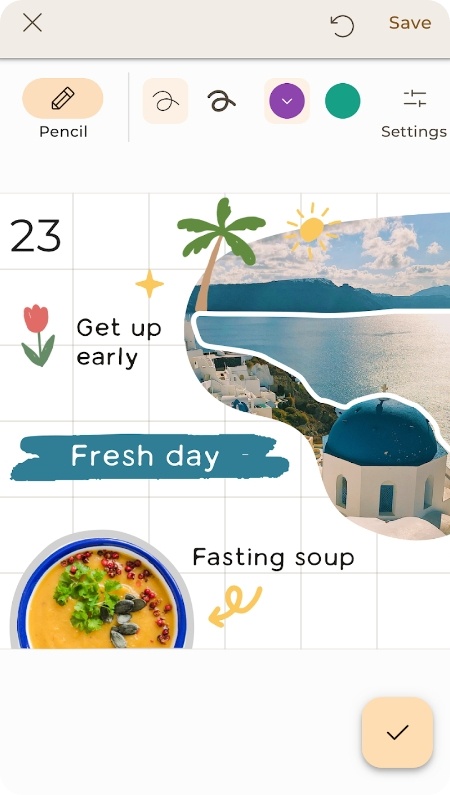 Downloads: 500K+
Customers rating:

(4.5 / 5)
Check also: 10 Best Android Apps to Organize Home Routines
OrganizeMe
This app is here to end your struggles of feeling overwhelmed with journaling and organization. Let's start with the UI. It's so user-friendly that even your grandma can nail it. From daily to weekly to monthly views, you'll conquer all your tasks, events, and notes with a breeze.
And with tons of modification options, your journal will be as stylish as you are! The app hooks you up with heaps of themes and wallpapers to add some serious personality to your journal. Plus, you can bring it to life with your own pics because inspiration knows no limits!
Now, let's get productive. Reminders and alarms will have you nailing those important deadlines like a boss. The habit tracker is pure gold for forming good habits or ditching the bad ones. And for fellow Pomodoro technique fans, we've got your back with a built-in timer to keep you laser-focused.
The brings you peace of mind with top-notch security. Pin lock and biometric support will keep your info under lock and key. And if you're all about that old-school vibe, you can even print to PDF for that physical touch.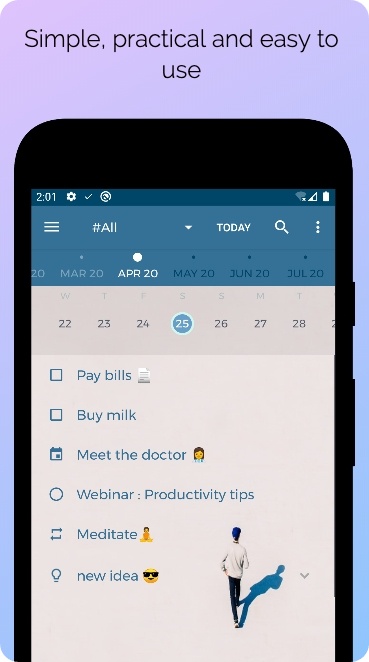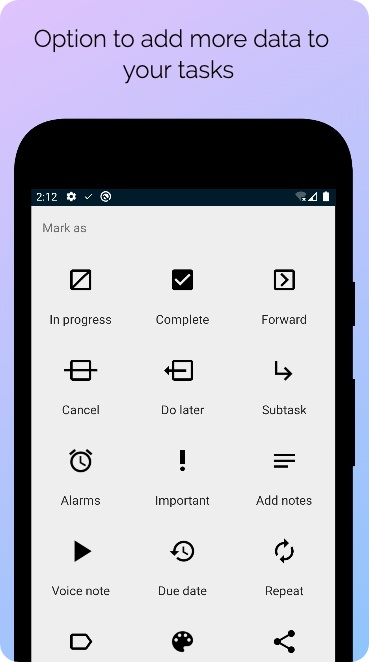 Downloads: 100K+
Customers rating:

(4.4 / 5)
5 Minute Journal
If you're craving a mood boost and some serious self-care vibes, say hello to this app. Trust us, as a gratitude journal connoisseur, this little gem is a total game changer.
Forget the struggle; this app's guided prompts make journaling a breeze, even for time-crunched folks like us. Plus, the tailor-made and adjustable journaling prompts take self-reflection to a whole new lvl. Prepare for an emotional roller coaster as you delve into the beauty of your life.
Need some stress relief? Boom, easy reflections tool to the rescue. Your previous journal entries are just a swipe away, ready to whisk away your worries. And with a private diary protected by a code or Touch ID, your secrets are locked up tighter than Fort Knox.
But hold up, the app is not just a boring old journal. Brace yourself for positive affirmations and weekly challenges that'll level up your self-improvement game. And with personal growth tracking, you'll marvel at how far you've come on your journey to mindfulness. And whether you're a journaling newbie or a seasoned pro, this app is a must-have.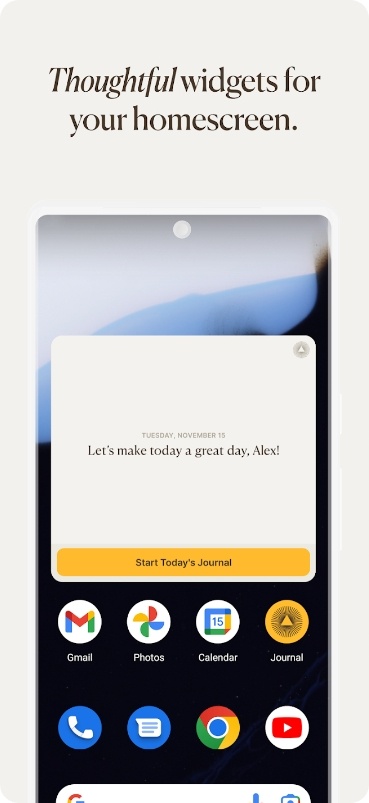 Downloads: 100K+
Customers rating:

(4.2 / 5)
Simple Diary
Only one thing comes to mind when we think about this app: it's simple, but not basic. Finally, an app that does exactly what you need it to do, without overcomplicating things!

If you just want to jot down daily thoughts without any added fuss, this app will be an absolute lifesaver. Its sophisticated design is not only visually appealing but also incredibly practical. With its easy-to-use "pull" tool, adding entries to your diary has never been easier.

And let's not forget about the app's intuitive usability. You won't find any unnecessary tools or complicated settings here. Managing your diary has never been as enjoyable and less stressful as it is with this app.

The beauty of this app lies in its seamless performance, making it a wonderful companion for daily use. Whether you want to capture a moment or record a milestone, the app is here to help.

In a world where everything seems to be getting more complex, it's refreshing to have an app that embodies the "simple is best" philosophy. So, if you're someone who wants to maintain a daily diary in an easy and straightforward way, this is the one to go for.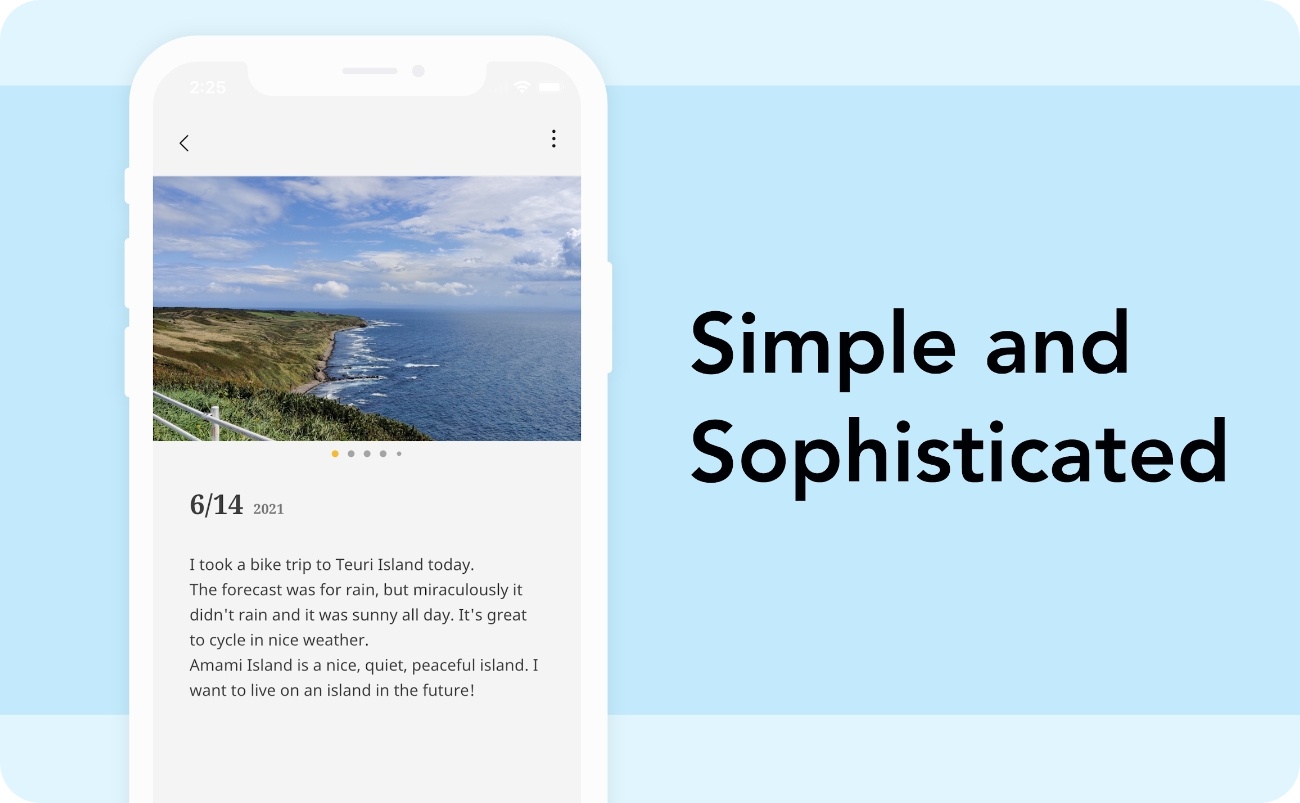 Downloads: 100K+
Customers rating:

(4.5 / 5)
You may also check: 12 Best Diet Diary Apps
Bujo
Lastly, we have a little gem of an app that will upgrade your journaling game. It's ideal for those who don't want to switch between multiple planners.
This app is the digital genie granting all your bullet journal wishes and more. It's a one-stop shop to monitor your mood, habits, tasks, fitness, and more. Plus, it won't cost you a cent! Unleash your creativity with the mood tracer and have a blast picking mood stickers to jazz up your entries. It's like emoticons for grown-ups, only more meaningful.
There's also a vast scope of stickers and backgrounds to pimp your diary entries. You can adjust some things, and move them around – it's sticker magic!
Get ready to be wowed by the calendar view, where all your moods and activities come together in a beautifully organized frenzy. Spotting patterns and tweaking your routine has never been this effortless. Plus, you can add pics and jazz up your text because, well, you're fabulous like that.
Whether you're on a quest for self-awareness or practicing self-care, this app is your sidekick for the journey. Its myriad of instruments make tracking your personal life a breeze.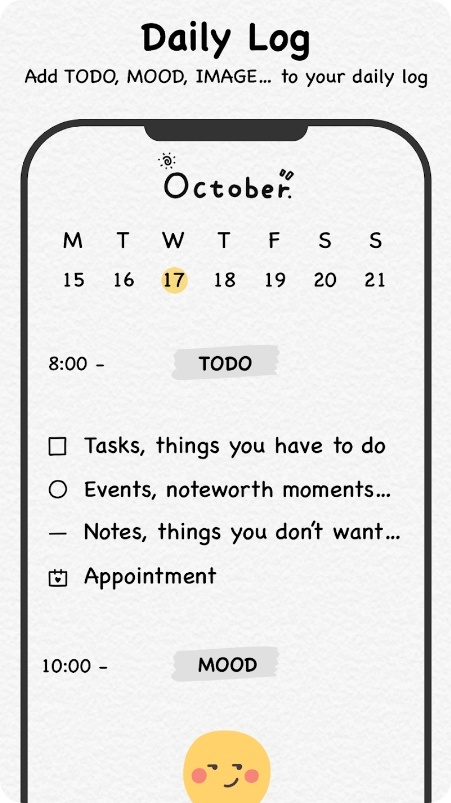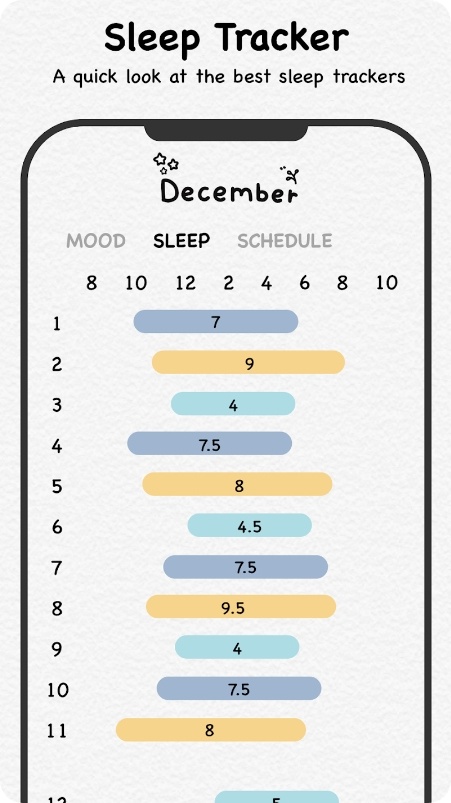 Downloads: 50K+