Tired of capturing those stunning, IG-worthy moments only to be disappointed with the pesky, grainy noise that seems to creep into every shot? Well, you don't have to settle for a pixelated mess anymore!
We've rounded up the best photo noise reduction apps for Android you could try. You don't have to sacrifice image quality for the sake of convenience anymore: these apps let you enhance the quality of the snaps as easily as pie.
Say bye to noisy, lackluster pics and hello to crisp, clear images that are sure to make your followers double-tap. Whether you're a pro or just love taking pics for IG, these apps work their magic to make the snaps that will make your IG subs swoon. Let's dive in!
Remini
Get ready to be mind-blown by the latest tech marvel that turns your old, blurry, and damaged pics into jaw-dropping masterpieces. It's the ultimate restoration wizard that'll make your pics pop, and it does a great job denoising snaps too.
The app's AI tech works its magic, transforming the snaps with crystal-clear details and pixel wizardry. Trust us, your pics will look unreal! We can't sing its praises enough for the jaw-dropping results it delivers.
And it's not just about making your pics new, the app repairs scratched ones too, resurrecting memories you thought were long gone. The app's speed and reliability are insane, and even tech newbies can rock the friendly UI.
But here's the real kicker: using this one is an experience like no other. Watching your old pics come back to life? Pure indescribable joy. It's a ride you've got to try! Oh, and get ready for the likes and envy when you share your restored pics on social media. And it won't cost you a single dime too (there are no watermarks either).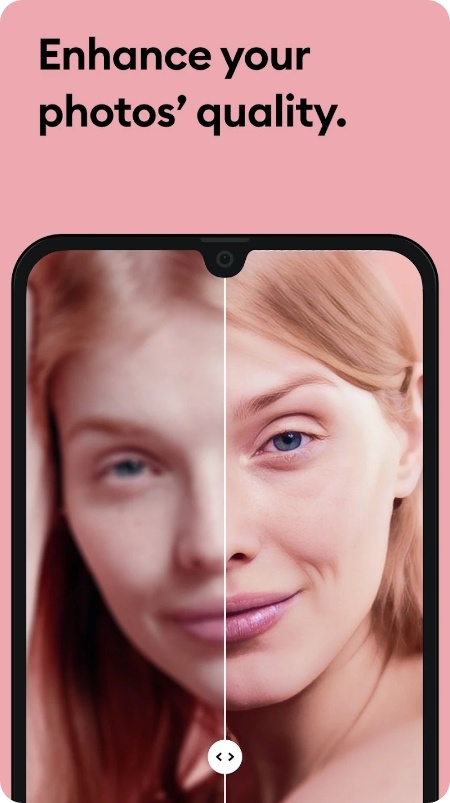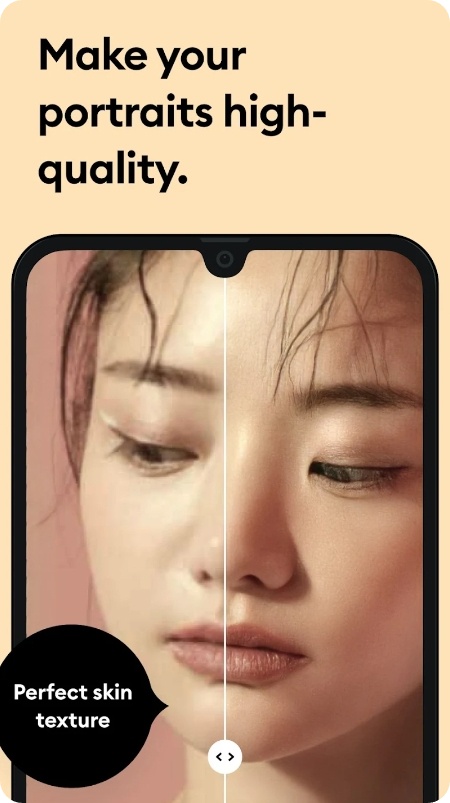 Downloads: 100M+
Customers rating:

(4.3 / 5)

You may also like: 9 Best Apps to Remove Glare from Photos
UpFoto
This app is here to turn low-quality and damaged pics into masterpieces. With its arsenal of tools, you can say goodbye to pic woes and hello to next-level snaps!
Let's start with the portrait details tool. Ideal selfie gone not-so-perfect? The app will save the day! It works its magic, enhancing your facial features, and leaving you flaunting flawless pics effortlessly.
The app works like magic, breathing new life into your cherished memories. No more scratches, no more damage, just a nostalgic journey into the past. Resolution and HD fanatics, rejoice! The app's enhancement tool lets you increase pic resolution by up to a mind-boggling 800%! Yes, you read it right, 800%! Prepare for stunning HD snaps that even pros would envy.
There's also an unblurring tool, turning your pics from fuzzy to crystal clear. Spice things up by adding a pop of color to make your old snaps look cartoon-like. And for that extra crispy look, don't forget to sprinkle some enchantment using our smart filters.
It's a must-have tool for memory-preserving enthusiasts. Its easy-to-use tools and tools will have you transforming mediocre pics into stunning works of art.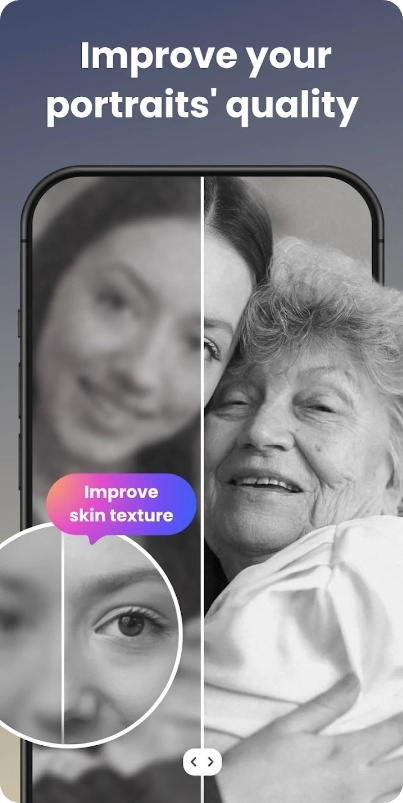 Downloads: 10M+
Customers rating:

(4.5 / 5)

Pixelup
This bad boy right here has AI algorithms that are straight-up sorcery. It's like having a whole squad of pro editors at your beck and call. Whether you're fixing up an ancient family snap or a fresh selfie, the app works its magic and turns everything into sheer visual delight.
But here's the real kicker: the colorizing tool. It's pure, unadulterated magic, we tell you! With just one tap, you can revitalize old black-and-white pics with dazzling, eye-popping colors. It's like stepping into a time machine and unveiling your favorite memories in full glory!
And guess what? There's more! The app covers AI avatars that are on a whole new lvl of awesomeness. Take a quick selfie, run it through the app, and voila! You've got a personalized pic that looks uncannily like you. It's like having a real-life mini-me to breathe life into all your social media posts. How cool is that?
Ready for the grand finale? It even has an animation tool. Your old pics can now come alive! From silly GIFs to resurrecting vintage family shots, the app has got you covered. It's pure photo sorcery, really.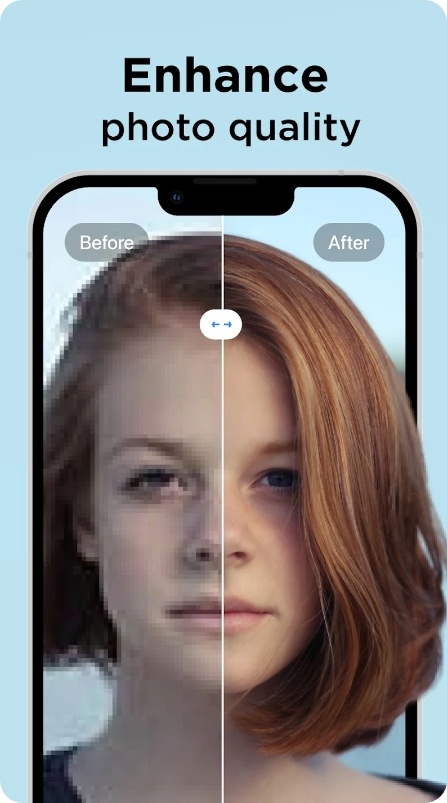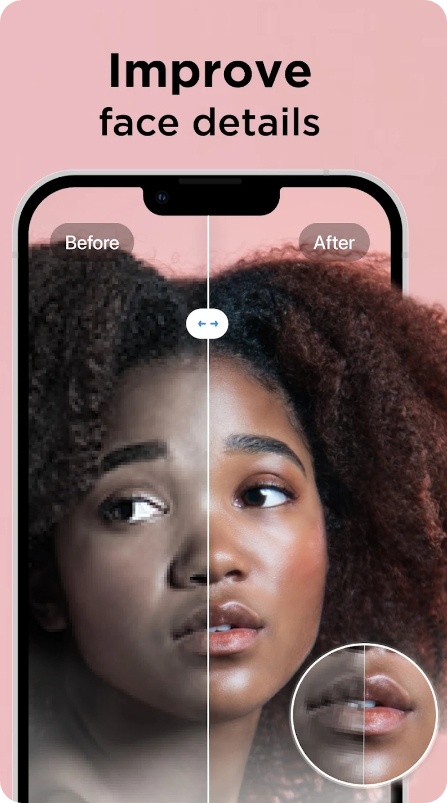 Downloads: 5M+
Customers rating:

(3.5 / 5)

Enhance it
This app is the kind of app that will make your snaps look like they were taken by a pro photographer. It is armed with powerful AI tools that'll boost your photo game, fix blur, and even save those once-lost vintage treasures.
There's an auto-enhance tool that fixes low-quality pics like a boss, kicking out noise, upgrading illumination, and nailing it when there are people in the frame. Clear snaps, guaranteed!
And you can say bye to motion blur mishaps, thanks to a motion deblur tool. No more blurry nightmares – just crystal-clear, razor-sharp shots in a flash.
And those grainy, noisy snaps? The denoise tool is here to save the day. It zaps the noise away while keeping every detail intact – the ideal balance of clarity and sharpness.
But hold on, there's more to this magical app! There's a light tool to brighten any dark pic naturally, and a color enhancement one to make your snaps pop. Whether you're a pro or just snapping away, it's the app to boost your snap game.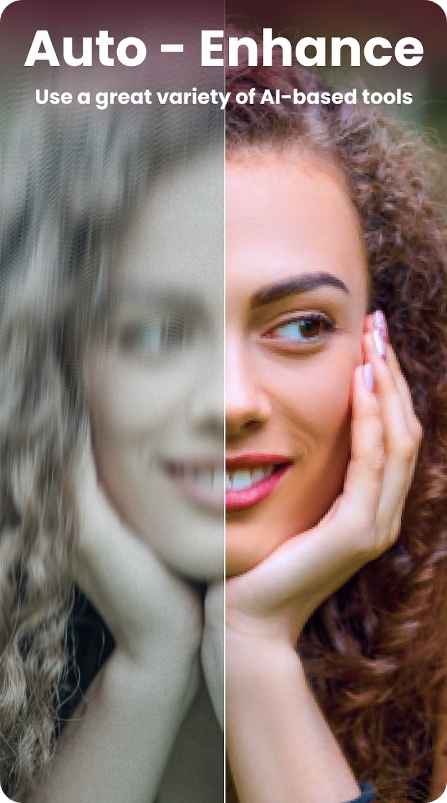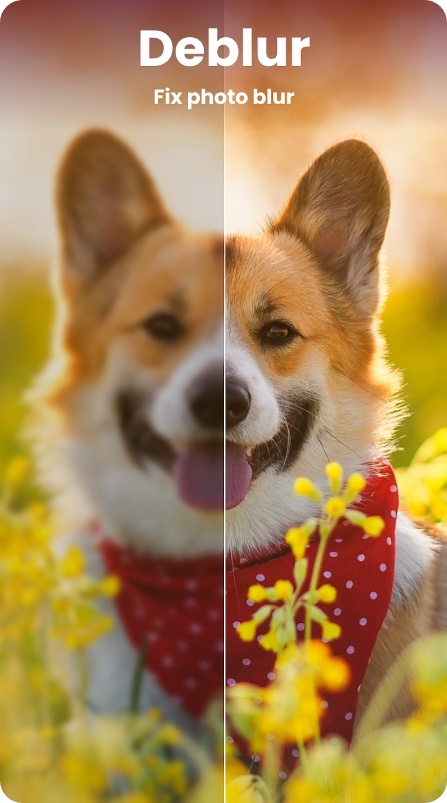 Downloads: 1M+
Customers rating:

(4.1 / 5)

PhotoApp
Tired of hitting capture and ending up disappointed? This app is here to ensure it won't be a problem any longer.
With its game-changing AI tool, you can magically boost the quality and clarity of any pic with just one tap. Say bye to the "how to make a snap less blurry?" dilemma and hello to stunning HD pics that will impress your IG subs.
The app is even able to remove unwanted objects. No more unexpected stuff ruining your perfect shot. The magical touches work wonders in removing anything that doesn't belong in your pics. No more blemishes on your masterpiece!
Revive those beloved black and white snaps from yesteryear with colorizing and restoring tools. Just one tap and your fave memories come to life with vibrant hues.
And if you need to take your game up a notch, the app can upscale any pic to stunning HD quality. Go ahead, make your selfies look better than ever! The app won't cost you anything, and the ads are fully bearable too.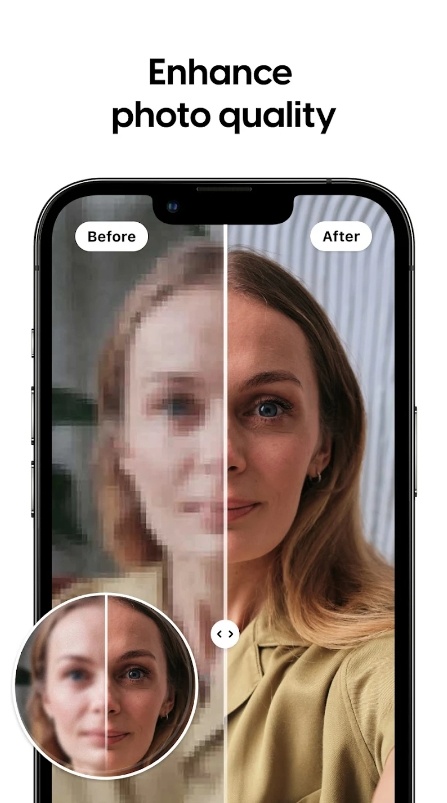 Downloads: 1M+
Customers rating:

(4.3 / 5)

Check also: 11 Best Apps for Combining Photos
PhotoFix
This app is a true magician in disguise. It turns your mediocre pics into smth magical. It is your savior when it comes to giving your snaps that "wow" factor. With just a few taps, you can upscale, enhance, and make your shots look pro-grade.
Whether dealing with blurry, noisy, or lackluster shots, the app has got your back. Its advanced AI does the heavy lifting, sparing you from wrestling with complicated editing soft. Genius!
This app's beautifying tool is a game-changer, too. It'll make your selfies and portraits look stunning, even reviving ancient black and white gems into vibrant works of art. Prepare to be amazed!
And for the color enthusiasts out there, say hello to the colorizer. It breathes life into monochromatic snaps, making them jump off the screen like never before. Oh, and let's not forget about the HDR tool. It's pure magic. Instantly enhancing contrast, eliminating haze and noise, and elevating your snaps from good to breathtaking.
It is an absolute must-have for all the pic enthusiasts out there who want to boost their game. It's quick, effortless, and a ton of fun.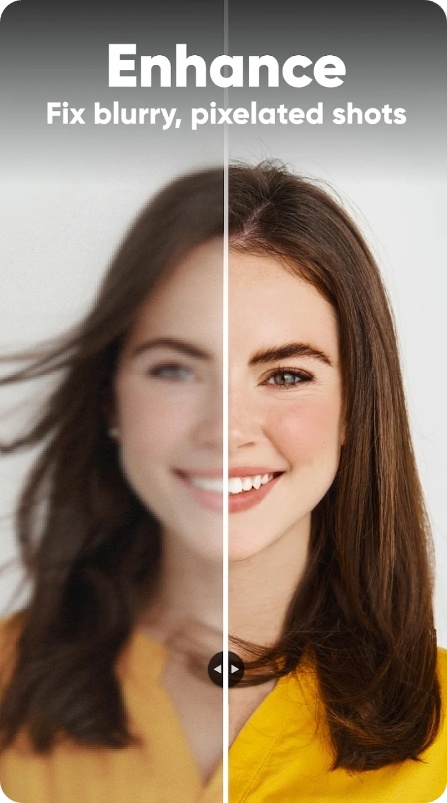 Downloads: 1M+
Customers rating:

(4.4 / 5)

HitPaw
If you've ever gone to a photoshoot of your dreams only to end up with noisy ones that can not be posted? This app is here to save the day (and your nerves). This little gem of an app can turn your treasured memories from drab to fab in just a few clicks.
The app covers a plethora of tools for enhancing and repairing pics, from erasing logos to colorizing black and white snaps.
The app's beauty tool is a gem for those who want to look their best in shots. Say bye to blemishes and spots, with one tap, you can unveil a fresher, more radiant version of yourself. And the best part? The app keeps it natural and authentic, so you don't have to worry about looking like a plastic Barbie doll (even though it might be trendy).

If you're feeling extra playful, the app even has a cartoonizer that can turn your snap into a fun caricature. From anime to pencil sketches, the options are endless. For a truly Pixar-inspired look, try out the 3D options, too.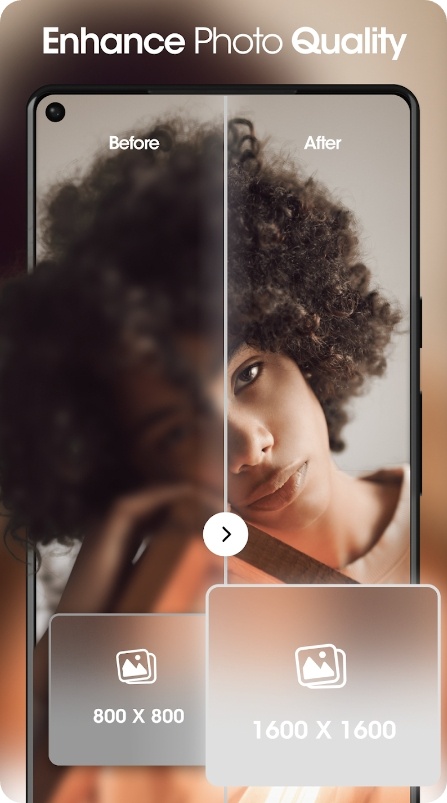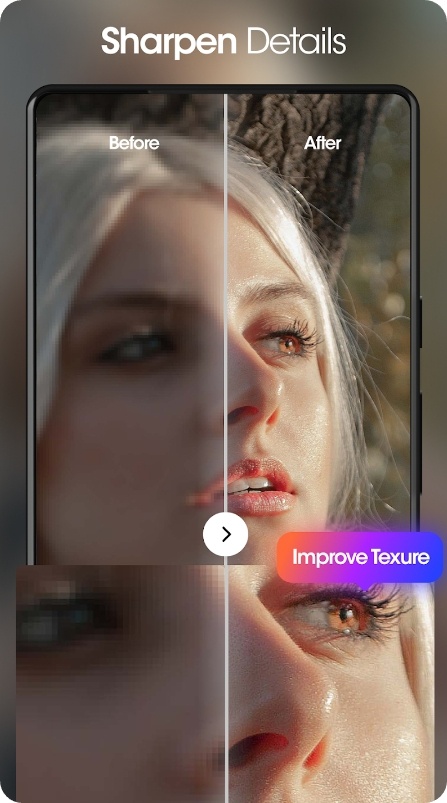 Downloads: 500K+
Customers rating:

(3.7 / 5)

ihancer
This app is here to ensure you won't have to dig through piles of lackluster pics to find the holy grail. Blurry shots, terrible lighting, unflattering angles – we've all been victims of those moments that didn't quite make the cut.
The app is the ultimate gem we've been desperately waiting for. Think of it as your personal pic wizard, magically turning your ordinary shots into fabulous masterpieces in a jiffy!
What we absolutely love about this app is its user-friendliness. Even if you're a photography noob (guilty as charged), the UI is like a walk in the park. A few taps and swipes later, your pics will be singing with delight, reaching supermodel status and beyond.
Now, let's talk about group shots and landscapes – the app's secret weapons. Forget about wonky lighting and lost details. With its powerhouse algorithms, the app effortlessly brings out the best in your pics, highlighting all the gloriousness you want to showcase.
Oh, and guess what? This baby works wonders on selfies too! Yep, get ready to accentuate those fabulous features and unleash your natural beauty with just a few taps. Goodbye unflattering angles, hello perfection!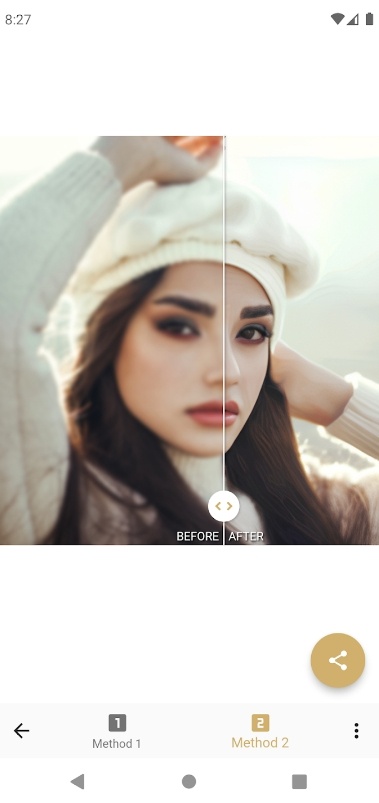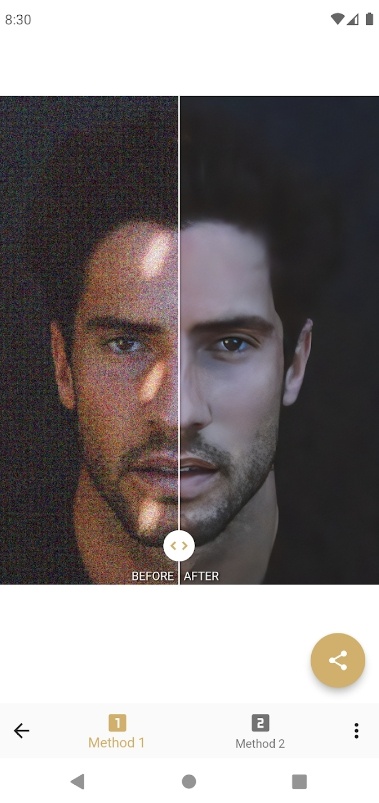 Downloads: 100K+
Customers rating:

(4.2 / 5)

PhotoAI
Do you have a ton of low-quality pics cluttering up your cam roll? This app can upscale your snaps up to 800% without sacrificing precious quality. That's like turning basic pics into 4K resolution ones, ready to be posted on IG or used as stunning wallpapers.

It is powered by an AI that can retouch your face to flawlessness. Say bye to blemishes, dark circles, and unwanted spots! And if you're feeling creative, why not cartoonize your pic or turn it into a sketch for a unique twist?

But that's not all. With the ability to enhance pics in color and contrast, you can finally give your snaps the love they deserve. Plus, you can easily denoise your shots to get stunning HDR pics that really pop.

And if you really want to take it to the next lvl, upgrade to pro and get all the tools without any pesky ads or limits holding you back. It's a treat for everyone wanting to get worthy pics every time. It's easy to use, fun to experiment with and produces stunning results.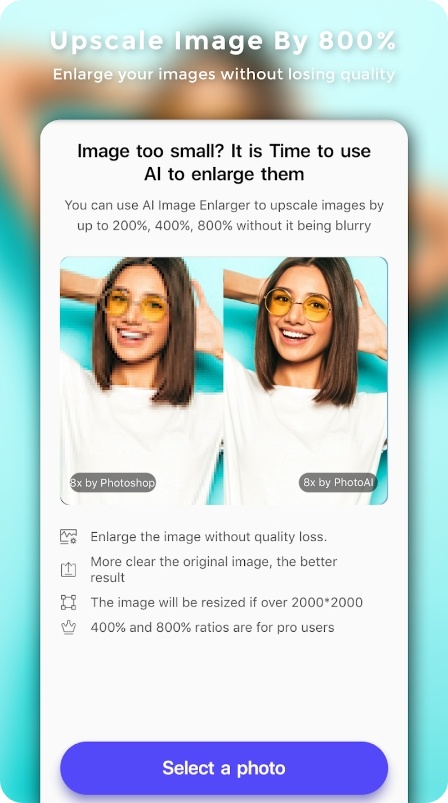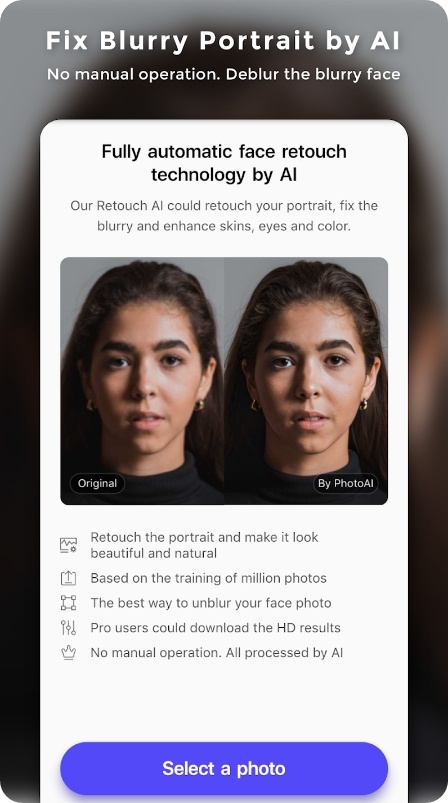 Downloads: 100K+
Customers rating:

(4.2 / 5)

Picture Enhancer
This app is a treat for those situations when you look at some old pics and find out that they've aged like fine wine but without the fine part. It works wonders with poor lighting, noisy snaps, and all issues alike.

This app is no joke, we're telling you. With just a few clicks, you can elevate those faded, blurry, and barely recognizable shots to smth crystal clear and vivid. And the best part? You don't even have to do anything, thanks to the AI that does all the heavy lifting for you.

It's not just selfies you can salvage either, as the app can work its magic on old snaps of your grandparents and pretty much anything else you can think of. Plus, the user UI is so intuitive and easy to use that even your tech-challenged grandma could figure it out.

Now, as with most things in life, there is a catch. There are some sub-packs that give even more functionality and flexibility. But, there's a free trial available, so you can try those tools out for yourself and decide whether or not it's worth the investment.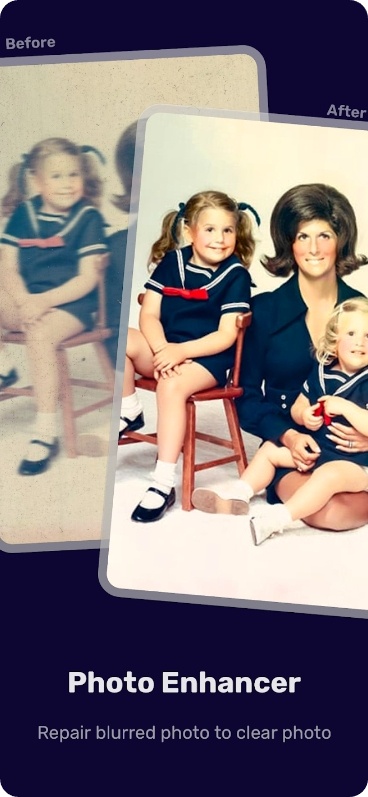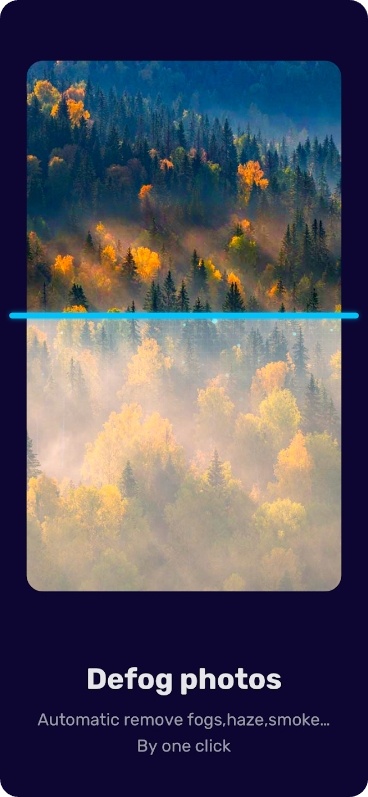 Downloads: 100K+
Customers rating:

(3.6 / 5)

You may also check: 9 Best Before & After Compare Photo Apps
Reimagine
To wrap up, there's an app where nostalgia meets high-tech wizardry. It comes with a bunch of tools you'll have fun playing with. First, there's a scanner that lets you say bye to the frustrating photo album treasure hunts.
No more wrinkled, torn, or faded images snaps you. The app lets you effortlessly scan and store those precious memories in the app, complete with names, dates, and places.
Above that, there's an enhancer that works just like magic. Thought that old, low-quality snaps were beyond repair? Think again! Get rid of the blur and get crystal-clear snaps with minimal effort. This app makes scratched and torn pics resurrected, and black and white ones are colorized.
There's even a tool that makes your pics come alive! Say hello to animated grandparents' wedding pictures and relive your childhood blowing out birthday candles. It's a little spooky, enchanting, and insanely fun.
Plus, the app is user-friendly. No complicated tech jargon or confusing instructions. It is a breeze to navigate, and each tool comes with clear guidelines.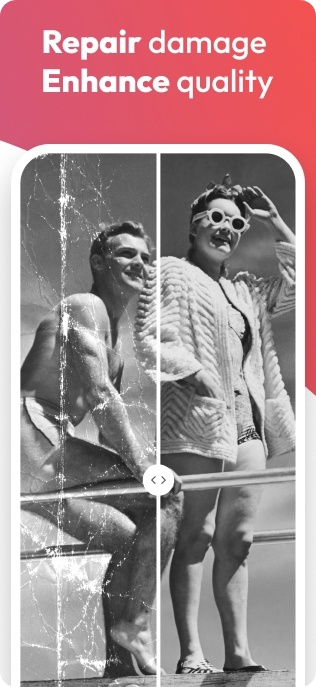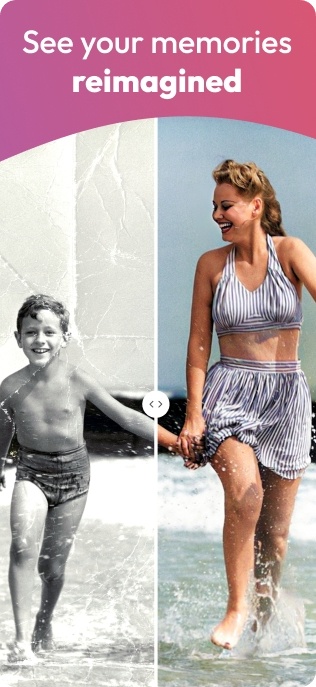 Downloads: 100K+
Customers rating:

(4.1 / 5)