Calling all Christian movie buffs! Are you tired of scrolling through mediocre films on services, desperately trying to find something uplifting and faith-based? Well, you're in for a treat!
We've got the scoop on the best Christian movie apps for Android. These cover impressive movie collections of all genres that are sure to satisfy your needs.
Gone are the days of settling for lackluster flicks or scouring the internet for hours. With our guide, you'll have access to a plethora of inspiring and wholesome films at your fingertips. Let's dive in!
Bible Movie
Are you someone who finds reading the Bible to be challenging and daunting? Or are you someone who wants to understand it better but struggles to make sense of the written words? If so, the tho app is the ideal solution for you!
This app takes each book of the Bible and presents it uniquely and engagingly. It uses a word-for-word audio voiceover, paired with relevant movie footage, to create a movie-book exp. This isn't just any movie, mind you – it's a faithful translation of the Bible into movie form.
The makers of this one have taken great care to ensure that the movies accurately reflect the message and principles of each book of the Bible. But this app is more than just a translation. It's also an educational tool that makes the learning of and study of the Bible more accessible.
The app has been made with multiple language groups in mind, and the developers have gone to great lengths to translate it into as many languages as possible. One of the things that sets it apart is the way it brings the Bible to life in a way that written books simply can't. The movies provide context and immediacy that make it easier to understand complex sequences.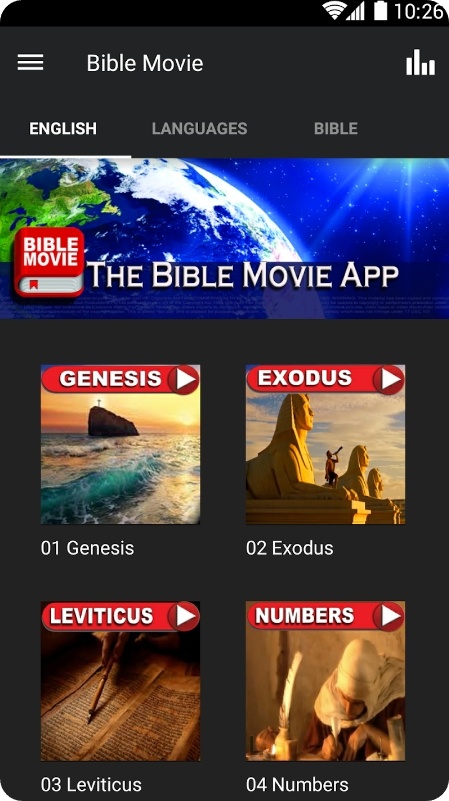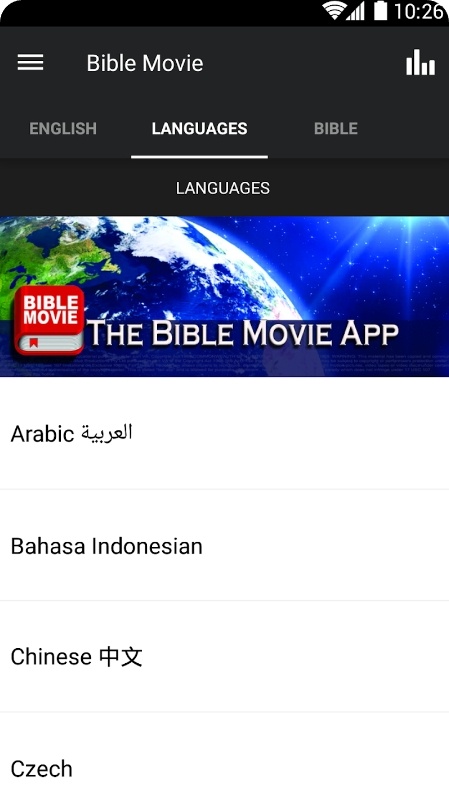 Downloads: 100K+
Customers rating:

(4.4 / 5)

You may also like: 11 Offline Bible Apps
UP Faith & Family
This app brings quality, faith-affirming entertainment for the entire fam. With a growing lib of dramas, faith faves, uplifting reality and lifestyle shows, and more, the app has smth for everyone. Plus, their content is safe for the entire fam, giving you the peace of mind that your little ones won't stumble upon anything inappropriate.
If you're unsure where to start, try checking out one of their popular movies. These films are ideal for a cozy fam movie night, and you can rest assured that they won't include any unsavory content. But the real crown jewel of this one lies in their exclusive content.
As the exclusive streaming home for shows, you'll have endless entertainment options at your fingertips. And if you're a fan of the hit series, is the only service to stream new seasons first in the U.S.! You can catch up on all available seasons and even dive into exclusive behind-the-scenes specials that you won't find anywhere else.
Overall, it is a fantastic service for fams who desire wholesome, uplifting entertainment. It does have a paid pack, though, so keep that in mind.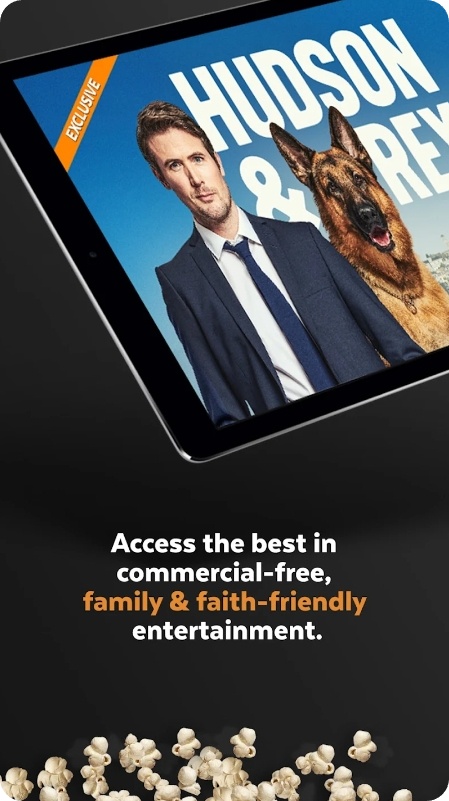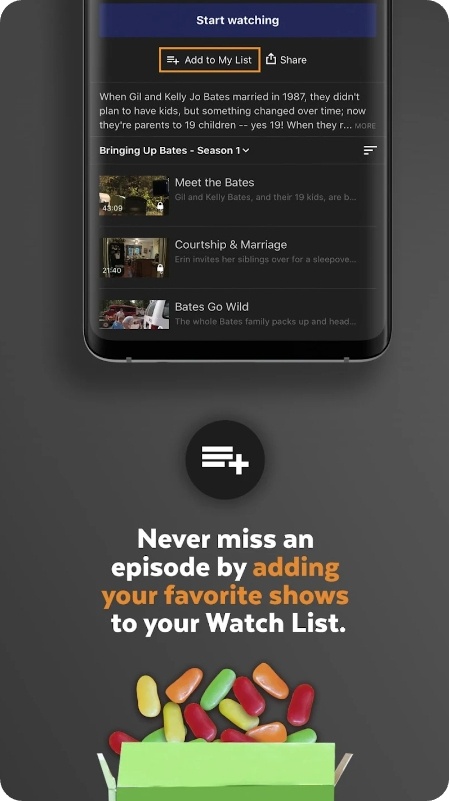 Downloads: 500K+
Customers rating:

(4.5 / 5)

Gospel Flix
Tired of endlessly browsing through Netflix, trying to find smth wholesome to watch? Give this app a try! It is a gem for any Christian who wants to have a wide range of faith-based content at their fingertips.
One of the standout aspects of this one is the selection of Christian movies. From classics to newer releases there is truly smth for everyone. Whether you need a good cry or a dose of inspo, there's no shortage of options.
But it isn't just about movies – it also covers a scope of sermons and teachings from some of today's most influential preachers. Whether you're a fan of Joel Osteen's uplifting messages or John Hagee's prophetic insights, you'll find plenty of content to keep you engaged and growing in your faith.
And let's not forget about the live TV channels! It's amazing to be able to watch Christian programming from all over the world, all in one place. Whether you're seeking worship music or preaching, this app has it. But perhaps the best part of it is the inclusion of an AI chatbot. This lets you ask questions and seek guidance on your spiritual journey. It's like having a virtual mentor right in your pocket!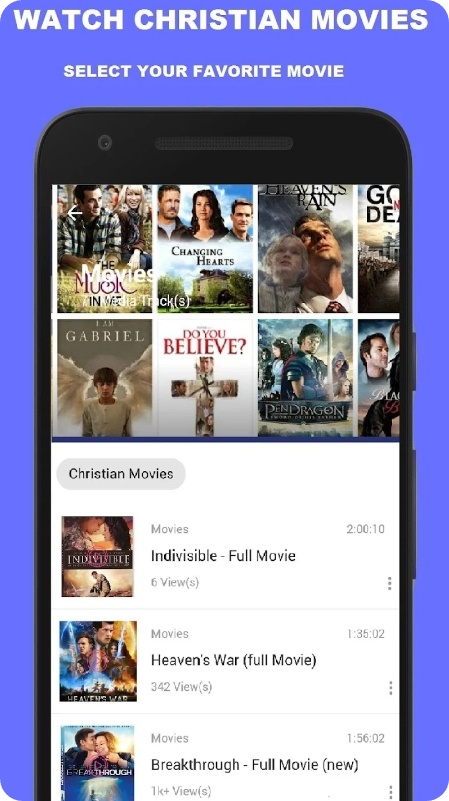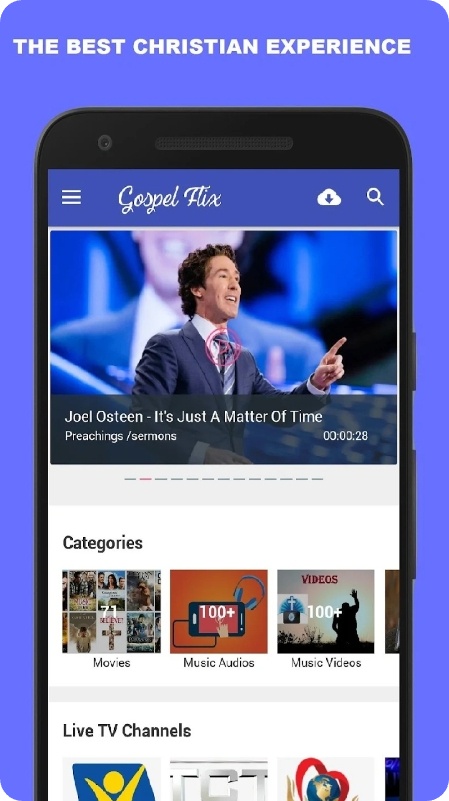 Downloads: 50K+

CBN Family
This one is both faith-based and fam-friendly. It covers a plethora of videos on spiritual life, prayer, health, finance, news, and entertainment, there is truly smth for everyone. And here's the kicker – it's completely free!
Not only can you access three live channels without signing in or giving your cable provider's info, but you also get free access to children's programming. And for the music lovers out there, there's even a scope of Christian music stations, including praise, contemporary, and all that. So put on those earmuffs and start jingling all the way.
But wait, there's more! Access the entire premium lib, which includes historical documentaries, special teachings, and original movies. The content covered by this app is truly impressive. You can watch episodes of shows for as long as you want.
In addition, you can enjoy inspiring interviews and teachings, exclusive documentaries, and even experience ministry prayer time. This one is a gem for anyone seeking to deepen their faith while keeping it appropriate. And did we mention it's completely free? That's right, free access to all this amazing content.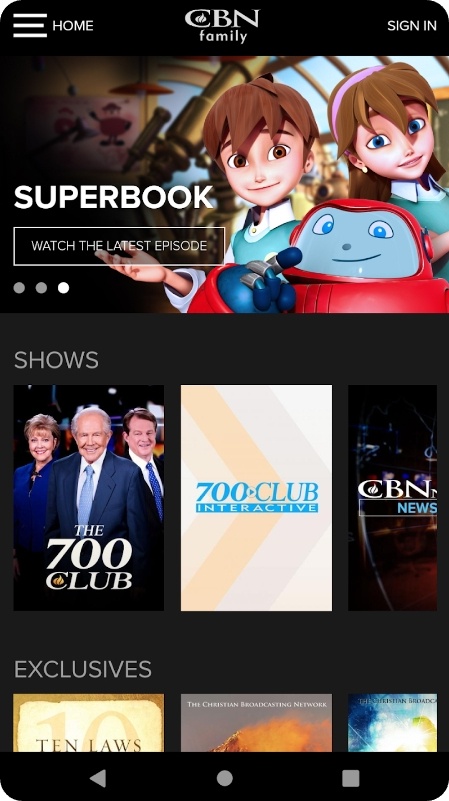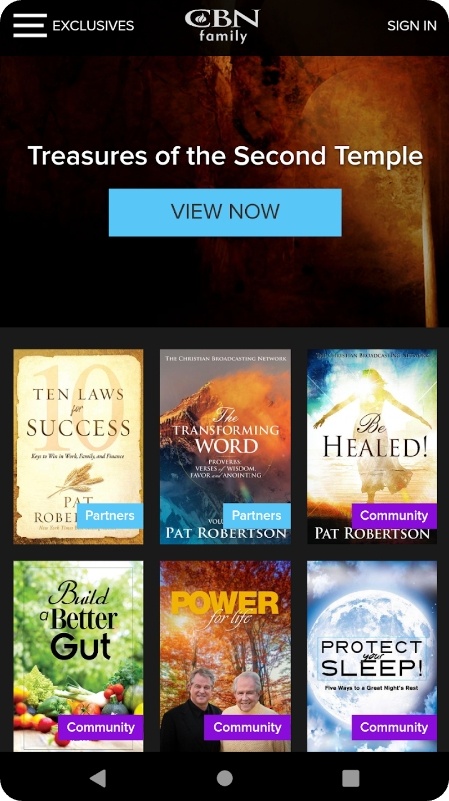 Downloads: 100K+

Christian Cinema
Here's an app that delivers the divine in film. It blesses you with a lib of heavenly films that'll ignite your faith and immerse you in cinema magic. This app makes it even easier to find wholesome entertainment that aligns with your beliefs.
This app is a treat for faith-based movie lovers. With no subs or commitments, you have the option to own or rent HQ movies that are handpicked from leading Christian filmmakers. And, if you're still unsure, you can watch a preview before making a purchase.
The convenience of this app is unbeatable. You can access your lib across multiple devices, so you can enjoy your fave films anywhere, at any time. Plus, with new releases and discoveries added every week, you'll never run out of movies to watch.
What sets it apart is the commitment to upholding Christian values. You won't find any inappropriate content here. Instead, you'll find heartwarming dramas, thought-provoking documentaries, uplifting short films, and educational movies for the whole family. It has earned the trust of families of faith for over two decades.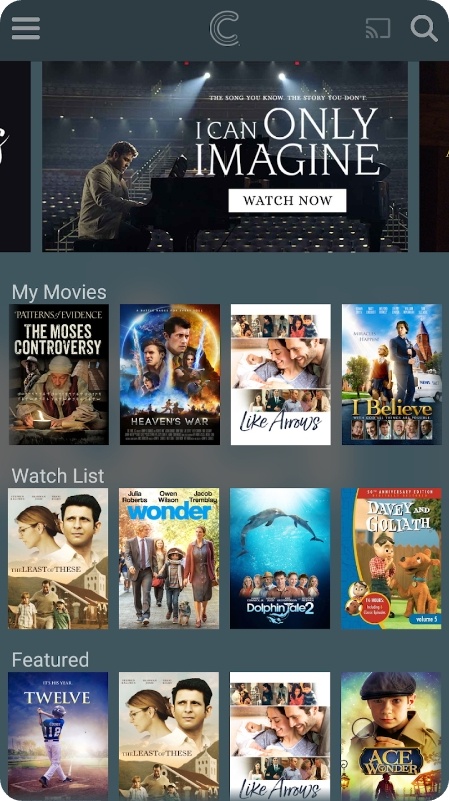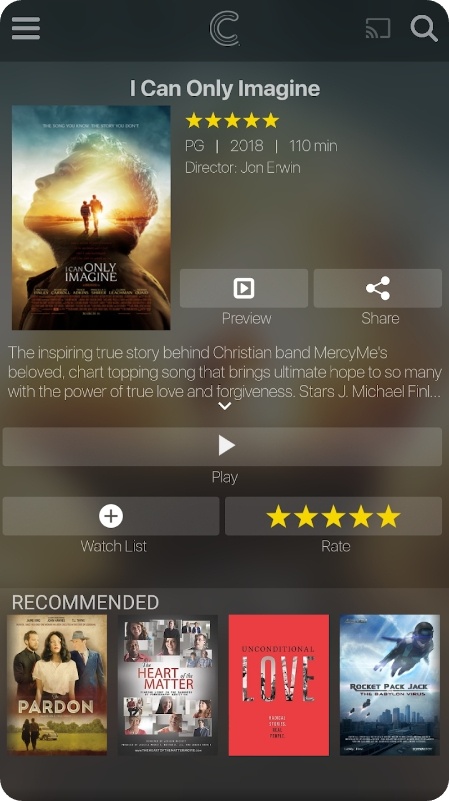 Downloads: 50K+

Check also: 5 Best Hymnal Apps
Crisplix
Have you ever scrolled through a streaming service searching for meaningful content that aligns with your Christian beliefs? If so, you have to try out this app. It's a true gem in the world of digital media.
This app covers a vast scope of Christian movies that will leave you feeling inspired and uplifted. From biblical epics to modern-day tales of faith, there is smth for everyone here.
But it's not just movies that make this app a must-have for Christians. The app also has a wide array of music and the entire Bible in audio format. You can listen to the comforting words of scripture wherever you are, whenever you need it.
But the best part about it? The app's message of hope, love, and faith. In a world that can often feel dark and divided, the content on this app reminds us to focus on the light and to hold fast to our beliefs. It's a true beacon of positivity and grace, and it's something that everyone could benefit from. And all that, without spending a dime – the app is entirely free of charge.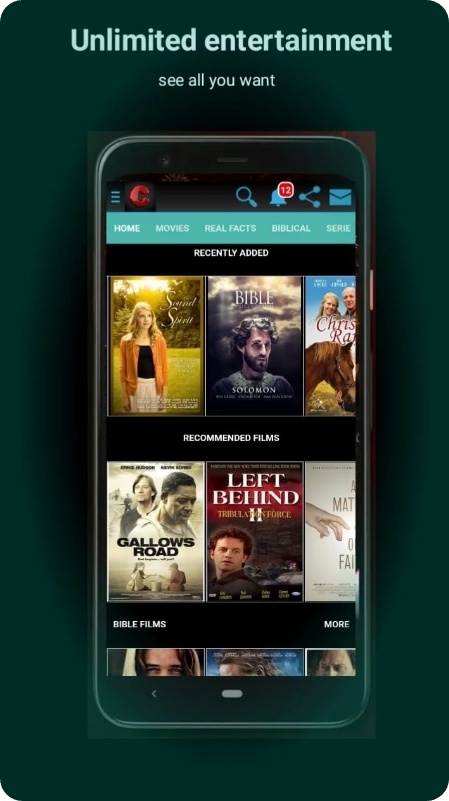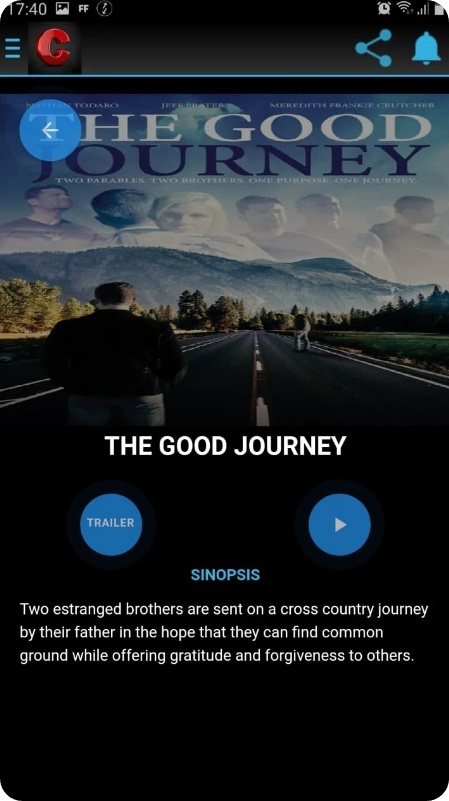 Downloads: 10K+
Customers rating:

(4 / 5)

Crossflix
This app is a dupe of Netflix that aligns with your Christian values. It covers a compilation of fam-friendly programs that will educate, entertain, and inspire you.
Whether you're in the mood for faith-inspired documentaries, animated children's programs, or award-winning films, this app has you covered. It has one of the largest libs of HQ faith and fam titles in the world, you'll have plenty of options to pick from.
But it doesn't just rely on licensed content to keep its subs happy. It's also committed to producing original content that empowers Christian filmmakers, artists, and storytellers. From reality shows and talk shows to covering important biblical stories, the app is truly dedicated to bringing you the best in faith-based entertainment.
And with new weekly content added regularly, there's always smth fresh and exciting to watch here. If you're in the mood for a recent faith film or an exceptional children's biblical animation, you'll find it all here. So say goodbye to the secular influences of traditional streaming services and embrace the positive, uplifting content of this app. Your fam will thank you!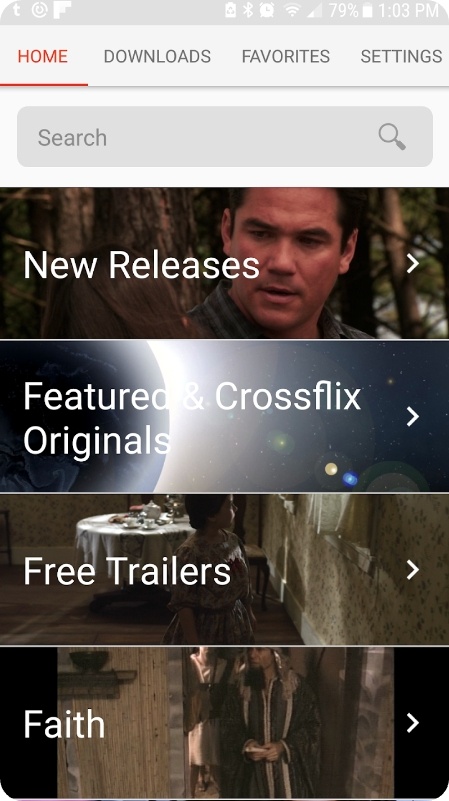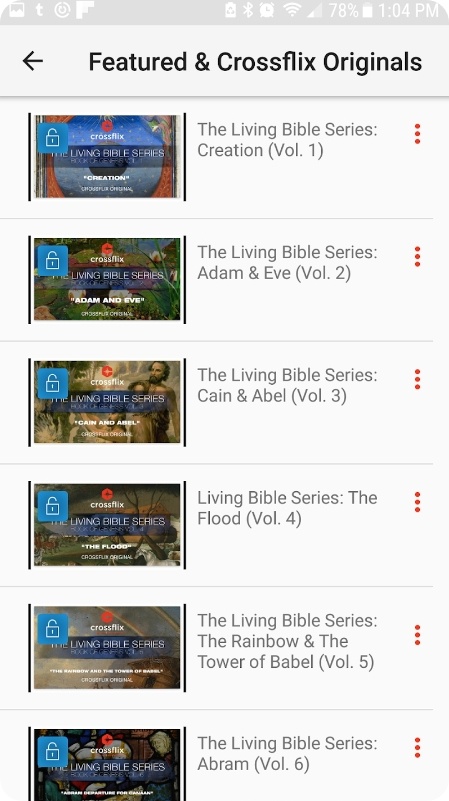 Downloads: 10K+

Jesus Film Project
Here's a tool to spread the Gospel while enjoying film content. This app has everything you need to share the Christian message with people from all walks of life, in all corners of the world.
The star of the show here is the full-length feature film JESUS in diverse languages. From English to Swahili, you can bring Jesus' story to life in their heart language. No language barriers can hold you back!
The app also includes 42 short films, perfect for sharing with pals and fam. Plus, you can have films for offline use and create playlists of your fave ones for easy access. One of our fave tools is the interactive map, which makes it simple to select the language you need. And if you're unsure which one to pick, the app even includes sound bites to help you confirm your selection.
There's also a link to the multilingual evangelistic app, as well as helpful tutorials to make sure you're getting the most out of the app. This app truly is the best world evangelism app out there, and it's an essential tool for those who want to fulfill the Great Commission in their lifetime.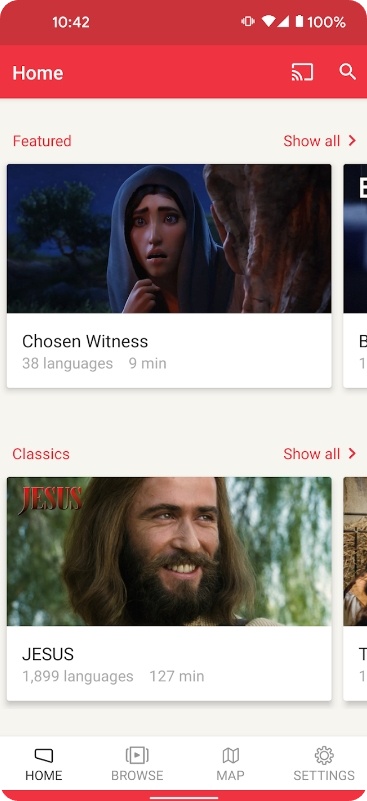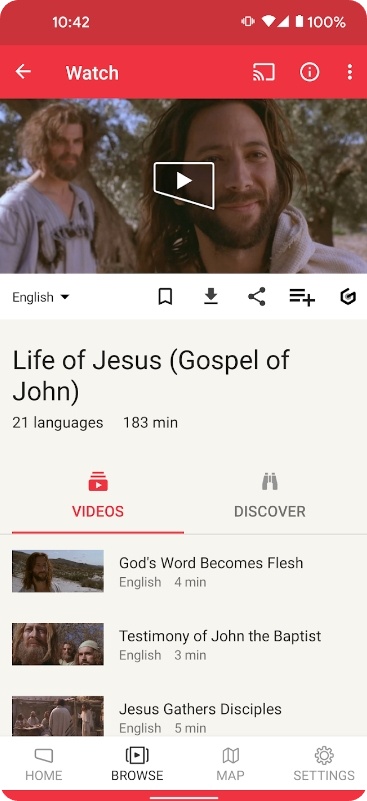 Downloads: 500K+
Customers rating:

(4.8 / 5)

You may also check: 17 Free Movie Apps
Christian Movie Channel
To wrap up, there's an app that delivers faith-based content that inspires and uplifts. It has an impressive lib of movies and series that will entertain and enlighten audiences of all ages.
One of the things that sets this one apart is its commitment to quality content. Unlike some other streaming services that rely on shock value and gratuitous violence to attract viewers, this one focuses on stories that are truly engaging and inspiring.
It covers all the genres you may want to watch, so no shortage of options here. But the app isn't just about entertainment – it's also a valuable resource for families wanting to deepen their faith. With a wide lib of content that explores topics like prayer, forgiveness, and the importance of community, the app is a great way to spark meaningful convos with your loved ones.
The UI is easy to navigate, and the search bar makes it simple to find exactly what you're seeking. And with a well-curated selection of movies and series, there's always smth new and interesting to discover.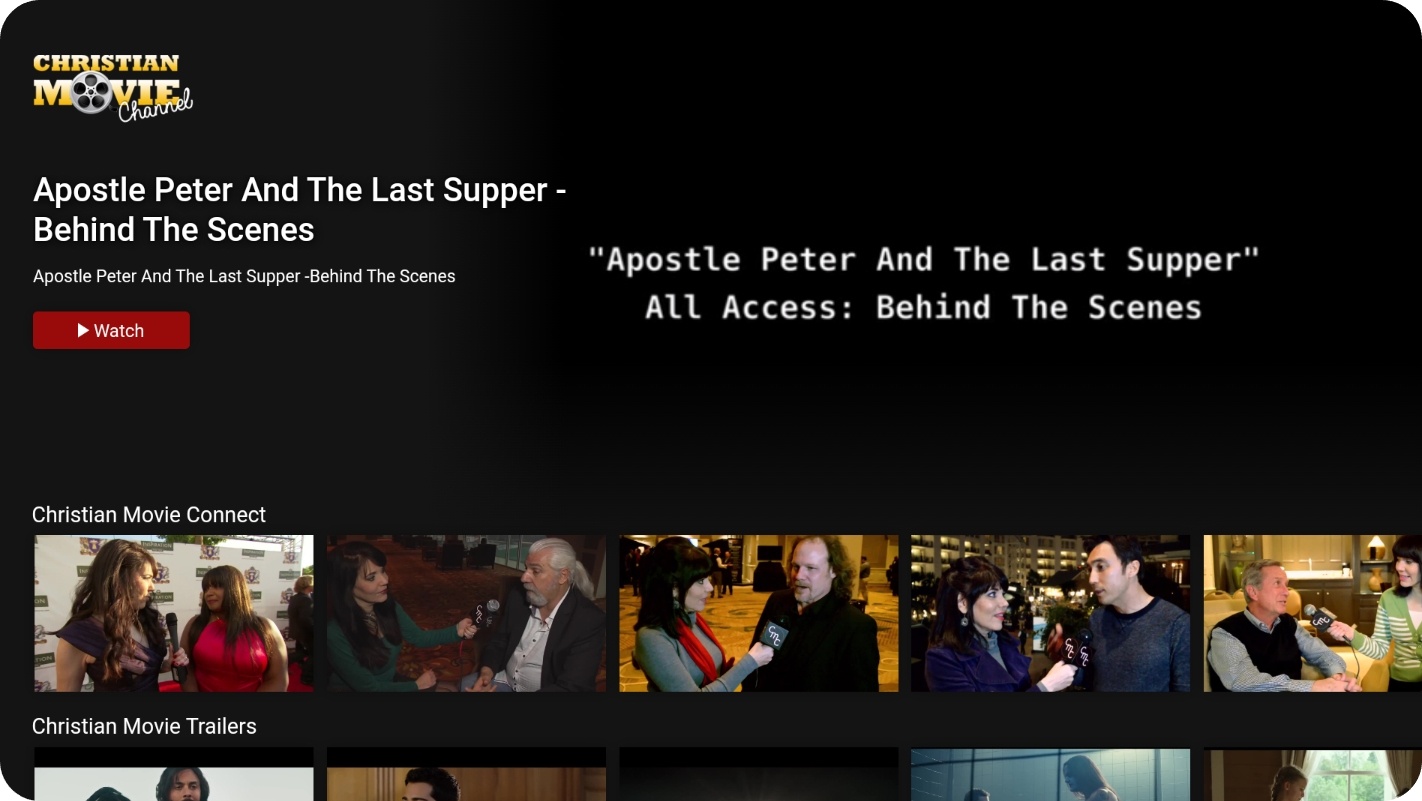 Downloads: 1K+