We all love funny and kind pranks, and making a mugshot with the photo of your friend is no exception! In the article down below we found 7 best fake mugshot maker apps that really work and that can make a fake mugshot in a blink of an eye!
And if you want to keep pranking your friends not only by photos but by fake texts, you can find the best apps for that in this article.
Wanted Poster Photo Editor
Wanted Poster maker is truly worth opening our list since it's the most famous app of this type. It works decently and even though it doesn't bring the diversity of frames, it will always make a fake mugshot in seconds.
You open the app and then choose to create a new photo. At the bottom of the screen, you will see a set of frames – they are quite similar, only slightly different in colors. Choose one of them and then choose a pic of the person you want to place in it.
A little tip: it is better to pick up a close-up shot.
Then, you can save a fake mugshot and send it to your group chat or anywhere you want (unless it's illegal, of course). Fast and easy. You can even print this shot.
One of the slight flaws though is that Wanted Poster Maker doesn't allow to apply filters.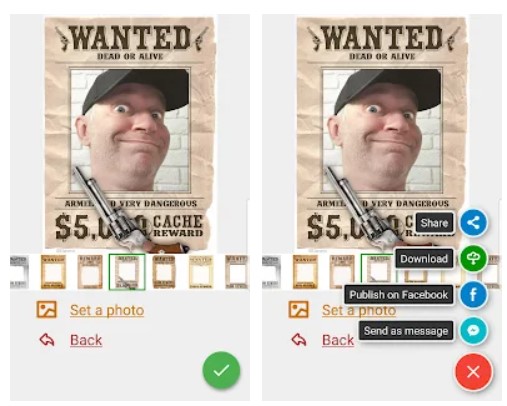 Downloads: 50000 +
Customers rating:

(4.7 / 5)

You may also like: 5 Best Grenade Prank Apps for Android
Funny Photo Maker
This is an obsolete funny photo editor, but it allows making fake mugshots as well. Of course, you will need first to find the right frame among hundreds of others.
And unlike in the previous app, here you got just one type of a fake mugshot frame. However, there are other funny options with various stages – in the museum, in the movie, and so on. In case you are looking for something more versatile this one is a nice option to go.
It puts no watermarks on the photos. Moreover, there is a possibility to add stickers to the picture if you need to. And unlike the previous app, this one has some basic filters and effects to choose from and makes a photo more customized.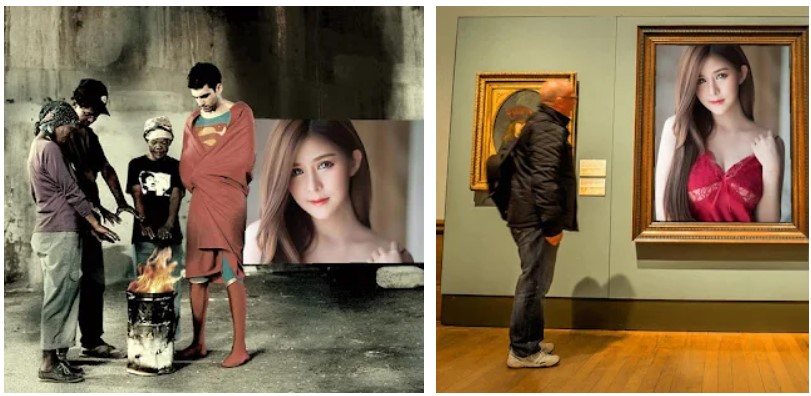 Downloads: 500000 +
Customers rating:

(4.4 / 5)

Wanted Poster Photo Frames Maker
We would hesitate to call this app classic but it's definitely a nice option. Several frames for a fake mugshot are an excellent option to prank your friends and family. Or maybe you need those pics for a special party? Anyway, this app will allow you to create those pics fast.
The advantage of Wanted Poster Photo Frames Maker is that it does not only includes standard frames but also can brag about filters and photo editing tools.
When you insert a portrait into a frame, you can adjust the vignette effect, also flip the pictures, and add effects or stickers.
After the editing is done, you can save the picture into your device's memory.
The main drawback of Wanted Poster Photo Frames Maker is that it includes lots of annoying ads.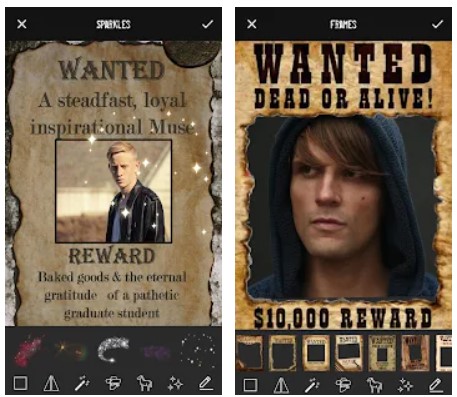 Downloads: 100000 +
Customers rating:

(4 / 5)

Wanted Poster Editor
There are not so many fake mugshot makers on Google Play, but we managed to discover another one. There is little known about this app. At first glance, this is basically a copy of the first app on our list, just the frames are a little different.
And of course, as with any app of this type, Wanted Poster Editor has tons of ads.
Although this app is relevant to the topic we don't really recommend installing it on your device – it can contain malware or other mean things.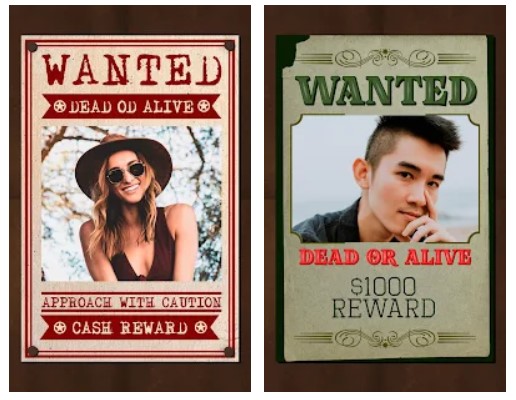 Downloads: unknown
Customers rating: unknown

You may also like: 11 Meme Generator Apps for Android
My Photo Gangster Look Photo Editor
As an alternative to the fake mugshot theme, we would like to offer you this app not to lose this criminal vibe:) If you want to make your friends or yourself look like a true gangsta, this is a very cool editor to quickly get the result.
First, choose a portrait picture of someone. Then add stickers-accessories from the set that you will find in the toolset at the bottom of the screen.
What is more, you can alter the background to a more neutral (we didn't really understand why the developers devised to present only those 3 options of a pretty romantic background).
Another point that we wanted to highlight is that the stickers added to the pics look quite natural for this level of an app. Well, they look natural if you apply them with precision.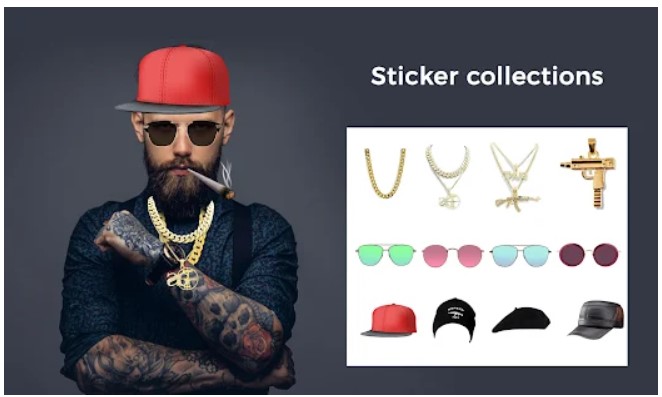 Downloads: 100000 +
Customers rating: unknown

MLG Thug Life Picture Creator
Another Thug Life photo maker app. It seems to bring more bright colors than the previous app and it has a slightly different set of stickers.
Among the stickers-accessories, you will discover cups, chains, sunglasses, guns, money, dollar signs, and captions. You can even add text to the pictures.
It's important to mention that all those stickers don't look as natural as in the previous app, no matter how hard you try. But for its abundance of color and fun, this app is worth trying.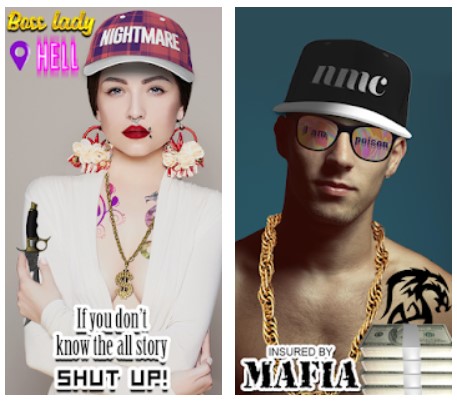 Downloads: 5000 +
Customers rating: unknown

You may also like: 7 Free Fake Girlfriend Call Apps for Android
Thug Life Picture Editor
One more Thug Life editor won't hurt. Especially this one, which is so funny and easy to use. Probably, this is the main reason for its popularity – simplicity and convenience.
There are no special tools for editing – the whole editor consists of Thug Life stickers and there is a plenty of them. Cups, joints, sunglasses, chains, guns, captions, crowns, and many other thug things are waiting for you in this photo editor.
However, if you decide to use this editor, be ready that it crashes every 5 minutes on the majority of Android devices.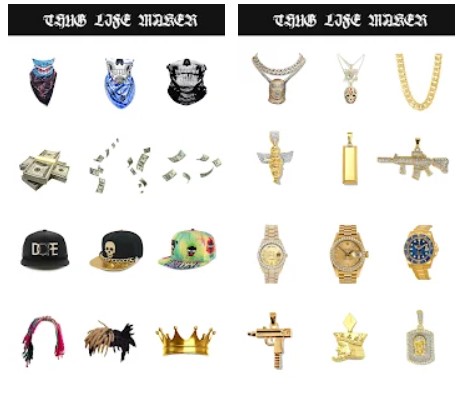 Downloads: 100000 +
Customers rating:

(4.2 / 5)