Contact Transfer is a top-grade application that allows users to quickly copy contacts between Android, iPhone, and PC.
In Contact Transfer, you can also create new contacts, edit existing contacts, and delete contacts on your Android phone right from your PC.
Check also the best file transfer apps for Android.
So, this application allows users to copy contacts between your Android and PC wirelessly or transfer contacts from iPhone to PC.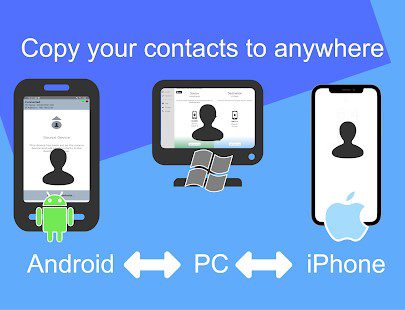 But how should we copy contacts between Android and IOS or vice-versa?
This process is pretty simple and it will not take up much time. Moreover, the installation process is very fast as well.
In order to provide the proper work of this app, you need also to install it on your Windows 10. If copying contacts between iPhones or from iPhone to PC, only the Windows app is required.
Before you start, make sure that your PC is connected to the local network with either Wi-Fi or Ethernet cable.
1. Select the source and destination of the contacts to transfer.
2. Connect each of your devices to proceed.
3. After that, you will have access to your contacts and you should choose the contacts that you want to transfer.
4. Click on the Transfer button.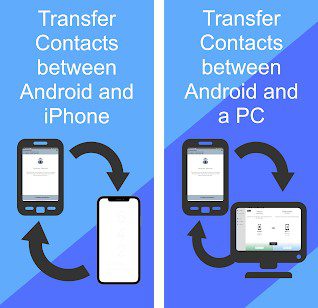 In addition to the aforesaid, Contact Transfer supports export contacts from the smartphone to Windows Contacts. Besides, you can also save them as vCards.
We were impressed by the app's intuitive design that makes its interface very simple to manage. Thus, even novice users will quickly find out how everything works there.
If you open the official website, you will find lots of user guides. Plus, the developer also offers very responsive customer support.
All the users can try a free trial, as the app offers to copy five contacts for free. Or, you can also try the paid version that allows you to transfer copies without limits.
More information on how to transfer your files from your PC to an Android device can be found here.
We have to admit that the developer makes everything to guarantee an excellent user experience. Contact Transfer is both a Windows and Android app.
All in all, Contact Transfer is truly worth downloading. We have not found any significant disadvantages of this tool. So, hurry up to try it – highly recommended!