Have you ever dreamed about opening your own hotel? How about being able to manage a hotel? We've collected the best hotel games for Android in our review:
Resort Tycoon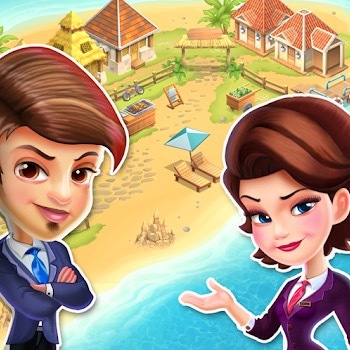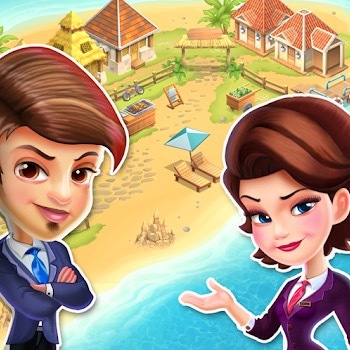 Have you ever had the desire to create your own holiday resort? Give people joy and a smile, as well as relax yourself? Create your own huge resort base with a constant clientele in the game Resort Tycoon – Hotel Simulation Game, which opens up a huge number of opportunities.
Build buildings, expand the territory of your recreation complex, advertise your establishment and make it the most prestigious resort hotel in the world. Update old abandoned buildings and make suites, because the guests of your establishment deserve only the best.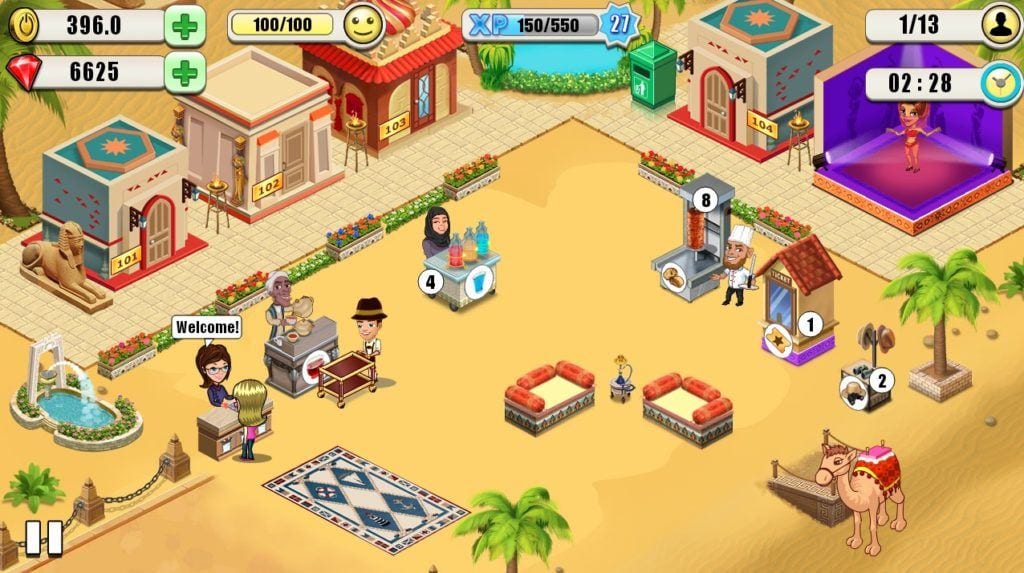 At first, you will see a half-deserted tropical island, which tourists rarely visit because of poor service. Then, you will be given special tasks to develop it. Greg, the famous manager of the best hotels on the planet, will help to understand all the subtleties.
Each task in Resort Tycoon is strictly worded – for example, you need to serve the specified number of clients, or it's important to get only the maximum reviews and tips.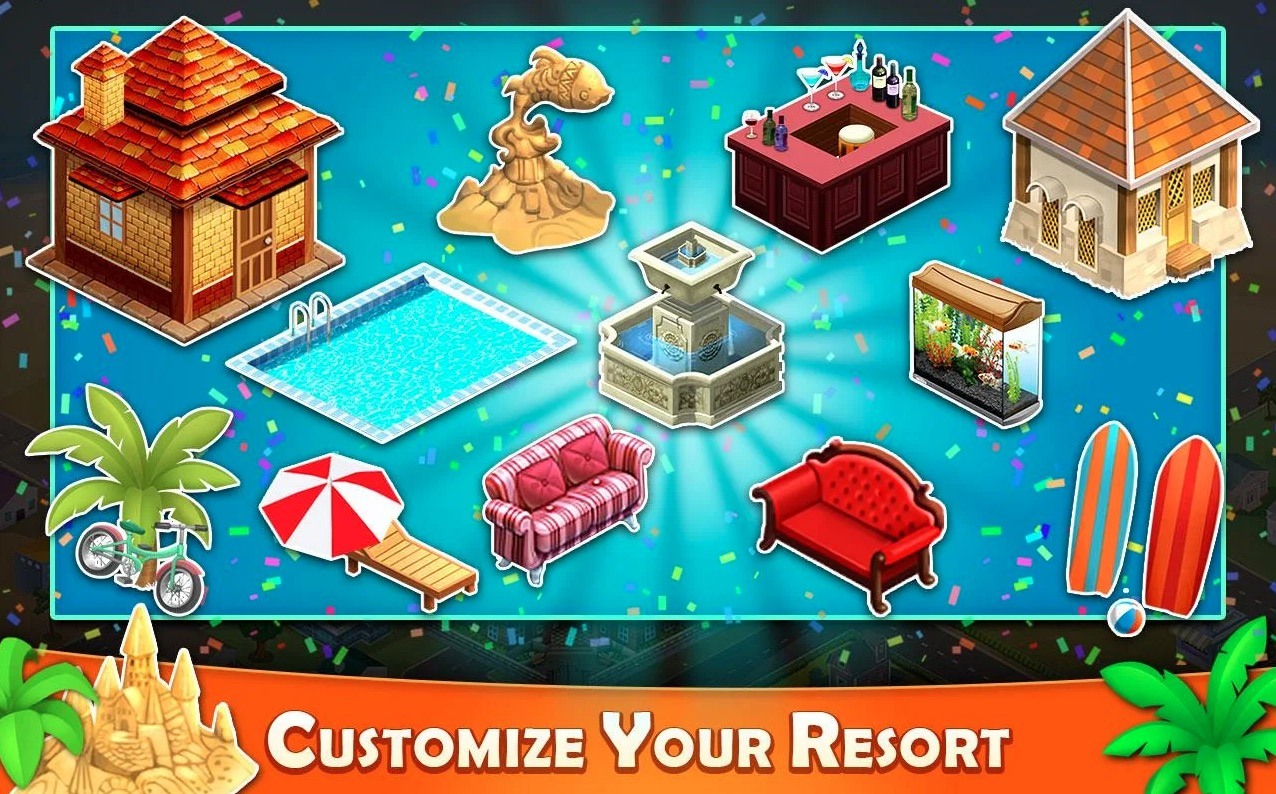 It's possible to fulfill the goals only with the active observance of the whole technology of the process of "check-in and check-out". That is, any customer must be served at the reception, escorted to the room, help with the delivery of things and food directly to the room, and then with the payment.
Start your hotel management career, reach new heights, make your visitors happy and give them an unforgettable vacation. Become a world-class magnate and make a whole network of leisure facilities from a regular and small hotel near the sea. Buyback your neighbor competitors and create an empire of hotels on the paradise island.
Downloads: 137 800 +
Customers rating: 

(4.3 / 5)

You can also check: 11 Best city building games for Android
Resort Island Tycoon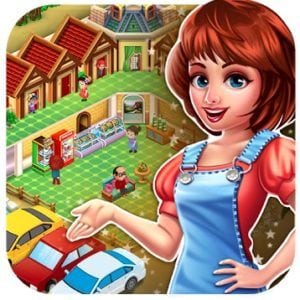 Resort Island Tycoon is a great resort simulator. Manage the whole resort town, which is conveniently located on a tropical island. The competition is huge, so you have to try your best to achieve the main goal. And the main goal is to make your own resort the best on the whole coast.
Put different areas for trade, cinemas, supermarkets and more. We also need places where visitors can eat deliciously: snack bars, cafes, eateries. Tourists will appreciate all your efforts. Build transportation hubs, hotels.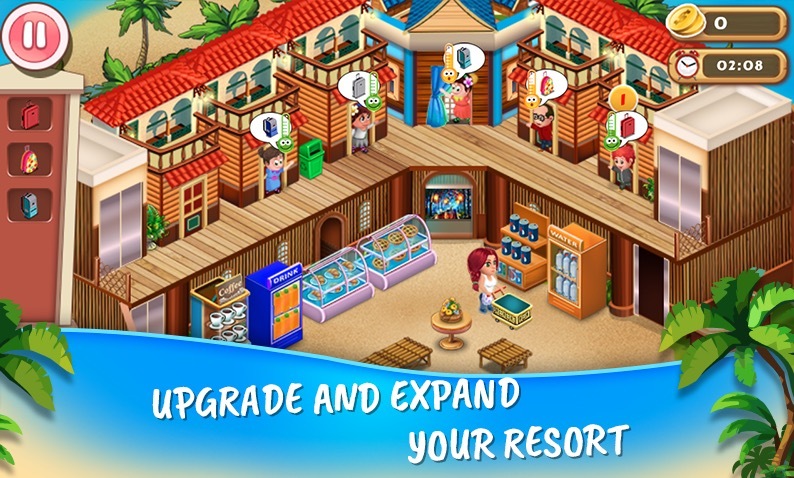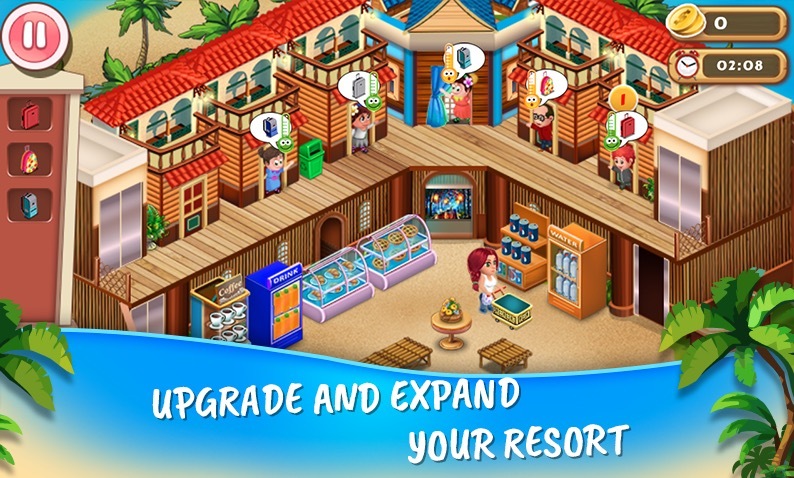 All objects need to be updated, new investments are also needed in order to attract new tourists and guests. Still, people came to rest, don't forget! The number of opportunities here is huge. Decorate the resort island in every way, use the available decorative elements.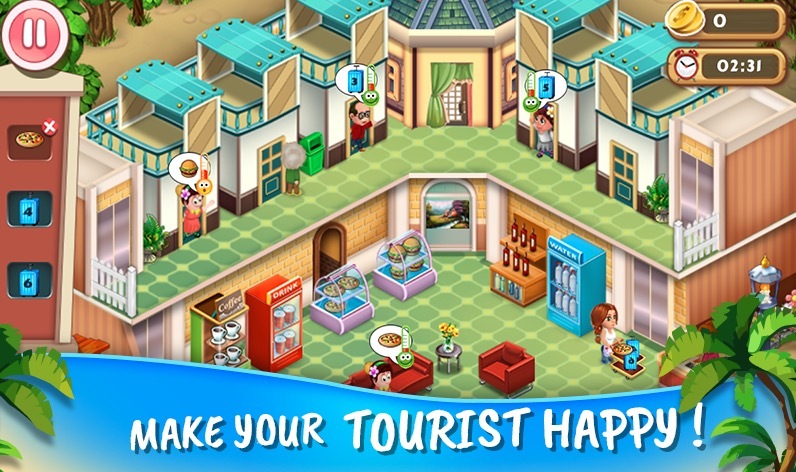 You can play in offline mode. Watch as the resort town grows and enjoys immense popularity. The gameplay here is both simple and exciting. There is no age limit. The graphics are great, and the same can be said about the interface and control, which are understandable on an intuitive level.
The application itself is available for download for free. Download an interesting simulator Resort Island Tycoon on devices with Android-system, make a resort that everyone will dream to visit.
Downloads: 9 600 +
Customers rating: 

(4.4 / 5)

Resort Hotel: Bay Story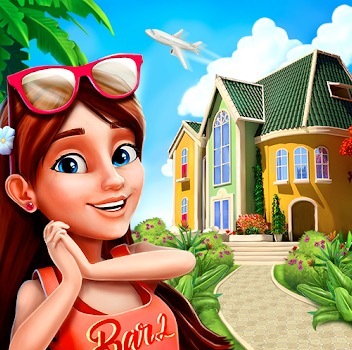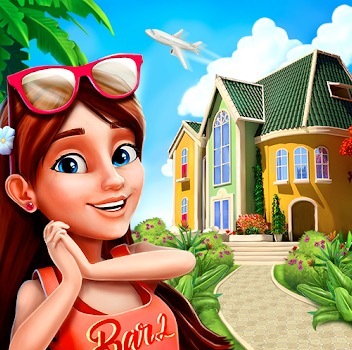 Resort Hotel: Bay Story – an exciting puzzle game for your brain with nice graphics and classic gameplay in the "three in a row" style.
The plot tells about a beautiful girl who inherited an old hotel. But she cannot cope with it alone and therefore your help is needed. This hotel has some minor difficulties associated with the repair of the territory. And players will help to develop it and try to bring it to a new level. Improve the hotel in the resort area so that as many vacationers as possible come to it.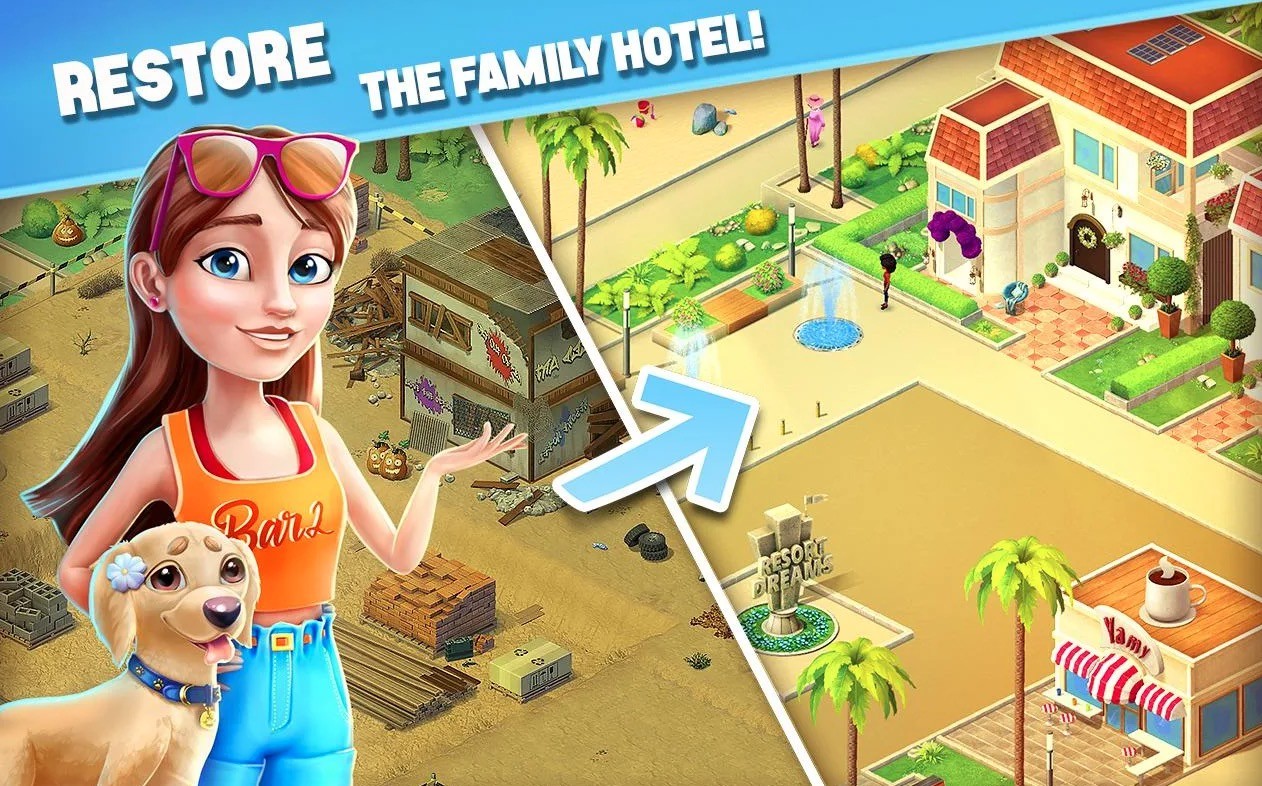 You will perform various tasks, move colored objects and receive rewards that can be spent on improving the hotel, purchasing various equipment, and improving its appearance. Fix the roof, install new windows or buy the necessary things for the hotel, completing these logical quests with crystals.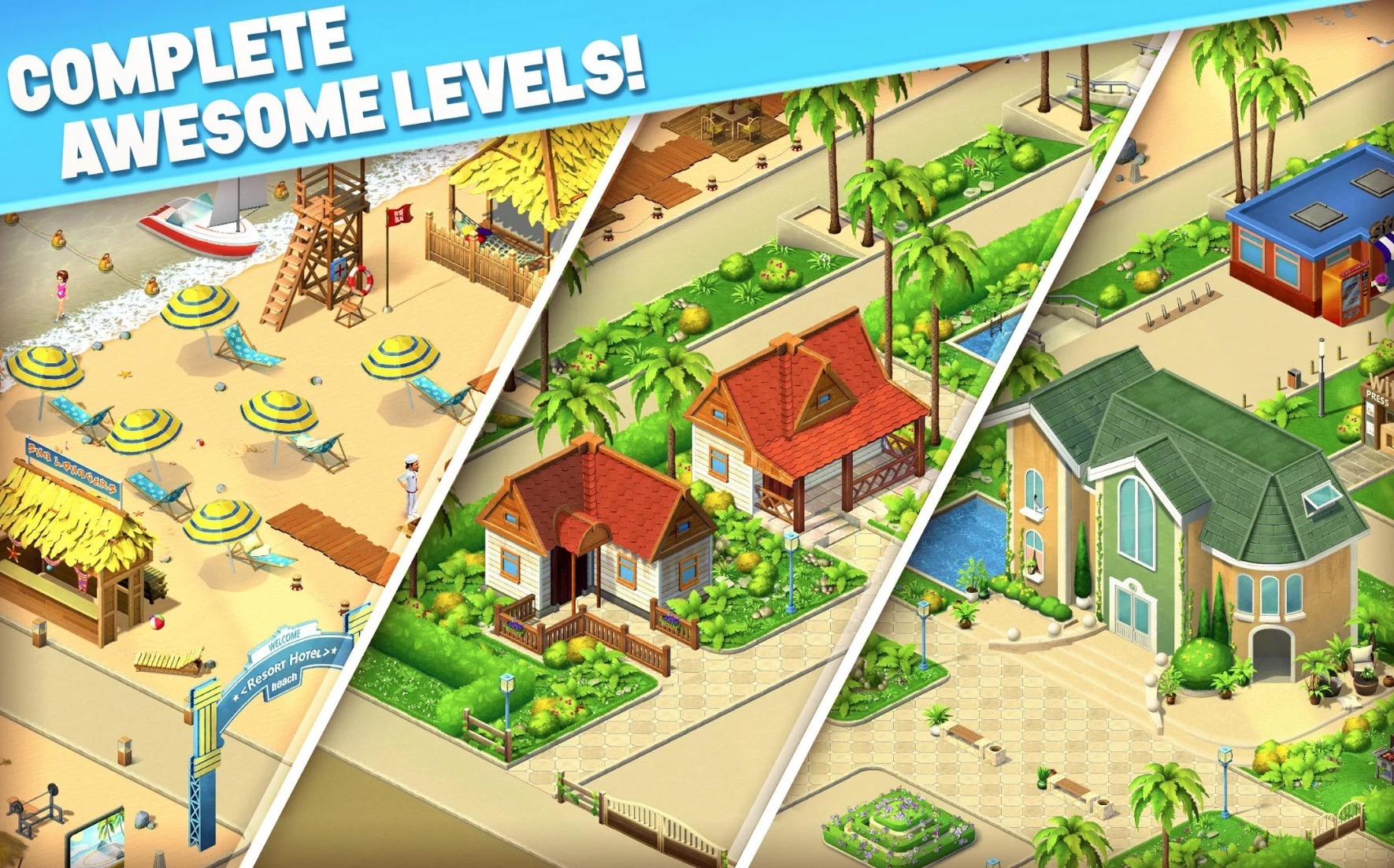 Also in the game, it's proposed to take advantage of bonuses that accelerate the passage of tasks. And gradually you will have loyal customers and many new people will find out about your hotel and will come to it, thereby giving you the opportunity to earn a lot of money.
Downloads: 35 000 +
Customers rating: 

(4.6 / 5)

Hidden Hotel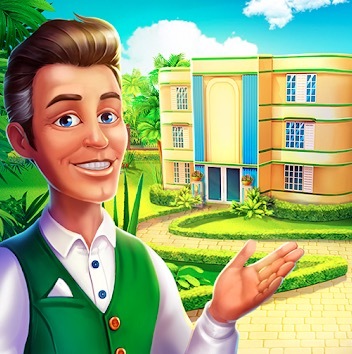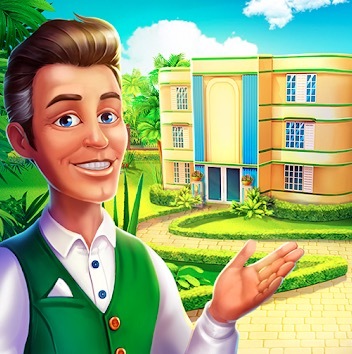 The game Hidden Hotel is suitable for fans of detectives because, in the game, you will have to find a lot of hidden objects. The game is not only in the search for missing objects. So the player will need to repair the hotel itself, which has decayed for a long time.
The plot of the game is based on one interesting story during which the player will find mysterious objects,  reveal the secrets of the old hotel and so on.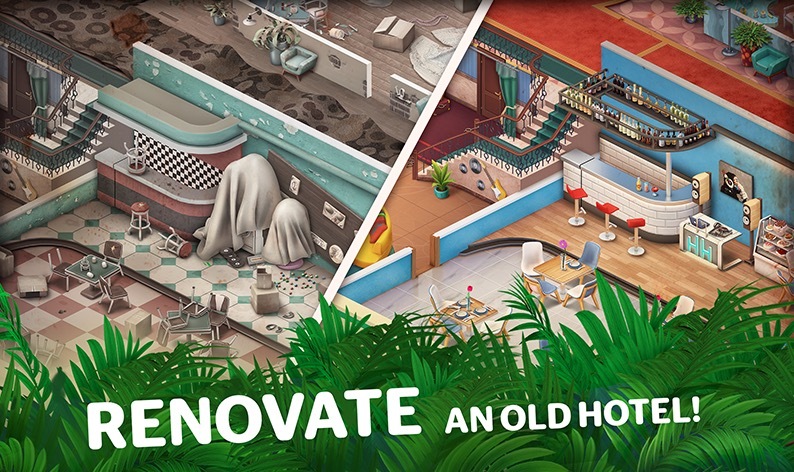 The mechanics of the game is very simple: at the bottom of the screen, we will see the tasks that need to be performed to restore this beautiful old hotel. To complete these tasks, we need to score points. These points are gained by solving hidden object puzzles in which players must find all the objects on the list before the time ends.
When we find the objects, they will be deleted from the list. However, if we click on all objects indiscriminately, we risk losing all points and, therefore, the restoration of the hotel will cost us much more. During the restoration of various places, players can choose between several designs and customize them to their liking.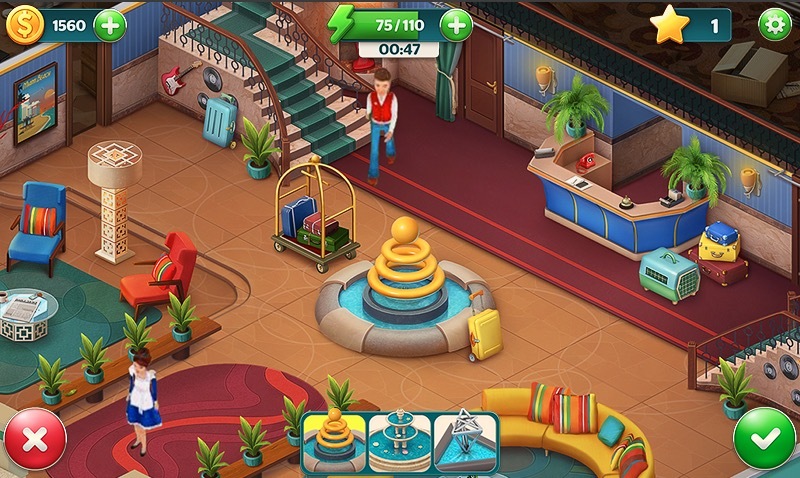 In the story of the game, the player is the receiver of the hotel owner. And this gives a unique opportunity to change the design of the hotel according to your own preferences. You can change the style and furnishings, using a variety of bonuses received in the game. Every day the number of tasks as well as their complexity increase, which means the player has more and more opportunities to change the design of the hotel.
An interesting plot, dizzying combinations, various bonuses, and delightful room design – this is what awaits the player in the game Hidden Hotel.
Downloads: 91 200 +
Customers rating: 

(4.4 / 5)

Yasa Pets Hotel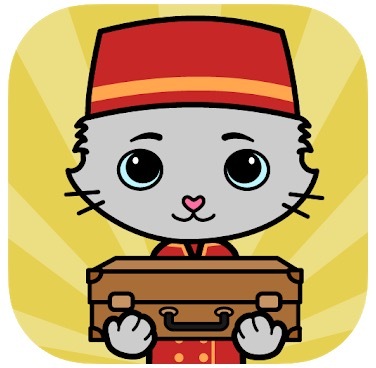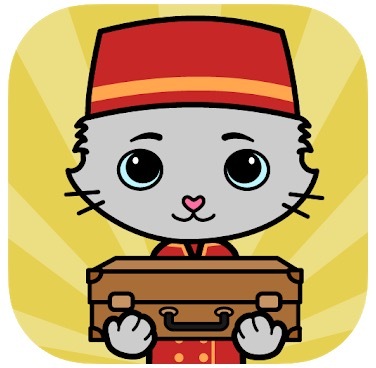 It's summer, and that means it's time to relax! Go to the amazing hotel Yasa and get a set of a variety of emotions during the stay.
To do this, you just need to download Yasa Pets Hotel on Android. In this luxurious building, you will find everything that you can only dream of, ranging from the usual ice cream and ending with a paid excursion to a tropical island.
But visiting this hotel is available only to nice little animals. Therefore, first, you need to choose your avatar in the image of which you will spend the whole holiday. You can also pick up a family and go on this journey together. In the application, there are animals for every taste and color.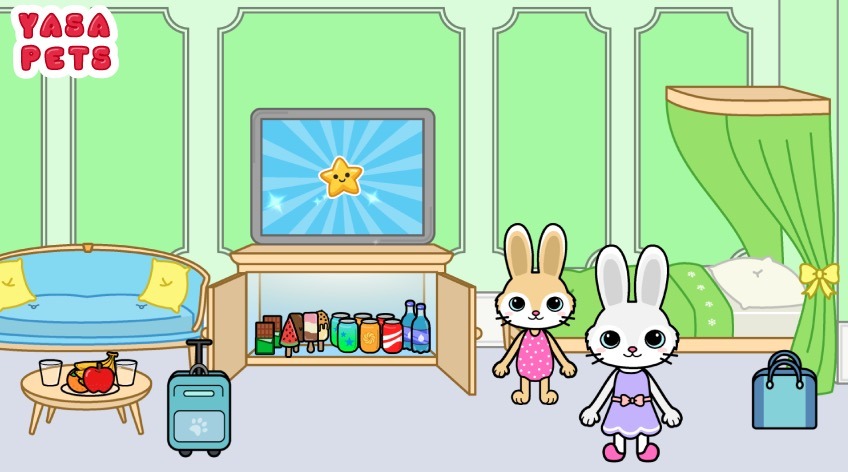 Choose from cats, rabbits, hamsters, and many other diverse animals, and also customize them to your liking, choosing the size of the animal, the color, and so on. After passing the most difficult level of the game, you have to do only one thing – to have fun.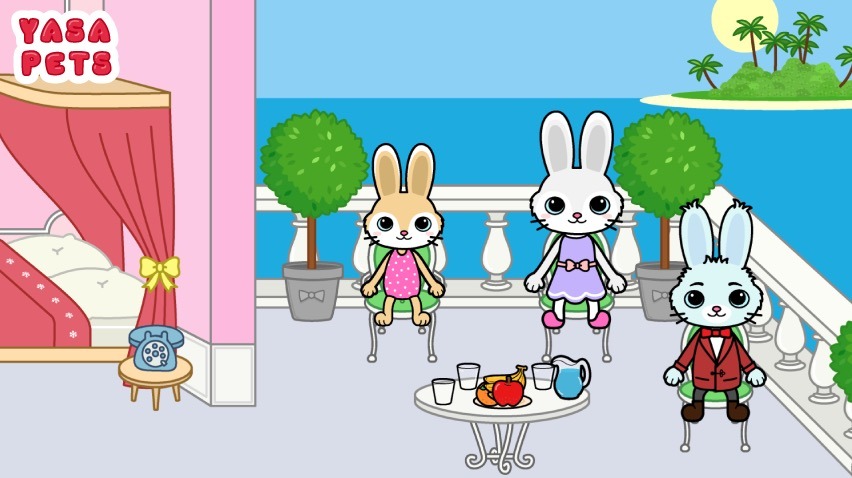 Next, there will be a short list of what you can do in this magnificent institution. The simplest, but not the least important, will be a tour of the hotel, especially your own room. You can change the location of objects on your own, or even add something unusual. The hotel is fully equipped, so you can call the staff on almost any issue of interest to you. Whether it's the choice of delicious food or the selection of dresses for the evening.
Also, you will find a huge number of mini-games, for example, tennis in the open air, diving into the pool or even a trip to a secret tropical island. The latter opens almost at the very end of the game, so you have to try.
Downloads: 17 300 +
Customers rating: 

(4.4 / 5)

Vacation Hotel Stories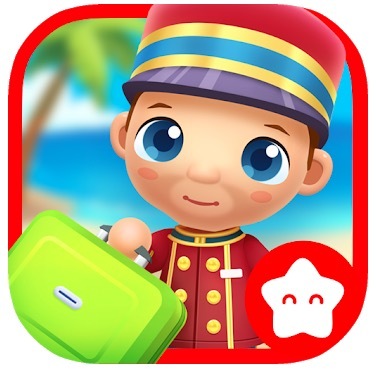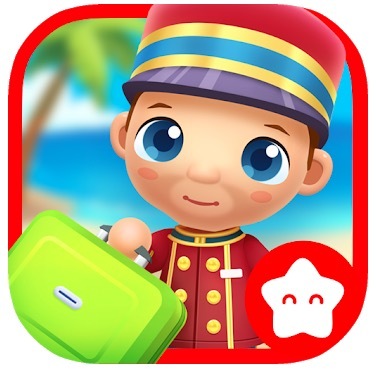 Is your child bored? Give him the opportunity to have fun and at the same time usefully spend time. Download Vacation Hotel Stories on your Android.
The plot of the game brings you to a huge, five-star hotel with all the amenities. Your whole family lives in it. The game is built on interesting stories and stories that your kid will definitely like.
Not only stories are waiting for the child. There are many interesting mini-games that allow the child to get a lot of positive emotions.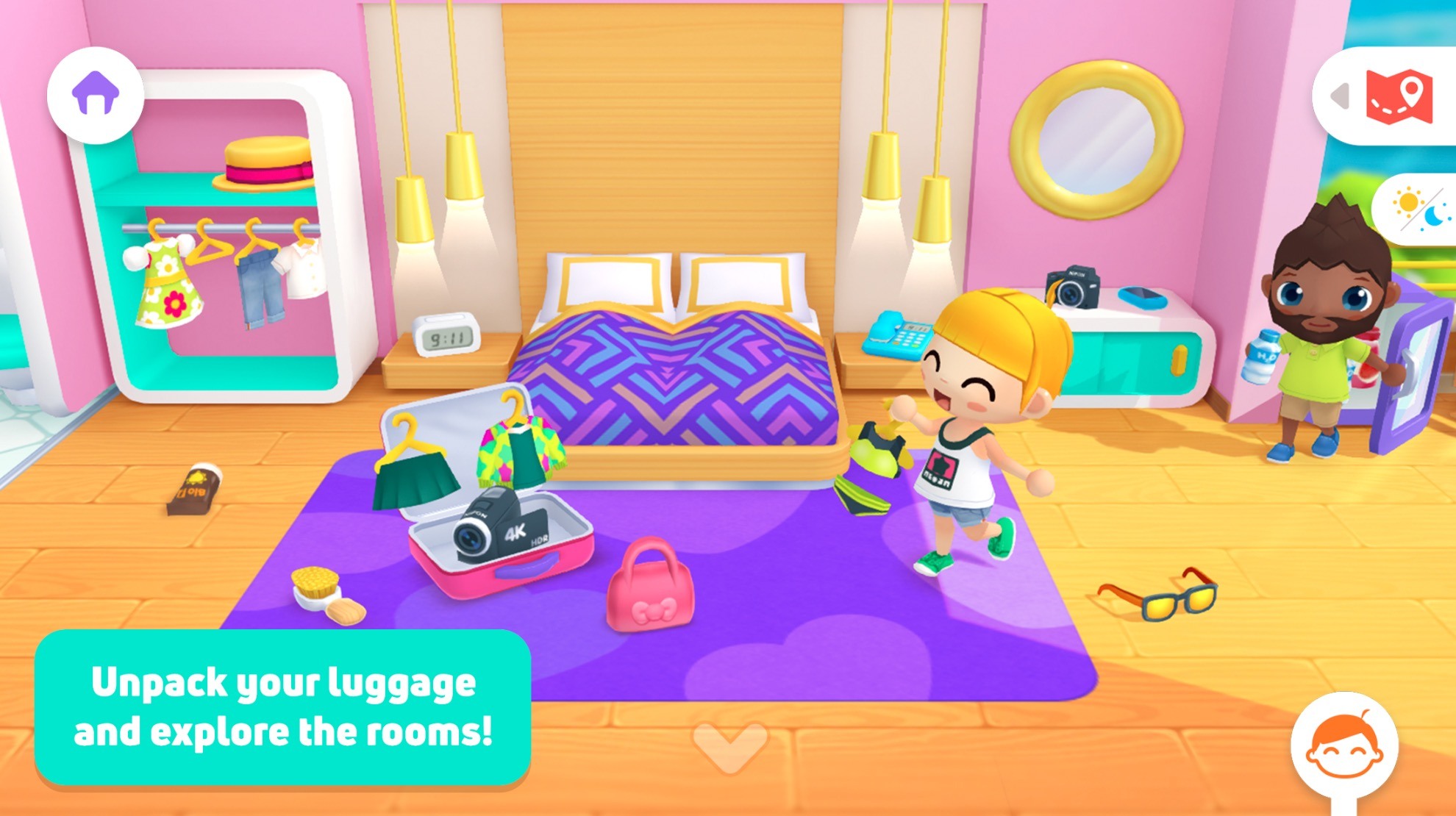 In addition to being in a huge hotel, you can go to four different places – on a tropical beach, a mysterious forest, an amusement park, or if it's winter on a snowy hike.
In the game, as you probably already understood, the time of year and even the time of day are changing, and you can constantly look for adventures in a huge 3-storey hotel, with a pool and a beautiful garden.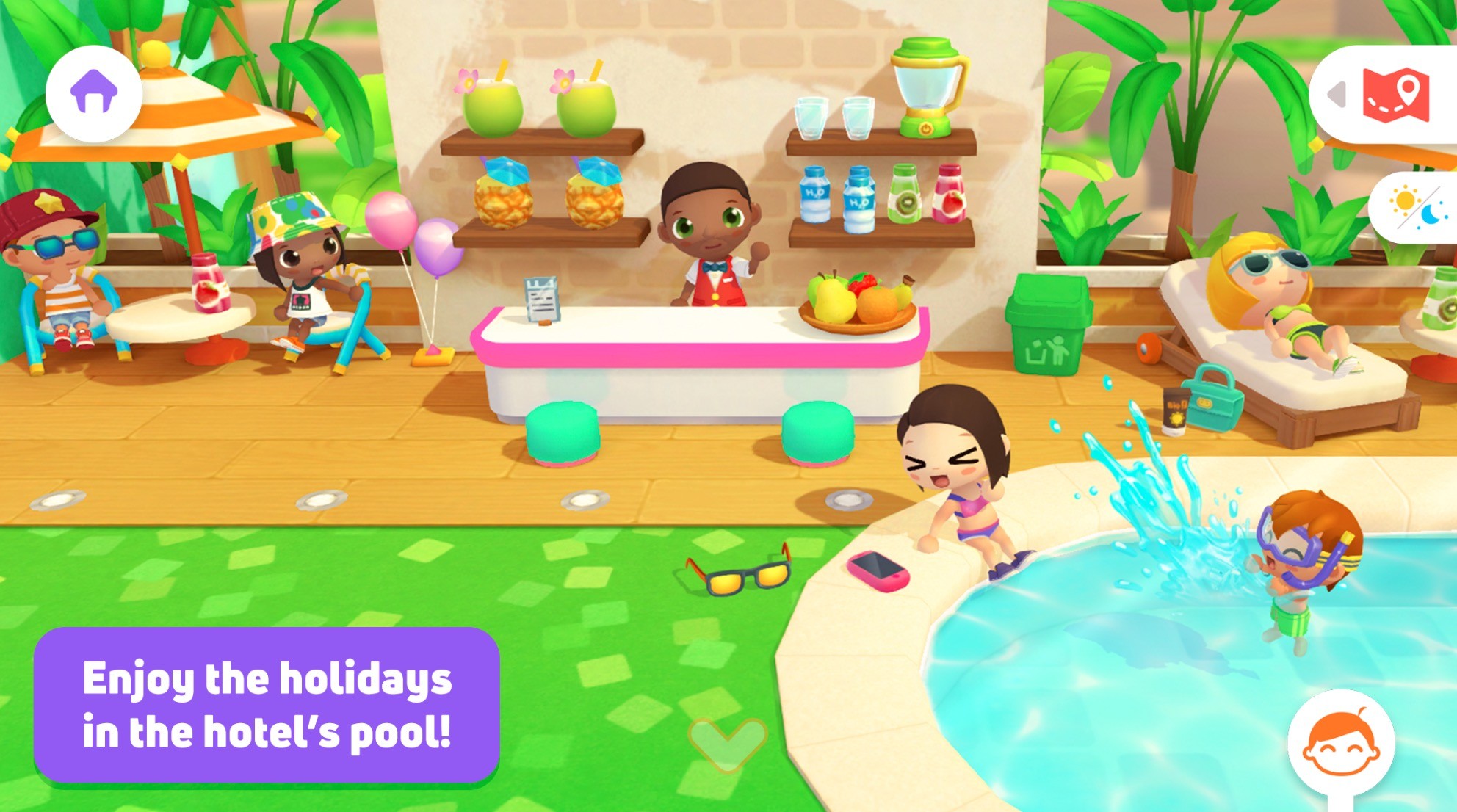 With a huge number of places and characters, you can create your own versions of stories, thereby developing the child's imagination and creative thinking.
There are more than 20 characters in the game and hundreds of other objects that will behave differently when interacting with them.
The game is designed for children, and not so children, between 4 and 14 years old, but appropriate to be enjoyed by the whole family.
Downloads: 9 300 +
Customers rating: 

(4.0 / 5)

Hotel Story: Resort Simulation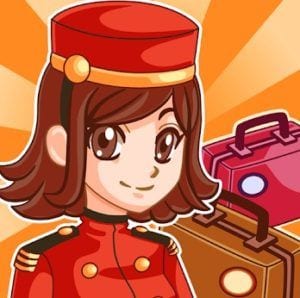 Hotel Story: Resort Simulation is a multiplayer app from Happy Labs studio, which is an interesting simulator of the gradual development and management of a virtual hotel. So, here you are the owner of the hotel.
In the game Hotel Story: Resort Simulation, we start our business from a small hostel, in which there are a vending machine, the reception desk, and a few rooms. Our mission is to develop the institution as quickly as possible with a maximum of effort.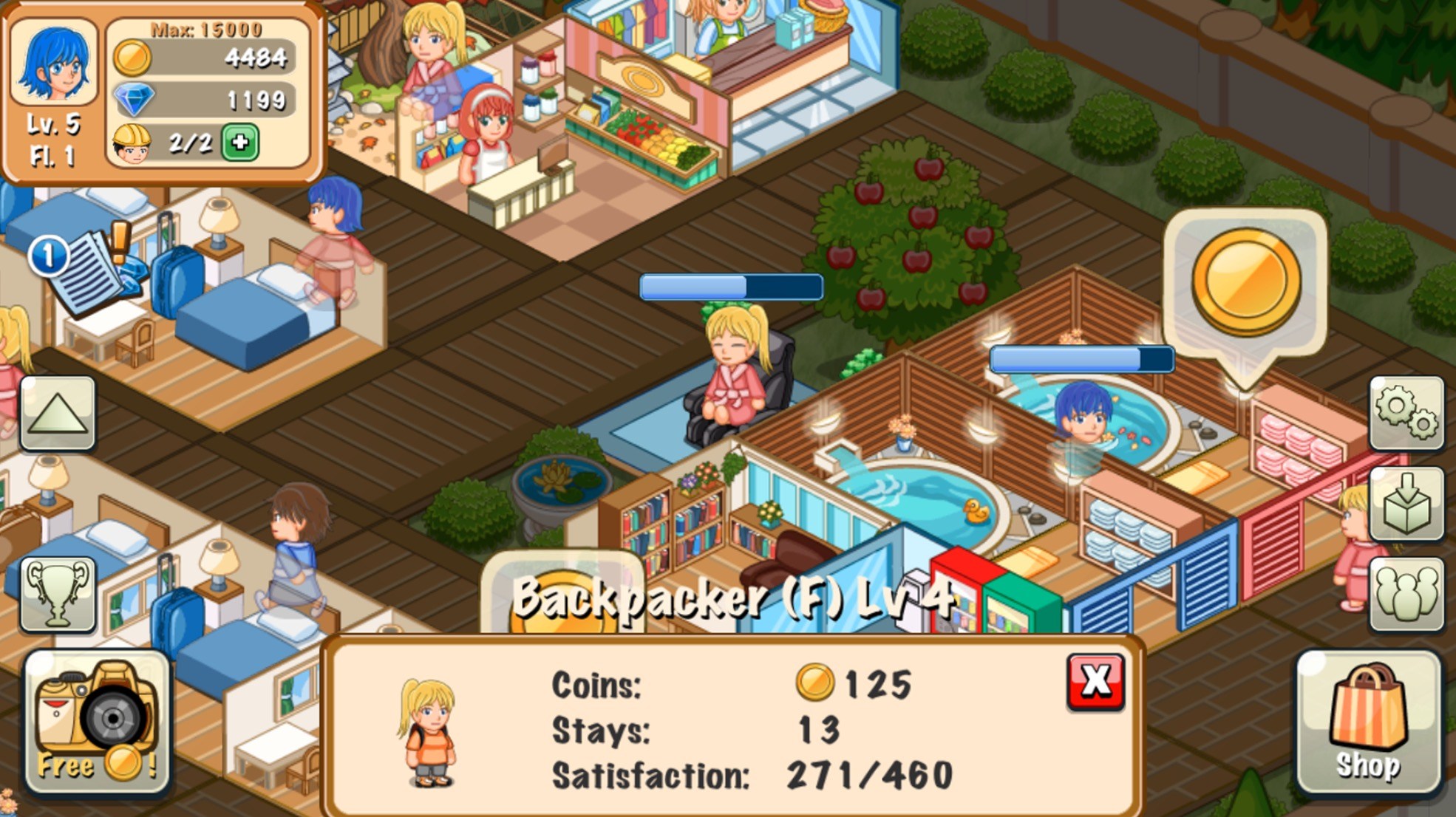 To perform the main task, you must first accumulate start-up capital, due to which we will be able to increase the number of rooms offered to visitors.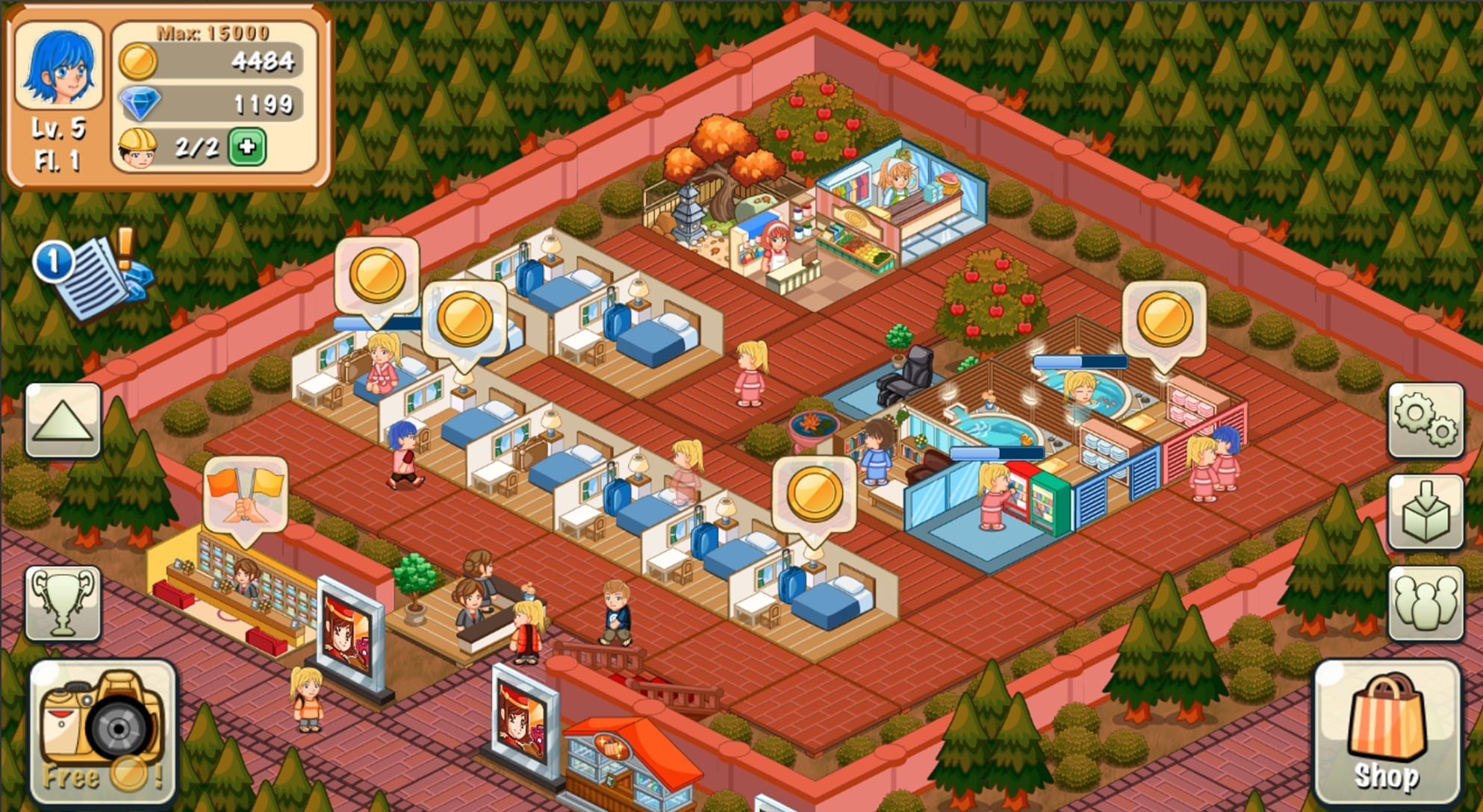 As you progress through the game, you will be able to build a multi-storey entertainment complex. In addition to user interaction with virtual visitors, Hotel Story: Resort Simulation provides a multiplayer component of the gameplay. Players will be able to share experiences with each other and interact in every way.
Downloads: 644 000 +
Customers rating: 

(4.3 / 5)

Paradise Island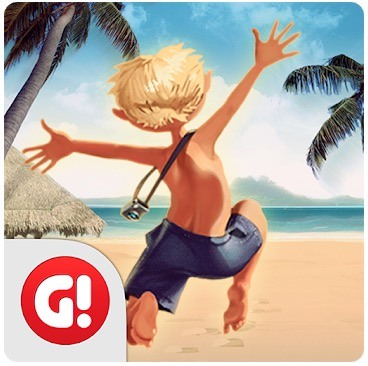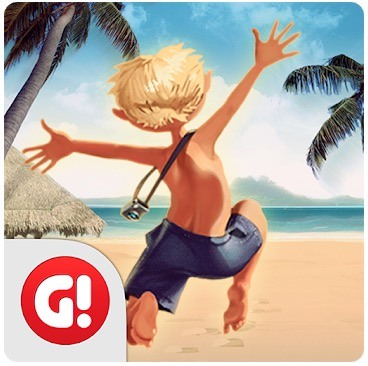 A colorful game from the series of economic simulators Paradise Island will immerse you in the sunny paradise atmosphere of a tropical island. You have to start your own business, and what could be more attractive than opening a hotel for rich tourists? Sunny beaches, casinos, discos, restaurants, attractions, swimming pools, and other entertainment – even just from these words mood rises!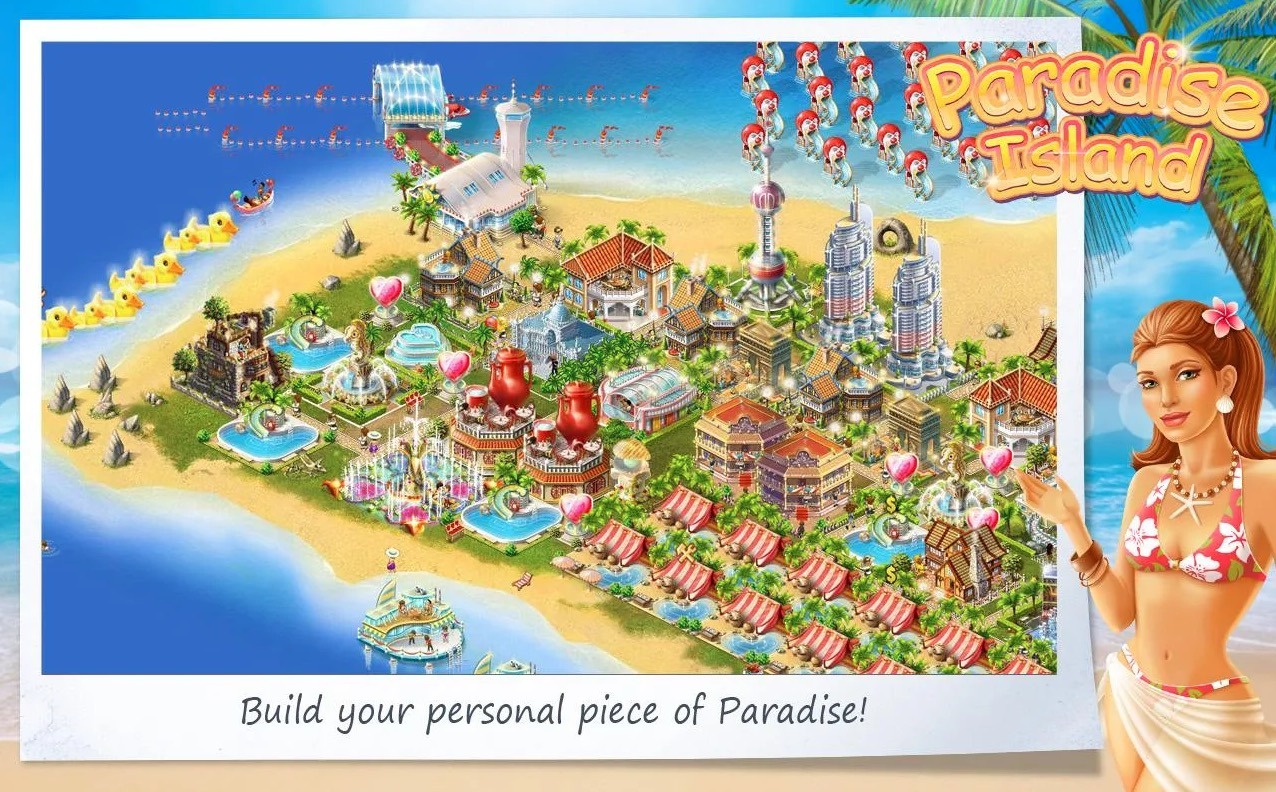 You will have to start from scratch, with the purchase of land, the construction of buildings, the selection of personnel. But gradually you will be involved in the process, learn all the subtleties of managing the tourism business, and resort visitors from all over the world will rush to come to you. And it is possible that you will be the winner of the Main Prize as the best manager.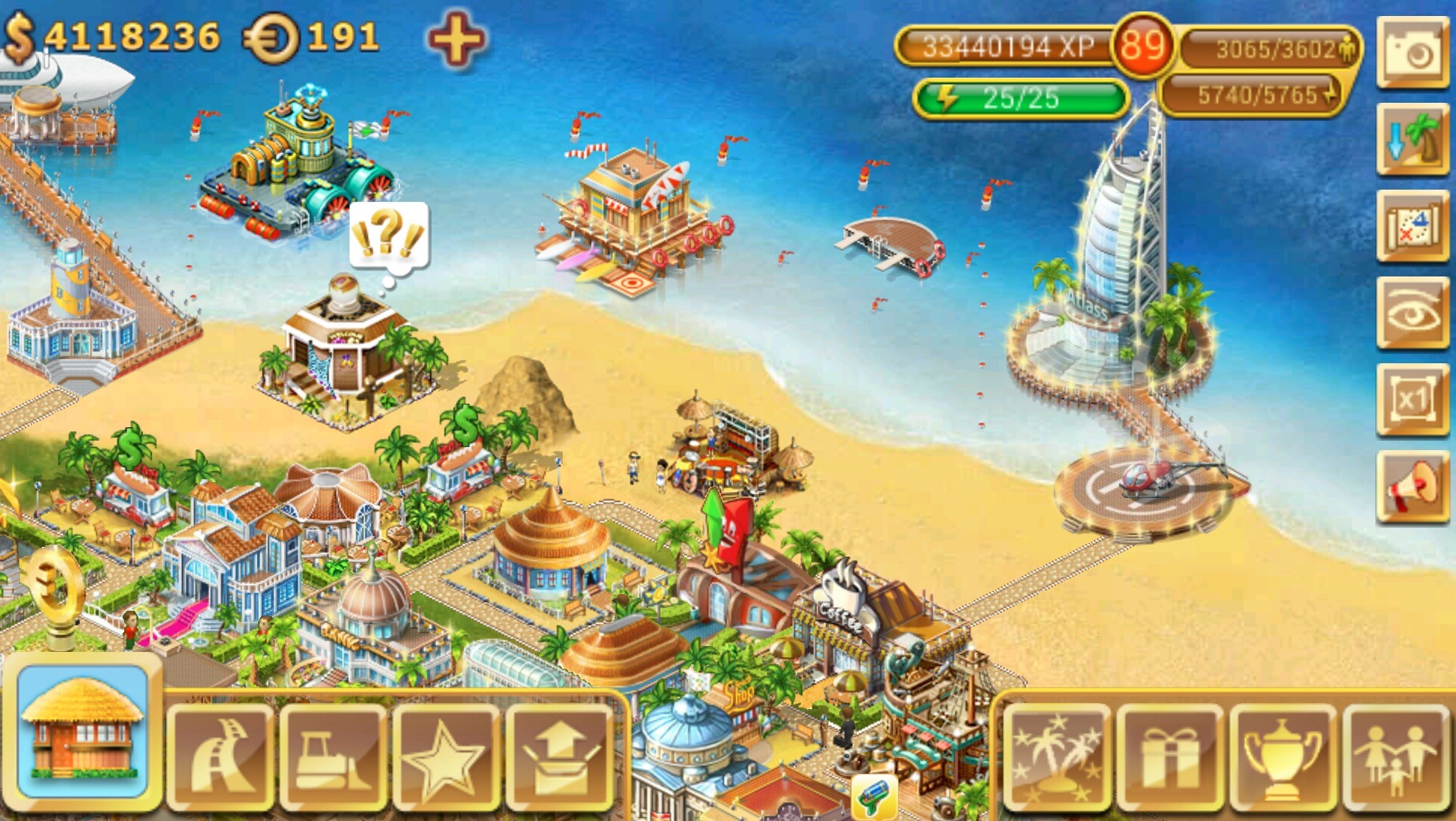 A huge plus of Paradise Island is the ability to play even without access to the network (in transport, on vacation, in line, etc.). The graphics are carefully drawn, replete with bright colors. Your island will continue to live its life even when leaving the game. To create the infrastructure, a huge number of buildings, design items, ornamental plants are available.
At any time, the resort area can be increased by purchasing more sea and land. Finally, 200 different awards and achievements are built into the game. To open them all, you will need to spend more than one day in Paradise Island!
Downloads: 978 400 +
Customers rating: 

(4.6 / 5)

You can also check: 19 Best Crafting and Building games for Android
Paradise Island 2: Hotel Game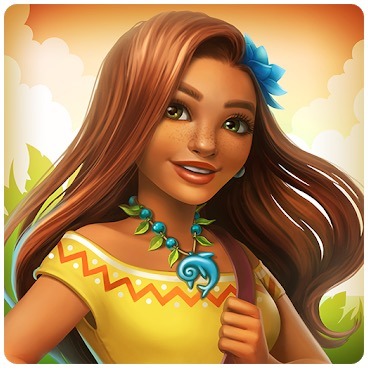 In Paradise Island 2 you have to create your own unique city, conduct business, as well as create new buildings that will have their own unique component and bring you income. For example, you can build your hotel where people will live and pay you for it, and you will become the richest manager.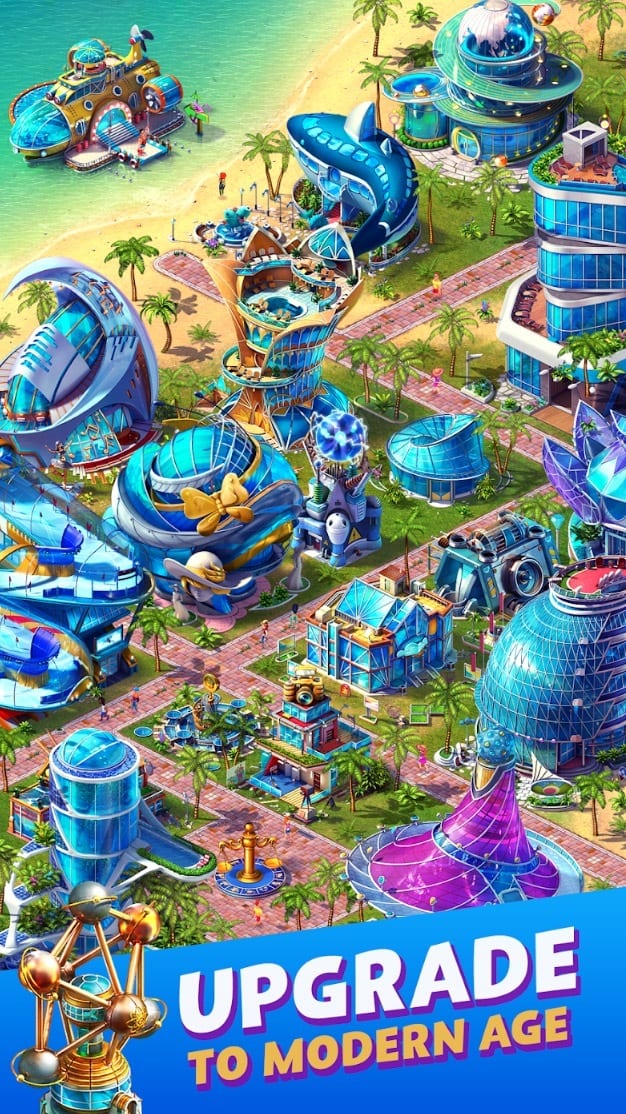 The game has more than three hundred types of buildings that you will need to open and build.
Build hotels with luxury rooms, giant swimming pools, various attractions, restaurants with a wide variety of cuisines, and dance clubs where tourists can party all night long.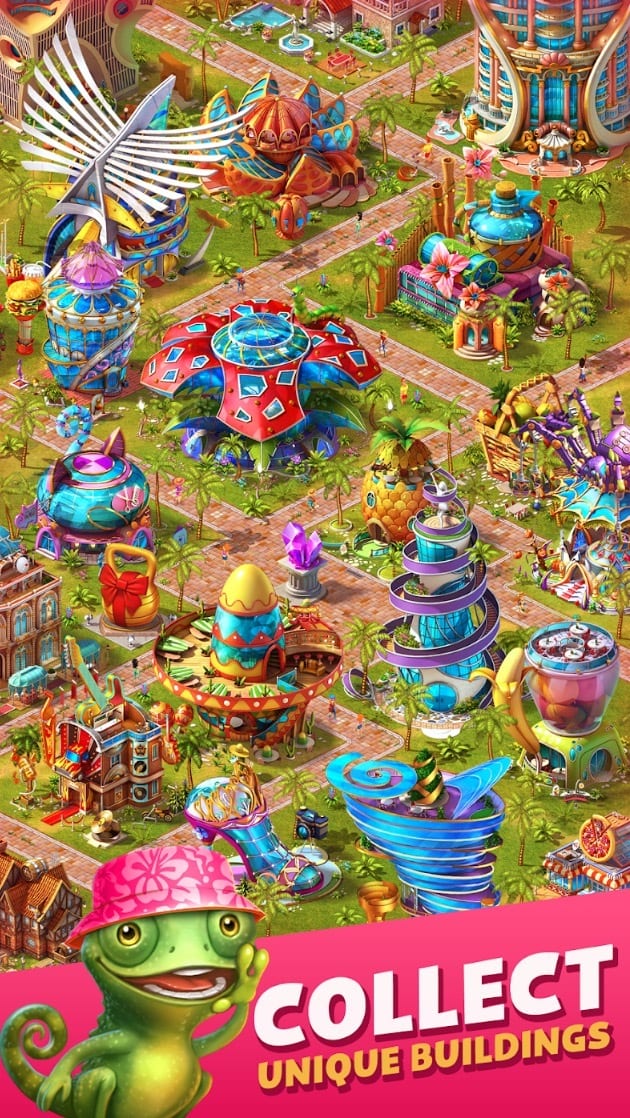 Not all attractions will be profitable, but despite this, you will need to maintain cleanliness in public places and in your hotel complex, so that your visitors can enjoy their holidays.
Paradise Island 2 continues the saga of Paradise Island. Graphics were significantly improved compared to the previous version. The game turns you into an entrepreneur seeking to create a resort empire by building and renovating various hotels on the coast to attract as many tourists as possible.
Downloads: 516 200 +
Customers rating: 

(4.4 / 5)