Now, most services and applications require a phone number for registration, which then receives an SMS message with a code.
Without entering the code, registration is impossible or the account will remain very limited in its capabilities.
Now it's not necessary to specify a personal phone number, because there are virtual services for this purpose. With their help, it's possible to hide your phone number or to register a large number of profiles. In this article, we will talk about such services for Android.
Best fake number apps for Android
1. Sideline
Don't want to pay money? Then you need Sideline! It gives you another phone number to use only for specific purposes! You can do this with this tool that creates a virtual phone number to communicate.
The app generates a unique phone number so that you can use it to make calls using Wi-Fi or mobile data so that you are not charged and hide your real phone number.
By subscribing to the app, which costs three dollars, you can activate international calls and get rid of annoying ads completely.
Once in the app, select the area code you want and generate a unique phone number that you can use to make calls and send SMS, switching between them at any time.
Attractive, concise, and well-organized touch screen interface in a modern style, where all actions are performed using simple gesture commands.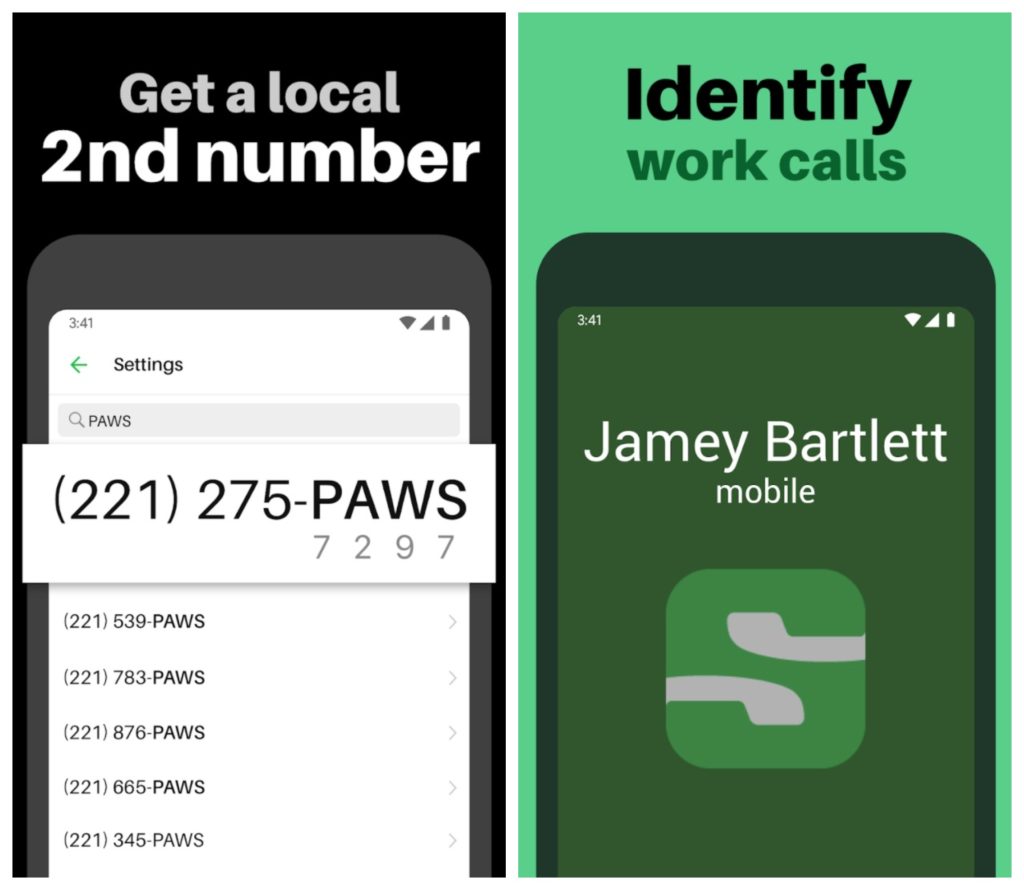 Downloads: 5000000 +
Customers rating:

(3.8 / 5)

You may also like: 9 Best Voice Changer Apps During Call for Android
2. Numero eSIM
Numero eSIM is a VoIP application with which you can make cheap international calls, as well as purchase unlimited virtual phone numbers in popular countries, without using a physical SIM card.
Application Features:
A lot of real numbers without a physical SIM card on your smartphone.
Register on social networks and messengers without providing your identity. Also, your personal information will not appear on intrusive apps and websites.
Thanks to the virtual number you can receive SMS, send SMS, make calls around the world.
When connected to the Internet: free calls and SMS to eSIM numbers all over the world (free-roaming).
With Internet connection: call forwarding to a local number. The cost is determined according to the country's tariffs, which is much cheaper than the cost of roaming.
Virtual phone numbers allow you to never miss a call thanks to calling forwarding and voicemail.
A private number allows you to hide your real phone number or virtual numbers.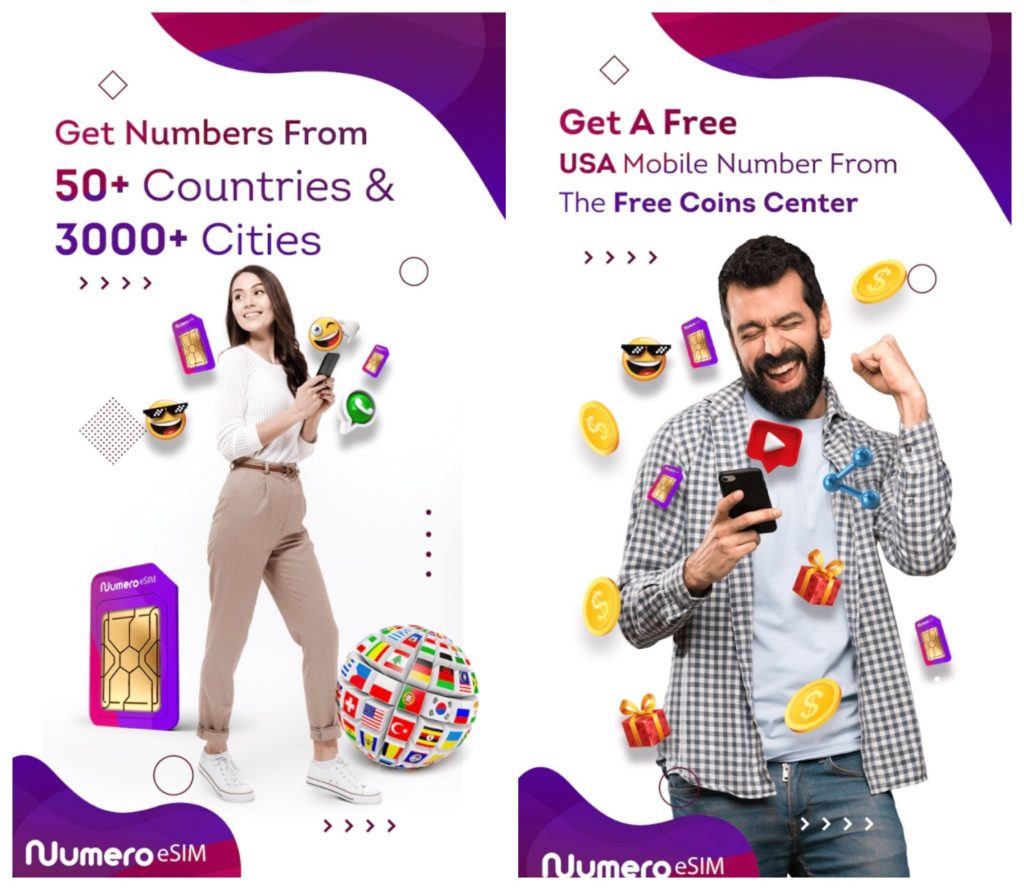 Downloads: 5000000 +
Customers rating:

(4 / 5)

3. 2ndLine
2ndLine is a unique Android app for mobile devices that allows you to call from other numbers of this service.
Some areas of freelancing and business require a lot of active numbers, and not every user has the opportunity to buy separate sim cards.
In this case, this program will be an indispensable assistant. Here you can buy phone numbers at a nice price and manage them, making and receiving calls or messages.
This service is oriented to residents of the U.S. and Canada, so there may be problems when launching in other countries.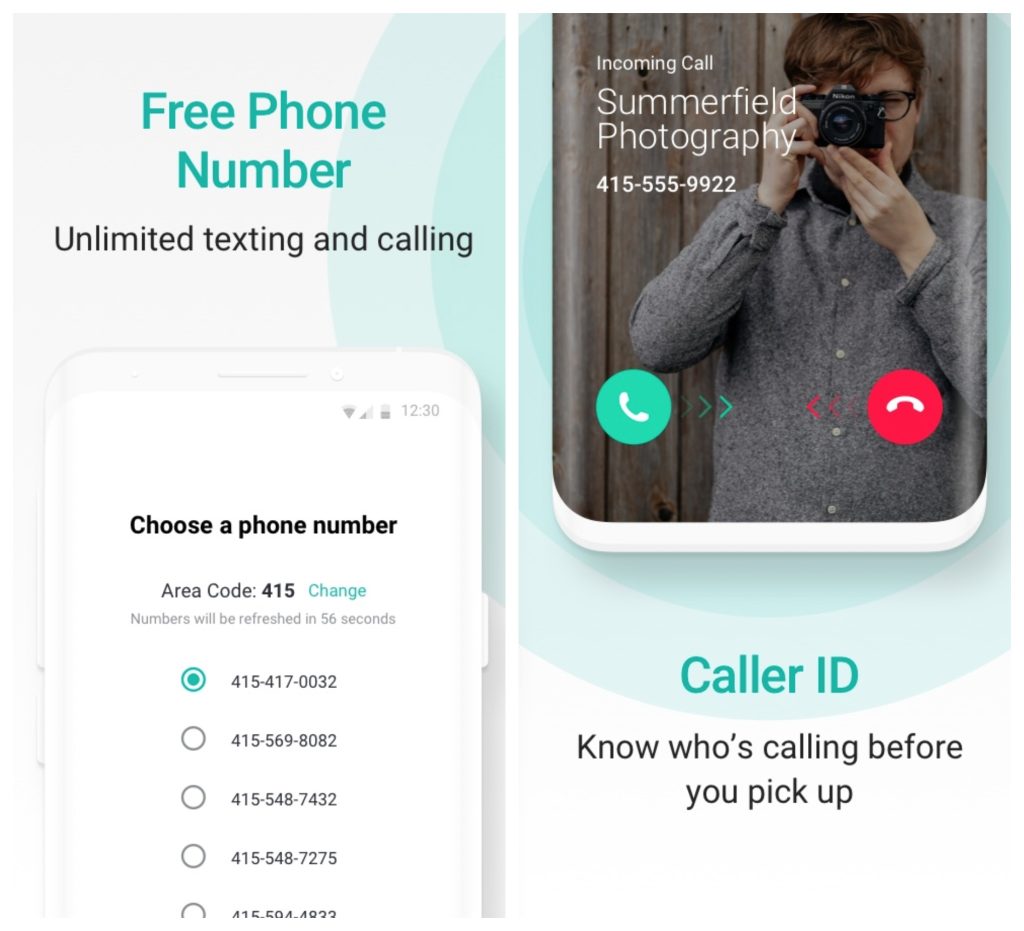 The app allows you to:
Make free calls to any phone numbers;
Call forwarding;
Add photos and ringtones to personal contacts;
Send and receive text and voice messages.
Downloads: 10000000 +
Customers rating:

(3.8 / 5)

4. Skype
Skype allows you to get a temporary virtual number not only to make but also to receive calls.
Among the limitations, it's worth noting that at present you can choose only one number of the 25 countries.
If you don't want to use your main number for certain calls, you can connect an additional number. Of course, this is not a replacement number, but it allows you to keep your conversations private.
The advantages are that it allows you to pay only for the calls you make, and you can choose any suitable tariff for economical communication.
If necessary, you can change the number on an additional SIM card without changing it. This service is available from all cellular operators and is charged extra.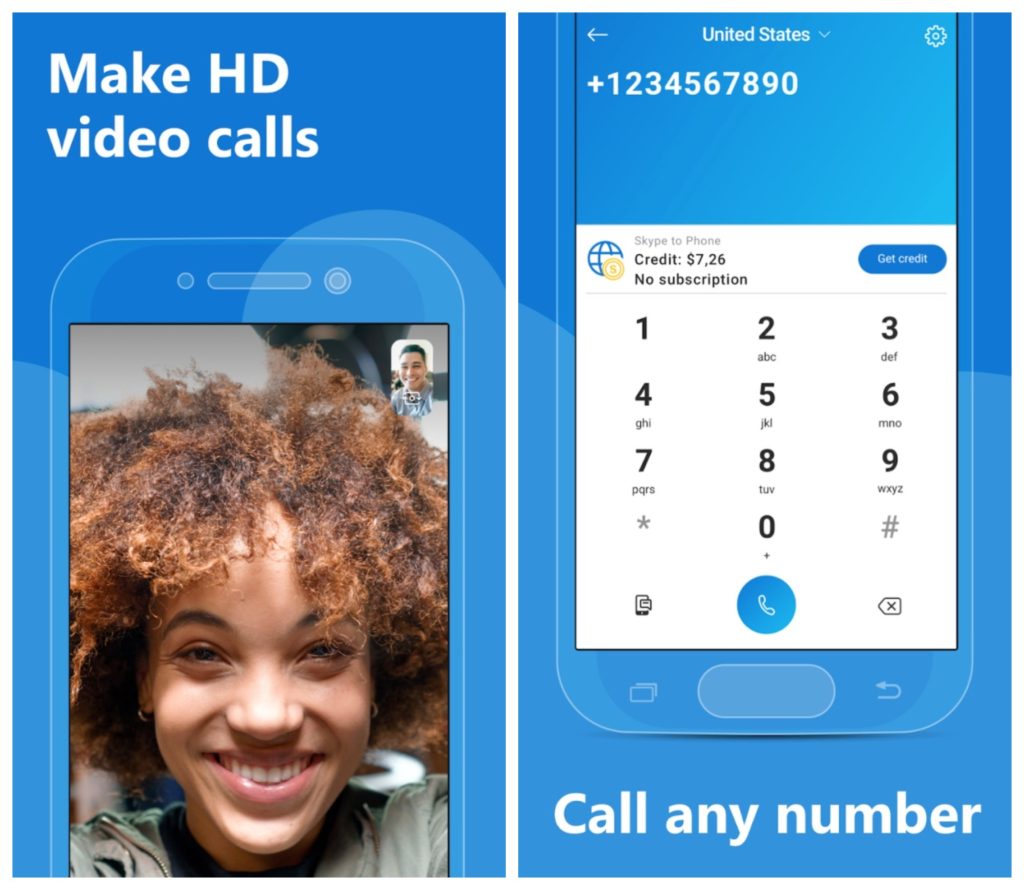 Downloads: 1000000000 +
Customers rating:

(4.1 / 5)

5. Hushed
Hushed is a useful communication application to get a second phone number without changing the SIM card.
The app allows you to get a second phone number from one of the 60 available countries in the world (US, Canada, UK, etc.) to separate your work and personal communication on Android.
The app allows you to make international calls, including voicemail, answering machine, and call forwarding.
Once in the app, click on "Get New Number", select the country you want, and click on "Claim Random Number" to generate a random number.
Control all your settings using touch commands. This is an ideal resource for Android users who want to get a second phone number.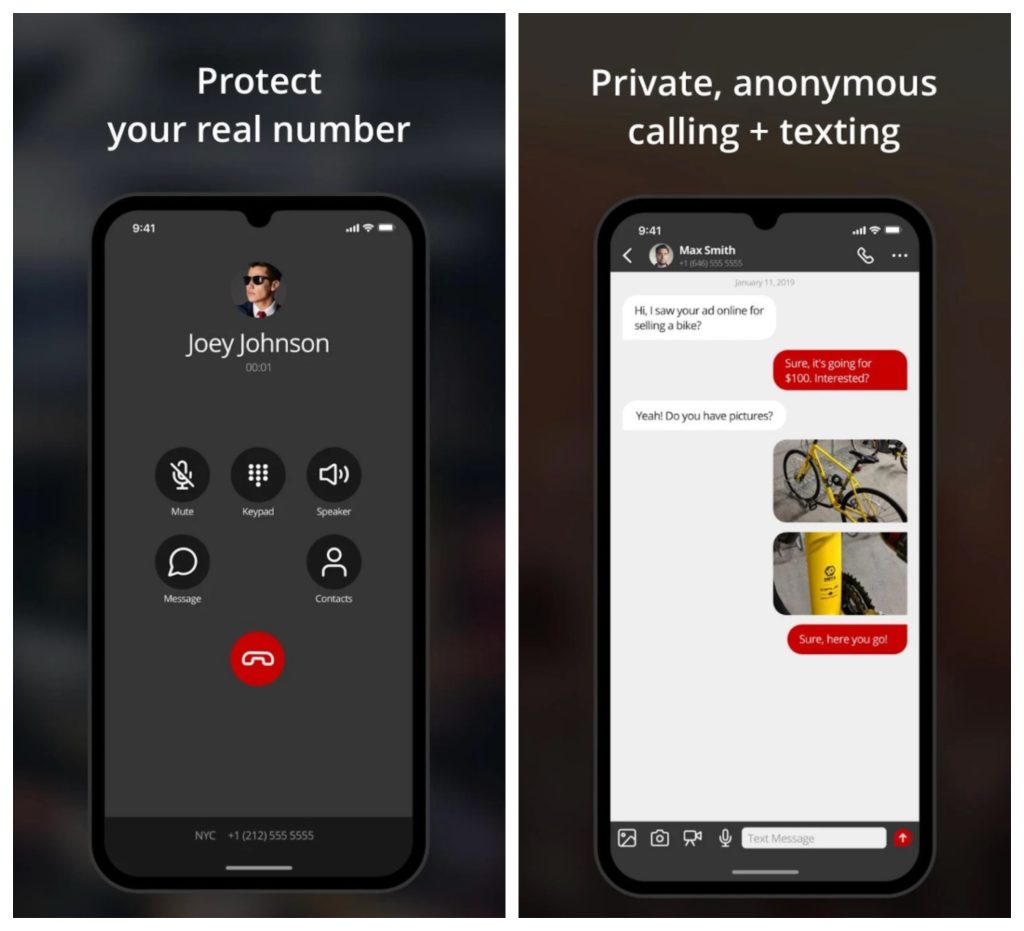 Downloads: 5000000 +
Customers rating:

(3.7 / 5)

6. Google Voice
Google Voice is an app that allows you to make calls by registering a second phone number.
To get a phone number, you will need to visit the Google Voice website. Using your Google account, select Get Voice Number. Then enter your zip code and click Search Numbers to bring up a list of matching numbers. Select the number and click "Continue."
This app will give you the ability to make calls hiding your phone number.
Google Voice maintains and processes your call history, voicemail messages, SMS messages, call records, and other data associated with your account. In your Google Voice account, you can delete your call history, and your voicemail, SMS, and phone records.
Users who gave Google Voice a positive review said it was a great option for a convenient and cloud-based business phone line. They also mentioned that it's cost-effective.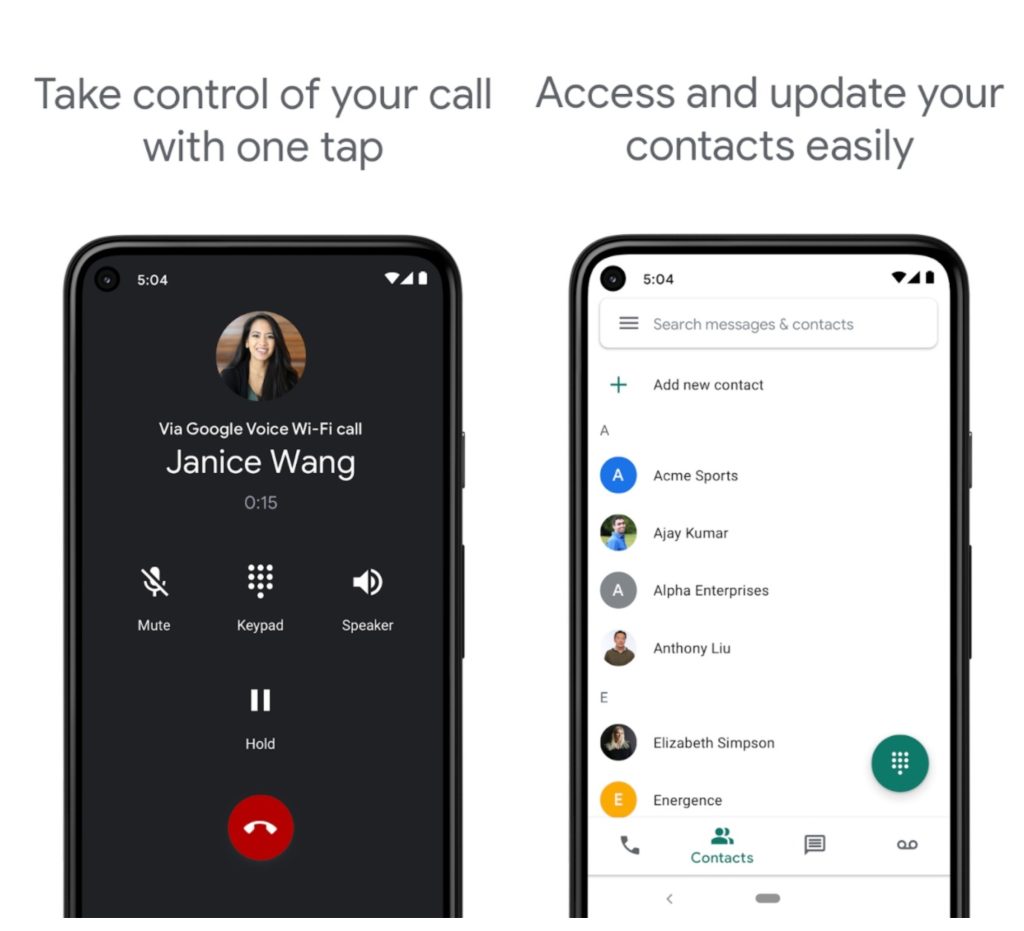 Downloads: 10000000 +
Customers rating:

(3.1 / 5)

7. CoverMe
More than once you must have worried about the security of your messages. By downloading the CoverMe app, you get a secure platform for making calls and sending SMS in a completely confidential way.
Secure and private messaging.
Your messages and data are safe. CoverMe is a mobile messaging platform that allows you to communicate securely and privately. For a small fee, you can create a new phone number to call, send private messages and share confidential files.
The app offers secure storage and protects all types of files. On the other hand, you can also store passwords, credit card information, and other types of credentials in this vault. Plus a strong password generator.
Encrypted calls, secure messages.
If you want to communicate securely, this app is a good option. It's also quite convenient and has customization options Although you should be aware that its nicest features are not free.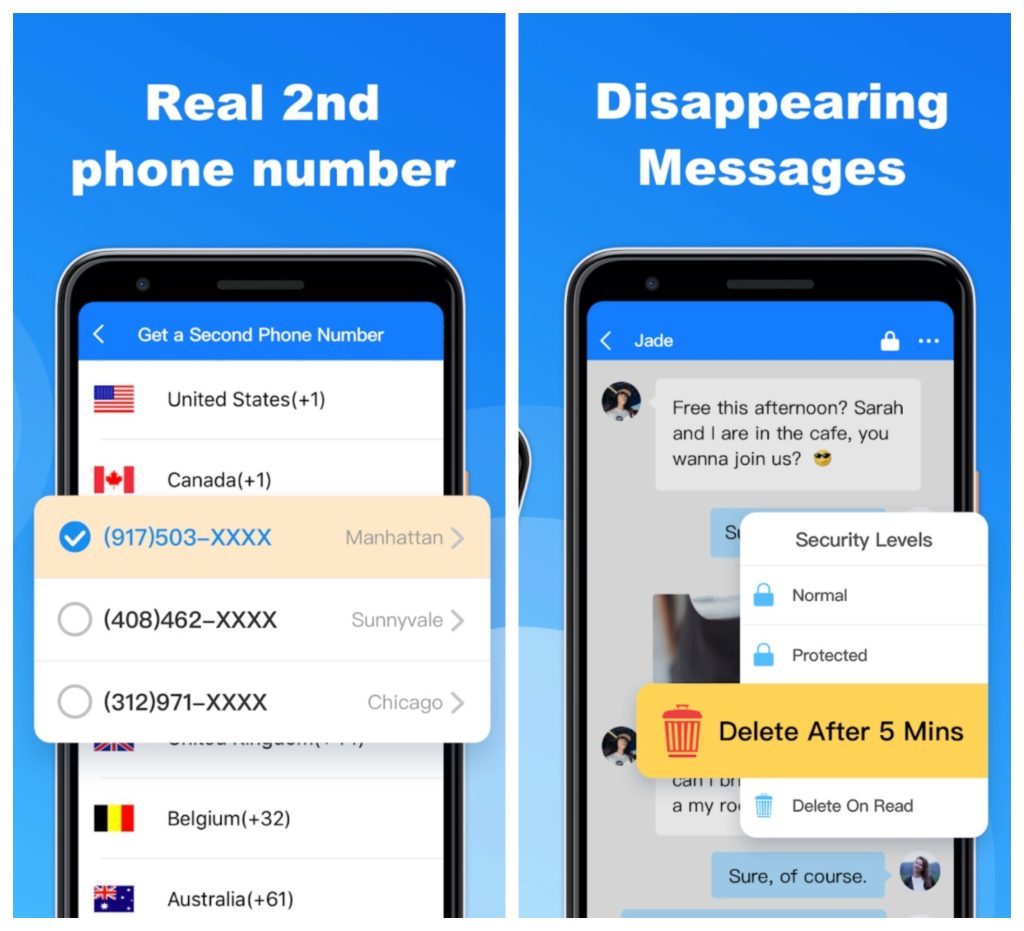 Downloads: 1000000 +
Customers rating:

(3.5 / 5)

8. Line2
The Line2 app not only allows you to make important calls to your business partners but also provides your device with its own phone number.
Subscription to Line2 allows you to make unlimited phone calls within the city or over long distances, as well as to send text messages.
The service offers Wi-Fi or 3G connectivity, depending on which type is currently available. If neither format is available, Line2 automatically forwards calls to one to six additional phones of your choice.
Speaking of phones, the app is capable of sending and receiving voice mail. You can also receive voicemails via email.
You will get features like call waiting, call hold, and call forwarding. The app supports calls in conference mode, which can involve up to 20 subscribers, which is very useful for small and medium-sized businesses.
The "Do Not Disturb" option in Line2 allows you to forward incoming calls directly to your voicemail, which is very convenient if you are in a hurry to a meeting and don't have time to take a call.
The app is capable of storing a detailed history of calls, voice, and text messages.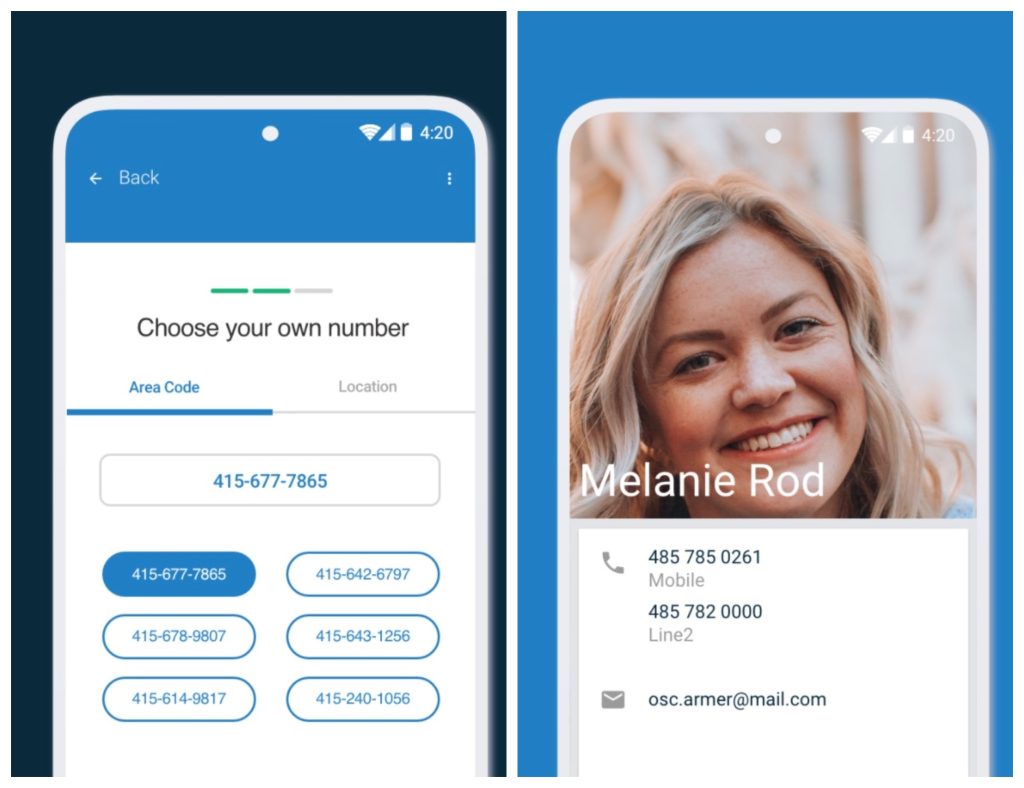 Downloads: 1000000 +
Customers rating:

(3.4 / 5)

You may also like: 5 Best Call Waiting Apps for Android
9. WePhone
WePhone is an application that will be useful to anyone who often has to call cellular or landline phones around the world. This software solution will save a lot of money on such conversations.
Here you will get a virtual sim second phone number for USA/Canadian regions.
The rates here are much more "democratic" than in the same Skype, and of course, are much more "attractive" than the cellular operators. The only requirement that puts before the user WePhone – is the need to be connected to the network to make calls. And this connection must be stable and high-speed.
Using the program is extremely convenient and easy. The main screen here is dedicated to the number entry panel, which, in addition, supports the function of automatic identification of the country code you are going to call.
Once the number is dialed you will have to wait a few seconds until the application connects you to the desired subscriber and then proceed directly to the conversation. As you see, everything is very simple and easy.
Signing up for the WePhone service takes no more than a minute, and once you finish, you get a small amount of money in your account and can try to make your first call.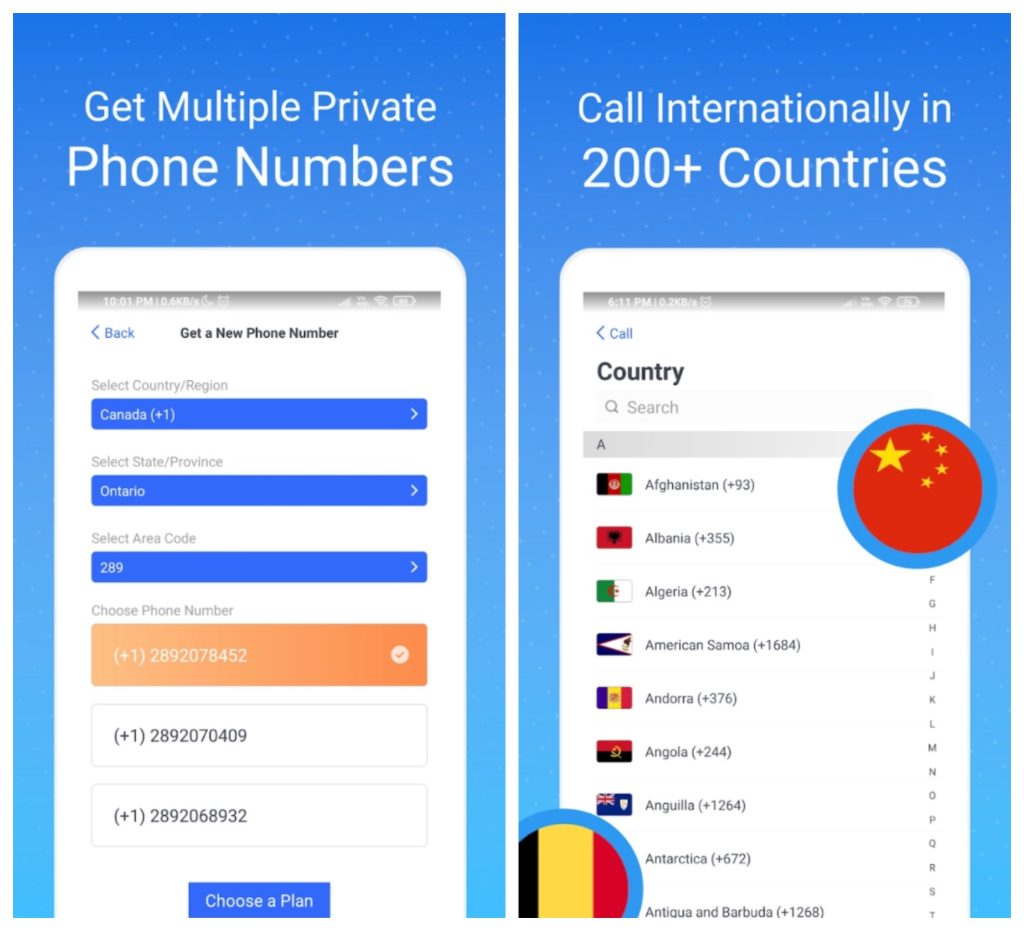 Positive features of WePhone:
Nice, simple, and friendly interface;
Frequent updates.
Downloads: 10000000 +
Customers rating:

(3.3 / 5)

When choosing such a program, you should be extremely careful. Although they are free, you can make calls through them only at a set rate. And you can use them only if you have an Internet connection.
Pay attention to the permissions that such an application requires when installing and running. For example, it can use access to various data on your device, as well as access to use your phone number account.
There are many variations of how you can make calls with a fake phone number. What they all have in common, however, is that they use data transfer to make calls. The service you choose depends on what purpose you need to use the call from another number.
For companies that use them to call their customers, you should pay attention to special services that have wider opportunities not only to make such calls but also to record them.
For infrequent use by individuals, you can choose special programs for your smartphone. But if you just need to save money on calls to another country, it's worth choosing a service with a virtual number.