The following selection of games is suitable for kids and their parents. If your child has a sweet tooth, the games would be to his taste! You will have a lot of fun with your child, or at least, you can interest him for some time to play independently.
Make your favorite lollipops, a variety of sweets, cook and decorate cakes and pastries, even create your own recipes! In the selection, there are the most colorful, perfectly animated candy shop games for kids.
Little Panda's Candy Shop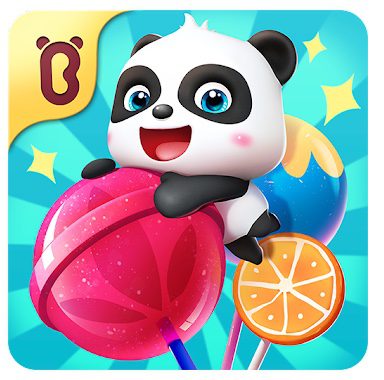 Little Panda's Candy Shop – together with Kiki panda create unusual sweets of different shapes, sell them in your candy shop, and get coins.
If you dream to become a skilled cook in the art of confectionery, then download the application. Together with the little panda Kiki you have opened a small candy shop. You will sell not only products but also prepare them yourself.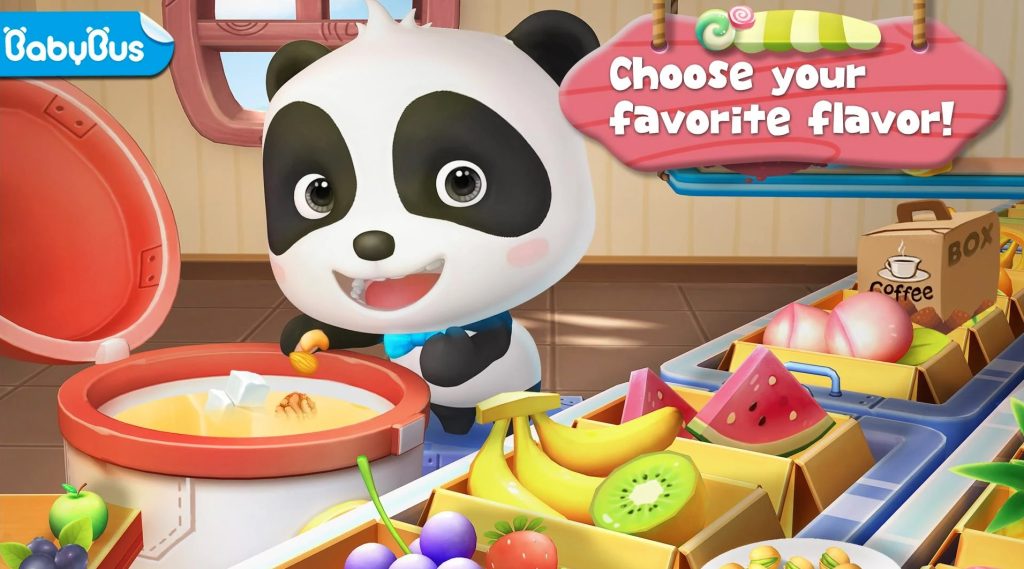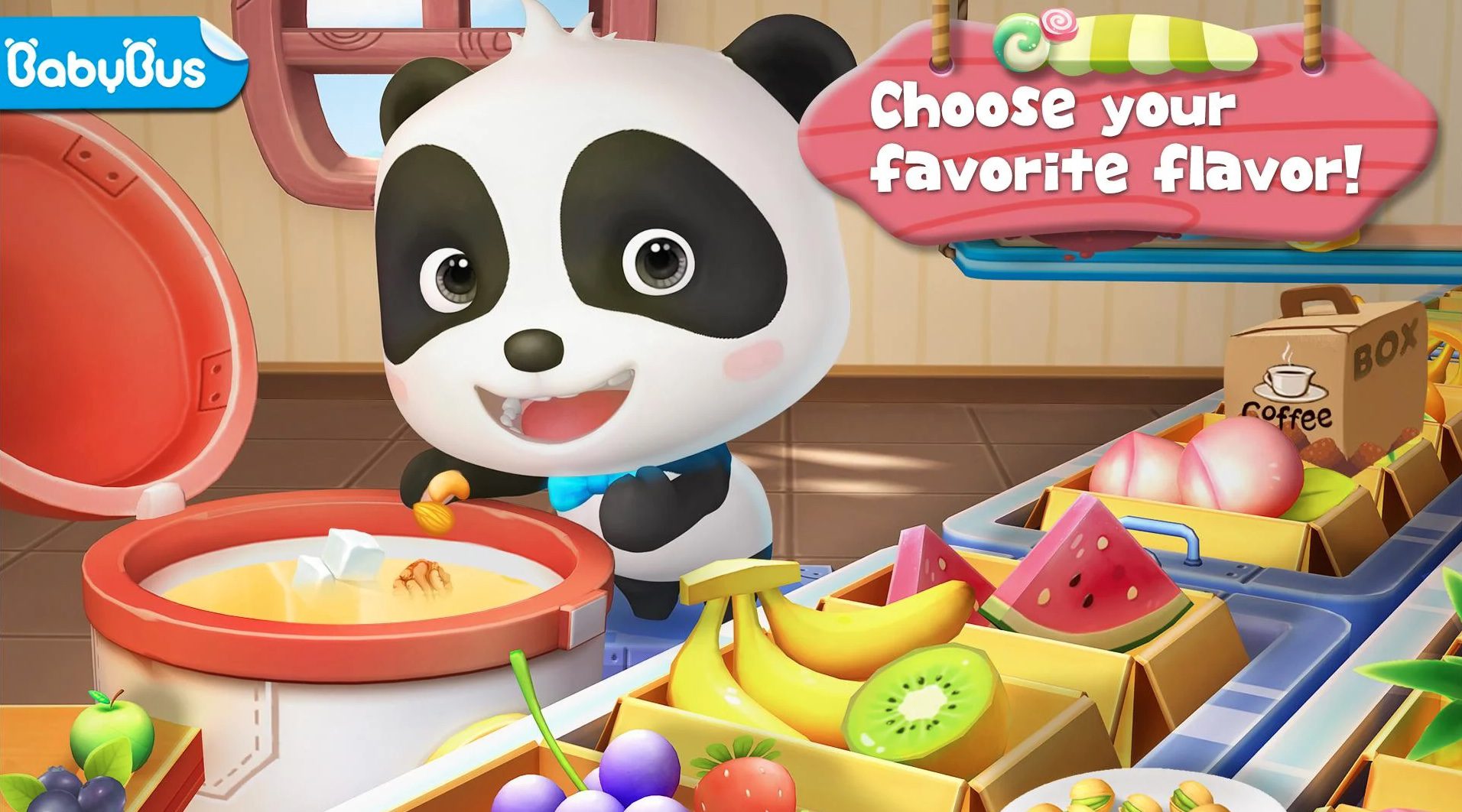 You have a conveyor belt in your factory, which consists entirely of different machines that make the dough, mix the ingredients, and bake the final product. Each product is placed in a box of your own making and tied with a bow. Then, you and the panda put everything on display, at which time customers already come to the counter.
The customer will immediately unwrap the bag and eat it. And in gratitude, you'll get a big handful of coins and a sea of applause. Collect coins and discover new ingredients to please your customers even more.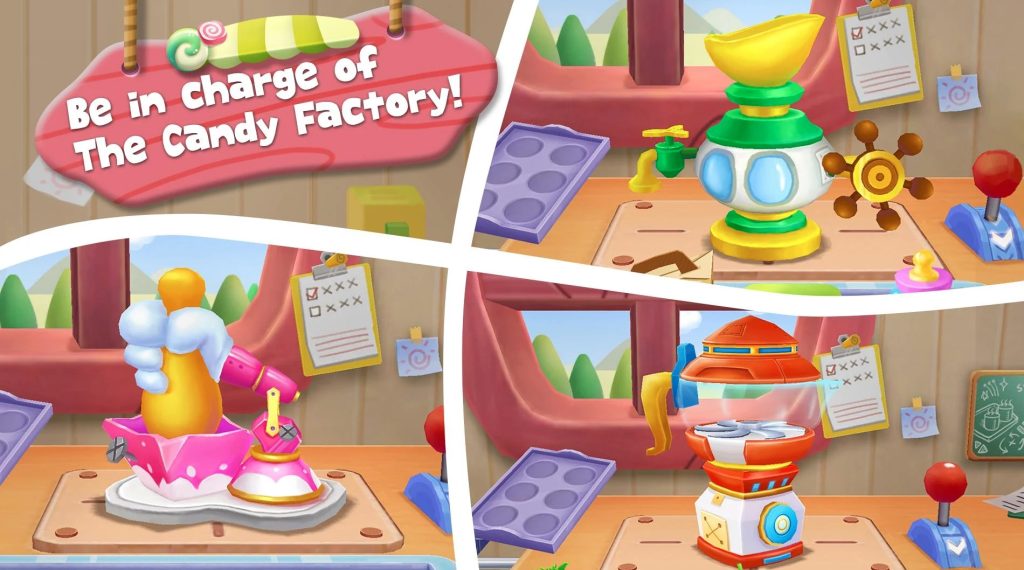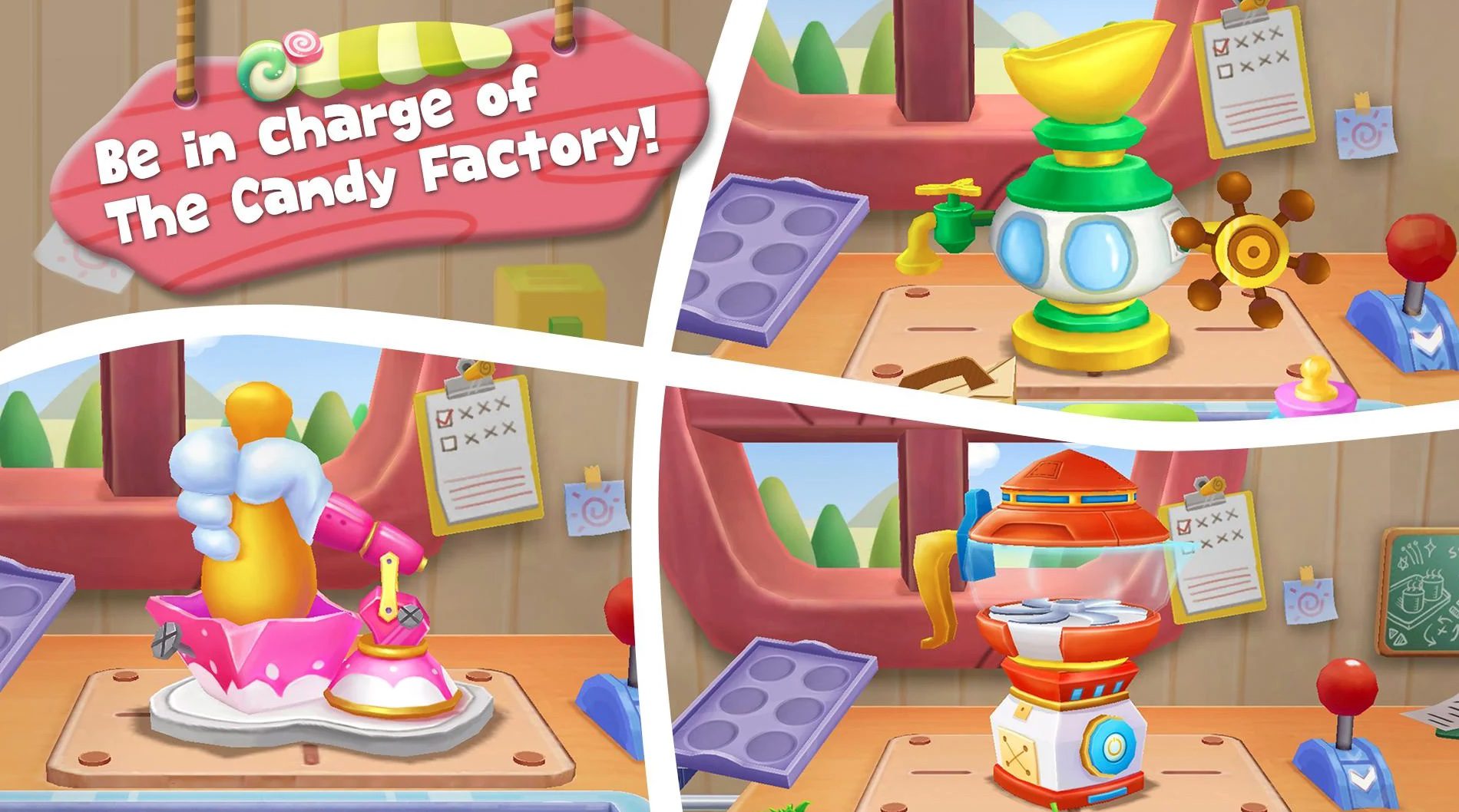 Best cooking game app for children:
Your child can get a basic understanding of candy-making process;
A wide variety of flavors and 48 colors are available;
A large set of molds to help kids realize their fantasies to the fullest;
The different cooking tools make the learning process varied and exciting.
Downloads: 10000000 +
Customers rating:

(4.3 / 5)

You may also like: 9 Best Pet Shop Games for Android
Cotton Candy Shop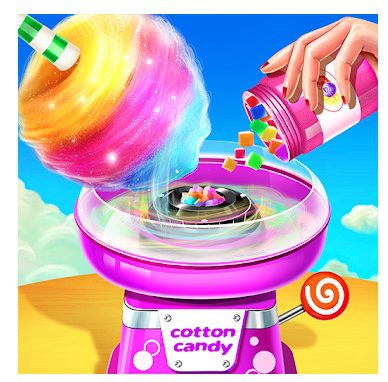 Cotton Candy Shop is open! Create sweets to your liking and serve your customers!
Your child is invited to dive into the wonderful world of candy and other sweets, but not as a sweet tooth, but as a manager. Your kid will learn how to create cotton candies, get a basic understanding of the process of making them, and feel like a candy shop manager who makes his own candy and sells it himself.
The child will choose his own delicious ingredients and decorations, and use a special machine to make colorful cotton candies.
The shop will also need to be cleaned up regularly. And it's possible to choose suitable clothes for the manager. Such stylish and bright outfits will suit anyone's taste.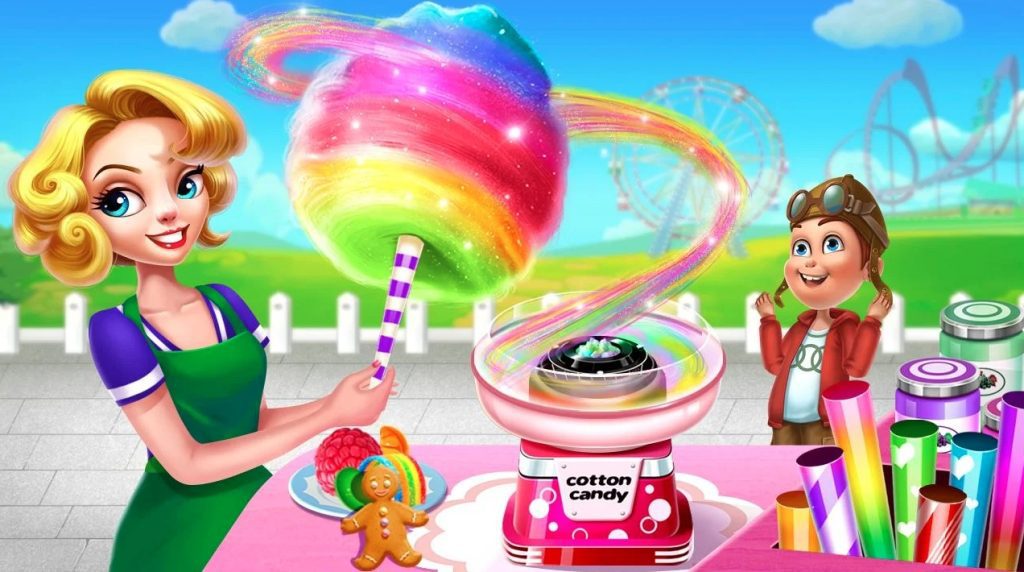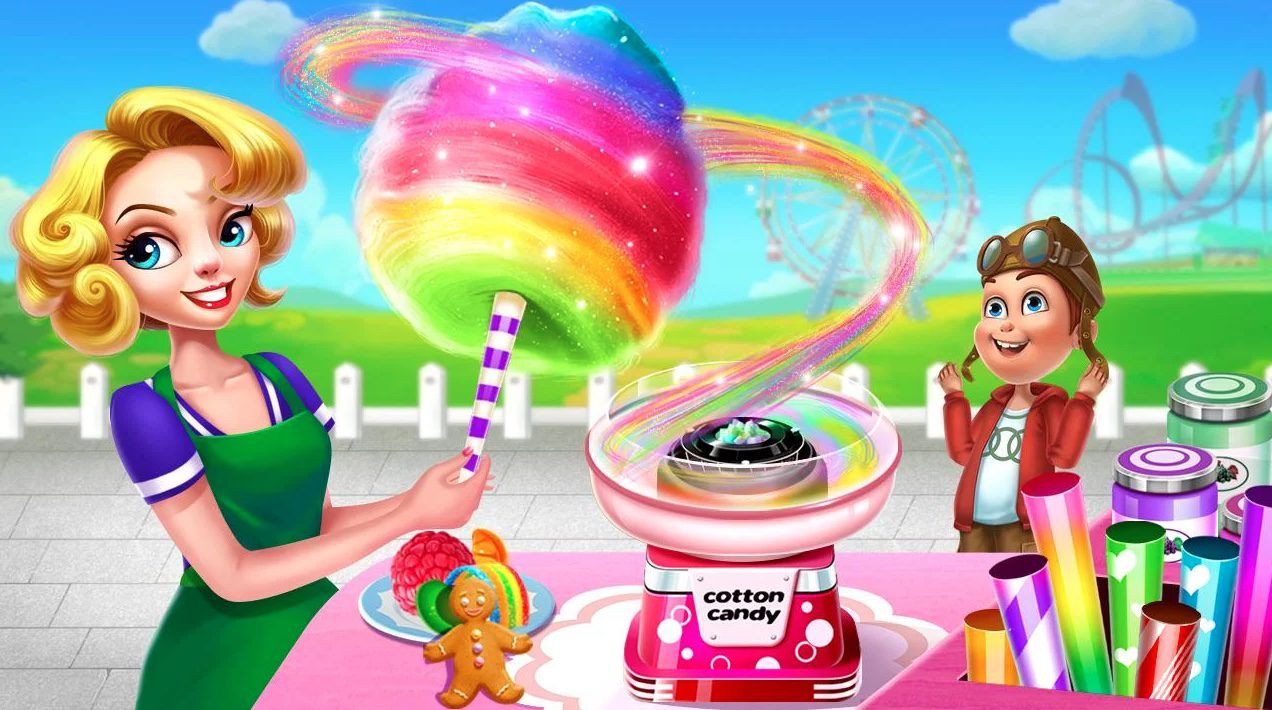 The game will help your child not only learn about the world and expand his horizons but also develop their imagination, creative thinking, and fine motor skills.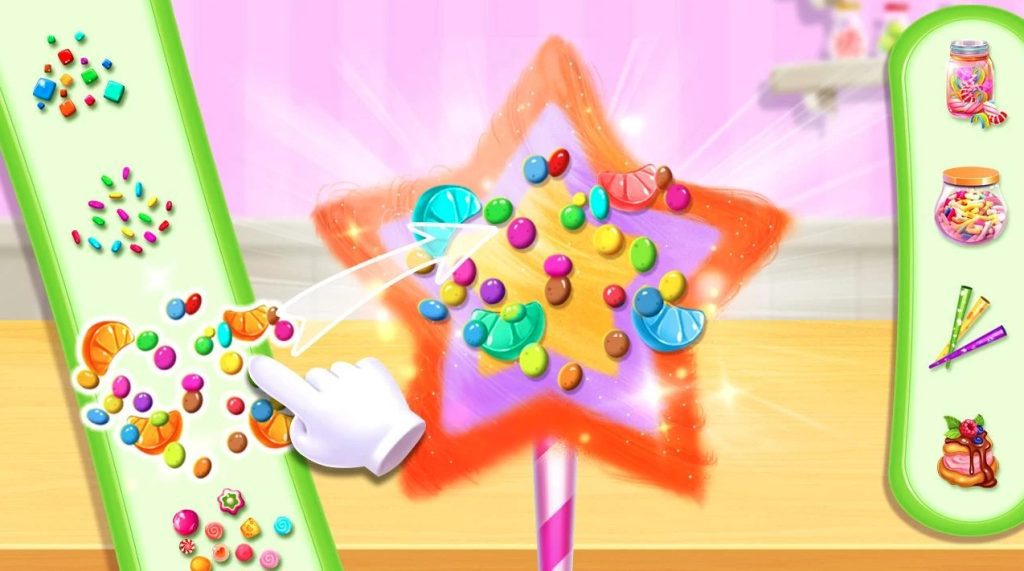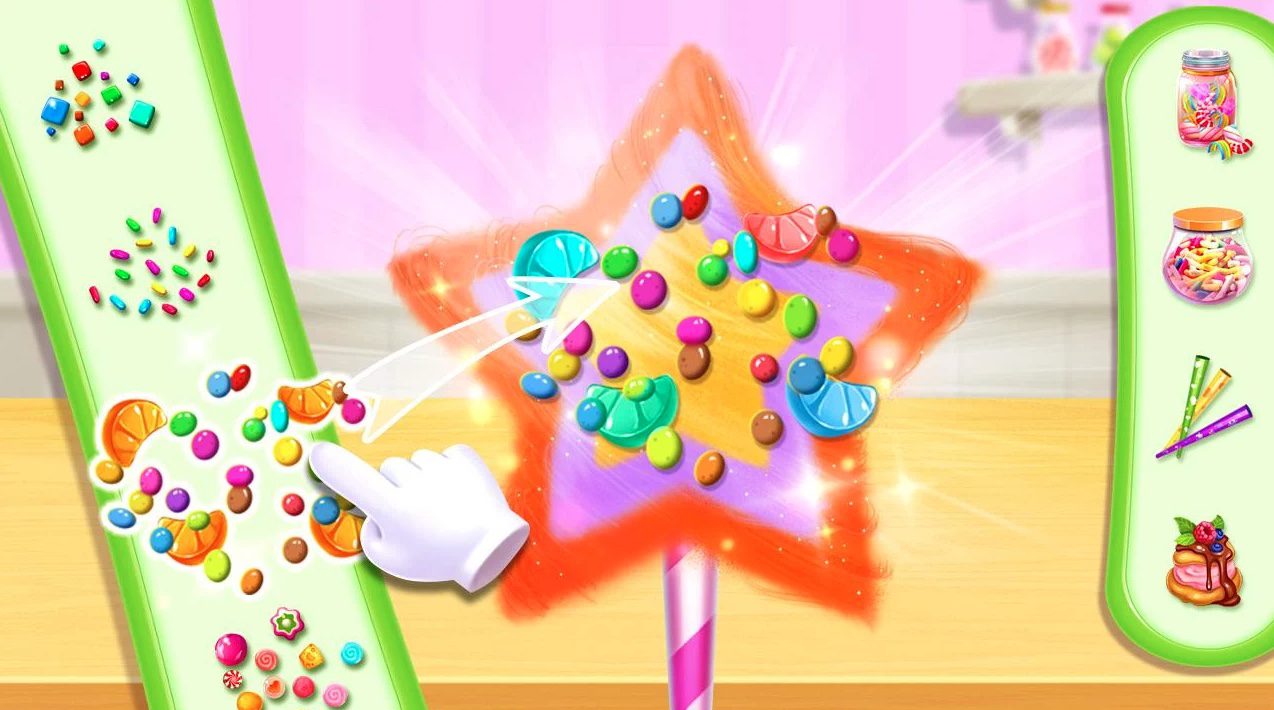 Downloads: 10000000 +
Customers rating:

(4.2 / 5)

Strawberry Shortcake Sweet Shop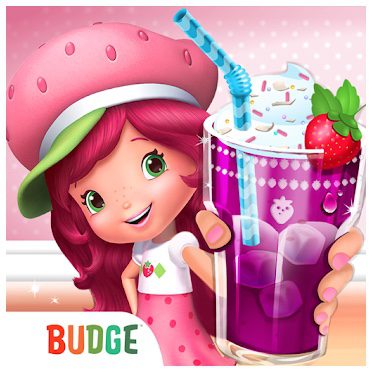 Strawberry Sweet Shop is an application for the whole family, in which adults and children will have a pastry shop at their disposal. Gamers will have a lot of customers and as a consequence – a lot of orders for the most diverse types of delicacies.
In addition to finding the right proportions of ingredients to create a delicious masterpiece, the game has its own book of recipes. It will also be possible to try to cook your favorite dish in reality.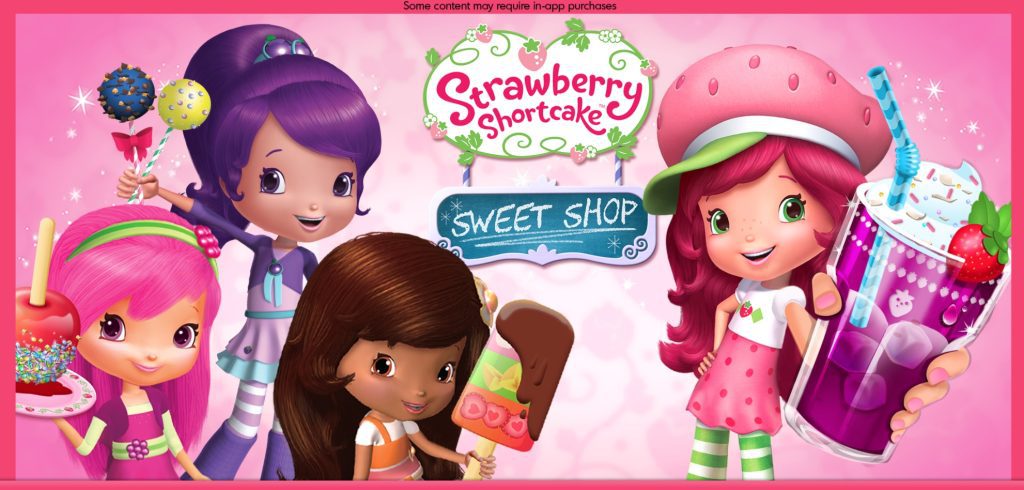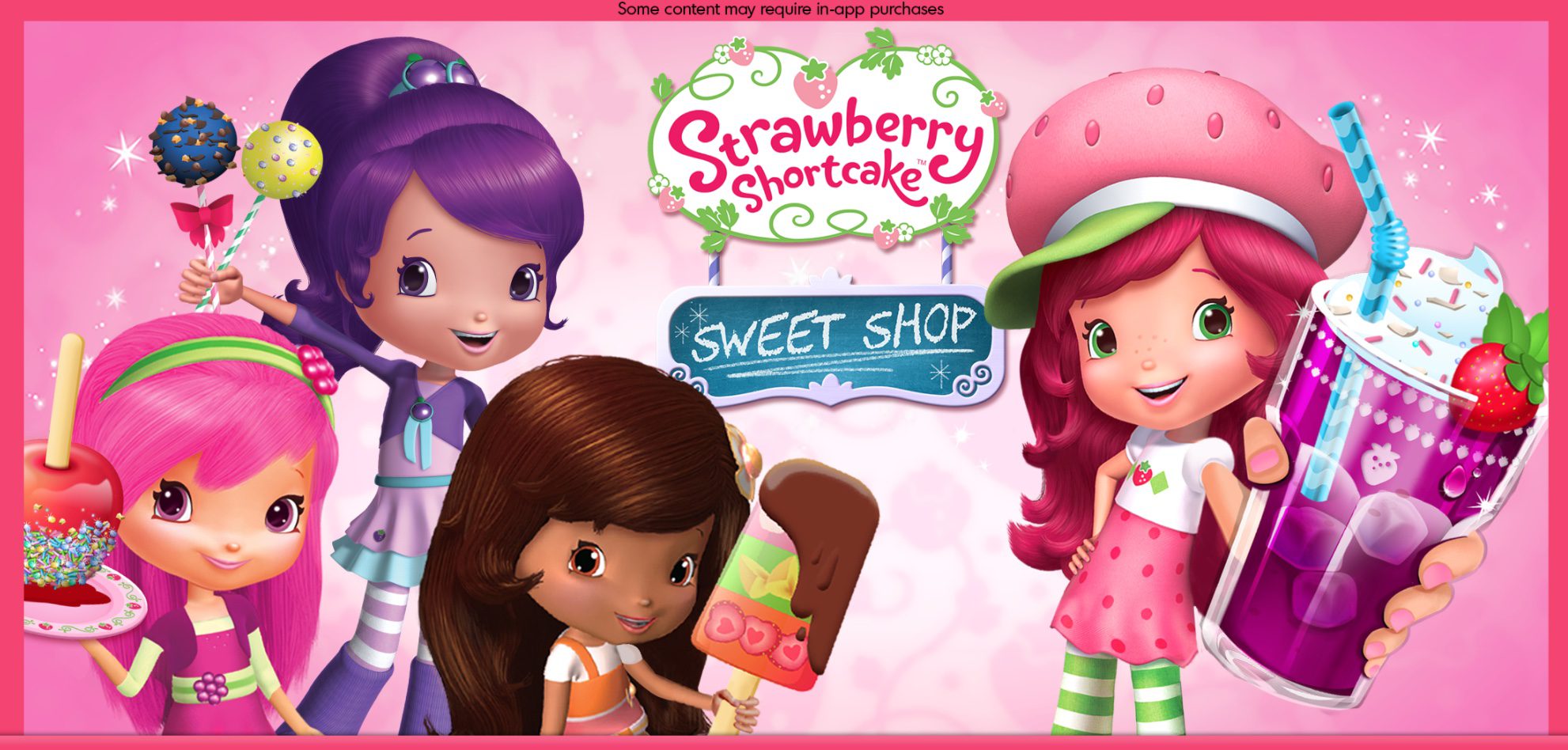 However, your child can't learn something specific here: ice cream, smoothies, jam, and candy are created using approximately the same method. Mix a bunch of ingredients, and then add some decorations on top for beauty. You can instill in your child a love of cooking. Don't expect more than that.
It all comes down to tapping on the right ingredients. Sometimes you have to keep an eye on the thermometer and press the button when our brownie is not too cold and not too warm. But that's the maximum "difficulty." On the other hand, the game is extremely nice. There is a lot of pink, pastel colors, the picture is nice to look at.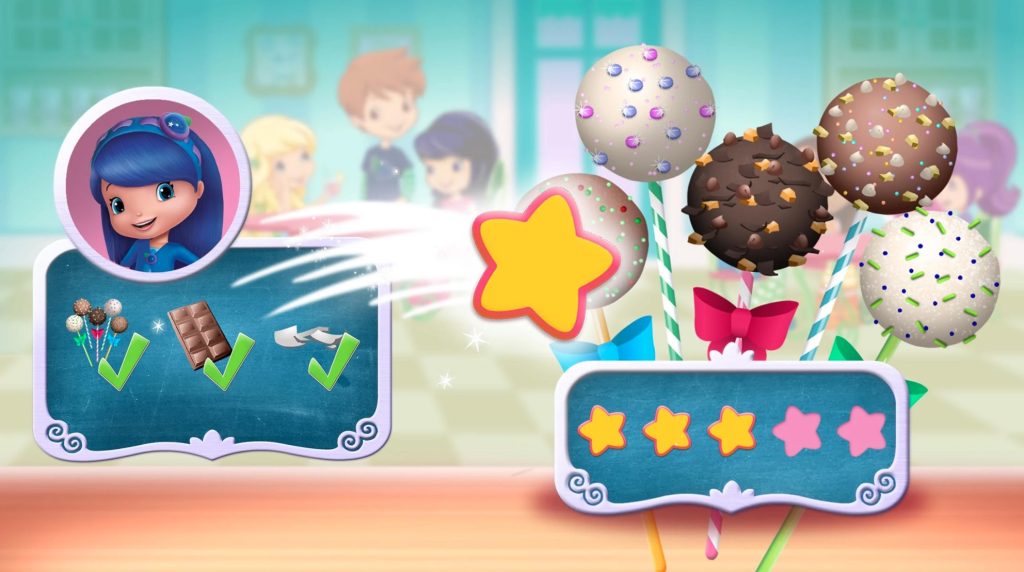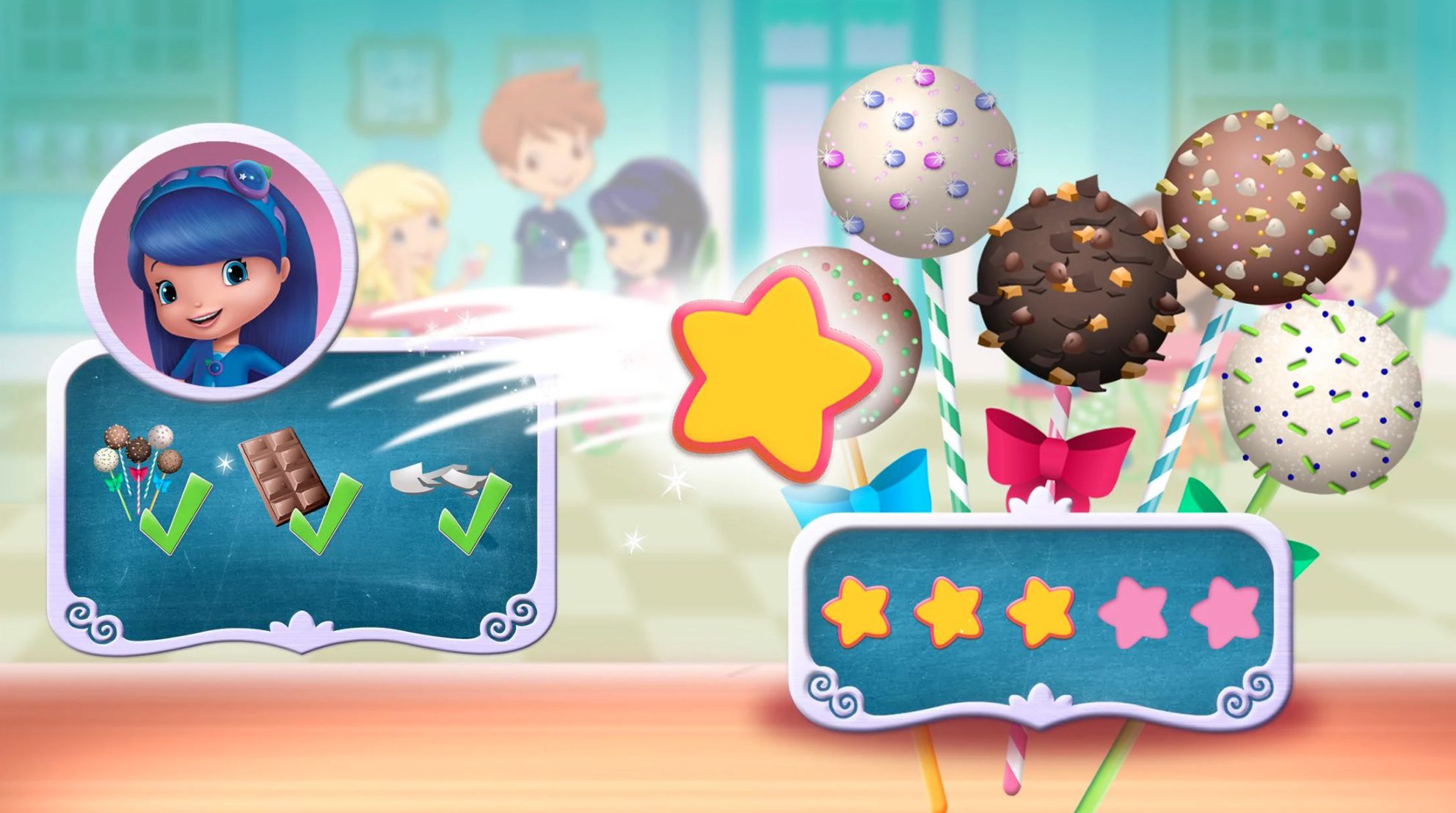 Downloads: 10000000 +
Customers rating:

(3.8 / 5)

The Smurfs Bakery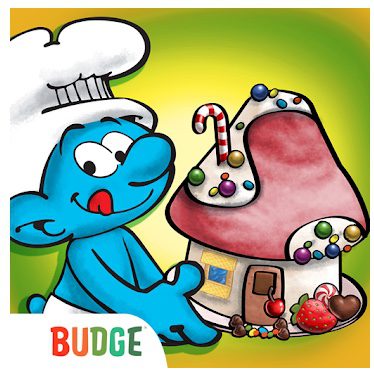 In The Smurfs Bakery game, we have to make delicious sweet desserts. It's not necessary to know the original to see how well the creators have worked on the gameplay.
The game is insanely casual. We don't even need to memorize recipes: just choose what's on the screen and follow the Smurf girl's directions. Unreal to miss.
It's a full-fledged game, though: it has a failure state. If you stir the chocolate too intensely, it may spill out of the pot. Then you'll have to start stirring all over again. Or, for example, it's easy to overdo it and "set" the temperature too low when cooling the ice cream. Then the dessert won't come out either.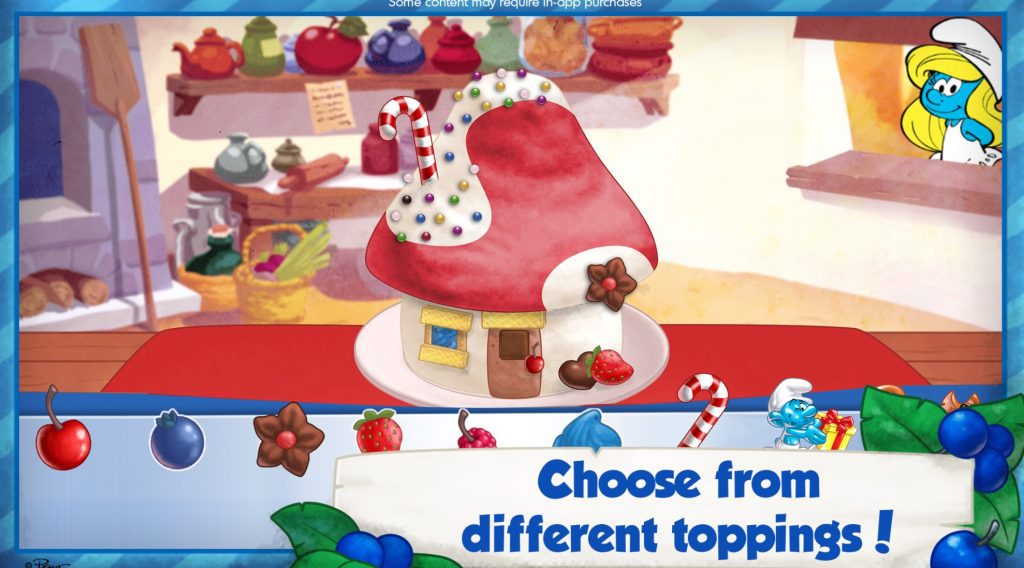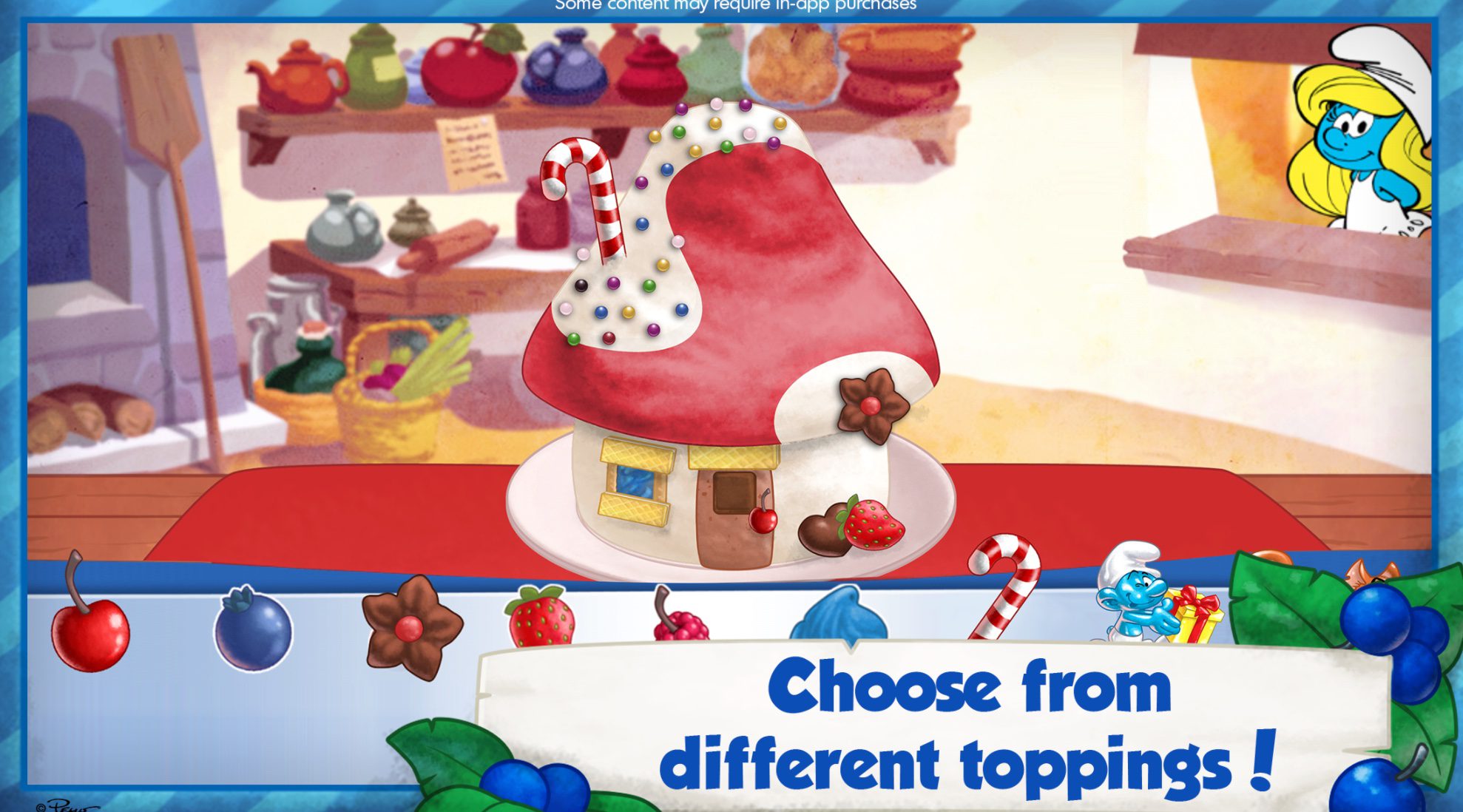 The game is clearly designed for children from four and somewhere up to twelve. Our tasks – to draw smurfs eyes, swipe on the fruit to cut it into a salad, move the jug to fill the form with fresh juice. You don't have to be a seasoned gamer to pull it all off in two seconds. But the recipes in The Smurfs Bakery really work.
Maybe your kid will learn something here. A game like this is clearly more appealing to parents than quest games and shooters. True, there are very few recipes here by default. If you want more, you'll have to pay real money.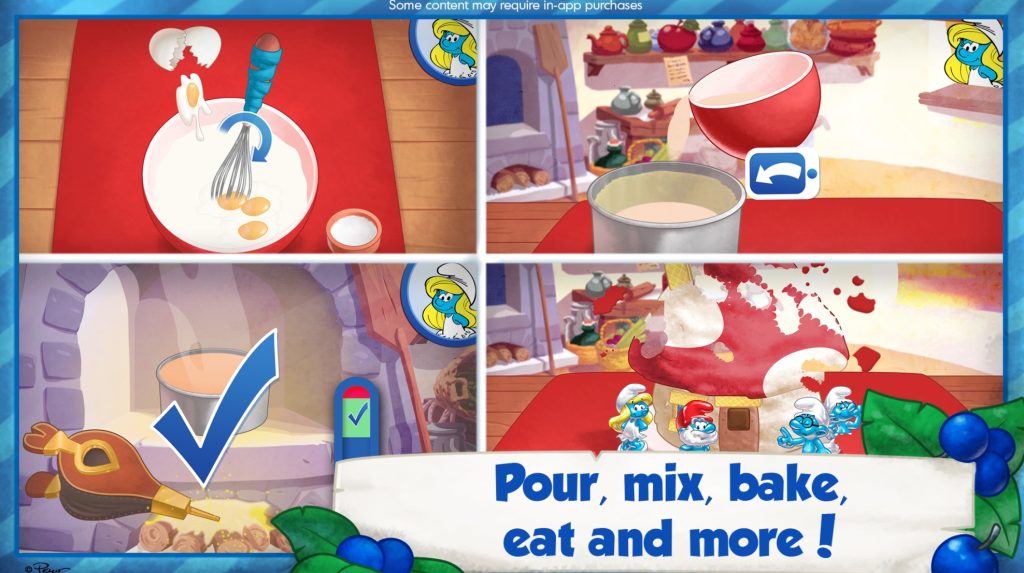 Downloads: 5000000 +
Customers rating:

(3.9 / 5)

My Cake Shop – Baking and Candy Store Game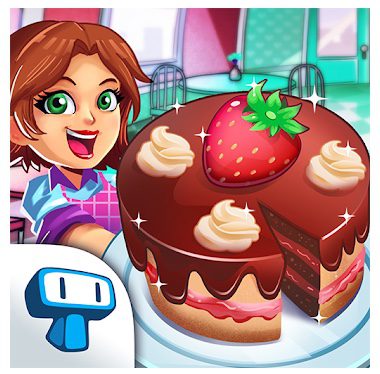 My Cake Shop – a game for Android, where you will manage the store. You will easily learn how to make a variety of sweets.
Take control of the store for the manufacture of cakes and various sweets and serve the customers. In your store, funny customers will come. And your task will be to take their orders while doing everything as quickly as possible without making them wait.
Cook different treats from the many ingredients and treat customers. Discover new recipes and be rewarded with great ingredients, new equipment, and furniture.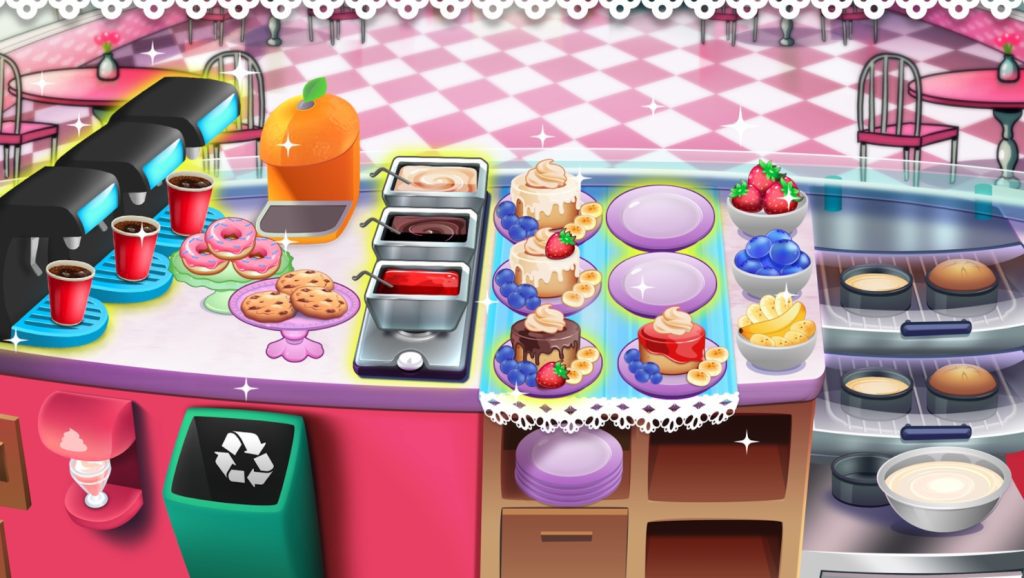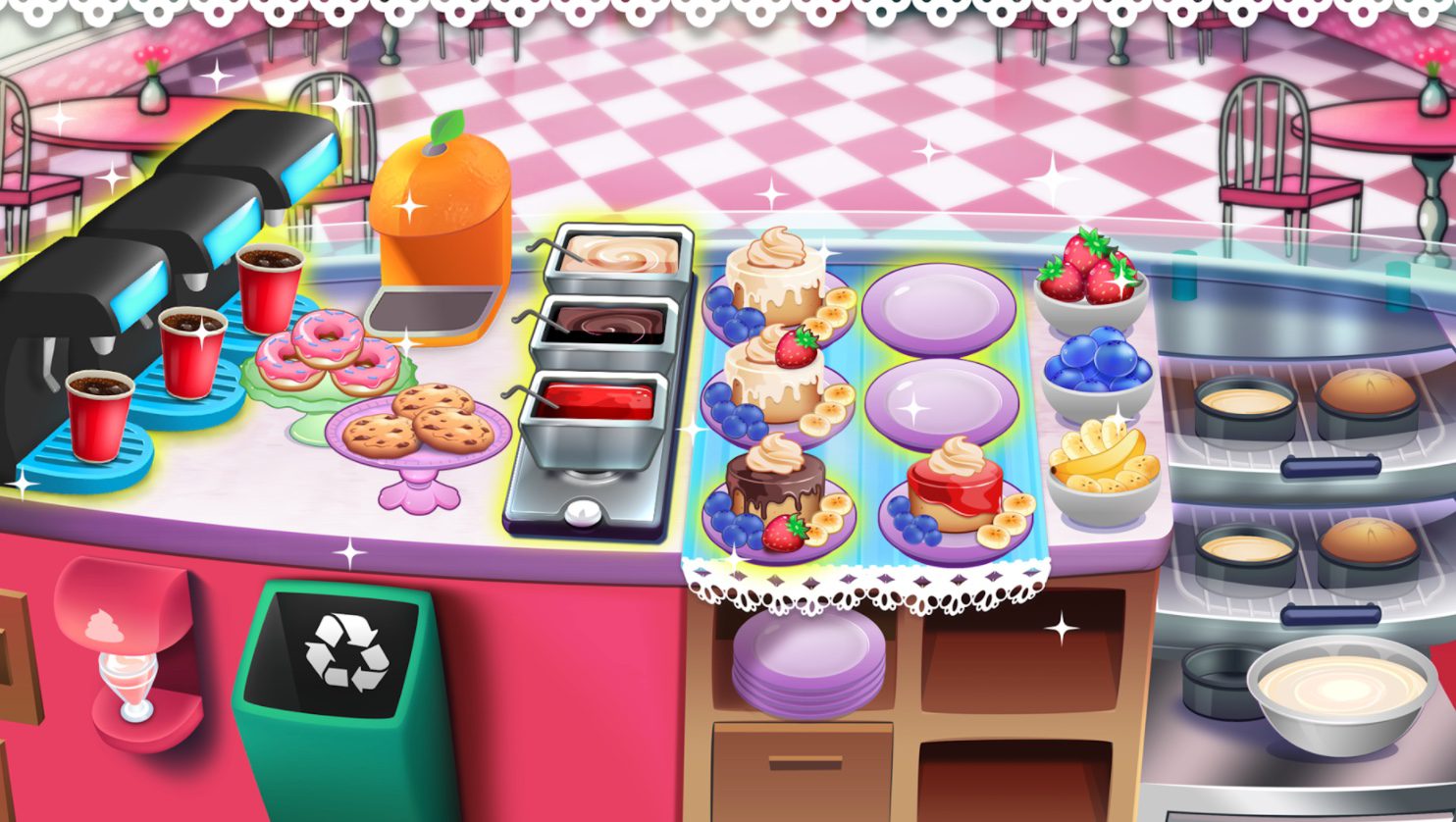 Downloads: 1000000 +
Customers rating:

(3.8 / 5)

Sweet Candy Store! Food Maker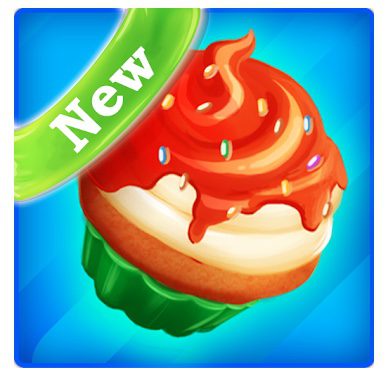 Idle Sweet Bakery Empire is a fascinating clicker. The user will become the owner of a pastry factory.
At first, the premises will be empty. Measures must be taken to make the production of different goodies successful. They will be produced in industrial volumes. Try to build an entire production line and develop your sweet empire.
On your sweet factory, you can develop individual stages of production and change them in many ways.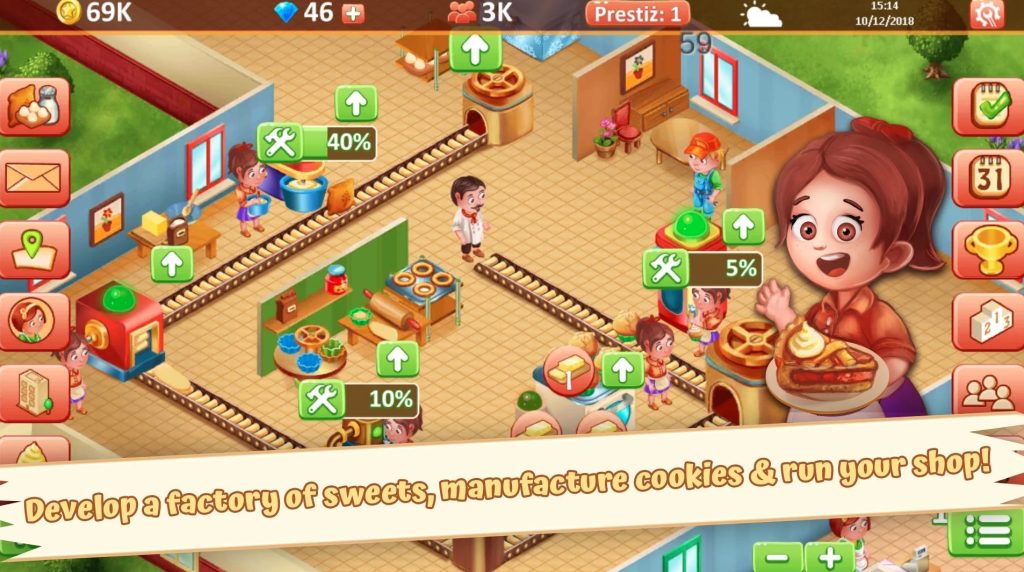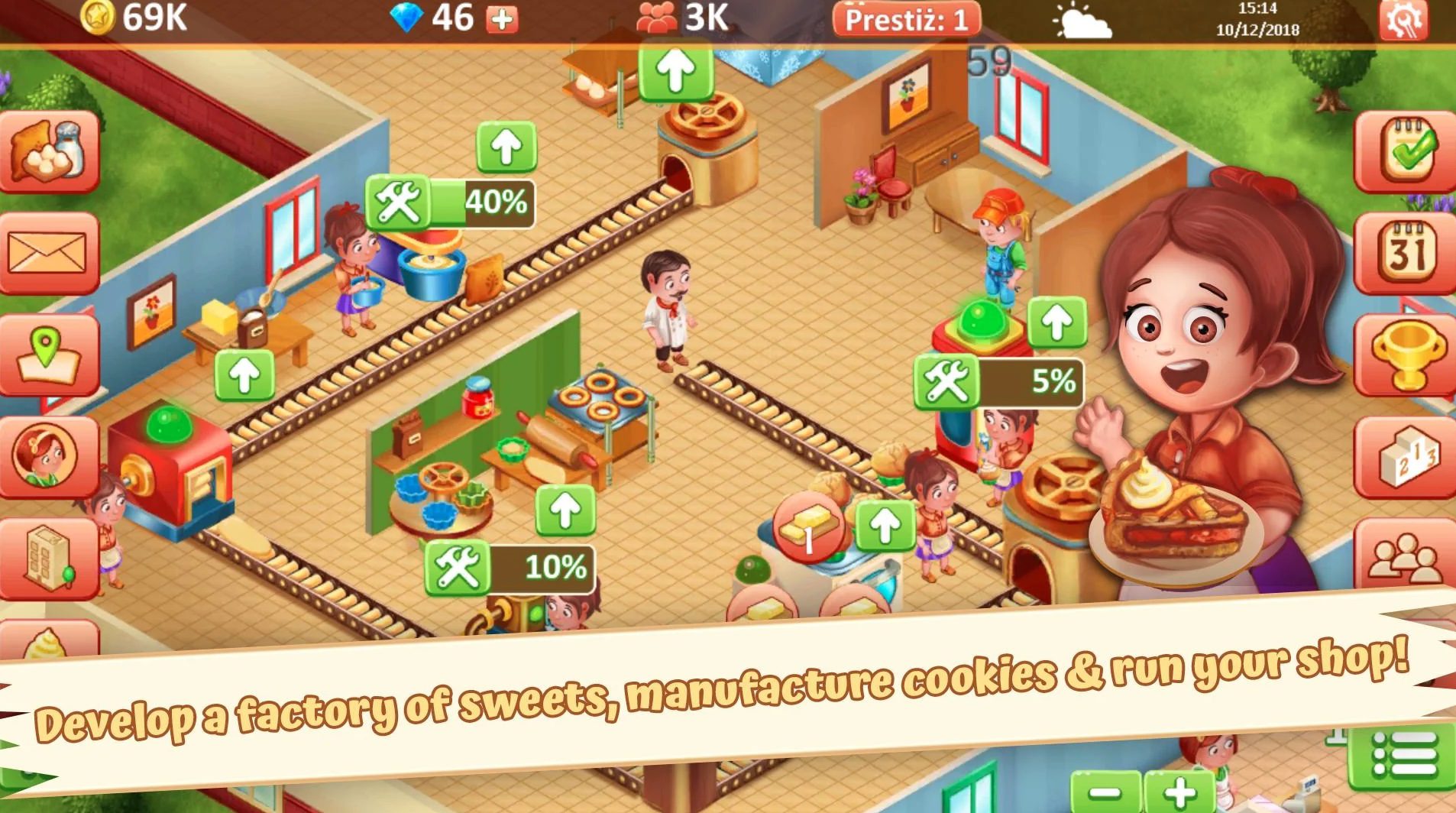 It's necessary to hire craftsmen and professionals, buy the necessary equipment, improve the buildings, select markets, and so on. It's necessary to automate the process. When the business will be finished, it's necessary to move on to the other.
Only constant development will help to compete in the market with dignity, remaining in the leading positions.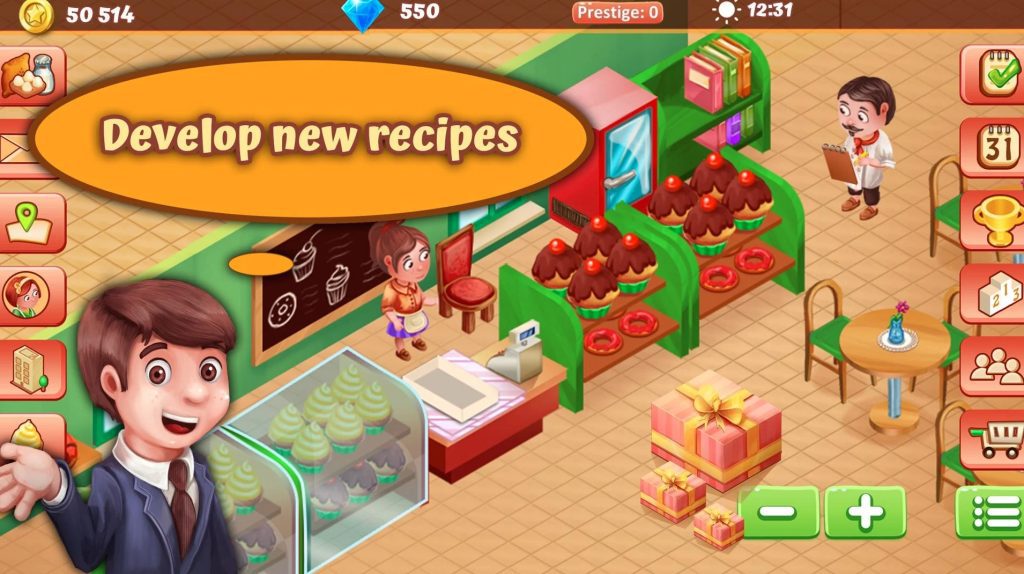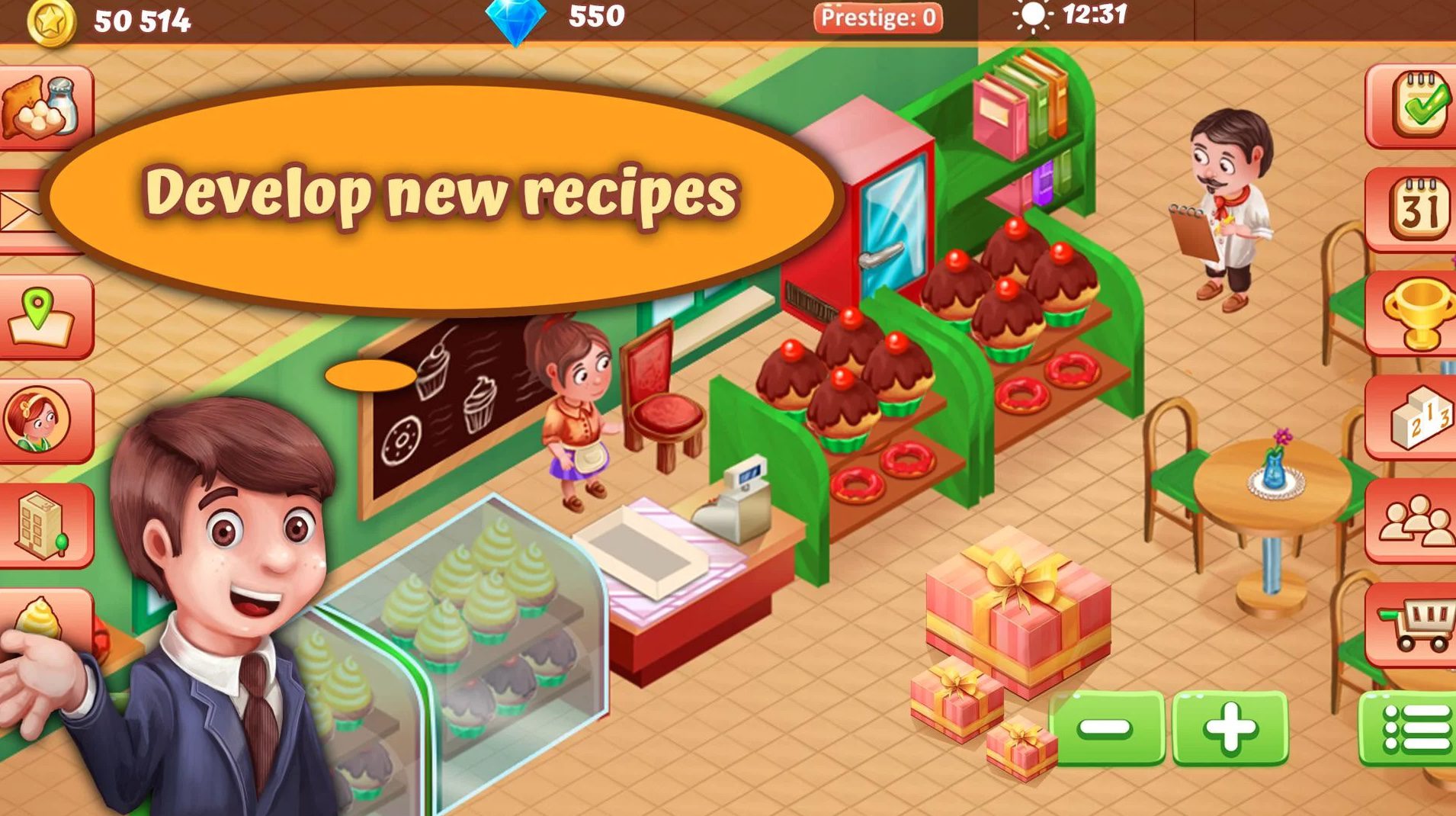 Downloads: 1000000 +
Customers rating:

(4.3 / 5)

Cake Shop: Bake Boutique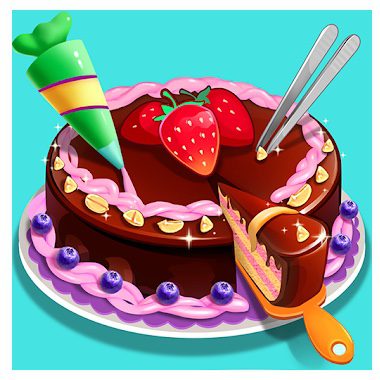 Open your own store, which will sell a variety of sweets and delicious cakes. You will not only have to sell but also make your own cakes.
Have fun with this exciting gameplay and feed all the customers. If they like it, be sure to see them here again.
Feed your customers and serve everyone as quickly as possible. The player will be able to learn a huge number of the most amazing recipes, and all of them will help you improve your own store for the better, and thus attract even more customers.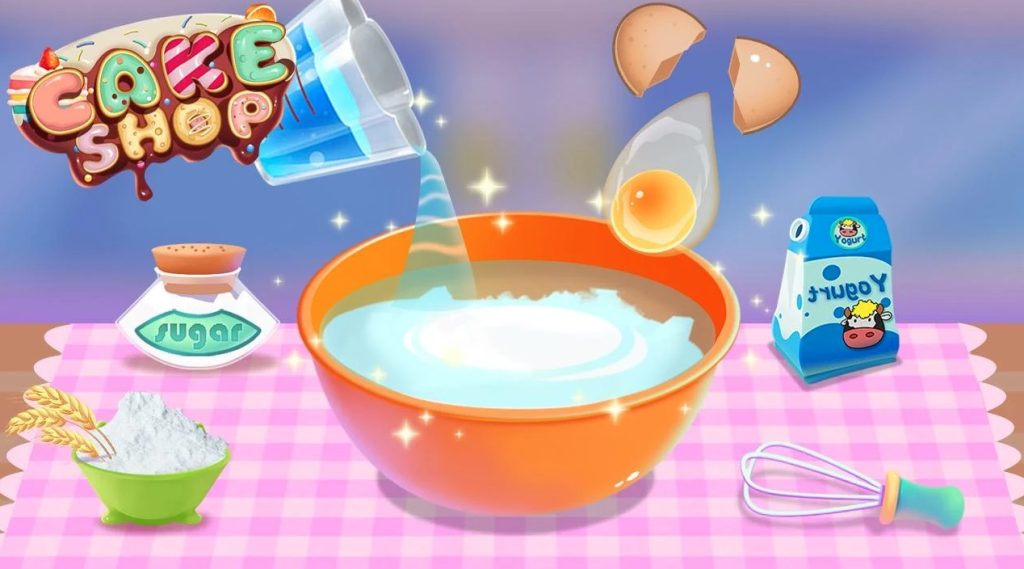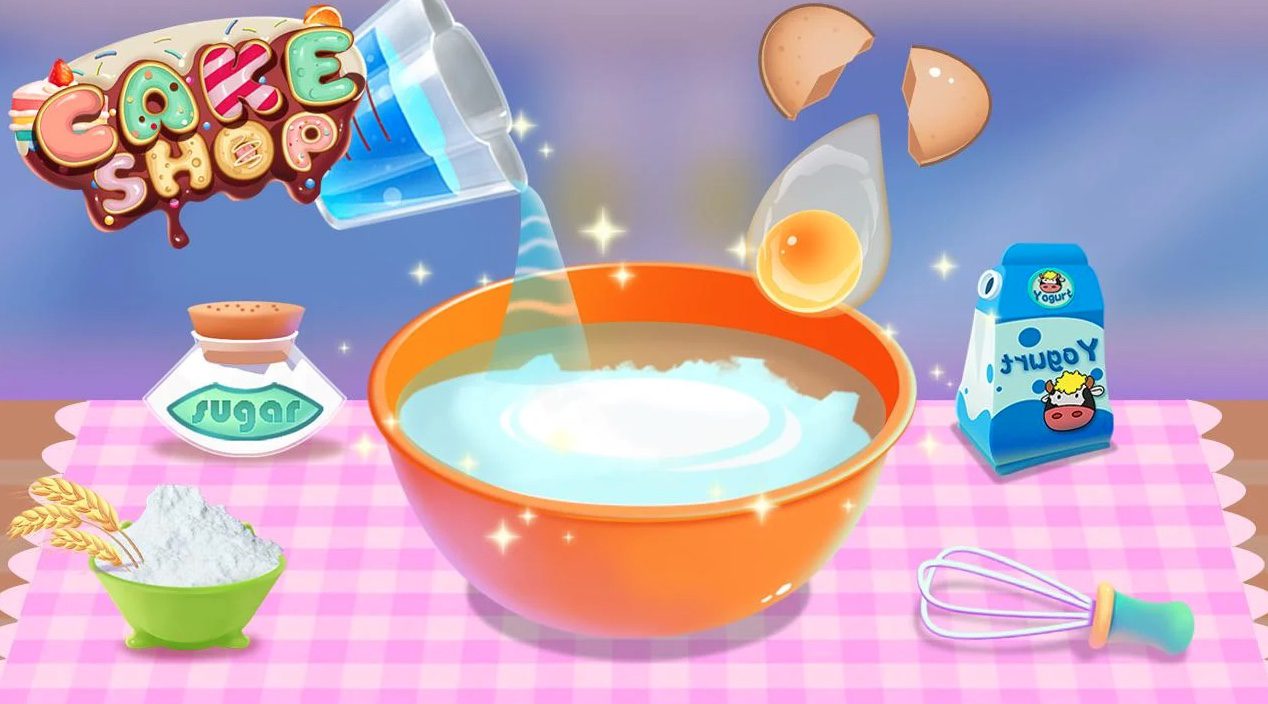 Constantly improve your store to make it even more profitable.
Prepare a huge variety of cakes, using a huge number of ingredients. You will have a large number of customers coming to you every day and they all come to your store just to buy new cakes. You will need to learn not only how to make cakes, but also how to manage your own store and constantly improve it.
Don't be afraid to mix ingredients together and combine different flavors, which is possible to get a delicious cake. All cakes will be made step by step, and you must not skip a single step. Serve a huge number of customers and get paid for your goodies.
Keep the store completely clean and use a huge number of decorations.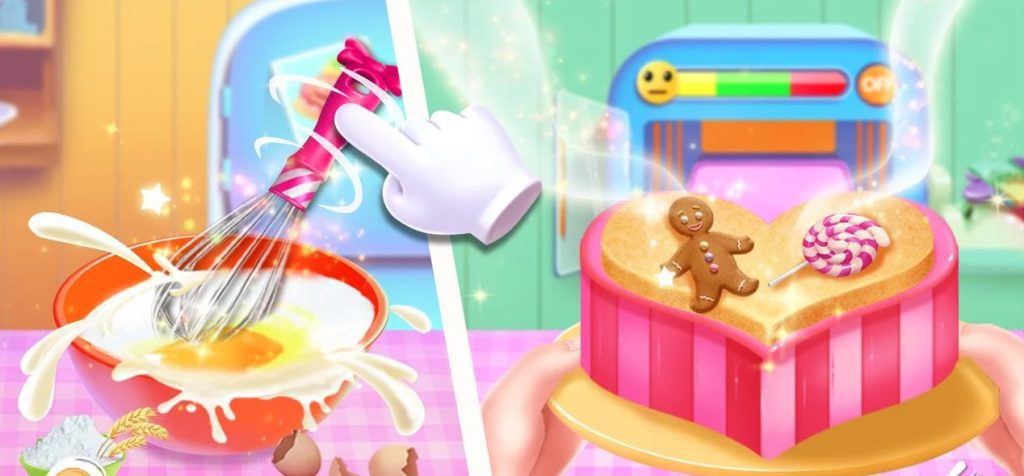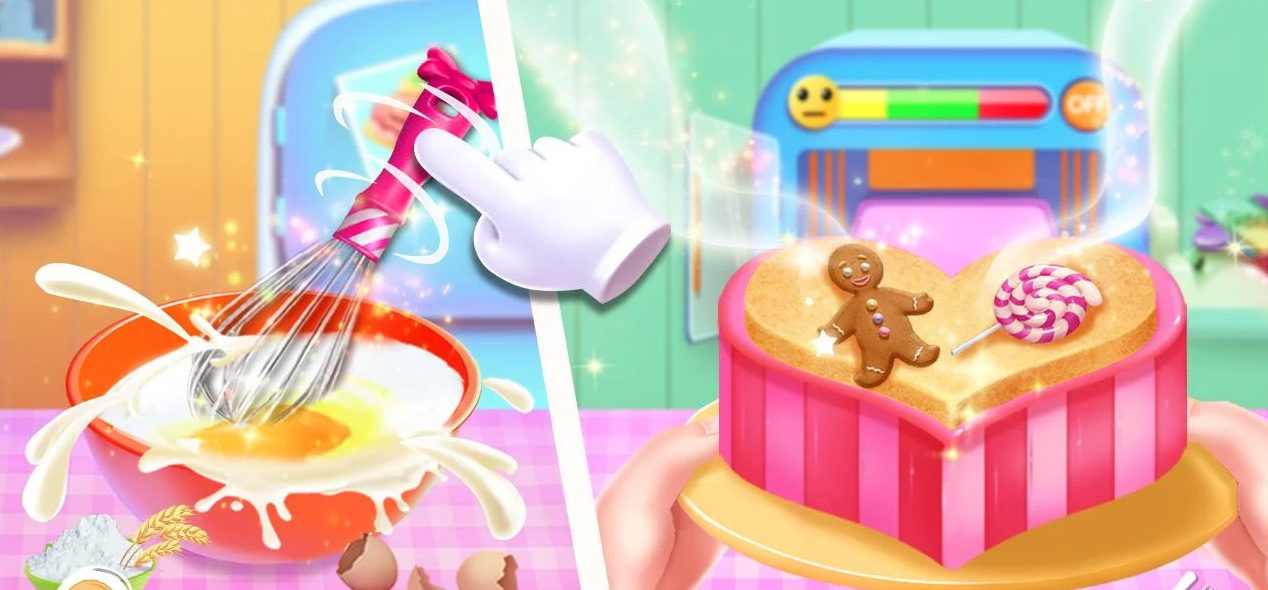 Downloads: 100000 +
Customers rating:

(4.3 / 5)

Bakery Story™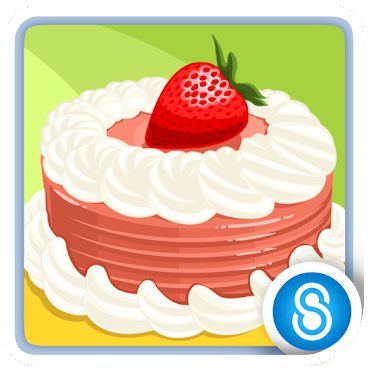 Bakery Story is a game for Android that allows you to develop your own candy shop and make it the most popular establishment in the world.
We start with a small establishment. There are only three tables with chairs, one stove, and a kettle for drinks. A friendly saleswoman takes orders, and we try to please visitors by offering beautiful and delicious sweets.
The first items available will be cheap tea and inexpensive cookies. As time goes by, more money will become available and new recipes will become available: cakes, pastries, candies, and buns.
There will soon be more visitors, and new tables and chairs will need to be bought for them. Someone will want to come with a friend or the whole family, so the simplest single tables will not be enough. At this point, it's time for design decisions because if you put a lot of random furniture, it will look ugly.
Taking care of painting the walls and floors, buying pictures and furniture in the right color, acquiring quality product racks and neat coffee makers with ovens comes first.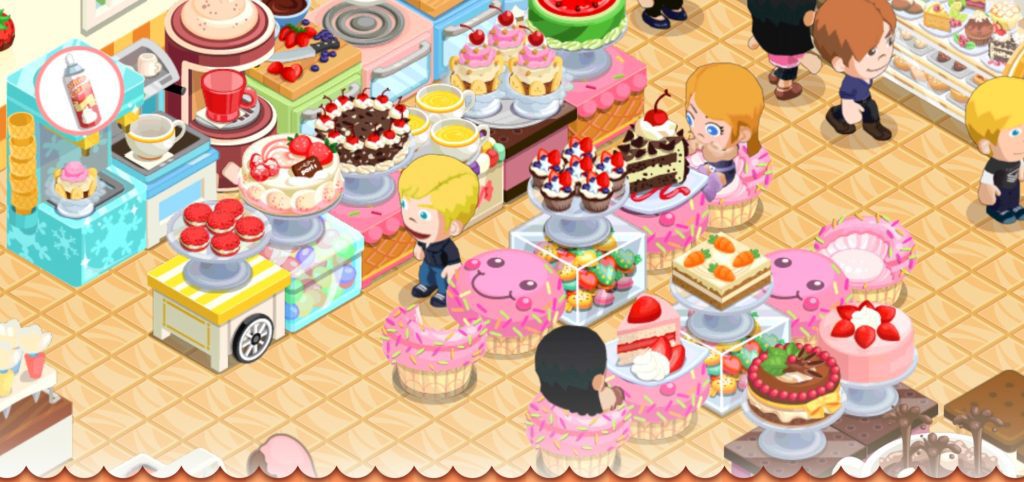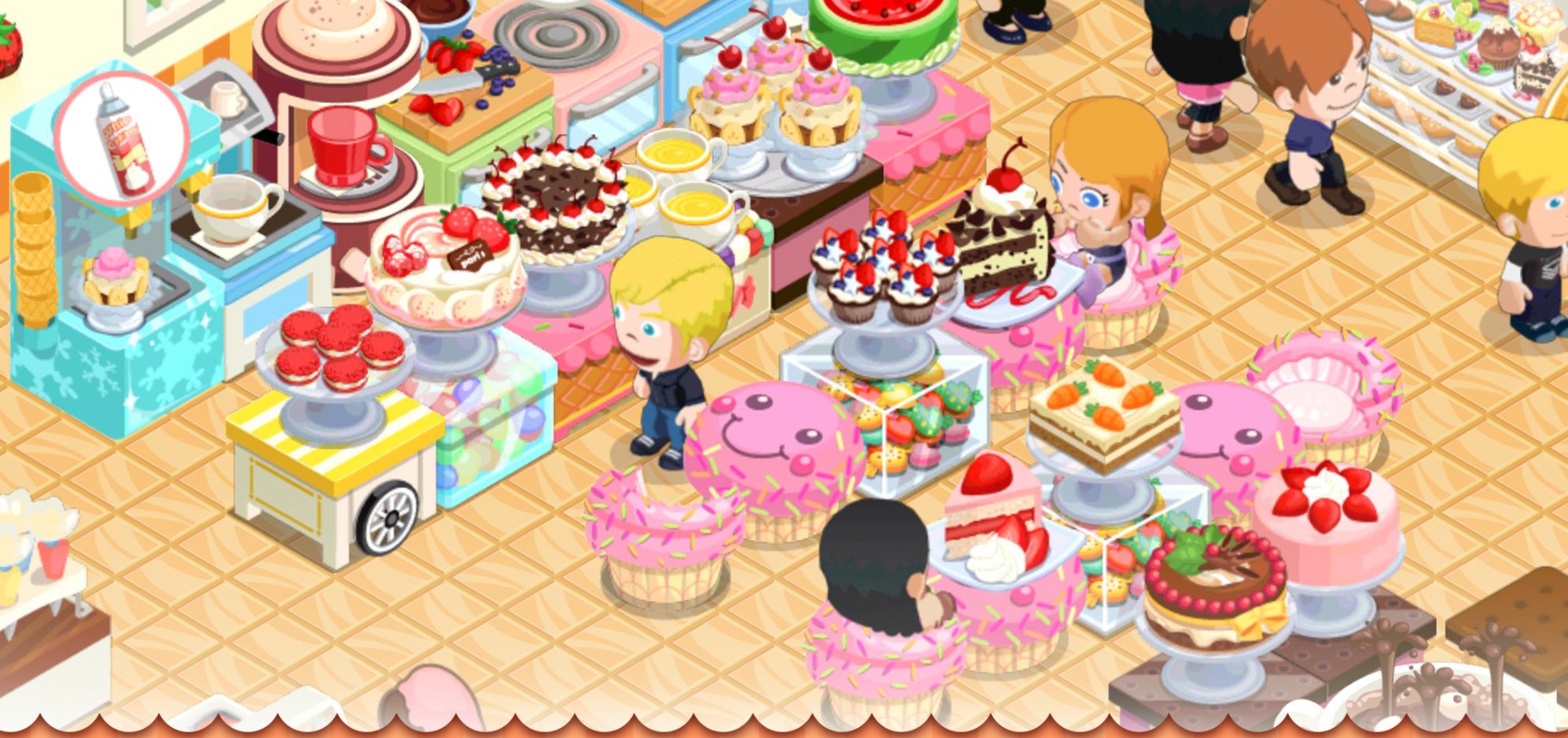 Managing a candy shop is simple. You don't even need to give instructions to the chef – just click on the kitchen utensils, which itself bakes cakes or boils water in the kettle.
Bakery Story is a beautiful strategy that helps you feel not only a great baker, but also a good room designer.
Downloads: 10000000 +
Customers rating:

(4.3 / 5)

You may also like: 9 Best Hotel games for Android
Bakery Story 2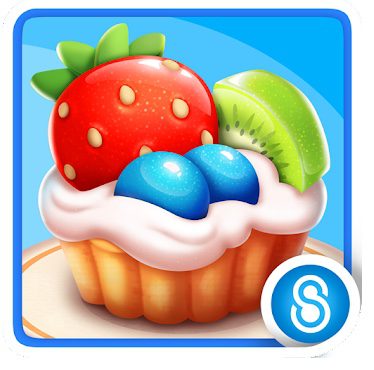 There's always room for dessert! Indulge yourself and build the candy shop of your dreams! An exciting new culinary adventure is waiting for you!
Bake delicious desserts, from classic brownies and sugar cookies to fruit baskets and gourmet cakes!
Take fresh ingredients, from juicy strawberries to rich chocolates!
Serve your delicious creations to sweet-tooth visitors!
Furnish your cafe with ease! Choose your furniture and decor to create the café of your dreams!
Open new recipes for your pastry shop! Who doesn't love the smell of freshly baked chocolate chip cookies?
Fill your take-out orders for those who want to treat themselves to delicious treats at home!
Build your pastry shop step by step: new ovens, coffee machines, counters, and more! Offer a variety of food and drinks to your customers!
Search the amazing 3D virtual world around your bakery!
Get to know the colorful people in your bakery! Everyone has a story for you in exchange for a delicious treat!
Learn the basics of customer service in this casual business simulator!
Share special gifts with your friends!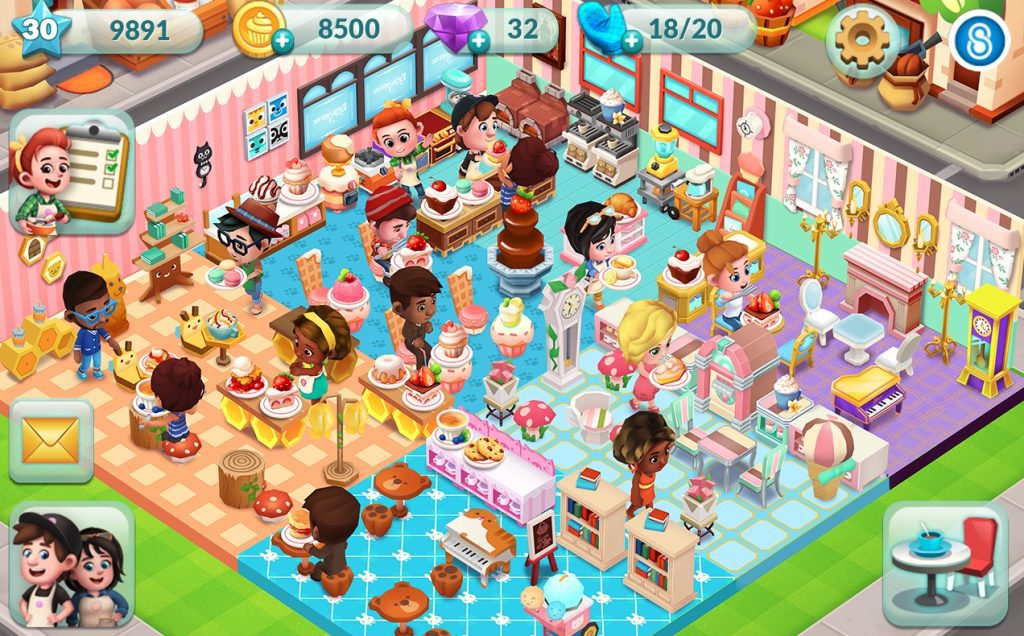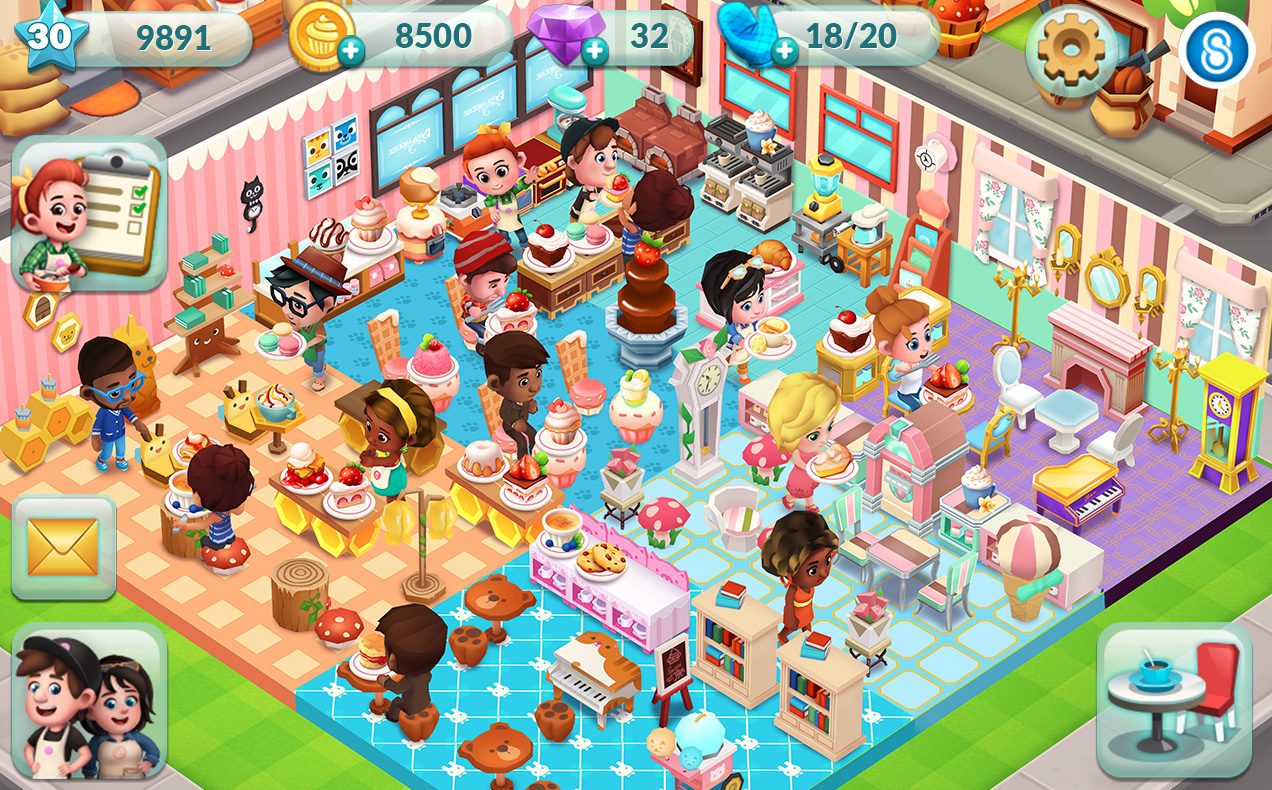 Downloads: 1000000 +
Customers rating:

(4 / 5)