Discount card apps fulfill an important role – freeing the user from numerous plastic cards. Information is entered into the account and read from the smartphone screen when needed, so you no longer need to have your card with you to pay or get rewards at your favorite shops.
Some of the apps on the list even offer to earn some extra money. You collect coins or stickers and then exchange them for real money or prizes. Isn't it cool?
So, let's take a look at a few different loyalty card apps on Android.
mobile-pocket
The program with a minimum of functions, it recognizes discount products by barcode, QR code, and number. The clear arrangement of the cards on the page, the ability to sort the cards alphabetically, and the main advantage is the sensitive barcode scanner.
The scanner works instantly, the code just has to hit the screen, with no stupid frame alignments. The app allows you to protect customer data with a secure pin code.
Pros:
No advertising;
Free functionality;
Ability to add discount products in any way;
Ability to synchronize data when buying a new phone.
Cons:
The program only works with the Internet;
No ability to sort cards by category;
No additional features: bonuses, promotions, in-store discount notifications.
The app allows you to store multiple discount cards not only in the app itself but also synchronize with your social networking account so you don't lose your data.
You can sort alphabetically or manually. You can add cards to favorites only via a widget. The simple interface and the much-loved dark theme make using mobile-pocket even more enjoyable.
In addition to the standard functionality, mobile-pocket includes Android Wear support and an increased level of security. You can add cards from the recommended catalog, save photos (on both sides) of the actual card, and, of course, monitor merchant offers.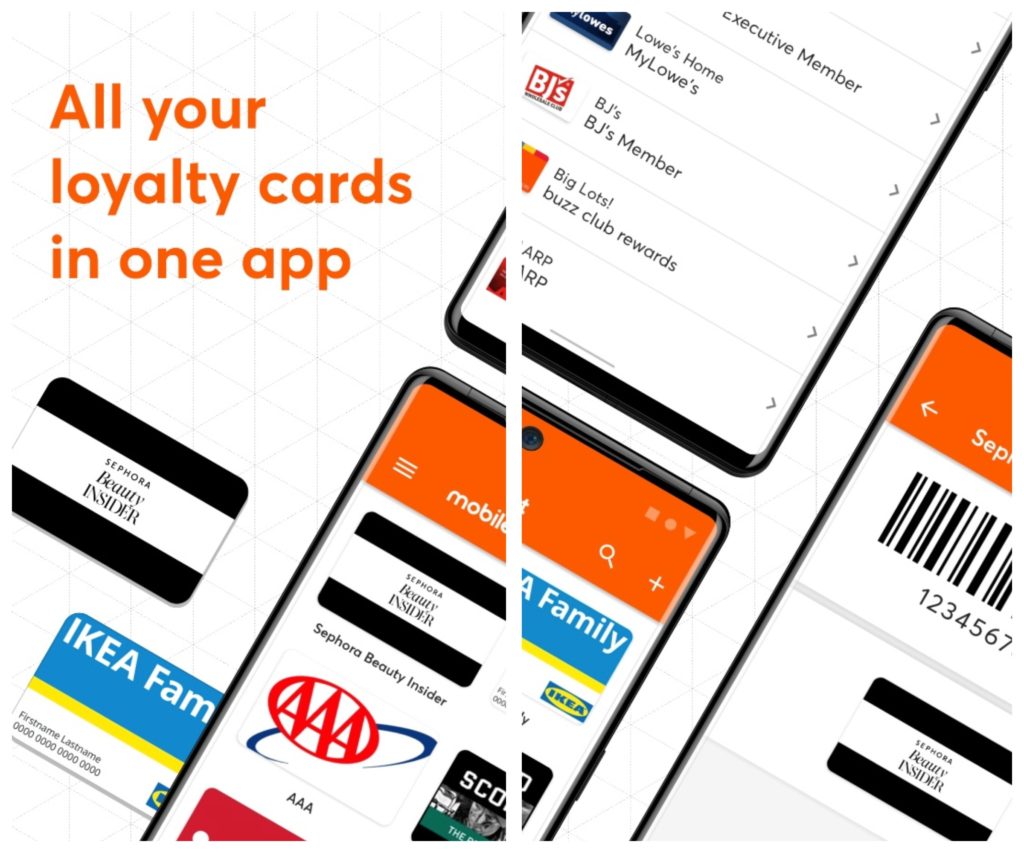 Downloads: 1000000 +
Customers rating:

(4.5 / 5)

You may also like: 9 Best Reseller Apps To Earn
Gmoggls
Gmoggls – Loyalty Card Wallet is a great app for storing discount cards. A lightweight, simple app with simple but useful functionality. It's possible to scan the card not only from the camera but also from a file. It's also good that you can enter a card number that doesn't have a barcode.
Pros:
Nice and minimalistic style;
Backup option;
Dark theme;
Lack of advertising.
Cons:
I'd like to see a larger color palette, or the possibility to set your own images on the cards.
The app doesn't have many downloads but has a high rating in the store. Therefore the app is recommended to download and try in practice.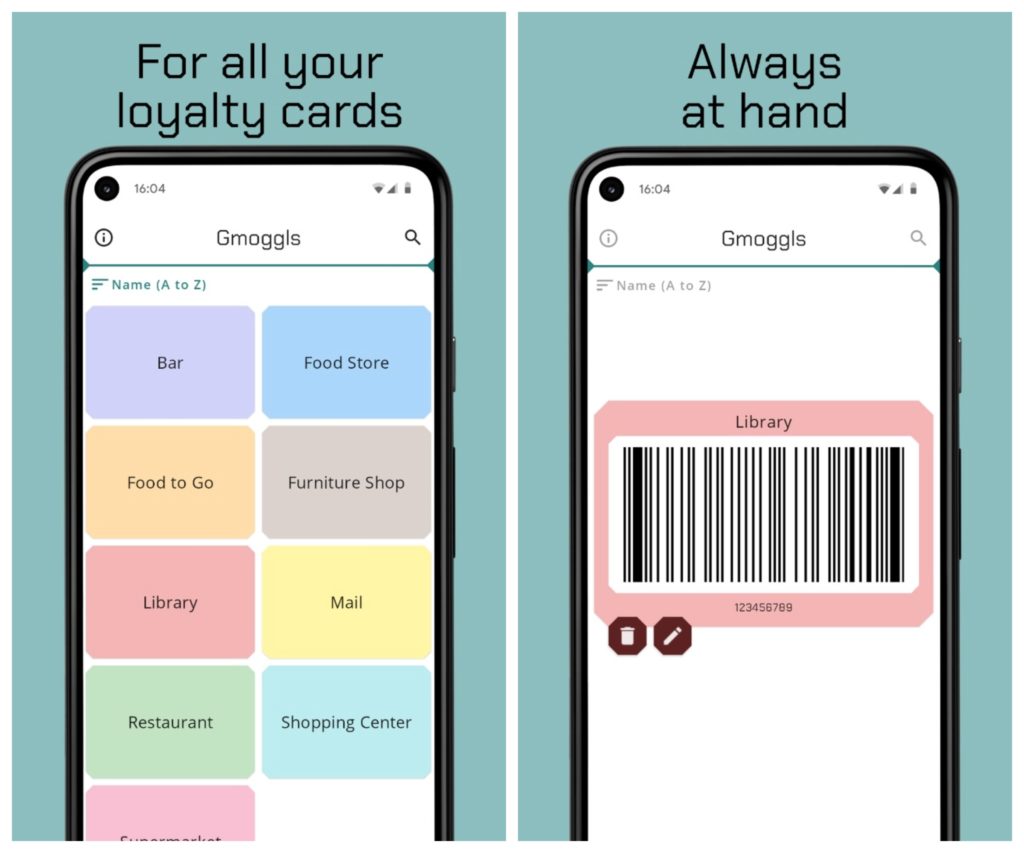 Downloads: 5000 +
Customers rating:

(4.7 / 5)

Loyalty Card Keychain
This handy and simple loyalty card app for Android not only allows you to store your cards in a virtual environment but also to scan their numbers, QR and barcodes.
A great tool to store your discount card data. However, Loyalty Card Keychain stores only the number or barcode, no picture of the card. The barcode is shown in large size. But there is export and import.
Pros:
It's free;
Convenient and clear interface;
No ads.
Cons:
No ability to sort cards into folders;
It would be good if it was possible to add two photos of the card (sometimes it's necessary to see the back side).
It's a simple and handy application with minimum permissions, and minimum space taken up in the phone. There is an option to share all cards. Added possibility to search in a card list.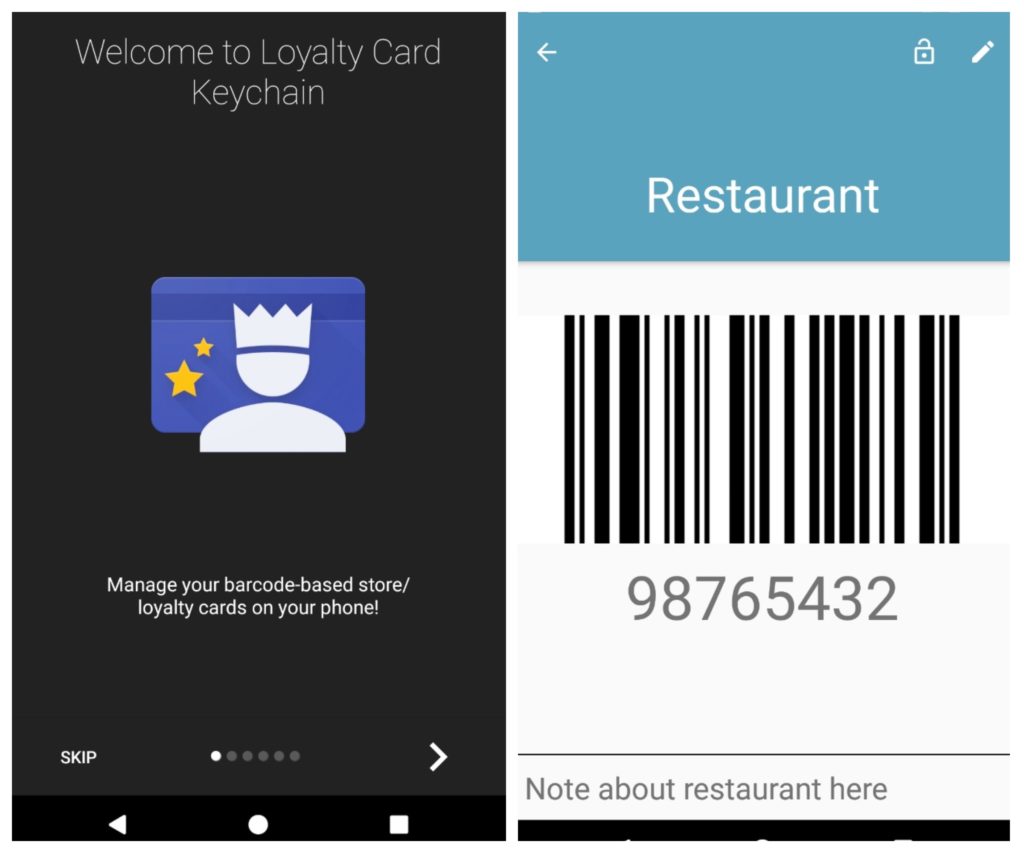 Downloads: 10000 +
Customers rating:

(4.7 / 5)

Catima
A kind of continuation of the Loyalty Card Keychain app. A simple and handy card organizer. With no ads and no access to the Internet.
Catima is an application that simply performs its function and doesn't get in the way. It opens after clicking on the shortcut in ONE second! It doesn't slow down; it doesn't interrupt the card selection process with any "very necessary" pop-ups at the moment of checkout (which, by the way, are not in the program at all); it doesn't slow down if there is no Internet.
Large minimalistic interface, nothing distracts from choosing the right card. In a word – perfect! You can either download the data by scanning the discount cards or import them from other programs.
There is a dark eye-saving theme and additional options for the visually impaired. Your activities, including your card details, are not tracked.
Pros:
Nothing unnecessary;
Runs quickly;
Grouping of cards;
No ads.
Cons:
You have to enter the card manually, you can't issue it through the shop's website.
With the software, you can quickly scan your discount cards – and do without the extra plastic in your wallet the next time you go shopping.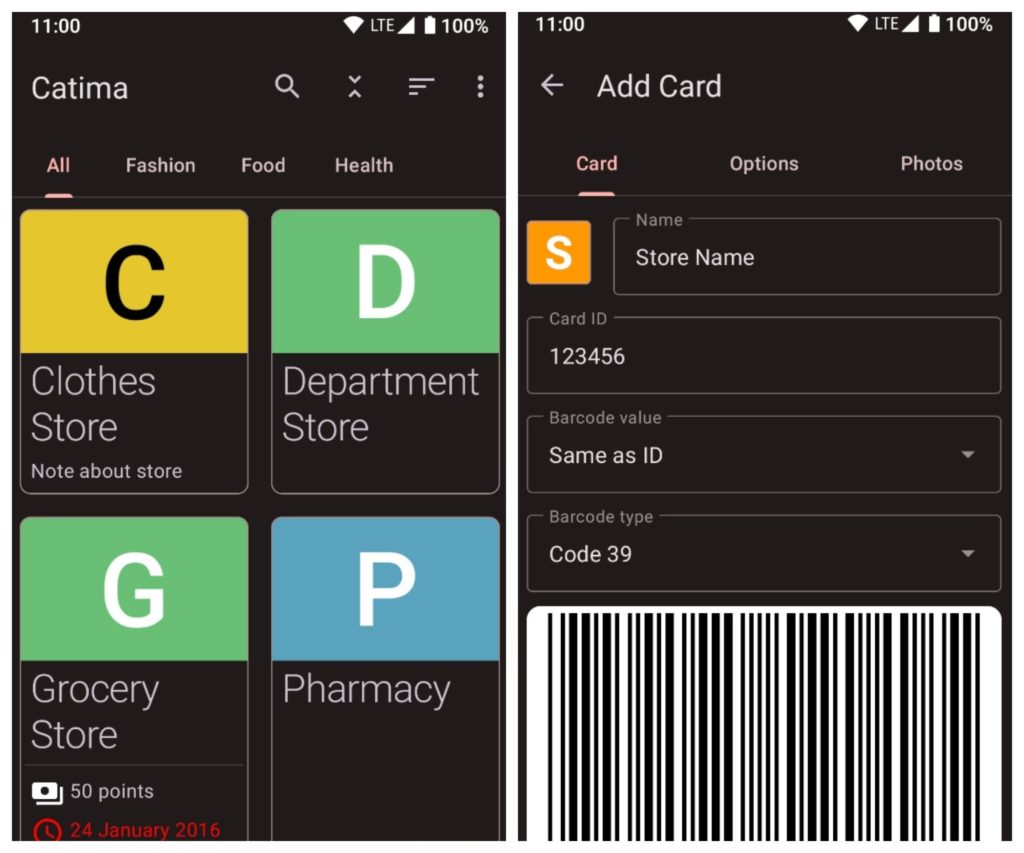 Downloads: 10000 +
Customers rating:

(4.6 / 5)

Stocard
Stocard is a handy application for bonus and discount cards. The app allows you to store data on all of your cards. The user can create a list or find a list of existing shops in the area by himself. To add a card, tap on the "+" sign, and select the appropriate card and the region.
In case a particular shop is not on the drop-down list, it's possible to create your own item and add contact details. The specificity of the discount card app is that it provides a backup option. Reviews of the discount card app are overwhelmingly positive, as users note the ease of use in any shop.
Pros:
The simple functionality and availability of the assistant;
Ability to sort cards by category;
No advertising.
Cons:
Only those cards that have a barcode or a special number can be entered into the database;
When entering data into the database the title photo of the shop is not saved. So the customer will have to add it himself.
The app is convenient in that it has an assistant function that locates the person and notifies them of discounts in nearby shops.
Among other things, the app includes reminders of upcoming promotions and sales. You can always find out about upcoming and ongoing promotions at your favorite shops: simply log in to the app and enable notifications.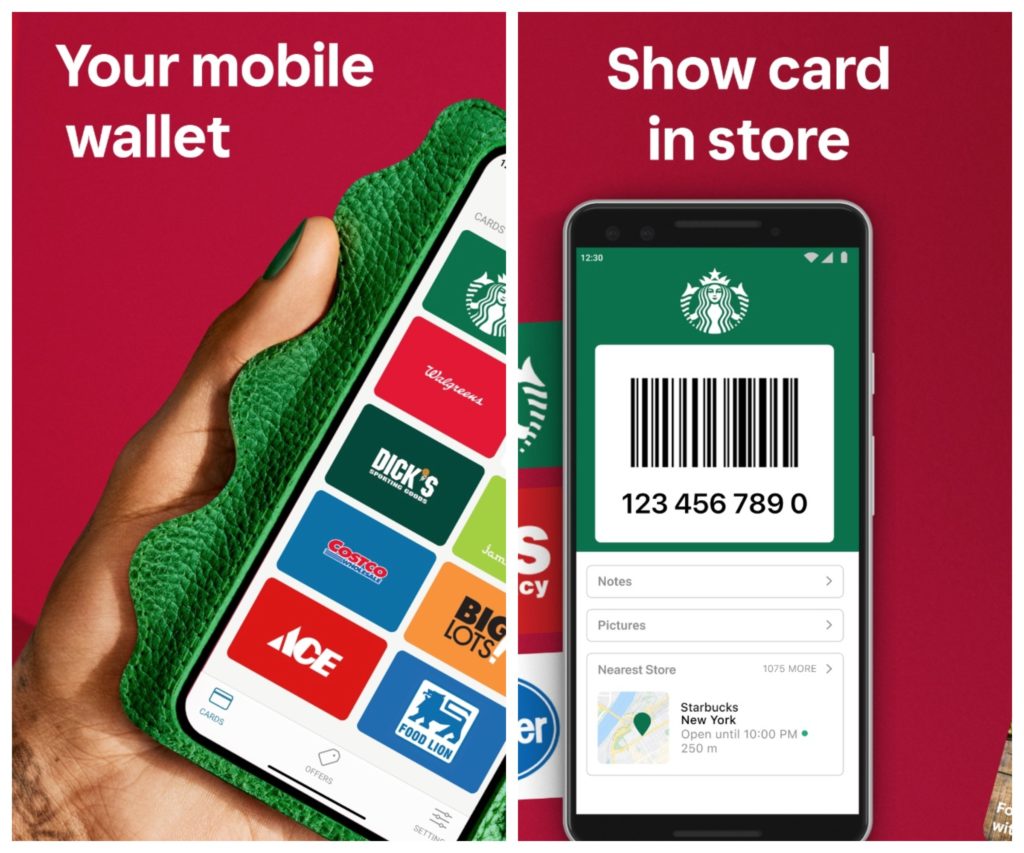 Downloads: 10000000 +
Customers rating:

(4.5 / 5)

You may also like: 16 Best buying shoes apps
PINbonus
Another possibly the best discount card app for Android. The PINbonus app will enable you to get discounts by carrying only your smartphone rather than a plastic-filled wallet. To add your card to the database, enter its number manually or scan it by turning on the built-in camera.
The app works without creating a new account. It supports over 200 loyalty programs and transfers scanned or entered data to a cloud server, ensuring no information is lost even if your phone fails.
How to use the application:
Start the app and select the one from the list of discount programs.
Scan the barcode on your card or enter the card number manually.
When paying for a product or service at the checkout, let the cashier scan the code from your smartphone screen.
Pros:
No registration;
The application works offline;
The list of recommended shops and promotions is constantly growing;
You can use all the functions of the app completely free of charge.
Cons:
Cards cannot be categorized;
The presence of advertising.
Overall, a handy program with a simple interface and a minimum of features. All types of discount cards can be added: magnetic stripe, barcode, and special number.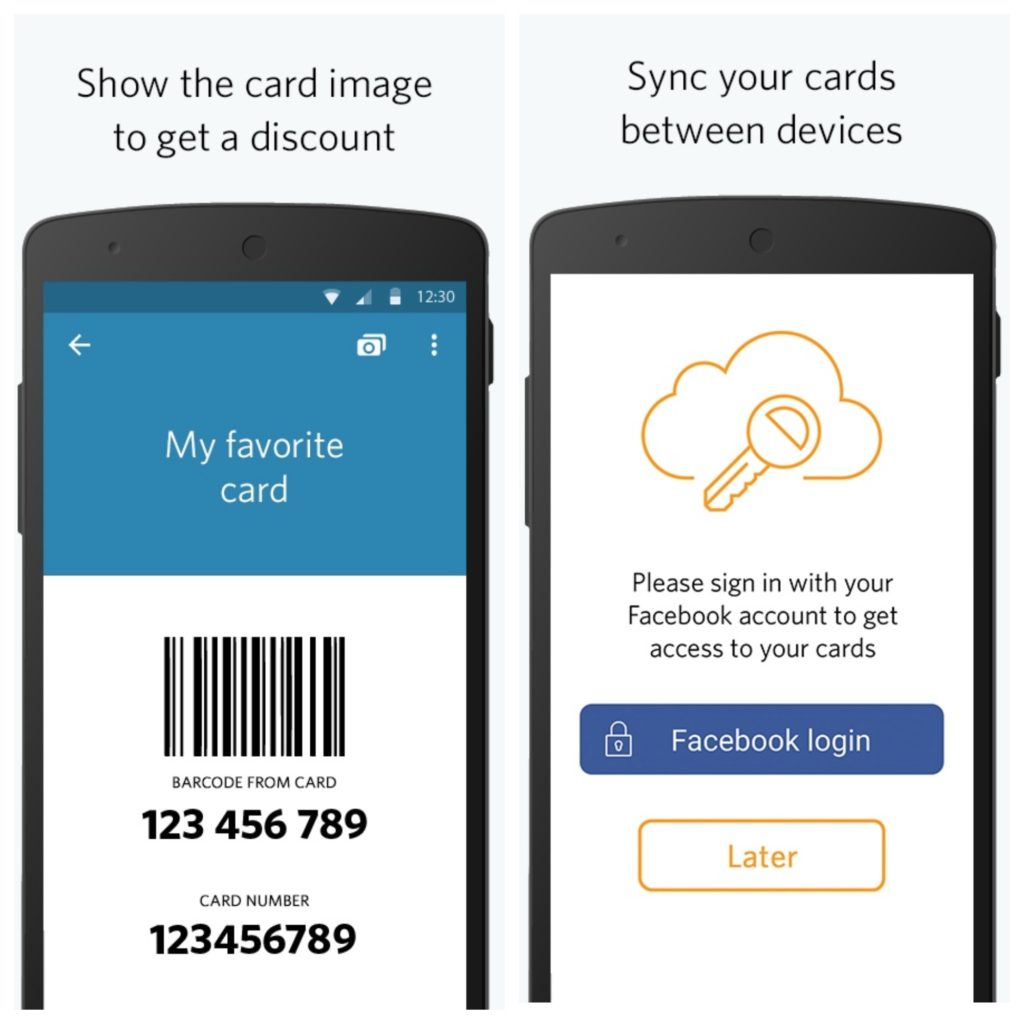 Downloads: 1000000 +
Customers rating:

(4.8 / 5)

Pass2U Wallet
The following loyalty card app on your Android phone works not only with cards but also with business cards, a variety of coupons and tickets, as well as passes and other identification documents. You'll find what you need quickly thanks to sorting and searching by name.
You can scan codes of almost all types: QR, BAR, Code128, PDF417, and others. The app is able to detect discount cards that can be added and is available in 35 languages. Enable geolocation to have the widget on your home screen show exactly the discount cards you need right now.
Pros:
Full notification customization;
Data can be saved to the Google Cloud and later retrieved from there – e.g. when purchasing a new smartphone;
Quickly update information about the attached cards thanks to the use of an open API.
Cons:
The base is still small;
After expiry, the card still hangs on the notification screen. You can archive it only manually and this is in spite of the "automatic" setting.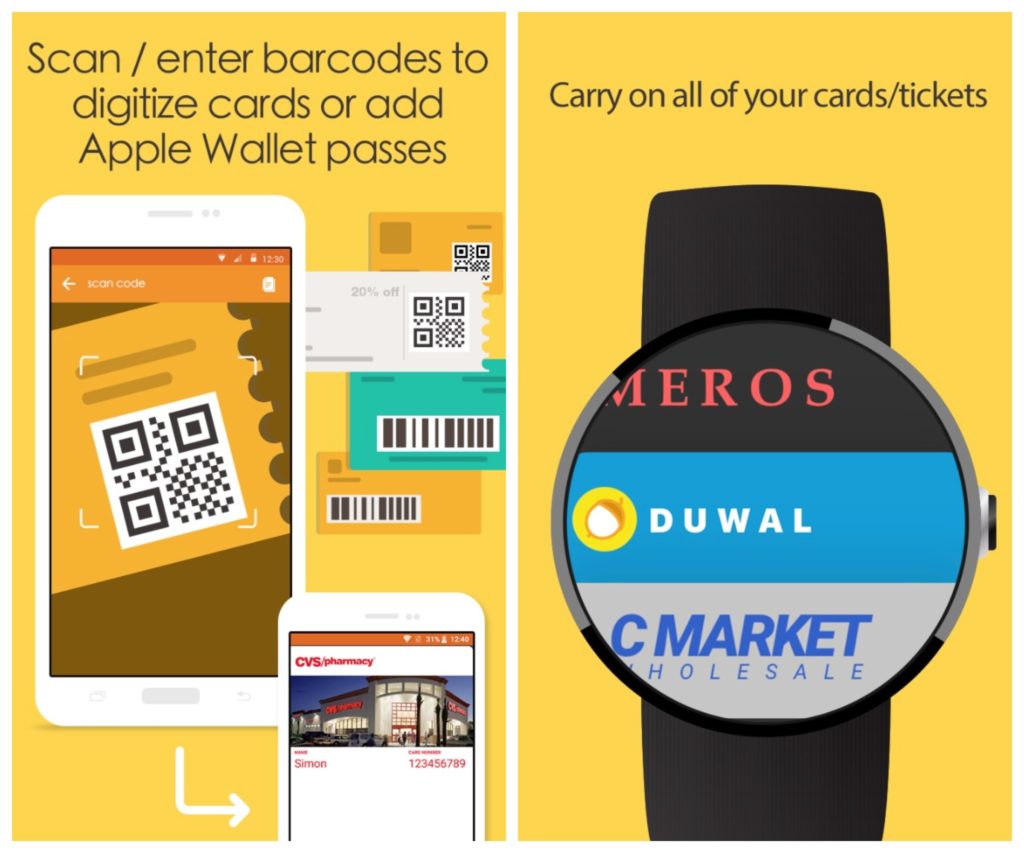 Downloads: 1000000 +
Customers rating:

(3.9 / 5)

VirtualCards
A handy program for storing loyalty cards and for getting new discounts and bonuses. The service allows you to keep track of promotions in many shops and not miss major sales.
The utility allows you to get a new loyalty card from available shops. To do so, you will need to enter its name, enter your name and confirm the registration.
Pros:
Adding cards by barcode, number, or magnetic strip;
Additional services for bonuses and cashback;
You can use the bonuses by showing the barcode at the checkout;
Discount notifications in stored shops;
The app can be downloaded and used free of charge;
Ability to share rewards programs with friends;
Compatible with current Android versions.
Cons:
No card search by category;
Works in online mode only.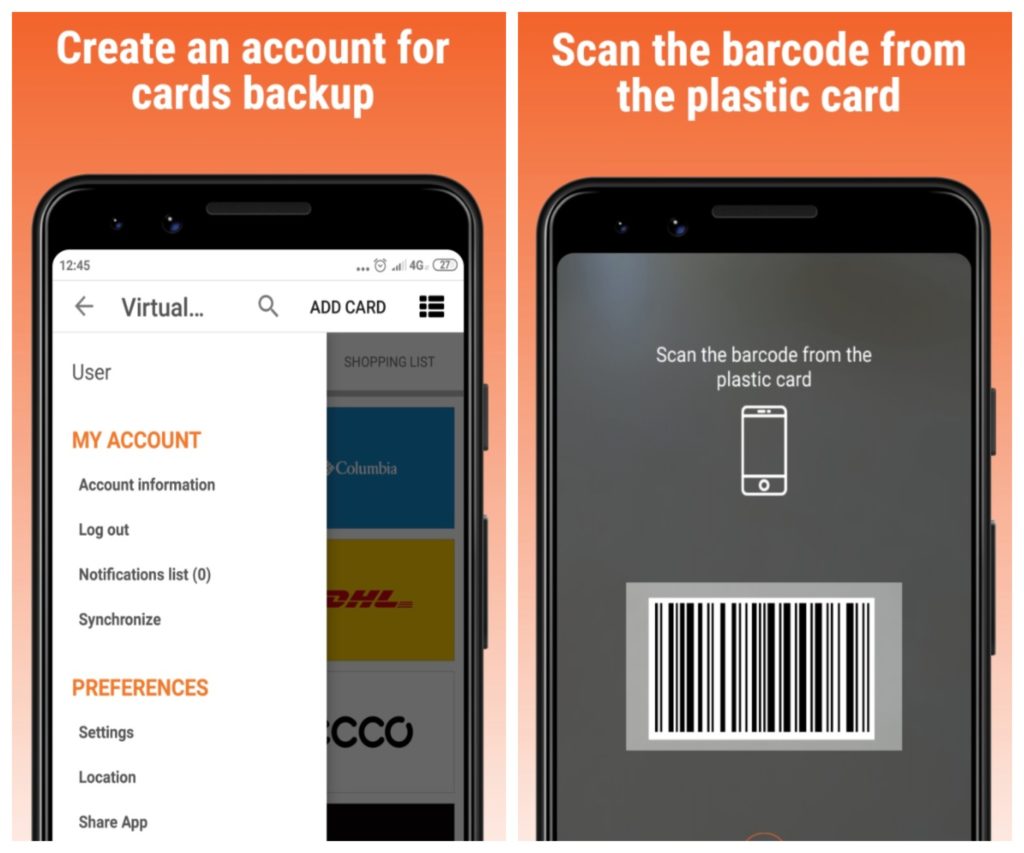 Downloads: 1000000 +
Customers rating:

(3.7 / 5)

Stamp Me
The app is an electronic business card holder which means you don't have to carry plastic cards around all the time. It can be used to pay in shops and save money on purchases.
To enter the card into the mobile service, you need to scan the barcode on the card using your smartphone camera. The system will link it to the app, creating a virtual copy that performs the same functions as the original.
What sets this app apart from others is its loyalty program. You just collect stamps in the app and get some free goodies from your favorite places.
An interesting feature of the app is joining the Birthday Club. That means you will have a unique opportunity to get a nice surprise on your birthday.
Pros:
Ability to store discount cards electronically;
The app is regularly updated and improved;
Lack of advertising.
Cons:
No significant disadvantages were noted.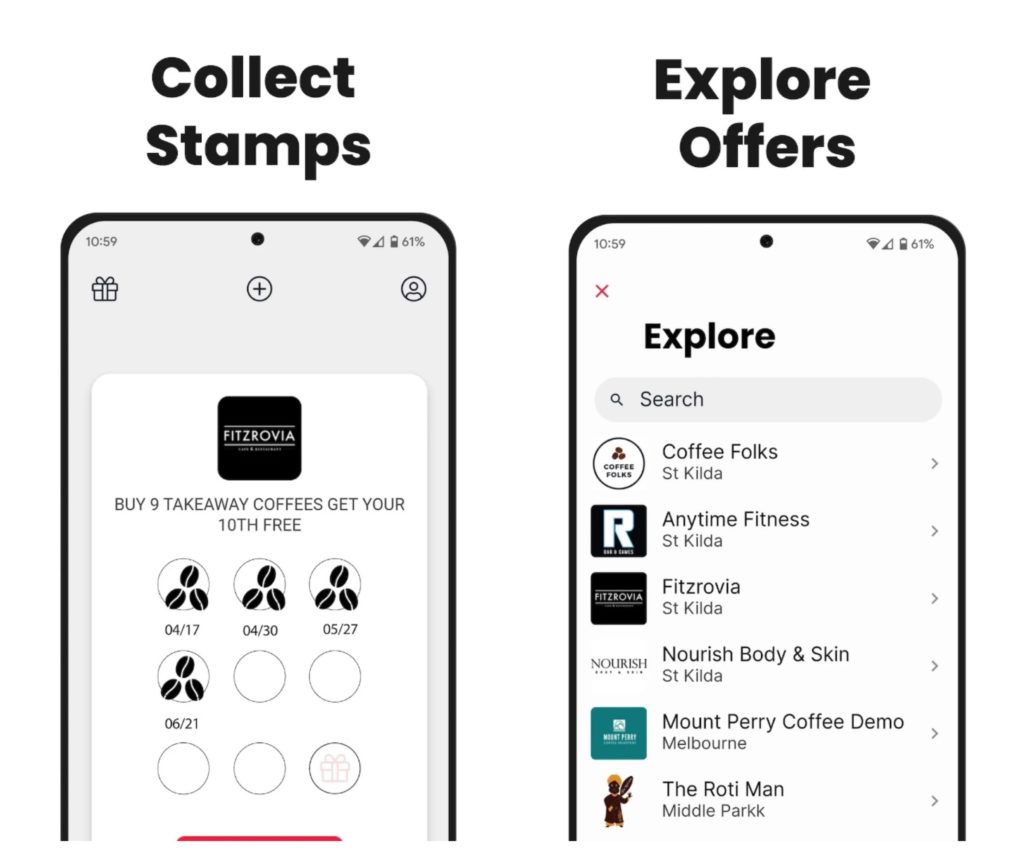 Downloads: 100000 +
Customers rating:

(3.5 / 5)

Reward Cards
Reward Cards application includes many useful features in addition to storing your loyalty cards. You can keep receipts, make shopping lists for different occasions, save coins and convert them into real money.
So, no more paper junk in your pockets in the form of cheques, receipts, and shopping lists. You have it all in one place on your phone. And it's really very convenient.
If you love discounts and bargains of all kinds this app will definitely appeal to you!
Pros:
The app is free;
Scans all your cards and stores them in one place;
Earn real money with the app.
Cons:
We haven't noticed any disadvantages in the work.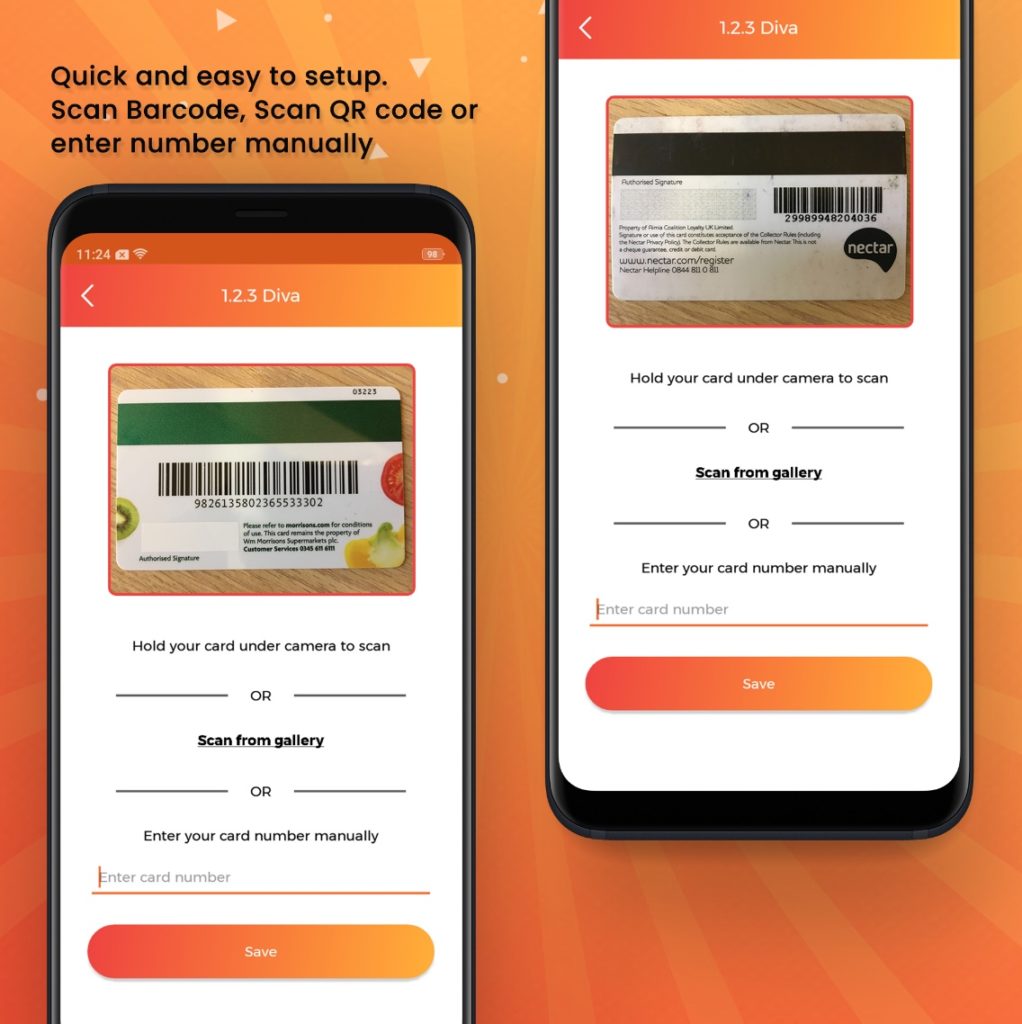 Downloads: 50000 +
Customers rating:

(3.4 / 5)

You may also like: 14 Best yard & garage sale apps
FidMe
The functionality of this cleverly conceived app allows different discount cards, brochures and discount coupons to be combined on your mobile device.
The user no longer needs to constantly carry around plastic cards and thick stacks of paper booklets – all bonuses can now be stored in a convenient and easy-to-use utility.
The app will make it impossible for people to forget their loyalty cards at home, which prevents them from enjoying certain benefits in a shop, cinema, or beauty salon. In addition, customer cards and other rewards will take up much less space in the wallet.
Pros:
Storage of all discount programs in one place;
Support for all kinds of card versions worldwide;
Easy to find shops of interest;
An easy and simple addition of cards and bonuses to your phone;
Receive notifications about new loyalty programs.
Cons:
It may not work satisfactorily on the watch.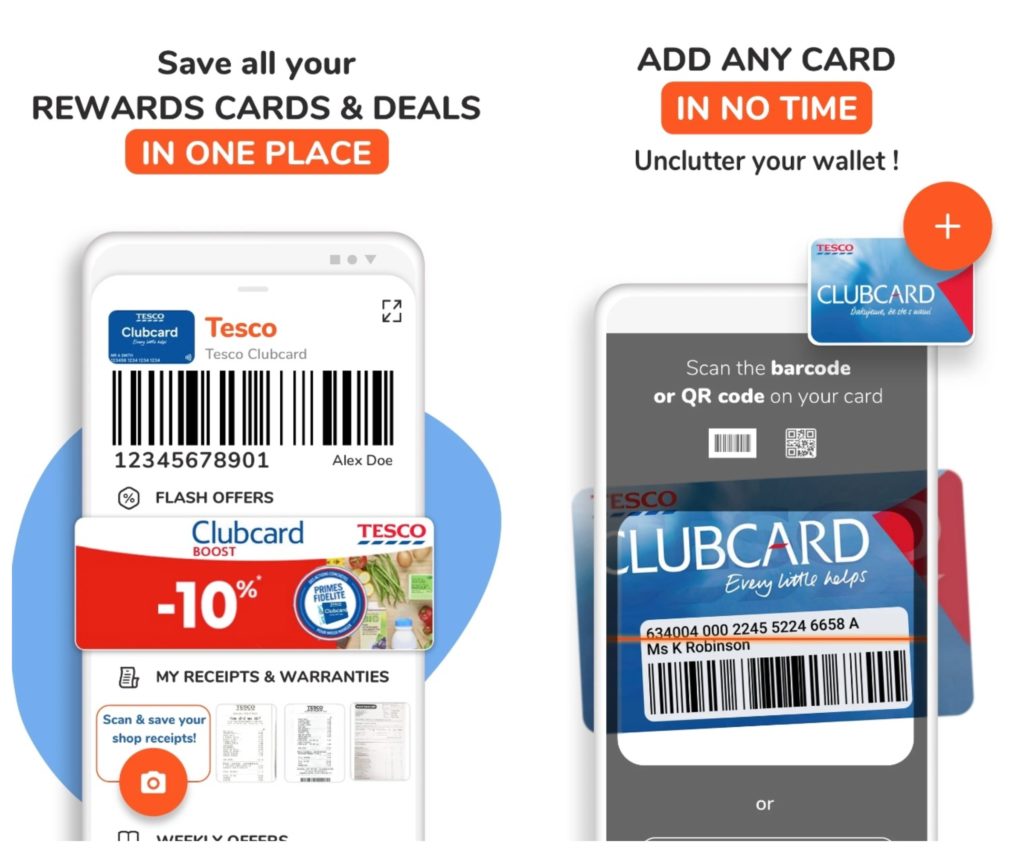 Downloads: 1000000 +
Customers rating:

(3.4 / 5)