Want to add a bit of humor and playfulness to your snaps? You've come to the right place!
Get ready to add some laughs to your snaps with the best silly face photo editors for Android! From cartoonish filters to hilarious sticker packs, you'll be able to make silly faces that will have your mates chuckling.
Ideal for a dose of humor on a boring day or just to spice up your IG feed, these apps let you transform ordinary selfies into pure comedic gold. Who said selfies had to be serious? Embrace your silly side and let these apps make your day. Let's dive in!
Face Warp
Tired of ordinary pics? Do you want to try smth hilarious and out of the box? Give this one a try, then! This app lets you warp, stretch, and distort any image with just a few taps.
What's great about this one is that it comes equipped with real-time distortion FX that you can apply on a live selfie. Yes, you heard it right! You can alter your face as you take a snap, giving you endless possibilities for funny FX such as fat, bold, huge smile, and more.
Aside from editing in real-time, it also lets you import snaps from your cam roll or socials. Thus you can use the app to enhance any of your fave snaps and add a touch of humor to it.
The app's UI is easy to navigate, and you can warp any image with your fingers. There's a zoom tool, along with the ability to rotate funny stickers, which makes engaging. You can also add text or draw on top of the snap to make it even more personalized.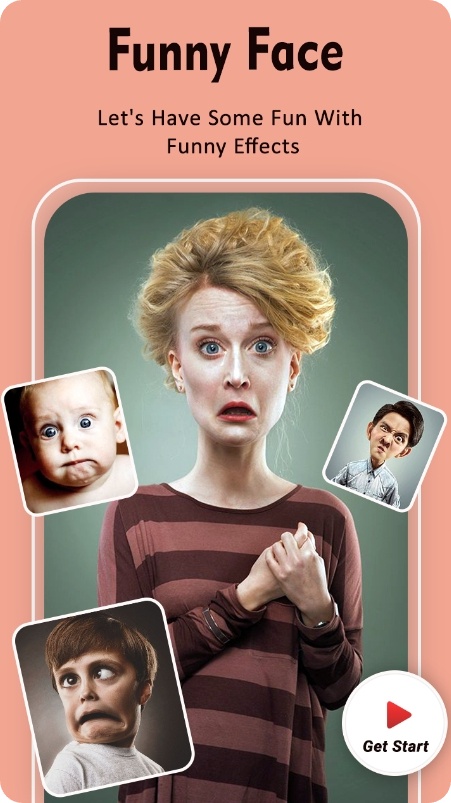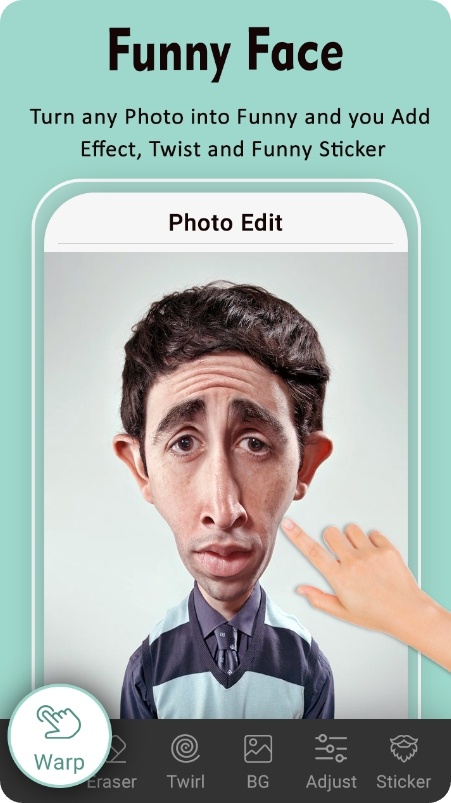 Downloads: 10K+
You may also like: 12 Best Face Swap Apps
Funny Face
This app is a simple way to inject some humor into your snaps and have a good laugh. It is chock-full of cool FX that will have you giggling in no time.
One of the best aspects of this one is how easy it is to use. You can make a hilarious snap in just five secs! With a simple UI and intuitive tools, you can pick a shot from your cam roll or take a new one and start adding funny stickers and filters right away.
And speaking of stickers, there are tons to pick from here. Whether you want to put a silly hat on your head or make yourself become a cartoon guy, you'll find the ideal one to suit your mood. You can even zoom and rotate the stickers to make them fit your pic just right.
You can certainly have tons of fun with this app. Feel free to give yourself an ugly face or add some silly expressions, and everyone is sure to be chuckling by the end of it. And with the ability to save and share the snaps, the laughs can keep coming long after you've put down your phone.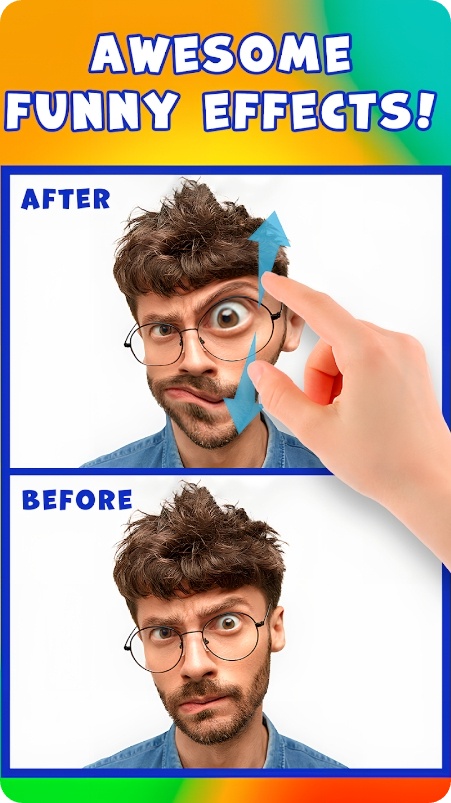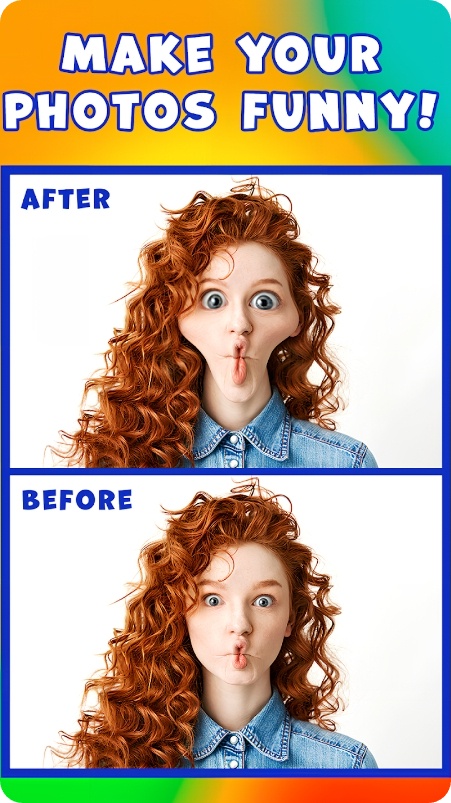 Downloads: 10K+
Face Warp
Tired of the same old selfie? Well, this app is a total game-changer when it comes to adding a touch of humor to your everyday snaps.
One of the standout aspects of this app is the ability to use the FX in real-time while taking a vid or a snap. This means you can see the warped filter in action before you even snap the shot. And let us tell you, the results are nothing short of hysterical.
Whether you want to turn yourself into an alien or a goofy caricature, the app lets you do that. But the fun doesn't stop there. You can also apply the filter to any selfie in your cam roll. Want to transform that serious headshot into a silly masterpiece? Easy-peasy!
And if you have a clip that could use a little extra humor, you can even cut a clip with a face warp filter applied. You can easily share it, too. We guarantee your mates will be rolling with laughter when they see your wacky results.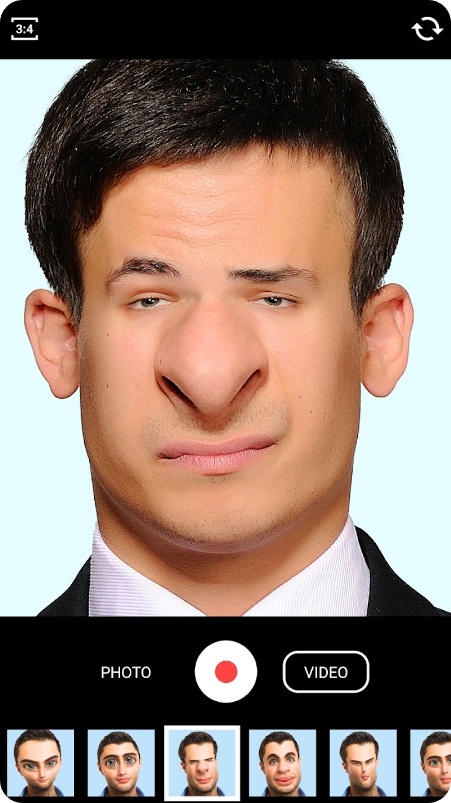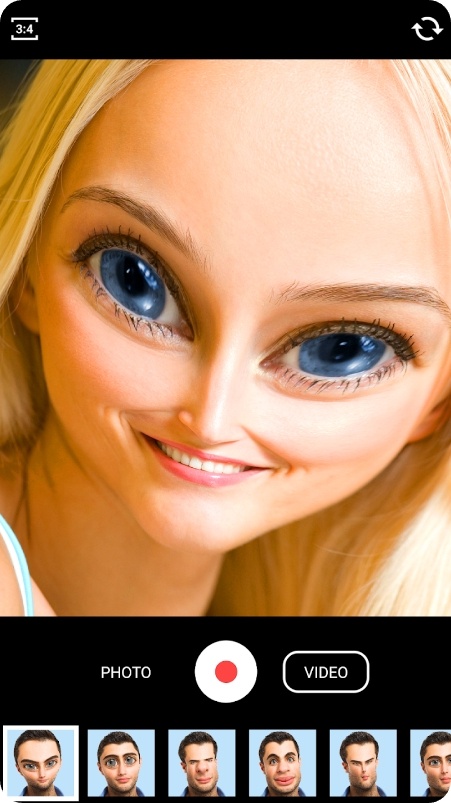 Downloads: 10M+
Customers rating:

(3.5 / 5)
Face Changer
This app is here to help you make silly little edits with little to no effort. First off, you can take a snap or pick some from your cam roll, or IG.
Now let's talk about the real fun stuff. The app swap faces with pals or even with anyone in the world! And if that's not crazy enough, you can use the morphing tool to automatically change into an alien, a monster, or even a cartoon version of yourself.
But the fun doesn't stop there! You can add endless amounts of silly eyes, noses, hats, and tats to your snaps. And with over 600 stickers to pick from, you'll never run out of ideas for any occasion. But that's not all. You can even add text or draw on top of your snap, use the clone tool, or add makeup FX.
Want to set the scene? Fuse your snap with a different bg to put yourself on the beach or even on the moon! Plus, with the instant replay tool, you can show all your mates just how originative you really are.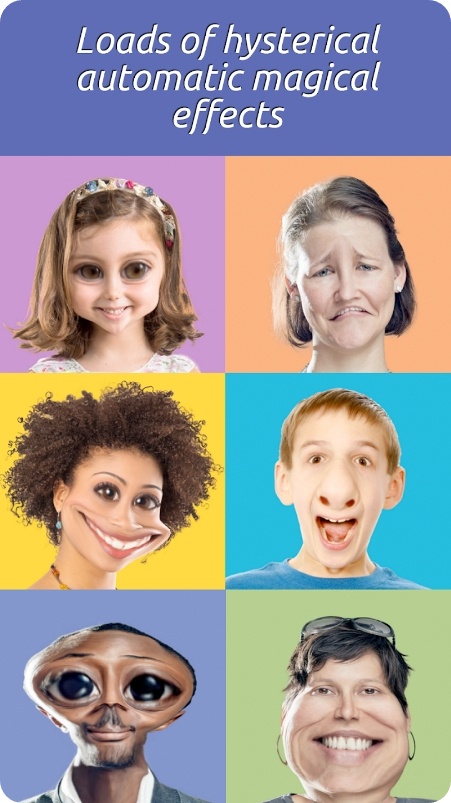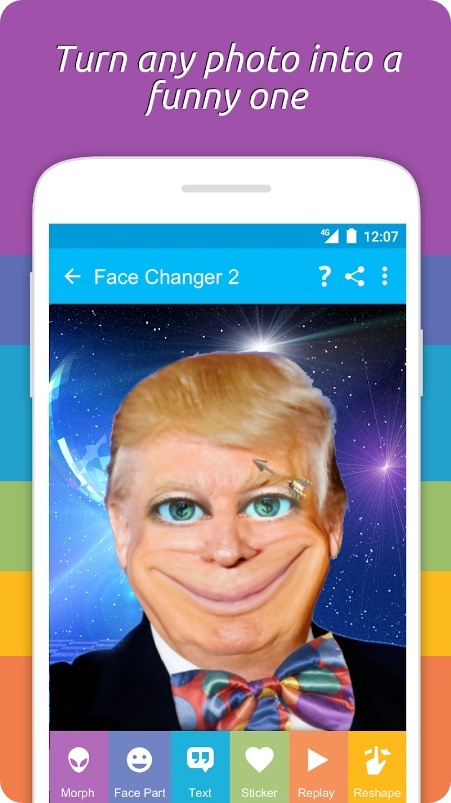 Downloads: 10M+
Customers rating:

(4.2 / 5)
Time Warp
On the hunt for a hilarious and mind-bending exp? This is it! This app is ideal for those who love to play face games and enjoy using fun filters to make silly faces.
One of the highlights of this app is its impressive lib of filters. There are warp sliders and face scanning to ensure smooth and easy exp. The distortion options are sure to leave you in stitches, making it an ideal option for anyone wanting to add a touch of humor to their snaps.
The time warp scanner is also a must-try. Its impressive transformations are truly mind-blowing and are sure to leave your pals wondering how you were able to get such a unique FX. And with the easy-to-use UI, the app ensures a seamless experience every time.
You can also easily share the snaps once they are read. No watermarks, no quality loss, and no hidden fees at all. This is a nice little addition to any IG baddie and those who don't mind laughing about themselves.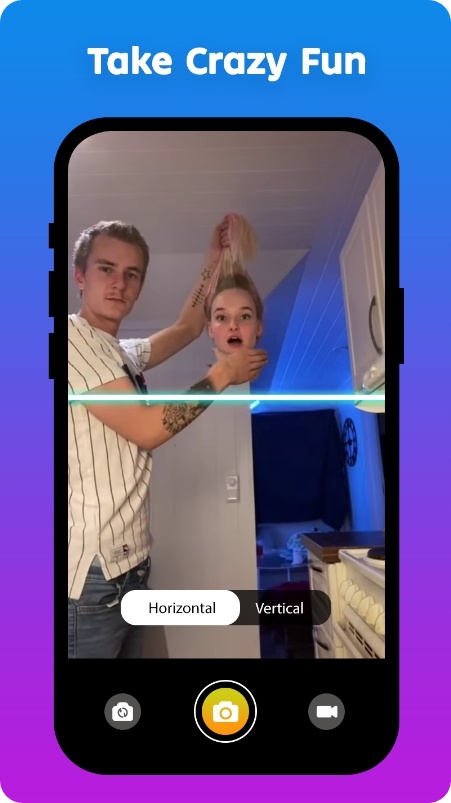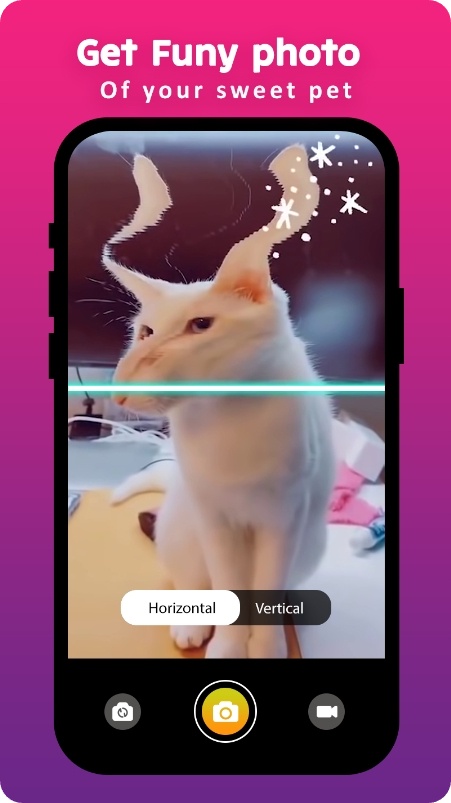 Downloads: 100K+
Face Changer
If you need a way to kill time and get some chuckles out of your friends, this is the ideal pick. The tools this bad boy offers are unreal. You can replace face parts to make your pals look like they had one too many beers. Or, if you're feeling really cheeky, you can make them bald (cue laughter).
But the fun doesn't stop there – you can also smudge and warp faces to make them thin or fat, or make their ears pointy. Seriously, the possibilities are endless!
You can add text or draw on top of the snap. So you can give your pals new names or draw some ridiculous accessories on them. And once you've finished crafting your comedic masterpiece, you can share it with just a couple of taps.
The app is incredibly user-friendly and easy to navigate, so you can start using it straight away. It's seriously got to be one of the most delightful and hilarious pic apps out there. You'll be laughing for hours!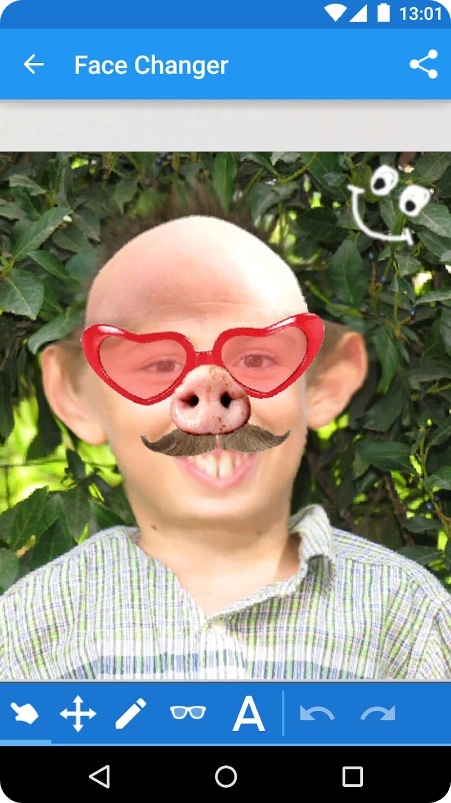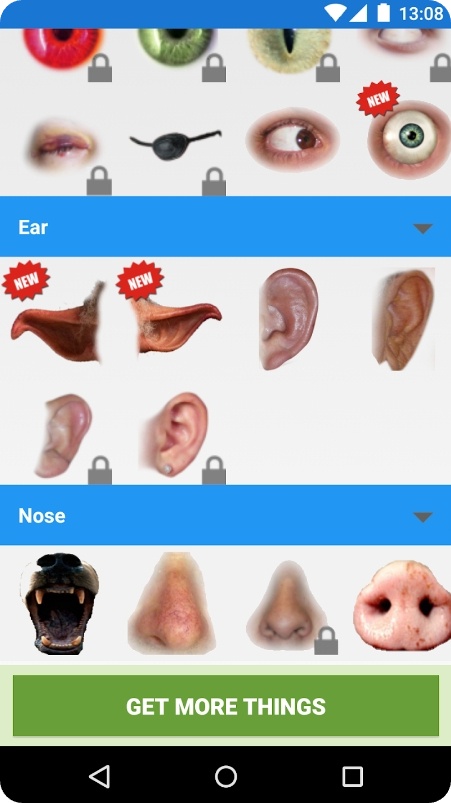 Downloads: 50M+
Customers rating:

(4.2 / 5)
Check also: 15 Android Apps That Make You Look Younger or Older
Face Changer Camera
Wanna step out of the mundane selfies? Want to add some laughter and fun to your vids? Don't get past this app, then. It is packed with hilarious tools for you to enjoy.
It lets you apply funny distortions to your face and look like some silly creature. There are tons of tools that will have you and your pals in stitches. Feel free to swap faces with mates, morph with animals, and do whatever else your heart desires.
One of the standout aspects of this one is the face blend tool. It lets you morph two faces together to end up with a hilarious, Frankenstein-esque image. Trust us, your pals won't be able to stop laughing!
And if you're feeling particularly adventurous, give the chin face a try. It may seem strange at first, but the upside-down face placement are the ideal recipe for a good time. You can see all the filters in real-time if needed. The app is free, so you're not risking anything.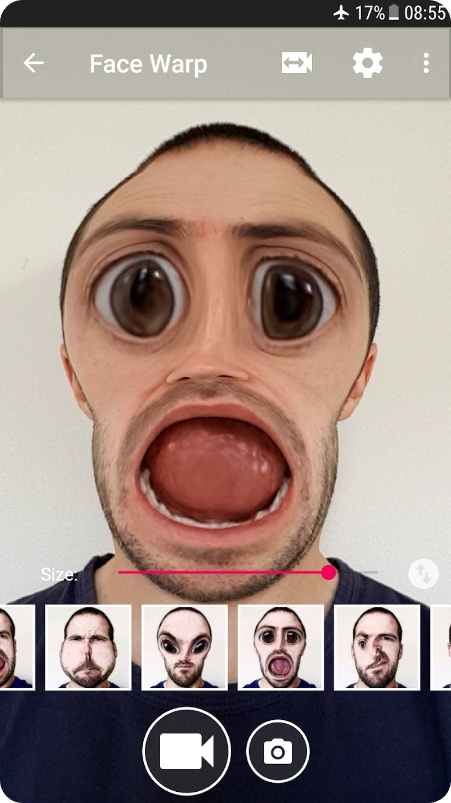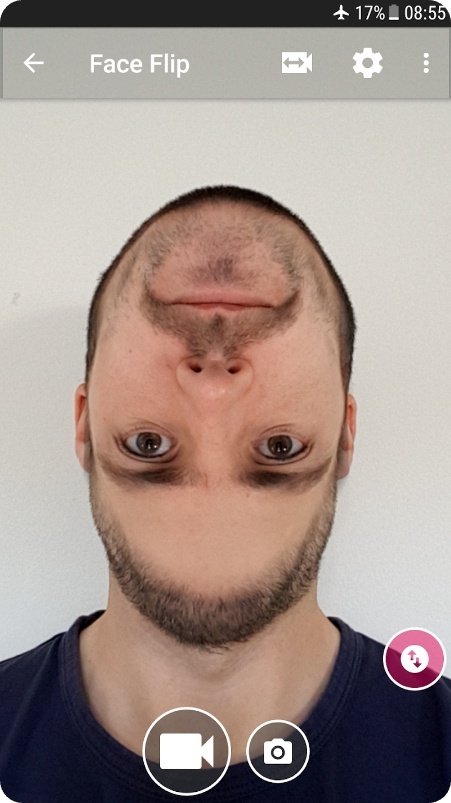 Downloads: 10M+
Customers rating:

(4.2 / 5)
Face Swap
It is truly a game-changer when it comes to making fun of yourself (or your mates). Whether you're in the mood for a good laugh or just want to switch things up, this app lets you do that.
With the live cam tool, you can swap faces and apply hilarious masks to yourself or your pals in real time. The possibilities are endless, and the results are always hysterical! And if you're not in the mood to be on cam, you can easily upload pics or vids from your cam roll and apply the same masks after.
But that's not all – the app also lets you mix in celeb faces with your own. It's guaranteed to give you a good laugh. Additionally, you can load vids and easily cut a clip with a barter filter used. How cool is that?
With a variety of options, you can turn yourself into a pirate, a superhero, and so on. And once you're satisfied, it's so easy to share it on any socials or messenger. It really takes a few taps, and there won't be any quality loss or glitches to be worried about.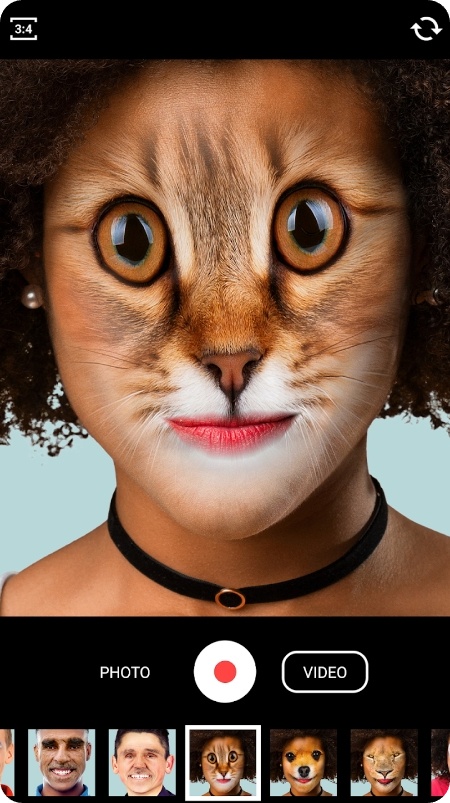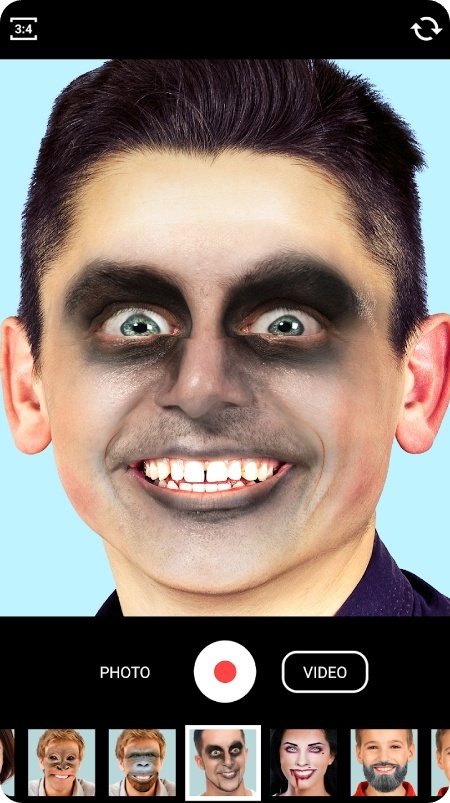 Downloads: 10M+
Customers rating:

(3.2 / 5)
Face Warp
This app is here to add some hilarity to your snaps. First off, it is an absolute blast to use. You can easily warp and distort your face in endless ways to make some seriously sidesplitting content.
Whether you want to add some silly FX to your own snaps or customize your mates' ones, you can do it here. Face detection helps keep the warp filter in place, so you can focus on making the funniest face possible. It works pretty well until you try to use group selfies, so keep that in mind.
But it's not just about the visuals. The app also lets you alter the way you sound. You'll get to distort the audio on vid to add a whole new level of comedic potential.
And don't worry about not being able to share the laughable results. The app makes it easy to post your snaps on any socials you like. There are no limits here, and no watermarks to ruin the exp. The ads are there, but they are fully bearable.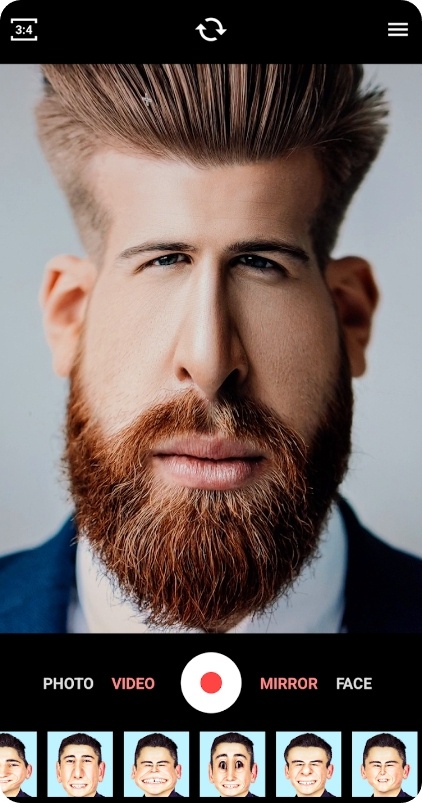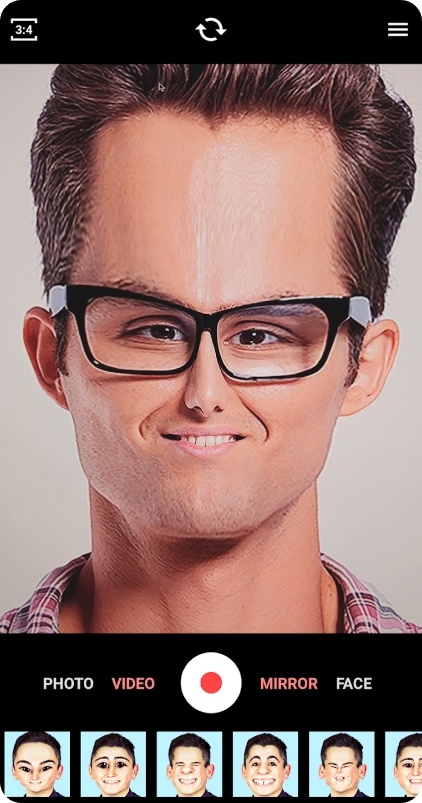 Downloads: 1M+
Customers rating:

(3.8 / 5)
Crazy Face Camera
That's the kind of app that will make you laugh for hours. It's a gem for those who love to have a good time and make their pals chuckle. It covers tons of distortion FX for you to play with.
This app is like a carnival mirror on steroids! You can warp, move, stretch, and distort any snap to make a hilarious warped face. And the best part? You can see it all happening in real time as you take your selfie. Trust us, your pals won't believe the hilarious results.
You can also apply distortion FX to an existing pic. Take that old fam portrait and turn it into a sidesplitting masterpiece with just a few taps. The app has plenty of silly FX to pick from, so there's smth for everyone.
And don't forget the crazy stickers! You can zoom and rotate them as you like to make the ultimate hilarity. You can even add text or draw on top of the snap. Maybe you want to give your warped face a funny catchphrase or add some wild eyebrows. Whatever you come up with, you're sure to make everyone laugh.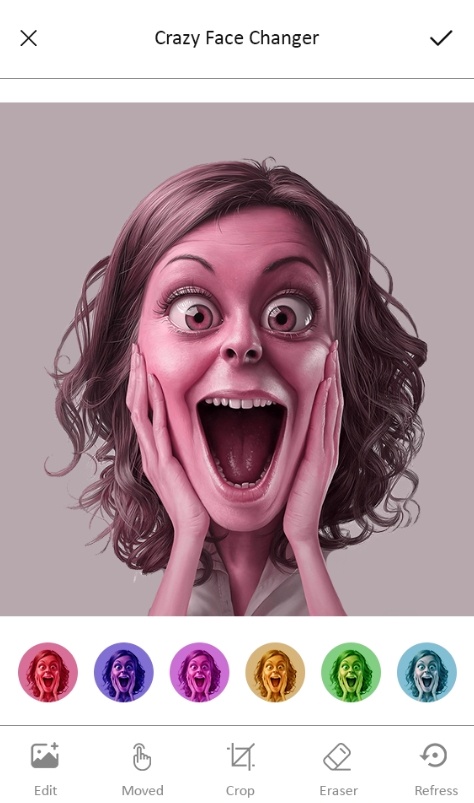 Downloads: 1K+
You may also check: 9 Best Cartoon Apps for Dogs
Funny Camera
Here's an app to add some humor to your snaps. It is packed full of tools that will have you laughing out loud as you snap away. There are over 40 cam FX that will transform your snaps into smth silly and fun.
One minute you can be a superhero, and the next you can be an alien from outer space. The possibilities are endless. But it doesn't stop there. The app also covers a timer and a flash, so you can capture the ideal shot every time. Plus, with both a back and selfie cm, you can easily switch between the two and take snaps from any angle you desire.
You can also work with existing pics by picking those from your cam roll. It even includes the best hashtags for maximum likes. So not only will you have a blast creating comical snaps, but you'll also get the recognition you deserve for your comedic genius. And with 30+ sharing options supported, you can quickly post the pics on any platform within secs.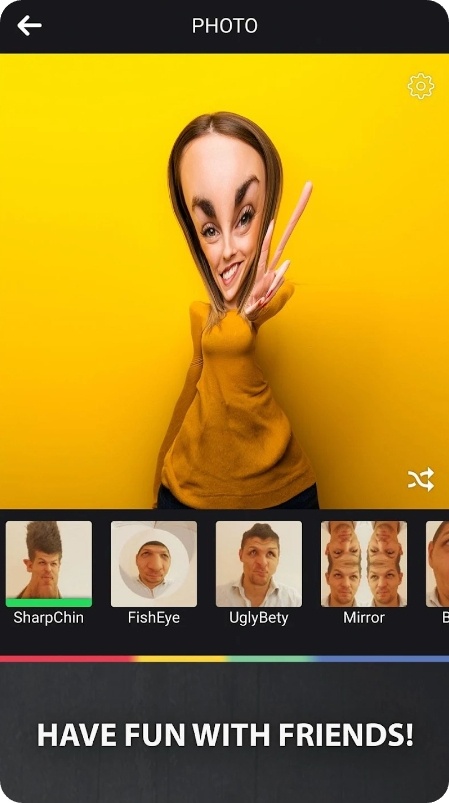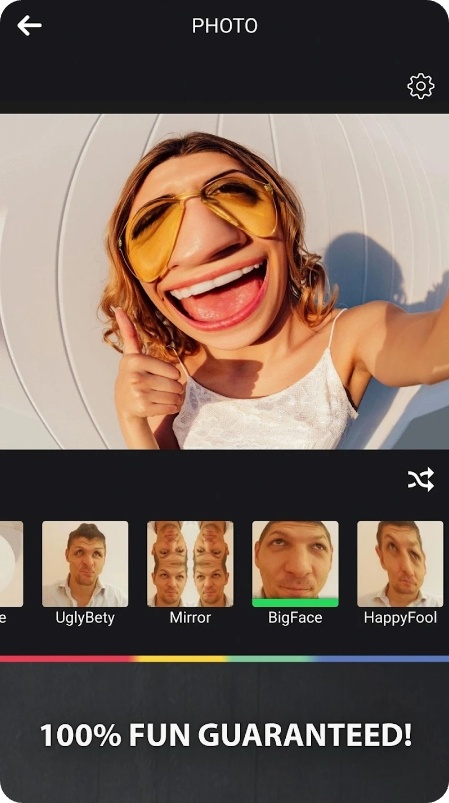 Downloads: 1M+
Customers rating:

(3.3 / 5)