Learning a new language is never easy. Well, some marketers might try to assure you that it is, but in fact, you should always put the effort into it and, what is more important, to find the right tools that will enhance the process of your studying. For those who decided to learn Spanish – this app will become that irreplaceable tool in this process.
You may also like: 5 Free Detox Diet Apps for Android
Spanish Translator Dicrionary + is developed by the Vidalingua company which is known to be producing one of the best language apps on the market and this is another member of its big "family".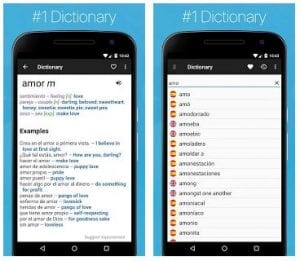 If you have used the apps from this brand before you will find it easy to orientate yourself in Spanish Translator Dictionary + because the overall interface is similar to all the other apps by Vidalingua.
First of all, this app is a great dictionary. Even people with the C2 level of Spanish will find it useful and discover new phrases and words. Moreover, Spanish Translator + includes numerous reference tools in addition to the phrase translator.
Besides, the dictionary includes part of speech, noun gender, and many usage examples. The verb conjugator contains over 6,000 verbs in all common tenses. You will also find a phrasebook, vocabulary quiz game, and flashcards – in other words, you will get everything to study Spanish – no matter at which level you currently are.
And of course, the app will be appreciated by the students and schoolers – since it is so convenient in usage. If you want to use the capacity of the app to the fullest, you better use it on your tablet.
Spanish Translator Dictionary + integrates the translator with the dictionary, so it takes into consideration all the aspects of the language such as slang, idioms, and regional dialects. Therefore, you can forget about the cheesy Google translate, which often gives you inaccurate translations out of the context.
Another interesting feature of Spanish Translator + is it has a separate section with phrases, which are sorted out by the topics. In fact, there are lots of options in the app apart from the dictionary – as it was mentioned before you can choose the one to do the quiz, to see the conjugation of verbs, and many more.
The interface design of Spanish Translator Dictionary + is minimalistic and easy to manipulate by any type of user – advanced or a beginner. The whole system allows you to concentrate on the process of learning instead of thinking of how to handle the app.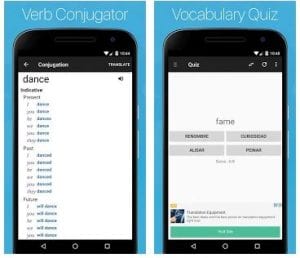 What is more, the app has just great technical support. In case you have some issues, you can contact the team and a reply in several hours is guaranteed. Another interesting thing is if you leave a review of the app on the App Store or Google Play, you will probably get a response from the CEO himself.
You may also like: 9 Best Customization Apps for Android
Overall, Spanish Translator Dictionary+ is definitely recommended to all who study/want to start studying Spanish. This app includes literally everything to help you to improve your knowledge of this language no matter at which stage you are.