Stenography is a way of writing quickly, using special signs and abbreviations. To a person who is not familiar with the types and techniques of stenographic writing, the written text may seem like an encrypted code that only the stenographer himself can understand.
Many people are frightened by the word stenography and there is a reason for that, as it implies a complex system that should not only be studied for a long time, but also constantly applied to be of use.
But I suggest you familiarize a few applications that will help you practice, make it easier to write, and increase your speed in writing stenography.
Shorthand Practice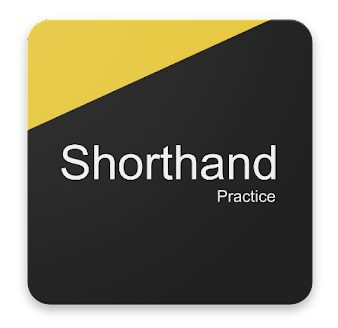 If you've decided to practice shorthand and don't know where to start, try this app.
Here you will be able to practice in different languages, at different speeds and durations. Shorthand Practice allows you to choose topics. I advise you to start with the themes you are close to or need to practice. That way it will be easier to perceive new information.
I also like the fact that you can choose the voice of the speaker. After all, someone is the better perceived male voice and someone female.
When you're done you can easily check yourself by downloading a written and shorthand version of a paragraph.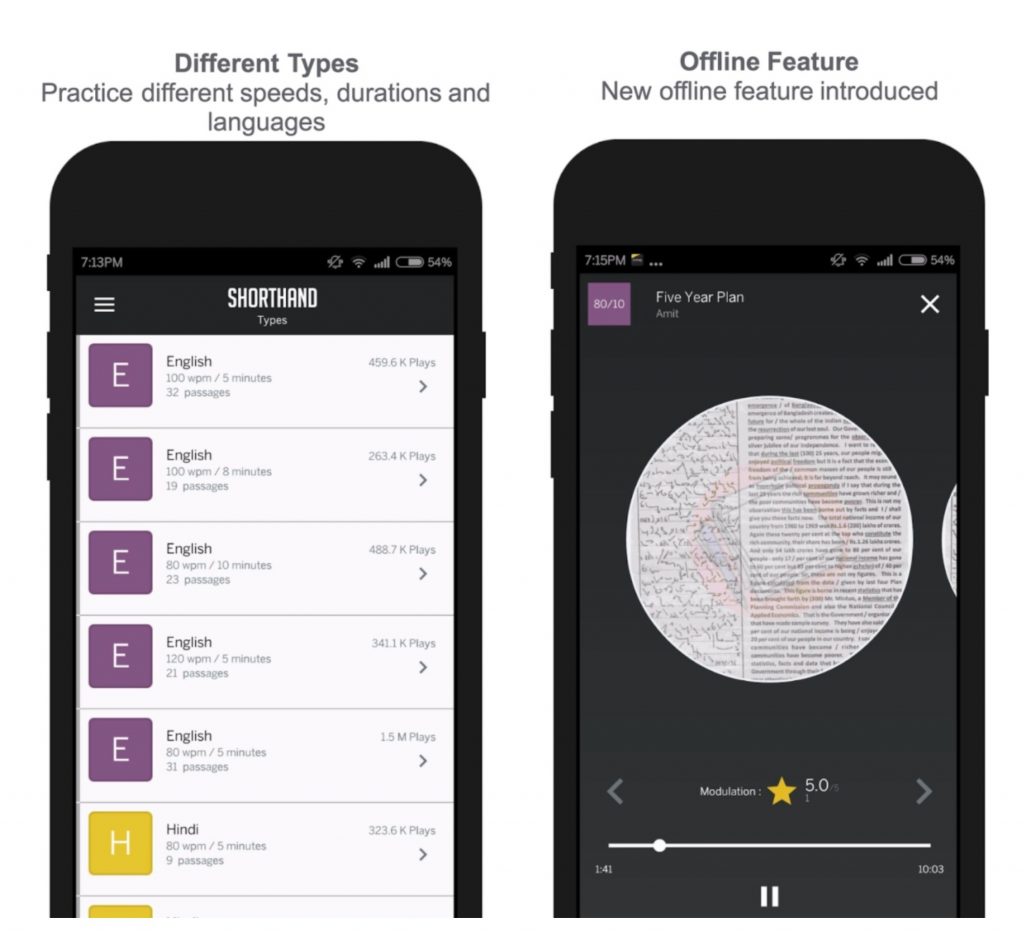 Downloads: 100000 +
Customers rating:

(3.4 / 5)

You may also like: 21 Best wifi texting apps for Android
Shorthand Speed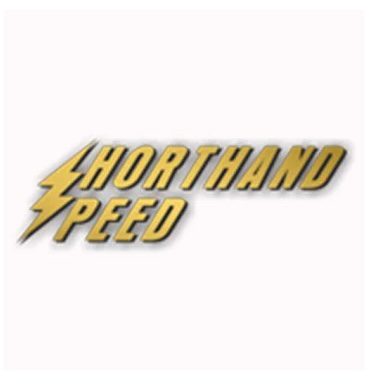 The next application will be good for monitoring and improving your shorthand skills.
Stenography, like any activity, requires regular training, daily practice. Anyone can master cursive writing, you have to follow certain rules and persistently practice writing and reading texts.
Shorthand Speed provides practice exercises in stenography. After completing each task your results will be evaluated online. So, you can test your typing speed and accuracy.
You have a good opportunity to practice and achieve better results with Shorthand Speed.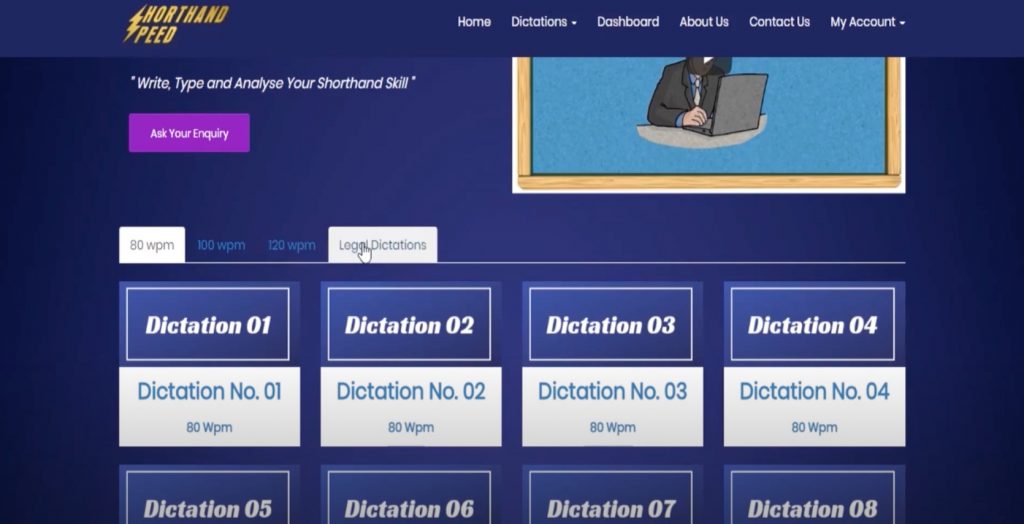 Downloads: 10000 +
Customers rating:

(4.2 / 5)

Stenographer: EnglishToSteno
Another shorthand application is Stenographer: EnglishToSteno. The functionality of this application is different from the previous ones. If you have any difficulties, doubts, you need to check your shorthand, or you simply need to convert text into shorthand, then use this application.
With Stenographer: EnglishToSteno you can easily convert text to shorthand in a matter of seconds.
The application will be useful for those studying stenography and those preparing for exams related to stenography. Stenographer: EnglishToSteno will help you put all doubts aside and get a good result.
It has a user-friendly interface and if you have any questions or problems, there is a feedback option.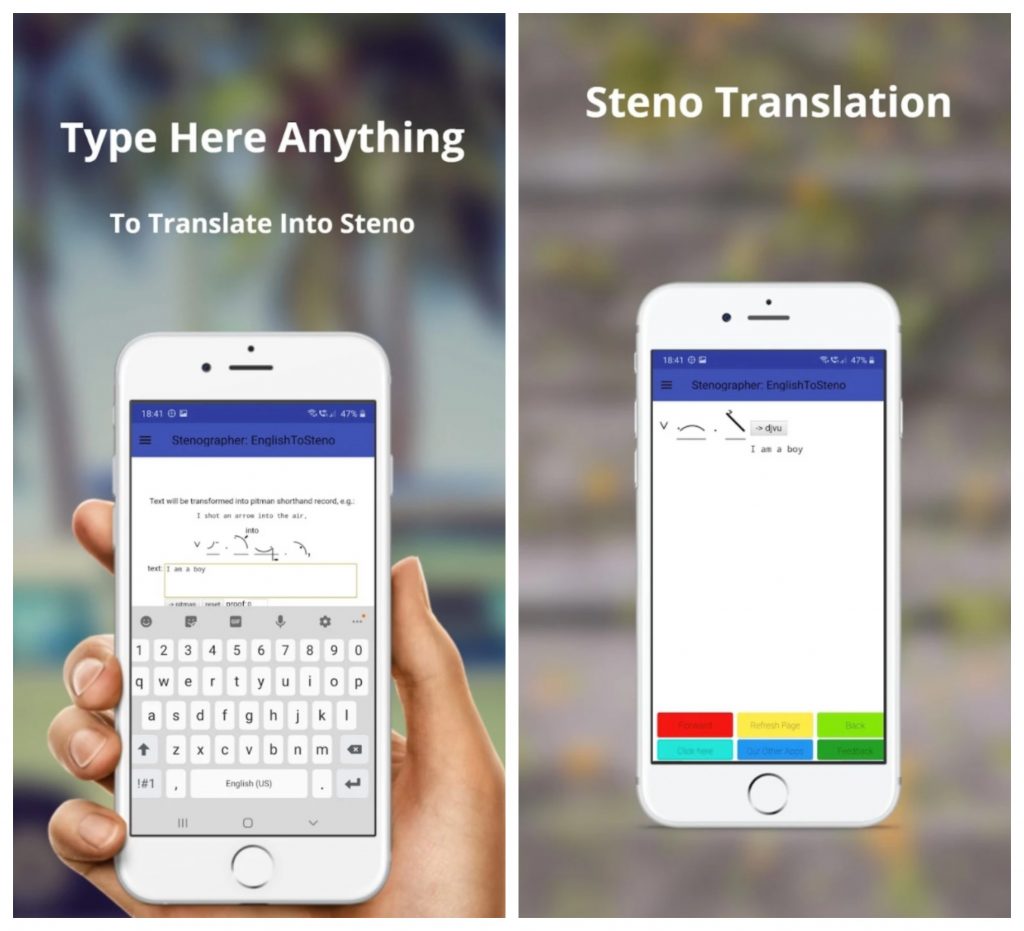 Downloads: 10000 +
Customers rating:

(4.1 / 5)

Shorthand Typing Stenography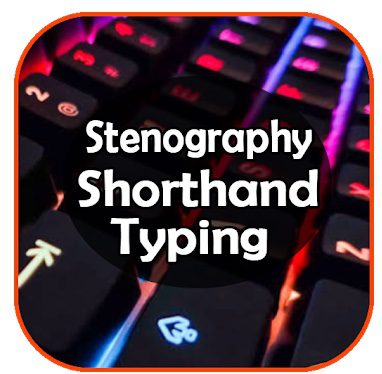 Anyone can start shorthand. No special training is required and the method is available to absolutely everyone.
You can learn to shorthand both with a teacher and on your own. The advantage of the first method is that a good teacher will help you to choose the optimal system and will put your hand. But teachers of this discipline are not common nowadays. If you have not managed to find one, start studying on your own. Shorthand Typing Stenography will help.
This tutorial app contains complete information about shorthand. It offers video courses to help you master stenography. It has both English and Hindi Shorthand words.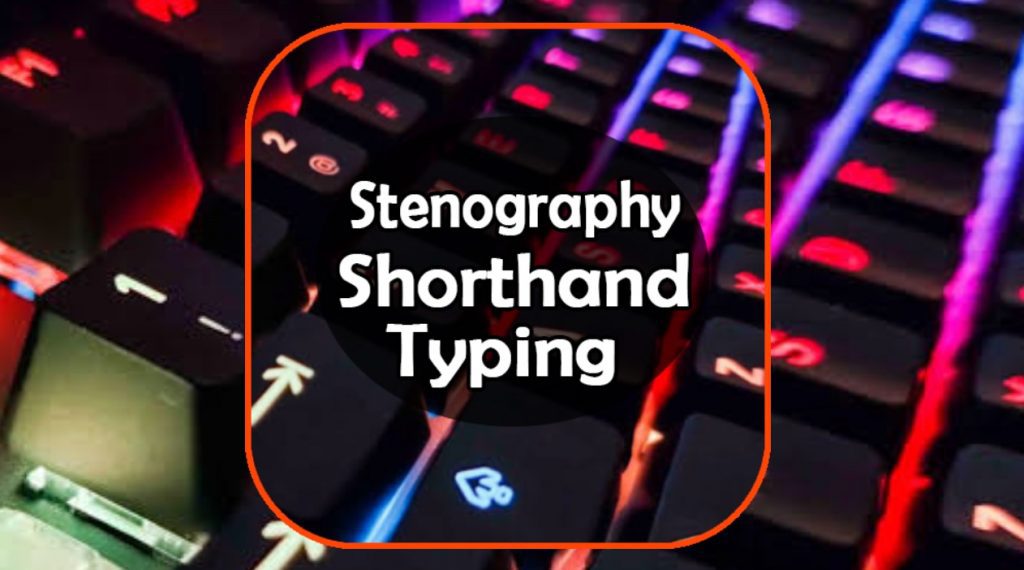 Downloads: 5000 +
Customers rating:

(3.6 / 5)

Learn Shorthand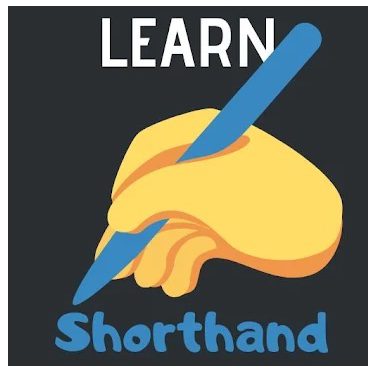 A person who mastered this technique will not go unnoticed, everyone looking at his notes will ask questions about the effectiveness of the method, about the timing of mastering cursive writing.
There are several systems of shorthand and they vary greatly, from symbols and abbreviations to the way notes are taken.
One of the advantages of this easy shorthand course, in addition to the speed with which it will allow you to take notes, is that the notes are reflected as a key, meaning that only the person who takes notes can really understand and interpret the meaning of these characters.
Practice the skill every day, and the result will not take long. It takes up to three months to master, but it depends on how diligent you are, so it varies from person to person.
Remember, shorthand classes require adherence to certain principles:
Become thoroughly familiar with the rules for writing graphemes, abbreviating elements and their conjunctions.
In addition to the theoretical aspects, constant improvement of skills in practice is required. Training should be regular.
When building the skill, begin by slowly but accurately creating text.
The typing of characters should be reinforced by reading what you've written and correcting mistakes.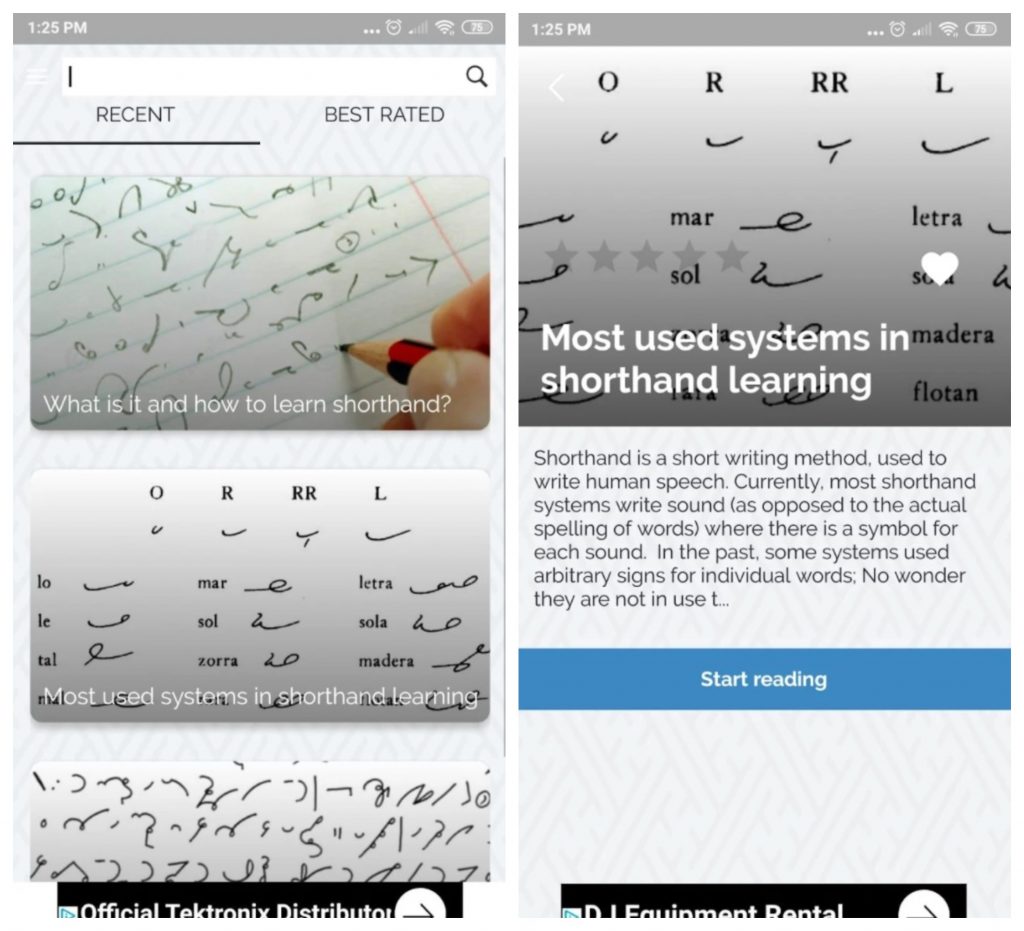 Downloads: 10000 +
Customers rating:

(2.6 / 5)

Learn Shorthand: Free English Guide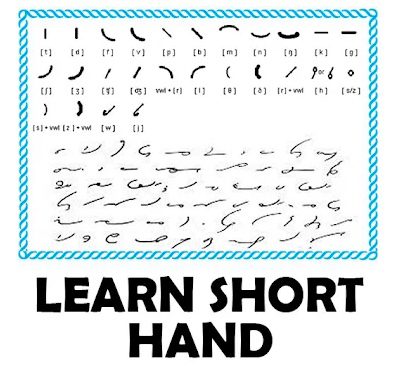 Writing down speech in a routine way – abbreviating words while writing – is not possible for everyone. In such a situation, mastering the skills of stenography will benefit you and allow you to record oral speech in a timely manner. Learn Shorthand: Free English Guide helps you greatly in this way.
Application functions:
A complete step by step guide to shorthand and stenography;
Learn shorthand alphabets, writing, vowels, words quickly.
Learn shorthand in detail;
Read and practice to learn fast.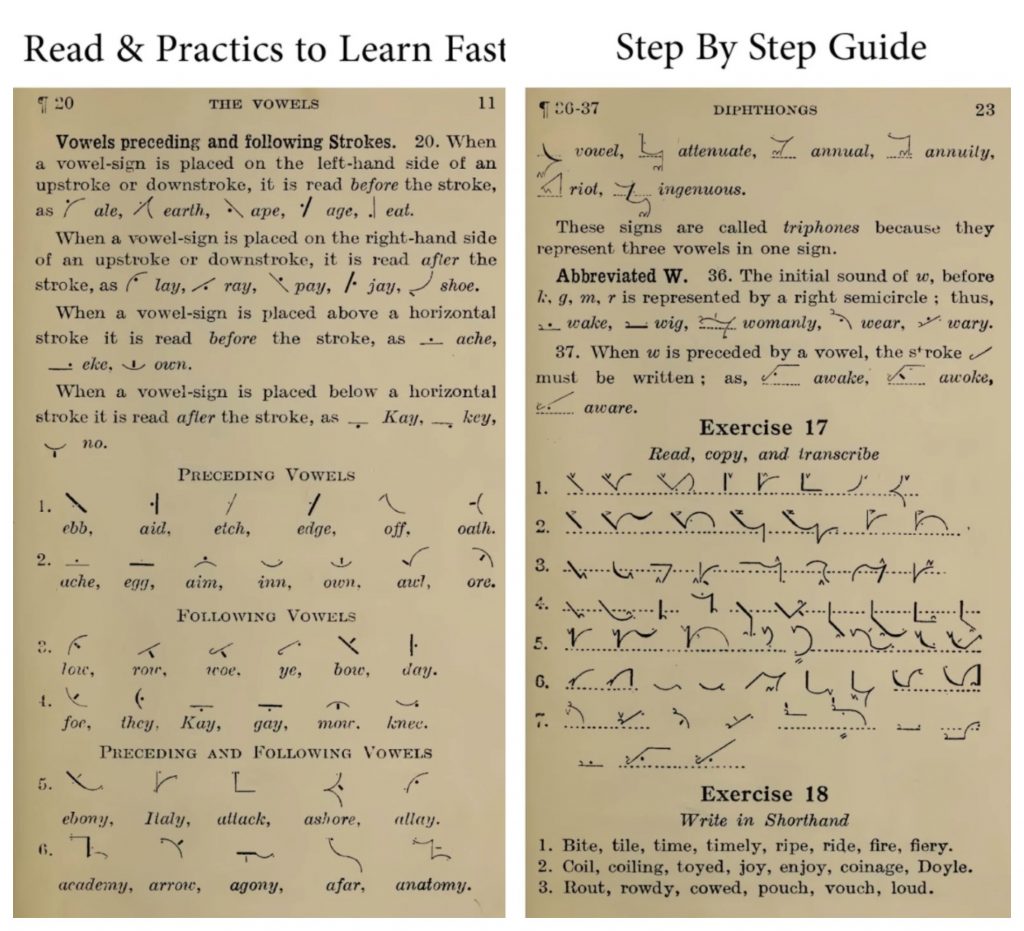 Downloads: 100 +
Customers rating:

(3.6 / 5)

You may also like: 17 Best voice to text apps for Android
Shorthand Dictation
Here's another good app to help you practice shorthand. The good thing is that the app is updated weekly.
Shorthand Dictation contains dictations at different speeds for those who strive to improve their shorthand skills. It's recommended to train daily. If you don't exercise regularly, you only lose speed or stay the same.
You can use the audio version of the dictations as well as the written version.
Downloads: 10000 +
Customers rating:

(4 / 5)