What apps rank among the top best messengers? So that you can find suitable software for communicating with friends and family, we have created this selection of applications.
In this list, we will look at the best text over WiFi apps for Android.
Dingtone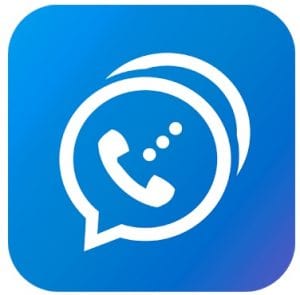 Dingtone is a free application for making video calls, making calls, and sending text and audio messages over the Internet.
If you communicate a lot and the price, especially in roaming, is awful, try Dingtone. An application for free communication over the Internet. The usual calls and video calls, sending text or voice messages – with Wi-Fi is completely free and not limited to anything. Talk as much as you want.
Dingtone will give you a free phone number that works like a second SIM card on your phone. You won't need to enter your personal information. The app will use the list of your contacts stored on your device.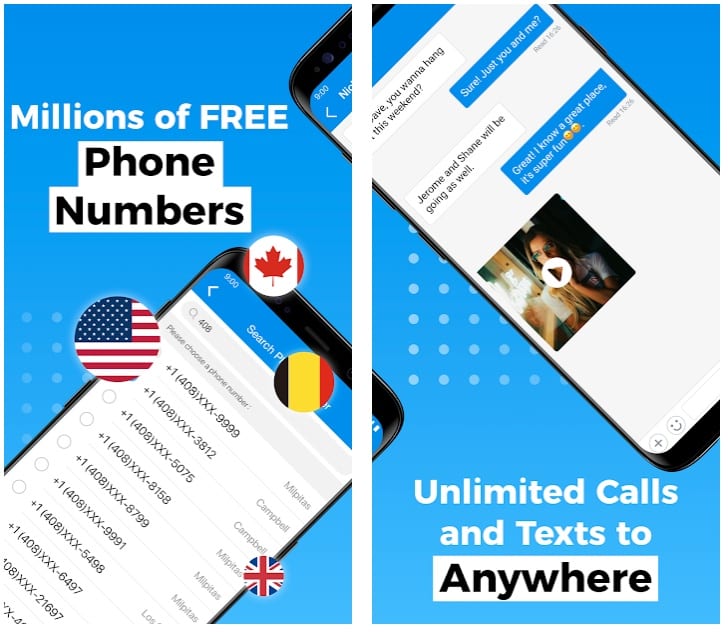 You can also synchronize the application with your Facebook account and call your friends on the social network anywhere in the world completely free of charge.
Make video calls in perfect quality even if you use 3G, organize group video conferences with up to 8 participants and send messages. And if you can't type, record a voice message and send it. With Dingtone you can even turn your phone into a walkie-talkie – many dreamt about it as a kid.
The privacy settings will help you protect yourself from unwanted contacts. You don't need a SIM card to communicate, so you can easily communicate from your tablet.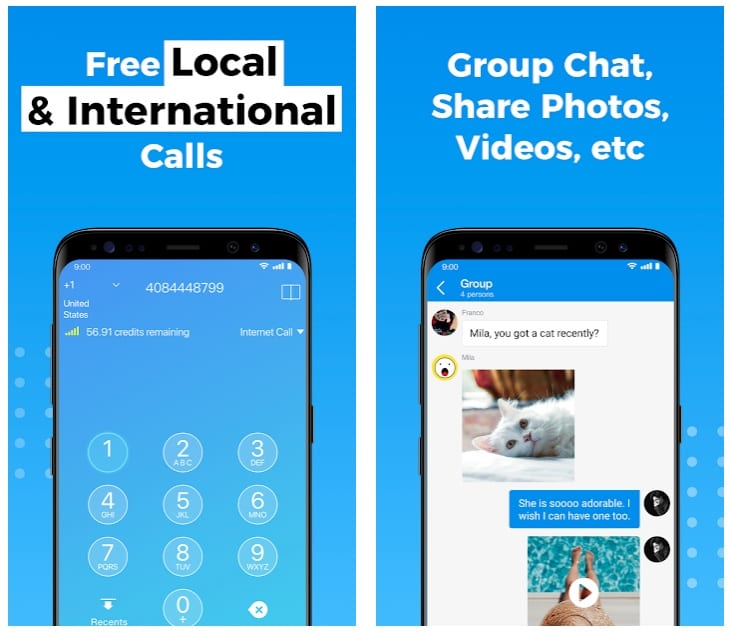 Downloads: 10000000 +
Customers rating:

(4.4 / 5)
You may also like: 11 Best SMS Blocking Apps for Android
TalkU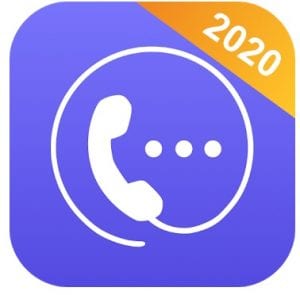 TalkU is a useful application for making video calls and sending messages over the Internet.
Do you talk on the phone all the time? Spending a lot of money on calls? Tired of paying for communication? There is a solution!
Download TalkU and call all over the country for free. Do you know a lot of people in other countries? TalkU can help you there, too: cheap international calls and messages to any part of the world.
All you need now to communicate without borders is an Internet connection. Be it Wi-Fi or mobile Internet (both 4G and 3G) will equally provide you with clear sound and a pretty high-quality image.
After installing the app, you get a free virtual phone number, which will actually be the second one on your device. But since the SIM card itself isn't required for the app to work, you can also make calls from your tablet.
The application also has a paid premium version that gives additional benefits to the user. For example, an answering machine that records voice or video messages, an unwanted call blocker, and the ability to forward calls to any real phone number. And, of course, there are no ads at all.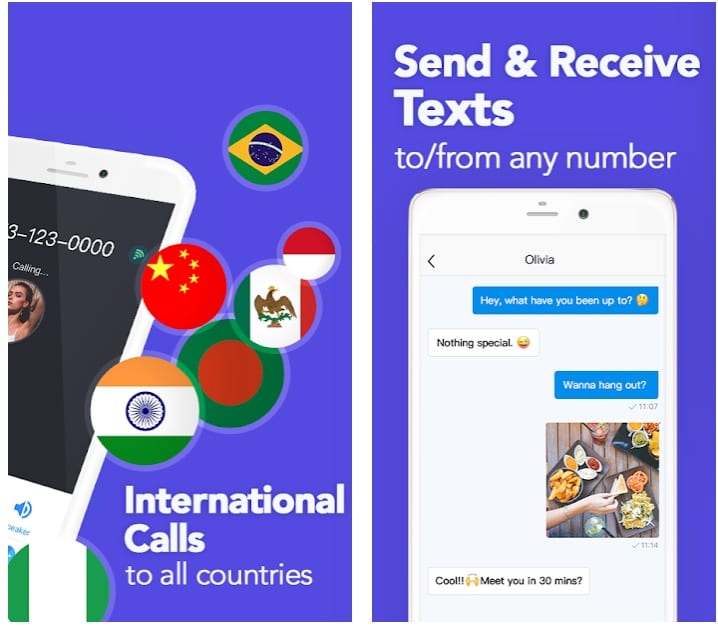 Downloads: 10000000 +
Customers rating:

(4.4 / 5)
Text Me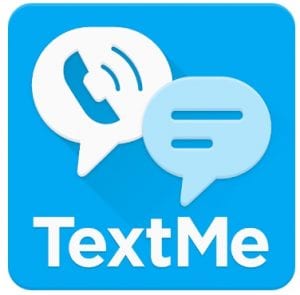 Text Me is a communication tool for Android devices that allows you to send text messages, and make VOIP calls and video conferences absolutely free. The only thing you need is an Internet connection and that your friend also uses Text Me!
The main difference between Text Me and other similar services is that it allows you to see ads on your device in order to earn credits to make real calls and send real text messages. This means you can always stay in touch with your loved ones without spending a dime.
In short, Text Me also has many features that users in general might expect. You can have group chats, send and receive photos and videos, find friends using social networks like Facebook, and much, much more. All the features you expect from a messaging service are here.
Text Me is an IM client for mobile devices so you can always be in touch with your friends and contacts. Text messages, voice calls, video conferences… everything you could want.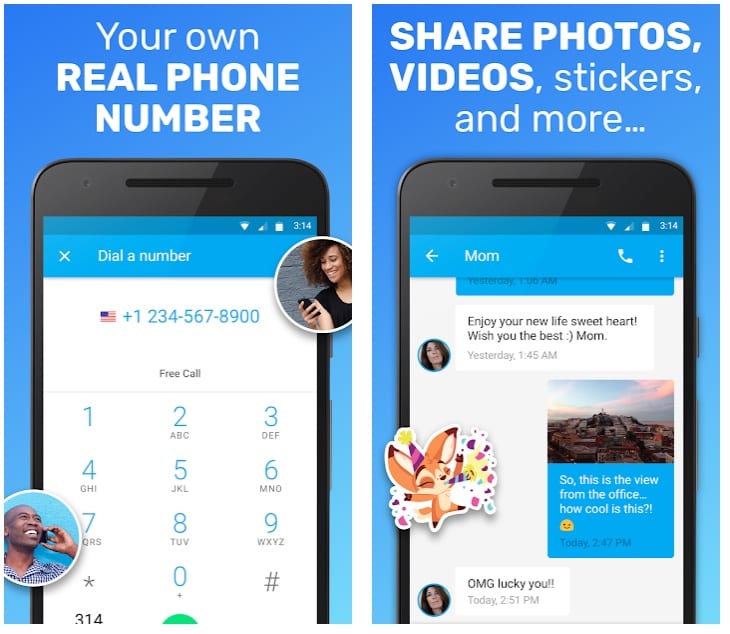 Downloads: 10000000 +
Customers rating:

(4.1 / 5)
Messenger Lite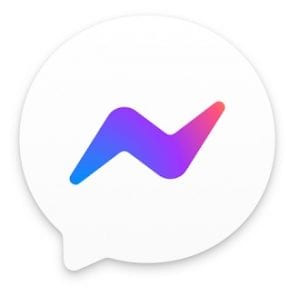 Messenger Lite: Free Calls and Messages is a lightweight and fast application for free text messaging and calling over the Internet.
Messenger Lite is a simple and compact application for comfortable communication. Messenger Lite will only take up 10 MB of your device's memory after installation. Messenger Lite is very fast to run and doesn't waste a lot of mobile traffic.
It will allow you to chat with your friends wherever you are, even if your Internet connection is not stable. Messenger Lite will show which of the contacts is currently online and available. You can write to them privately or invite them into a group chat and discuss your questions in a cheerful group.
You can liven up your communication with emoticons and stickers. Express your emotions with a single tap.
And if text communication cannot solve your question, you can call any Messenger Lite user directly from the application wherever he/she is. Call for free, even to another country. Calls via Wi-Fi are free.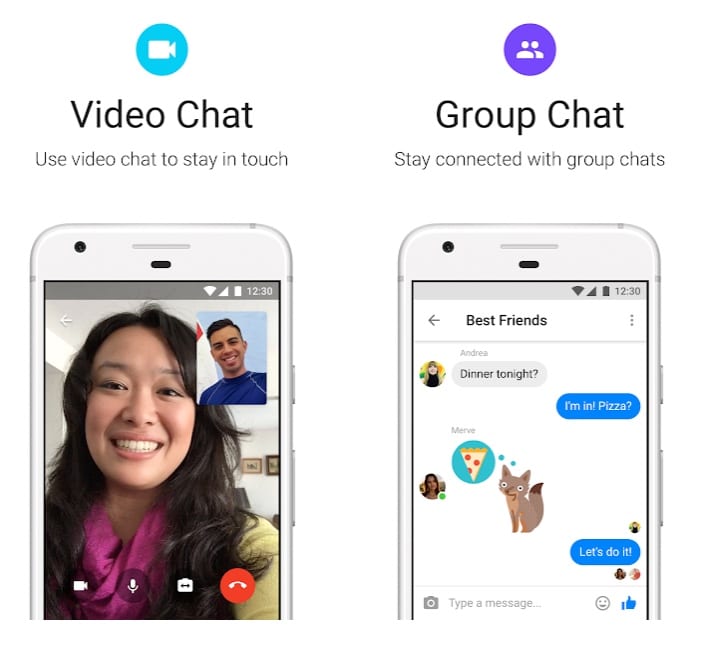 Downloads: 500000000 +
Customers rating:

(4.2 / 5)

Snapchat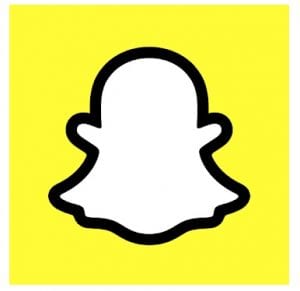 Snapchat is a social messenger with huge possibilities. If you need to share a moment, then this chat is one of the best.
Send your pictures, so-called Snaps. Let other users see what you want to say and show. Open a new chat room and communicate.
The program is distinguished from many analogs by a special mechanism of automatic file destruction. In other words, you can send a photo, which will be available for viewing for only a few seconds. According to the developers, this system allows you to safely share personal materials without the risk that the photo or video will get on the World Wide Web.
Instant texts, lots of cool stickers, and the ability to send voice ones. Enjoy happy moments with your friends, show what you're doing right now. The app has the ability to create awesome stories, and even own the first show that all people will watch.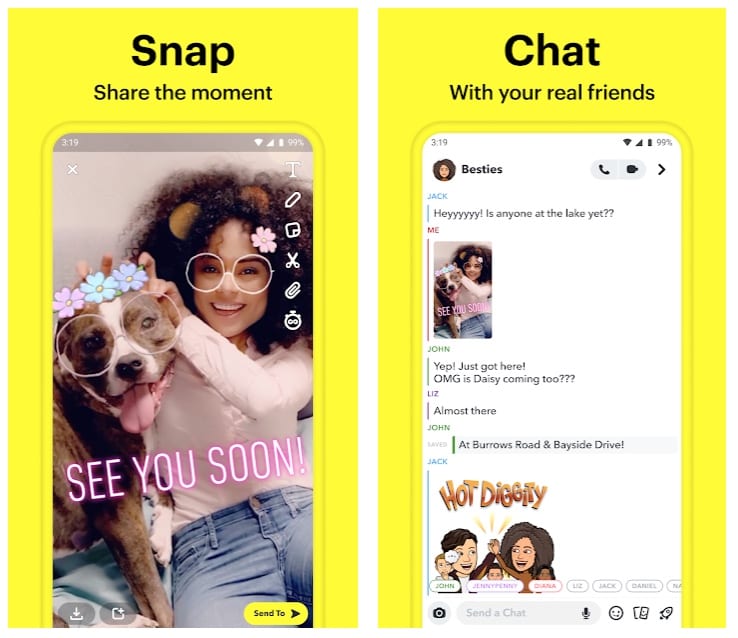 Downloads: 1000000000 +
Customers rating:

(4.3 / 5)
imo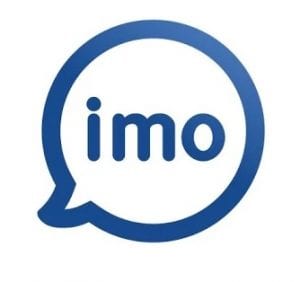 imo: Free Video Calls and Chat – join the millions of users who chat for free in text and video format with friends and family.
No more charges for SMS – the application should be used via Wi-Fi or with unlimited mobile data.
The app gives users all the features of a modern communication platform: group chats, video conferences, emoticons and stickers, the ability to transfer various files (both media files from the gallery and the contents of the SD-card), view message history, and use the chat through one account from multiple devices at once.
Features of imo instant messenger for Android:
Beautiful and pleasant to use interface;
Efficient use of RAM and battery resources;
Fast way to record and send audio-messages;
Easy exchange of any files;
Saving the history of messages and instant synchronization with online service.
There are also a couple of not so important, but very pleasing to many functions. First, the text of the last incoming message appears instead of the lock screen with the ability to respond quickly, even without unlocking the device.
Secondly, with an incoming message, the smartphone not only vibrates and sounds but also gives light signals with LED flash.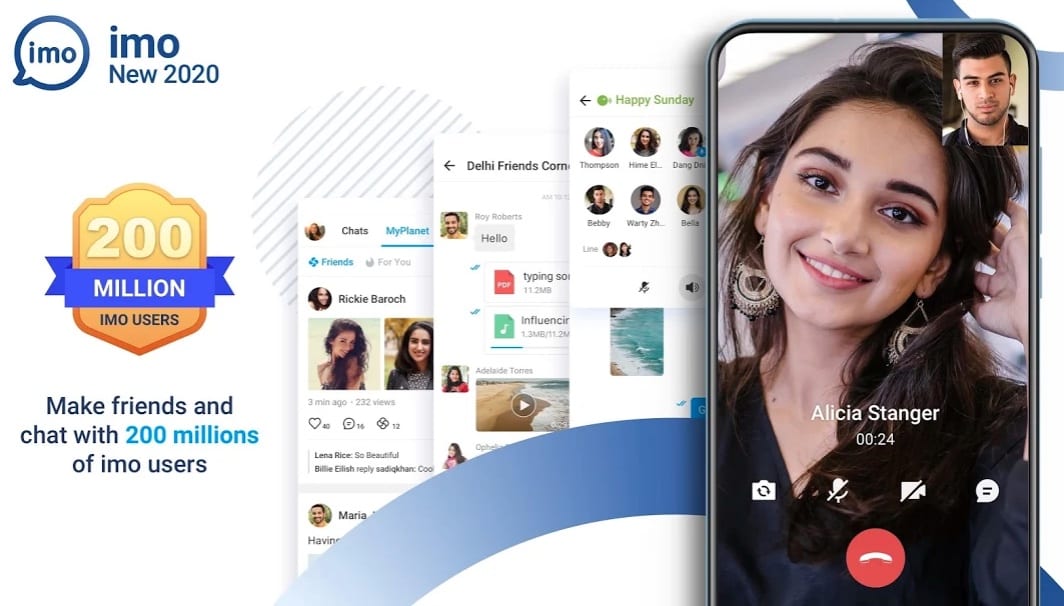 Downloads: 500000000 +
Customers rating:

(4.2 / 5)
WhatsApp Messenger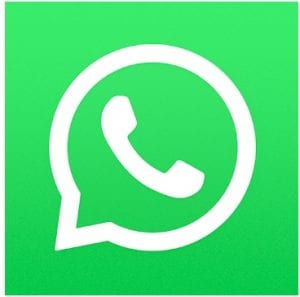 WhatsApp Messenger is one of the most popular applications for messaging and calling over the Internet.
WhatsApp Messenger allows you to communicate unlimitedly with your family and friends. It's free if you connect via Wi-Fi.
When you sign up, the app will link to your phone number and sync with your phonebook so you can immediately message anyone on your contact list who also has WhatsApp.
You can write an unlimited number of messages, send photos, audio recordings, videos. And you can call another WhatsApp contact anywhere in the world for free.
The application supports group chats, which will allow you to communicate with several friends at the same time, discuss work issues with colleagues, or study with classmates.
The program interface is customizable, you can change the font and background images to suit your mood and set them up individually for each chat.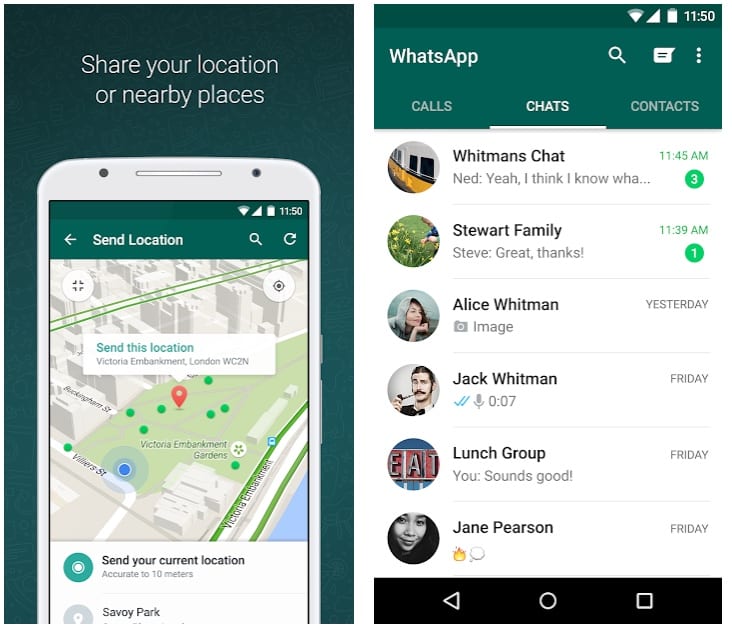 Downloads: 5000000000 +
Customers rating:

(4.3 / 5)
Kik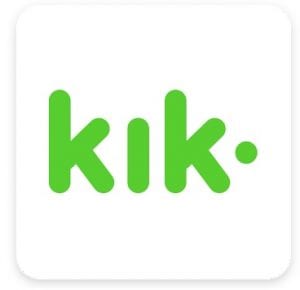 Communicate the way you want to with Kik.
Kik is an interesting alternative to Whatsapp, which comes with some very similar features and the same clean and simple interface.
The app comes with some interesting features, such as a notification system that confirms when one of your messages was sent, when it was received, and, most importantly, when it was viewed by the recipient.
No phone numbers, just usernames.
Filters that let you choose who to chat with.
Memes, funny pictures, celebrity news, videos, gifs… Share what you like.
Create an open group chat up to 50 people just by adding the #hashtag. Or create a closed group.
Millions of people use Kik to connect with friends, whether they're meeting them at school, on a social media app, or in an online game. Just ask, "What's your thing?"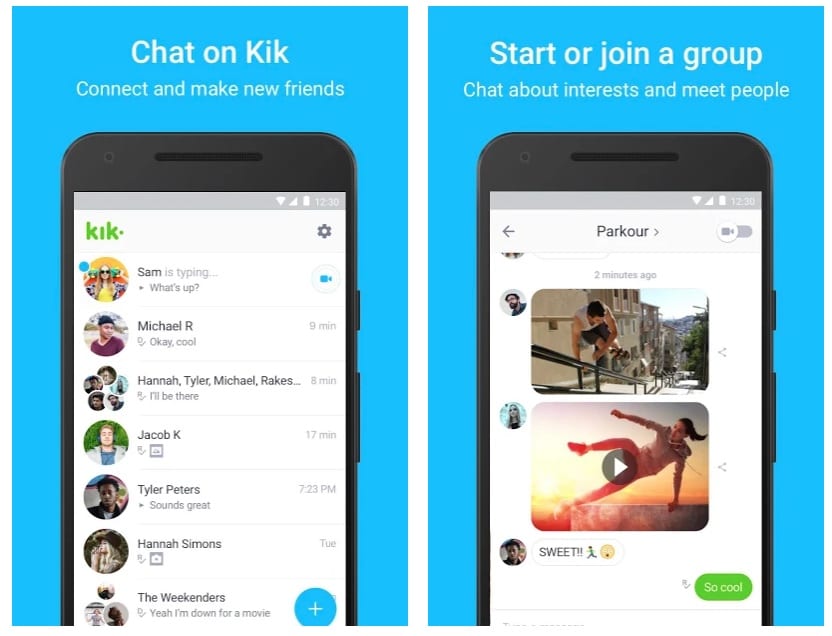 Downloads: 100000000 +
Customers rating:

(4 / 5)
BiP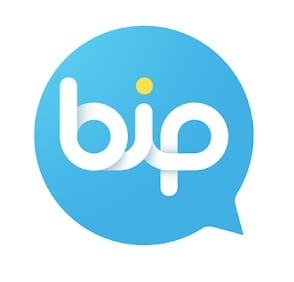 BiP is a messenger that is used all over the world. BiP has more possibilities for communication than traditional GSM operators offer. Why? Because BiP has many features for anyone and everyone.
In BiP, you can exchange instant messages with your friends, share photos, videos, and location. You can create groups and add friends to them. Have a friend who doesn't use BiP? Not a problem! You'll be able to send him a free SMS or Email message. How's that? Great, isn't it?
With the Follow me function, you can always know where your friends are right now. You can share your location with multiple users at once and also track the movements of multiple friends. It's really cool!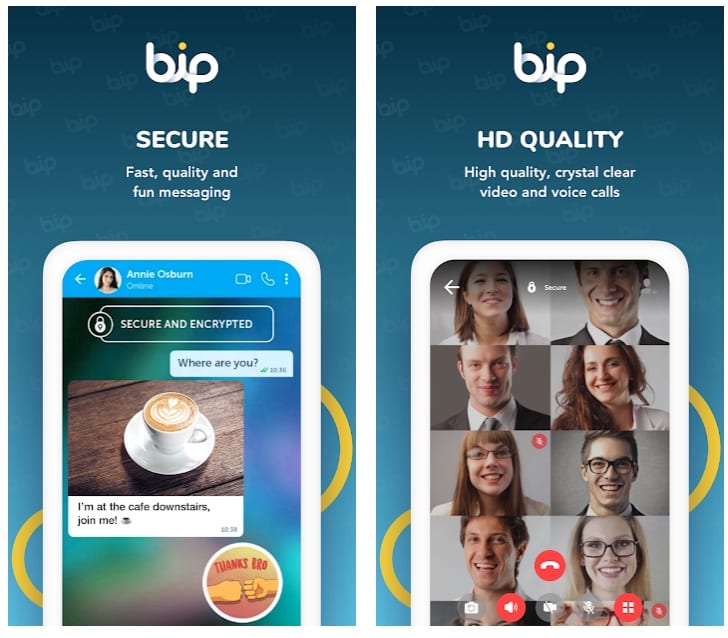 What's more, BiP has an Overview section that contains channels with different and interesting information for you. The overview offers entertainment content making your life easier: sports channels, news, online services, and more.
BiP has a Disappearing Message: you can send a message that disappears after a specified time. It's reliable and secure, test it out and appreciate how great the idea is.
All features of the app are free, video and audio calls are of high quality. For example, if you are in Germany and your friend is in Turkey and he doesn't use the program, you can call him as if you were in the same city.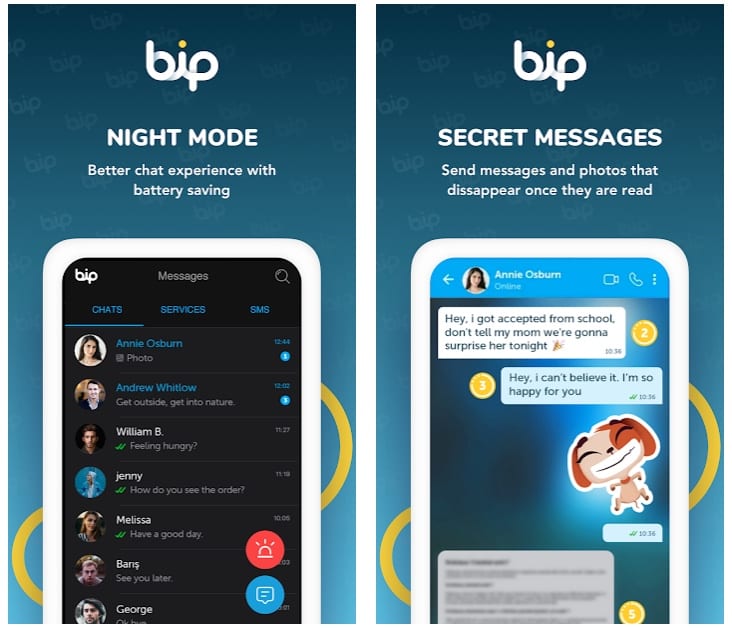 Downloads: 10000000 +
Customers rating:

(4.4 / 5)
Messenger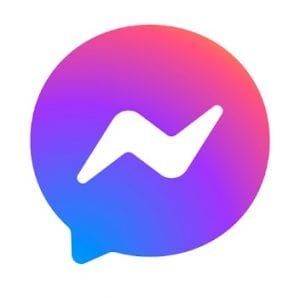 Messenger: Text and Video Chat for Free – always stay in touch with friends and family! This free messenger for Android smartphones and tablets will help.
You can communicate not only with your Facebook friends – send messages to contacts on your phone or just enter your friend's number.
Create group chats and invite people you chat with frequently. Set a name for your chat and add a photo to it in a few taps.
You don't need to go to the gallery to send photos and videos – you can upload them directly through the app interface, or take a new picture through the built-in camera.
The app allows you to communicate for free in its internal network. Calls are made through a Wi-Fi connection, 2G,3G, etc.
Now you have even more possibilities! Add stickers to messages, attach photos and videos, record voice messages, and much more. If your emotions can't be expressed in words, just press the record button. Say, sing, show, or shout to the person what you are thinking and send the message.
To stay in touch, you no longer need to install multiple apps. Use one app for both SMS and Messenger messages.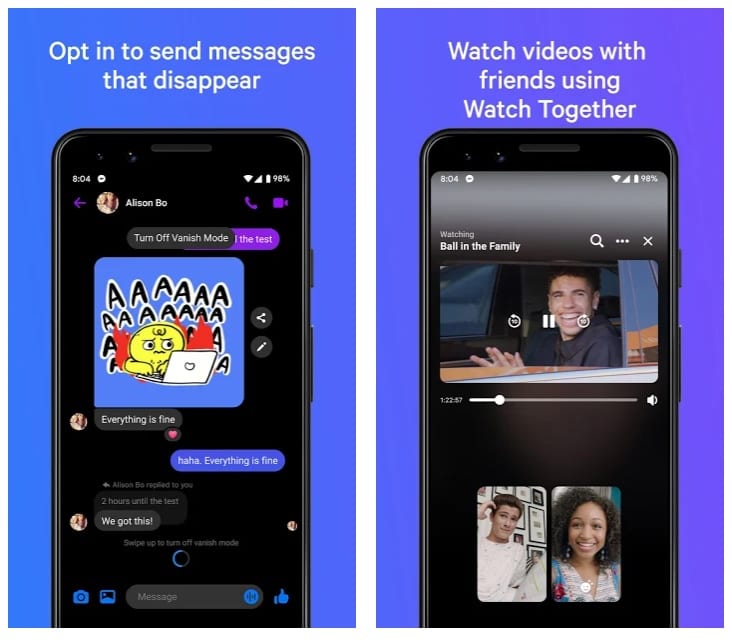 Downloads: 1000000000 +
Customers rating:

(4.2 / 5)
Viber Messenger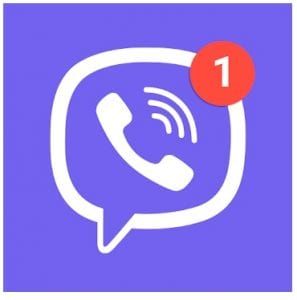 The modern application has been downloaded more than a dozen million times. Users leave positive reviews and enjoy working in the program.
Stop wasting money on messages, photos, or music. Decorate texts with stickers or emoji, express feelings, and attitudes with sincere illustrations. By downloading Viber, you'll be able to call your friend in another country. You will always be able to show and tell how you are doing.
After downloading, the program will automatically show a list of your contacts who are already using the platform. Click on the friend icon, or enter your phone number to add a new contact. Have fun, call from any device, or send photos and videos online.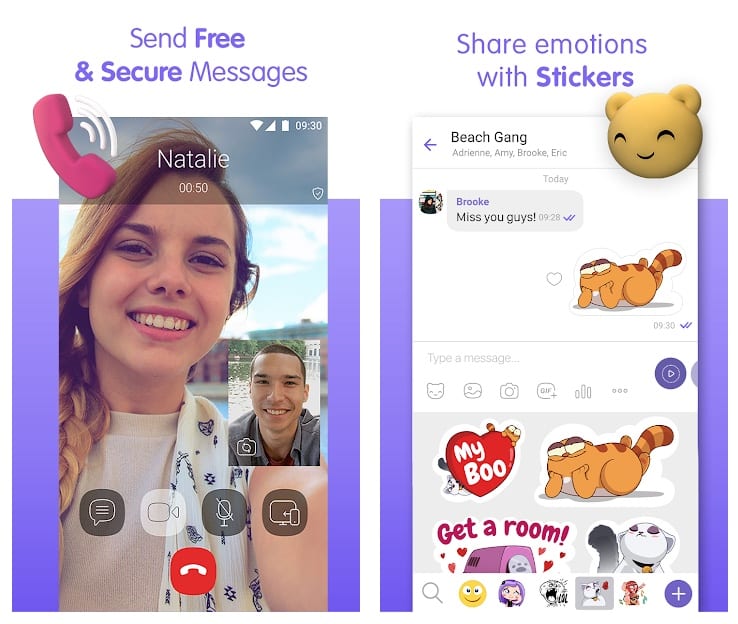 Add users and create your own groups with up to 250 people. Shared chat lets you discuss important issues among colleagues or friends. You can customize its appearance, your information, or your avatar.
Include a video in your message, or record online (no more than 30 seconds). Each contact must be verified by you – you can block and not communicate with that caller.
Use a large database of stickers, download free ones, or find unique ones for a small fee. You'll love the feature to remove a message from a conversation even if a friend has already read it. Hide a special chat for privacy or play mini Viber games.
You have the ability to contact the administration of the community or your favorite brand directly in public accounts.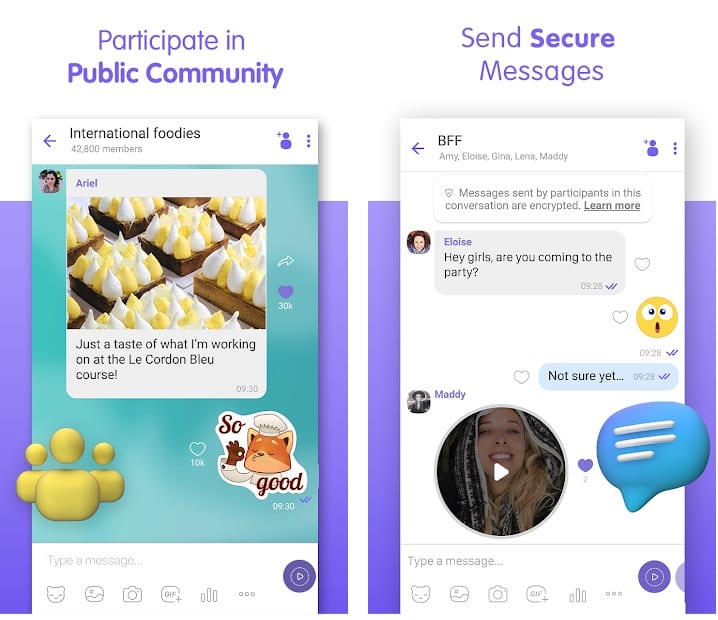 Downloads: 500000000 +
Customers rating:

(4.4 / 5)
Skype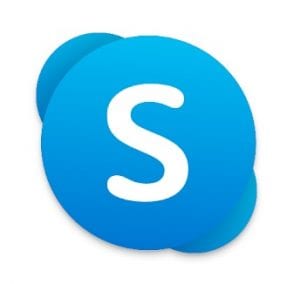 Skype: Free IM and Video Calls – use the updated Android version of the world-famous app for free communication. Keep in touch with your friends anywhere in the world!
Now communication is even more pleasant. Don't limit yourself to text and video calls – share your photos, send voice messages, videos, and more. Schedule business meetings or get-togethers in group chats.
The fast recording feature helps you save important moments in your life: just swipe your finger on the screen and you're in photo or video mode. See what happens, add stickers, emoticons, and even an annotation.
Share special moments with friends using the new Moments system. Save and share them, add emoji, and see your friends' Moments (available for 7 days for your followers).
Chatting in the app is completely free. Enjoy the best app for communication which is completely redesigned.
Already have it on your device? You don't have to delete anything – just run the update.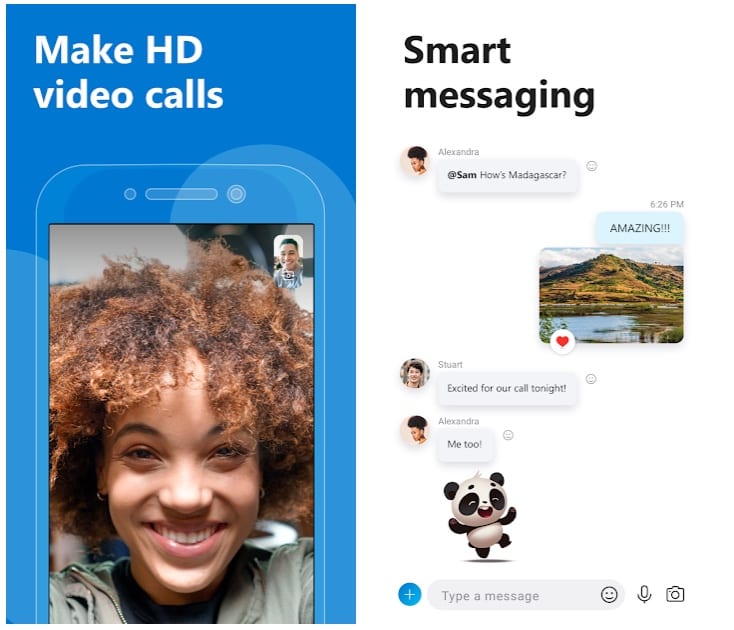 Downloads: 1000000000 +
Customers rating:

(4.3 / 5)
WeChat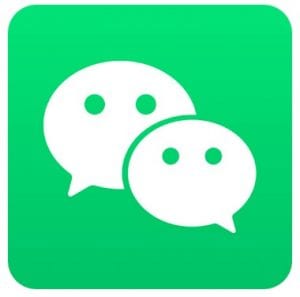 WeChat is a communication tool that helps you stay in contact with any other user of the same app. You can send individual or group text messages, photos, videos, voice messages, your location information (GPS), and even make HD video calls.
Before you start using the app, as with other similar services, you must connect your phone number to a personal account – a process that only takes a couple of minutes. Once you do that, you'll be able to see a complete list of friends who use WeChat.
All of your WeChat conversations will be stored on your device in "offline mode." This means that only you can access them from your cell phone, and no one else.
WeChat is an alternative way of communicating, offering its users the ability to start chatting with each other immediately. Like other types of similar apps, it has an inherent comfort.
The functionality of the application is between a messenger and a social network. At the same time, you can use it only as a text messaging tool, ignoring third-party participants.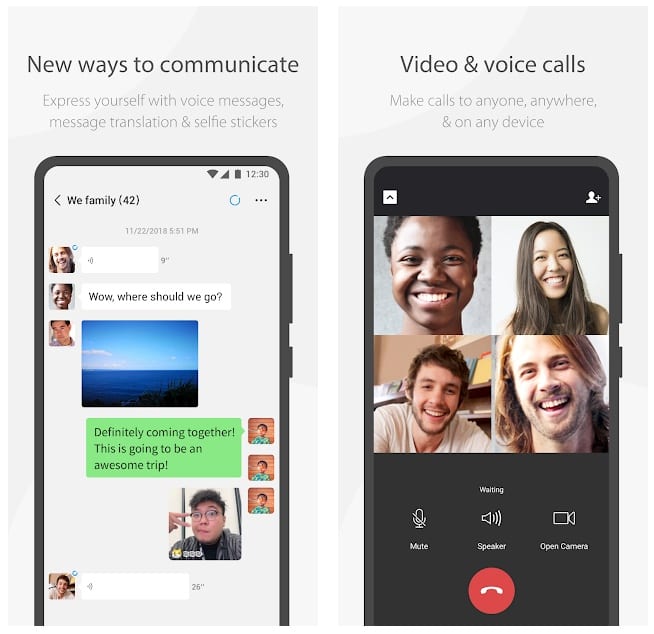 Downloads: 100000000 +
Customers rating:

(3.6 / 5)
KakaoTalk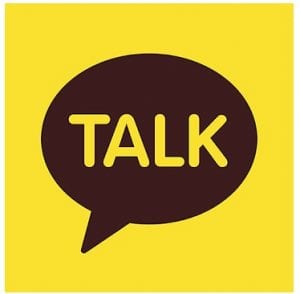 KakaoTalk is a social messenger ready to bring variety to communication between users anywhere in the world.
Before launching, turn on location detection to quickly find your friends. You can send messages not only with text, but with different files, and you can do it absolutely free.
Hundreds of millions of users have chosen this program and they don't regret it. Instantly exchange messages with other users, chat for free, don't be afraid to express your emotions with emoticons, and send voice messages.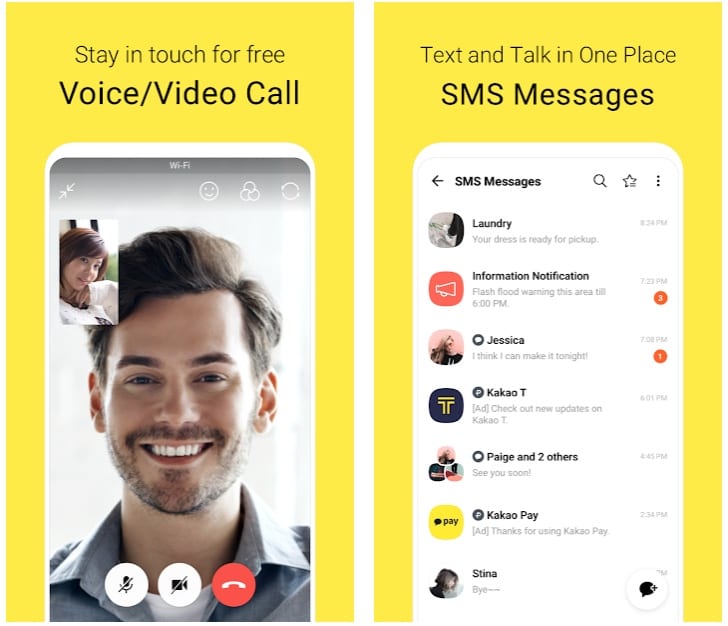 Downloads: 100000000 +
Customers rating:

(4.1 / 5)
You may also like: 8 Best Apps to Change Message Background on Android
Tango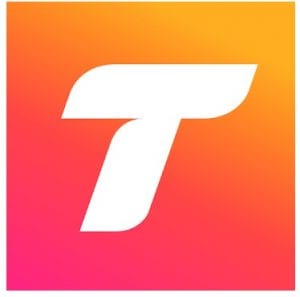 Tango: Free Video Call and Chat – exchange messages and video calls for free. Become a member of the large Tango community!
This is the best app for video calls. It works equally well on phones and tablets, so you can always connect with loved ones or colleagues anywhere in the world. Listen to their voice, look at them, and all in good quality and for free.
Send text messages, pictures, videos, and audio texts. It's not just the ability to make a video call. You can add filters and stickers and play games with your friends during the call.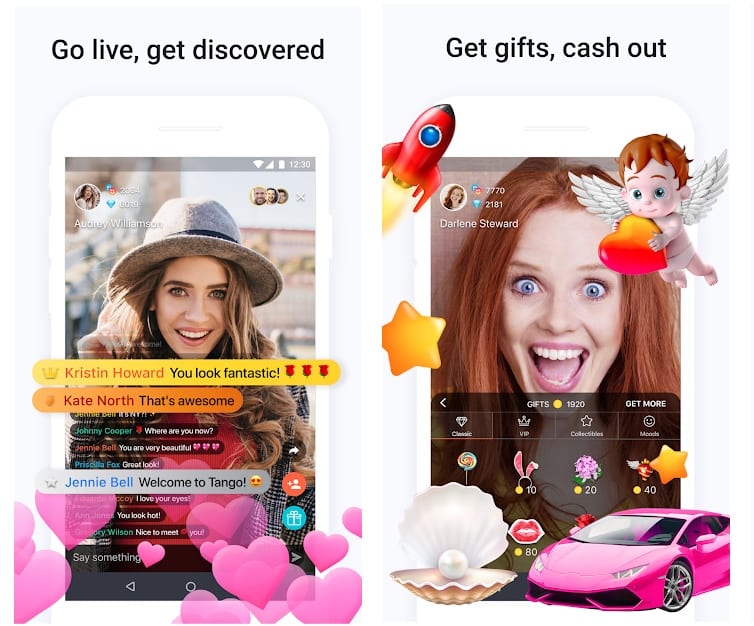 Create groups – family, roommates, relatives, colleagues – and use the app to keep in touch with the people who matter to you. And, in addition, you can become a member of a random chat on the Tango network.
Tango is an app for streamers who don't just want to text each other but to diversify their communication a bit. Today there are more than 400 million users, representing a wide variety of cities and countries. All of them know what Tango is. You can become a professional streamer and get a huge number of followers and, in addition, you can earn good money on the posted materials.
Only creative people know how to use the program properly. Have your favorite hobby? Show it to everyone and make your first money. If the content is unique, users will quickly accept it and appreciate the effort.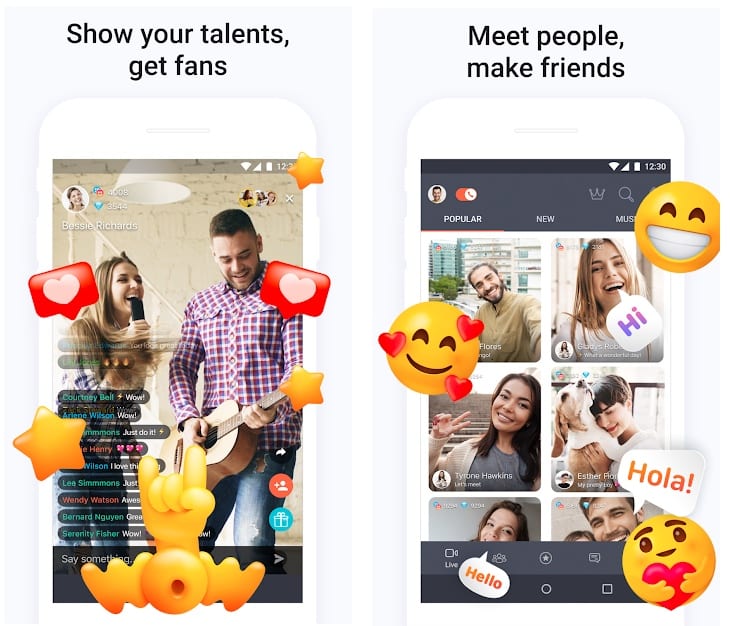 Downloads: 100000000 +
Customers rating:

(4.4 / 5)