Thousand (1000) is a fun card game that has been developed for mobile devices to support card games.
It's worth saying right away that the game is not for everyone, and perhaps some will find it boring as hell. And the thing is that the game is suitable only for adult players, who have previously played card games and understand the nature of the game.
Download 1000 (thousand) card game apps for free on Android and you will be waiting for exciting battles that you are sure to enjoy.
Thousand Card Game (1000)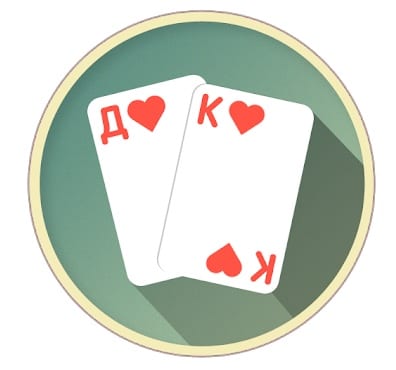 Thousand is one of the most popular card games. The rules of the game are based on another card game, Marriage, the main element of which is the so-called "marriage", i.e. a pair of cards containing a queen and a king of the same suit. Success in the game depends on the player's attention as well as correct bidding.
The aim of the game is to score a thousand (or more, depending on the arrangements) points; the first player to score 1000 wins. Each game round consists of the following set of actions: dealing cards, bidding, playing, scoring.
The game is good, develops the speed of thinking. Old-school decks, nice interface. Very convenient that you can go out and after a while come back and play.
A good way to kill time on your daily commute (if you're not driving, of course).
The Thousand card game is completely free, as long as you play with the default agreements set. If you want to adjust your agreements, you will need to buy the full version of the game.
During the game, no advertisements will be displayed and you will not see any annoying messages. Great game, all clear and simple as in reality. But the downside, the rules can not be changed in the free version.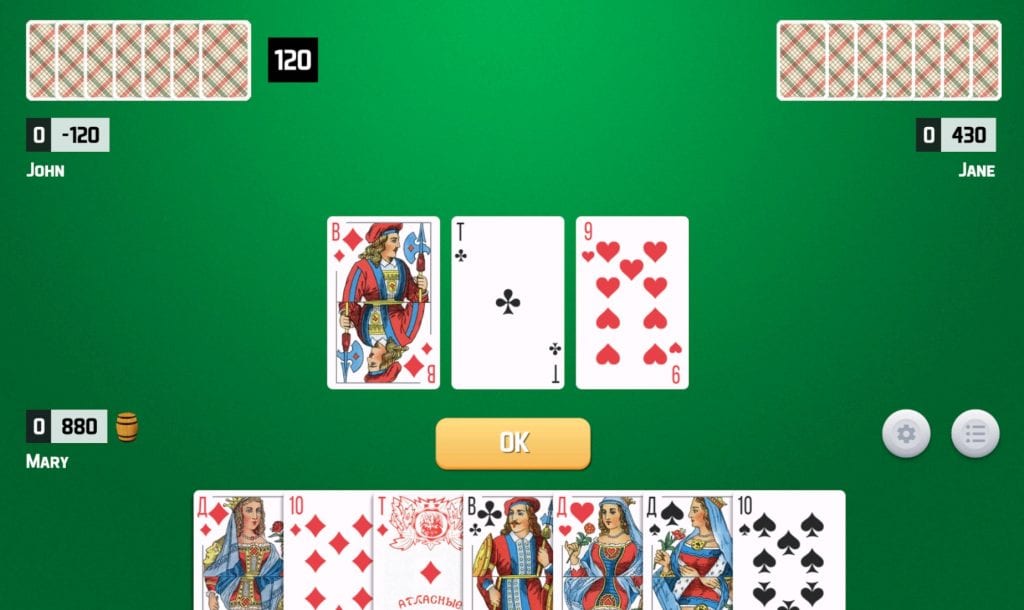 Downloads: 1000000 +
Customers rating:

(4.4 / 5)

You may also like: 17 Best crossword apps for Android
Thousand (1000) Online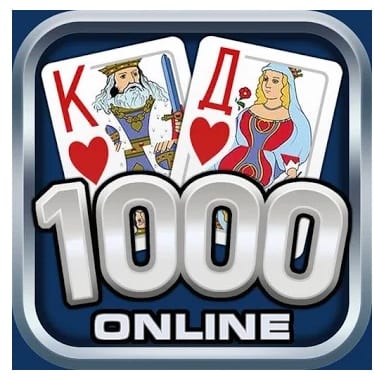 The game has a unique look that everyone will understand. It has pretty unique gameplay that will be very easy for those who have played similar games before. But if you don't know how and what to do, the game will gladly show you what and how to do in this wonderful game.
In the game, you will have the opportunity to try your hand in multiplayer mode against different players.
You can play in 2 players or 3. In three players is certainly better and more interesting. You can also create a separate table for the private game, which will be under the password.
Here you can fill out a profile page. You can set the avatar, write your motto, as well as give gifts to friends. There is a system of achievements, the full statistics of the games played, the number of wins and losses are shown.
By the way, the graphics in the game is very cool, though it's not made in 3D style, it is very well optimized for mobile devices.
Interesting features of the game:
The ability to compete against other players in multiplayer mode;
Nice look of the game, which has a very clear interface and nice graphics.
In Thousand Online, if you have a high rating you can gain access to the more professional tables where the masters play. Rankings can be obtained by winning games or by watching sponsored advertisements. Alternatively, if you don't like to wait, you can simply buy game currency for real money.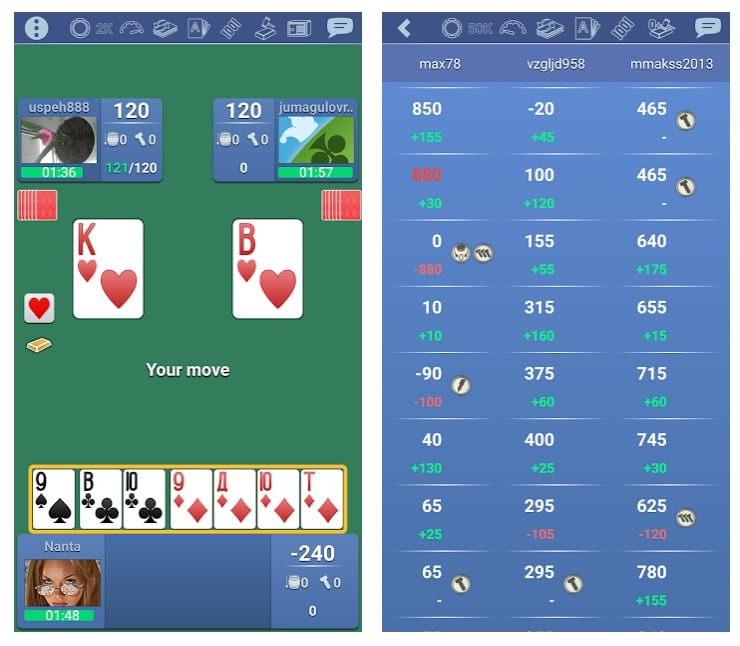 Downloads: 1000000 +
Customers rating:

(4 / 5)

Thousand LiveGames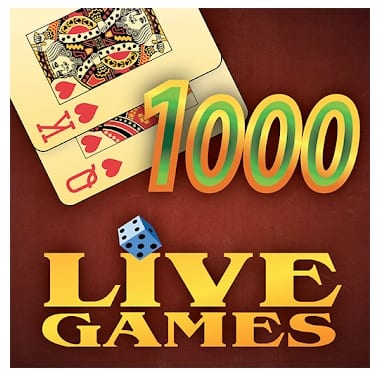 A huge number of people from all over the world are ready to join you for another game for two or three.
The action is online, it doesn't work without the internet, the game is online only. At any time of the day or night, you'll find an opponent to play with.
Think you're a cool card player? Prove it with daily card duels for 2 or 3 players. Earn a ranking and a place on the Top.
Features of Thousand LiveGames:
A game with live people only;
Free, no ads, and no brakes;
Chat, dating, gifts, and achievements;
Vertical and horizontal screen orientation.
Users like its intuitive interface, absence of intrusive advertising. There is a chat room with the players, as well as a very nice design.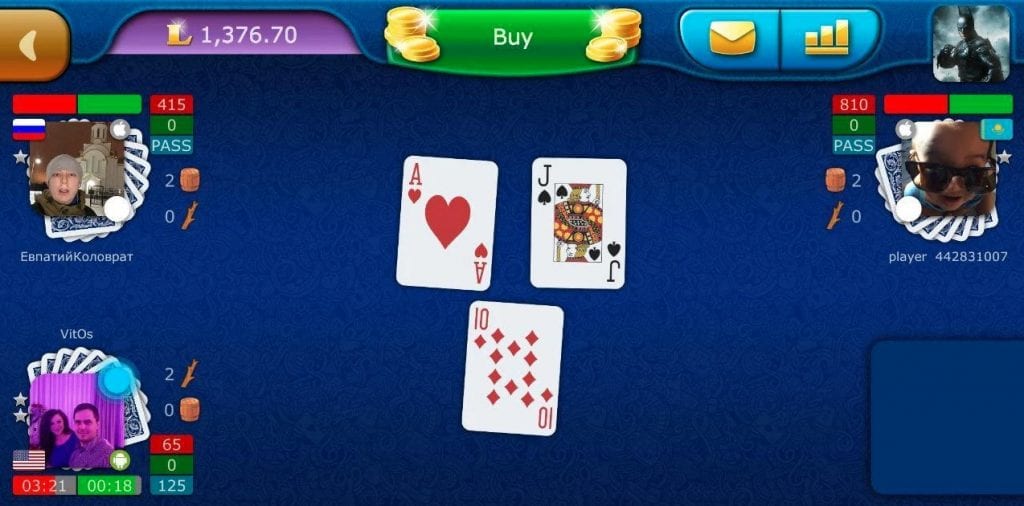 Downloads: 100000 +
Customers rating:

(4.5 / 5)

Thousand (1000)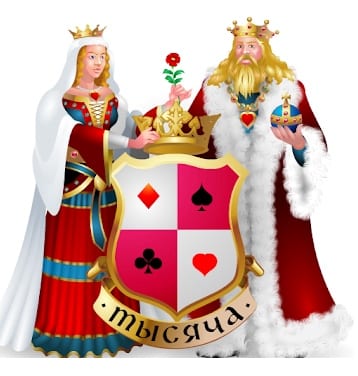 Thousand is a logic game that develops thinking and mental calculation. Of course, the real game has tricks and, to some extent, bluffing, but the electronic version is also quite good.
The ideal number of players is three, and here you are offered the company of two virtual opponents in the form of cartoon characters. The cards are arranged very conveniently on the screen.
What I want to say about the virtual opponents. They play absolutely naturally, as in a normal game. What makes the game especially close to the real thing is the way they outbid the player who needs to finish the game. It's like playing with real opponents.
The game is simple, nothing is superfluous. I also like the fact that you can play it without internet access. It's very handy when you need to occupy your time with something.
Overall, the game is excellent, comfortable, realistic. The graphics are clear and bright.
I recommend it for your leisure time, although it's unlikely to keep you busy for long.
Another plus is the weight of the game. Does not take up space on your phone, but in your spare time, you can always have a good time. In general, all lovers of card games recommend trying this wonderful game!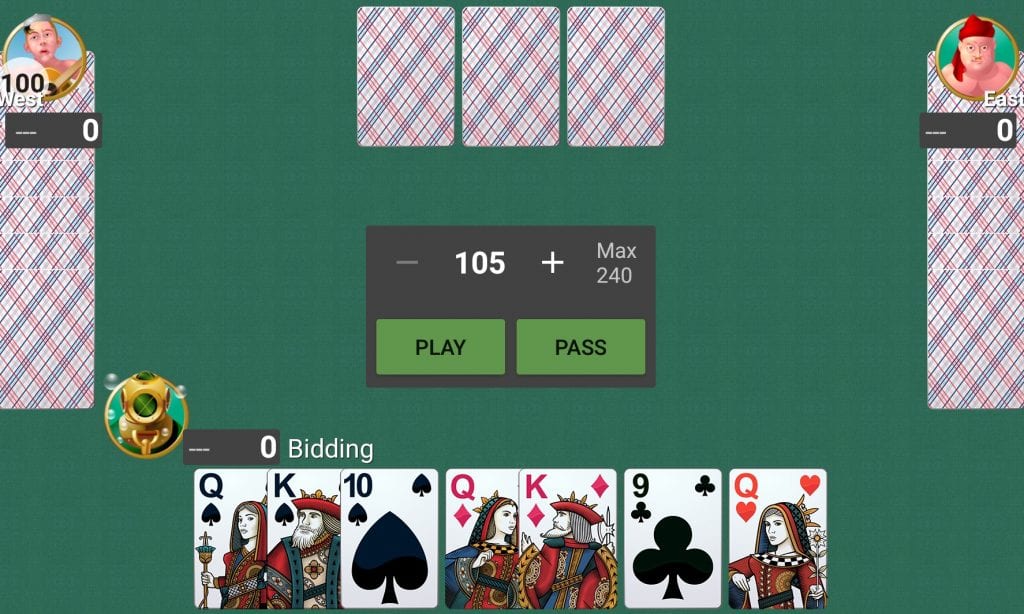 Downloads: 1000000 +
Customers rating:

(4.2 / 5)

You may also like: 11 Best Boggle Multiplayer Games for Android 2021
Thousand (1000) by VG MobileGames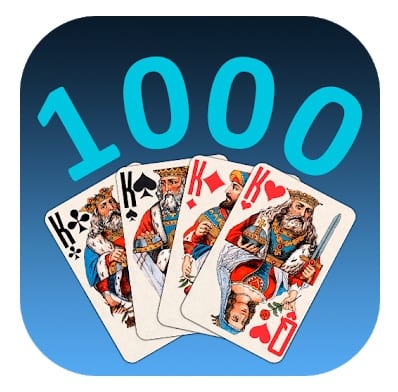 Pretty interesting and fun game for a smartphone. Stability is good, it doesn't slow down, even on weak devices. This app has 100% recreated the card game. The developers are great, they did a very good job.
All versions of the app use Android's built-in random number generator to distribute cards. This generator is used in all phases and difficulty levels of the game. Cards are always dealt randomly to all players.
But some players do complain about the very weak artificial intelligence! And on difficulty levels, they simply stop handing out normal cards!
This game is great for anyone who wants to nostalgic card game 1000, have some fun, relax after (or during) work, or just kill some free time.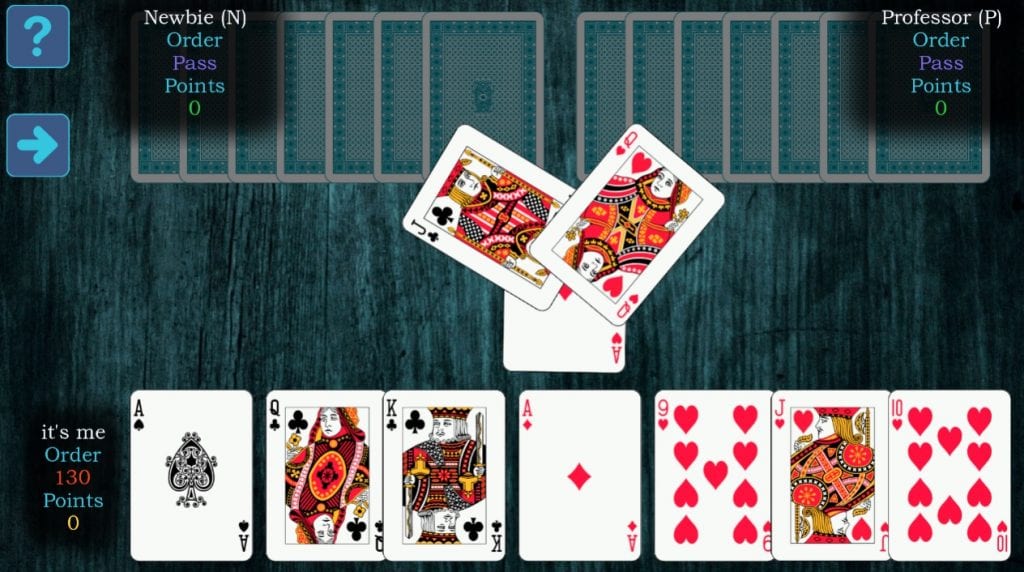 Downloads: 100000 +
Customers rating:

(4.1 / 5)