The reasons for creating fake conversations can be different, sometimes even inadequate (no offense). Maybe you're just a funny person and like to joke with your Instagram followers in this way, maybe you're just bored with life.
To create fake Instagram direct messages you can use these Android applications:
iFake
A simple application purely for creating dialogs between two or more people.
The dialogue style can be selected in the additional "Go to styles" settings tab. In addition to Instagram, there is also Twitter, Tinder, WhatsApp, and other social networks. There you can also add participants to the chat or delete all messages.
If you click on the message cloud, you can make a swap, change the message, copy, delete or add time. Everything is simple and convenient.
The theme of the app can be changed to dark for convenience. The application is easy to use and what is remarkable without advertising.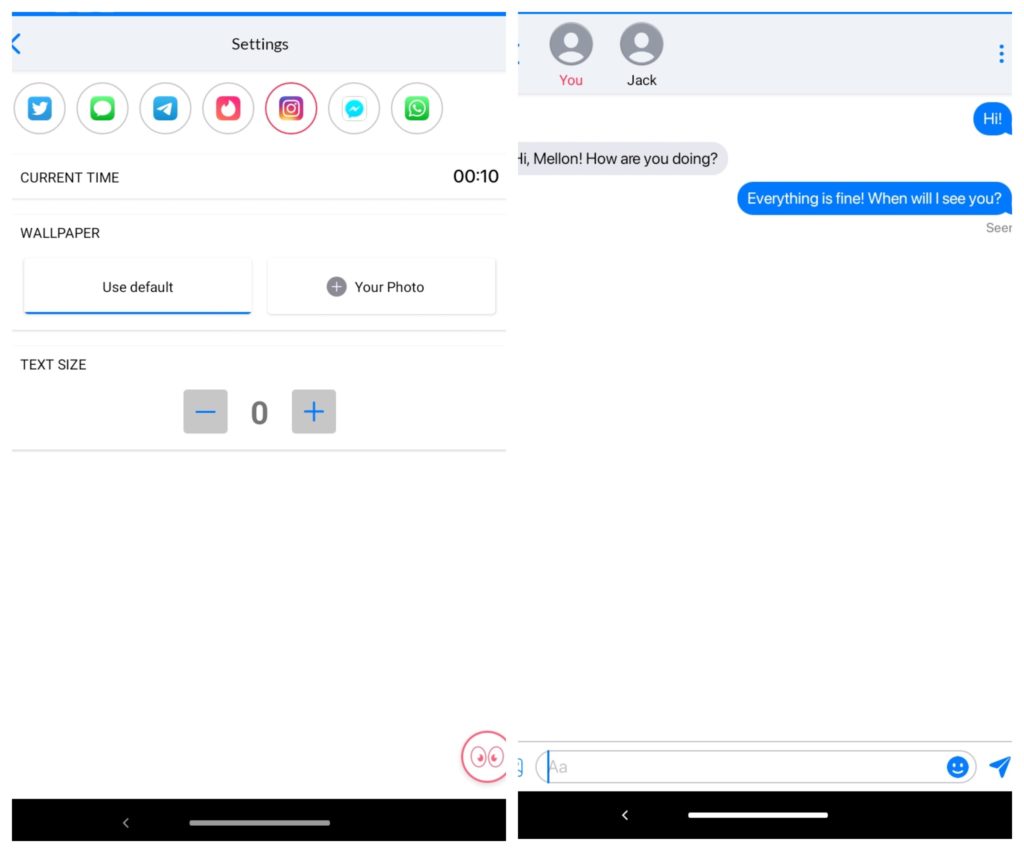 Downloads: 100000 +
Customers rating:

(4.6 / 5)

You may also like: 6 Best Instagram Private Profile Viewer Apps for Android
Funsta
Funsta is a fun application that allows you to create fake conversations, messages, posts and comments on the social network Instagram. This tool is not recommended for blackmail purposes, but it's great for pranks and creating memes.
Funsta boasts the following features:
adding posts, likes, and replies to comments;
creating fake pages with all the design and history of posts;
publishing fake stories with photos and videos;
fake group members and profile followers;
creation of correspondence on behalf of both chat participants or all members of the group conversation;
inserting photos, videos, stickers, and reposts into conversations;
function "Share" with friends through other chats;
program automatic replies on a schedule or as needed.
So, to create a fake chat make a profile of the interlocutor. It's easy enough. Add a photo, come up with a name and nickname, and indicate the number of posts and followers of the person. And the profile looks quite real!
In chat, you can change the date you send a message, which is handy. Just tap on the date that is specified and change it. It's also possible to change the delivery status, and edit Likes. All of these features are available when you click on the message itself. Here, you can also edit the message itself and change the sender (you or your friend). Creating group chats is also available.
The app is essentially one of the most user-friendly on our list that offers the most features.
Sometimes ads pop up, which can be annoying.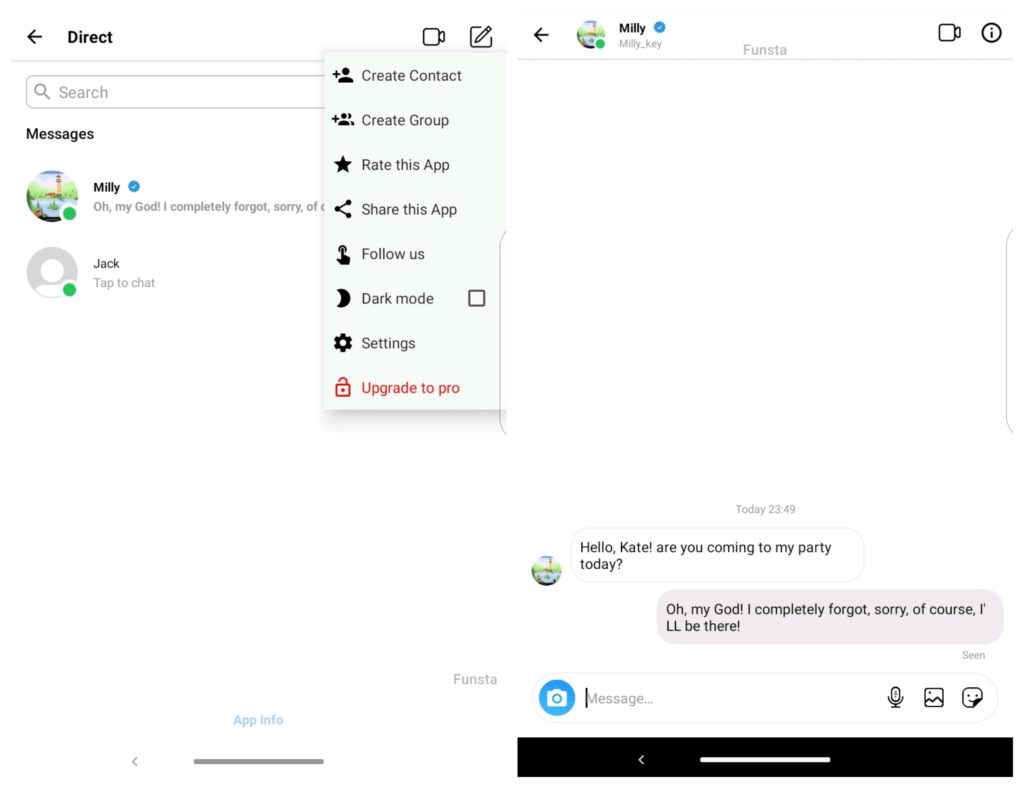 Downloads: 10000000 +
Customers rating:

(4.7 / 5)

Fake Chat Post Inta Maker
The Fake Chat Post Inta Maker program will allow you to create an indistinguishable screenshot of a conversation or post on the social network. You can enter messages, add photos, fake comments, reposts, likes, and so on with a variable editor.
Create a fake profile with all the details for plausibility. Add name and username, number of followers, posts, and other information. No one will think it's a hoax. It's indistinguishable from the real thing. And now you can chat! Click send, receive and your chat is ready.
Your profile is also desirable to prepare and make it like a real one. Then there will not be any questions.
The application boasts the absence of advertising, which is nice to use. And it also looks like a real Instagram.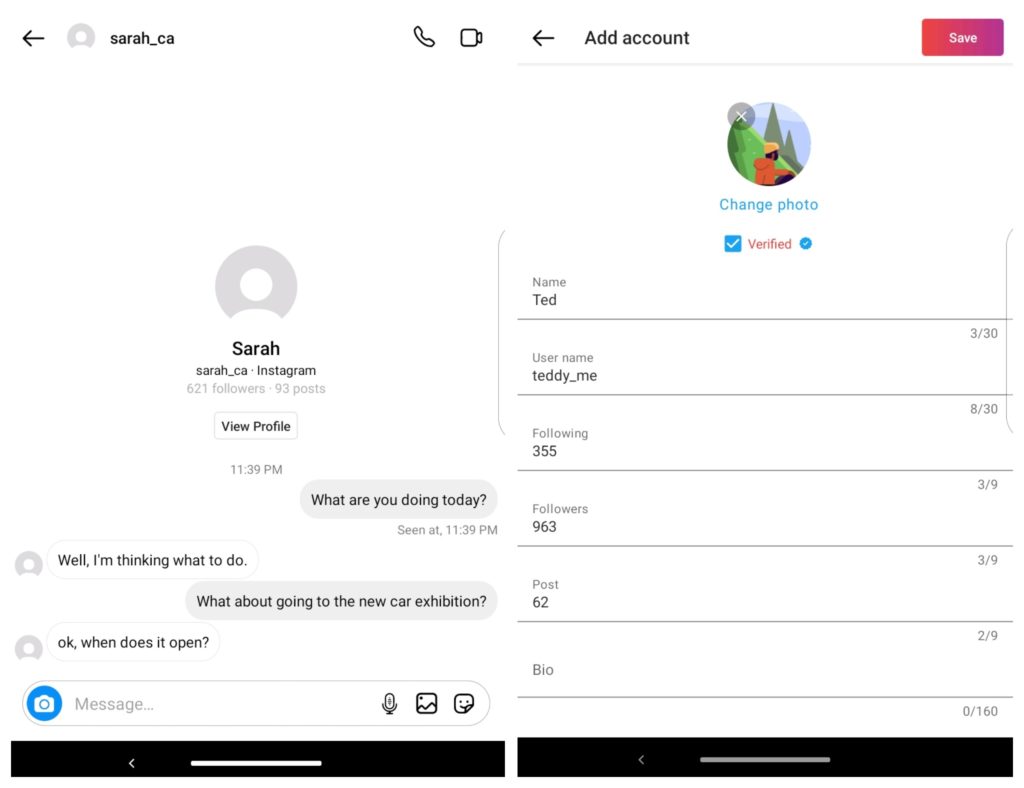 Downloads: 50000 +
Customers rating:

(4.3 / 5)

Prank Post, Chat & Direct Message – LOL Stories
Fake chat is quite easy to create. Everything is designed the same way as on Instagram. Go to direct and start chatting with an imaginary friend. And then prank whoever you want.
The message can be edited by clicking on it. You can also change the addressee by ticking Send or Receive. You can also like the message by clicking on it. Only choose who likes it: you or your friend.
You can also set the time of delivery and sending of the message. Clicking on the sending date will open a calendar where you can make changes.
You can change the profile of the interlocutor by clicking on the corresponding icon. Add name and user name, photo from your gallery, set verified user or not, online status, etc. The profile will look like a real one.
Create group chats for the sake of pranking. You can give the chat a name and add participants with real names and profile pictures. It all looks pretty realistic!
Here you can not only create a fake chat but also add posts and stories.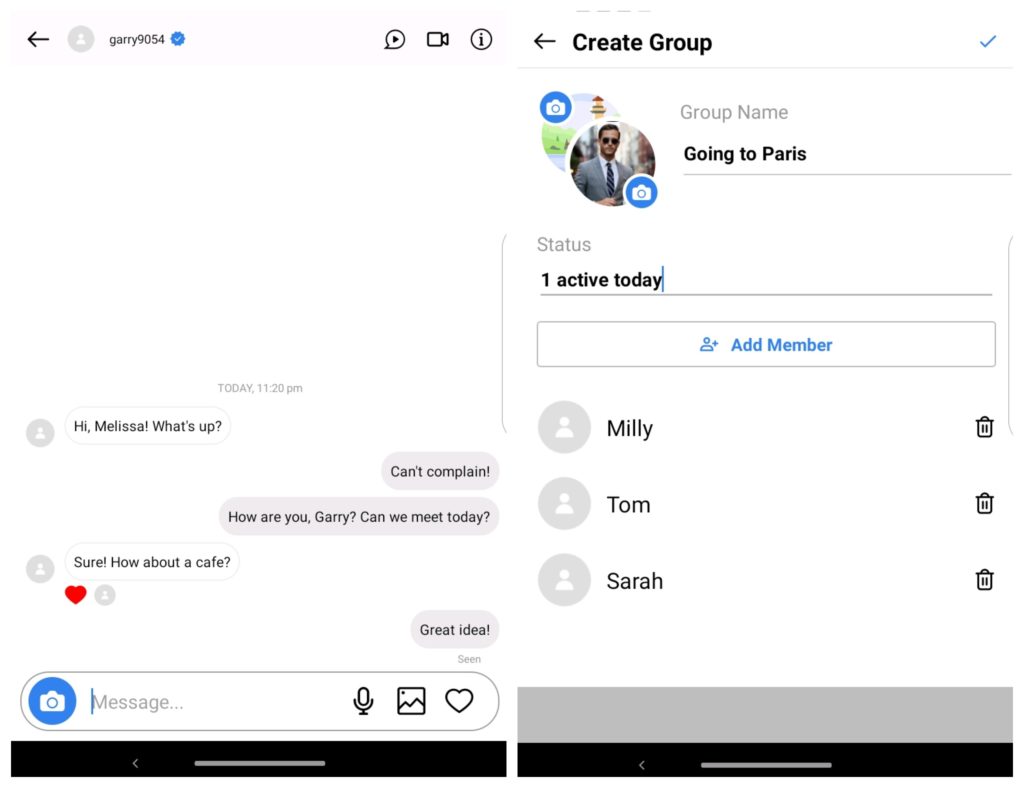 Downloads: 10000 +
Customers rating:

(4.8 / 5)

Fake chat
Here you can create fake chats with anybody. Just create a profile and start chatting. Then, the conversation can be shared with anybody whom you want to prank. It's possible to create group chats.
To be more convincing, you will need to edit your profile by adding your user name and photo like on Instagram. Also, include the number of followers and following.
If you want to convince your friends that you are communicating with a real star, then add authentication status as well.
The good thing about the app is that there are no annoying ads. You may only be asked to rate the app. The app really deserves to be on the list because it fulfills its main function. There is nothing superfluous, everything is simple and understandable.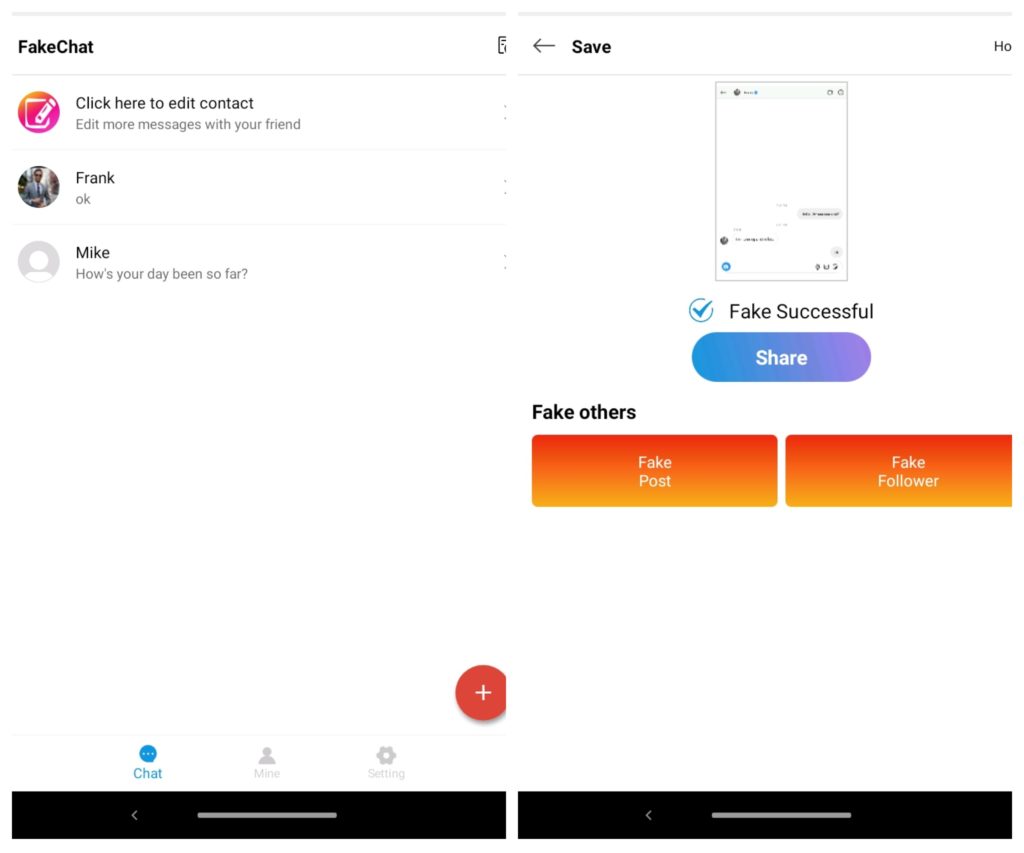 Downloads: 10000 +
Customers rating:

(3.7 / 5)

You may also like: 9 Free apps to download videos from Instagram
Fauxy App
Create multiple profiles and conversations and prank your friends easily!
You can create a profile of the interlocutor yourself. Choose a name and photo, a number of followers, verified user or not, the number of posts, etc. It will be impossible not to believe as the profile looks like a real one!
Next, write any dialogue between you and the other person. Fake correspondence looks a lot like Instagram correspondence. An inexperienced and gullible user could easily fall for such a hoax.
You can change the addressee while typing by changing the direction of the blue arrow. The message can be deleted by clicking on it.
Here you can create the appearance of having reacted to the interlocutor's story or vice versa. Or you can pretend to comment on stories. But you will have to choose the story from your phone's gallery.
The application will not be annoyed by intrusive advertising. Its functions are excellent. So, I can confidently recommend trying it.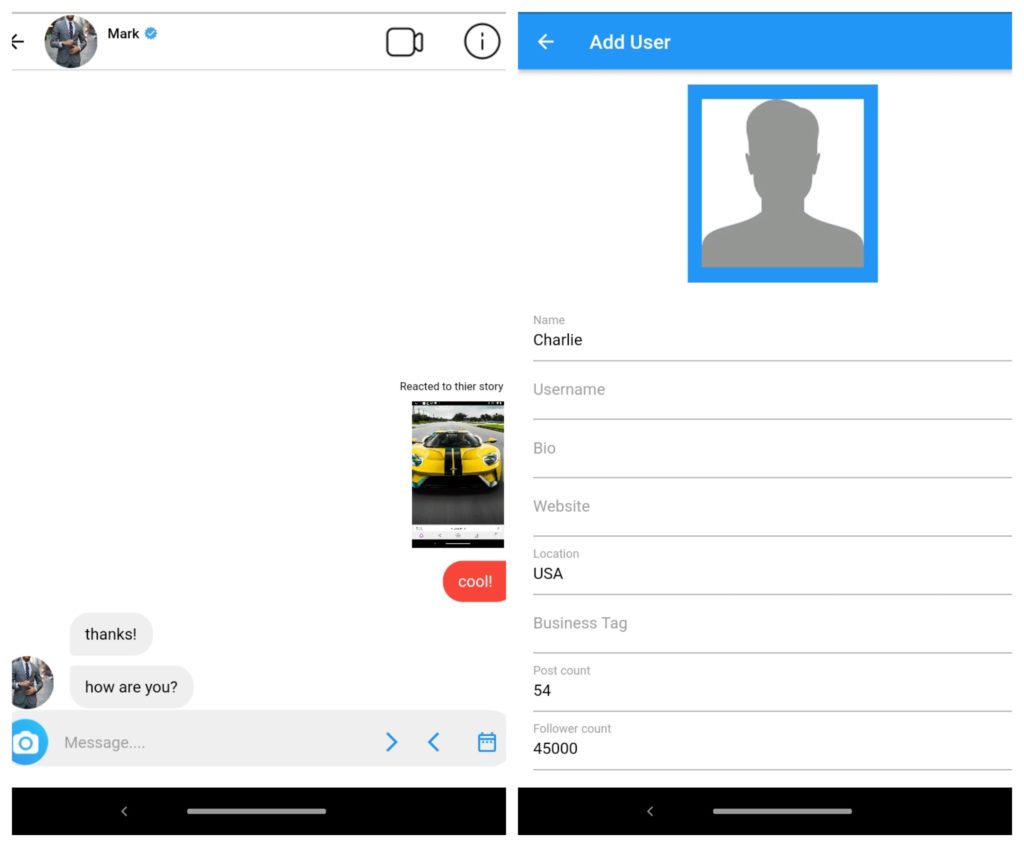 Downloads: 50000 +
Customers rating:

(3.4 / 5)

Fake Insta
You can make a fake correspondence on Instagram on Android with the help of the application Fake Insta. The program has a concise interface and is very easy to use.
The app helps to create fake Instagram posts, add fake comments and likes to your fake Instagram post.
You can easily create screens for fake Instagram conversations and edit every detail on the screen. This screen will be realistic, so you can easily prank your friends.
It's just a matter of writing a couple of messages and putting the phrases into the dialogue.
The correspondence is ready, an inexperienced user can fall for such a "prank" because the fake one is not much different from the Instagram one.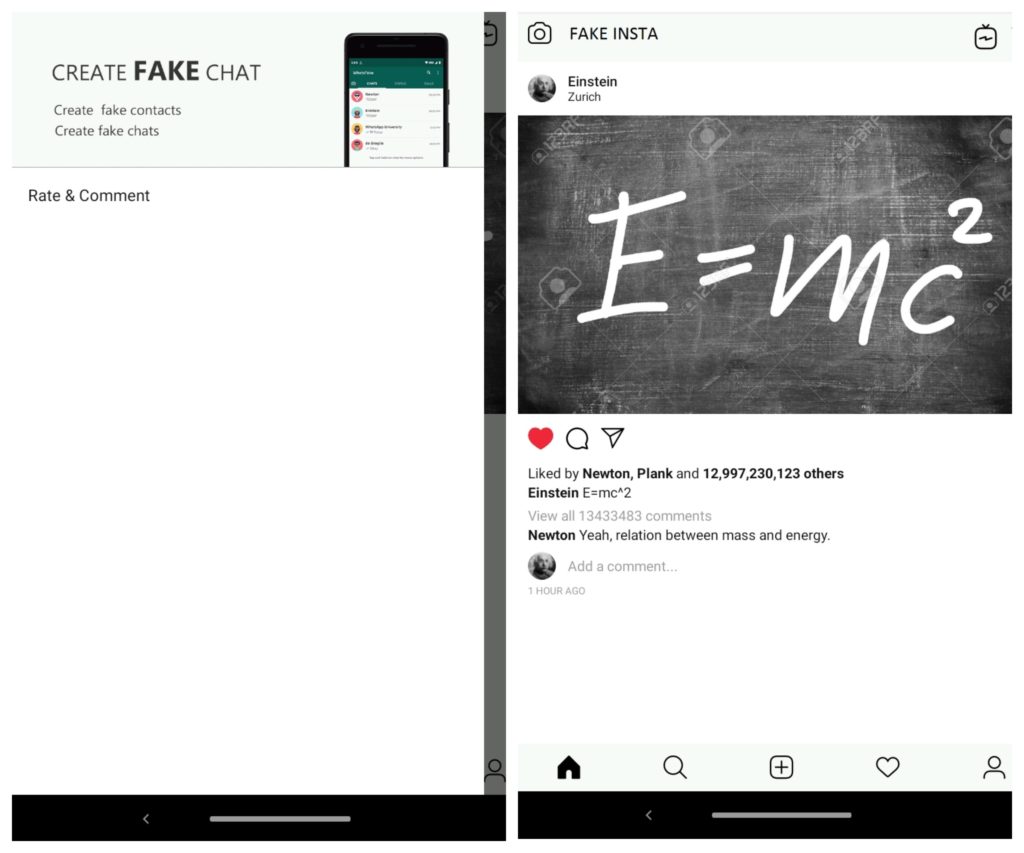 Downloads: 100000 +
Customers rating:

(3.1 / 5)

InstPrank – Prank Chat 2022
Quite a handy and cool application for creating prank chats.
When you add a new chat, the interlocutor is assigned automatically (the name is already selected). Of course, you can change it. Click on the profile icon and make all necessary changes. Add Name and Surname, profile photo, verified user or not, has a history or not, it's online or not.
To make the chat more realistic, you can change the date of each message. Just tap on the date and change it in the calendar window.
The messages also can be edited by tapping on them. By default, two lines are added to the chat automatically. So, you can change them as you wish and continue the dialogue.
You can insert likes to messages as in real chats. For this, it's better to add a photo to your profile. Then, click on the message you want to put a "like" and choose "Insert like".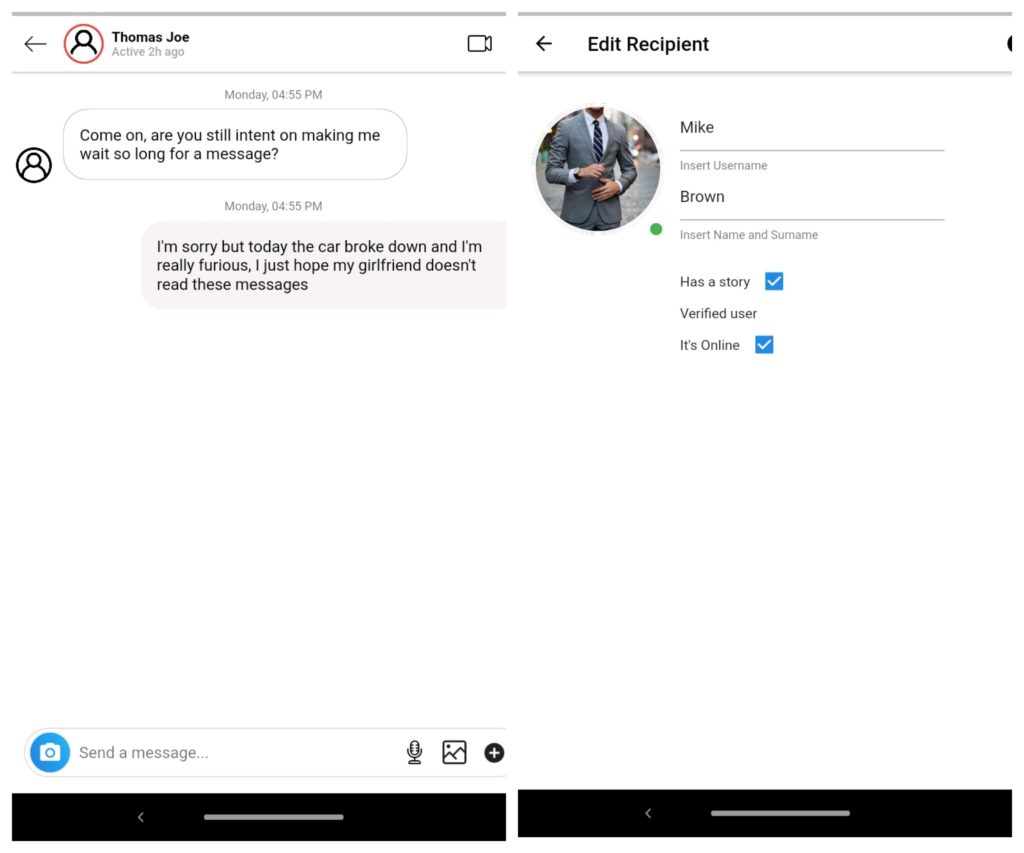 Downloads: 10000 +
Customers rating:

(4.8 / 5)

You may also like: Get more instagram likes with these apps (19 best apps)
Fake Chat – Insta Direct Message
Fake Chat – Insta Direct Message is a simple application for creating fake dialogues on Instagram.
Download this program (it's very convenient and easy to use), open the application, enter the nickname of the desired profile and upload its actual avatar. And write the text of your "interesting fake dialogue". Photos can be added directly from the gallery of your device.
It seems to me that the developers should change the name from Fake Chat to Fake Instagram. Since there is not only a fake chat itself but also an app built in.
It's worth noting that there are too many ads. I wish there were fewer annoying ads.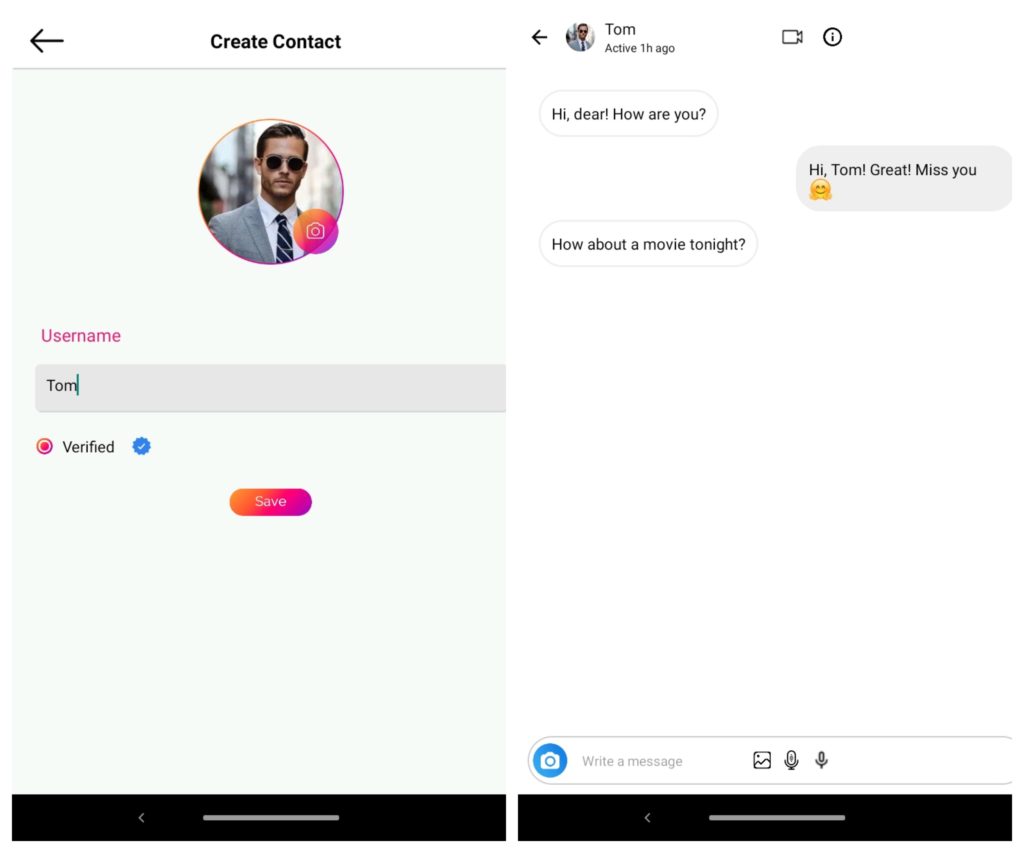 Downloads: 100000 +
Customers rating:

(2.8 / 5)

Do you want to play a prank on your friends or followers? Your favorite singer or actor isn't answering your messages and you want to prove the opposite to someone? The fake correspondence comes to the rescue!
All of the applications on our list are for entertainment purposes only.