Unfortunately, the teeth don't always look white on the photo, so they have to be whitened with special editors. We've made a selection of the best teeth whitening apps for Android:
AirBrush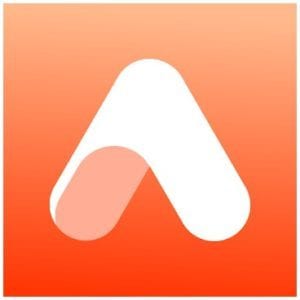 AirBrush is one of the best photo editing applications available. The rating of this application is almost ideal, as the results of photo processing correspond to the professional level. The application is convenient and easy to use.
AirBrush provides the most natural, easy-to-use tools to edit photos to make them perfect. Remove any drawbacks with a single gesture, and then your photos will show only beauty without any drawbacks or flaws:
AirBrush allows users to adjust filters and make minimal improvements – you can remove wrinkles, choose the natural tooth color or use brushes to change skin tone.
The main features
Make your skin perfect;
Set the tone;
Remove stains or pimples;
Make the skin perfect.
A unique smile
Whiten your teeth;
Teeth whitening function lets you brighten your smile without over-whitening.
Beautiful eyes
Change the eye contour;
Make eyes big and expressive;
Give them shine.
Photo effects
Use vignette frames;
Use the blur tool;
Use the specified or custom sizes to crop photos;
Change the direction of light and shade, control the color.
Filters
New filters are constantly added;
There are dozens of different images available;
There are great lighting effects and themed filters.
Share on social media. AirBrush photos can be shared on any social media site.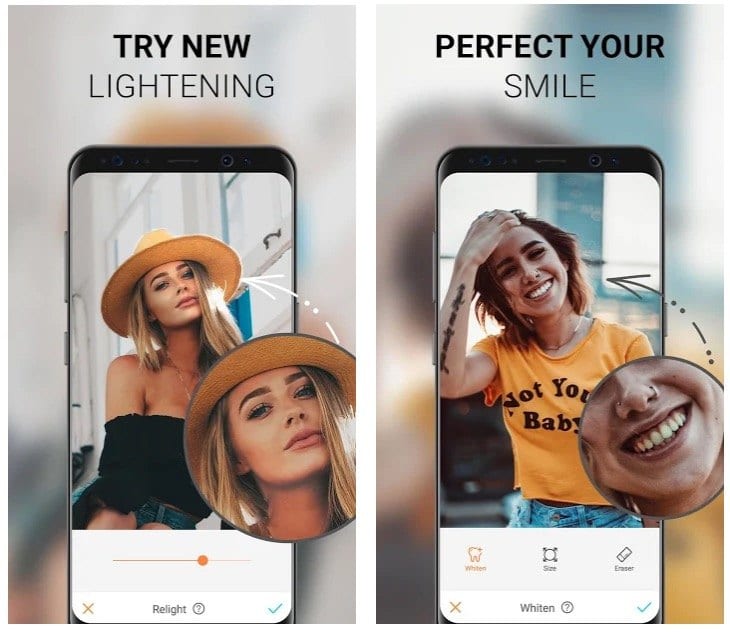 Downloads: 10 000 000 +
Customers rating:

(4.8 / 5)

You may also like: 13 Best photo organizer apps for Android
Fotogenic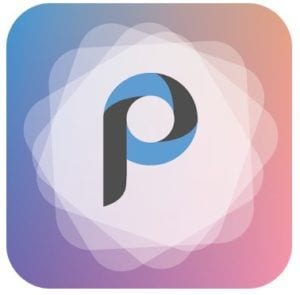 With the help of this application, you can easily get rid of dark circles under your eyes, remove freckles and pimples, make nude makeup or, conversely, evening and bright makeup. Whitening of teeth, adjusting of skin tone, change of eye color or red-eye effect correction – all this is possible with Fotogenic.
In addition, there is the possibility of virtual experiments with your hair – getting rid of gray hair, choose a new color or hairstyle.
Lose weight or get better, pump a press or make a tattoo, write a text or whiten your teeth, change the background or blur it – Fotogenic offers many options for processing your selfie-photo.
Intuitive interface, a lot of tools for light correction, changes in perspective and level of contrast, a set of filters and fonts for text – all this and much more opens up the possibility for users to create cool shots. The application allows you to edit photos with funny effects and share the result on social networks.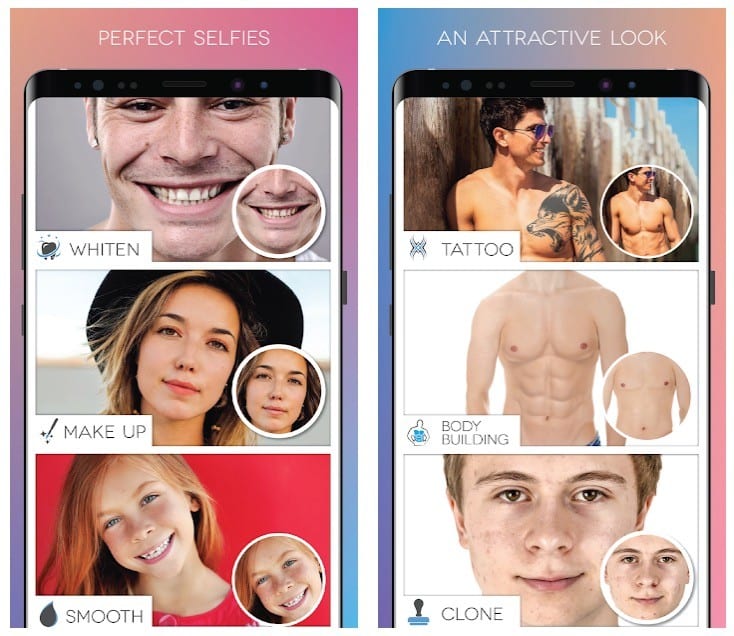 Downloads: 1 000 000 +
Customers rating:

(4.9 / 5)

BeautyPlus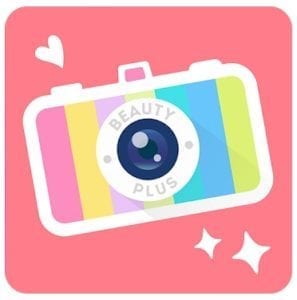 BeautyPlus is a great editor, which is able to remove all the drawbacks in the photo, and also boasts built-in effects and filters.
The application was created with the help of professional makeup artists and photographers and is one of the most popular downloadable products. The program can be confidently called one of the best photo editors for Android.
Want to make your eyes more expressive? Remove bags, dark circles at one touch, and even edit eye color to match the color of your hair. A perfect smile can be created by whitening your teeth – letting your smile shine on every selfie!
The project is very easy to use and also boasts a large number of beautiful filters and effects. In addition, there are settings of brightness and contrast, tools for copying and pasting, "scissors" and much more. Filters are made at a high level and can transform the appearance of the user in just a few touches to the screen.
The program perfectly interacts with the cameras of the device, allowing you to create uniquely beautiful selfies and landscape images. You can use the app to share your photos on social networks.
BeautyPlus is a convenient and clear tool that allows you to process photos on your mobile device. The editor pleases with its functionality and design.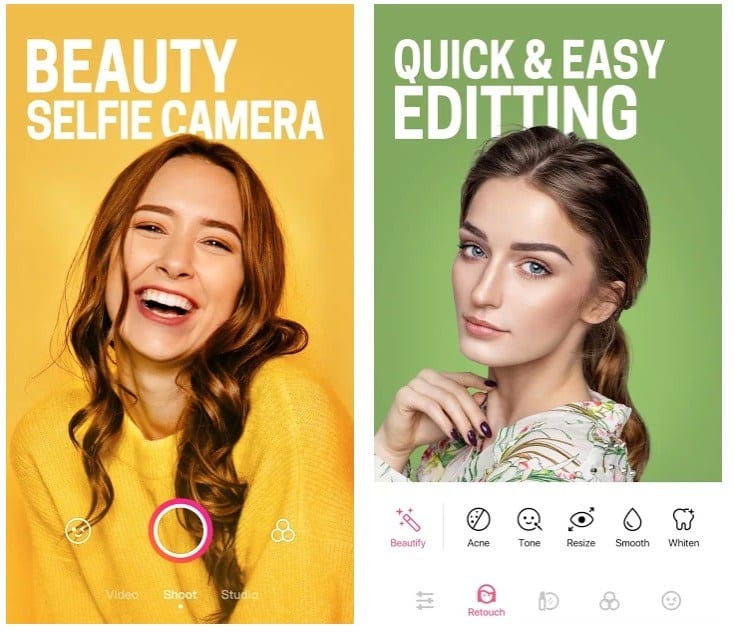 Downloads: 100 000 000 +
Customers rating:

(4.5 / 5)

Facetune 2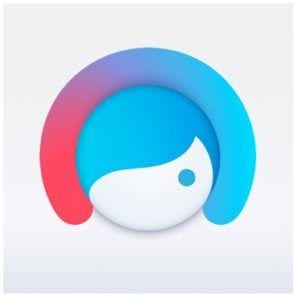 The developers of Facetune, a popular application for self-service art processing, have released a new version. The developer company Lightricks has updated the program so that users can see the edits on the fly – before taking the picture.
Facetune 2 lets you apply effects that are almost indistinguishable from the real. Facetune 2 combines an easy-to-use, easy-to-understand interface with the most advanced portrait retouching technology. The Hollywood smile, shining eyes, even skin without any imperfection, clear and correct facial features – just a couple of touches on the screen – promise the developers.
To use the program, you don't even need to have basic skills of photomontage: all the tools can be operated with ordinary gestures. Facetune allows you to whiten your teeth, brighten your skin, change the color of your eyes, apply makeup, and so on.
Whiten Tool – helps to make your teeth whiter. It can also be used for other purposes, such as making your shoes or T-shirt whiter. The whitening intensity can be adjusted up or down by controlling the slider.
It is possible to edit not only the face but also the general plan by applying effects and filters. Facetune lets you decorate your photo with frames or textures, for example, to enhance lighting or blur the background. At any stage of processing, you can compare the process with the original photo and, if you want to cancel editing. The finished result can be immediately uploaded to social networks.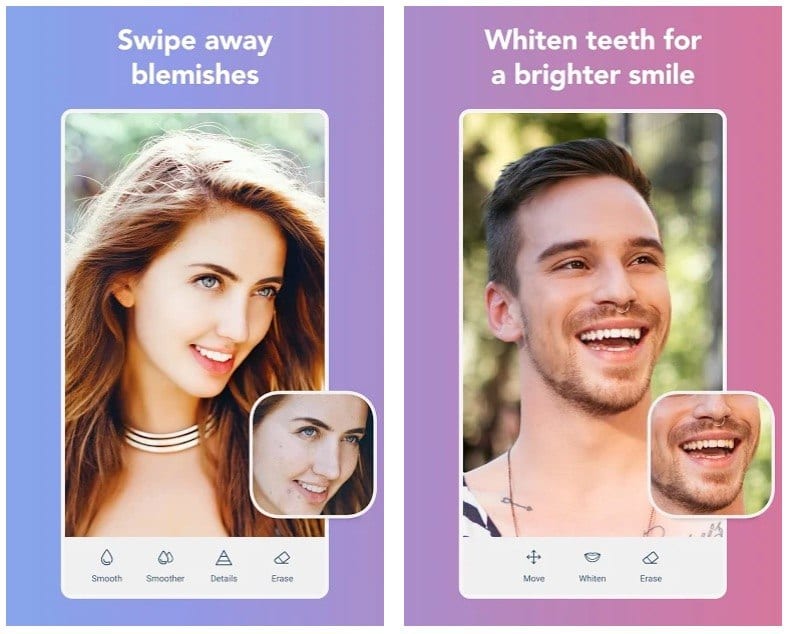 Downloads: 10 000 000 +
Customers rating:

(3.9 / 5)

Photo Editor Pro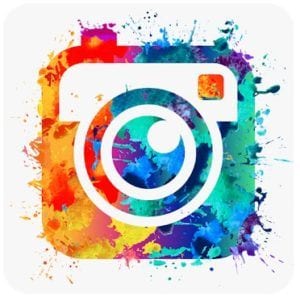 Photo Editor Pro – download the application and start using the advanced photo editor. A lot of amazing effects are available absolutely free of charge.
A multifunctional photo editor lets you use all the features of your smartphone to create an incredible photo. A lot of stickers, visual effects, and other features will be available
Automatically enhance your photo with a single touch, add effects, frames, and stickers, adjust color balance, or fundamentally change the photo – trim, rotate, and warp functions are also available.
Change the impression of a photo with adjustable contrast, temperature and color saturation. Focus mode lets you sharpen the foreground (ideal for portraits) or blur unwanted elements.
In the arsenal of the application, there is a huge set of tools that can be useful for editing facial features. And of course, the function of teeth whitening to the desired level is available. Make your smile perfect!
Do you like funny pictures and cartoons? Draw like in Paint, add and customize the text to create your own memes. All saved photos can be found in File Manager / DCIM / Camera.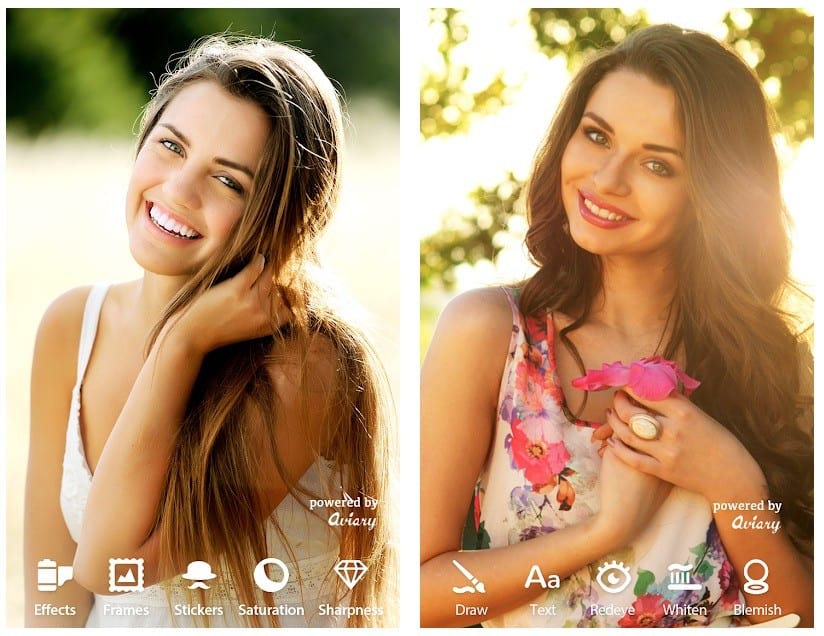 Downloads: 100 000 000 +
Customers rating:

(4.2 / 5)

How to remove all the unnecessary things from the photo? Here are the best Android apps for you to remove the beard from your photos: 11 Best Android Apps to Remove Beard From Your Photos
LightX Photo Editor & Photo Effects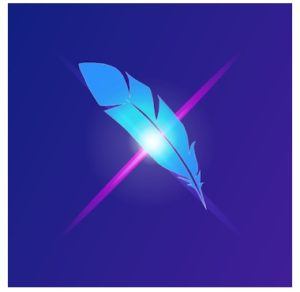 To improve a photo, to create a collage, to write beautiful text on a photo or to decorate it with a frame – all it is possible to do in real time with LightX – the advanced photo editor. All tools are conveniently sorted by category, and after their use, all changes can be tracked in real time.
The main feature of Light X is a very large package of tools for working with images, which are successfully used by both professional photographers and amateurs.
Here you can not only cut or delete, change the background but also perform many other functions. These include creating cartoons, adding various effects and even the ability to change the color of your hair and whiten your teeth.
Only with the help of this application, you can change your photo beyond recognition, and you don't need to be a professional retoucher or have professional programs at hand.
There is an algorithm of automatic processing that competently removes all the defects from the images and naturally smoothes all the imperfections of the skin. Also, it is possible to follow the hints of the virtual assistant built in the program.
Experts from Andor Communications Pvt Ltd have created a really high-quality specialized application with regularly updated content that allows you to correct the photo. Light X really resembles Photoshop in its functionality, unlike its competitors.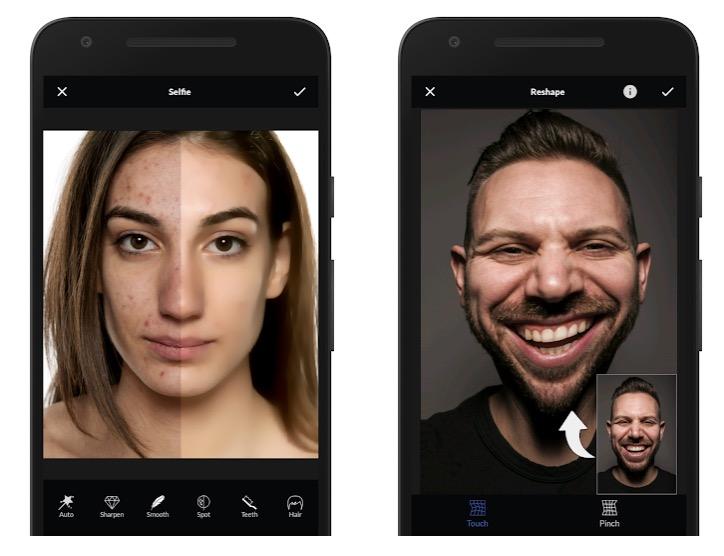 Downloads: 10 000 000 +
Customers rating:

(4.6 / 5)

Sweet Selfie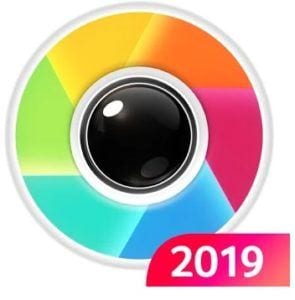 Millions of people have already been able to try out the useful features of this photo editor. All users can shoot their favorite selfies with additional effects in real time. Try to do this! All you need is to download the Sweet Camera to your Android.
Immediately after you take a picture, you can correct it! Whiten your teeth, remove pimples, blush your face and share the work you've done with your friends on one of your social networks. Use stickers and AR filters: with them, a simple photo becomes incredibly glamorous.
Even the most inexperienced users who deal with it for the first time will be able to understand the application menu. If you still don't know if you want to download Sweet Selfie – look at the results of other users on the network! You will definitely be surprised by the result!
Features of the application:
A huge number of filters will transform any background.
Get beautiful photos wherever and whenever you want!
Change the background and add fun stickers.
Share the result with your friends on popular social networks.
The program honestly takes the top lines of ratings in its category around the world.
Never hesitate to experiment!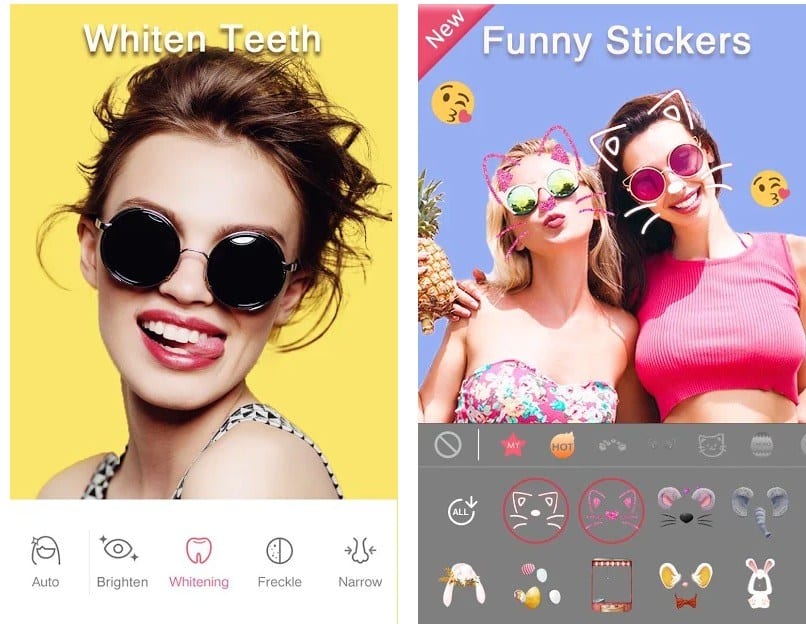 Downloads: 100 000 000 +
Customers rating:

(4.4 / 5)

Perfect365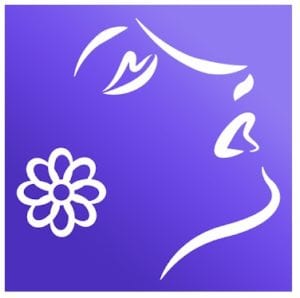 Perfect365 is a photo-editing application that allows you to change your photo, add makeup, colorful wigs or other elements.
It's easy to use: take a picture or select one from the phone's gallery and wait a few seconds. For this short time interval, Perfect365 distinguishes the basic elements of your face and then will allow making various changes.
For example, you can make your smile wider, teeth whiter, add makeup, including shadows, eyelids, and blush, slightly change the shape of your face, add a wig and much more. Once you've finished your work, you can save the image on your device or share it on social networks.
Perfect365 is a funny, easy to use photo editing application that gives good results.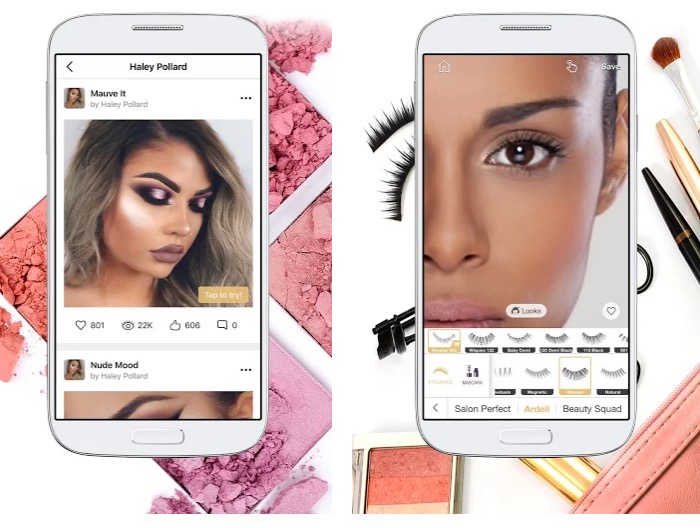 Downloads: 50 000 000 +
Customers rating:

(4.4 / 5)

Pixlr Express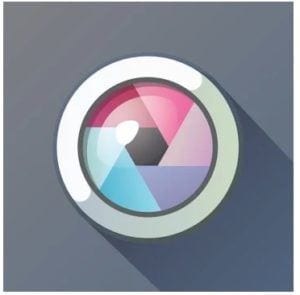 Pixlr Express is a powerful tool for creating photo collages and editing images.
The program is one of the best options if the user needs to process a photo. The editor has countless filters and effects, as well as frames.
In addition, there are standard options. For example, you can adjust the brightness, contrast, gamut and color balance. It is possible to overlay text on the image and select a font. A large set of effects to make the image perfect. For example, delete the red-eye effect with effective tools and whitening of teeth to create beautiful selfies.
When creating collages, you will need built-in templates that allow you to change the location of images to your liking. The processed files can be saved to the device memory. You can also share your creations with friends on social networks.
The application has a stunningly user-friendly interface. All menu buttons are exactly where you expect them. You can understand the functions and settings very quickly even though there is no localization.
Pixlr Express is suitable for all those users who often deal with photo processing and post their photos in social networks. The application can boast an abundance of features, a convenient menu, and good optimization.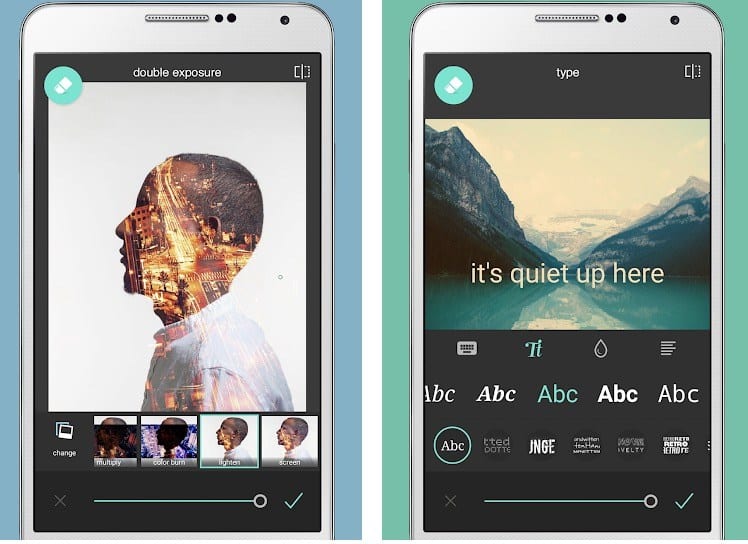 Downloads: 50 000 000 +
Customers rating:

(4.6 / 5)

YouCam Perfect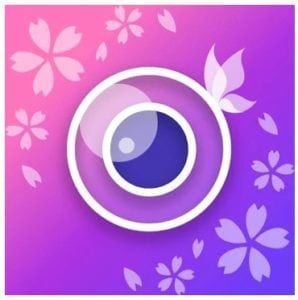 Use this application, thanks to which you can make the perfect selfies for a couple of movements, and the result will not leave indifferent any of your friends. The program will successfully pick colors, light, shade, etc. suitable for your face.
A certain advantage of the application is a qualitative distribution of possibilities on categories, and also colorful design and correctly picked colors for the general background and menu buttons. By the way, the app also explains each step in detail – try to create a collage or virtual makeup and you will understand everything!
YouCam Perfect offers a lot of different tools, with the help of which your selfies will be perfect. You can instantly adjust the shape and tone of your face, the shade of your eyes, whiten your teeth, remove wrinkles, make your face look more expressive, enlarge your eyes, and at the very end add a suitable frame.
You will be able to:
Learn about the latest trends in modern fashion, makeup, and style;
Share your unique style, your own processed selfies, demonstrate the process of photo processing.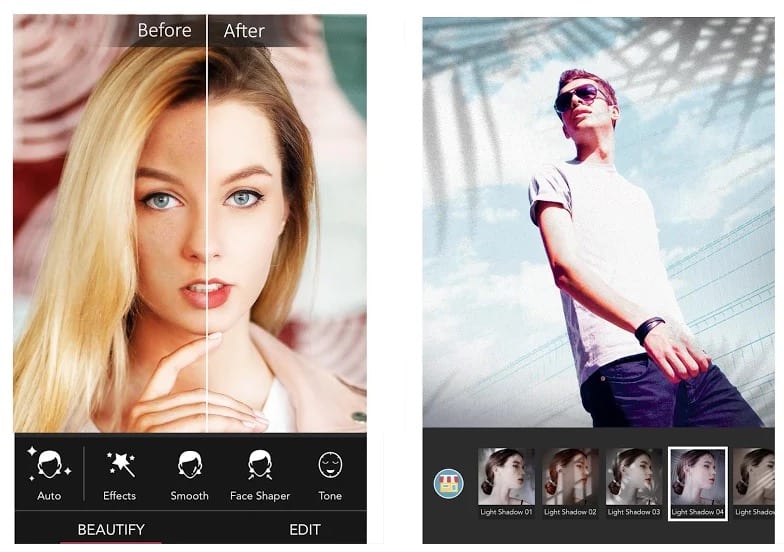 Downloads: 100 000 000 +
Customers rating:

(4.5 / 5)

Pixl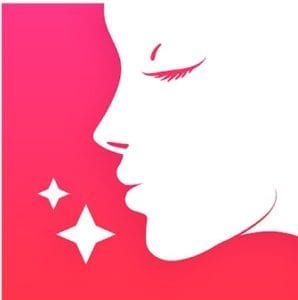 Want to look good on your selfies photo, but red eyes, dry skin, dull hair, acne on the face, or just poor lighting really ruined another picture to share? Do you think you're not photogenic?
Pixl: Face Tune & Blemish Remover Photo Editor is the perfect application for you. With just one click, the Pixl App will help you to smooth the skin, remove the red-eye effect, remove acne from your face and whiten your teeth!
Pixl can easily cope with the above difficulties. All you have to do is choose areas with acne, dark spots, or acne, and the app will easily remove it.
Pixl Face Editor is the perfect app that will make your beautiful face even more perfect. It provides you with the most natural, easy-to-use photo editing tools designed to give your photos the perfect style.
Thanks to the advanced face search algorithm, the retouching process is fully automated. Thus, the eyes found in the photo are scanned for the presence of the effect of "red eyes", and, if it is detected, the color of pupils is corrected.
Facial skin is segmented according to its characteristic color, and the algorithm smoothes out the unevenness of the skin. The portrait looks much better when the teeth are whitened, so the algorithm has a function of whitening.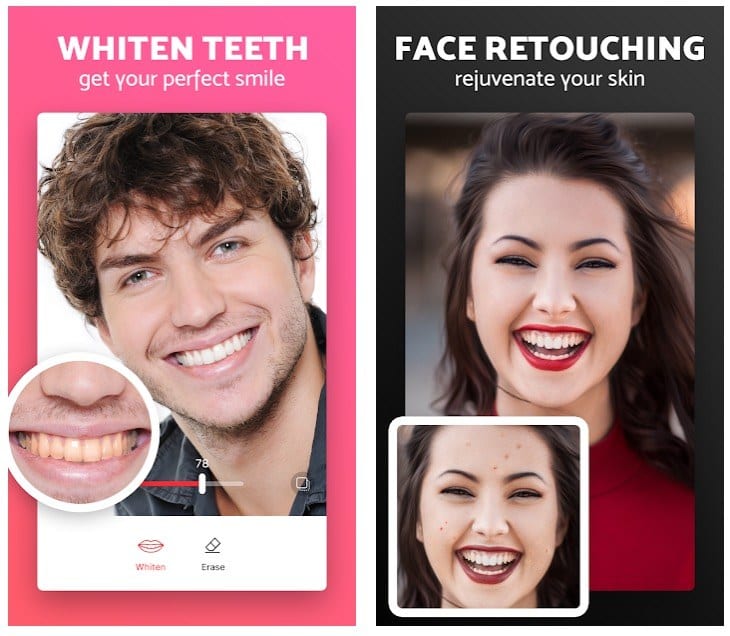 Downloads: 1 000 000 +
Customers rating:

(4.6 / 5)

You may also like: 9 Best Android Apps for Watermarking Photos
PhotoDirector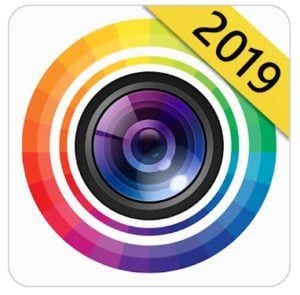 PhotoDirector – Photo Editor is an easy-to-learn photo editor with a wide range of features.
Very often it is necessary to correct the image a little bit, but there is no possibility to get to the computer. For these purposes, this application was invented, it allows you to edit the image almost on the run, without requiring extra effort.
As a source image, you can use a file from the gallery or a photo from the camera, taken just now. Also in the menu, there is an item "Collage" in which several photos are combined into one. The program allows you to remove bad spots (pimples, wrinkles), as well as remove unnecessary objects, such as strangers, wires, road signs.
There are similar Instagram filters, and they are presented in large numbers, each of them is adjusted. In addition, you can add various effects.
The interface looks simple, you can see that the application was developed exclusively for work. The tools are located at the top and bottom of the screen, and they are almost always at hand. Performs operations quite quickly, without time delays.
PhotoDirector is a good editor for those who don't have the opportunity to make adjustments using desktop programs (for example, Adobe Photoshop).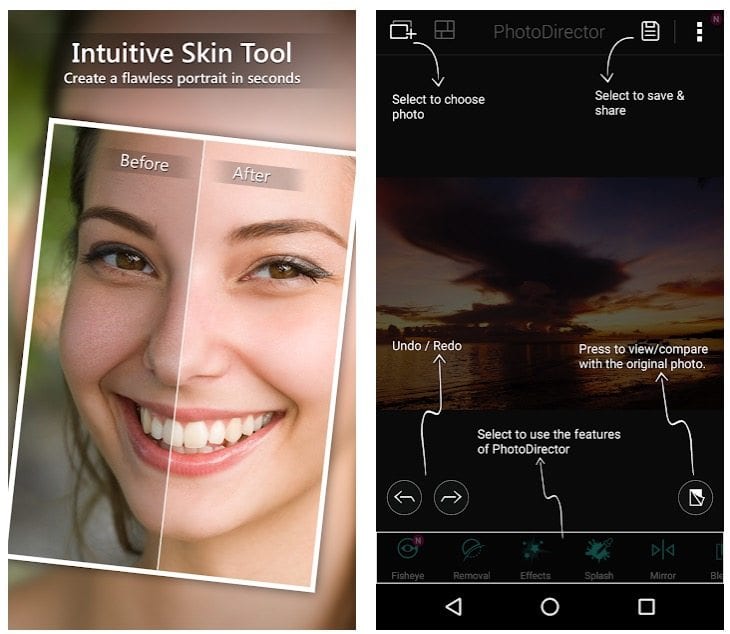 Downloads: 50 000 000 +
Customers rating:

(4.6 / 5)