Have you ever taken on a DIY stair project and felt completely lost when it came to calculating riser height and tread depth? Well, you've come to the right place!
We've scoured the web for the best stair calculator apps for Android you could try. These are measuring apps that make it easy to count the sizes and layout of your stairs.
Not only are they convenient, but they're also incredibly user-friendly and accurate. Whether you're a DIY buff or a pro contractor, these will help you design the ideal project. Let's get into it!
RedX Stairs
This app is a gem for anyone who has ever struggled with measuring stairs. Say bye to the days of complicated and inaccurate calculations. It has comprehensive stair calcs that cater to all types of designs, from straight to spiral and more.
The app's key tools are simply mind-blowing. With just a few clicks, you can generate an interactive to-scale stair plan with proper counting that will make your contractor's job a breeze. It also covers diverse units, so you can rest assured that it will accommodate your needs.
It lets you generate a to-scale outline with all stringer sizes. Feel free to customize the angle and number of steps to your liking. You can even get a complete plan with all stringer sizes, a plan for every tread, and more.
Experience the power of our app's tools made for unusual designs. Simply add the height, rotation, and inner radius, and watch as our app renders a precise, to-scale outline.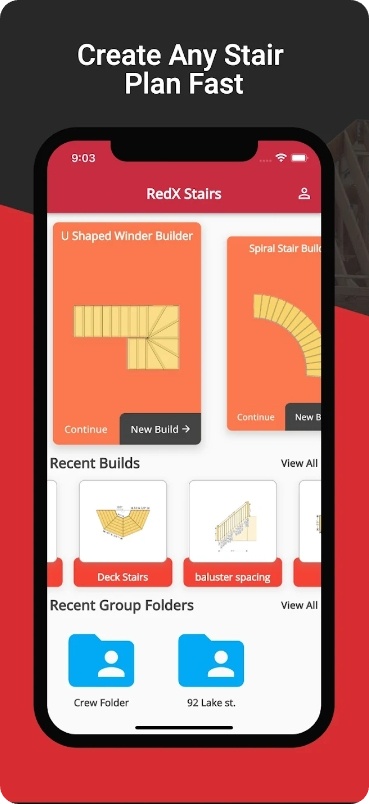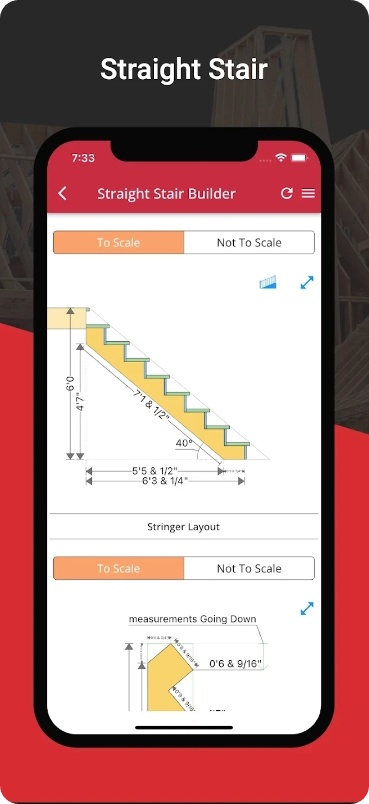 Downloads: 10K+
You may also like: 9 Best Area Calculator Apps
RCC Stair Calculator
It's an app that can help you effortlessly determine the quantity of concrete and steel needed for your stairs.
This nifty little tool is ideal for those in the construction industry or even just the casual DIYer. With just a few taps, you can enter desired measures, and voila! You'll have three types of results at your fingertips: a layout, a concrete quantity, and a material quantity.
What's even better is that there are no limitations on the number of steps you want to include. Whether you're building a concrete, wood, iron, or even a straight staircase, the app will help with that.
This app also has the ability to count the required amount of cement, sand, and aggregates for your stairs as well as the required steel bar for your stair slab. Talk about convenience! Overall, it's a must-have for anyone involved in any stair project.
With its fast, precise, and easy-to-use calculations, it makes building stairs a breeze. So next time you're planning a staircase project, be sure to give this app a try, you won't be disappointed!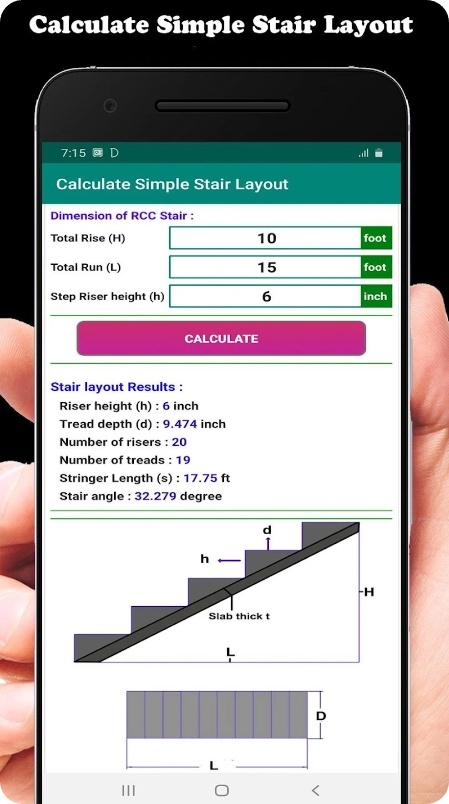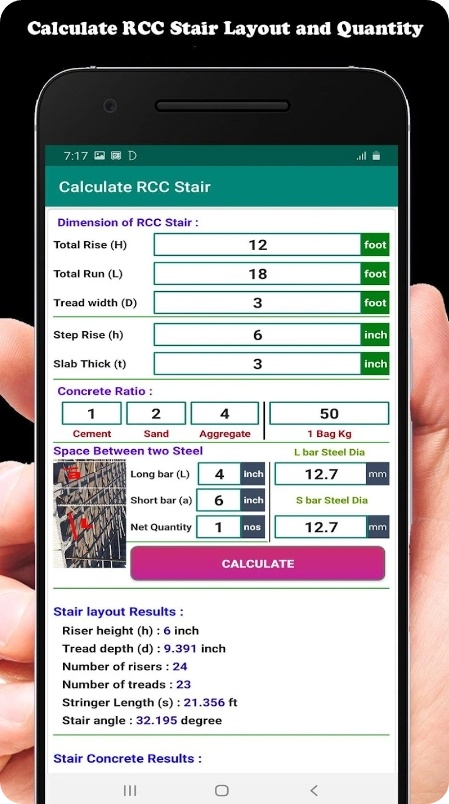 Downloads: 10K+
Stairs-X Pro
Here's a powerful and user-friendly stairs calc. It is an absolute treat for anyone in need of fast computations and structures for common stairs or advanced staircases.
One of the standout aspects of this one is the ability to input diverse units and compute using inch bits. Thus, no matter where you are in the world, you can use this app to determine staircases that meet your exact specifications.
And when it comes to visualizing, the app has everything you need, too. Your project is presented in real-time in multiple views, including a side, top view, and detailed view. You can even alter the direction of the staircase to the right or left, depending on your needs.
But perhaps the best part of this one is its flexibility. It works with simple sets, spiral ones, wood, or whatever else you could think of. And it doesn't matter if your stairway is made of wood, metal, or concrete, the app can handle it all.
This app is ideal for anyone, from builders and handymen to contractors and architects. And with the ability to send your calcs and drawings via email in PDF, it's easy to keep a record of your work for future reference.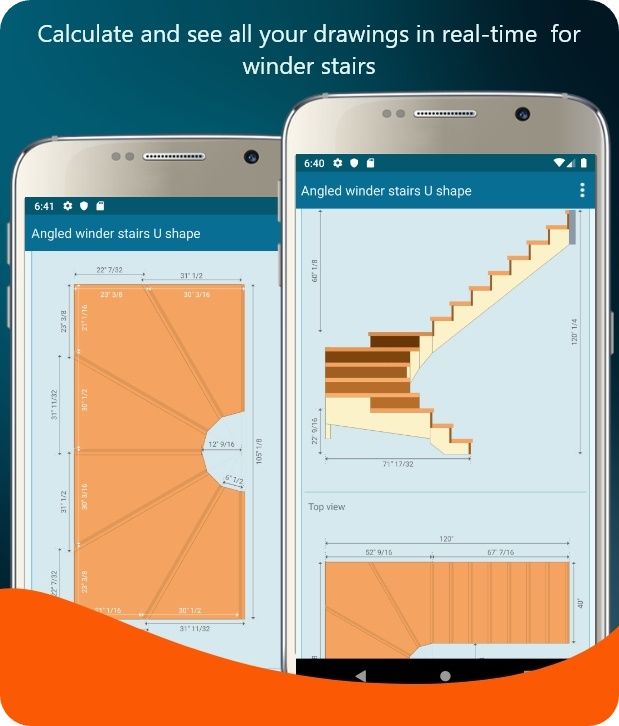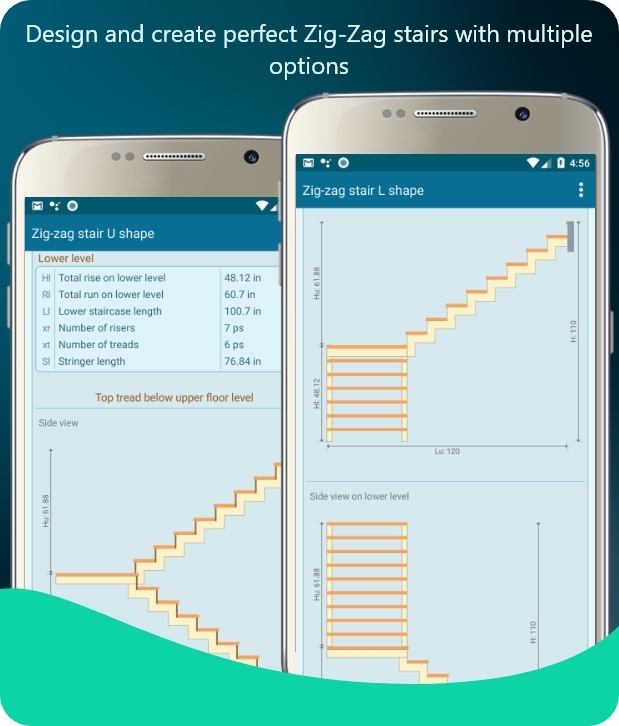 Downloads: 5K
Check also: 11 Best Square Footage Calculator Apps
Simple Stair Calculator
If you're a seasoned contractor or simply want to build a staircase, give this app a try. This nifty tool makes staircase construction a breeze, no matter what your design prefs may be.
What sets it apart from the rest is its ability to generate interactive to-scale plans with precision. Gone are the days of manual sizing and sketching – with this app, you can easily share your results and use them however you see fit.
Say bye to the confusion and potential errors that come with using multiple measurement units. This app delivers an extensive scope of tools that cater to various types of designs. And don't worry if you're a tech novice – the UI is so intuitive, that even your grandma could use it.
But the best part? It's completely free! Yup, you read that right. It's an ideal tool for constructing an ideal staircase with minimal effort.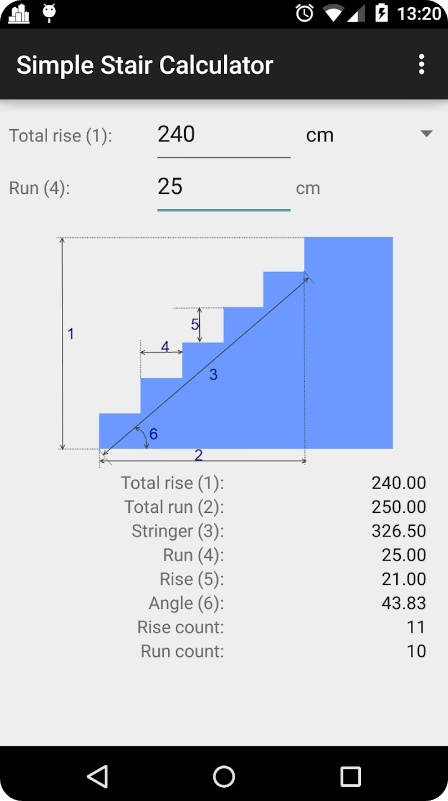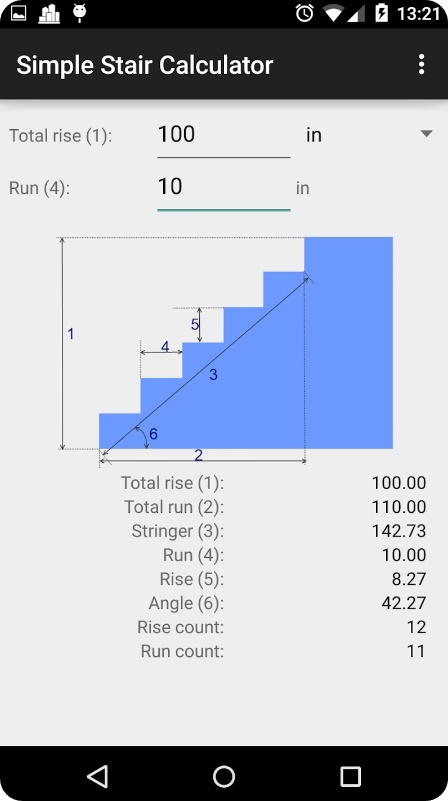 Downloads: 100K+
Classic stair calculator
Tired of being stumped by stair calcs? Do you dread the thought of constructing anything that isn't a basic set of stairs? If so, this app is here to help!
One of the top aspects of this one is how much it caters to your specific needs. With support for diverse units, you can work in the units that feel most comfortable to you. Say bye to constantly converting units in your head and hello to streamlined productivity!
And if conventional stairs aren't your style, you're still in luck! This app is fully prepared to help you with semicircular, stringer, or bowstring stairs, and even spiral or helical ones. It's like having an adjustable stair-building encyclopedia right at your fingertips.
Don't let the more complex designs intimidate you, either. You'll be able to tackle even the most challenging projects with ease. Let the app do the heavy lifting when it comes to calculating angles, and you'll be left free to focus on the fun parts of construction.
And even if you're a total novice, you'll be able to pick up the app and start using it in no time. No need to be a seasoned engineer or handyman to benefit from all the features this app has to offer.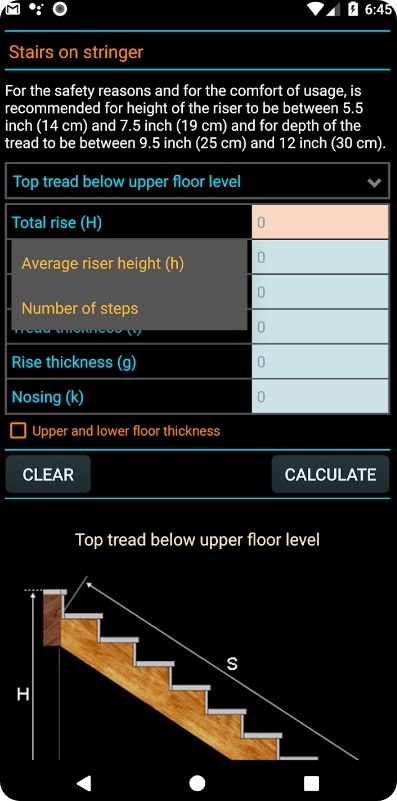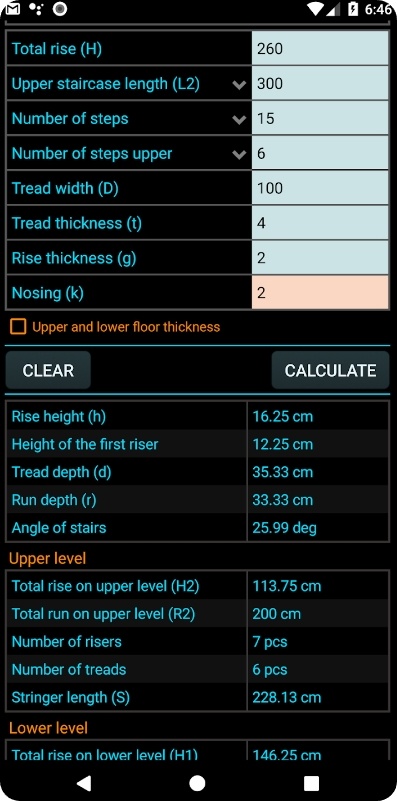 Downloads: 100K+
You may also check: 9 Android Apps to Measure Humidity in the House
CMM Stair Rail
To wrap up, we have an app that is a lifesaver for anyone who needs accurate and easy-to-use estimates for their stair rail. You don't need to be a math genius or a construction expert to use it: the convenient diagrams make it a breeze to input your heights with 100% accuracy.
But that's not even the best part! The app is completely free! Hallelujah! You don't need to spend a single penny or sign up for any sub-pack to enjoy the benefits of this one. It's like having a pro contract without the hefty price tag.
And here's the icing on the cake – you can easily share results if needed. So whether you're at a job site or meeting with a contractor, all the info you need is conveniently stored in your phone.
This app is supported by years of expertise, a renowned national leader in industrial automation equipment. Their proprietary sofе has been successfully implemented on thousands of automated routing machines throughout the country.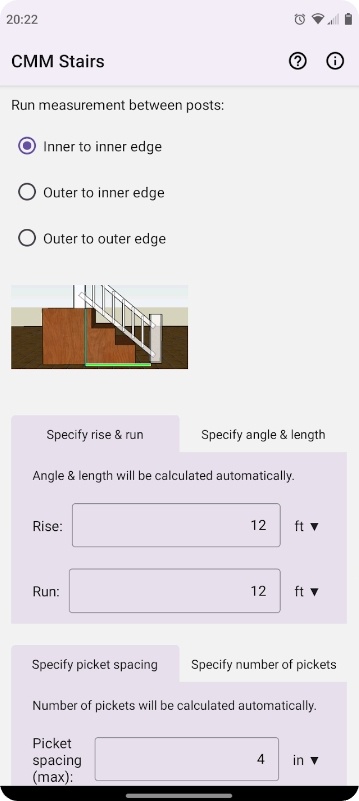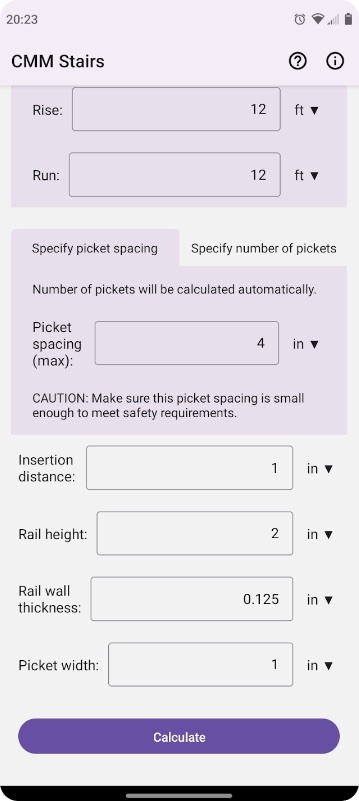 Downloads: 1K+