If you're still using calls as your main method of communication via your smartphone you are either over 45 or you live at work. It seems like the text-messaging has taken over the world, and it slowly pushes out all the other options. People text each other even without SIM cards, online, via WiFi. The instant messaging apps will help you to do that!
Telegram
Maybe not all of you are aware of this messenger, but at the moment it's considered to be one of the safest ones, and, therefore, the best ones. If you still haven't discovered Telegram as an instant messenger for your Android gadget, you should do that right away, since it includes:
Possibility not only to have private chats but also to create large chat groups with an unlimited number of members
Send large media files up to several GB
Send an unlimited number of media files at once
Create live channels and follow live channels (for example the news ones)
Unlimited number of the coolest stickers and emojis
Possibility to hide your phone number, using only the username, like on Instagram
Add multiple profile pictures
100% safety of your personal data and 100% privacy
This list could be extended to the infinite. The one thing you should keep in mind before using Telegram as an instant messenger is that it takes quite a lot of weight in your phone's memory space (because of all the media files).
Also, because of the privacy and the security of the messenger, it's pouring out with pirate content. But hey, we're talking about texting here, right?
And – in case your friends and family aren't familiar with this app you will have to talk them into downloading it as well, and since the app isn't that popular in the world yet, it can be a problem for some people.
But in everything that concerns the users' comfort and speed of texting, Telegram is the top pick for your Android device.
Telegram gives you the ability to set your online visibility according to your preference – leave it as the classical "last seen" version, conceal it at all, or leave a status "seen recently". The status of the messages in the chat can be configured too.
When you install it, you can see at the same moment who is from your friends are using this app as well.
And we also have to highlight the brilliant quality of the voice messages here!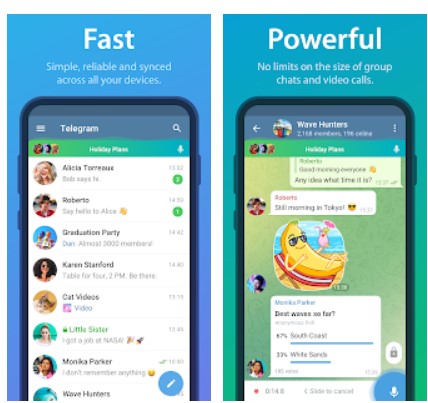 Downloads: 1000000000 +
Customers rating:

(4.4 / 5)

You may also like: 7 Best Fake Text Conversation Apps for Android
Trillian
We could list Whats App as the next choice, but let's be honest, we all want to discover something we're not familiar with yet. Trillian is a hidden-gem messenger on the market that offers its users multifunctional instant messaging.
An interesting fact is that the primary function of this app is the so-called medical messaging. This company has been on the market for more than 20 years and create lots of software in the healthcare industry.
Thus, if you're a healthcare worker, or you contact the doctors frequently, you should definitely pay attention to this one. But Trillian is nice for regular chats as well!
Trillian offers fewer options than Telegram does, but it has its benefits as well – because it consists of chats only it weighs a loss less than the latter. One of the prominent sides of it is its security of the data. You can be sure that all your messages are encrypted and not hand over to the 3rd parties.
The user interface design is quite simple – just the main menu with chats and some basic settings. Once again, since Trillian isn't that popular on the market yet, it makes sense to install it only if the majority of your friends are using it.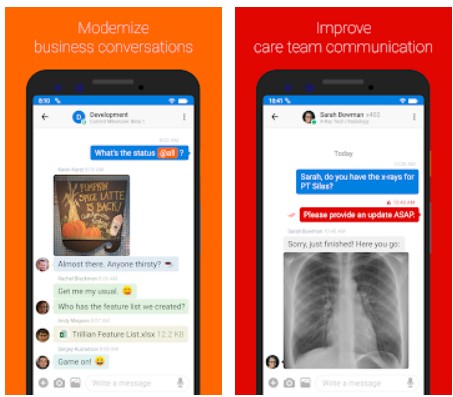 Downloads: 500000 +
Customers rating:

(3.9 / 5)

Kik — Messaging & Chat App
Probably you are more or less familiar with this one, and we have to say that Kik could beat the other pool of messengers down and outshine them. So what's so special about it?
Ability to create large chat groups
Encrypted messages
Cool sets of stickers
Possibility to go live and become popular
Send media files
Overall, Kik is something in the middle between Telegram and Whats App. So in case you need to have more security but you're used to the interface of the latter, then Kik is a nice alternative.
Apart from its messaging properties, Kik is a platform to start your own live channel and gain followers. The concept here is a little similar to Snapchat – you can be visible not only to your contacts but to random people, who might see your live content and subscribe if they're interested.
However, there is one disputable aspect of Kik – it started turning into a live streaming platform in recent years and caused the dissatisfaction of many users.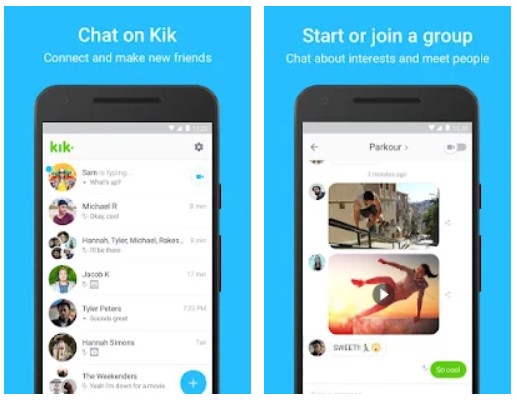 Downloads: 100000000 +
Customers rating:

(4.1 / 5)

Threema
And for those, who want to keep their instant messaging extra private we would like to highlight this app called Threema. Its developers claim that it's the leader among encrypted private messengers. But let's see if it's balanced by the convenience?
Distinctive features:
No phone number needed
Anonymous chat
Accessible from desktop
High encryption strength
Agree/disagree feature
Unique verification process
No ads
Paid app
As you can see, Threema is a tool for real privacy junkies. It might not be so convenient for a regular person to pay for the messaging app and use all those verification procedures when their only aim is to chat.
On the other hand, this app wasn't developed for a large audience, and the fact that it has that large amount of users (for this category) is the mark of its quality.
Overall, if you're tired of endless selling of your data to the 3rd parties and ads, and want to just have a private conversation with your friends/family/spouses you can afford to pay around $3 a month and enjoy.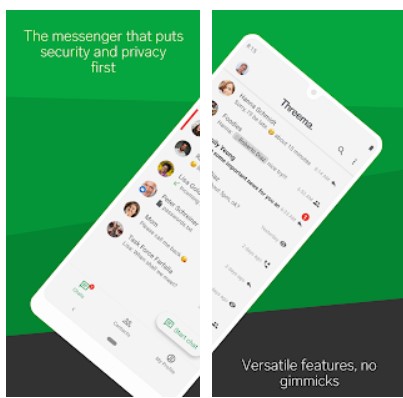 Downloads: 1000000 +
Customers rating:

(4.1 / 5)

You may also like: 7 Best Auto-Reply Text Apps for Android
KalamTime Instant Messenger
This option is less popular than the previous ones, but it caught our eye with its simplicity in usage. Sometimes when all you want to do is text, you don't need all those lavish features, you know.
You and your friends just install this app and use the app. It includes all the basic features of a decent messaging app:
Encryption of messages
Voice messages
Send large media files
Translation to more than 20 languages in real-time
The last features are especially interesting since none of the messengers on this list can offer that.
At the same time, the user interface is extremely simple and the app looks like Whats App. It's not a flaw but it makes the looks more trivial.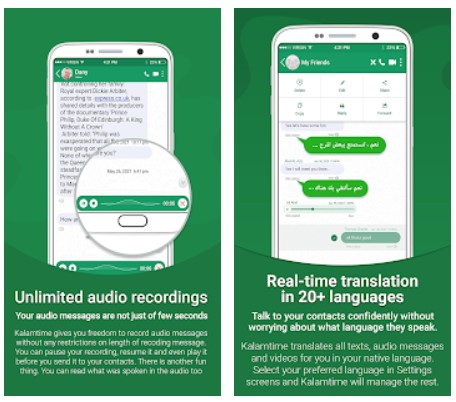 Downloads: 1000000 +
Customers rating:

(3.9 / 5)

Google Chat
Since we have everything by Google nowadays, it's logical to explore its messenger. Moreover, the usage of the Google Chat app will be especially convenient for Android users since it's basically pre-installed software on some gadgets.
Google Chat is similar to Google Hangouts. But overall, it's more of a project management app and includes more than the features of a simple instant messaging app.
Private messages
Group Chats
Integration with other Google services and tools
Meeting schedule
Group work organization
By the way, this app is one of the most convenient apps in this category for Android users since it will seamlessly integrate with all services and all your friends probably have it pre-installed as well. It's easier to start using something familiar than convincing people to join you in the messenger they don't know.
Of course, data security isn't an advantage here.
But in other aspects, you can just find a person in the contact list and message them right away. There is no ability to send large media files as well, but as you manipulate the integration with Google Drive you can pin links, etc.
Overall, this is an evident choice for those who don't like exploring something new.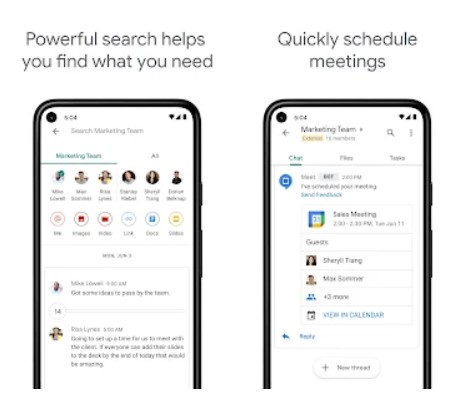 Downloads: 10000000 +
Customers rating:

(3.8 / 5)

KakaoTalk: Messenger
One of the most popular messengers in the world. We decided not to put it in our list to the top positions because it's already become mundane, just like Whats App. However, the fact that its popularity doesn't cancel the fact it maintains its quality.
Features:
Integration with networks
Group chats with an unlimited number of participants
Ability to customize the profile theme
Calendar
Live to stream
Sticker collection
And you can not only message in KakaoTalk – but also make video and phone calls (though it's not needed). Another virtue of this app that we wanted to mark is that it also integrated the streaming feature, but unlike the Kik messenger, KakaoTalk hasn't turned into the streaming platform with the feature of instant messaging.
And for business people: there is a virtual assistant in KakaoTalk that can remind you about important events, forgotten messages, etc.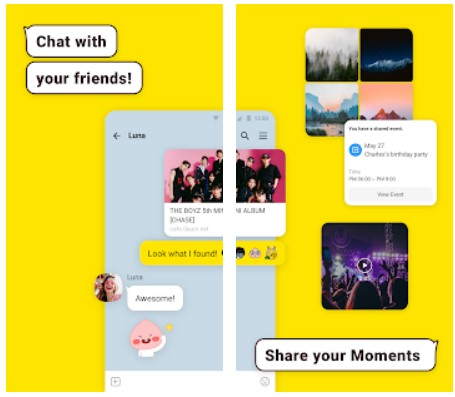 Downloads: 100000000 +
Customers rating:

(4.3 / 5)

Skred Messenger
For those who want to send text messages fast without all the headaches that registration in more popular apps can bring, we can offer Skred Messenger – speed and convenience is the main priority of this messenger.
You won't need your phone number or email to start messaging. This is quite a unique app, that allows you to create your own profile out of nowhere and stay anonymous if you want. But of course, you will always be able to find the contacts of your friends if you need to.
Total security and encryption of messages
No phone number required
Anonymous instant messaging
Personal identification signs
No SIM card required
Send media files
With Skred Messenger you can not only text but make video and phone calls.
This is not the most popular app on the market, but for those who are concerned about security and want to stay totally anonymous online, this is a perfect option. You can quickly register, then find other contacts according to the identification marks and start chatting.
The drawback of Skred Messenger pours out of its concept – because of the numerous and elaborate procedures and identification steps they don't function properly from time to time. There are also some issues with sending media files within the app.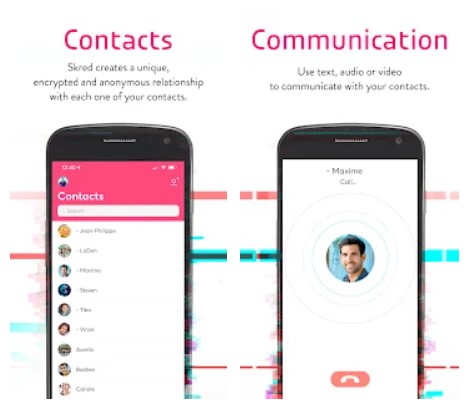 Downloads: 5000000 +
Customers rating:

(4.2 / 5)

You may also like: 11 Best Apps to Add Texts to Photos for Android
Wickr Me
As a more popular alternative to the previous app, you can consider Wickr Me as the next possible option. Users love this instant messenger for its simplicity in usage, total security of data, and reliable functioning.
Just like in the case with Skred Messenger, here you don't need to provide your phone number. One of the distinctive features of Wickr Me is that all the content that has been sent via messages and that would be saved in your phone's memory in case of the deletion in the chat will be deleted from everywhere.
In other aspects – Wickr is a typical extra-encrypted messenger that has gained popularity on the market and where you will need to create an account to start texting other people. By the way, the creation of group chats here is possible too.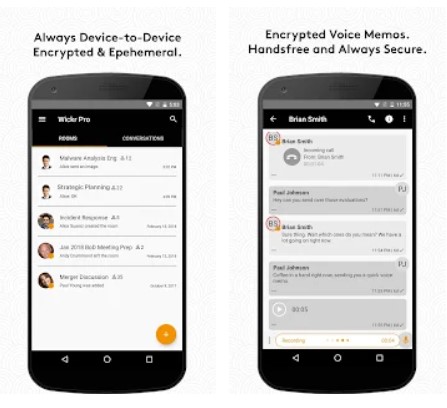 Downloads: 5000000 +
Customers rating:

(4.4 / 5)