Ready to set sail and explore the vast seas? Well, you're in luck because we've gathered some of the best vessel finder apps to guide you on your maritime escapades.
From real-time maps and weather updates to live ship tracking and port info, these apps have everything you may need. Some of the apps even let you check current wind speed if needed. These are ideal for following your voyage and navigating the open seas.
And with these on hand, you'll never have to worry about getting lost at sea again. Whether you're a seafaring enthusiast or just love the idea of navigating the ocean, these apps are a must-have. Let's get started!
Marine Radar
This app gives you real-time ship tracking within a few taps. This app starts in full-screen mode, so you don't have to click around multiple times just to get started. The UI is well-structured, and the design is appealing, which makes it easy to handle.
Plus, all vessels are live on a map, so you'll always know where they are. One of the best aspects of this one is that every vessel type is marked in a specific color, making it easy for you to identify them at a glance. And there are plenty of boats to explore, from fish carriers to crude oil tankers, fishing vessels to service vessels, and everything in between.
And if you want to know more about a specific one, all you have to do is tap on its symbol, and you'll get access to diverse info like its speed, course, and current status.
You'll even get to see a pic of the vessel, so you can identify it more easily in the future. But perhaps the most impressive tool of this one is its search bar.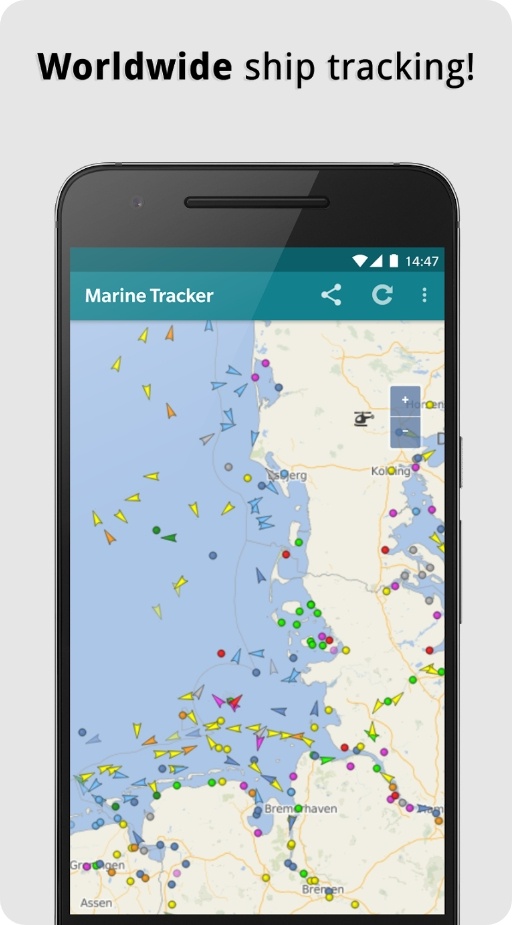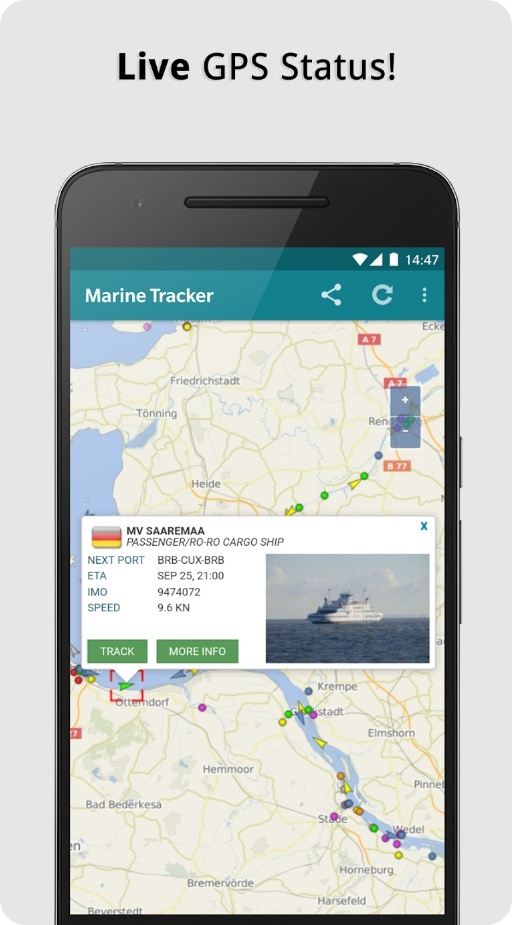 Downloads: 1M+
Customers rating:

(4.4 / 5)

You may also like: 7 Best GPX Tracker Apps
VesselFinder
This app is the real deal when it comes to giving real-time data on the positions of ships all over the world. It lets you monitor over 200K ships every day, and you can search by the name, IMO, MMSI, and whatever else.
You can even check out a ship's movement history. But that's just scratching the surface of what this app can do. Want to know more about a particular ship? You can get all the details on a ship's name, flag, type, and more. That's right, you can be a real shipspotting pro with this app.
And if you're curious about ports, the app has got your back there too. You can search for ports by name or LOCODE and check out a detailed list of all vessels expected, arrivals, departures, and currently in port. Plus, you can mark your fave vessels and sync them with your acc.
It also covers ship pics contributed by its users, and you can pick from simple, detailed, dark, or satellite maps. Plus, you can add weather layers to your maps to keep tabs on temp, wind, and waves.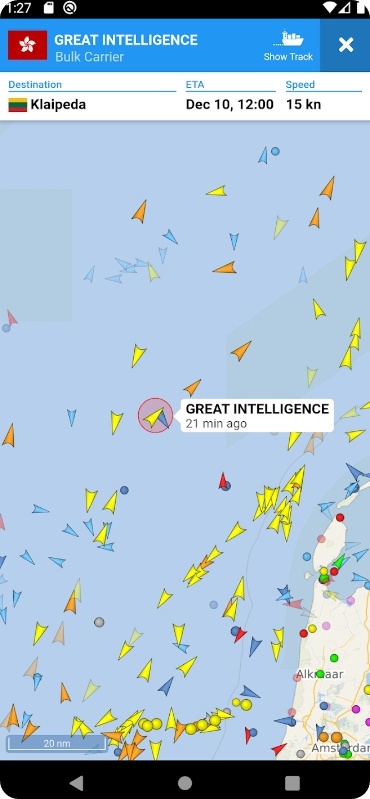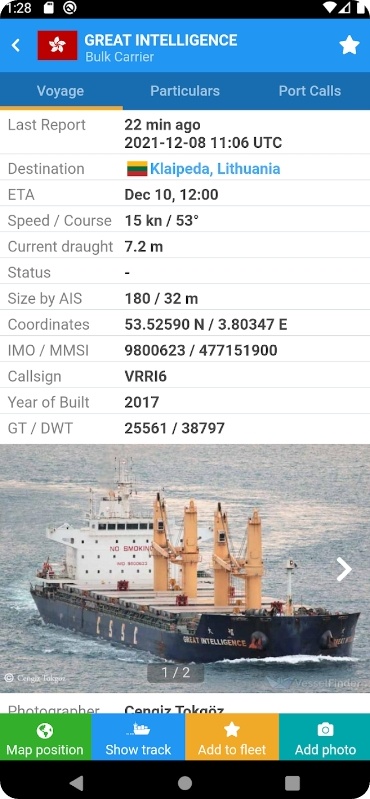 Downloads: 1M+
Customers rating:

(3.9 / 5)

Ship Tracker
If you're in the market for a ship-tracking app that actually works in your area, this might be the one. This free app boasts an active ID syst, ensuring you get accurate and reliable marine traffic info at all times.
But what sets it apart from the competition? For starters, its friendly UI makes it easy to navigate, even for those without tech expertise. No need for multiple clicks or guesswork – this vessel tracker has got you covered.
And don't worry about the ship radar and boat radar going dark when you need it most, it is active 24/7, giving you access to all the traffic info you need. It is also equipped with a satellite map, so you can trust that the ship positions given by this app are precise and up-to-date.
But perhaps the best part about the app is its easy search options and auto-refresh tool. No more endless scrolling or waiting around for new data to load – this ship tracker streamlines the process and makes boat tracking a breeze.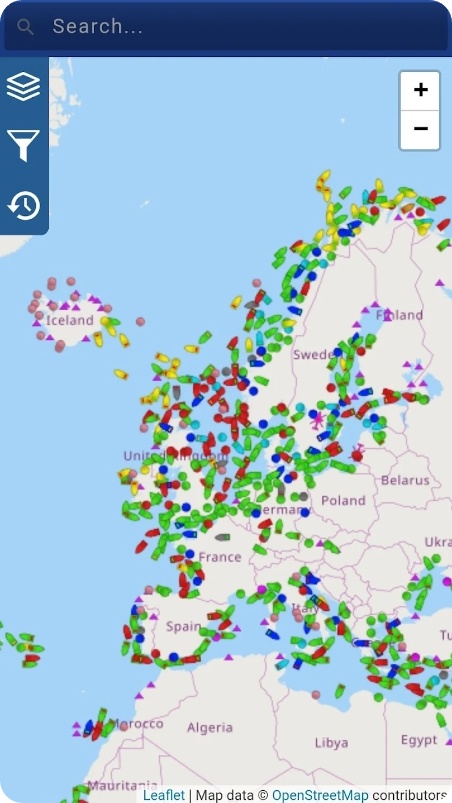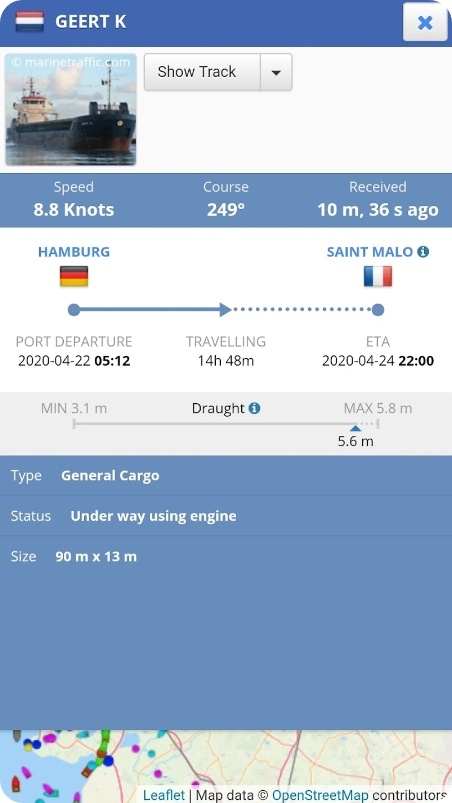 Downloads: 1M+
Customers rating:

(4.1 / 5)

MarineTraffic
This app is the true captain of all vessel finders. It has the largest network of land-based AIS receivers and has eyes on most major ports and shipping routes, so you won't get lost like a sailor with a faulty compass. And with over 100K vessels reporting their positions daily, you won't miss a single ship.
Besides showing you where ships are chilling in the ocean, the app covers wind forecasts that blow your mind, animated playback that's cooler than a mermaid's song, and port arrivals and departures that'll have you saying anchors aweigh!
Managing your fleet is smoother than a seagull gliding on a sea breeze. It syncs across all devices, mateys. And if you're curious about a ship or port, dive into the 2.5M pics in the app and unlock the treasures of knowledge.
But what will really shiver your timbers is app access to satellite monitoring. It lets you discover and monitor vessels sailing beyond the reach of land-based AIS stations, expanding your horizons to uncharted waters.
And for those who fancy a taste of AR, the app has your back. Point your cam to the horizon, and voila! Real-time info about nearby vessels will be at your fingertips.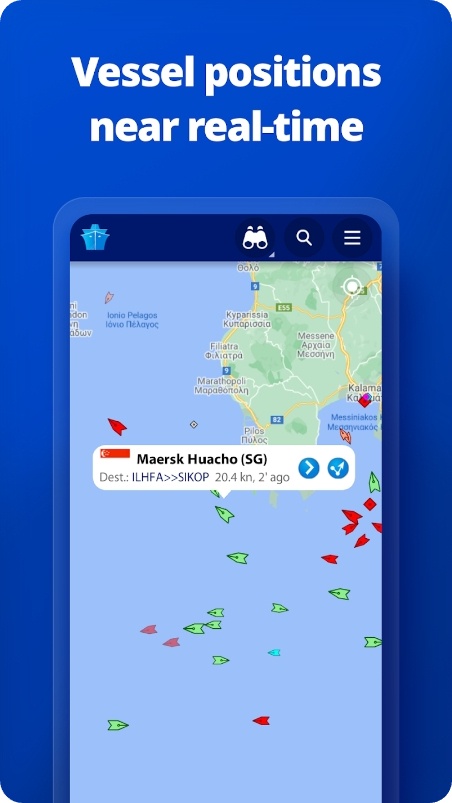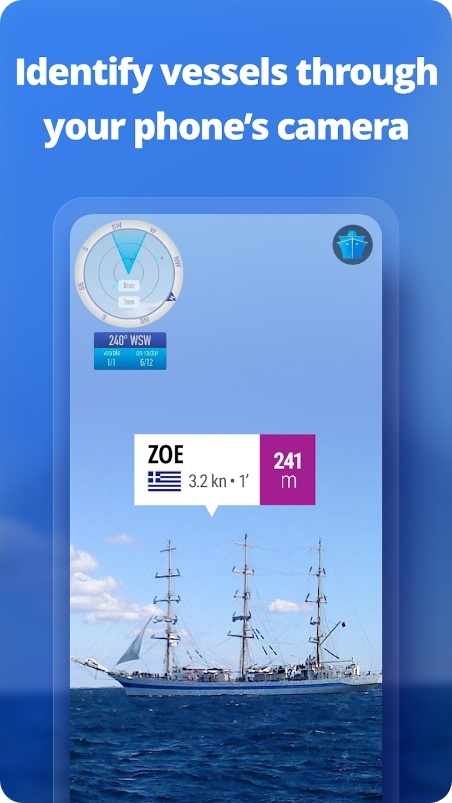 Downloads: 1M+
Customers rating:

(3.8 / 5)

Check also: 9 Best Overlay Map Apps
Navily
This app is the ultimate companion for all your boat trips. The app covers over 500K users worldwide to satisfy their boating needs. From planning your next adventure to finding hidden gems, this app has it all!
Picture this: a community of passionate boaters sharing their insights on 25K+ marinas and anchorages. With over 200K reviews, complete with pics and all the deeds you need – depth, seabed type, wind protection – nothing escapes your radar.
Say bye to hassle, and hello to easy booking at 700+ marinas across Europe. Updated in real-time by marinas themselves, you can trust that the info you get is as accurate as it gets. And if you have questions, the app's chat connects you directly with marinas and fellow boaters.
Safety is the app's top priority – real-time warnings and an SOS tool keep you prepared for any surprises during your boating escapades. The app is also in the process of building a cruising guide using pics and reviews of real passengers.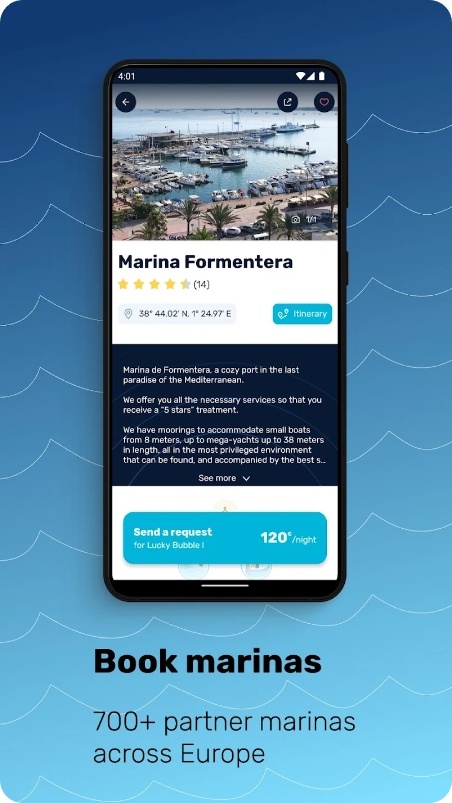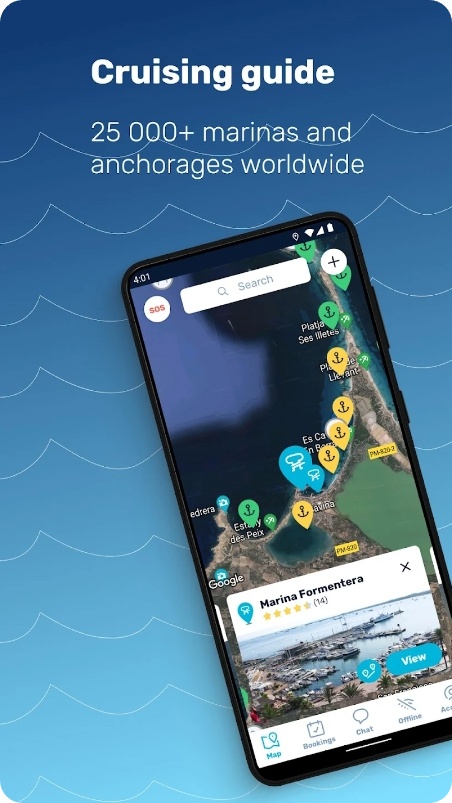 Downloads: 500K+
Customers rating:

(4.6 / 5)

NV Charts
Here's a nautical navigation app that has everything you may need. The first thing you'll notice is the UI. It's smooth, intuitive, and easy to use. You can easily save and store all current editions of boating charts for offline use, which is so useful when you're out on the water with no internet.
The combination pack of paper and digital nautical charts is a great option for boaters who want both formats. You get the convenience of digital charts on your phone or tablet, plus the security of paper charts. And the update service ensures that both are always up-to-date.
If you opt for the digital chart pack, you'll enjoy the latest info on marinas, anchorages, warnings, and points of interest. And, you get to be part of the boating community and contribute by adding your top spots.
Searching for places and navigating is a breeze with the improved search and auto-routing capability. Plus, you can share your tracks, harbors, and anchorages with pals, making navigation even more fun and social.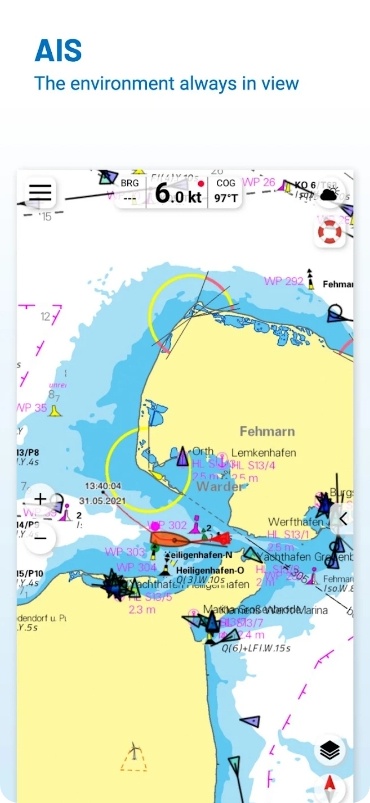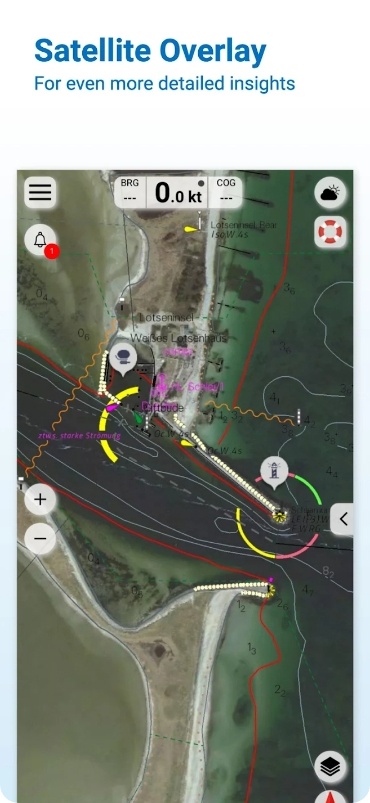 Downloads: 100K+
Customers rating:

(4.2 / 5)

ShipAtlas
This app is the ultimate tool for all your merchant fleet tracking cravings. This bad boy collects raw AIS data from over 700 sources and puts in the elbow grease to clean and process it, serving you only the juiciest info on vessels around the globe.
With this one, you can cherry-pick vessel segments and sub-segments, zooming in on the ones that float your boat. And hey, if you've got specific vessels on the brain, just search by name, IMO, or MMSI, and even by port names and type.
Speaking of ports, it lets you play detective by searching for ports using name, country, or even cargo type. And if you're into the nitty-gritty details like LOA, beam, and draft go ahead and blend your searches for the ultimate info feast.
But hold your seahorses, we're not done yet! With a snazzy sea route calc, you'll get instant ETA, distance, time at sea, and estimated fuel consumption from any vessel's real-time AIS position to any port or between those. Oh, and the icing on the cake? You can make unlimited vessel lists, set alerts on vessels and ports, and even spot all nearby ships within a 10 km radius.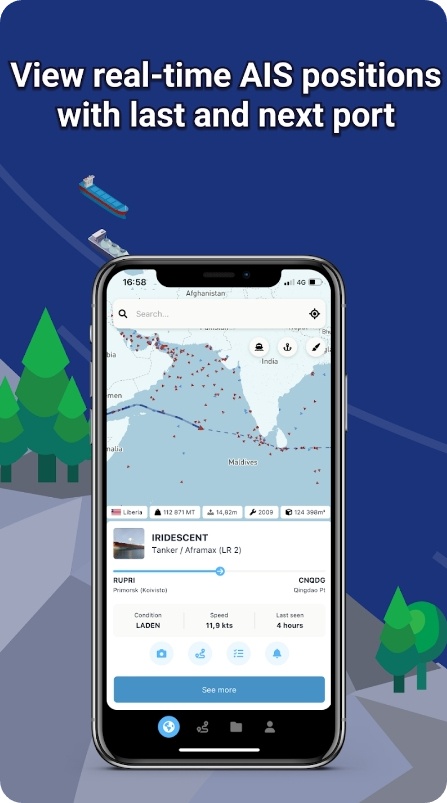 Downloads: 100K+
Customers rating:

(4.2 / 5)

You may also check: 7 Best Property Lines Apps
Nautical Maps
To wrap up, there's a comprehensive app for all your boating navigation needs. It covers complete nautical maps and gives you all the info from the respected source within just a few taps.
No more flipping through pages and squinting to read small print, just tap away and you're good to go! Speaking of tapping away, the app lets you pick the optimal route between your starting point and destination, including the objects you encounter. This tool alone will save you precious time and energy on the open waters, making your boating a breeze.
And now to the app is the AIS+ tool, where you can share your position in real-time and see at a glance where surrounding ships are located. It also keeps you up-to-date with the current navigation reports and obstructions and has over 200K nautical objects including bridges, locks, markings, and mooring places.
Plus, the app shows the locations of more than 4K marinas and all details of existing facilities. Are you worried about radio silence on the water? Fear not, you can save corresponding charts for offline use.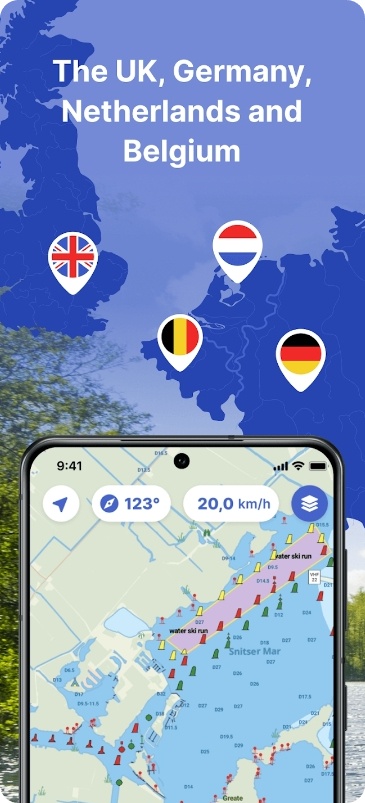 Downloads: 100K+
Customers rating:

(4.2 / 5)