Do you travel often? Do you like exploring new places? If yes, you are probably aware that the new routes can be quite confusing. And you know, it is always useful to know as much information as possible about the new place you're heading to. We would like to present you with the perfect app for all adventure seekers – the Places Explorer app!
You may also like: 15 Best Gacha Games for Android
When you first open the app you can go straight to the usage – no additional accounts required, no registration. The app will ask for access to your GPS location and therefore you will always see the weather forecast at the corner of the screen. You will also see several sections in the main menu, that contain lots of interesting sub-categories for a traveler.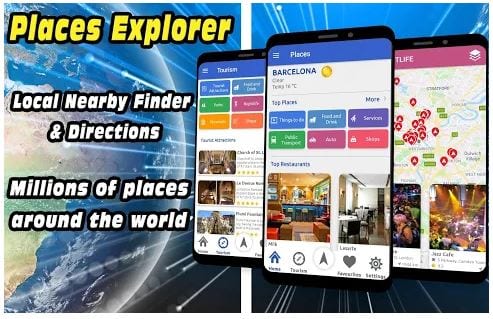 The first one is your to-do list. You can create a new to-do list for each location where you are going. This section already has templates where you can find any kinds of entertaining places typical for all locations – museums, monuments, galleries, ng=ight clubs, casinos, and many more. Add them to your list in order not to forget anything.
There is also a separate list for the food and beverages – where would you like to go and what would you like to try?
In the services section, you can add information about local banks, hospitals, and so on. The same principle works for the public transport section – insert the information about buses, trains, even planes. There is also a cars section and shopping section.
You may also like: 11 Best HD RPG Games for Android
You can add the most important information to the "my favorites" section. Another interesting section is called "cities" – there you can see how far away you are from various capitals of the world. In other words, this app is a real catch for any traveler since it contains all the features that can help you to make your journey easier and more productive.